Semey, Kazakhstan, April 28, 2022 – Altay, Diamond Food and Kuanysh sent their respective rivals packing with similar lop-sided wins on the penultimate day of the single round-robin preliminaries of the 2022 Asian Women's Club Volleyball Championship at Abay Arena Cultural and Sports Complex.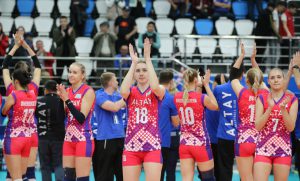 Altay VC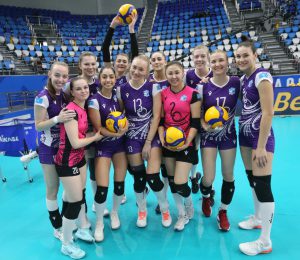 Kuanysh VC
Two teams from hosts Kazakhstan, reigning champions Altay VC and formidable Kuanysh VC, and Thailand's Diamond Food – Fine Chef Sport Club had a field day on Thursday to seal their deals with scintillating wins and brighten up their chances of securing berths for the showdown.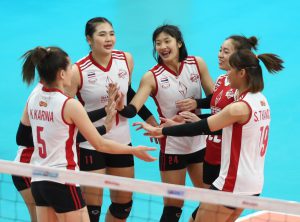 Diamond Food
Their last preliminary matches on Friday will decide the top two teams in the Saturday's final showdown, with the third- and fourth-ranked sides fighting it out in the third-place playoff clash for the bronze medal.
With only one day left before the completion of the single round-robin preliminaries, title-holders Altay VC bagged 12 points from four straight wins to maintain their top spot at the standing.
Diamond Food and Kuanysh VC had similar 9 points from 3 wins against one loss, but the former had a better set win/loss ratio to come in second place and Kuanysh hot on their heels in third place.
Barij Essence from Iran claimed 6 points from 2 wins against 2 losses to come in fourth place, but still have a dim chance of advancing to the showdown. However, they have to come all-out for a must-win match in their last preliminary encounter against Kuanysh VC on Friday
Kyrgyzstan VC and Jizzakh State remained winless, but the former had a better points win/loss ratio to surge ahead the latter to the 5th place. Jizzakh State are trailing in the bottom of the 6-team standing.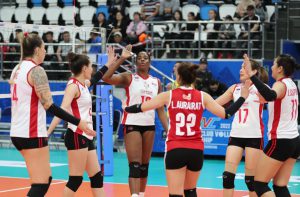 Diamond Food – Fine Chef Sport Club beat Kyrgyzstan VC 3-0 (25-7, 25-14, 25-10)
Diamond Food, consecutive two-time Thailand League champions, stayed on course for their unprecedented title following their lop-sided straight-set 25-7, 25-14, 25-10 victory against young Kyrgyzstan VC, the team on the bottom of the standings and yet winning a single set in the one-week tournament.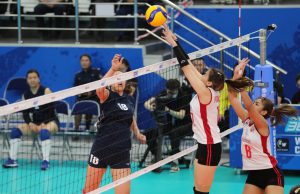 With the comfortable win, Diamond Food maintained their impressive 3-1 record in the six-team championship and to enhance the Thai outfit's chances of securing a berth in the Saturday's final showdown, they need a must-win match against defending champions Altay VC in their last preliminary encounter on Friday.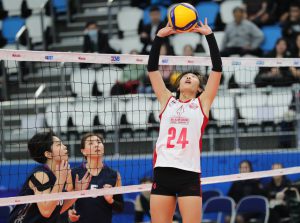 Against underdogs Kyrgyzstan VC, the team competing in the Asian Women's Club Championship for the first time ever and most of them young players who have just completed the Kyrgyzstan National Youth League, Diamond Food rested key players including Brazilian Fernanda Tome, Cuban Liannes Castaneda Simon and Kanjana Kuthaisong, who topscored with 18 points for the team's sensational 3-0 win against Iran's Barij Essence on Tuesday, and instead fielded all-Thais lineup led by ace spiker Thanacha Sooksod and powerful Sasipaporn Janthawisut.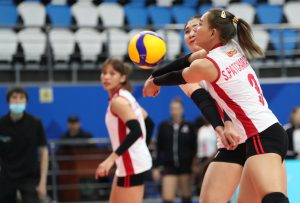 The opening set was one-way traffic as expected as Diamond Food raced to an initial 17-5 lead, courtesy of Thanacha's powerful attacks and Kaewkalaya Kamulthala's lightning-fast spikes. Good teamwork, excellent combinations and spectacular attacks helped stretch the Diamond Food's commanding lead to 24-7 before Karina Krause carried out a great serve which went unanswered. The Thai team took the effortless first set 25-7.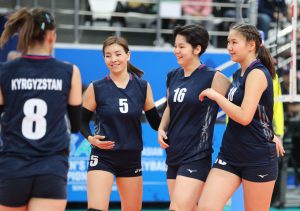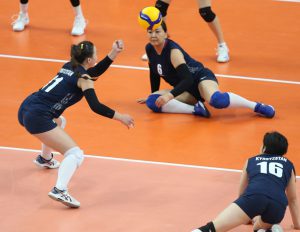 Going down 0-1, Kyrgyzstan VC recovered from the dismal first set to get off to a positive start with just two points behind 5-7 in the second set. As their nerves began to fray, Diamond Food were error-strewn and Kyrgyzstan VC seized the chance to bag some crucial points to narrow the margin at 11-15. After that, the Thai team regained their composure and roared back with spectacular attacks, well-placed serves and solid block to score 6 points in a row for a 6-point clear to lead 21-11. Since then, Diamond Food never looked back to clinch the second set without much effort 25-14.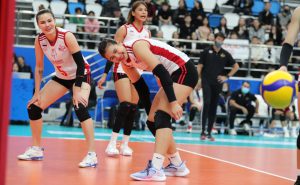 Diamond Food cruised comfortably to lead by a wide margin of 18-5 in the third set. Despite showing tremendous courage against the Thais' defensive resilience and mighty attacks, the young Kyrgyz side failed to make their mark and go down 10-25 in the set.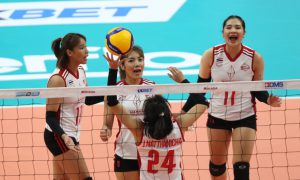 Kaewkalaya Kamulthala and Thanacha Sooksod handed Diamond Food similar 12 points apiece. No one scored double digits for Kyrgyzstan VC, with Nurselia Chorobaeva leading the team with 4 points including 3 attacks.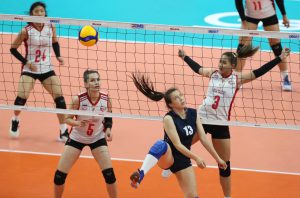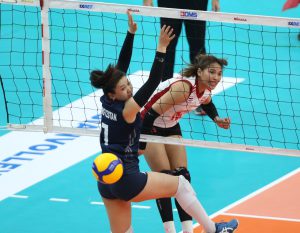 "I'm glad that my team won this match. We next play Altay VC. We are well-prepared for this championship and have already studied the Altay's game for a long time. However, I admit that our match tomorrow against them will be one of the most difficult, but we will try our best," Thanacha Sooksod was quoted as saying after the match against Kyrgyzstan VC.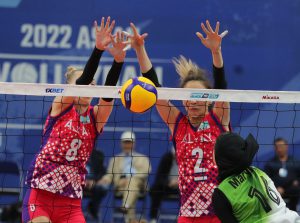 Altay VC beat Barij Essence 3-0 (25-11, 25-9, 25-10)
Unbeaten defending champions Altay VC of Kazakhstan on Thursday proved a cut above Barij Essence to brush off the gallant Iranian outfit in comfortable straight sets 25-11, 25-9, 25-10 at the continent's top-flight women's club tournament.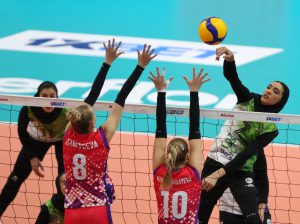 Following the convincing win, Altay VC, which last year outclassed hosts Nakhon Ratchasima QminC VC in thrilling three-setter in the final clash to reign supreme at the previous edition in Thailand, continued their winning streak for four matches in a row to stay atop the 6-team standing, leaving only their last preliminary clash against Diamond Food on Friday to determine the top two teams in the Saturday's showdown.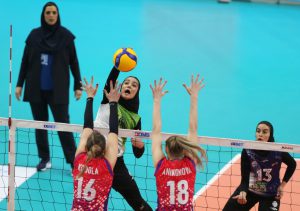 Against Barij Essence, Altay fielded a strong lineup led by captain Sana Anarkulova, who captured the MVP award in the previous edition, Kristina Belova and Ukrainian Nadiia Kodola, who landed the Best Opposite Spiker and the Best Outside Spiker awards respectively, while the Iranian team were strengthened by Mahsa Kadkhoda, who topscored with 13 points in their match against Diamond Food on Tuesday, powerful Aytak Salamatgharamaleki and young talent Elaheh Poorsaleh Shahdehsari, 19.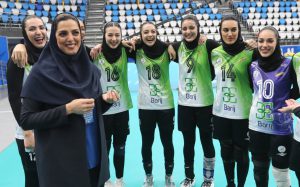 Altay came out in full force to gain the upper hand initially in the comfortable first set, which they led commandingly 9-1 and widened the margin to 15-7. Mahsa unleashed powerful back-to-back attacks to notch two crucial points for the Iranians, but after that Altay found their rhythm to play impeccable defence, allowing the visitors scoring difficulties. The Kazakh side bagged 6-point clear to lead by wide margin of 21-9 and advanced to 24-11 before Kristina Belova and Polina Ufimtseva combined well to effectively block a spike from Barij Essence for the Altay's easy 25-11 win in the set.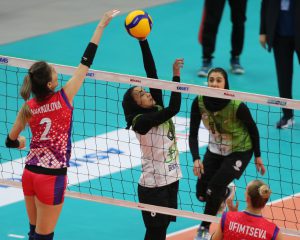 The second set turned out to be a lop-sided battle as Altay were working as a well-oiled machine. They combined extreme power through Anarkulova's and Kodola's spikes with incredibly accurate serving of Ufimtseva to power past the Iranians for the easy set 25-9.
Taking a 2-0 advantage, Altay still performed exceptionally well in the third set, which they raced to an early 15-6 lead, with promising Anarkulova fiercely tearing the Iranian defence apart with her exceptional spikes.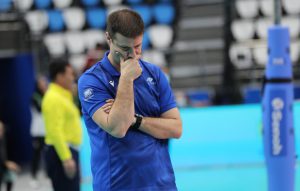 Despite some improvement from the fighting Barij Essence, Altay were on a different level with their blockers particularly outstanding and libero Madina Beket energetic and enthusiastic. As the title-holders left the rivals far behind 24-10, the determined Barij Essence were battling hard, but were never able to close the gap as Altay came through to win the last point 25-10 and the match.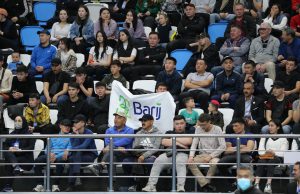 Instrumental captain Sana Anarkulova chipped in with 17 points from 14 attacks and 3 blocks for Altay VC, while Elaheh Poorsaleh Shahdehsari led Barij Essence with 11 points, all from her attacks, while Zahra Karimi and Aytak Salamatgharamaleki added 5 points apiece.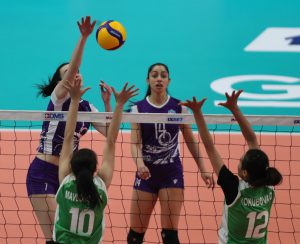 Kuanynsh VC beat Jizzakh State Pedagogical Institute 3-0 (25-4, 25-6, 25-8)
Kazakhstan's Kuanysh, which went down 1-3 to title-holders and compatriots Altay on the opening day, captured their third win on Thursday following their easy straight-set win against Jizzakh State from Uzbekistan, the team which have yet won a set from their respective rivals to trail in the fifth place at the standing.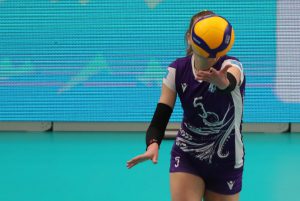 Despite facing the unfancied rivals, Kuanysh fielded a strong lineup led by Ukrainian Karyna Denysova, Tatyana Aldoshina and Serbian setter Aleksandra Cirovic.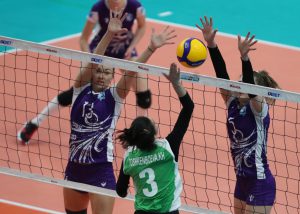 Kuanysh made a storming start in the match to comfortably see off the Uzbek side in the first two sets without much efforts 25-4, 25-6.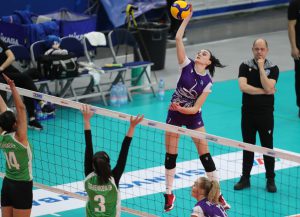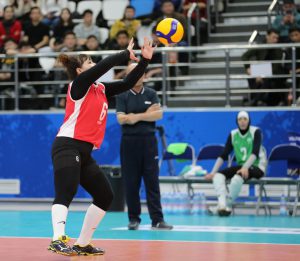 Kuanysh shuffled their lineup a lot in the third set, but their substitutions still proved too strong for the young Uzbeks. Despite putting up with a gallant fight, Jizzakh State found no match against the much stronger Kuanysh to go down tamely to the Kazakh side 8-25.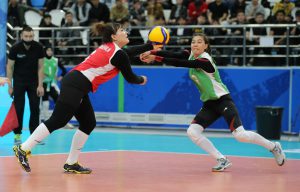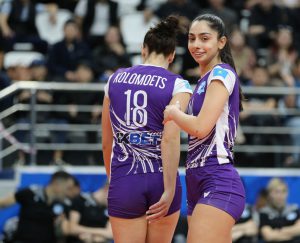 Tatyana Aldoshina collected 12 points for Kuanysh, all from her powerful attacks, while Margarita Belchenko and Karyna Denysova kept good company to add 11 and 10 points respectively. Nozima Mavlonava led Jizzakh State with 3 points from her attacks.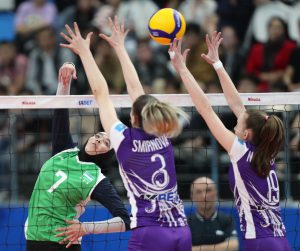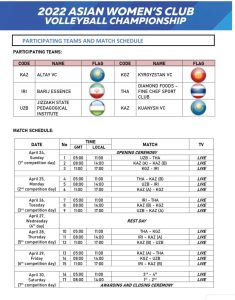 Related links of AVC
AVC Website: click www.asianvolleyball.net
AVC Facebook: click www.Facebook.com/AsianVolleyballConfederation
AVC Twitter: click: www.twitter.com/AsianVolleyball
AVC Instagram: click: https://www.instagram.com/avcvolley/?hl=en
AVC Youtube: click: Asian Volleyball Confederation
AVC WeChat: Asian Volleyball Confederation