Bangkok, Thailand, July 15, 2022 – The 2022 Southeast Asia Volleyball Association (SAVA) Meeting) in a hybrid format, combining an in-person event in Surabaya, Indonesia with remote attendees on Zoom, came to a fruitful close on Friday, with SAVA President Mr Somporn Chaibangyang calling for stronger cooperation for the sport's brighter future in the region.
Mr Somporn, himself President of Thailand Volleyball Association, chaired the Friday's meeting in Surabaya. Also in attendance were AVC Secretary General Mr Kiattipong Radchatagriengkai from Thailand, Mr Imam Sudjarwo, President of National Volleyball Federation of Indonesia, Vice President Mr Heyzer Harsono from Indonesia, SAVA Secretary General Mr Chansamone Phongchanhtha from Laos, Treasurer Mr Thein Win from Myanmar, Mr Hean Boon Yeow from Malaysia, Beach Volleyball Event Manager, Mr Chia Min Chong from Singapore, Volleyball Event Manager, Mr Canido Da Silva Pinto from Timor Leste, Mr Aing Serey Piseth from Cambodia and Mr Jose Donald Caringal from Philippines representing Executive Director Mr Ramon Suzara.
Joining the meeting on Zoom included AVC Executive Director Mr Shanrit Wongprasert, AVC General Manager Dr Ruengsak Siriphol, Mr Songsak Chareonpong, Chairman of the AVC Referees Committee, and Volleyball Federation of Vietnam Administration Director Mrs Nguyen Thi Nhat Thanh.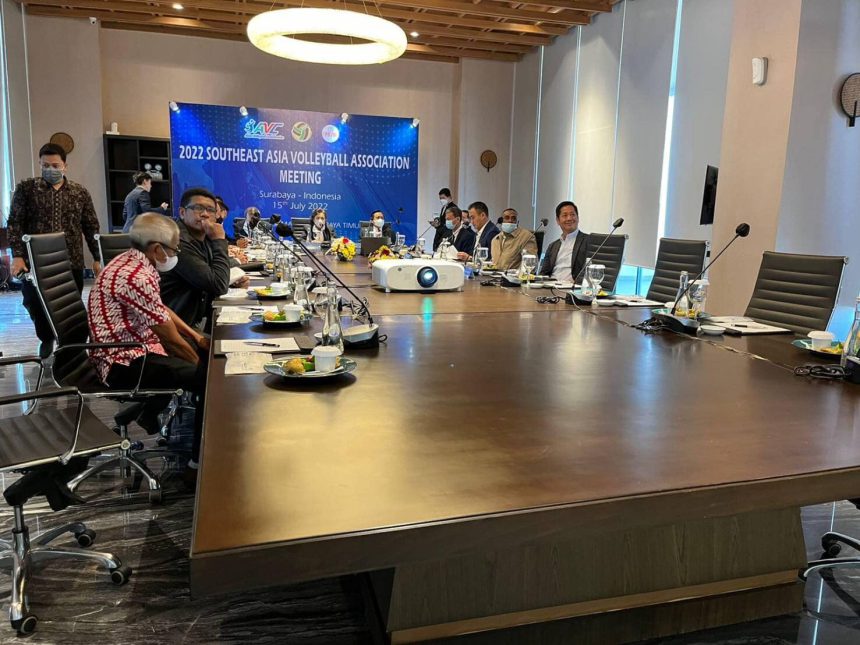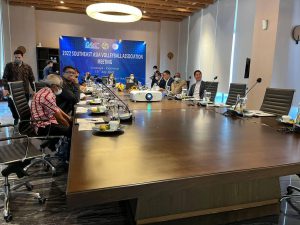 AVC President Mrs Rita Subowo presided over the opening of the meeting to deliver a welcome address, asking SAVA federations to strengthen cooperation, work closely together and get supports from FIVB through its development projects.
"I'm glad that we can organise this very, very important meeting in order to plan our future activities in Southeast Asia. Seeing you in one place and in another place in Southeast Asia makes us become more and more unity," Mrs Subowo was quoted as saying.
"FIVB has a lot of projects which support to all national federations. There are some crucial projects that I suggest you that you submit to them to be able to get some of money support not only funding but other kinds of supports. We had a very successful AVC BA Meeting in Philippines and the one-on-one meeting between national federations with FIVB President Dr Ary Graca was also held there. As it was the AVC meeting, so I attended all meetings there. It was a very beautiful meeting for me and a helpful meeting for us in AVC.
"I think it's time we have to wake up because a lot of our friends and Members need help from FIVB. In terms of funding in AVC, it's still low compared to other Confederations. Therefore, we have to work together. In Southeast Asia, we have a similar culture and quality of national teams because we have Southeast Asian Games every two years. In this meeting, I would like to offer you that there are lots of possibilities, not only Southeast Asian Games, but in volleyball, we have to discuss in order to get more and more national federations categories, especially from the lower ones. So, I stressed that we have to work together. In Philippines, we were successful in asking FIVB to consider the VNL for second-level teams which we then can participate."
After that, NVFI President Mr Imam Sudjarwo, as hosts, gave a welcome speech, making a confirmation that Indonesia is ready to host the 2022 ASEAN Grand Prix and the next year's Asian Senior Men's Volleyball Championship.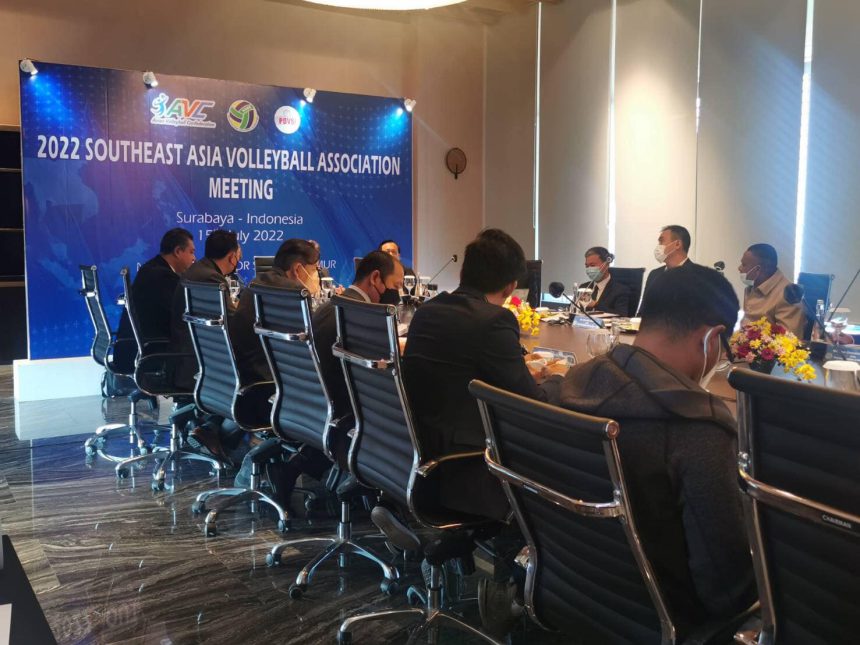 SAVA President Mr Somporn also delivered the opening address, "After two years of very difficult situation for us all, this is the first meeting which we can conduct on-site. I would like to ask all Members to get updated information of AVC and FIVB and learn how to catch up with future FIVB and AVC activities in order that you can develop and promote volleyball in your federations and Southeast Asia as well. We will try to work closely together as the same family."
AVC President Mrs Rita took this opportunity to inform the meeting that Bali, Indonesia had already hosted the 2008 Asian Beach Games and it's likely that next year, Bali will play host to the 2023 World Beach Games as OCA President had also held a discussion with Indonesia officials on this matter. Therefore, it will be a good chance for Southeast Asian countries to prepare their men's and women's beach volleyball teams and participate in the Games.
The meeting agenda and the Minutes of 2021 SAVA Meeting had been approved before Mr Chansamone and AVC Secretary General Mr Kiattipong jointly shared the brief reports of 2022 FIVB Meeting and the 2022 AVC Board of Administration Meeting in Philippines, while the 2021 Zonal activities and the future plan for 2022-2023 Zonal activities were reported in detail.
Additionally, Mr Chansamone kept the meeting updated on the FIVB World Congress to be held from September 22 to 25, 2022 in Arnhem, Netherlands during the first round of the prestigious FIVB Volleyball Women's World Championship, the 2022 Volleyball World Beach Pro Tour and the Paris 2024 Olympic Games Qualification System.
The meeting was also informed of upcoming AVC events including the next month's AVC Cup for Men in Nakhon Pathom, Thailand and AVC Cup for Women in Philippines as well as FIVB and AVC courses at the FIVB Development Centre in Thailand later this year.
According to Mr Kiattipong, as the FIVB U17 Volleyball World Championships will be held in 2024 and therefore, it's necessary that AVC will have to hold the Asian U16 Volleyball Championships in 2023 to select the continent's well-qualified teams for the world meet. At the same time, he informed the meeting that as many host federations could not hold the competitions, TVA came for a help in playing hosts to several AVC events including the Asian Women's U18 Championship, which was initially due to be hosted by Uzbekistan, the AVC Women's Challenge Cup, which was set to be first held in Hong Kong, China and the AVC Cup for Men, which was due to initially take place in Chinese Taipei.
Another important topic raised for further discussion was the preparation tasks of Cambodia in hosting the 2023 Southeast Asian Games. Mr Aing Serey Piseth from Cambodia asked SAVA for supports the host country in terms of the human resource, equipment and technical team, while Mr Shanrit confirmed that SAVA as well as AVC can provide supports to Cambodia, but the SEA Games host country has to inform SAVA what kind of supports they badly need in hosting the Games and make it happen successfully.
The meeting also discussed the 2022 ASEAN Grand Prix. Thailand and Indonesia have been confirmed to host the women's event, with the latter citing that the Indonesian leg is due to be held from September 9 to 11, 2022 which will see the top four teams in the 31st SEA Games in Vietnam take part. They are Thailand, Vietnam, Indonesia and Philippines. The men's event is also due to be held, but only Philippines has been confirmed to host the event.
In his closing speech, SAVA President Mr Somporn said, "This is a fruitful meeting to discuss the development of volleyball in SAVA. We have agreed on many agendas. At the same time, we received and shared opinions from other federations to SAVA that some points we need to bring for further discussion and more solutions. So, for Thailand and Indonesia, we have strong foundations and both are willing to support all SAVA federations to develop volleyball in your own countries.
"And we also have Philippines of which Mr Ramon is working in development area to join as the third country to support the whole elements in SAVA. Like SAVA, TVA also faced the same situation like many federations, but we also need to work hard with good plan and commit to the plan and the good result will come finally. I would like to encourage all of you to keep working and SAVA is ready to throw its full support to everyone. Our commitment is to move SAVA volleyball to the next level. To be part of the event is to organise and take part in the event. At least among SAVA, we have the SEA Games and so, I would like to encourage every team to participate in this event. I confirmed that SAVA will continue the support to every federation."
Related links of AVC
AVC Website: click www.asianvolleyball.net
AVC Facebook: click www.Facebook.com/AsianVolleyballConfederation
AVC Twitter: click: www.twitter.com/AsianVolleyball
AVC Instagram: click: https://www.instagram.com/avcvolley/?hl=en
AVC Youtube: click: Asian Volleyball Confederation
AVC WeChat: Asian Volleyball Confederation