Malé, Maldives, March 19, 2019 – An FIVB Level I Coaches Course jointly organized by the Volleyball Association of Maldives, the FIVB and the AVC came to a successful conclusion on Tuesday.
President of Sports Council of Maldives Mr. Ibrahim Ismail presided over the certificate presentation and closing ceremony. Also in attendance as guests of honour at the ceremony were the VAM President Mr. Mohamed Latheef, Mr. Sayyid Ali, former national team coach, and Mr Ahmed Sunan, women's national team assistant coach.
Mr. Ibrahim Ismail presented the certificates to all 28 coaches completing the five-day course, which started on March 15 and was conducted theoretically and practically by FIVB Course Director Mr. Jaksuwan Tocharoen from Thailand and two Course Instructors from Maldives, Mr. Ahmed Adheel and Mr. Ismail Rifau.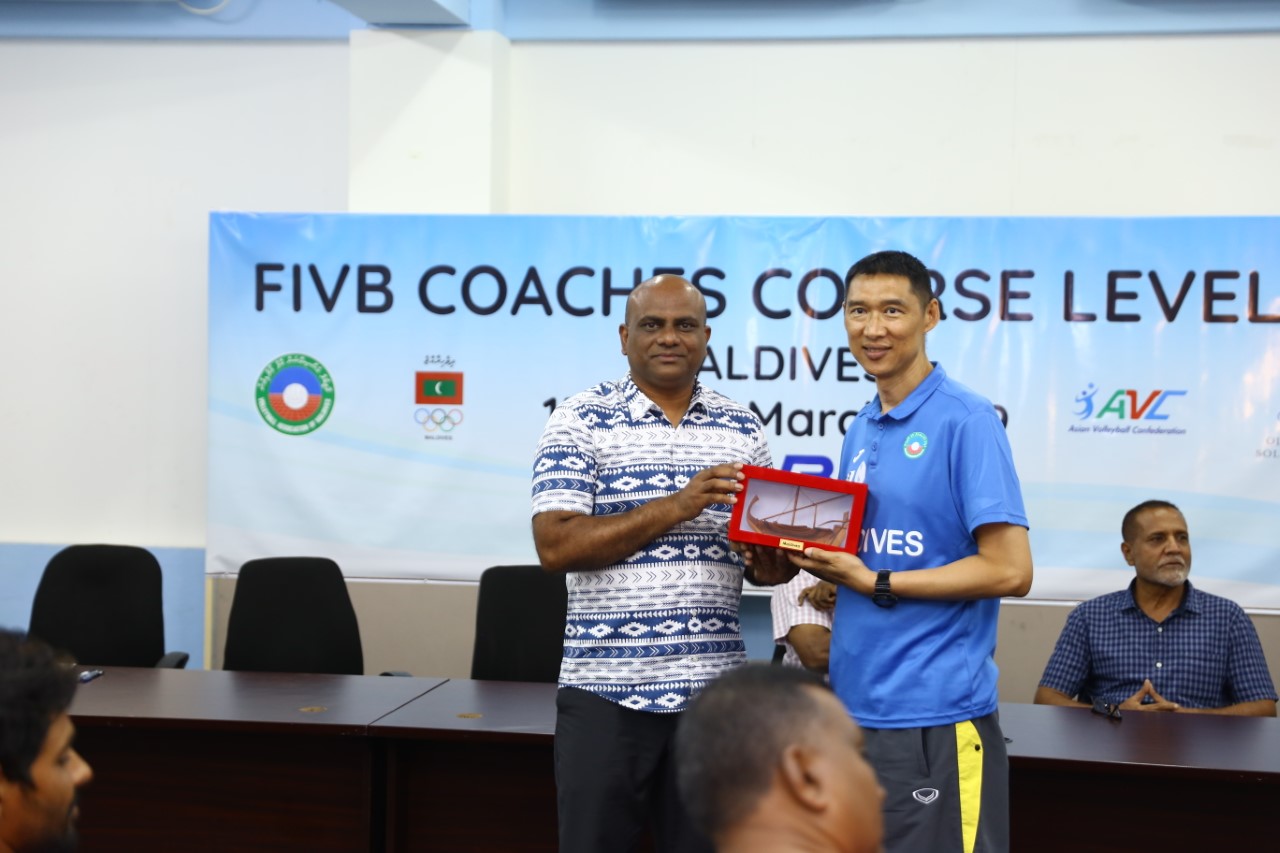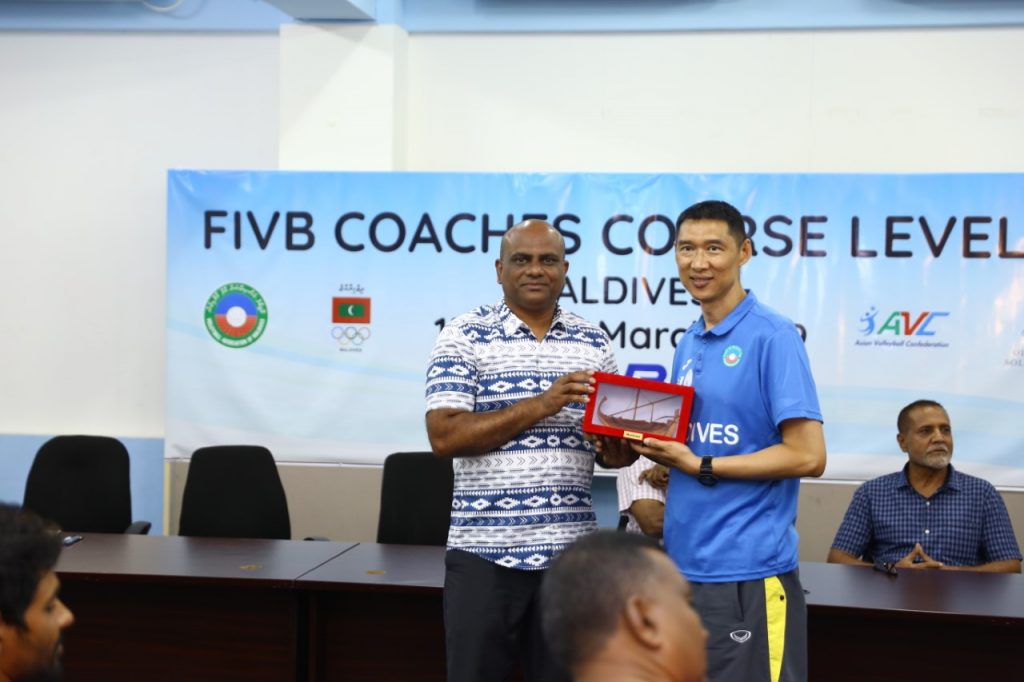 Aside from theory of training, improvement of skills, game tactics, exchange of ideas and experiences, the 28 coaches, all of them Maldivians, also learned how to train the players in different aspects. Important topics regarding the psychological aspects of concerns before, during and after the training and matches were also raised for discussion in the course.
"I would like to express my congratulations to all of you to complete the course. I have never seen such a number of coaches completing a course in any other sport in Maldives and I'm very proud of it. I'm convinced that this is how volleyball is growing rapidly in Maldives. After this, I hope that all of you will bring the knowledge you have obtained from the course and use it throughout the country for the sustainable growth of our nation. Above all, I hope that one day in the near future, our volleyball coach will be nominated to officiate at an overseas tournament and that can be made news headlines in Maldives. I wish you all the best and a bright future," said Mr Ibrahim Ismail in his speech.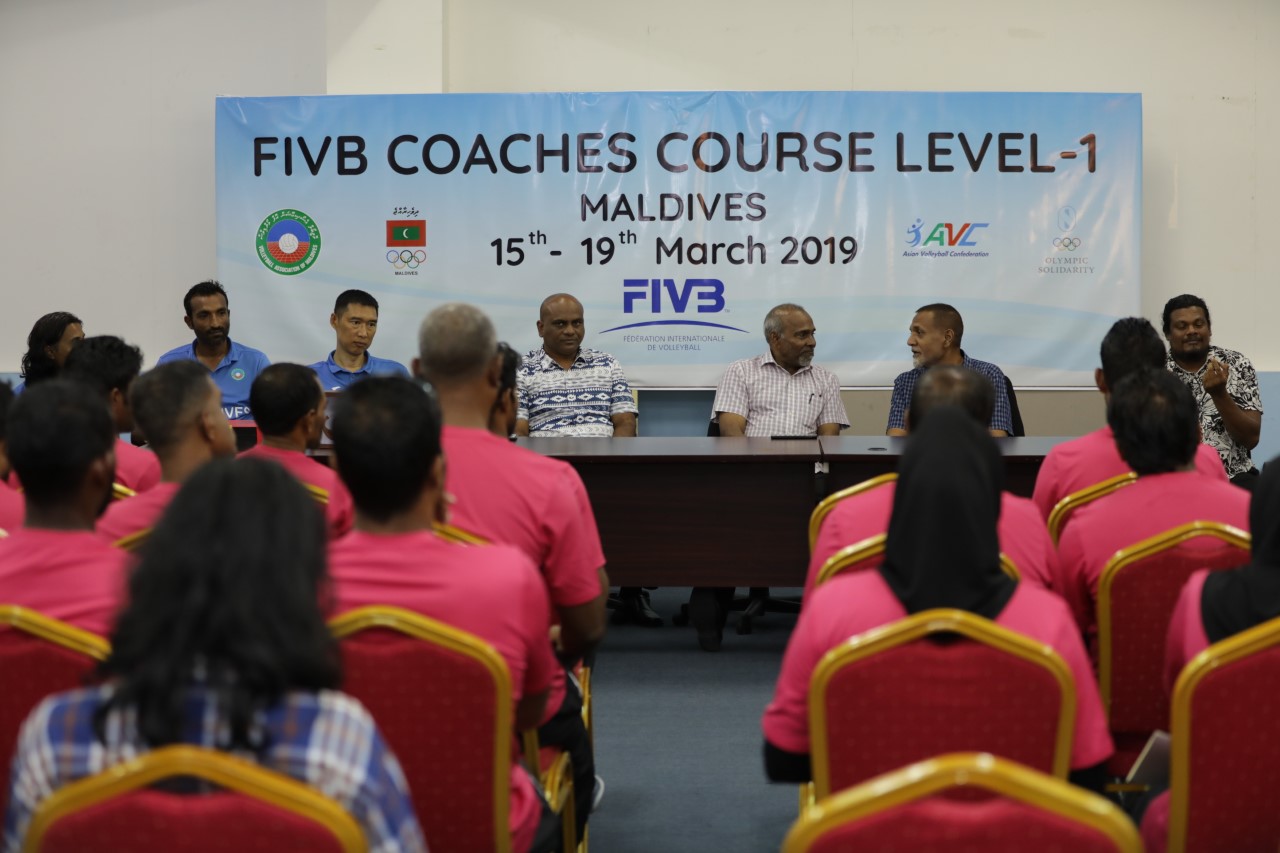 The VAM President Mr. Mohamed Latheef expressed his heartfelt thanks to the FIVB and the AVC for the continued cooperation and supports which have led to development of Maldives volleyball.
"I would like to give warm thanks to the FIVB President Dr. Ary S. Graça, the AVC President Dr Saleh A. Bin Nasser and AVC Secretary-General Mr. Shanrit Wongprasert for their kind supports to the Volleyball Association of Maldives. Nonetheless, this course could not be held successfully without kind supports and assistance from  the Olympic Solidarity and the Maldives Olympic Committee, so I would like to thank all of them," said Mr Mohamed Latheef.
"I'm upbeat that the coaches who completed this course will be part of the Volleyball Family. As a coach, you should avoid sport politics, but continue your coaching career. I would like to say that coach or player does not serve me actually, but he or she should work for development of volleyball in Maldives, for the Volleyball Family and for people of Maldives. Furthermore, you should be a role model for others to follow in your successful footsteps. We, the Volleyball Association of Maldives are seeking chances to have an FIVB Level II Coaches Course in Maldives for those who have already completed their FIVB Level I Course as well as those who are active in the coaching field our country.
"It should be nice to see coaches like you stand a chance to be with kids, teams or clubs on the volleyball competition court. Last but not least, I wish you all the best of luck and success in the near future," he concluded.
Related links of AVC:
AVC Website: www.asianvolleyball.net
AVC Facebook: www.Facebook.com/AsianVolleyballConfederation
AVC Twitter: https://twitter.com/avcvolley
AVC Instagram: https://www.instagram.com/avcvolley/?hl=en
AVC Youtube: Asian Volleyball Confederation
AVC WeChat: Asian Volleyball Confederation