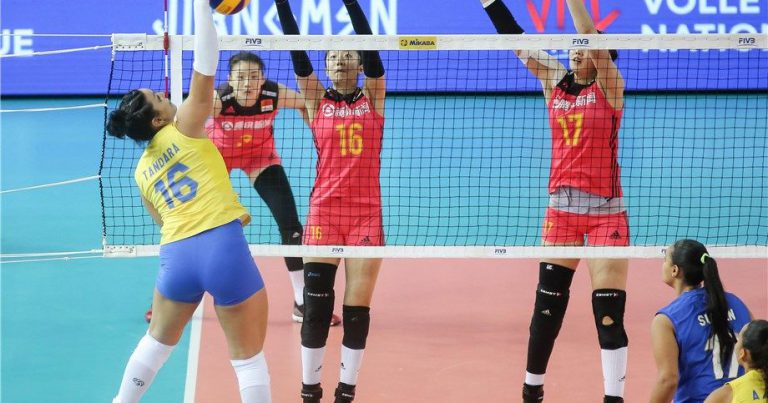 Bangkok, Thailand, September 17, 2020 – Asia has become a key battleground for the 2021 FIVB Volleyball Nations League as 10 Asian cities will host preliminary encounters over five weeks in a total of 20 pools of four teams apiece in each gender.
As the 2020 edition was cancelled due to the global COVID-19 pandemic, the FIVB Volleyball Nations League will have its third edition in 2021 with high expectations for another remarkable six weeks of amazing volleyball action around the world.
This comes on the back of a spectacular and highly successful season in 2019, which saw Russia's men and USA's women pick up the gold medals.
Following the successful 2018 and 2019 competitions, the 2021 FIVB Volleyball Nations League continues in the same format of 12 core teams and 4 challenger teams per gender.
The men's core teams are Argentina, Brazil, China, France, Germany, Iran, Italy, Japan, Poland, Russia, Serbia and USA. They are complemented by the challenger teams of Australia, Bulgaria and Canada, plus newcomers Slovenia which won the 2019 FIVB Volleyball Challenger Cup and are replacing Portugal, relegated that same year.
In the women's event, the 12 core teams comprise Brazil, China, Germany, Italy, Japan, Korea, Netherlands, Russia, Serbia, Thailand, Turkey and USA. The challenger teams are Belgium, Dominican Republic and Poland, plus newly promoted Canada, which won the latest FIVB Volleyball Challenger Cup to replace Bulgaria, relegated in 2019.
The 2021 VNL is set to kick off on May 11 for the women and May 14 for the men with the single-round-robin preliminaries completed on June 10 for the women and on June 13 for the men. The men's and women's Finals similarly follow from June 23 to 27, with the latter due to be hosted by China. However, the host city in China has yet to be officially confirmed.
In terms of the host countries in Asia, China, Japan and Iran will host the men's single-round-robin preliminaries from Week 1 to Week 4, but no Asian country hosts the Week 5's matches. The Finals will take place in Italy. In the women's event, China will play host from Week 1-Week 5 as well as the Finals. Also joining the host country in the preliminaries are Japan, Korea and Thailand.
For the men's competition, China will host Week 1 from May 14-16 in Jiangmen and Week 2 in Ningbo from May 21-23, with Japan hosting Week 3 in Kyoto from May 28-30. In Week 4 during June 4-6, Japan will host pool matches in Toyama, Iran in Tehran and China in Tianjin. No matches will be held in Asia in Week 5 between June 11-13, with teams from Australia and China heading Calgary in Canada, Japan travelling to Bulgaria and Iran leaving for France. Top 5 teams after five weeks of preliminary round will join hosts Italy in the Finals between June 23-27.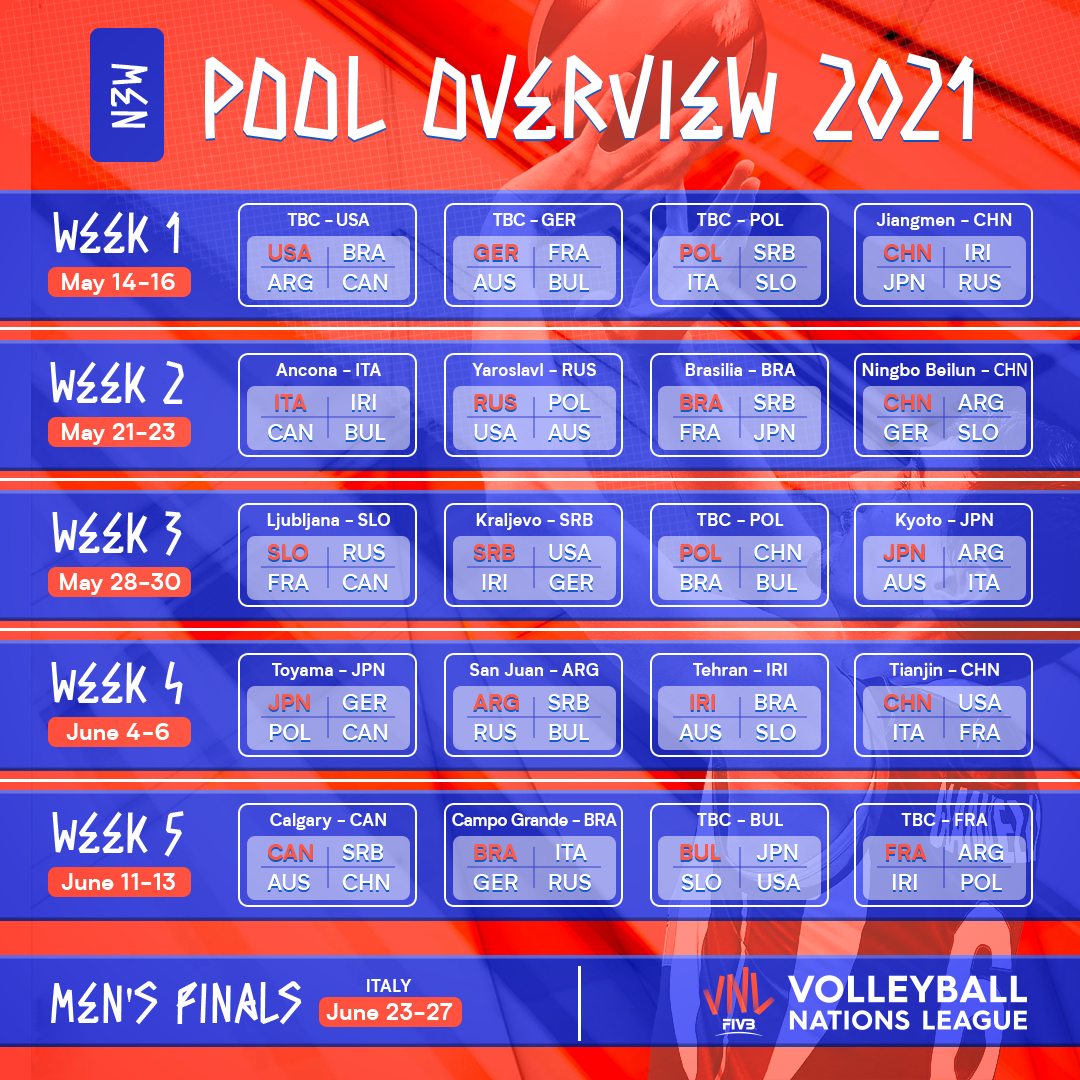 In the women's event, China will host Week 1 from May 11-13 in Ningbo in an all-Asians affair, which will see hosts China, Japan, Korea and Thailand vie for the top podium in the pool. China will also host Week 2 from May 18-20 in Tianjin, Week 3 in Macao between May 25-27 and Week 4 in Hong Kong during June 1-3.
In Week 5 from June 8-10, Asia will take centre stage in hosting the spectacular competition as all four pools will be held in the region. China will host pool matches in Jiangmen. The joint Week 5 host countries are Korea, Japan and Thailand, in which the highly-competitive matches will take place in Seoul, Toyama and Phuket respectively. At the end of the preliminary round, top five teams plus hosts China will test their mettle in the Finals from June 23-27.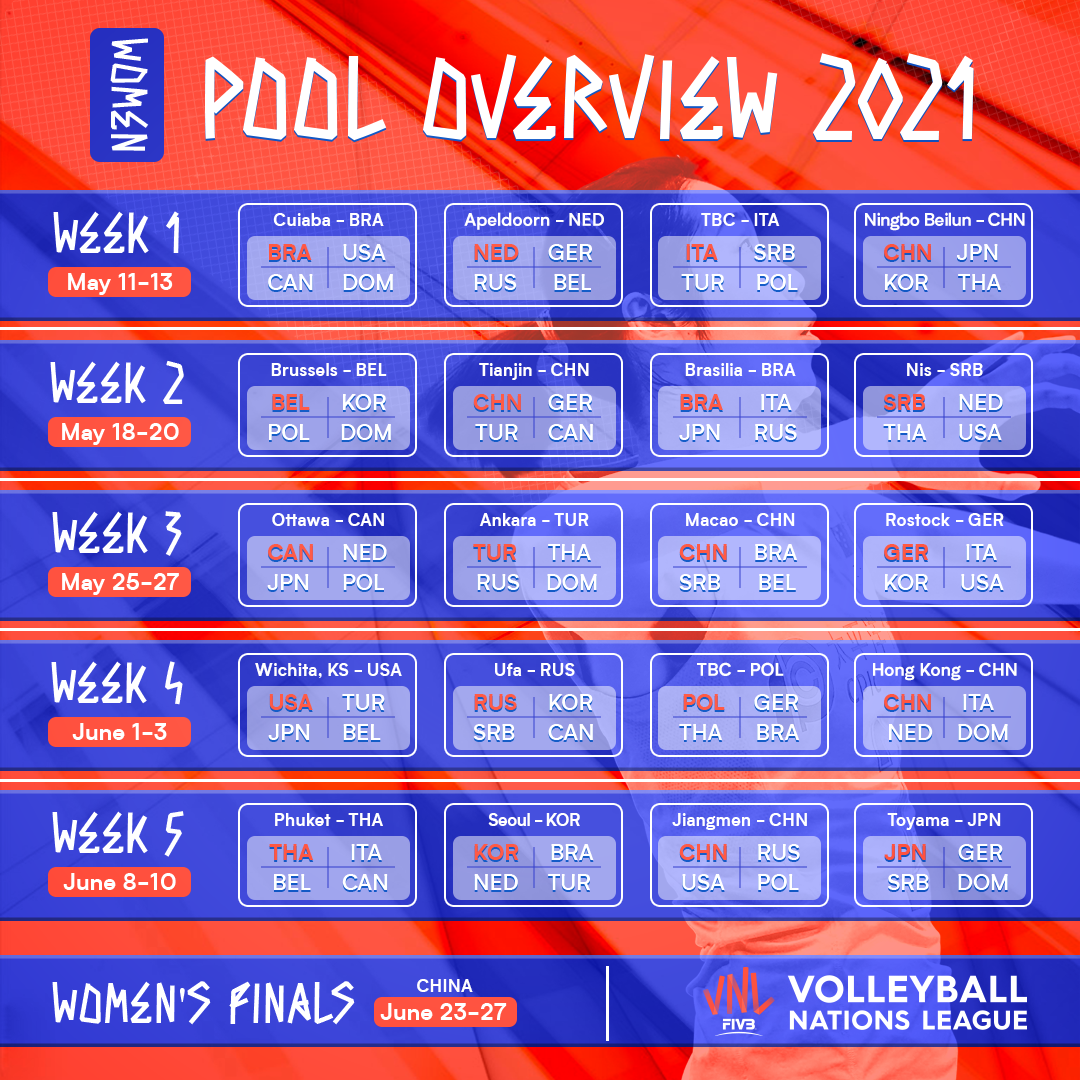 For 2021 VNL match schedules, click https://www.volleyball.world/en/vnl/2021/schedule
Related links of AVC
AVC Website: click www.asianvolleyball.net
AVC Facebook: click www.Facebook.com/AsianVolleyballConfederation
AVC Twitter: click: https://twitter.com/avcvolley
AVC Instagram: click: https://www.instagram.com/avcvolley/?hl=en
AVC Youtube: click: Asian Volleyball Confederation
AVC WeChat: Asian Volleyball Confederation