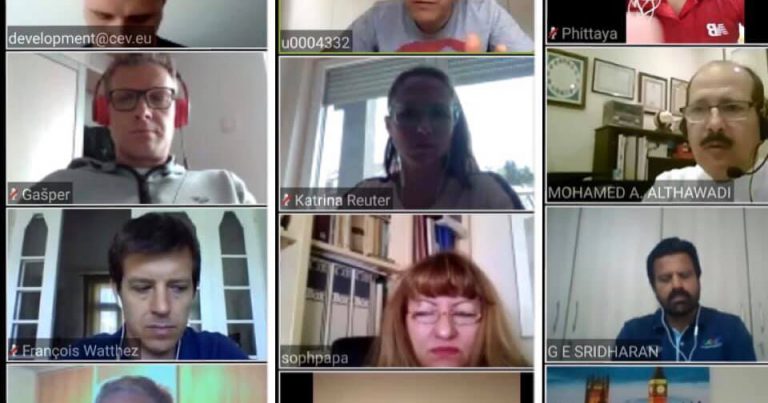 Bangkok, Thailand, May 27, 2020 – A joint CEV/AVC Coaches Meeting via a video conference to discuss further details regarding the unprecedented EuroAsia Coaches Cooperation to reach the next phase of the unique project came to a successful conclusion on Tuesday.
Mr Vuk Karanovic, Development Manager of European Volleyball Confederation (CEV), chaired the meeting, with three Coaches Commission Members Gert Vande Broek, Sophia P. and Tomas Bro-Rassmussen, CEV Development Coordinator Katrina Reuter and Slovenia Coach Gasper Ribic in attendance. Joining the video conferencing on behalf of Asia were Mohammed Althawadi from Bahrain, GE Sridharan from India, Feng Kun from China and Russell Borgeaud from Australia, all of them AVC Coaches Committee Members, and AVC Development Coordinator Mr Phittaya Thongkrua.
The meeting has been confirmed that Gert Vande Broek was selected the CEV Expert, while AVC needs confirmation on its Expert by June 30, 2020, but if necessary, the due date can be extended.
According to the Expert Information, the Expert needs to have proven record of accomplishment in Volleyball coaching, supported by medals. He/she should have access to good resources (facilities, club contacts, equipment, etc). Additionally, his/her academic background is desirable, while he/she must have a proficient level of speaking and writing English and be available to make the training program until April 2021.
Another topic raised for discussion was the important matters on Candidates, who will be interviewed by the Expert to select them with some certain qualifications including having good command of English. Aside from having the endorsement from their National Federations, the Candidates must attend both weeks of training with Experts – one week in Europe and another one in Asia, and the Coaches Convention in late 2021, and will have to guide small groups at the convention and back in their own country.
There will be 8 potential Candidates from each Confederation and only four apiece from Europe and Asia will be finally selected. However, at least 2 female coaches, the minority gender of the Candidates (4 Candidates from CEV including 1 female and 4 Candidates from AVC including 1 female) should be added to "Governance of the Project".
Despite the fact that coaching accreditation should be considered, it will not be used to exclude well-qualified Candidates who are not accredited. In addition, all National Federations within Europe and Asia should be necessarily informed of the nomination of potential Candidates as soon as possible, with each Federation nominating one Candidate.
As far as the meeting is concerned, the dates for the final selection and interview process for the Candidates have already been set, with the nominations of 16 Candidates (8 apiece from CEV and AVC) due to be received on September 15 and selection of the final four Candidates per Confederation by both Experts likely to be completed by October 15. Regarding the Asia Expert, it was informed that once the Expert is appointed by Asia, he/she needs to be connected with CEV Expert Gert Vande Broek.
After one and a half hour of discussions and exchange of ideas and comments on Tuesday, the meeting attendants have all agreed in principle in an effort of reaching the next phase of the project.
However, the future still cannot be predicted easily how long the Covid19 outbreak will last, while countries have yet lifted their lockdown restrictions and airports and transportation still unavailable for continuity of service. With these restrictions, the coaches program cannot be conducted only online and the program will be cancelled. However, the project continues with regular activities, with two meetings from the project consortium and final Coaches Convention in late 2021 being held.
Furthermore, in case the Covid19 situation does not improve until April 2021, the whole project will be cancelled. All actions conducted until that moment in the scope of the project will be reimbursed.
Vuk concluded that in the upcoming days, he will get in touch with Phittaya to streamline the communication that will go out in the press and towards the National Federations so they can start thinking of potential Candidates.
Related links of AVC
AVC Website: click www.asianvolleyball.net
AVC Facebook: click www.Facebook.com/AsianVolleyballConfederation
AVC Twitter: click: https://twitter.com/avcvolley
AVC Instagram: click: https://www.instagram.com/avcvolley/?hl=en
AVC Youtube: click: Asian Volleyball Confederation
AVC WeChat: Asian Volleyball Confederation