Taipei, Chinese Taipei, April 24, 2019 – India has reached an important milestone when Chennai Spartans became the first club team from India to enter the semi-finals of the 2019 Asian Men's Club Volleyball Championship after outclassing Vietnam's Ho Chi Minh City in straight sets 25-21 25-18 25-21 in their quarter-final clash at the University of Taipei (Tianmu) Gymnasium on Wednesday.
Raja Naveen scored a team-leading 17 points for Chennai Spartans including 15 attacks from 20 attempts, while Nguyen Van Hanh led Ho Chi Minh City with 12 points, all from attacks.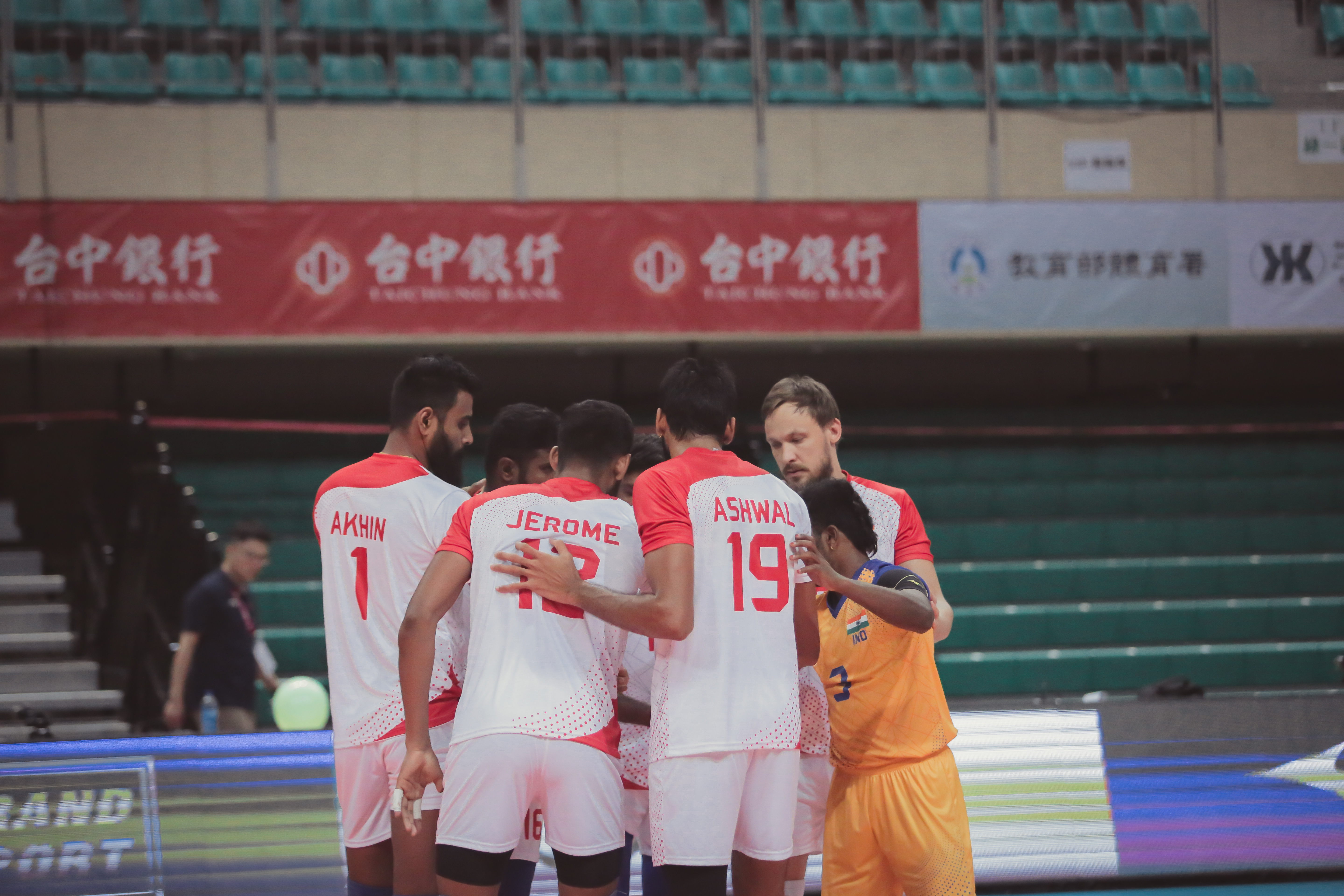 In the first set, Chennai mixed fine attacks from Vinith Jerome and Latvian Sorokiins Ruslans with some solid blocks from Rai Ashwal and GS Akhin for the set win 25-21.
Both teams opened up strongly to level at 10-10 in the second set,but shortly after that Chennai Spartans broke away with exceptional fast attacks from GS Akhin and powerful cross-court attacks by Raja Naween. Ho Chi Minh City regrouped and hit back with sharp spikes from Nguyen Van Hanh. However, with Jerome carrying out powerful jump serves and Canadian Rudy Verhoeef attacking powerfully, the Indians took the comfortable set 25-18.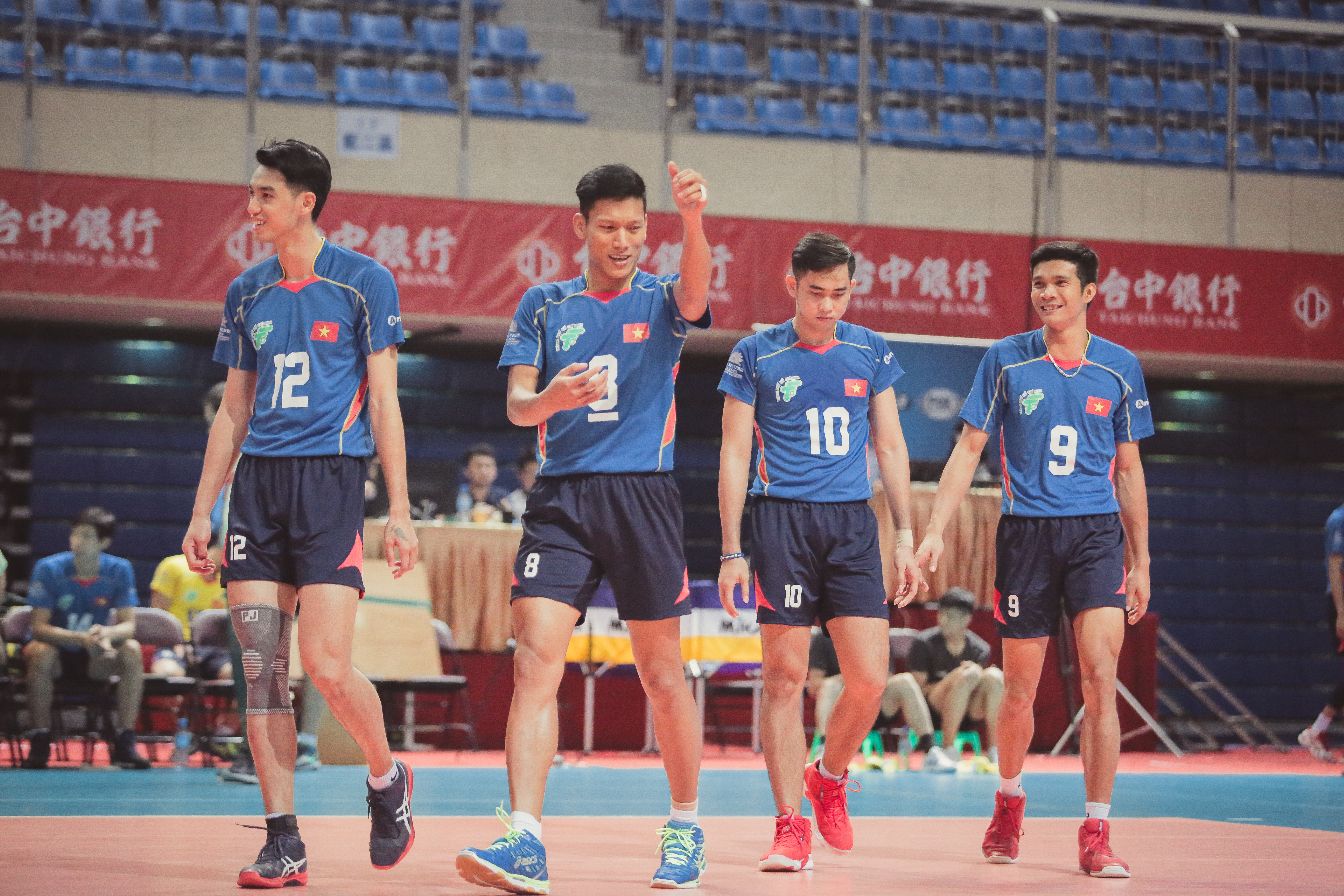 Chennai Spartans fielded most substitutions in the third set including V. Hariharan, Ajith Lal C and A Karthik, but still made a superb start to stay a six-point clear at 15-9 before Ho Chi Minh counter-attacked gallantly to narrow the margin 23-20. However, the Indians picked things up and fought back heavily to clinch the thrilling set 25-21 and match.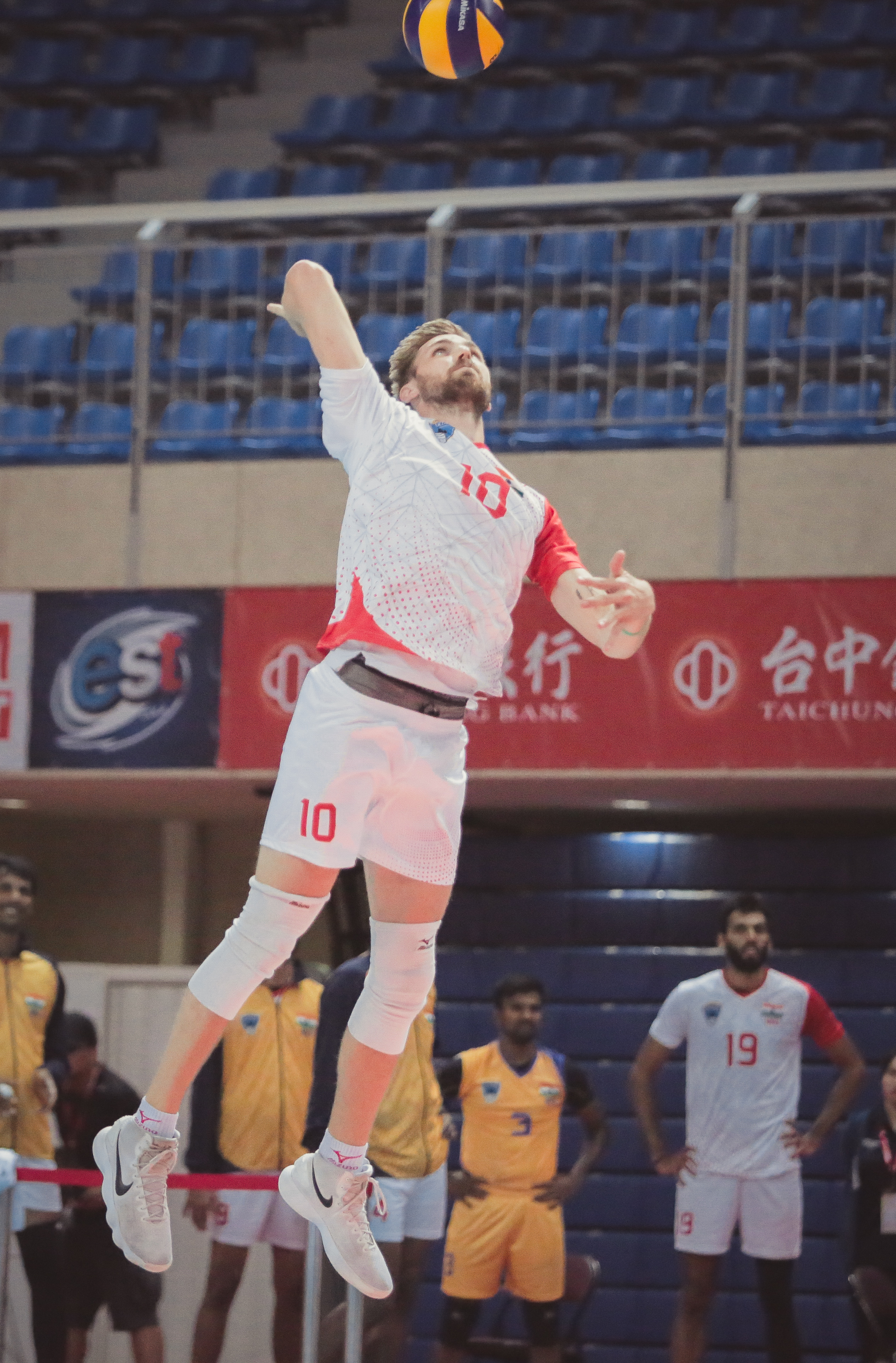 After the match, Chennail Spartans were on cloud nine as it was the first time ever that a club team from India have come this far. India made their debut effort in the 2005 Asian Men's Club Volleyball Championship in Pakistan, where they returned with the bottom 7th place.
India sent their club team to this topnotch competition again in 2012 and 2013 in China and Iran, where ONGC finished 8th at both occasions. After that, they stopped sending teams to this competition until this year when Chennai Spartans, winning the inaugural RePay Pro Volleyball League in India this February, represented India in Taipei.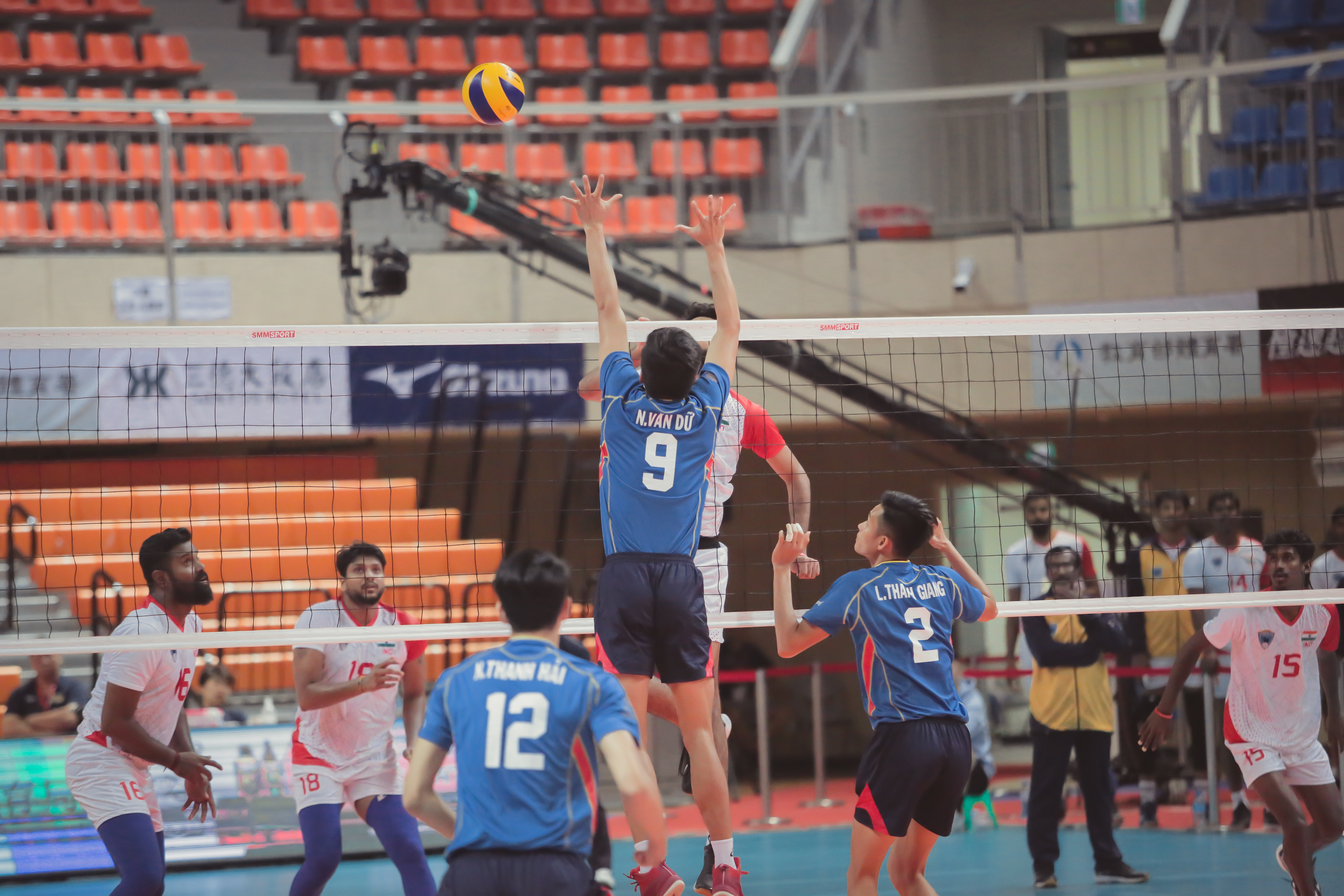 "It was our great result so far in this tournament as we now among the top four teams such like powerhouses Japan, Iran and possible Qatar. We played bad only in the first match and then we picked it up to win the remaining matches. Until now we have reached the semi-finals for the first time in India's history. My players came here on April 13 and had a short period of time to train together as a full team here, just two days ahead of the competition. I think my players played well in this match in terms of the quality and strategic plan," Chennai Spartans head coach Dr M. H. Kumara commented after the match.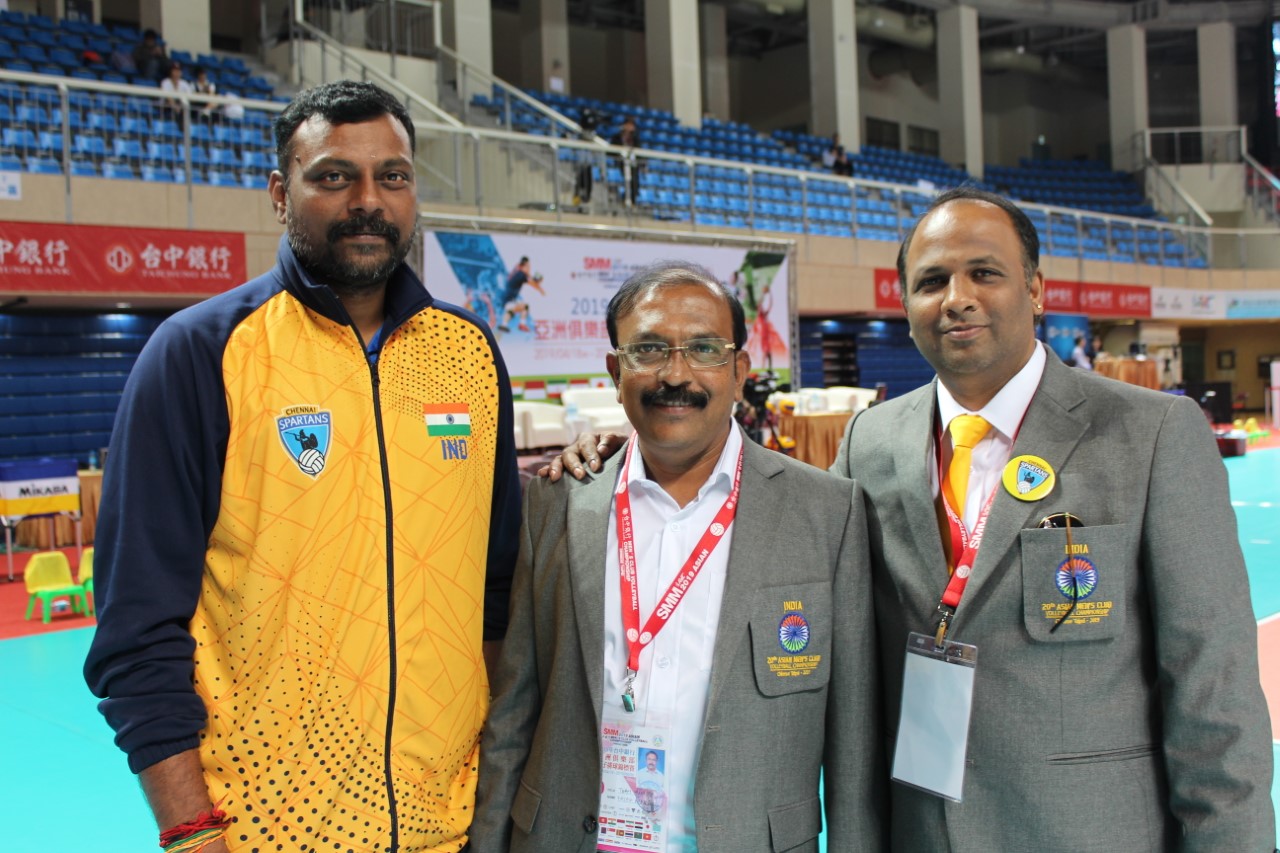 Following the significant success of Chennai Spartans in this topflight competition, Mr Sivapragasame Rajasekaran, Chairman of Chennai Spartans and himself an international volleyball player participating in various international matches globally, and Dr. Uppiliappan Gopalan, Chief Brand Officer of Chennai Spartans, mentioned that India is in the right thresholds of entering the global stage of volleyball and the team are in-form to contest tough matches squarely.
"This is a great achievement for India. We are representing the nation here. First victory of Chennai Spartans was the Pro Volleyball League that we played in India, which featured a total of six strong teams and Chennai won the cup out there. By winning the League, we qualified for the Asian Men's Club Championship here. It's a great moment. It's a master prize of us to represent India among 14 teams here.
"It was a history for India to make it to the semi-finals and I think it's biggest achievement. At this moment, I would like to take the name of Mr Vasudevan, President of Volleyball Federation of India because without this motivation, I don't think the Indian team can come this far. Previously, we did not have kind of leadership and that's why India stood a little chance of sending club teams to this championship. Now, the Federation has the able leader like Mr S. Vasudevan, who wants to take Indian volleyball to the level of the world's best league. I believe for more years to come, we will see more successes under his leadership," Dr. Uppiliappan Gopalan said.
Related links of AVC:
AVC Website: www.asianvolleyball.net
AVC Facebook: www.Facebook.com/AsianVolleyballConfederation
AVC Twitter: https://twitter.com/avcvolley
AVC Instagram: https://www.instagram.com/avcvolley/?hl=en
AVC Youtube: Asian Volleyball Confederation
AVC WeChat: Asian Volleyball Confederation