DAY 6 WRAPUP
Hanoi, Vietnam, July 19, 2019 – China set up a 2015 final rematch with Thailand as hosts Vietnam will test their mettle against DPR Korea in the semi-finals of the 3rd Asian Women's U23 Volleyball Championship at Gia Lam Gymnasium here on Saturday.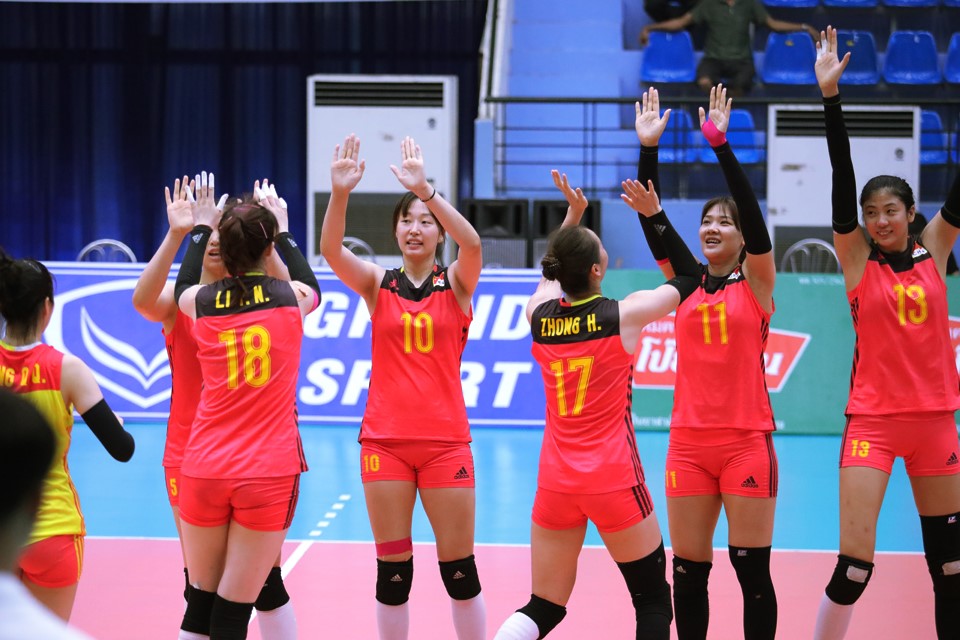 Only China and DPR Korea have yet lost a match to their respective rivals en route to the semi-finals, with Thailand, silver medallists in both previous championships including the 2017 edition back home in Nakhon Ratchasima, suffering their very first match in Hanoi to DPR Korea and the host side going down 1-3 to the indomitable Chinese team in their last top eight playoff match of Pool E two days ago.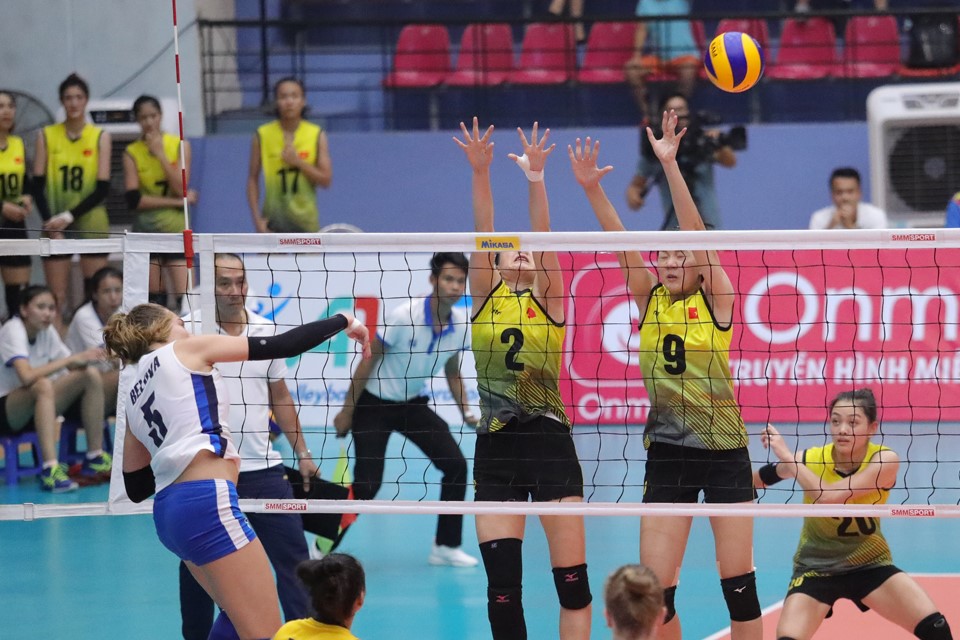 On Friday, Dang Thi Kim Thanh scored a team-high 21 points as hosts Vietnam struggled to beat Kazakhstan in thrilling four-setter in the action-packed quarter-final encounter.
With the dramatic 25-14 19-25 25-21 25-16 win, Vietnam advanced to the semi-finals of the eight-day championship, where they are due to go up against unbeaten DPR Korea in the hunt for a place in the final showdown for the first time in history.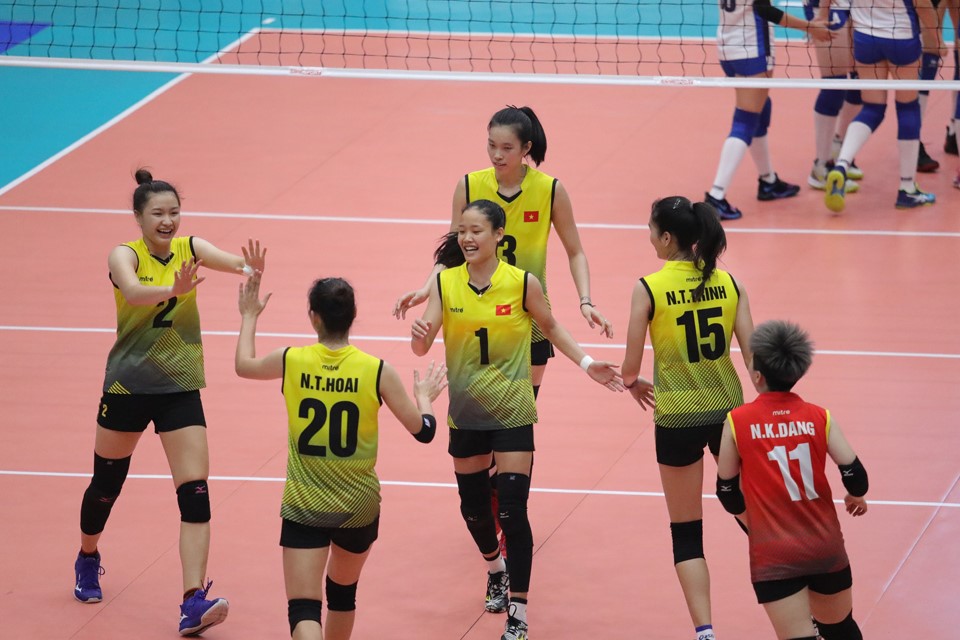 Dang Thi Kim Thanh chipped in with 21 points from 16 attacks, 4 blocks and one ace for the host side, while Saltanat Sapargaliyeva topscored with 14 points for Kazakhstan.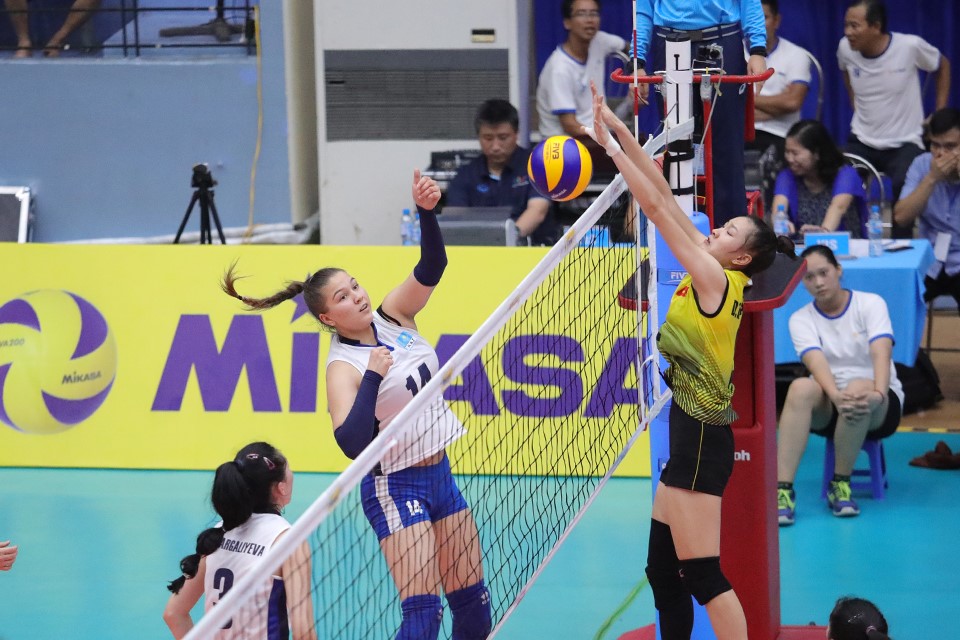 "I'm happy with the win, but in terms of my players' performance, I'm not satisfied with it. We next play DPR Korea in the semi-finals. I admit that it will be a very tough match for us out there. My players must try much harder. The Koreans are very strong defensively and offensively. We couldn't underestimate their exceptional tactics. My players had a tough match against Kazakhstan in this match and I think they are very exhausted. So, I don't think they could not regain their form in time ahead of the match against DPR Korea. We have only 50-60% staying power to play in the semi-finals," said Vietnam head coach Nguyen Tuan Kiet.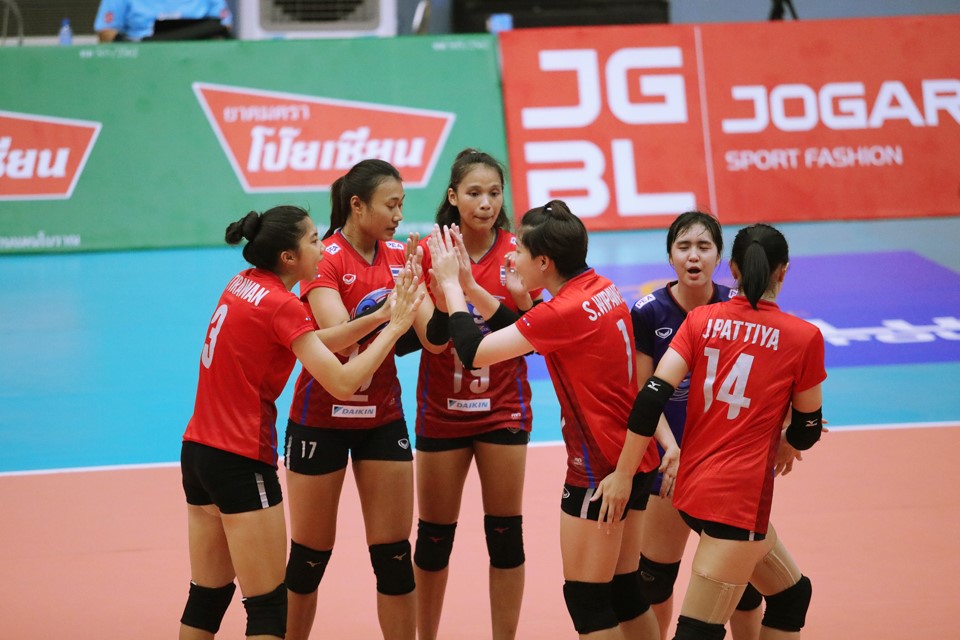 Against Chinese Taipei, Thailand's overwhelming dominance continued through a fusion of skill and brute force as they annihilated Chinese Taipei in thrilling three-setter 25-14 25-18 29-27 to challenge China, the team they lost 1-3 in the final showdown of the inaugural edition in the Philippines in 2015, in a semi-final clash.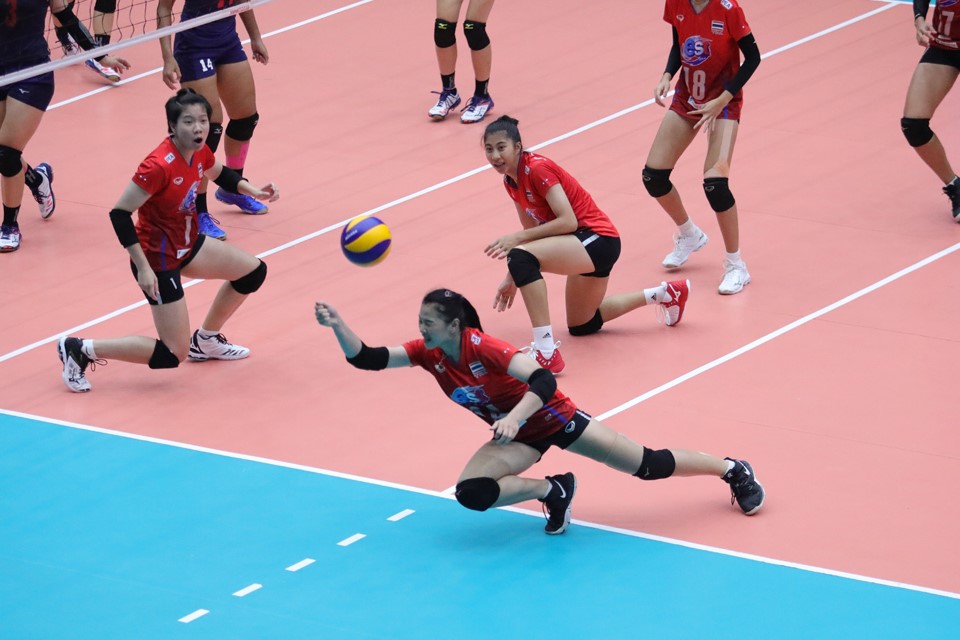 Pattiya Juangjan scored a match-high 17 points from 13 attacks, one block and a team-leading 3 aces for Thailand, while Thanacha Sooksod and Wipawee Srithong added 11 points apiece. Lo Yi-Ching led Chinese Taipei with 12 points.
"We played well according to game plan. My players played confidently and tried to come up with their best performance. On the other hand, Chinese Taipei seemingly looked stressed and lost concentration. That's why they made more mistakes than us. Against China in the semi-finals, I'm still upbeat that this China team are not too strong and tall. We can cope well with their tactics and form. To beat the Chinese, we have to play with confidence as we did in this match against Chinese Taipei and avoid making unforced mistakes. If so, I'm confident we can beat them," commented Thailand head coach Chamnan Dokmai.
Fired-up China, resting some key players including Wu Han, powered their way to the semi-finals after breezing past Hong Kong China in a one-side affair 25-15 25-13 25-12 on Friday. After the match, players and team officials of China and Hong Kong China had posed for group photos.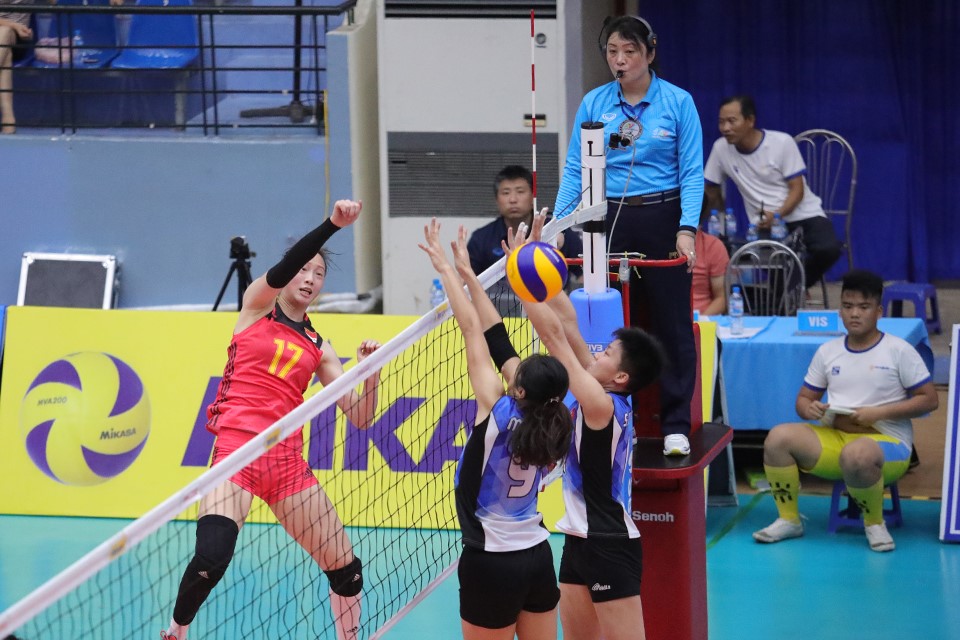 Zhong Hui performed brilliantly as she chipped in with 16 points from 15 attacks and one ace for China, while Song Liqi made good company to add 15 points including 12 attacks. Tam Ching Rachel led Hong Kong China with 6 points including 5 attacks from 28 attempts.
"It's a very important match since this is quarter-final match. So, I told my players to concentrate on our game because we have to prepare for tough matches in the semi-finals and the final as well. I changed a lot of players in this match because i would like to give all players an opportunity to learn and feel the competition. Everyone must get ready for tougher task in the remaining two days. We will study the video of Thailand and prepare ourselves to play them," China head coach Li Yanlong commented via English-speaking team manager Song Yue.
DPR Korea remained on course after storming past New Zealand in comfortable straight sets 25-8 25-17 25-19 in their quarter-finals on Friday.
Son Hyang Mi chipped in with 13 points for DPR Korea including 12 attacks from 27 attempts, while Tamara Otene topscored with 12 points for New Zealand.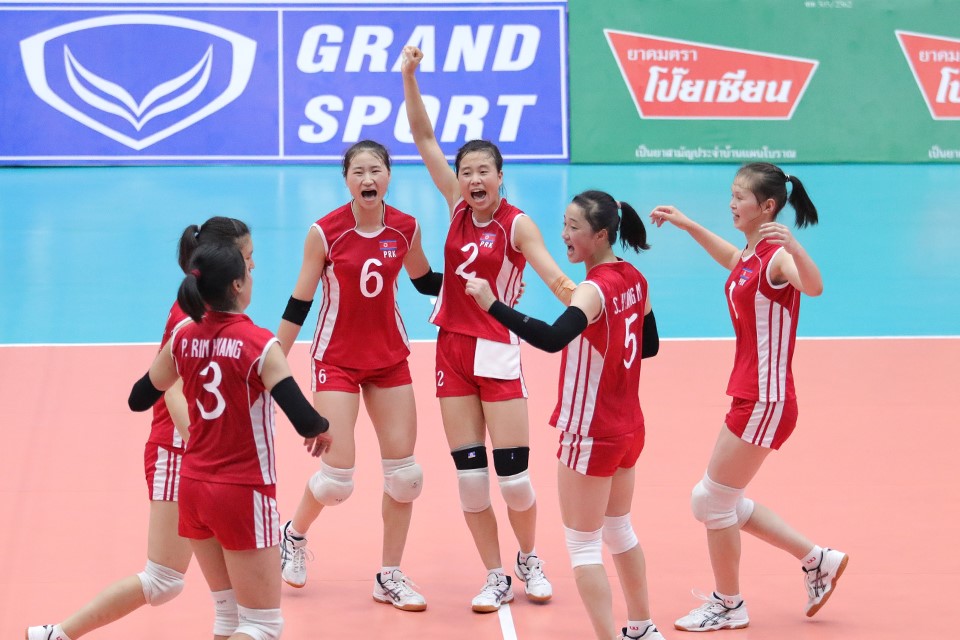 "It's good to win this match because it's very important for us to advance to the semi-finals. We trained only two months before taking part in this Championship because my players competed in National Championship in DPR Korea before undergoing an intensive training in preparation for this Championship. We are not experienced and this is our second time to compete in international events including the last year's VTV International Women's Volleyball Cup in Hatinh, Vietnam, where we finished second to hosts Vietnam. Our expectation here is not that high. We just want to do our best in every match we compete," said DPR Korea's head coach Jang Kwang Chol via English-speaking Ms Jang Jong Hyang, FIVB International Referee from DPR Korea.
Meanwhile, at Tay Ho Gymnasium, India thrashed Macau China in straight set 25-14 25-19 25-12 in classification for 9th-12th places. The other match between Australia and Maldives ended in a forfeit as the latter left Hanoi earlier.
As a result, Macau China are likely to finish 11th position as they are due to take on the losers in the match between Maldives and Australia, in the 11th-12th place playoff on Saturday. The other encounter on Saturday sees India battle it out with Australia in the 9th-10th playoff.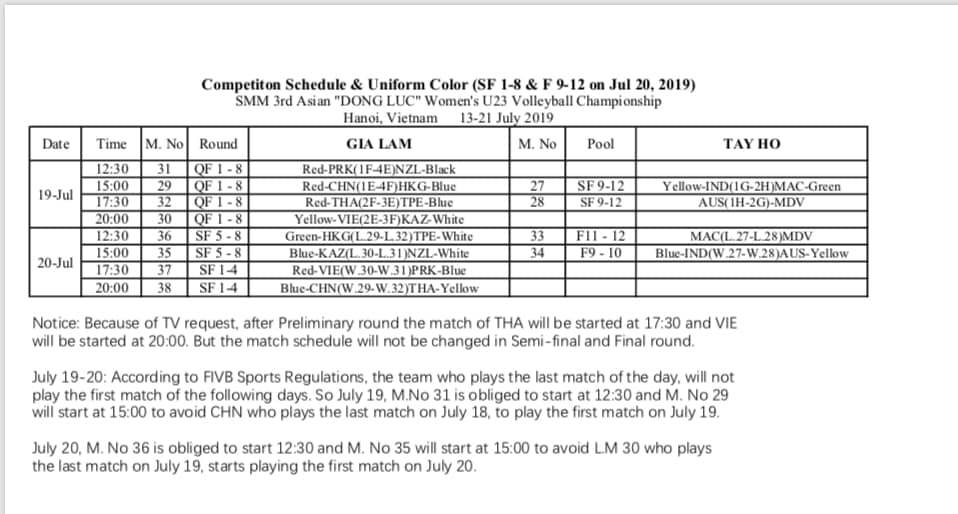 Related links of AVC
AVC Website: click www.asianvolleyball.net
AVC Facebook: click www.Facebook.com/AsianVolleyballConfederation
AVC Twitter: click: https://twitter.com/avcvolley
AVC Instagram: click: https://www.instagram.com/avcvolley/?hl=en
AVC Youtube: click: Asian Volleyball Confederation
AVC WeChat: Asian Volleyball Confederation