Ningbo, China, September 25, 2023 – Host pairs Xue/Xia and Wang/Dong both delighted home fans and supporters by eliminating Hasegawa/Sakaguchi of Japan and Juliana/Ratnasari of Indonesia respectively at the quarterfinals of the 19th Asian Games Hangzhou 2022 Women's Beach Volleyball Competition on Monday here at Xiangshan Beach Volleyball Center.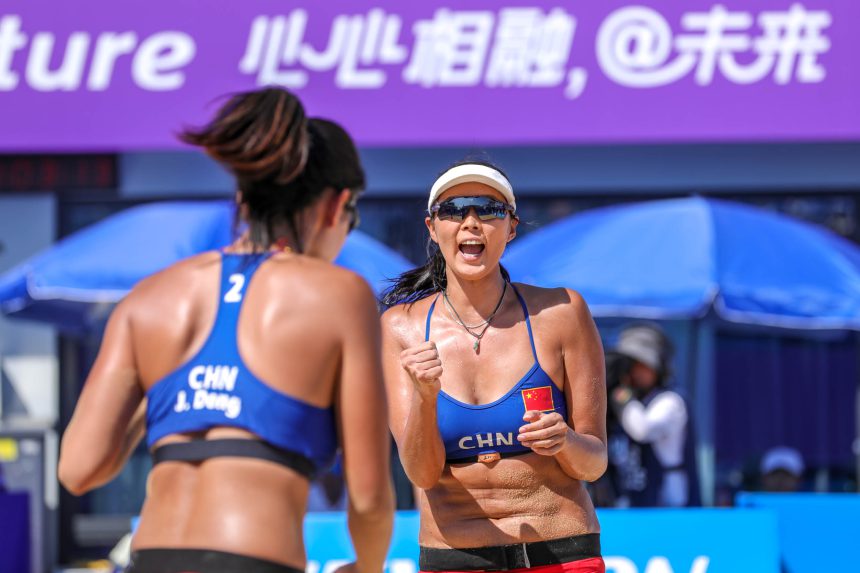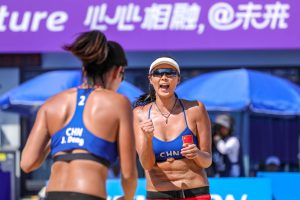 Wang/Dong set a good start for team China as they breezed past Juliana/Ratnasari of Indonesia with a comfortable 2-0 (21-11, 21-11) victory in the morning.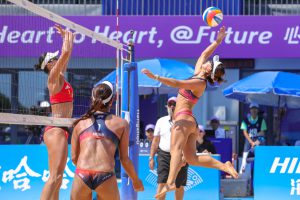 Xue/Xia met some trouble in the first set but managed to overcome before they claimed a convincing 2-0 (21-16, 21-12) win against Hasegawa/Sakaguchi of Japan.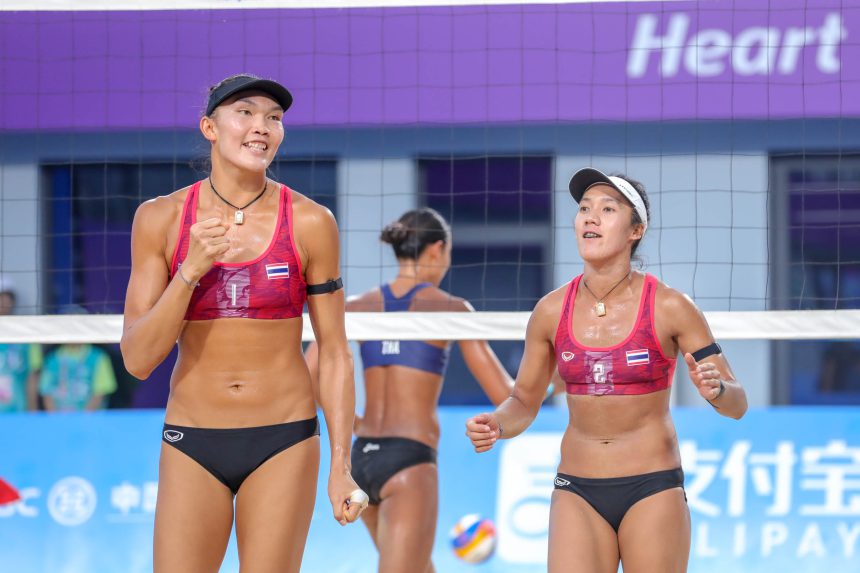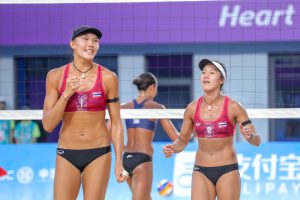 The other quarterfinals match was held between two pairs of Thailand. With their height advantage, former Asian champions Naraphornrapat/Kongphopsarutawadee outplayed teammates Phirachayakrailert/Patcharamainaruebhorn 2-0 (21-14, 21-7) and secured a semifinal ticket for Thailand.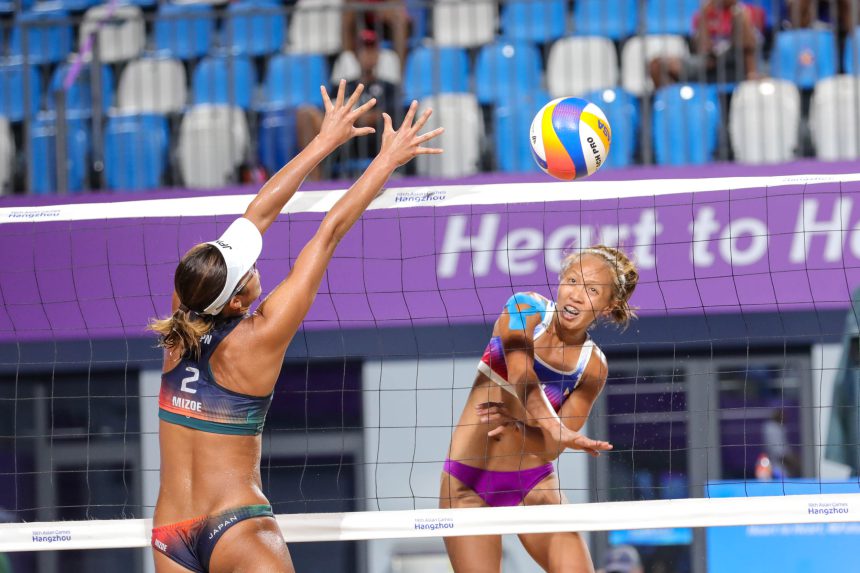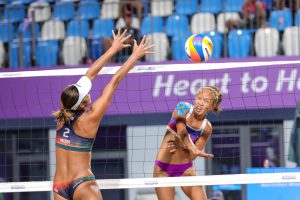 Japan also reserved a berth in the semifinals as the other pair Mizoe/Ishii outstripped Rodriguez/Eslapor of Philippines 2-0 (21-16, 21-11).
With precise blocks and efficient attacks, Japan gradually pulled away after 5-5 tie. Philippines responded with stiff resistance to shorten the gap from 11-16 to 13-16. But their effort was melt away as Japan reinforced their defense for counterattacks. The gap was widened again before Japan closed out the first set i21-16.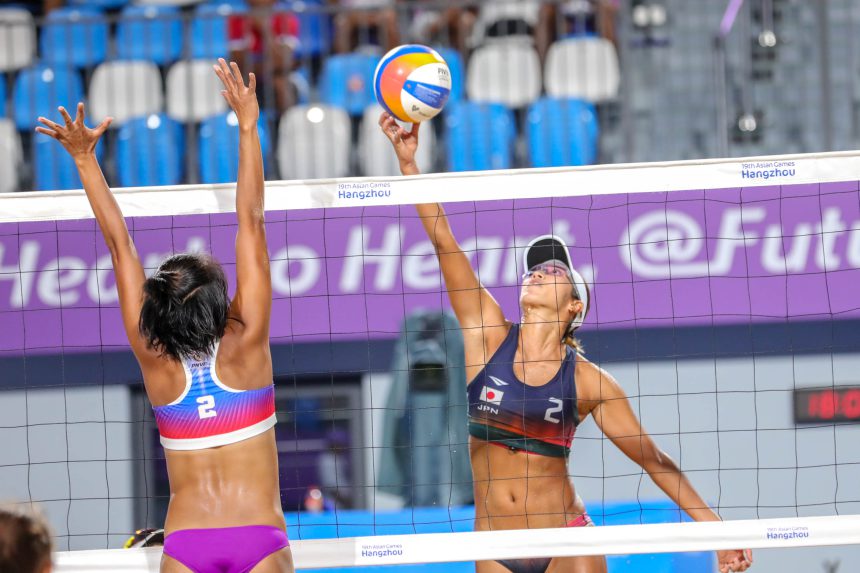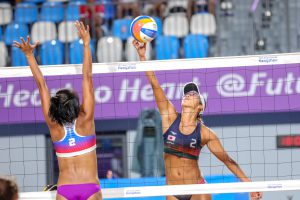 Japan emitted consecutive two ace services in the second set to build an 8-4 lead. Philippines found no way to keep up with the pace of Japan and soon yielded the set 11-21.
"Philippines is a fast and strong team. We played good in blocks and service today. That's why we won the match," said Mizoe Sayaka. "We will face Thailand in the semifinals. They are tall and good at blocking. We will prepare for that."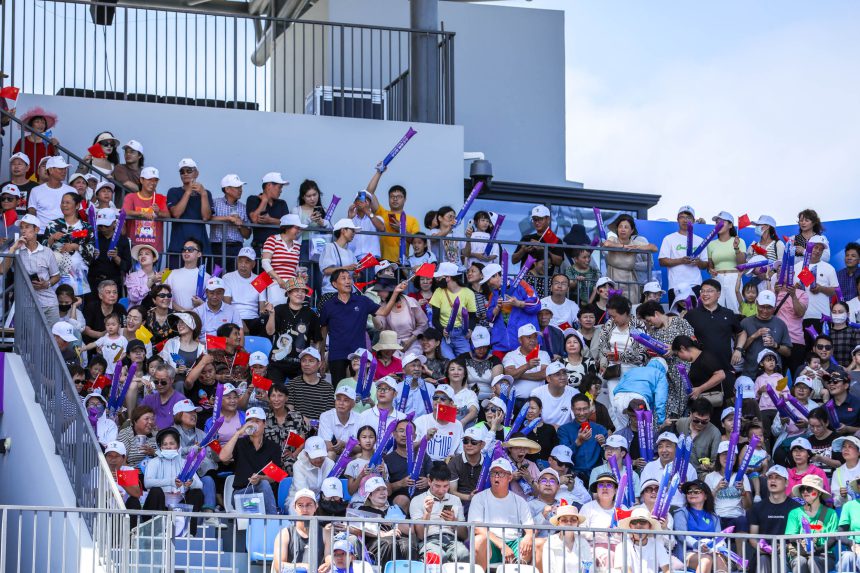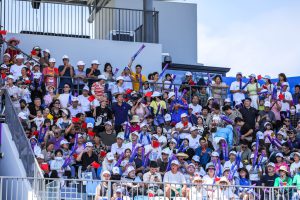 China will set inner clash between Xue/Xia and Wang/Dong while Mizoe/Ishii of Japan will play against Naraphornrapat/Kongphopsarutawadee of Thailand in the semifinals held on Tuesday. The final showdown will be held on Wednesday.
Ningbo, the second largest city of Zhejiang Province, enjoys a long history of over 7,000 years with plenty of historical and religious sites. Served as one of the co-host cities for the 19th Asian Games, Ningbo will host two events of beach volleyball and sailing in its coastal Xiangshan County. The 19th Asian Games will be held in Hangzhou, capital city of Zhejiang from September 23 to October 8, 2023.
Match Result and Schedule (Local time)
September 25, 2023 (Monday)
10:00 INA (Juliana/Ratnasari) v CHN (Wang/Dong) 0-2 (11-21, 11-21)
11:00 CHN (Xue/Xia) v JPN (Hasegawa/Sakaguchi) 2-0 (21-16, 21-12)
17:00 THA (Phirachayakrailert/Patcharamainaruebhorn) v THA (Naraphornrapat/Kongphopsarutawadee) 0-2 (14-21, 7-21)
18:00 JPN (Mizoe/Ishii) v PHI (Rodriguez/Eslapor) 2-0 (21-16, 21-11)
September 26, 2023 (Tuesday)
14:00 CHN (Xue/Xia) v CHN (Wang/Dong)
15:00 JPN (Mizoe/Ishii) v THA (Naraphornrapat/Kongphopsarutawadee)
MATCH RESULTS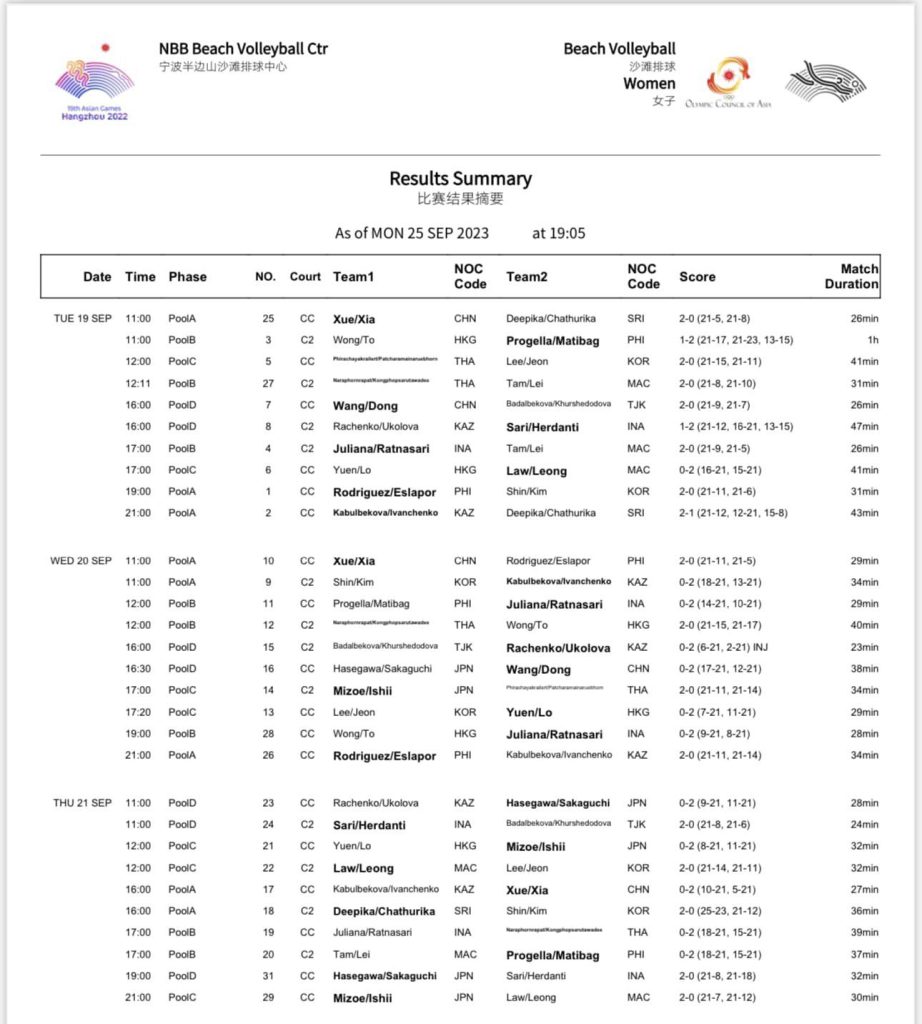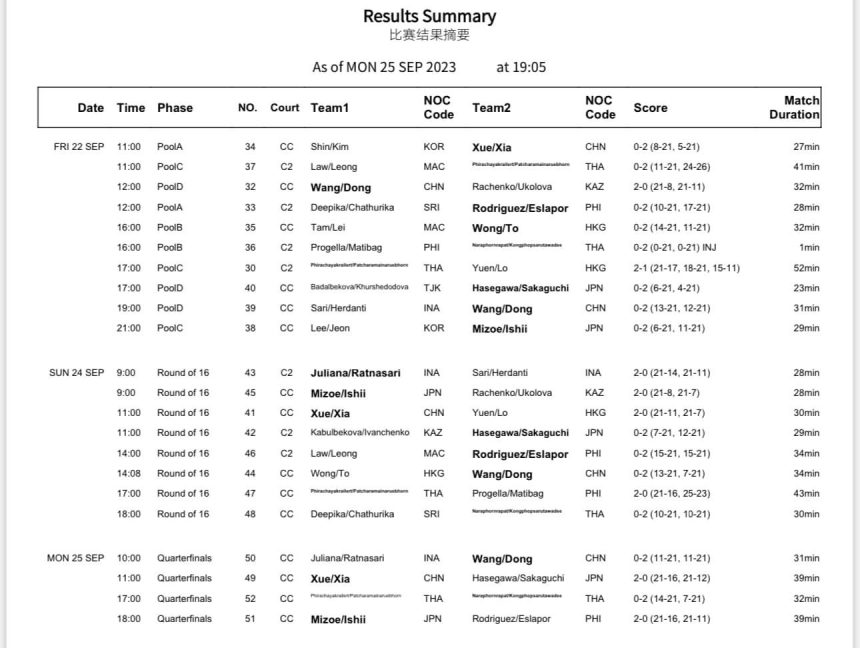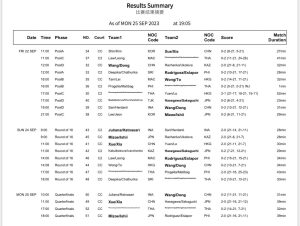 WOMEN'S BRACKET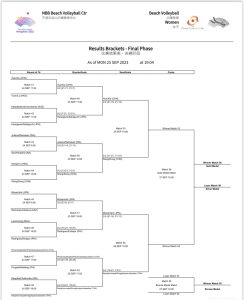 QUICK LINKS
AVC Website: click www.asianvolleyball.net
AVC Facebook: click www.Facebook.com/AsianVolleyballConfederation
AVC Twitter: click: www.twitter.com/AsianVolleyball
AVC Instagram: click: https://www.instagram.com/avcvolley/?hl=en
AVC Youtube: click: Asian Volleyball Confederation
AVC WeChat: Asian Volleyball Confederation