Indonesia picked up bronze medal after 3-1 win against Philippines
Thailand stamped their domination over the 32nd Southeast Asian (SEA) Games Women's Volleyball Tournament with remarkable unbeaten record after dramatic 3-1 victory against long-standing rivals Vietnam, which captured their unprecedented Asian Women's Club Championship under the Sport Center 1's banner early this month, in a highly-anticipated final showdown at the Olympic Complex Indoor Main Hall in Phnom Penh, Cambodia on Sunday.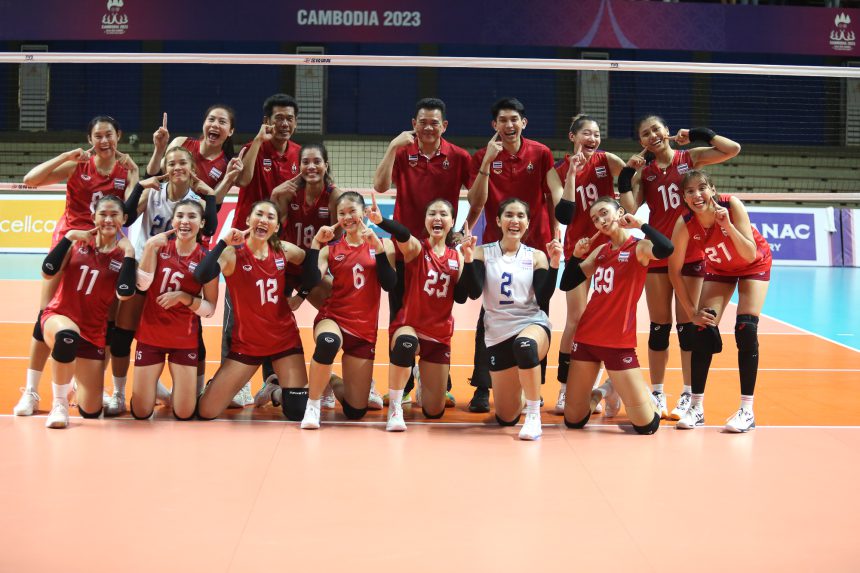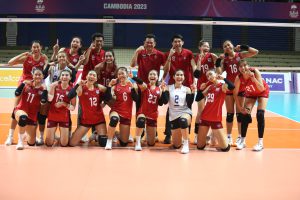 The exceptional 25-17, 21-25, 32-30, 25-21 win in front of a large number of spectators packing the competition venue not only made the world No.15 and consecutive two-time Asian silver medallists the only unbeaten team in the six-day tournament, but also extended their supremacy in the SEA Games, a biennial multi-sport event involving participants from the current 11 countries of Southeast Asia, to 16 times including 14 in a row (1989, 1991, 1995, 1997, 2001, 2003, 2005, 2007, 2009, 2011, 2013, 2015, 2017, 2019, 2021 and 2023).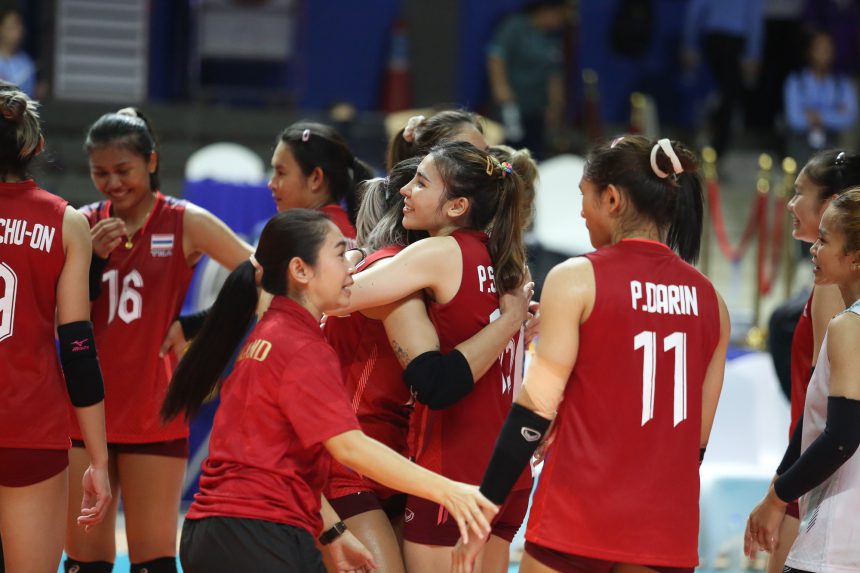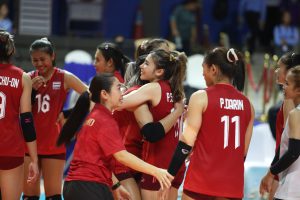 Thailand has already entered the final for consecutive 17 times in the SEA Games history since they first made it to the SEA Games final in 1985 in Philippines. From the 1989 edition in Kuala Lumpur, Malaysia to the current episode in Cambodia, Thailand had made it to the final in every edition of the SEA Games and lost just once to Philippines in 1993. More importantly, Thailand has met Vietnam for 11 times in the SEA Games final and they won them all.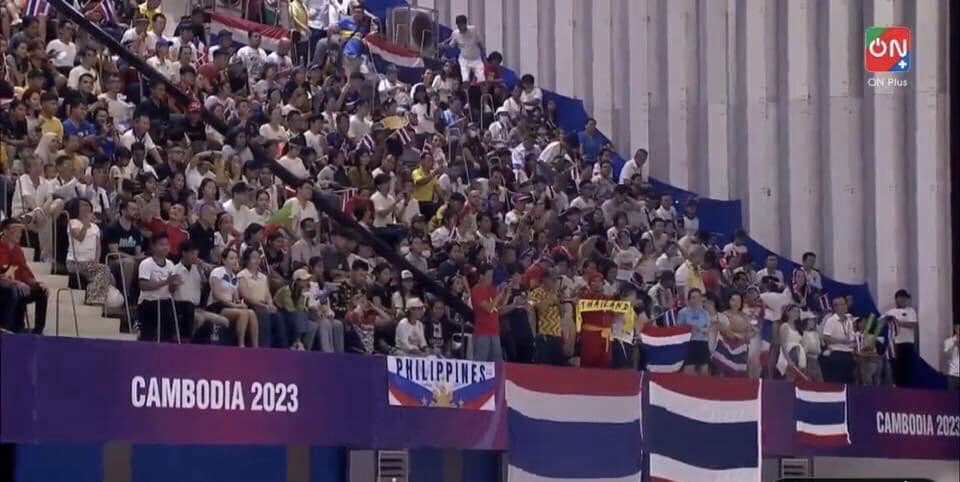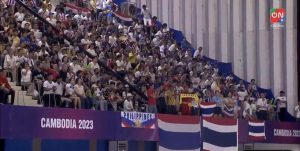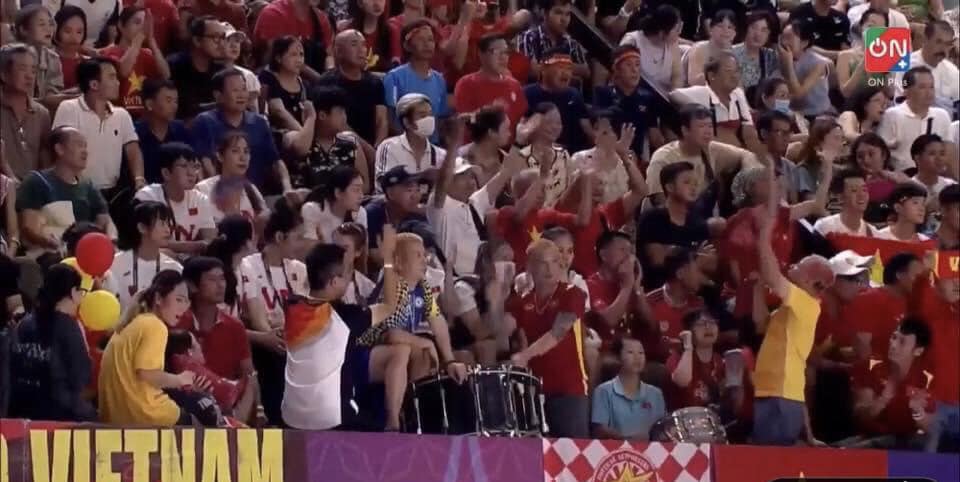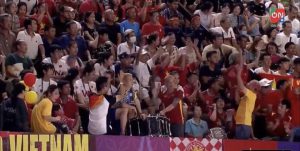 Both teams have yet lost to any team en route to the Sunday's showdown, with Thailand routing Philippines 3-0 and Vietnam struggling to beat Indonesia 3-2 in the semifinals the previous day.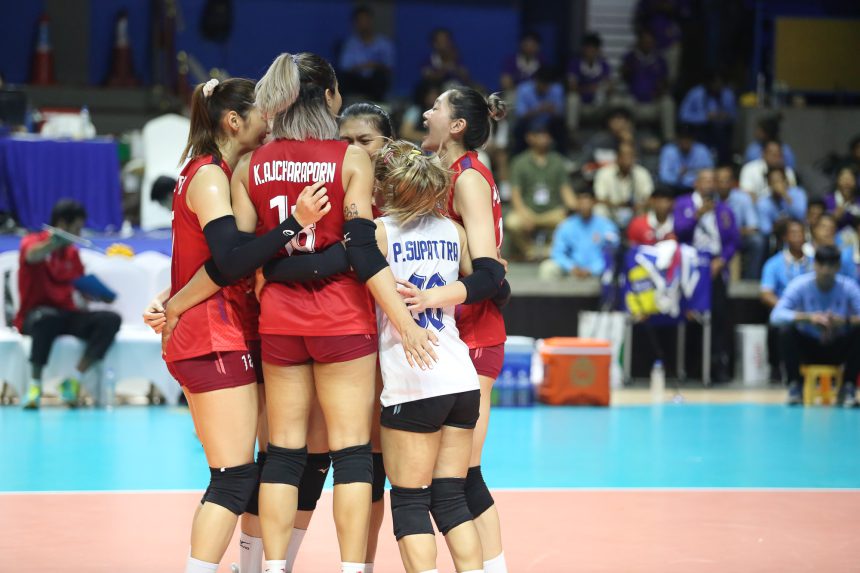 Against the formidable Vietnamese in the final clash, Thailand fielded an offensively-strong lineup led by Chatchu-on Moksri and Ajcharaporn Kongyot, both of them competed professionally with Sariyer Belediyesi Spor Kulubu in Turkey. Furthermore, the team were also strengthened by Pimpichaya Kokram, Thatdao Nuekjang and Hattaya Bamrungsuk, three of them played professionally in Japan.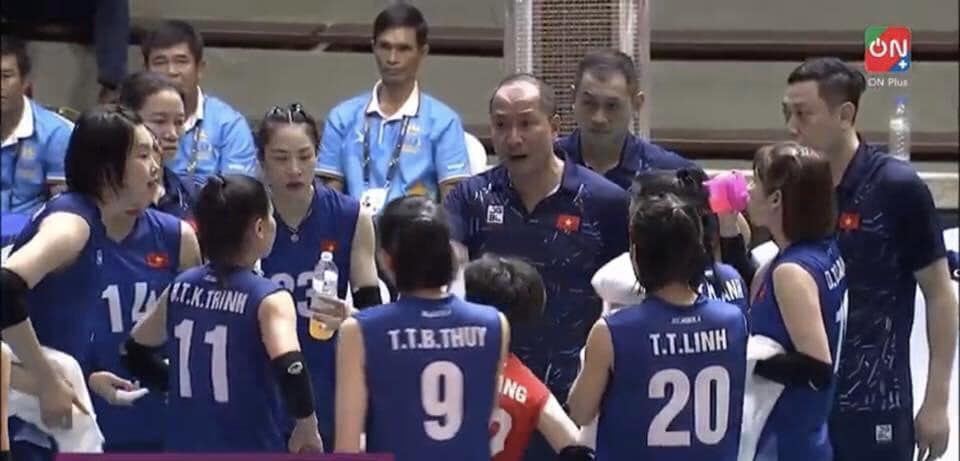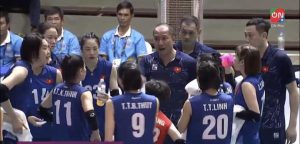 The 193cm-tall Tran Thi Thanh Thuy, who scored a match-high 30 points in the semifinal match against Indonesia the previous day, spearheaded Vietnam.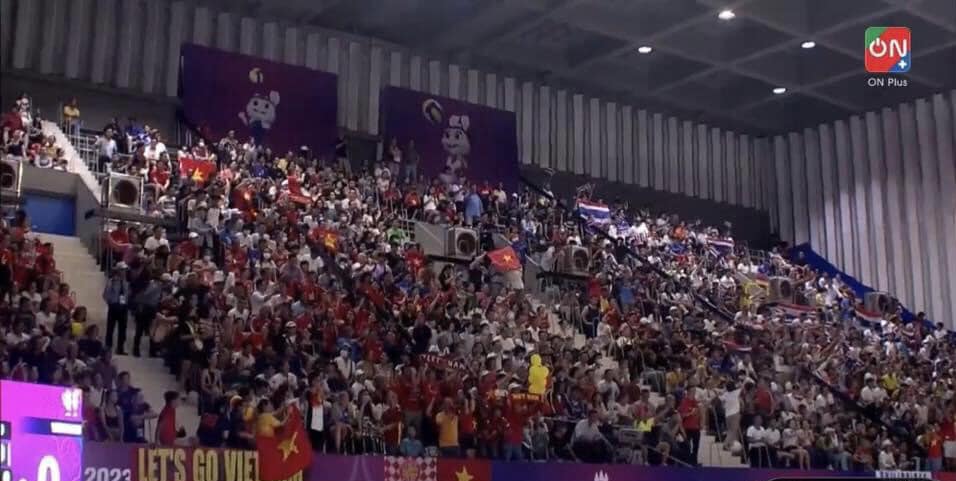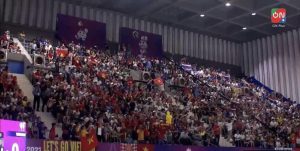 Thanks to powerful attacks from Chatchu-on, Pimpichaya and Ajcharaporn, Thailand wrapped up the first set without much trouble 25-17. Holding a 1-0 disadvantage, Vietnam bounced back mightily with Thanh Thuy and Hoang Thi Kieu Trinh joining forces to penetrate the Thai defence with her exceptional attacks to claim the second set 25-21.
The third set turned out to be hotly-contested as both sides played neck and neck to win the set which saw leads change hands for several times. Hattaya hammered an overpass kill to put Thailand in front 24-23, but Vietnam did not surrender easily as they hit back to level it at 24-24, 27-27 and 30-30. Moments later, Pimpichaya produced an ace serve to put Thailand ahead 31-30 and an unforced mistake from Vietnam cost them dear as Thailand took the hard-fought set 32-30.
Their confidence boosted after leading 2-1, Thailand remained in superb form with consistency and resilience to capture the lead with a four-point clear at 7-3and extended it to 19-14. However, Vietnam clawed their way back into game and narrowed the margin 20-24. Thailand allowed the closest rivals only one more point to capture the fourth set 25-21, match and gold medal.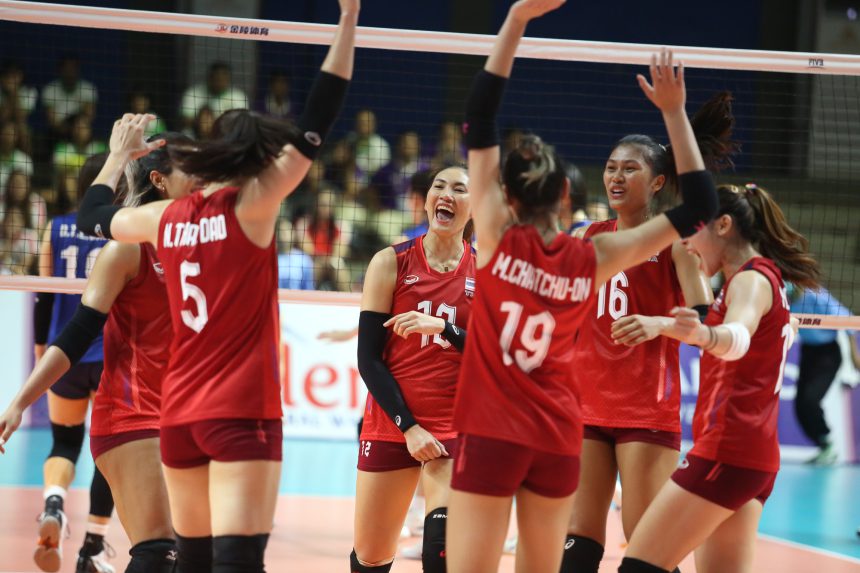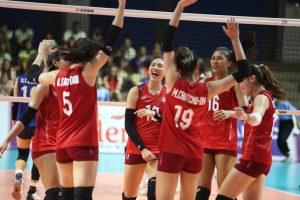 Pimpichaya Kokram chipped in with 18 points including 13 attacks and team-leading 4 aces for Thailand, while Thatdao Nuekjang and Hattaya Bamrungsuk kept good company to add 14 and 11 points respectively. Tran Thi Thanh Thuy scored a match-high 26 points including 24 attacks on Vietnam's losing effort.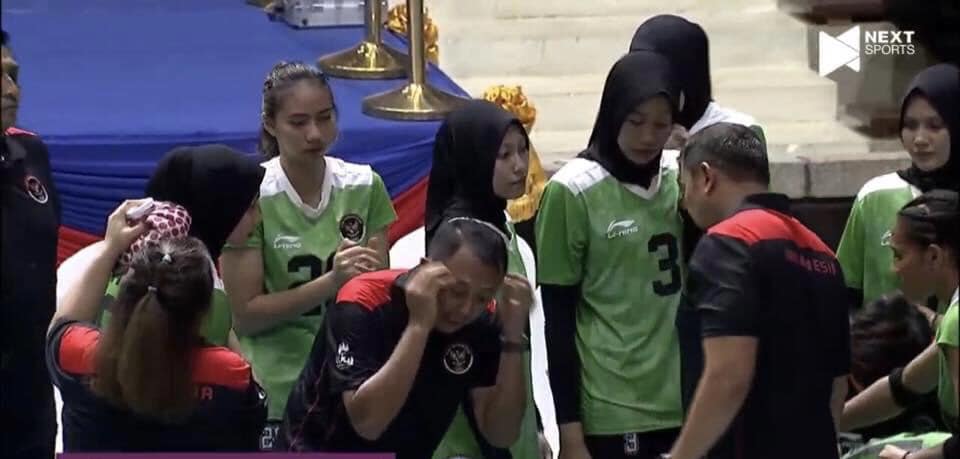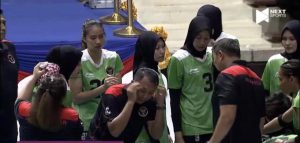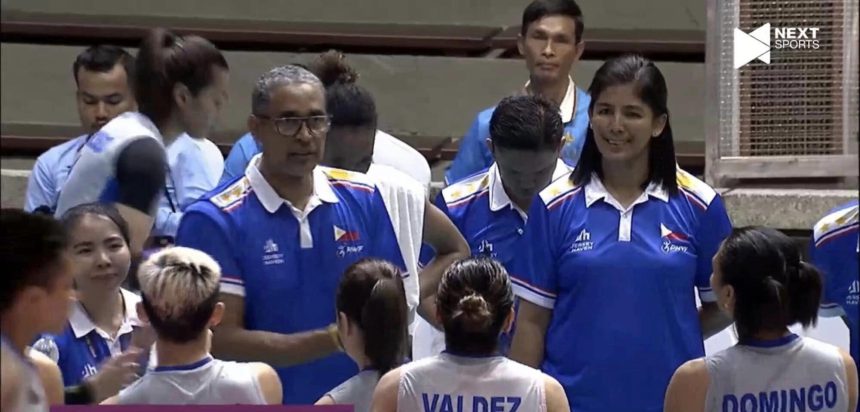 The third-place playoff clash earlier saw the 1983 winners Indonesia struggle to beat former six-time champions Philippines in hard-fought four-setter 25-20, 22-25, 25-22, 25-23 in grueling 128 minutes to claim bronze medal, their 11th bronze in the SEA Games history including three in a row.
Singapore claimed the 5th place after producing an epic comeback 3-2 (21-25, 17-25, 25-20, 27-25, 15-11) win against Malaysia in the 5th-6th playoff match, while Myanmar finished 7th position following their 3-0 win against the forfeiting hosts Cambodia in the 7th-8th playoff clash.
FINAL RESULTS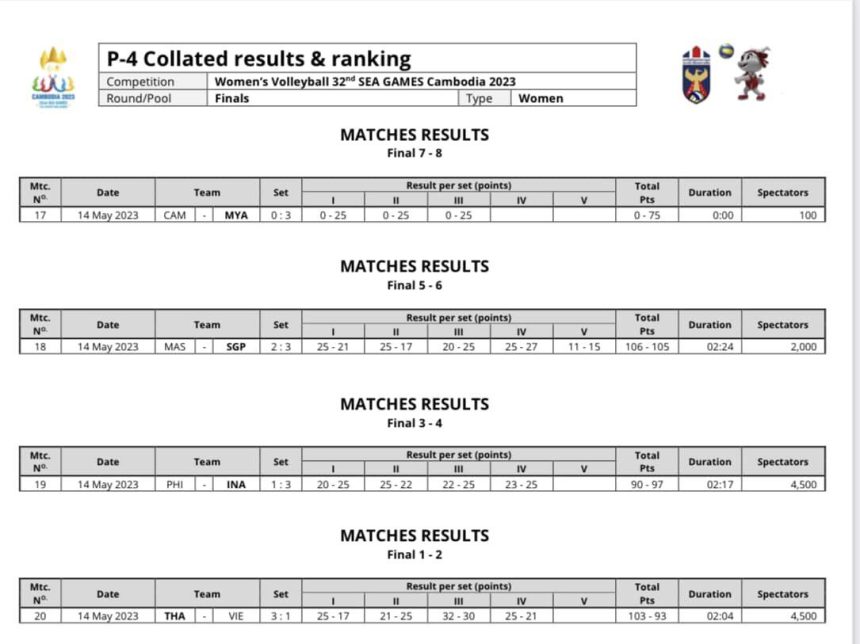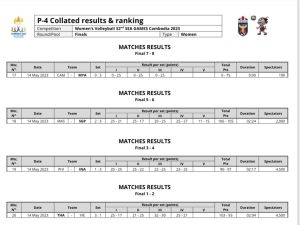 FINAL RANKING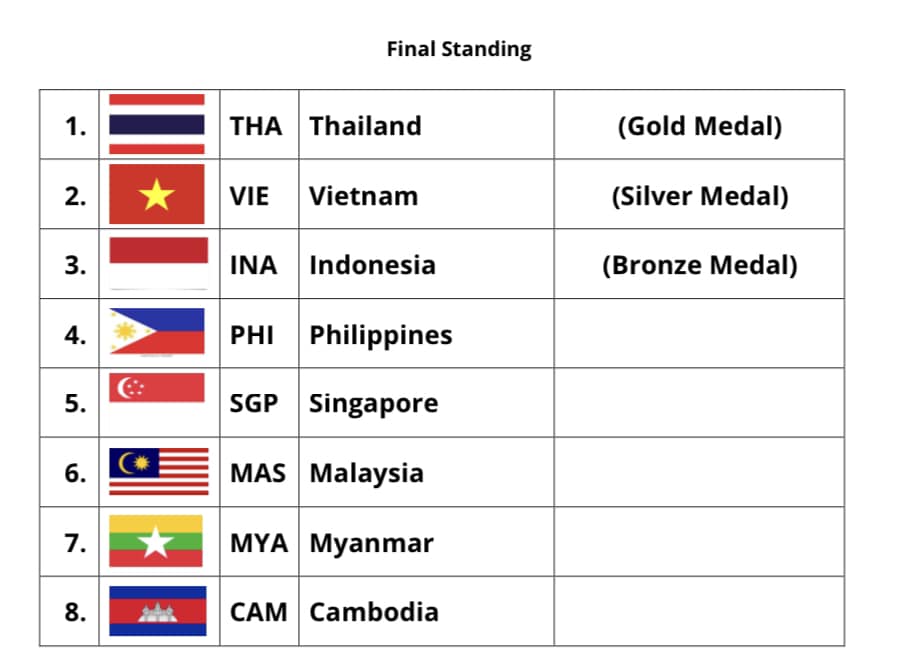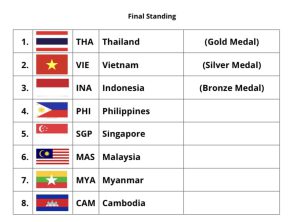 QUICK LINKS
AVC Website: click www.asianvolleyball.net
AVC Facebook: click www.Facebook.com/AsianVolleyballConfederation
AVC Twitter: click: www.twitter.com/AsianVolleyball
AVC Instagram: click: https://www.instagram.com/avcvolley/?hl=en
AVC Youtube: click: Asian Volleyball Confederation
AVC WeChat: Asian Volleyball Confederation