Lausanne, Switzerland, March 4, 2019 – After two weeks of play on the Asian continent, the FIVB World Tour moves on to Australia where Manly Beach hosts the Beach Volleyball "elite" starting Wednesday for VolleyFest 2019.
The FIVB World Tour returns for the third-straight season to Manly Beach, which is a 30-minute ferry ride from Circular Quay and the world-famous Sydney Opera House.  VolleyFest 2019 will be the 12th men's and women's event on the 2018-2019 international calendar as the FIVB staged events the past two weekends in Cambodia and India,
Canadians and Australians captured the last Manly tournaments where competition was held in late November 2017 at the start of the FIVB World Tour's 2017-2018 campaign.  Grant O'Gorman and Ben Saxton of Canada topped the men's podium last season with Australians Taliqua Clancy and Mariafe Artacho pleasing the Manly patrons by winning the women's gold medal.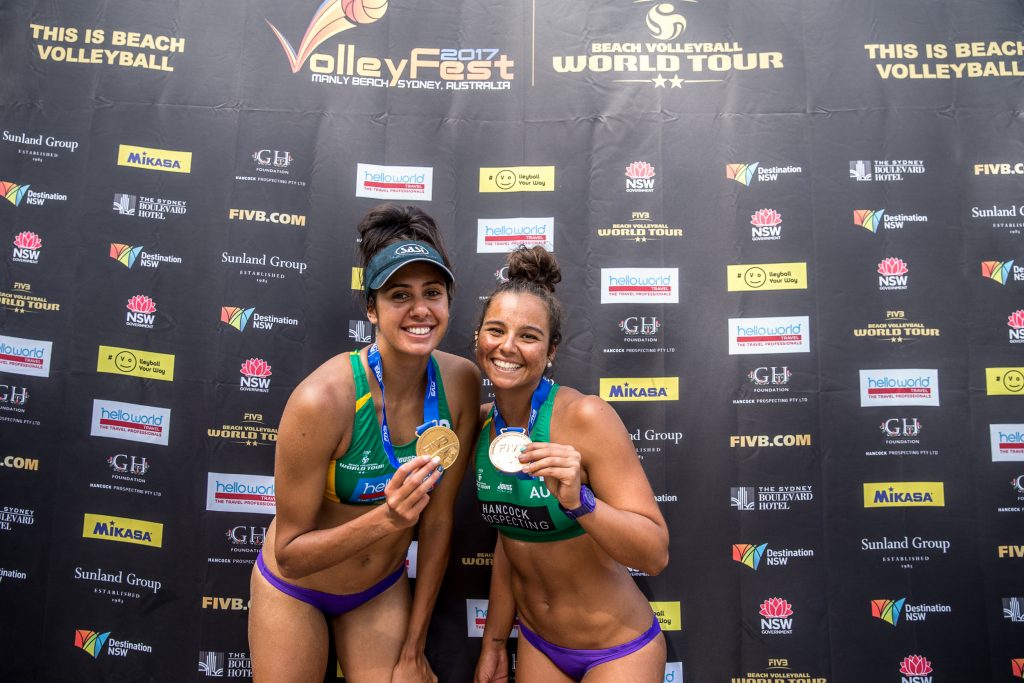 Following Wednesday's qualifier, the US$150,000 VolleyFest 2019 continues Thursday with pool play leading to the weekend's elimination matches that set the field for Sunday's medal matches where the winning teams will share the $10,000 first-place prizes.
VolleyFest 2019 started last weekend on Manly where Clancy/Artacho and compatriots Chris McHugh/Zachery Schubert captured the titles Sunday by defeating teams from Japan and France, respectively, to win the gold medals at the Australian Championships.
After McHugh/Schubert defeated Arnaud Gauthier/Quincy Aye of France 2-0 (21-17, 21-15) to win the men's title, Clancy/Artacho scored a 2-1 (16-21, 21-17, 15-10) win over Miki Ishii/Megumi Murakami of Japan to claim the women's championship.
While the Australians were finishing their domestic season Sunday, German and the Czech Republic pairs were crowned men's and women's winners, respectively, later in the day as India hosted its first-ever FIVB World Tour event in Visakhapatnam.
Armin Dollinger/Simon Kulzer of Germany defeated Ya-Jen Hsieh/Chin-Ju Wang of Chinese Taipei for the men's Vizag Open India gold medal after Martina Bonnerova/Martina Maixnerova of Czech Republic captured the women's title by defeating Yurika Sakaguchi/Chiyo Suzuki of Japan.
Despite dropping the field, Hsieh and Wang became the first men's team from Chinese Taipei to claim a spot on a FIVB World Tour podium.  Hsieh and Wang's silver medal finish was highlighted by five-straight wins, including a qualifying victory Thursday to advance to the Vizag Open main draw.
India – Visakhapatnam, Feb. 28-March 3, 2019, US$5,000, FIVB Men's Event No. 420
Armin Dollinger/Simon Kulzer, Germany, $1,000
Ya-Jen Hsieh/Chin-Ju Wang, Chinese Taipei, $700
Sergiy Grabovskyy/Cameron Wheelan, Canada, $500
Hitoshi Murakami/Takashi Tsuchiya, Japan, $400
Gold – Dollinger/Kulzer def. Hsieh/Wang, 16-21, 25-23, 11-7 retired (55 minutes)
Bronze – Grabovskyy/Wheelan def. Murakami/Tsuchiya, 21-15, 21-17 (38)
India – Visakhapatnam, Feb. 28-March 3, 2019, US$5,000, FIVB Women's Event No. 386
Martina Bonnerova/Martina Maixnerova, Czech Republic, $1,000
Yurika Sakaguchi/Chiyo Suzuki, Japan, $700
Nadine Strauss/Teresa Strauss, Austria, $500
Miller Pata/Sherysyn Toko, Vanuatu, $400
Gold – Bonnerova/Maixnerova def. Sakaguchi/Suzuki, 19-21, 21-18, 15-9 (50)
Bronze – N. & T. Strauss def. Pata/Toko, 21-16, 21-18 (36)
Following VolleyFest 2019, the FIVB World Tour heads back to Cambodia for as Kg Speu stages a men's only event March 7-10.  Qatar returns to the FIVB World Tour calendar for the fifth-straight season with a men's only event March 12-16.
The sixth of six-straight Asian confederation events on the international circuit will be in March 21-24 for a women's only tournament in Siem Reap, Cambodia.
Related links of AVC:
AVC Website: www.asianvolleyball.net
AVC Facebook: www.Facebook.com/AsianVolleyballConfederation
AVC Twitter: https://twitter.com/avcvolley
AVC Instagram: https://www.instagram.com/avcvolley/?hl=en
AVC Youtube: Asian Volleyball Confederation
AVC WeChat: Asian Volleyball Confederation