USA settle for silver, Poland claim bronze
The reigning Olympic champions are now reigning VNL champions too! France won Sunday's men's Volleyball Nations League 2022 final to triumph with their first title in the history of the competition. In a spectacular five-setter, they claimed a 3-2 (25-16, 25-19, 15-25, 21-25, 15-10) victory over USA, leaving the opponents with their second silver and third VNL podium overall. The bronze medals went to Poland. The world champions produced a solid 3-0 (25-16, 25-23, 25-20) shutout of Finals hosts Italy in Bologna to earn their third VNL podium in a row, after their bronze in 2019 and silver in 2021.
Star outside hitter Earvin Ngapeth led France to the trophy, scoring a match-high 22 points towards the final victory. Opposite Jean Patry added another 17. On the other side of the net, outside hitter Aaron Russell led the US scorers on 20 points. Torey Defalco, whose move from the position of an outside hitter to that of an opposite in the American line-up changed the course of the game and almost led to a complete turnaround, finished with 13 points.
The first set was completely one-sided. With Patry on fire, France quickly took control and ran off with an early 8-4 lead on an ace by middle blocker Nicolas Le Goff. USA's attempts to come back into the set were highlighted by a beautiful one-hand set by playmaker Micah Christenson for Russell to kill it for 9-6, but that only prompted the French to go on a six-point run to 15-6, during which Patry set a first ball for outside Trevor Clevenot to kill on two for 13-6. France cruised on until Clevenot again closed it off at 25-16 with a block.
Two kill blocks by Le Goff and an overpass kill by Ngapeth in between extended a French series to five in a row for an early 7-2 gap France's way. Through the rest of the set, coach Andrea Giani's team kept pace to stay in control. Ngapeth finished the job with a hit for the 24-18 set point and another won for the 25-19 set winner.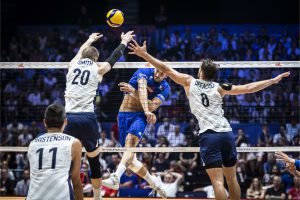 Defalco, having switched from outside hitter to opposite, Aaron Russell and sub-in Garrett Muagututia led the US offence in a massive third-set rebound. Defalco's off-the-block hit and a monster block by captain David Smith crowned a four-point series that put the Americans four points up at 9-5. Everything seemed to be working for USA in that set as they kept widening that gap. A spectacular rally, with two incredible consecutive saves by Defalco and Christenson was finished by Muagututia with a two-handed shot for 20-13. Moments later, a powerful pipe by Russell delivered the set point, immediately converted by Defalco to a 25-15 win.
The fourth set was the most competitive so far. After 5-5, the Americans maintained a margin that varied anywhere from one to three points for a while with their blocking effort making the difference. The first time they widened the gap to four was at 22-18 on a sharp-angle kill by Muagutitia. In the money time, middle Jeffrey Jendryk hammered the overpass to bring in set point at 24-20 before a long serve by Ngapeth handed USA the set at 25-21.
In the fifth, an early six-point run for France was highlighted by a setter Antoine Brizard ace for 5-2 and two consecutive points by Ngapeth, a monster block for 6-2 and an overpass kill for 7-2. American attempts at a comeback were denied. Sub-in Quentin Jouffroy put in another ace for 13-9. Two US errors later, France triumphed as VNL champs at 15-10.
"We enjoy so much being together on the court. I think you can see that… We are super close outside the court and that's the key. When we start playing with this energy and this chemistry, it's hard to stop us."
Antoine Brizard, setter of France
The Poles outserved the Italians by 10 aces to one in the bronze medal match, with opposite and captain Bartosz Kurek and middle blocker Mateusz Bieniek authoring three apiece. Kurek was Poland's leading scorer of the match with a total of 13 points to his name, followed by outside hitter Kamil Semeniuk with 12 and Bieniek with 10. Italy's outside Daniele Lavia produced the match high of 14 points. Opposite Yuri Romano added another 12.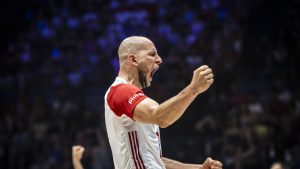 Triumphant Bartosz Kurek
An ace by Bieniek for 5-4 gave Poland their first lead in the match. Soon, Italian outside Alessandro Michieletto returned the favour to flip it back to 7-6, but this Italian advantage did not last long. Semeniuk spiked three points in a row leading to a 10-8 advantage, before Kurek extended it to 12-9 with an ace. Semeniuk took another successful swing for 13-10 and then went to the serving line to help widen the gap to 16-10. On the way to the emphatic 25-16 close, Poland produced two more aces, by sub-in Karol Butryn for 21-13 and another by Kurek for the set winner.
Italy started the second set better and piled up a 6-2 lead. However, Poland gradually recovered and caught up at 11-11 on yet another ace by Kurek as part of a four-point series, which even put the team in front at 12-11. A fierce battle unfolded with the lead going back and forth. In the money time, Bieniek fired a point from the serving line for 23-22. Another powerful serve of his was followed by middle blocker Jakub Kochanowski hammering the overpass for 24-22. Finally Kurek's off-the-block spike delivered the set winner at 25-23.
The battle continued into the third set and it was very tight until 12-12, which came after an amazing super long 39-second rally, which Romano finally finished off Italy's way with an off-the-block spike. Poland's strong serving made the big difference in the rest of the set and brought in the break points the team needed to run away with another wide lead. Semeniuk fired an ace for 14-12, Bieniek followed up with another one for 16-13 and Kochanowski joined the serving party with an ace for 20-16. Finally, it was Semeniuk who delivered the match winner with a massive pipe for 25-20.
"We played really well today. After yesterday's loss, we came back to play some really good volleyball and we are really, really happy. Today my service was at a really good level and I am happy because in an important moment I could do something extra. This was important for me, but the most important thing was that we won. Now we have seven days off and then we start preparations for the World Championship and our next goals."
Mateusz Bieniek, middle blocker of Poland
Dream Team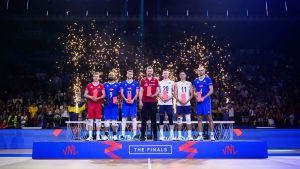 After Olympic champions France claimed the men's Volleyball Nations League 2022, their star outside hitter and Tokyo 2020 Most Valuable Player Earvin Ngapeth earned yet another MVP award. The 31-year-old athlete was also the MVP of the FIVB Volleyball World League in 2015 and 2017.
Ngapeth leads a line-up of seven prominent players who were honoured on the VNL Dream Team during the Awarding Ceremony at the end of the Finals in Bologna on Sunday evening.
Best Setter: Micah Christenson (USA)
Best Opposite: Jean Patry (France)
Best Outside Hitters: Trevor Clevenot (France) and Earvin Ngapeth (France)
Best Middle Blockers: Mateusz Bieniek (Poland) and David Smith (USA)
Best Libero: Jenia Grebennikov (France)
Earvin Ngapeth produced 22 points as the best scorer of the final match, in which France celebrated a five-set victory over USA. The 1.94m-tall outside was also France's best scorer in the Preliminary Phase of the competition. His overall tally in VNL 2022 totalled 174 points, including 147 spikes, 18 aces and nine blocks.
Final Standing
France

USA

Poland

Italy

Japan

Brazil

Iran

Netherlands

Argentina

Slovenia

Serbia

Germany

China

Bulgaria

Canada

Australia
Related links of AVC
AVC Website: click www.asianvolleyball.net
AVC Facebook: click www.Facebook.com/AsianVolleyballConfederation
AVC Twitter: click: www.twitter.com/AsianVolleyball
AVC Instagram: click: https://www.instagram.com/avcvolley/?hl=en
AVC Youtube: click: Asian Volleyball Confederation
AVC WeChat: Asian Volleyball Confederation