Elite16 bronze, national championships, Futures event and massive youth competitions among the good things happening "down under"
Australian beach volleyball is in the middle of an exciting period of beach volleyball for the country: their best duo won an Elite16 bronze, their national champions were crowned, a 10-day Volleyslam festival is underway with a Volleyball World Beach Pro Tour Futures event taking place in Coolangatta, and Volleyball Australia have a new beach volleyball assistant coach coming in as part of a Volleyball Empowerment project.
The 2023 Australian Beach Volleyball Championships were held from 24 to 26 March in Coolangatta to highlight and complete a national tour of four stops that started back in December.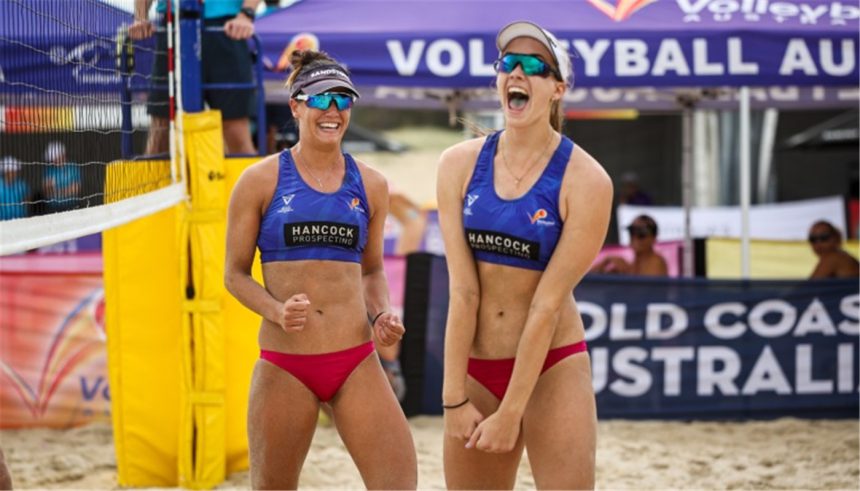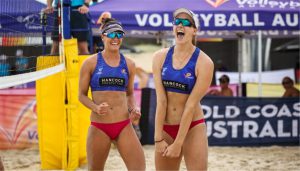 Georgia Johnson and Jasmine Fleming emerged as champions (Photo credits: volleyball.org.au)
In the women's tournament, the home pairs overcame some solid international competition to line up an all-Australian final four with Georgia Johnson and Jasmine Fleming emerging as champions after a hard-fought 2-1 (18-21, 21-11, 15-11) comeback win over Stefanie Fejes and Jana Milutinovic in Sunday's final. The bronze went to Stefanie Weiler and Rebecca Ingram after their opponents Nicole Laird and Brittany Kendall unfortunately had to forfeit the third place game.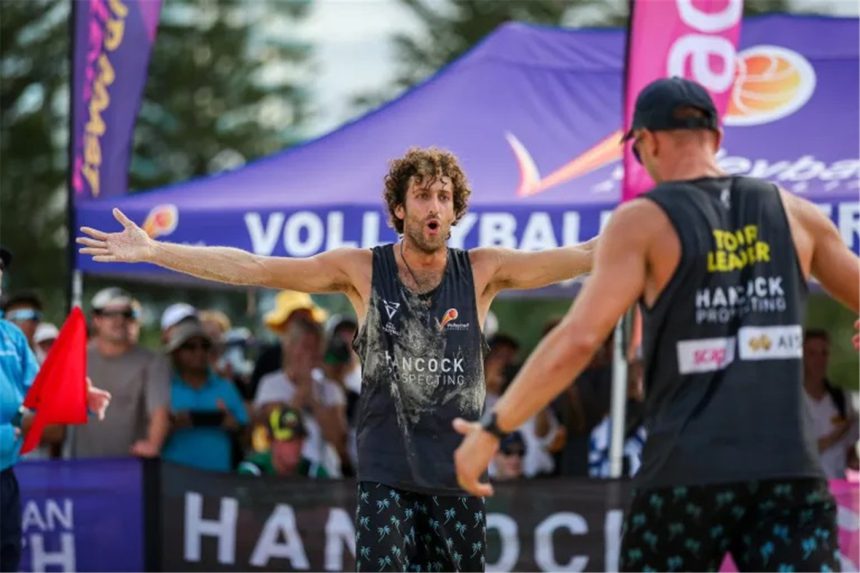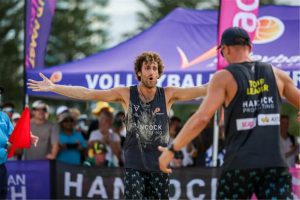 Zieba and Acconci celebrate on Australian sand (Photo credits: volleyball.org.au)
The international wild card pairing of Poland's Mateusz Zieba and Italy's Daniele Acconci topped the men's podium, also after a comeback from a set down in the final, 2-1 (17-21, 21-14, 15-13) against U21 Australian Champions Lucas Josefsen and Ben Hood. In an all-Australian bronze medal game, Justin Schumann and Garang Anyang mastered a 2-0 (21-13, 21-18) shutout of Matthew Abela and Robert Reeves.
"It feels great to get the win," Zieba said. "It was a very long season, especially as we had to play in all the qualifiers. This final was our eighth game of the tournament, but we won all of them and we deserve to win."
https://www.youtube.com/watch?v=mHyTZiWqTwc&t=4s
While the Australian Championship events were unfolding in Coolangatta, three Australian duos were defending the country's honour at the Beach Pro Tour Elite16 stop in Tepic, Mexico. The two men's teams, Christopher McHugh and Paul Burnett, and Thomas Hodges and Zachery Schubert, could not make it through the qualifiers, but their compatriots Taliqua Clancy and Mariafe Artacho Del Solar made it all the way to the podium with bronze.
As part of FIVB's commitment to further develop beach volleyball in Australia and build on the success that came with Clancy and Mariafe's Tokyo 2020 silver medal, the Volleyball Empowerment programme provided the funds for hiring an additional member for the team's staff. The new assistant coach Fabian Tobias from Germany started work last week and will stay with the Aussies through the end of 2023.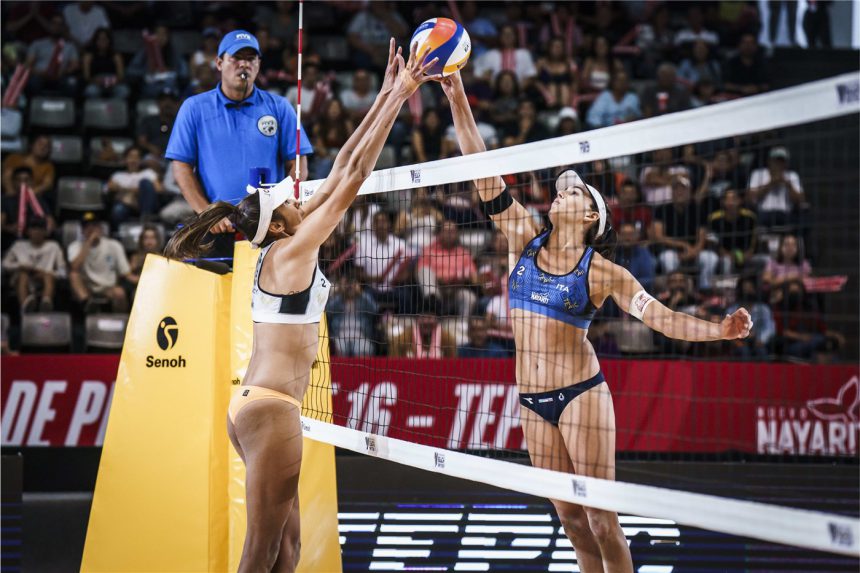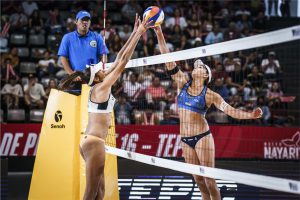 Australian duo claimed bronze at the Beach Pro Tour Elite16 stop in Tepic
Now the focus is on another Beach Pro Tour event, the Futures tournament taking place in Coolangatta this week, with a number of last week's Australian Championship heroes representing the home country internationally.
National champions Johnson and Fleming are set to lead the women's bracket as the number one seed in the main draw.
"I'm just so pumped that all the hard work is paying off. We've been grinding so hard in training over the past few months, so it's really exciting to get the Australian Championship win for the first time," Johnson said. "This will give us some good confidence heading into that big tournament for sure."
"Obviously, winning isn't everything. It's the way that you win and I think the relationship that Georgia and I have and the way we competed last weekend really just help with our love of the sport," added Fleming. "It's a beautiful beach, beautiful conditions, so we're really excited to go out and play our hardest against some international teams and see where that takes us."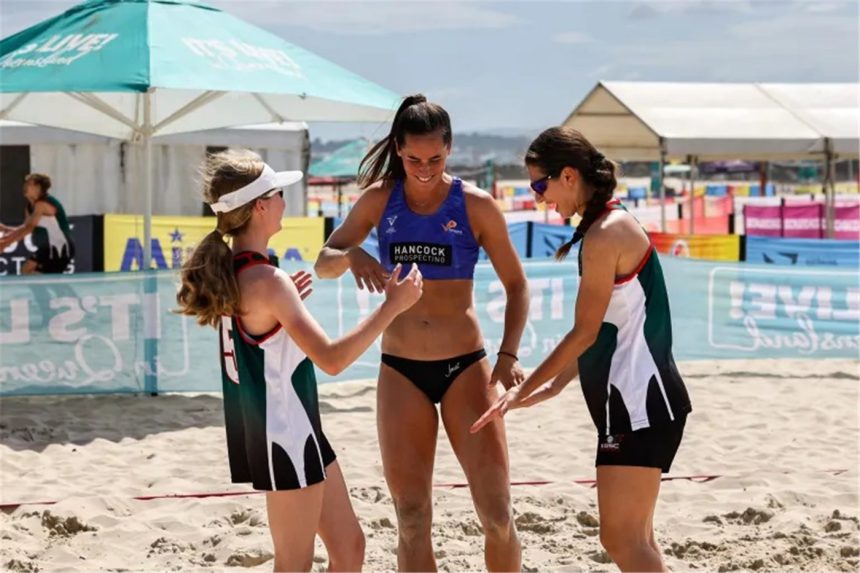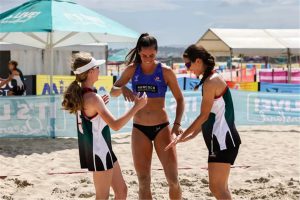 Young hopefuls mingle with the stars at the Volleyslam beach volleyball festival (Photo credits: volleyball.org.au)
The Australian Championships and the Futures tournament are just two of the events on the programme of a 10-day Volleyslam festival, with over 1,500 participating athletes. It also includes this week's Scape Australian Youth Beach Volleyball Championships with 437 junior players from across Australia vying for the national U14 to U18 titles, and Scape Australian Beach Volleyball Schools Cup, where schools from all over Australia and overseas come together to battle it out for the ultimate titles. These competitions for young talent are played on courts adjacent to the Coolangatta Beach Pro Tour Futures event, giving the junior players an opportunity to watch and learn from some of the best international athletes.
"Last year was the first time we hosted the Volleyslam festival with all four major events, which was a resounding success," said Volleyball Australia CEO Andrew Dee. "To have the Scape Australian Youth Beach Volleyball Championships and Scape Australian Beach Schools Cup on at the same time as the Australian Championships and Volleyball World Beach Pro Tour creates an incredible opportunity for Australia's future beach volleyball stars to learn from some of the best in the world. With the Gold Coast set to host the beach volleyball competition for the 2032 Olympic Games, it provides us with a great opportunity to bring together the next generation of volleyballers as we continue to provide opportunities to identify talent that have the potential to represent Australia on the world stage."
https://www.instagram.com/p/CqUfIg-quzd/
QUICK LINKS
AVC Website: click www.asianvolleyball.net
AVC Facebook: click www.Facebook.com/AsianVolleyballConfederation
AVC Twitter: click: www.twitter.com/AsianVolleyball
AVC Instagram: click: https://www.instagram.com/avcvolley/?hl=en
AVC Youtube: click: Asian Volleyball Confederation
AVC WeChat: Asian Volleyball Confederation