Inspired by a full house, Hinotori Nippon shut out Bulgaria
Japanese setter Nanami Seki in action
Japan emerged to the top of the current Volleyball Nations League 2023 standings on a perfect record of nine points in three matches after mastering a 3-0 (25-20, 25-17, 25-19) shutout of Bulgaria in a Pool 2 game in Nagoya on Saturday, but just dropped to second place overall later following the Poland's straight-set win against Serbia.
For Bulgaria, now continuing their VNL 2023 campaign without their captain Miroslava Paskova-Kaneva, who was injured during the squad's first game in Japan, it was the second defeat in a row and they stand 10th on a 1-2 win-loss record and four points.
While Bulgaria outserved Japan by four aces against three and the blocking points were even at six a side, the home team clearly dominated in offence with 45 attacking points against 32 and in precision with 14 unforced errors against 21. Three of the players on the court reached the double digits in scoring and they were all from Japan: Arisa Inoue with 14 points, captain Sarina Koga with 13, and Kotona Hayashi with 11.
While Japan maintained a slight advantage on the scoreboard at the beginning, Bulgaria held up through 16-16, after which the home team broke away with four in a row and never looked back until a well-placed shot by Koga from the back row put the set away at 25-20 Japan's way. With Hayashi stepping up her spiking efforts, Japan were even more dominant throughout the second set, opening a wide gap.
After two spectacular digs from Koga and setter Nanami Seki during the last rally, a monster block by middle Ayaka Araki closed the set at 25-17. Bulgaria tried fighting back and even stormed the third set on a 3-0 run, but the Asians reacted immediately with five in a row and went on to prove too strong for their European opponents again, cruising on to a 25-19 win, shaped up by a powerful block-out pipe shot from Inoue.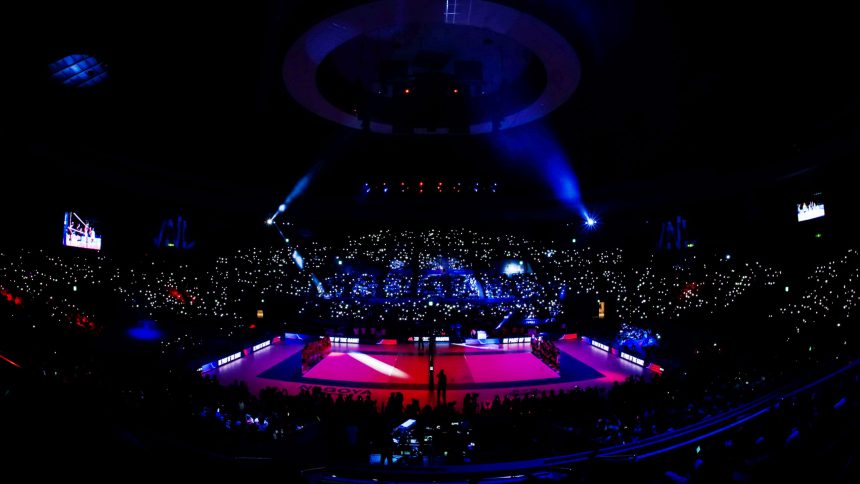 Fantastic atmosphere in Nagoya for Japan's match against Bulgaria
"I was finally able to play comfortably in front of this crowd. But I still make some errors, which I have to make sure I reduce. As a team, we continue getting better day by day and we are focusing on doing our best on the court," Inoue said after the game. "I am so grateful for having so many people here today. Everyone here gives me a lot of energy and I want to say 'thank you' to all of them."
On Sunday's last competition day in Nagoya, Bulgaria will take on Germany at 15:40 local time (06:40 UTC), before Japan engage in an Asian classic against China at 19:10 (10:10).
https://www.youtube.com/watch?v=7s8lFtmQUmE
In Saturday's first match Brazil managed a four-set victory over Dominican Republic. Then China outplayed the Netherlands on the way to a 3-1 (27-25, 23-25, 25-22, 25-20) win, their third in a row since the start of the tournament to improve to eight points, below leaders Japan on points and second-placed Poland on point ratios. Li Yingying was on fire again to deliver the match high of 27 points, including four aces and three blocks. Dutch outside Nova Marring also aced four times to lead her team on a total of 21 points. For the Netherlands, it was the fourth loss in four matches and they are leaving Nagoya winless.
https://www.youtube.com/watch?v=h-nUecloh2c
Saturday's Pool 1 programme over in Antalya included the matches between Poland and Serbia at 14:00 local (11:00 UTC), which saw the Poles pull off a straight-set 25-18, 25-22, 30-28 win against world champions Serbia, between United States and Korea at 17:00 (14:00), which saw the former power past the latter in straight sets 25-16, 27-25, 25-11, and between hosts Türkiye and defending VNL champions Italy at 20:00 (17:00).
Poland completed their first-week campaign, claiming 11 points from 4 straight wins in Antalya, while Japan had 9 points from three wins in a row in Nagoya. The Japanese are due to take on China, which collected 8 points from three consecutive wins, on Sunday.
QUICK LINKS
AVC Website: click www.asianvolleyball.net
AVC Facebook: click www.Facebook.com/AsianVolleyballConfederation
AVC Twitter: click: www.twitter.com/AsianVolleyball
AVC Instagram: click: https://www.instagram.com/avcvolley/?hl=en
AVC Youtube: click: Asian Volleyball Confederation
AVC WeChat: Asian Volleyball Confederation