Bangkok, Thailand, January 12, 2023 – The AVC Medical Committee held its annual meeting on Thursday in a hybrid format, with Committee Chairman Dr Rueangsak Siriphol and Secretary Dr Oh Jaekeun joining the meeting in-person at the AVC Headquarters here and the other Members attending on zoom.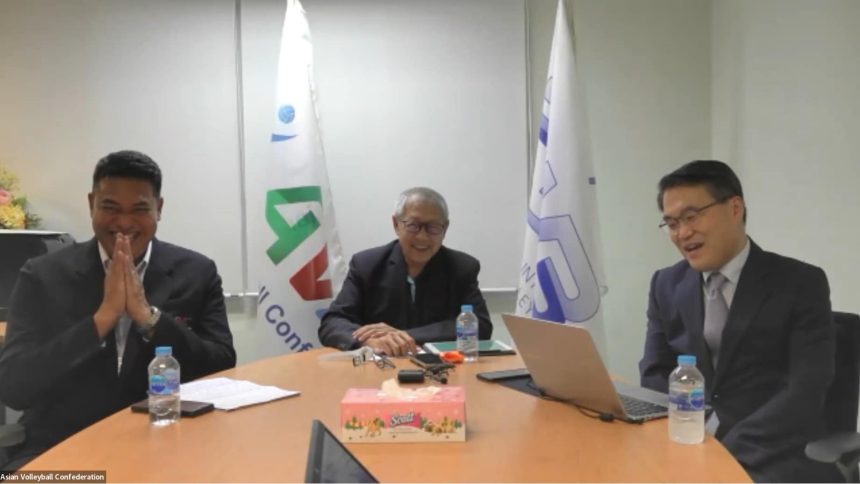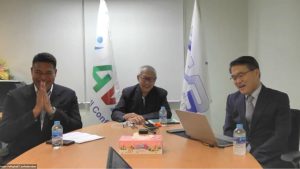 Mr Kiattipong, far left, Dr Rueangsak, middle, and Dr Oh, far right, during the Thursday's AVC Medical Committee Meeting
Aside from Dr Rueangsak from Thailand, himself FIVB Medical Commission Member and AVC General Manager, and Dr Oh from Korea, Dr Jyoji Yoshikawa from Japan and Dr Mohammad Yonus Popalzay from Afghanistan were also in attendance.
Prior to the meeting, AVC Secretary General Mr Kiattipong Rachatagriengkai gave a welcome address, citing that following signs of improving global COVID-19 situation, everything is going well and he hopes high that AVC will run successful competitions this year.
"On behalf of AVC President Madam Rita Subowo, I would like to extend my sincere gratitude to all of you for devotedly attending this meeting. I would like to emphasise that all AVC Technical Committees are very important. We tried to develop our management in AVC. In the past few years, the COVID-19 pandemic caused us several problems in managing and organising competitions. However, the COVID-19 situation is now improving and I strongly believe that all AVC activities will run smoothly from now on," Mr Kiattipong was quoted as saying.
"In addition, there are many AVC competitions, both volleyball and beach volleyball events, to be organised this year and hopefully, they will be held successfully. Your point of views shared in the meeting are valuable source of information and knowledge for sustainable development of AVC. I wish the meeting a great success," he added.
After that, Dr Rueangsak expressed his delight to resume his office after WADA removed National Anti-Doping Organisation of Thailand from World Anti-Doping Code non-compliant list early last year.
"I'm glad to be back to resume my duty after the WADA sanction was lifted last October. After that, we didn't have many AVC and FIVB events as it was the League period. This year, the competitions at national level will resume in May. I hope everything will be okay and our Members will then join working with AVC and FIVB if requested," he said.
Later, the Agenda of the 2023 AVC Medical Committee Meeting and the Minutes of the previous meeting on zoom on February 22, 2022 had been approved.
On the Activity Reports of 2022 AVC Championships and Tournaments, the Committee Chairman said that despite grave concerns over the global COVID-19 pandemic, all AVC events still could be held under the strict preventive measures in the wake of COVID-19 for the safety of all athletes and officials.
"AVC had organised 10 Championships and 9 beach volleyball events in 2022. Many host countries cancelled their initial decisions to organise events, but Thailand came to the rescue by replacing them in hosting those events," Dr Rueangsak said.
"However, in terms of the Medical Delegate to each competition, due to the limitation of the AVC budget, which resulted in the huge expense of travelling costs, nomination of Medical Delegate would be considered only the events of the national senior level and the availability of the Medical Committee Members in the host or nearby countries," he explained.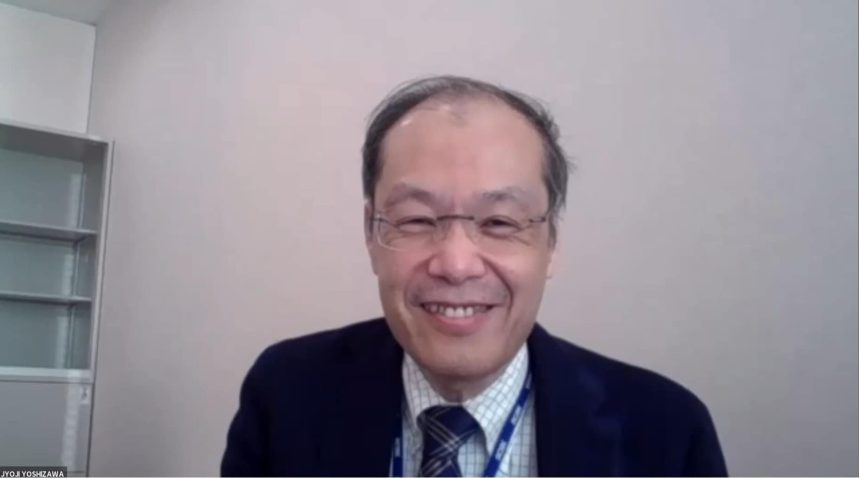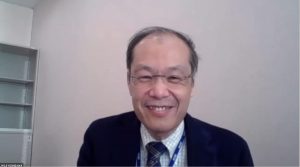 Dr Jyoji
Asked to comment on his duty in the 2022 AVC Cup for Women in the Philippines, Dr Jyoji, appointed as the Medical Delegate to the topflight competition, said that everything related to the medical matters went well as initially planned, but he found that the only main problem was that the team doctor of Japan had tested positive for COVID-19.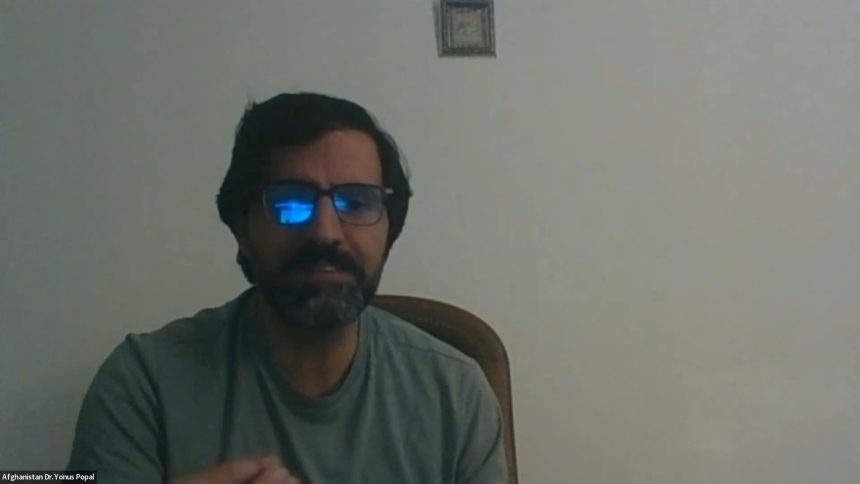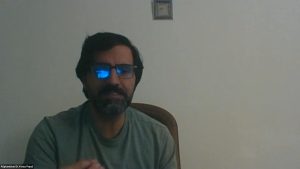 Dr Popalzay
As Dr Rueangsak further informed the meeting that no Medical Delegate was appointed to any beach volleyball events in 2022, Dr Mohammad Yonus Popalzay suggested that Medical Delegate be appointed for important beach volleyball competitions such as the Asian Senior Beach Volleyball Championships and the Asian Games since those beach volleyball events are at the international level and such competitions, therefore, are very tough and need more energy and certainly can cause unexpected injuries.
Dr Rueangsak said Dr Popalzay's suggestion was very useful and the matter will be taken into consideration for further decision, adding that Medical Delegate is important for senior beach volleyball events, but for underage events, the possibility study is necessarily required as well as the budget allocation.
Other key topics including the FIVB COVID-19 Protocol, Health Certificate for Referees and FIVB Injury Form were also raised for discussion in the meeting.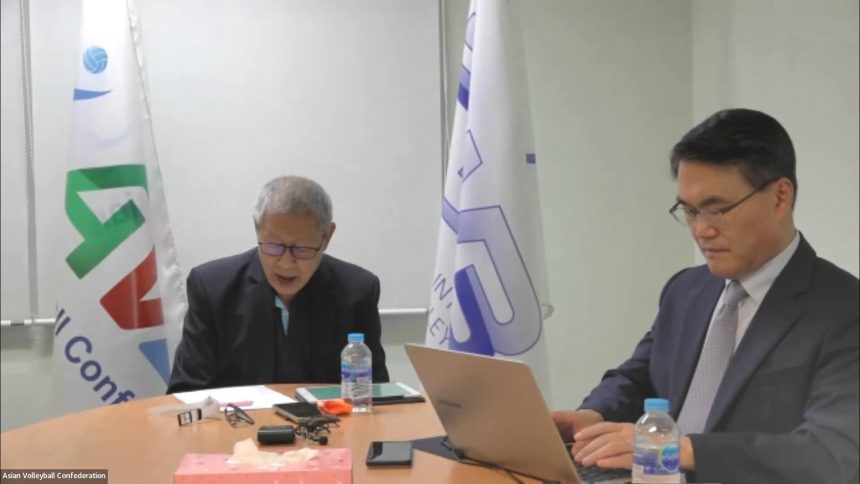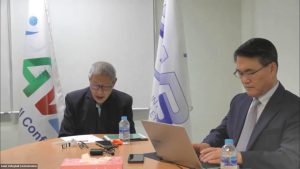 Dr Rueangsak and Dr Oh
The meeting attendants also heard the 2023 AVC Competition Calendar, while Dr Rueangsak stressed that two main factors will be considered for the appointment of the Medical Delegates to each competition – the AVC budget and the availability of Medical Members in the host or nearby countries.
Delivering a closing speech, Committee Chairman Dr Rueangsak wished the New Year and Chinese New Year to bring all Members happiness, good health and prosperity.
Related links of AVC
AVC Website: click www.asianvolleyball.net
AVC Facebook: click www.Facebook.com/AsianVolleyballConfederation
AVC Twitter: click: www.twitter.com/AsianVolleyball
AVC Instagram: click: https://www.instagram.com/avcvolley/?hl=en
AVC Youtube: click: Asian Volleyball Confederation
AVC WeChat: Asian Volleyball Confederation