The U19 World Championships runners-up win pool to fast-forward to U21 last 16 at home in Thailand
Triumphant Wachirawit of Thailand
Thailand's Netitorn Muneekul and Wachirawit Muadpha, who claimed silver at last week's 2021 FIVB Beach Volleyball U19 World Championships, cruised on through the pool stage of this week's U21 event, also taking place at Bang Tao Beach in Phuket, without losing any sets along the way again.
Friday's schedule in the men's competition started with the last leg of the pool stage, with the eight pool winners advancing straight to the last 16, and went on with the Round of 24, in which the pool runners-up played against the third-placed teams for the remaining eight spots in the last 16. With Thailand, Russia and Czechia boasting two teams each, duos from 13 different countries will play in Saturday's duels for the spots in the quarterfinals.
19-year-old Netitorn and Wachirawit's opening match was their most difficult challenge in Pool H. They managed a narrow 2-0 (21-19, 23-21) victory over Portugal's Guilherme Maia and Filipe Leite and that turned out to be the decider for the first place in the pool. In the Round of 16, the eighth-seeded Thais will play against Ukraine's Oleksandr Boiko and Oleksii Bublyk, who came back from a set down to take a 2-1 (18-21, 21-18, 15-13) win over Paraguay's Giuliano Massare Canillas and Pablo Marcelo Portillo Morinigo in the Round of 24.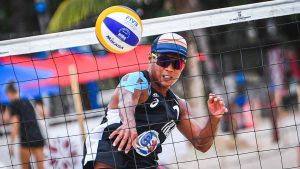 Thailand's Phichakon spikes in the match against Brazil
The other home pair in the men's tournament, top-seeded Phichakon Narathon and Poravid Taovato, finished third in Pool A, but then produced a hard-fought 2-1 (25-23, 18-21, 15-12) victory over Brazil's Johann Ferdinand Dohmann and Lucas Coelho Fagundes Sampaio in the Round of 24 to advance to a last 16 encounter with Czechia's Tadeas Trousil and Matyas Dzavoronok.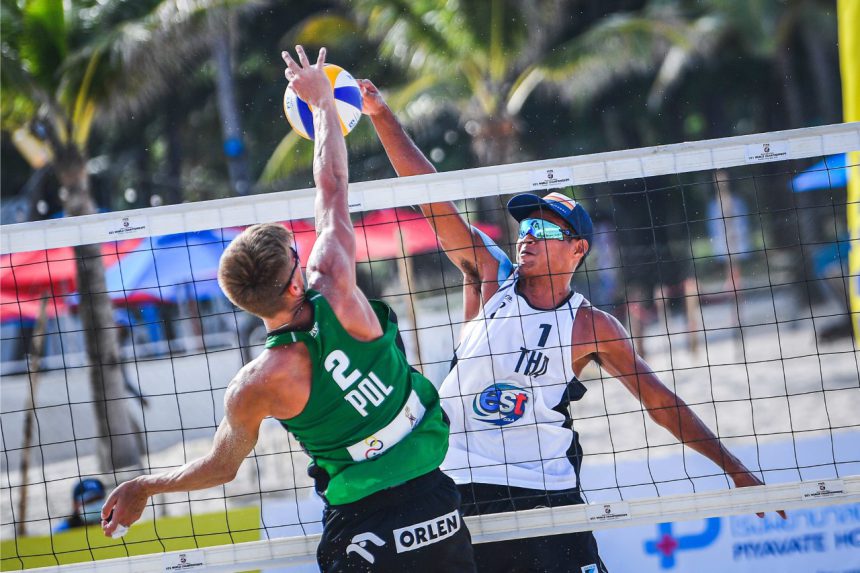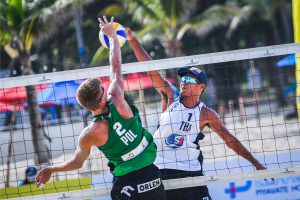 Phichakon and Poland's Filip Lejawa fight for the ball during pool play match
The Pool A final standings were topped by 17th-seeded Gabriel Gutierrez Mendez and Alvaro Viera Iglesias of Spain, who defeated all three of their opponents. Most importantly, they opened their campaign with a 2-1 (12-21, 24-22, 15-12) comeback win over 16th-seeded Mateusz Florczyk and Filip Lejawa of Poland, who finished pool runners-up on a 2-1 win-loss record. Next, Gutierrez and Viera will take on the other Czech duo in the tournament, Jakub Sepka and Tomas Semerad.
Australia's Joshua Howat/Soloman Bushby lost three matches in succession in Pool A to come in fourth place and crash out of the competition.
Second-seeded Mateus De Paula Dultra and Gabriel Zuliani of Brazil faced few issues in Pool B and allowed their opponents a total of 76 points in the three straight-setters that propelled them straight to the Round of 16, where they will meet Russia's Aleksandr Martynenko and Aleksandr Rukhmanov.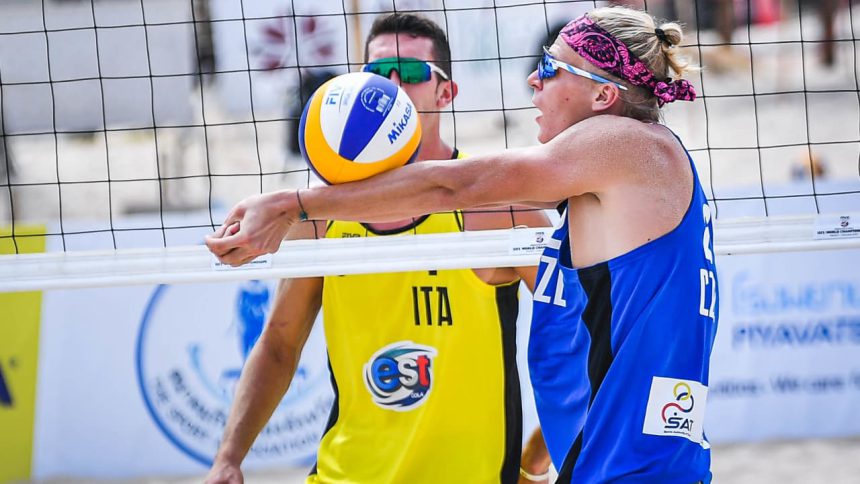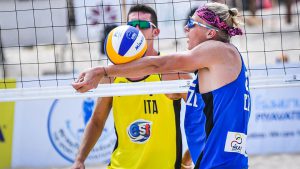 Czechia's Dzavoronok sets the ball
Pool C offered a three-way race, in which Czechia's Trousil and Dzavoronok edged third-seeded Italians Gianluca Dal Corso and Marco Viscovich and Switzerland's Leo Dillier and Thibaud Colomb on point ratio, after they all finished with 2-1 win-loss records. However, all three teams managed to find their way to the last 16.
Swedish jump-setters David Ahman and Jonatan Hellvig shut out all three of their opponents in a tough Pool D race to book a direct spot among the best 16 as pool winners, followed by Czechia's Sepka and Semerad and fourth-seeded Russians Dmitrii Veretiuk and Aleksei Arkhipov in the table. Similar to Pools A and C, this one also had as many as three duos, which went on to qualify for the eighth-finals. Switzerland's Dillier and Colomb will be Ahman and Hellvig's rivals for a quarterfinal berth.
Fifth-seeded Germans Philipp Huster and Lui Wust produced the best record among the 32 teams participating in the pool stage. They mastered three clean slates to top Pool E after conceding only 75 points in the six sets they won. Huster and Wust will now take on Russia's Veretiuk and Arkhipov.
Abdallah Ibrahim Nassim/Yousef Alyafeai from Qatar could not go that far as the 21st seeds lost all three matches in Pool E to bow out of the intense competition.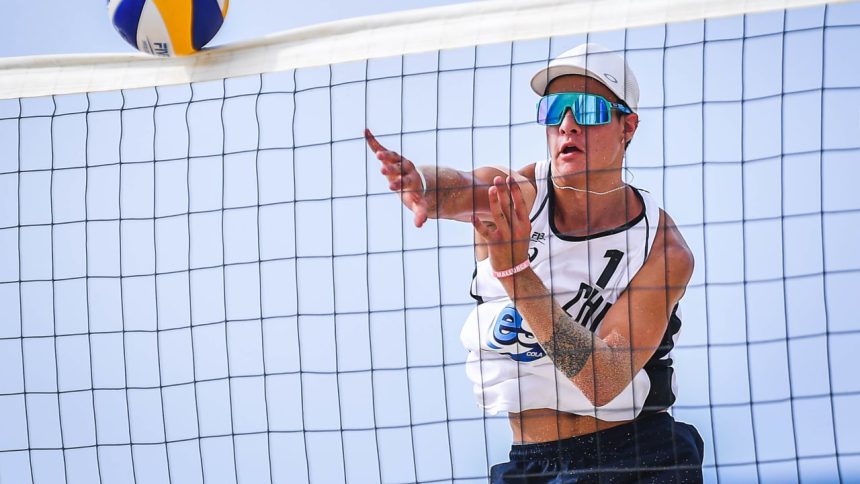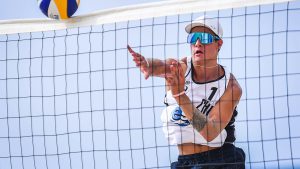 Chile's Aravena in attack
Pool F was another one that delivered as many as three eighth-finalists. Sixth-seeded Noe Aravena and Martin Iglesias of Chile booked the direct ticket after edging runners-up Boiko and Bublyk of Ukraine and third-placed Martynenko and Rukhmanov of Russia on point ratio as each of the three duos finished with two wins and a loss. The Chileans' next opponents are Poland's Florczyk and Lejawa.
11th-seeds Amanzholov Darkhan/Damir Lapov did not make the last 16 as the Kazakh duo succumbed to three losses to end up in fourth position in Pool F.
Darkhan attacks
USA's Matthew Gentry and Phillip Catanzaro won Pool G losing only a single set along the way, in their 2-1 (21-14, 19-21, 15-8) victory over Jay Rack De La Noche and Alexander Jhon Iraya of the Philippines on Thursday. However it was their 2-0 (21-18, 21-17) win over Hungary's Csanad Petik and Domonkos Doczi on Wednesday that proved crucial for the first place in the pool. The seventh-seeded Americans are now set for a last 16 challenge from Italy's Dal Corso and Viscovich, who came back from a set down to cruise on to a 2-1 (22-24, 21-11, 15-7) victory over Australia's Jack Pearse and Lucas Josefsen in the first knockout round. Pearse/Josefsen crashed out in the round of 24.
23rd-seeds Jay Rack De La Noche/Alexander Jhon Iraya suffered two losses in a row on Friday to end their U21 Worlds campaign. The Filipinos first went down 0-2 (21-23, 19-21) to Hungarians Csanad Petik/Domonkos Doczi in their last pool play match to finish third in Pool G with 4 points from one win against two losses and advance to round of 24, where they were knocked out of the competition following a comfortable 0-2 (11-21, 12-21) loss to Poles Mateusz Florczyk/Filip Lejawa.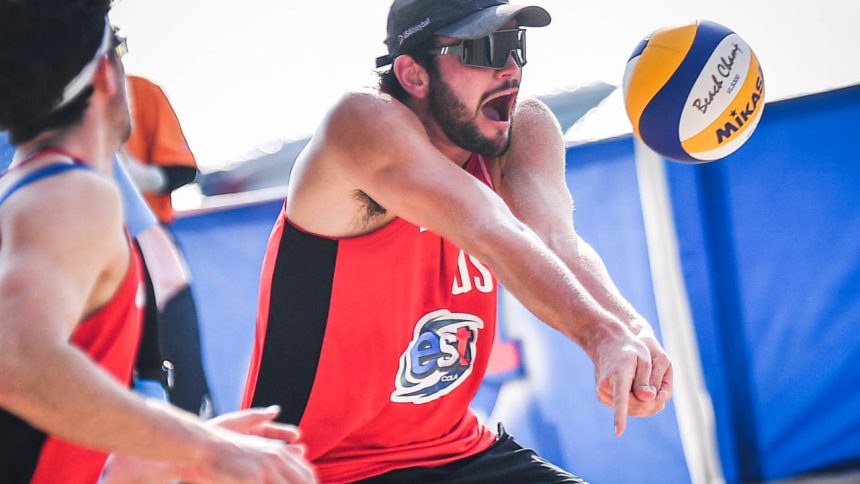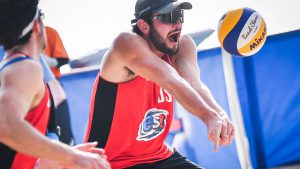 USA's Gentry in reception
On the women's side, both the Round of 24 and the Round of 16 were played on Friday, so Saturday's four quarter-final fixtures are now lined up.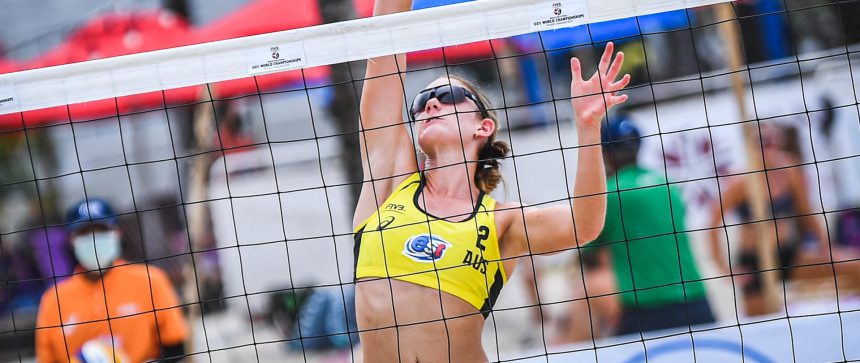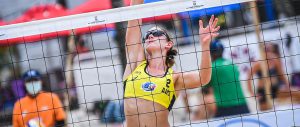 Mears in action at the net play
28th-seeded Jasmine Fleming and Kayla Mears of Australia were the lowest ranked team to make the last eight after emerging with a hard-fought 2-1 (25-23, 20-22, 15-13) victory over USA's Raelyn White and Caitlin Godwin in the first elimination round and winning another tough battle in the eighth-finals, 2-0 (22-20, 21-18) over Hungarian sisters Eszter Vasvari and Zsofi Vasvari.
In a duel for a spot in the semi-finals, Fleming and Mears will face Switzerland's Menia Bentele and Leona Kernen, who survived a difficult encounter with second-seeded Brazilians Thainara Mylena Feitosa de Oliveira and Anne Karolayne Figueredo Gois to win by 2-1 (23-21, 12-21, 21-19).
In the other three quarterfinals, Ukraine's Anhelina Khmil and Tetiana Lazarenko will meet Russia's Mariia Bocharova and Elizaveta Gubina, Spain's Daniela Alvarez Mendoza and Sofia Gonzalez Racero will take on Brazil's Maria Fernanda Ferreira Dias and Carolina Sallaberry Cavalcanti, and Russia's Arina Riazhnova and Elizaveta Ludkova will play against Latvia's Varvara Brailko and Anete Namike.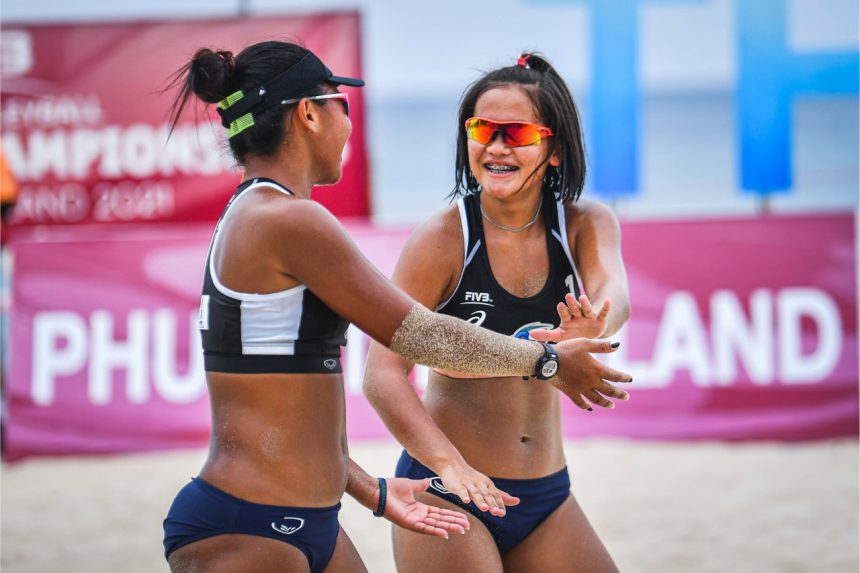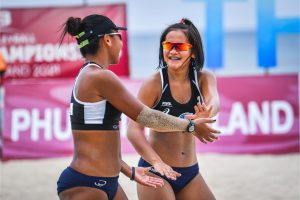 Apinya and Jidapa
Top seeds Apinya Saengpaeng/Jidapa Bunongkhun became the only Thai women's pairing who made it to the round of 16, but lost 1-2 (21-15, 18-21 10-15) in a hard-fought match against Brazilians Maria Fernanda Ferreira Dias/Carolina Sallaberry Cavalcanti and crashed out of the top-flight competition.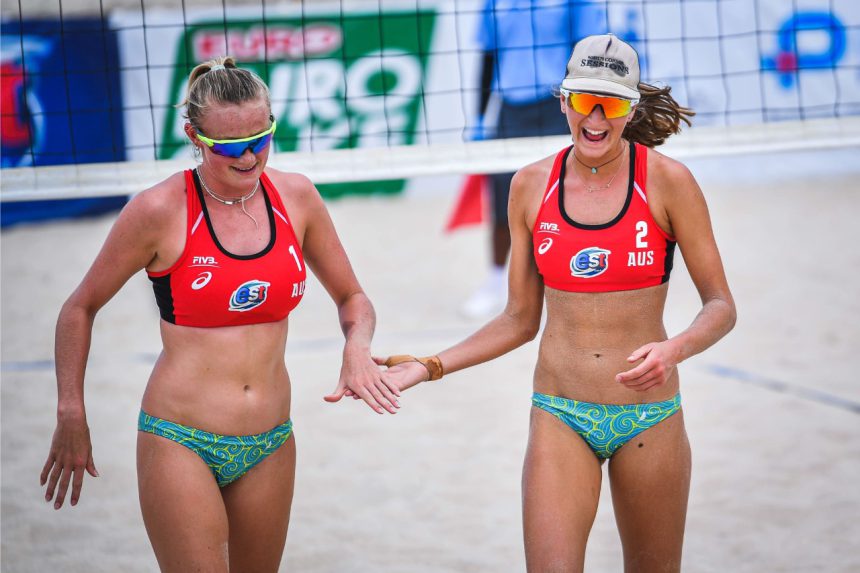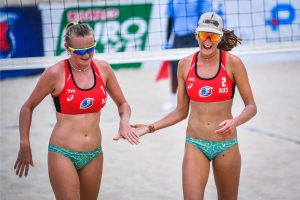 Stevens and Fejes
Seventh seeds Alisha Stevens/Stefanie Fejes, who swept both Asian U19 and U21 titles in Thailand early this year, failed to make the cut for the last 16 when the Australians lost in a closely-contested round of 24 match to USA's Nicole Nourse/Madelyne Anderson 0-2 (19-21, 18-21).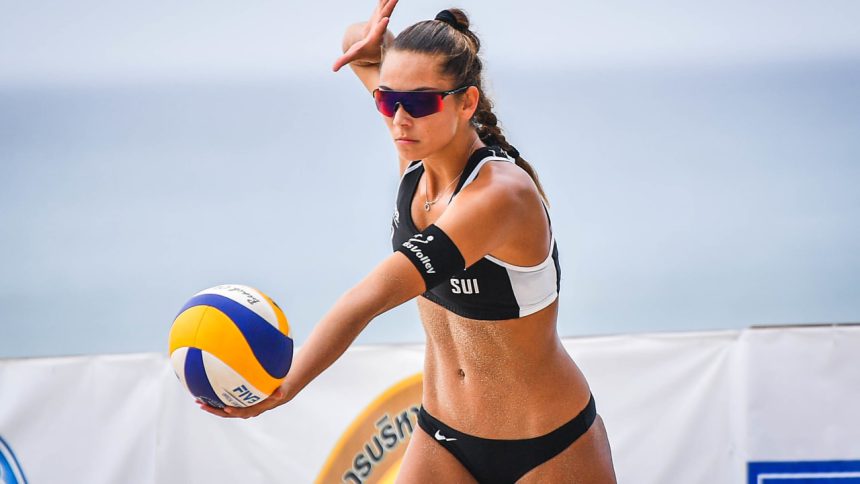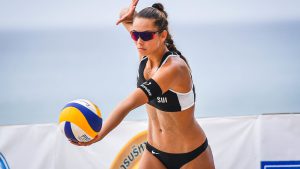 Switzerland's Kernen about to serve
Saturday's women's semifinals, as well as the men's semifinals and both genders' medal matches on Sunday, will be streamed live on the Beach Volleyball World video channel on YouTube https://www.youtube.com/c/BeachVolleyballWorld
MEN'S RESULTS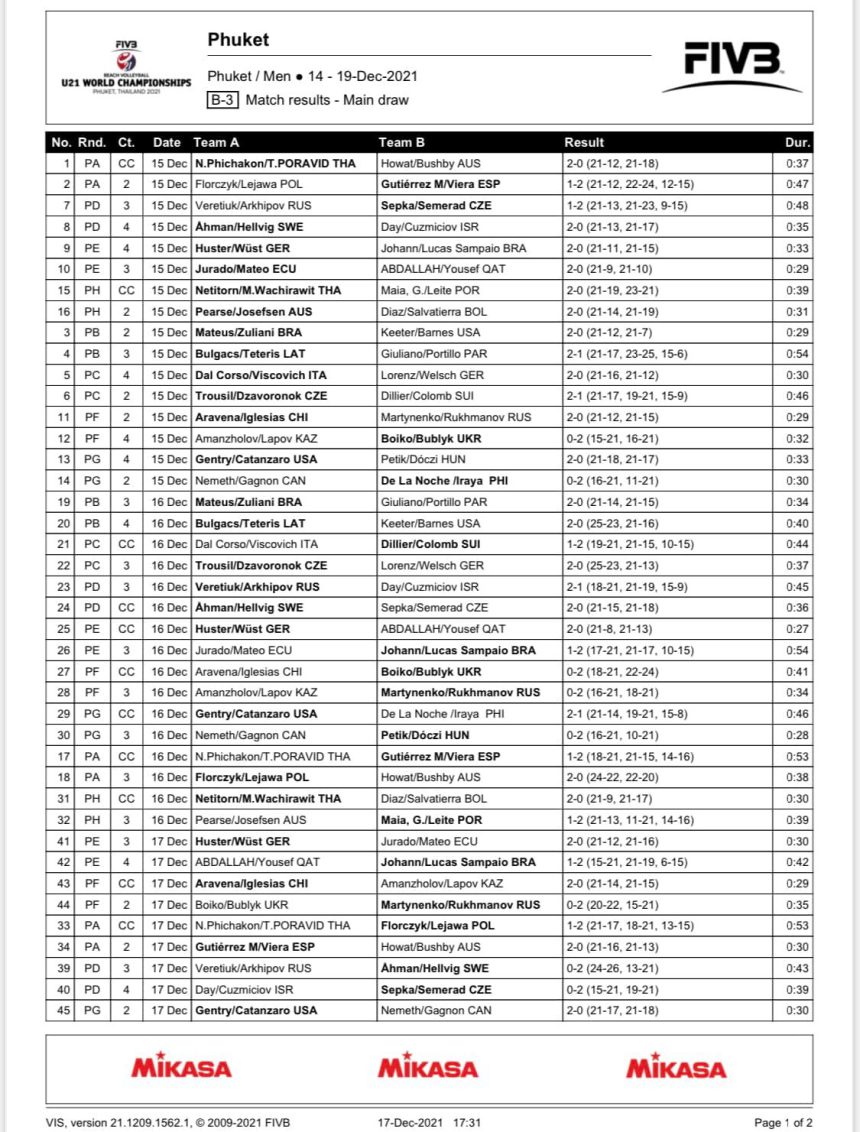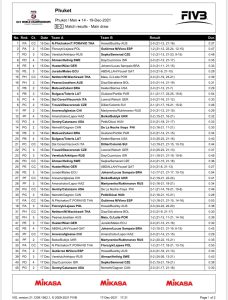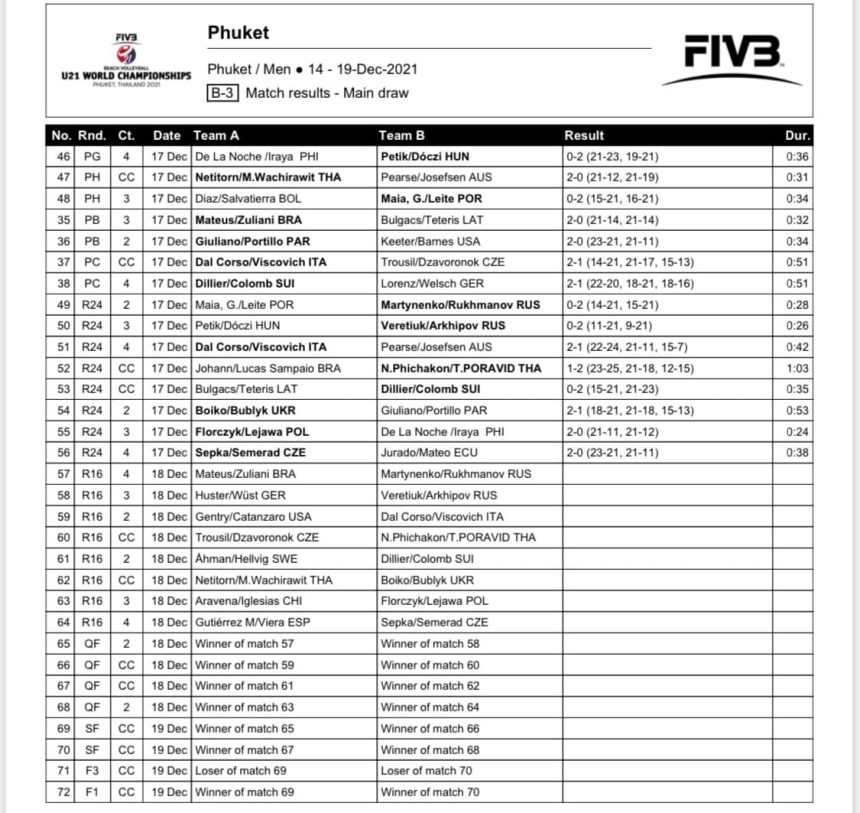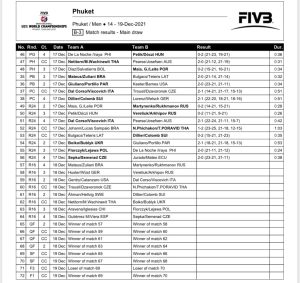 MEN'S POOLS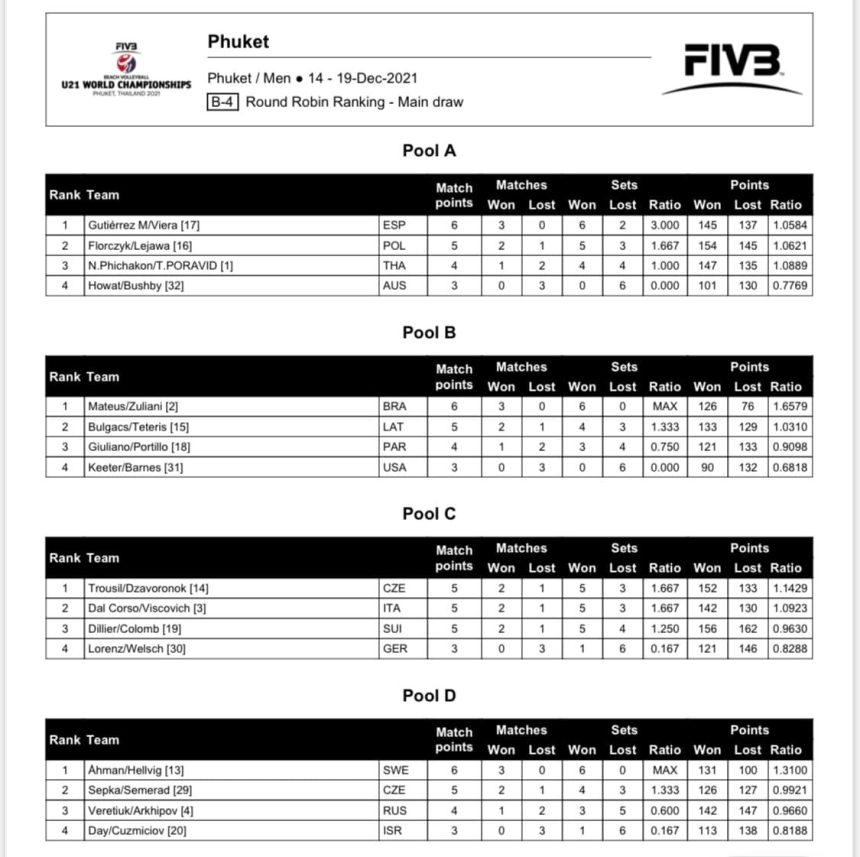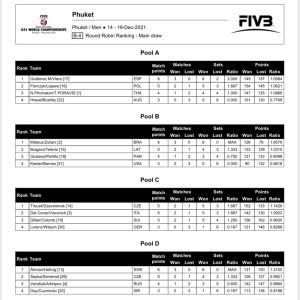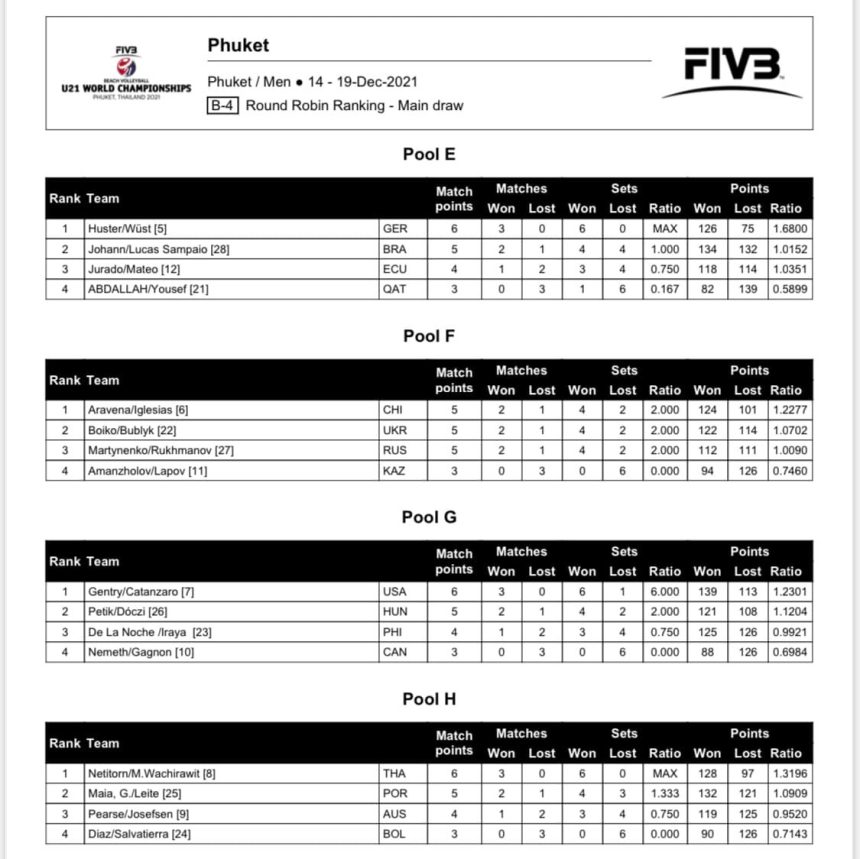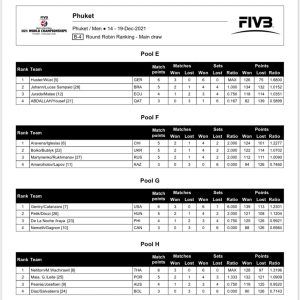 WOMEN'S RESULTS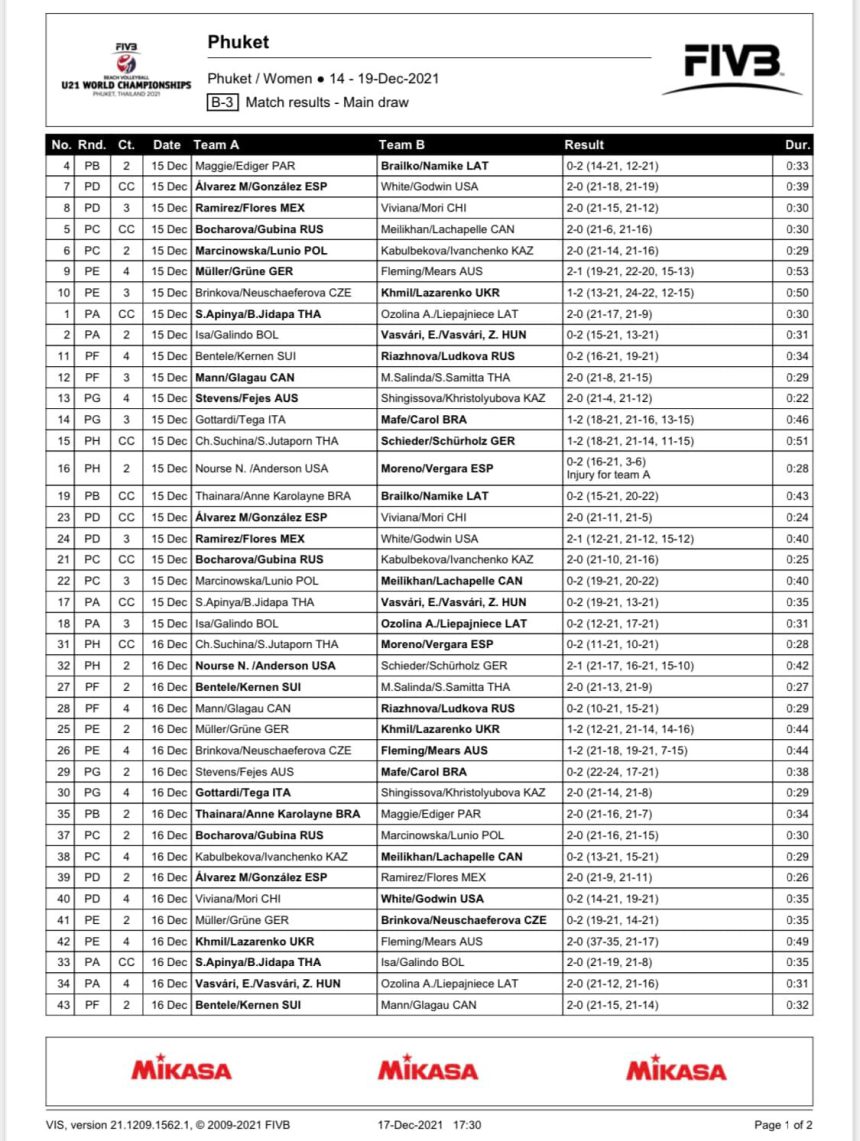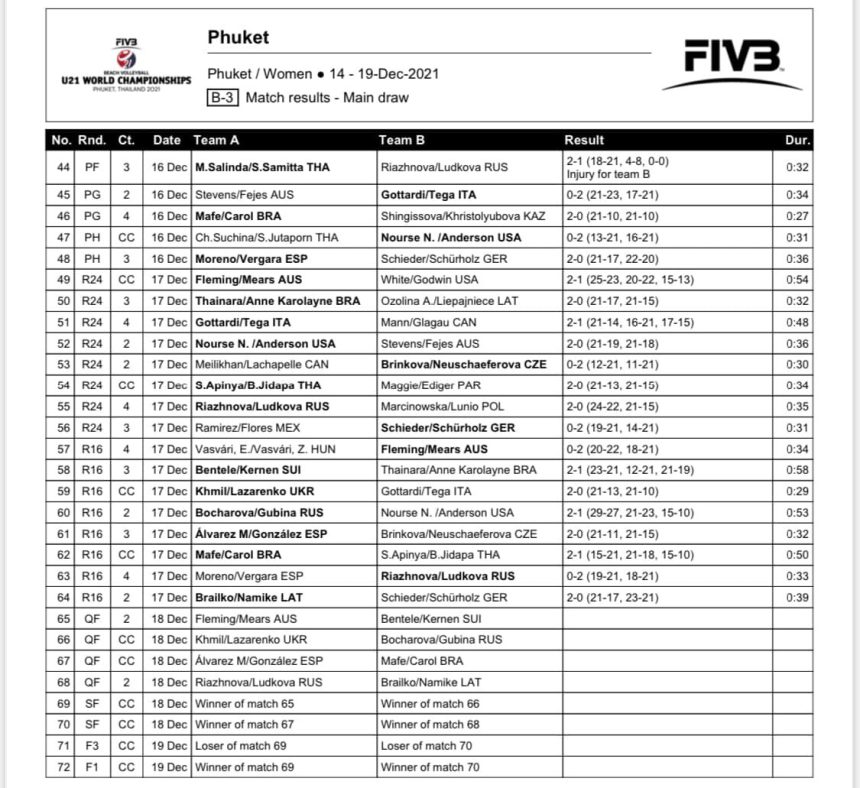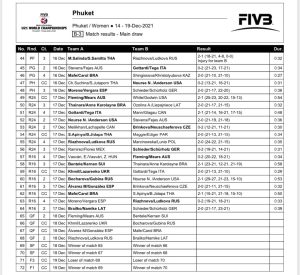 MEN'S SCHEDULE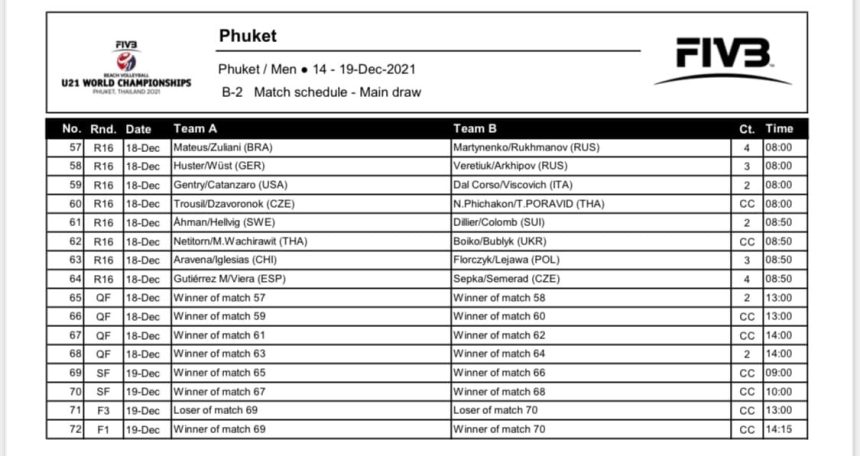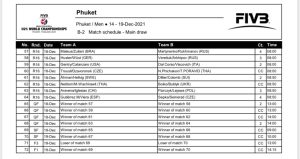 WOMEN'S SCHEDULE


Related links of AVC
AVC Website: click www.asianvolleyball.net
AVC Facebook: click www.Facebook.com/AsianVolleyballConfederation
AVC Twitter: click: www.twitter.com/AsianVolleyball
AVC Instagram: click: https://www.instagram.com/avcvolley/?hl=en
AVC Youtube: click: Asian Volleyball Confederation
AVC WeChat: Asian Volleyball Confederation