Twelve teams per gender continue their quests on Thai sand
Thursday's qualifiers and Friday's pool stage at the Volleyball World Beach Pro Tour Futures event in Satun are over and the knockout bracket for Saturday's eighthfinals and quarterfinals is now set to determine the last four per gender, who will engage in the last battles for the podium on Sunday, when all the semifinal and medal match action will be streamed live on the Beach Volleyball World YouTube channel.
12 teams per gender have survived this far in the tournament. Eight of them, the pool runners-up and the third-placed teams, will participate in the first knockout round on Saturday morning. The four pool toppers are awaiting the winners for the quarterfinal matches on Saturday afternoon to set up the semifinal match-ups for Sunday's climax.
https://www.youtube.com/watch?v=GVqfOHvybAo
In the women's main draw, Thailand's Salinda Mungkhon & Jidapa Bunongkhun, Australia's Nicole Laird & Brittany Kendall, Vanuatu's Majabelle Lawac & Sherysyn Toko and Czech qualifiers Valerie Dvornikova & Anna Pospisilova won their pools to advance directly to the quarterfinals.
Ninth-seeded Salinda & Jidapa managed to upset top-seeded Australians Georgia Johnson & Jasmine Fleming in the Pool A final, beating them in straight sets, 2-0 (21-19, 21-19). Before that, the home pair earned a hard-fought 2-0 (23-21, 21-18) shutout of Lithuania's Ieva Vasiliauskaite & Erika Kliokmanaite, who then produced a 2-0 (21-11, 21-14) sweep of Hong Kong's To Wing Tung & Wong Man Ching to advance to the next round.
There were no surprises in Pool B, where second-seeded Laird & Kendall claimed two emphatic wins to book a spot in the quarterfinals, 2-0 (21-18, 21-16) over Indonesia's Dhita Juliana & Desi Ratnasari and 2-0 (21-19, 21-13) over Japan's Sayaka Yamada & Takemi Nishibori. Dhita & Desi stayed in contention after a 2-0 (21-14, 21-7) victory over Thailand's Patcharaporn Seehawong & Samitta Simarongnam for the third place in the pool.
https://en.volleyballworld.com/beachvolleyball/competitions/beach-pro-tour/news/satun-futures-knockouts-lined-up-on-way-to-sunday-s-live-action-on-youtube
Third-seeded Lawac & Toko had a difficult start, losing their first set in Pool C to Indonesian qualifiers Yokebed Eka & Nur Sari, but went on to defeat them by 2-1 (13-21, 21-11, 15-12) and followed up with a 2-0 (23-21, 21-17) shutout of New Zealand's Katie Sadlier & Olivia MacDonald to top the pool standings. Yokebed & Nur finished third after a 2-0 (21-13, 21-19) win over Thailand's Charanrutwadee Patcharamainaruebhorn & Woranatchayakorn Phirachayakrailert.
Dvronikova & Pospisilova started their Satun path from Thursday's qualifiers, when they hammered out a 2-0 (21-14, 21-18) victory over Sweden's Sara Malmstrom & Klara Ribom. In their first Pool D match, the Czechs came back from a set down against fourth-seeded home pair Varapatsorn Radarong & Tanarattha Udomchavee to manage a 2-1 (14-21, 21-17, 15-11) upset. In the pool final, Dvronikova & Pospisilova persevered through a tough tie-breaker on the way to a 2-1 (21-19, 15-21, 17-15) upset of fifth-seeded Asami Shiba & Saki Maruyama of Japan and on to the quarterfinals. Radarong & Udomchavee took third place and will play on Saturday.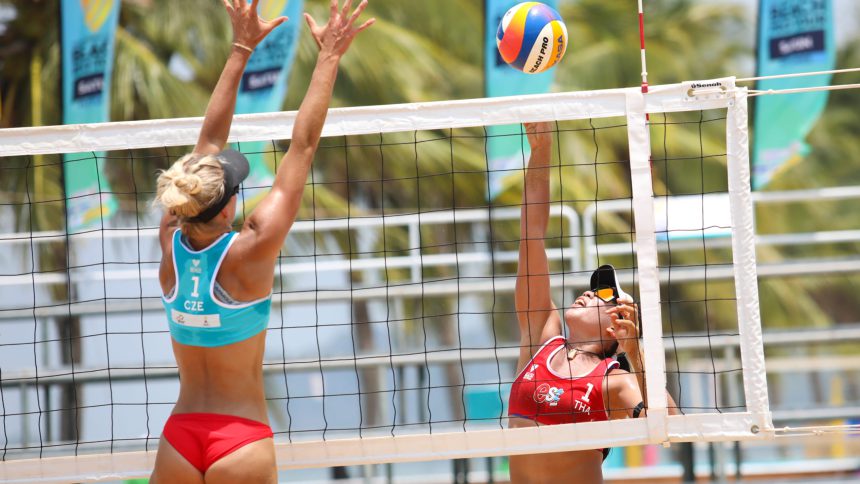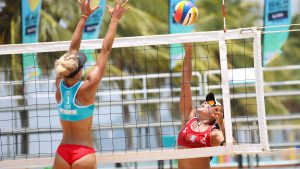 The home fans had much more to cheer about on the men's side, where two Thai pairs, Surin Jongklang & Dunwinit Kaewsai and Nuttanon Inkiew & Netitorn Muneekul, joined two German teams, Philipp Huster & Simon Pfretzschner and Paul Henning & Sven Winter, straight into the quarterfinals.
Ninth-seeded Huster & Pfretzschner mastered two emphatic upsets in Pool A, first a 2-0 (21-19, 21-9) shutout of eighth-seeded Austrians Florian Schnetzer & Felix Friedl and then a 2-0 (21-15, 21-10) sweep of top-seeded Thais Pithak Tipjan & Poravid Taovato. The third place went to bottom-seeded Swedish qualifiers Alexander Annerstedt & Jakob Wijk Tegenrot, who also surprised the Austrians with a 2-1 (16-21, 21-18, 15-13) comeback.
Second-seeded Surin & Dunwinit left little doubt over their superiority in Pool B after a 2-0 (21-17, 21-18) start against Finland's Vili Topio & Pyry Topio and a 2-0 (21-17, 21-18) final against Kazakhstan's Dmitriy Yakovlev & Sergey Bogatu. New Zealand's Bradley Fuller & Alani Nicklin booked a spot among the last 12 with a 2-0 (21-18, 21-10) shutout of the Finns.
https://www.facebook.com/ThailandVolleyballAssociation/posts/pfbid02TFrW53rVDTpuE1nJvSLHPxQAj44AsxrDXwVgTCYAT9rhwaQV9QrzqMFJ2f8h4yFZl
Interestingly, Henning & Winter, the sixth-seeded German duo, won all four of the sets they played in Pool C by the same narrow score, 21-19. First, they shut out Australia's Lucas Josefsen & Ben Hood and, then, they swept French qualifiers Samuel Cattet & Olivier Barthelemy for the first place. Third-seeded Thais Banlue Nakprakhong & Intuch Techakijvorakul finished third in the pool after a 2-0 (21-18, 21-15) victory over the Aussies.
After the withdrawal of fourth-seeded Kensuke Shoji & Jumpei Ikeda of Japan, two three-setters decided the final standings in Pool D. Australia's James Takken & Solomon Bushby advanced to the pool final with a 2-1 (21-19, 15-21, 15-9) win over Poland's Michal Korycki & Milosz Kruk, but were then defeated by 13th-seeded Thais Nuttanon & Netitorn by 2-1 (18-21, 21-15, 17-15) in the battle for the top of the pool.
https://www.youtube.com/watch?v=1QuoRyc90q4
Eighthfinal action on Saturday starts at 08:00 local time (01:00 UTC) with the men's fixtures. The first women's elimination matches are set to begin at 09:40 (02:40).
Sunday's programme to be streamed live on YouTube starts at 09:00 local time (02:00 UTC) with the women's semifinals on two courts, followed by the men's semifinals an hour later.
All four of the medal matches will be played at centre court, with the women's bronze medal game starting first at 13:30 local (06:30 UTC).
https://www.youtube.com/watch?v=1bjxUeYCx20
Satun Futures: schedule and results click: https://en.volleyballworld.com/beachvolleyball/competitions/beach-pro-tour/2023/futures/satun-tha/schedule/
QUICK LINKS
AVC Website: click www.asianvolleyball.net
AVC Facebook: click www.Facebook.com/AsianVolleyballConfederation
AVC Twitter: click: www.twitter.com/AsianVolleyball
AVC Instagram: click: https://www.instagram.com/avcvolley/?hl=en
AVC Youtube: click: Asian Volleyball Confederation
AVC WeChat: Asian Volleyball Confederation