Bangkok, Thailand, May 25, 2022 – With stricter preventive measures implemented to handle the COVID-19 pandemic, Thailand Volleyball Association President Mr Somporn Chaibangyang believed the next month's 4th Asian U19 Beach Volleyball Championships in Roi Et will be a great success without the widespread outbreak of the coronavirus disease.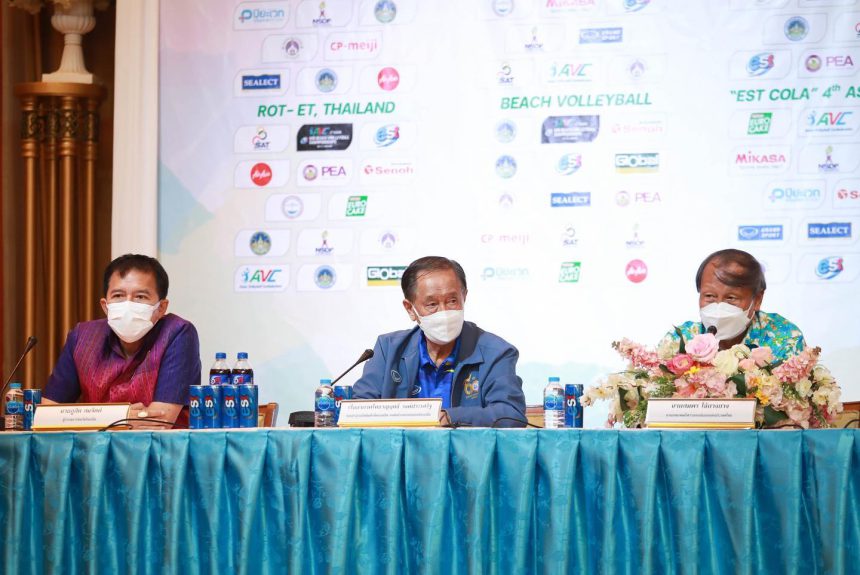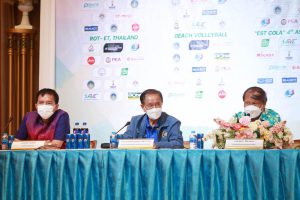 Seated from far left, Phusit, Shanrit, middle, and Somporn
Mr Somporn and AVC Executive Director Mr Shanrit Wongprasert, himself the AVC Honorary Life Vice President, jointly presided over the Wednesday's press conference at Golden Tulip Sovereign Hotel Bangkok on the staging of the 4th Asian U19 Championships. In attendance were Roi Et Governor Phusit Somjit, Rot Et Municipality Mayor Mr Banjong Kositjiranan and Mr Surapol Utintu, Vice President, Office of External Affairs Thai Beverage Public Company.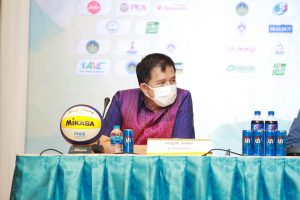 Phusit
Central Asian Volleyball Association President Mr Mohamed Latheef from Maldives, who is in business trip to Bangkok, and CAVA Media Director Mr Hussain Fariyaad had been guests of honour in the press conference, with the former invited to come on the stage.
The double-gender championships will be held at Ban Nong Ya Ma Community School in Roi Et, a province in North Eastern Thailand with approximately 425km from capital city Bangkok, between June 2 and 5, 2022, with teams testing their mettle to vie for U19 Worlds berths.
The entire quota of 5 teams per gender in the Main Draw will be up for grabs for the FIVB Beach Volleyball U19 World Championships in Turkey from September 14 to 18, 2022. Dikili in the province of Izmir will this year host the key age group event which Turkey last hosted competition in 2009 in Alanya.
During the Wednesday's meeting, Mr Somporn said, "Since the COVID-19 pandemic is not over yet, I'm convinced that with the competition standard and the stricter preventive measures, the championships will be a significant success without the widespread outbreak of COVID-19. Both local and international participants will be immensely impressed and hosting the championships will also showcase Thailand's potential as a can-do host country."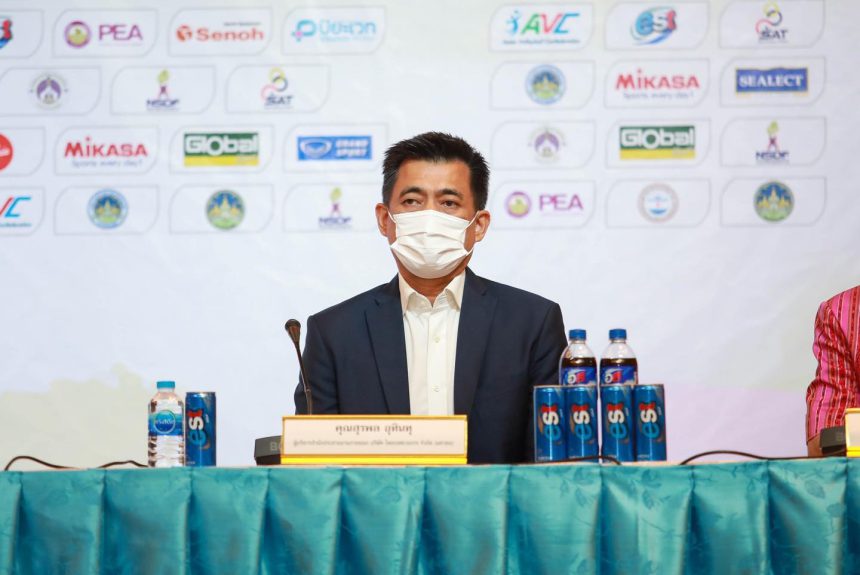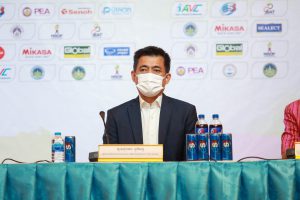 Surapol
Mr Surapol said, "Over 30 years that Thai Beverage through "soft drink est Cola" has been by TVA's side as sponsors and supporters and we also play part in continuously developing Thai volleyball. The Thailand women's national volleyball team has greatly succeeded at international stage. The most important thing is that to build quality players from generation to generation. Therefore, it's necessary to start from juniors and develop from there to make them national senior players in the near future. Thai Beverage has joined hands with TVA to do several good activities including bringing national team players to teach fundamental skills to youngsters from three Southern border provinces."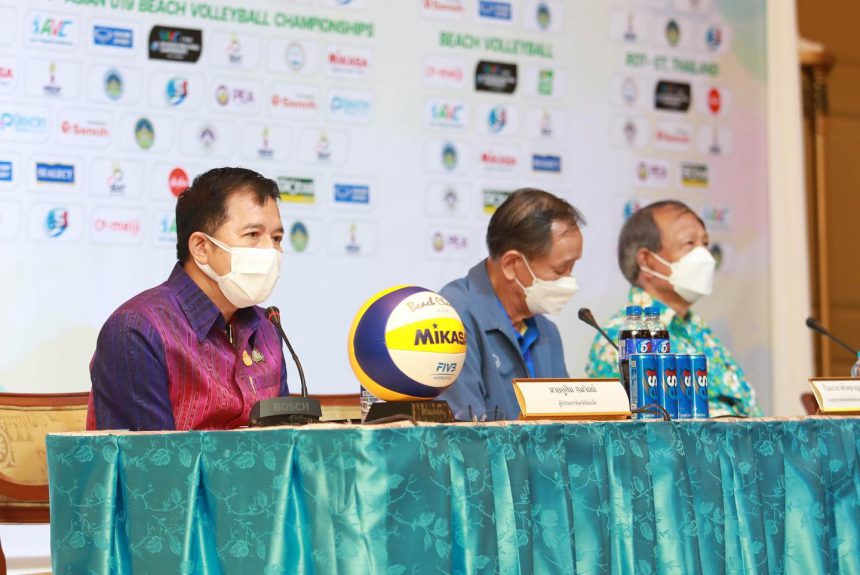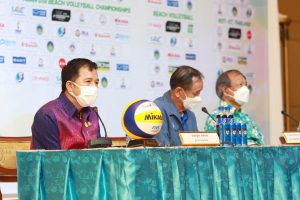 Phusit, far left
Regarding the preparation task, Roi Et Governor Mr Phusit said, "Under the strict COVID-19 measures, I'm upbeat that the championships will be successful. Not only participating players, but also officials will stay safe upon their arrival in Thailand until their pleasant departure. This will help create good image and confidence of Thailand on its role and efforts to effectively control the COVID-19 pandemic. It will showcase the Roi Et's potential in hosting the championships and other events in the near future."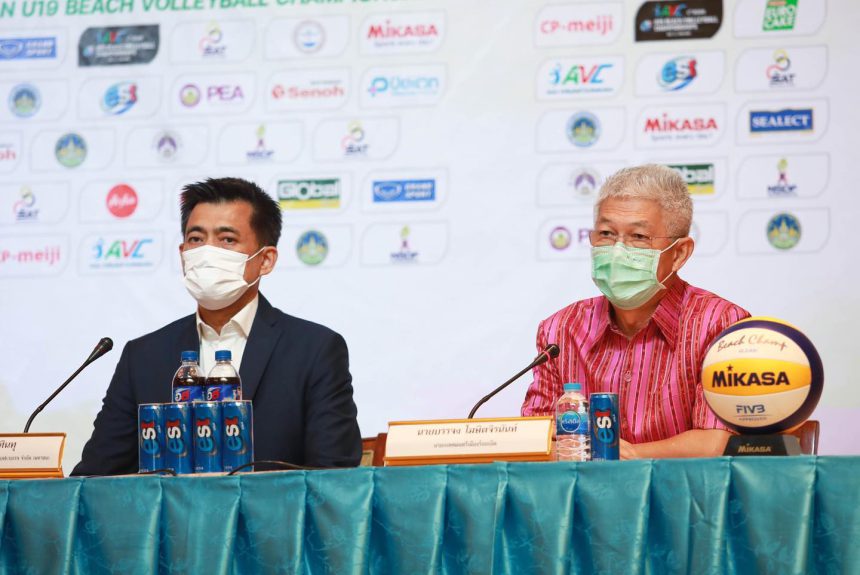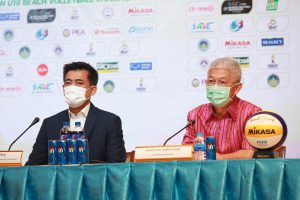 Banjong, far right
Mr Banjong added, "The championships will take place at Ban Nong Ya Ma Community School in Roi Et. We have gained experience in organising several Asian Championships and this time, we have already prepared the competition venue which meets AVC standard and the lighting system. In addition, more than 200 volunteers will be on standby to make all participants comfortably impressed.
In the video clip, Rot Et Municipality Mayor Mr Banjong Kositjiranan talks about a topic on "To get to where the Roi Et Tower is today. From the very beginning, the construction task of the tower suffered from criticism and negative comments. Some critics believe that it was useless to construct such a tower and after completion, the tower might be left abandoned. Therefore, he admitted that to construct the tower was a challenging task.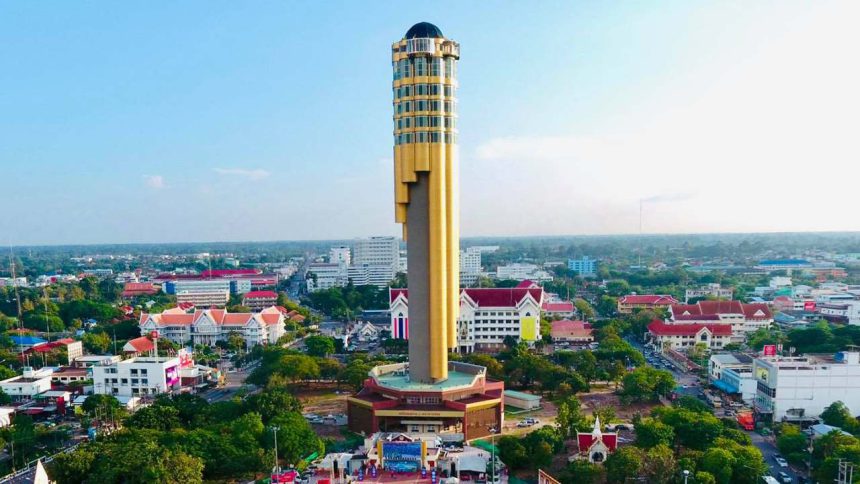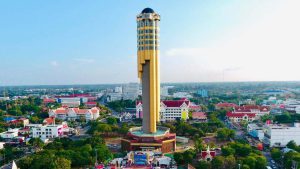 Roi Et Tower
Mr Banjong said that Roi Et residents felt that their city is little known among tourists despite the fact that Roi Et is a big city which lies in central northeastern Thailand. He added that the Roi Et residents had already tried their best to make the city known through their famous traditions, beautiful music and fantastic cultures. However, intention of doing so is, he believed, not enough as tourists always visit the city only when there are traditional celebrations. So, construction of the Roi Et Tower is a magnet to increasingly attract tourists to Roi Et at all seasons.
The Roi Et Tower, known in Thai as "Hor Wot," is a new landmark in Roi Et, giving the visitors a bird's-eye view of the city. The 101m-tall observation tower takes its distinctive shape from the wot, or panpipes used in the traditional music of Isaan. The tower's upper reaches have been wrapped in giant golden-coloured wot.
The Roi Et 101 Tower plays as part of the city's development strategy to attract tourists and will also feature a zipline, restaurant and local museum.
Located in Somdet Phra Srinagarindra Park, Muang District, the tower soars to 101 metres or 35 floors. Construction began in 2017 with a government budget of Bt341.8 million, allocated through the Department of Local Administration.
Visitors will get to look down on Roi Et city from observation decks on floors 28 to 34, while the 35th floor will be used to enshrine Roi Et's sacred Buddha statue.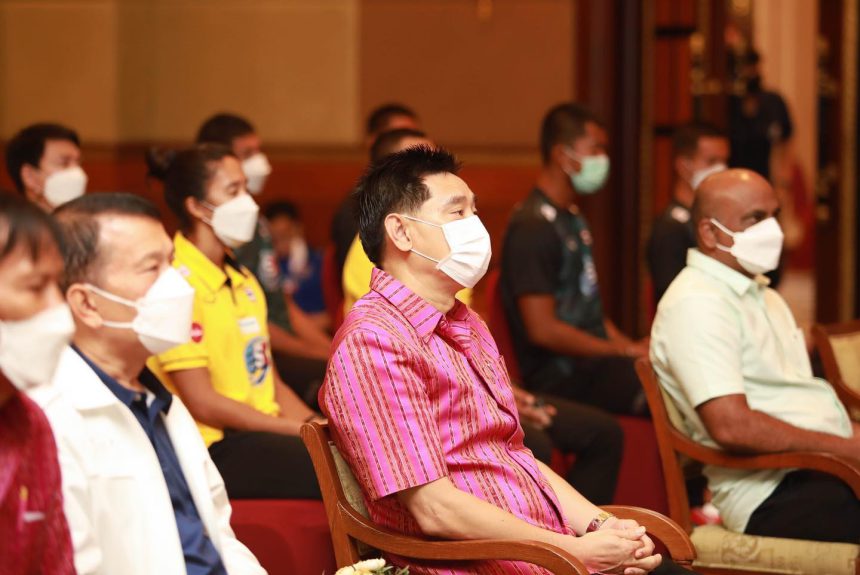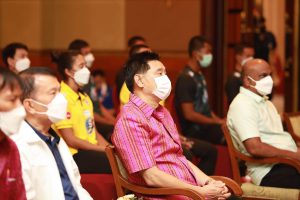 Seated far right, CAVA President Mr Mohamed Latheef from Maldives
Players from 13 countries have confirmed their participation in the four-day championships, featuring 23 men's teams from 11 countries – Australia, China, Iran, Japan, Kazakhstan, Laos, Malaysia, New Zealand, Oman, Singapore and Thailand, and 20 women's teams from 11 countries – Australia, China, Hong Kong China, Japan, Kazakhstan, Laos, Malaysia, New Zealand, Singapore, Vietnam and Thailand.
During the competition days, live streaming of the events can be watched through YouTube and TVA Channel.
Top five teams from each gender will represent Asia in the FIVB Beach Volleyball U19 World Championships in Turkey this September.
The previous edition of the U19 World Championships was staged in Phuket, Thailand in 2021 where France's Téo Rotar and Arthur Canet took gold in the men's event to earn their first international podium. They had previously participated in seven World Tour events and two age-category European Championships.
In the women's competition, the USA's Megan Kraft and Delayne Maple dropped only one set in their journey to the top of the podium in just their second FIVB tournament as a pair.
Related links of AVC
AVC Website: click www.asianvolleyball.net
AVC Facebook: click www.Facebook.com/AsianVolleyballConfederation
AVC Twitter: click: www.twitter.com/AsianVolleyball
AVC Instagram: click: https://www.instagram.com/avcvolley/?hl=en
AVC Youtube: click: Asian Volleyball Confederation
AVC WeChat: Asian Volleyball Confederation