Nakhon Ratchasima, Thailand, September 3, 2023 – The 22nd Asian Senior Women's Volleyball Championship has already passed the halfway mark with plenty to live up to after an enthralling day that saw Korea upset and some impressive displays, as the semifinal picture is starting to come into focus for four undefeated teams.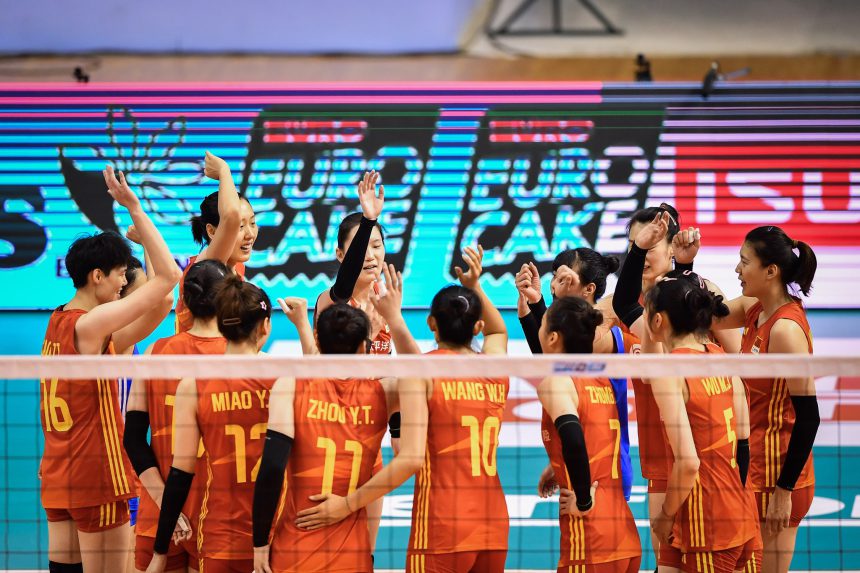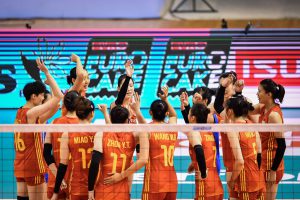 China team celebrate their victory against India
China, Japan, Thailand and Vietnam continued their invincible run in this topflight championship at Chartchai Hall and MCC Hall inside The Mall Korat Department Store in Nakhon Ratchasima and despite the fact that one more match awaits each qualified team in the round of Top 8, the above-mentioned quartet looked set to advance to the semifinals, with the Vietnamese making their presence felt on their unprecedented journey.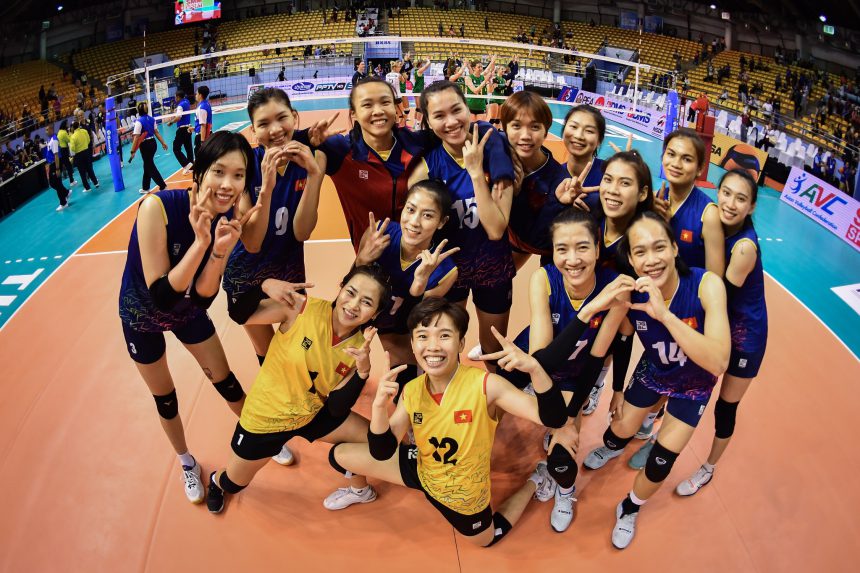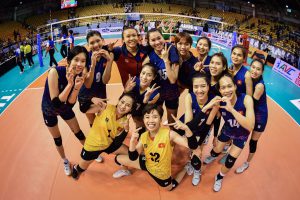 Vietnam jubilant after their win against Australia
This will be for the first time ever that Vietnam, which made their debut effort in the Bangkok-hosted Asian Senior Women's Championship in 1991, will finish among Top 4 in the continent's biggest women's volleyball tournament.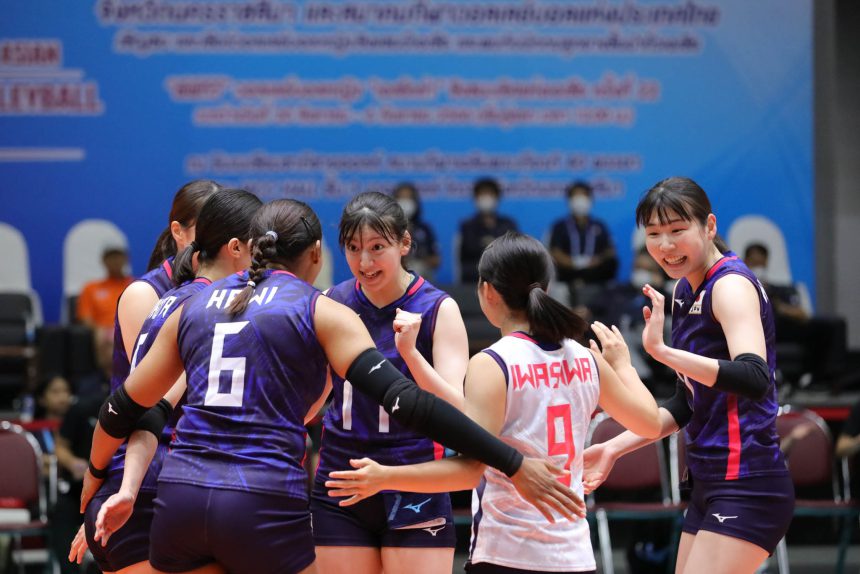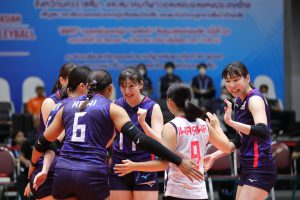 Japan beat Kazakhstan for unbeaten run in the championship
In the action-packed Top 8 encounters in Pool E and Pool F on Sunday, China, Thailand, Japan and Vietnam all pulled off pulsating 3-0 wins against their respective opponents.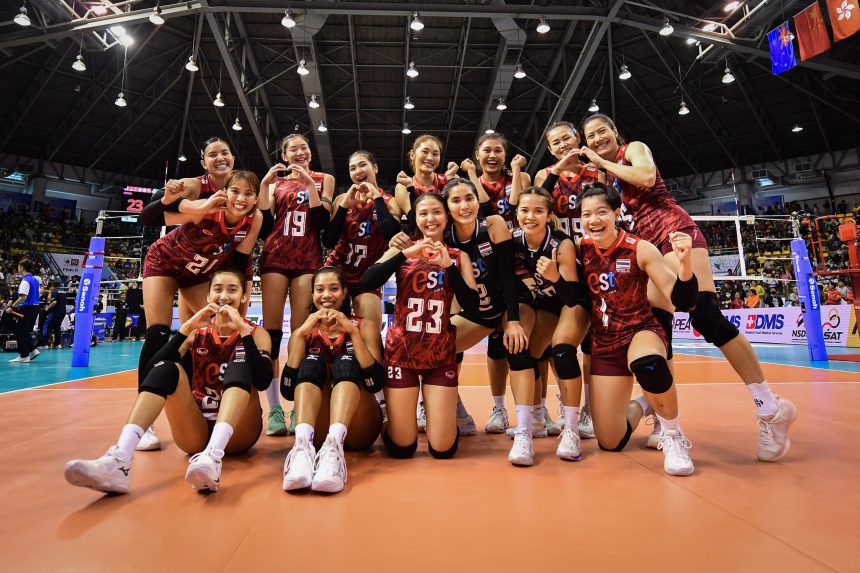 Thailand celebrate their victory against Korea
Contesting Pool E, Thailand repeated the resounding success in their tough match against Korea, the team they had beaten in straight sets during their Pool 1, Week 1 match of the 2023 Volleyball Nations League on June 4 in Antalya, Turkey.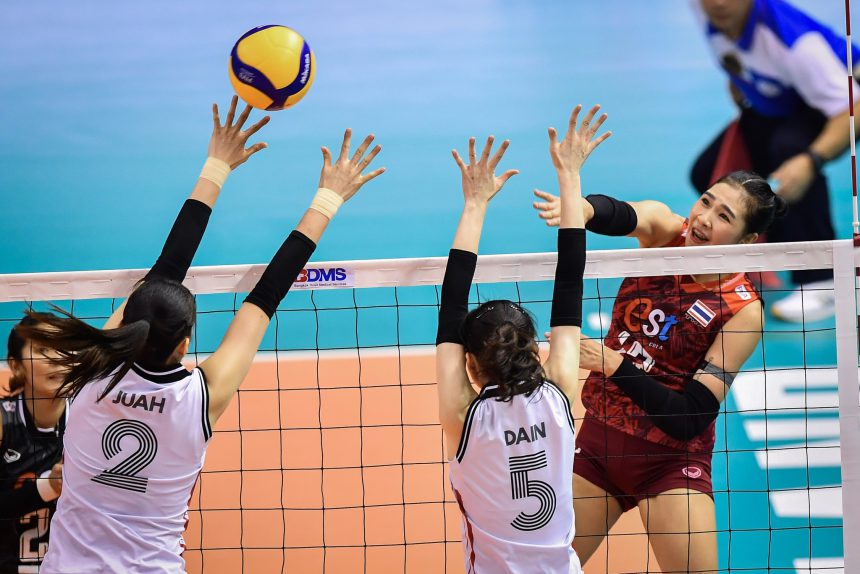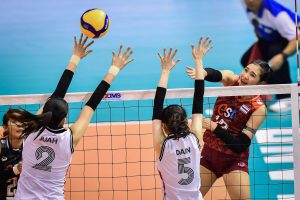 The host side, powered by star spiker Chatchu-On Moksri and hard-attacking Thanacha Sooksod, Wipawee Srithong and Sasipapron Janthawisut, bested Korea in hard-fought three-setter 25-20, 25-22, 25-23, a sweet revenge of the Thai team for the disappointing 1-3 loss to the Koreans in the Pool E second round match in the Seoul-hosted 20th edition in 2019 in Korea.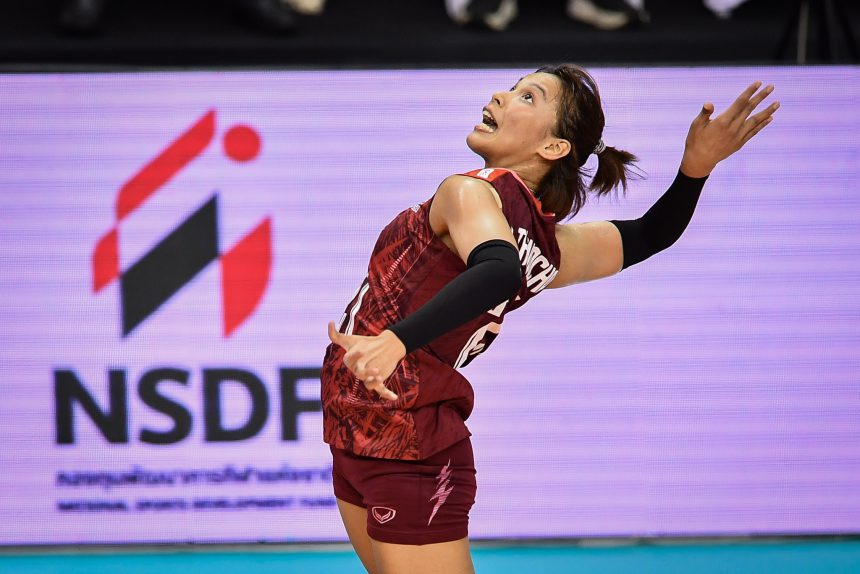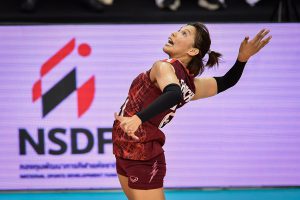 Thanacha Sooksod delivered 15 points from 13 attacks and 2 blocks for Thailand, while Chatchu-On Moksri and Wipawee Srithong kept good company to add another 14 and 11 points respectively. Kang Sohwi scored 17 points on the Korea's loss.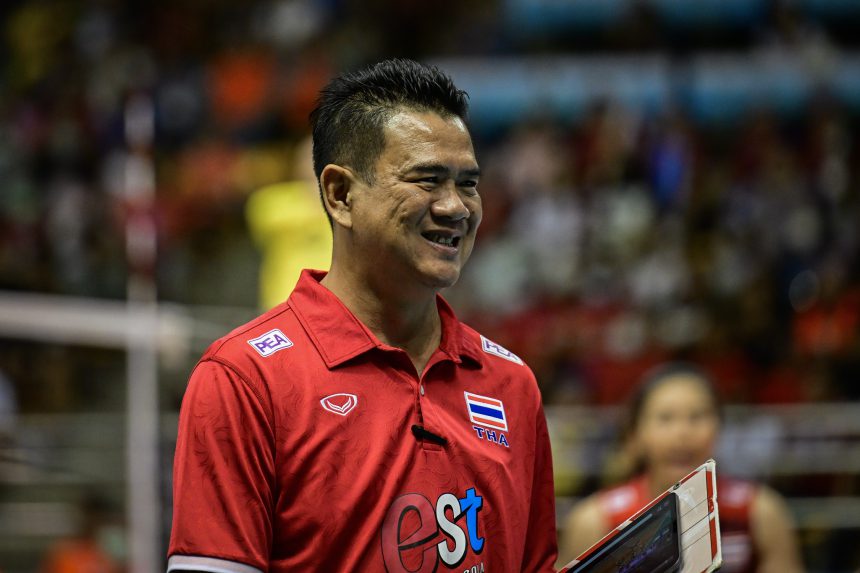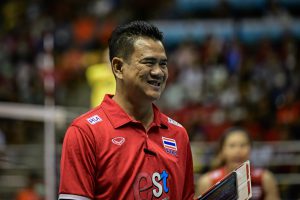 "I think my team played according to our strategic plan. However, the inconsistent service as far as the elite round we have reached in this championship remain the crucial factor we have to correct if we need more victories in the next games. Vietnam came much strong this time. They had already beaten Korea and that's a good proof that we can't underestimate them in our Monday's match against them," Thailand head coach Danai Sriwacharamaytakul commented before a number of the media at the Mixed Zone.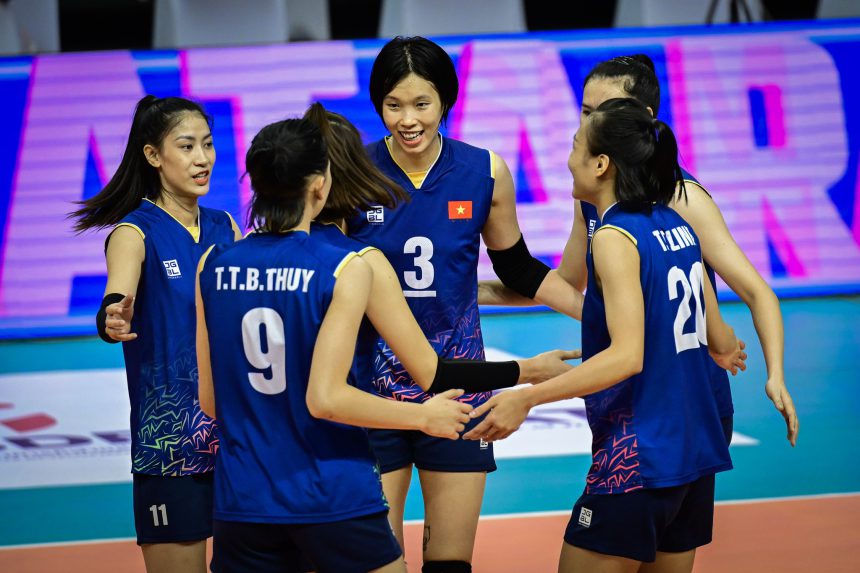 Vietnam, which captured two major continental titles early this year to their name consisting of the 2023 Asian Women's Club Championship on home soil under the Sport Center 1's banner and the 2023 AVC Challenge Cup in Indonesia, also made their mark in the other Pool E encounter to brush off Australia in comfortable straight sets 25-15, 25-15, 25-21.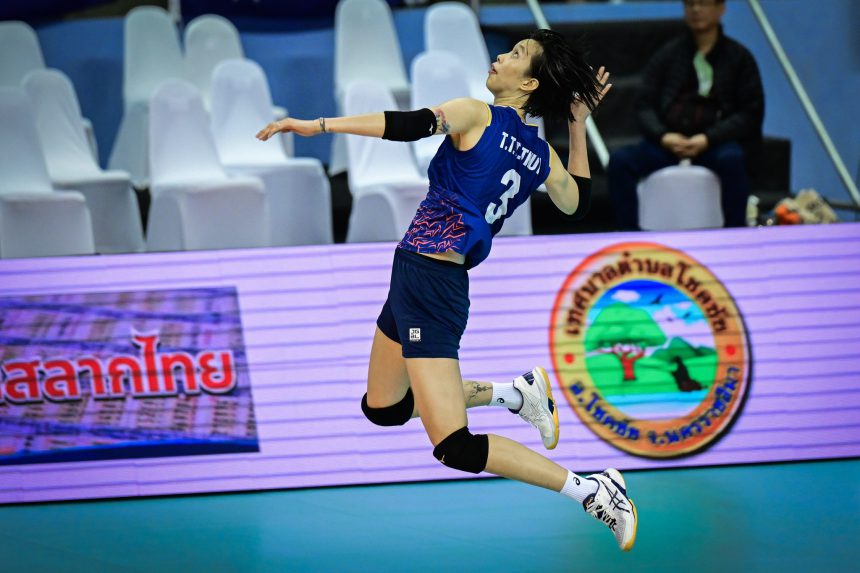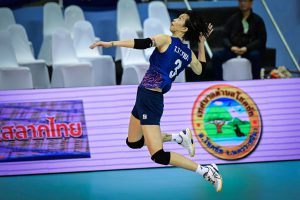 Powerful Tran Thi Thanh Thuy chipped in with 17 points from 13 attacks out of 30 attempts and 4 aces, while Emma Burton, Rebecca Redgen and Kara Inskip scored 8 points apiece on the Australia's losing effort.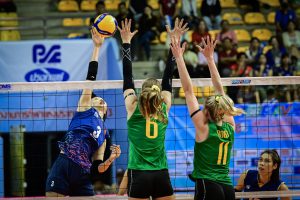 In Pool F, China and Japan went on their remarkable unbeaten run in the eight-day championship by not dropping a set to their respective rivals.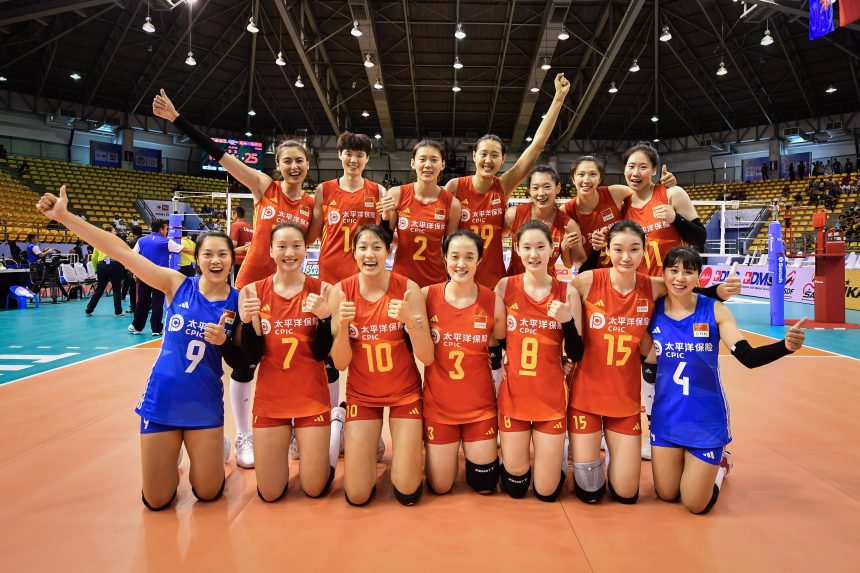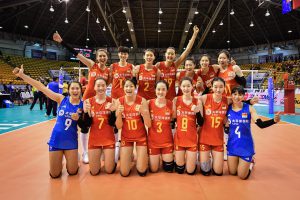 China, whose half of team players joined the gold medal-winning Chengdu Universiade early last month, proved their superiority over India to demolish the unfancied opponents in a completely one-sided battle 25-9, 25-10, 25-12.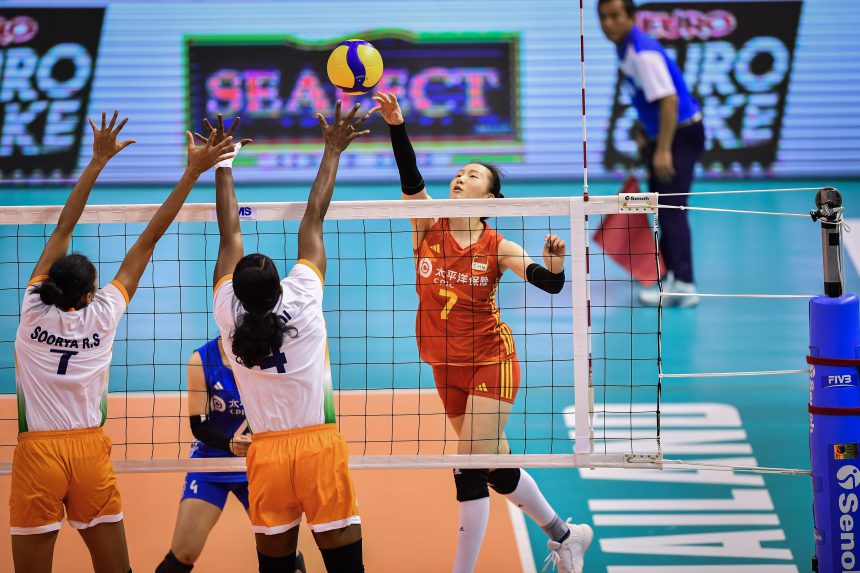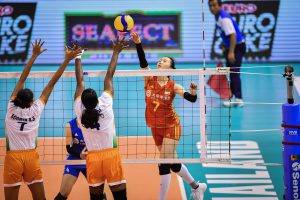 Opposite hitter Zhou Yetong and outside hitter Zhong Hui scored 16 points apiece for China, while Soorya, Dhanam Palanivel Ezhilmath and Nirmal delivered 5 points each for India.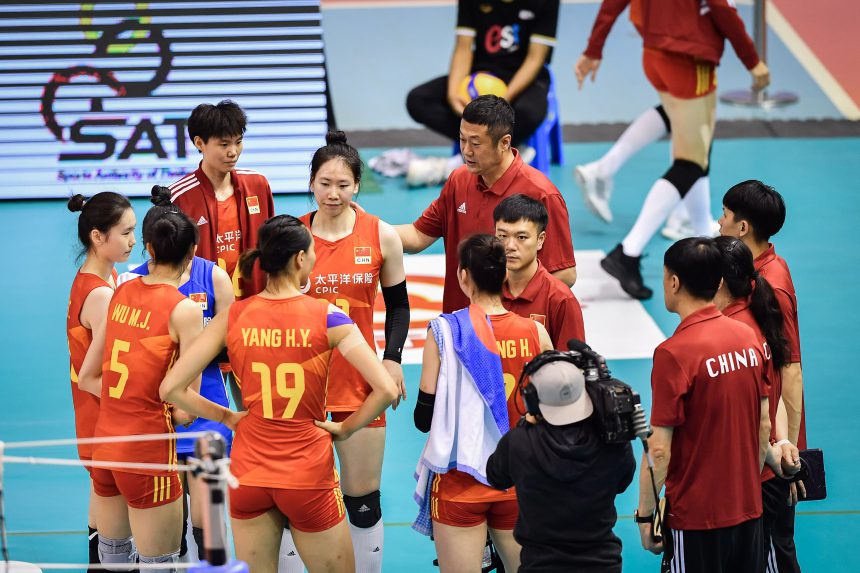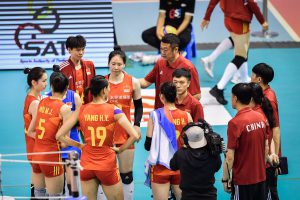 "It's our first match in the round of Top 8 and so, we have to prepare our team as well as possible. We next play Japan, one of the strongest teams in this championship and we will try our best to beat them. Only some of my team players competed in the last month's Chengdu Universiade, but no one will join the China team for the coming Asian Games in Hangzhou," China head coach Zhao Yong commented through interpreter.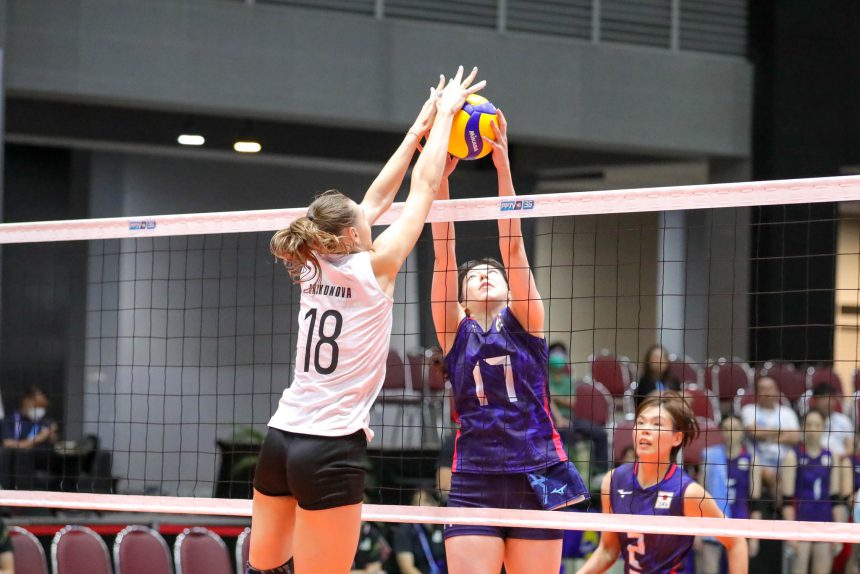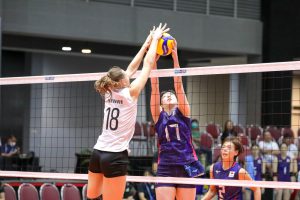 Japan, fielding three players including skipper Haruyo Shimamura who competed in this year's VNL preliminaries, cruised past Kazakhstan in straight sets 25-13, 25-20, 25-18.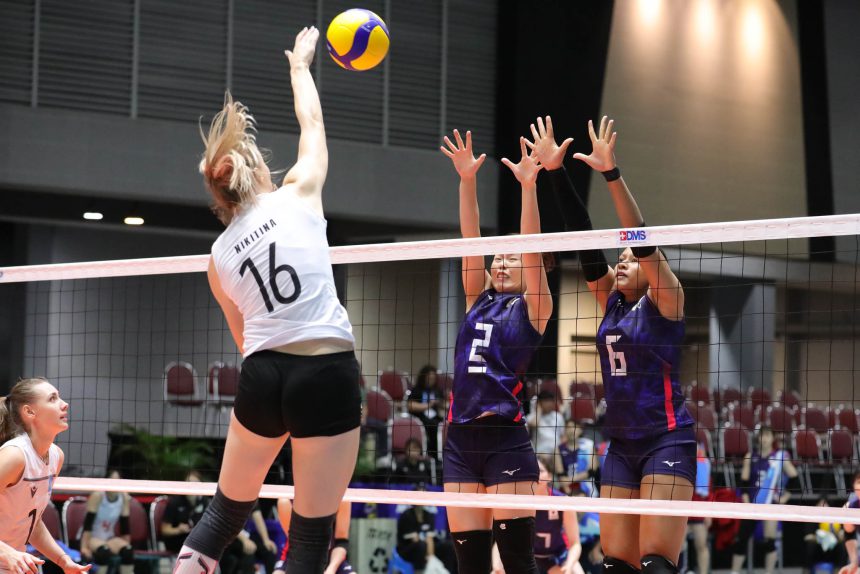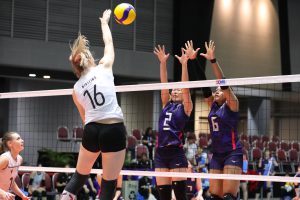 Outside hitter Okumu Oba Fuyumi Hawi emerged as the most productive player of Japan as she scored a match-high 22 points from 17 attacks, 4 stuff blocks and one ace for the team, while Sana Anarkulova contributed 12 points including 10 attacks from 35 attempts for the losers.
At the end of the day, hosts Thailand stayed atop Pool E with 6 points from two straight wins. Vietnam also had 6 points from two wins in a row, but due to the better sets ratio of Thailand, the Vietnamese came in second place. Korea bagged only one point from two straight losses and Australia had no point earned to trail in third and fourth places respectively.
On Monday, the last day of the Top 8 encounters, Thailand will take on Vietnam in the all-Southeast Asians affair to determine the Pool E winners, with Korea playing Australia. However, Thailand and Vietnam are uncatchable for Korea since despite their possible win either 3-0 or 3-1 on Monday, the Koreans will claim an aggregate 4 points, insufficient to finish among Top two from Pool E for the Tuesday's semifinals.
China remain on top of Pool F with 6 points from two consecutive wins, while Japan came in second spot with the similar performance to collect 6 points from two wins in succession. However, due to the China's better points ratio, the Japanese had to be content with the second place. Kazakhstan and India have yet won a match in the round of Top 8 to trail in third and fourth places respectively.
China and Japan are ensured of advancing to the cross semifinals on Tuesday, but will first play each other on Monday to decide the Pool F winners. India will go up against Kazakhstan, seeking their first win in the Top 8 round.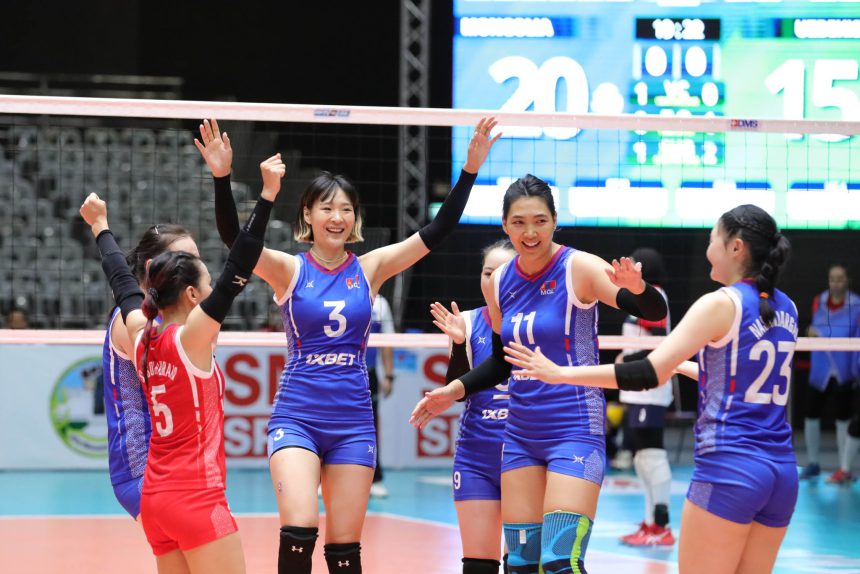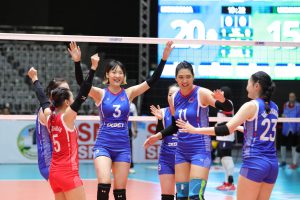 Meanwhile, Mongolia tasted their first win in the 22nd edition of the Asian Senior Women's Championship in Nakhon Ratchasima as they cruised to a 3-0 (25-15, 25-19, 25-16) shutout of Uzbekistan in Classification Round for 9th-14th places in Pool G.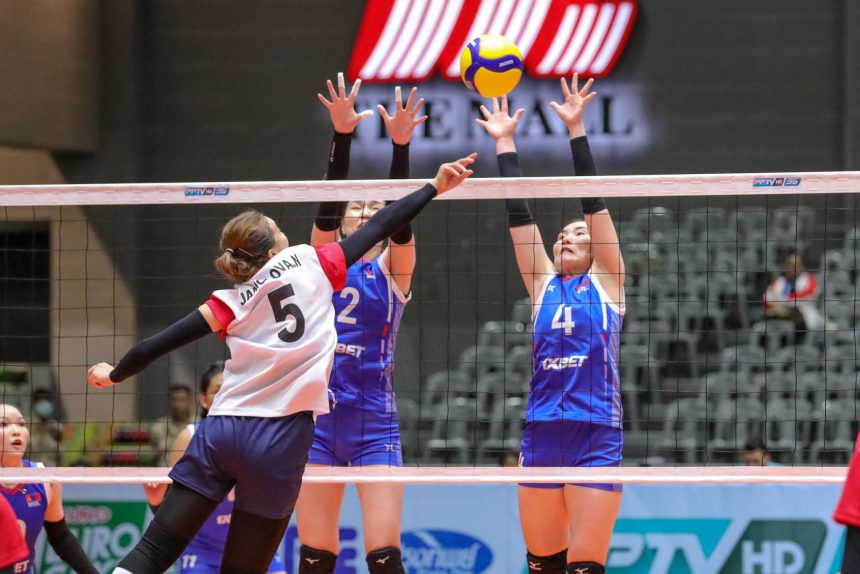 Opposite hitters Gan-Ochir Khongorzul and Ganbold Enkhhnaran scored 15 points apiece for Mongolia, while outside hitter Sativoldieva Ezozakhon led Uzbekistan with 9 points including 8 attacks from 26 attempts.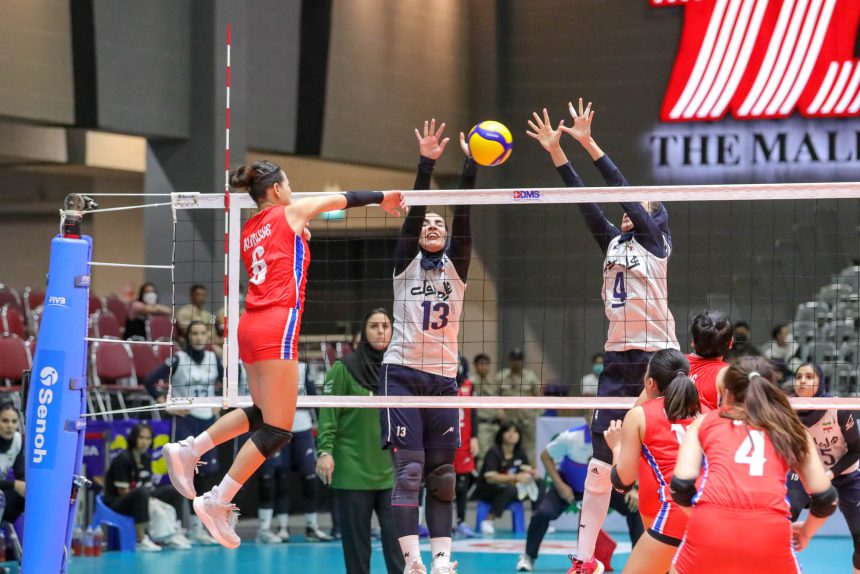 The Pool H encounter in the Classification Round for 9th-14th places saw Iran survive a scare from Philippines to beat the opponents with comeback 3-2 (22-25, 25-22, 25-21, 24-26, 15-12) win in an exhausting 163-minute battle.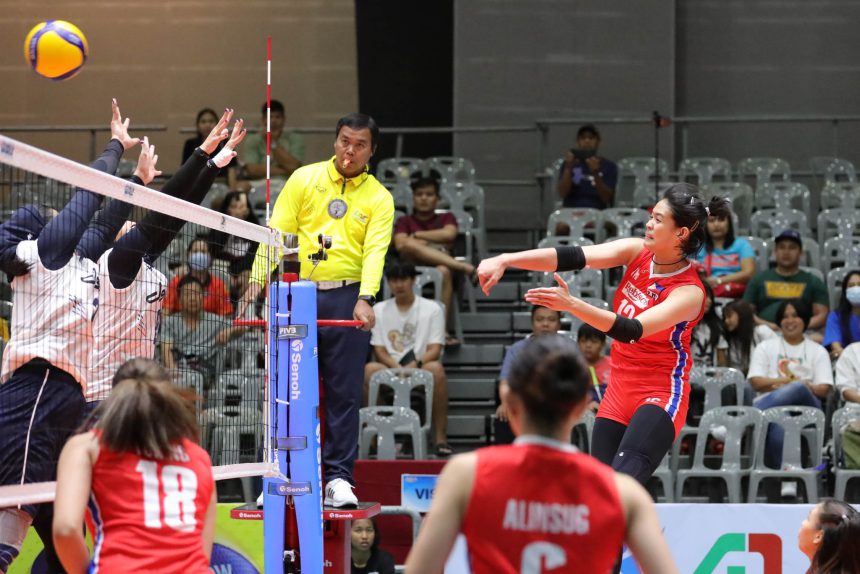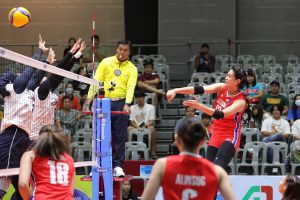 Opposite hitter Ashofteh Mona delivered 21 points from 19 attacks and 2 blocks for Iran, while opposite hitter Alyssa Solomon scored 19 points including 16 attacks and 2 blocks on the Philippines' loss.
On Monday, Mongolia will go up against Chinese Taipei In Pool G, with Iran meeting Hong Kong, China in Pool H.
POOL RANKING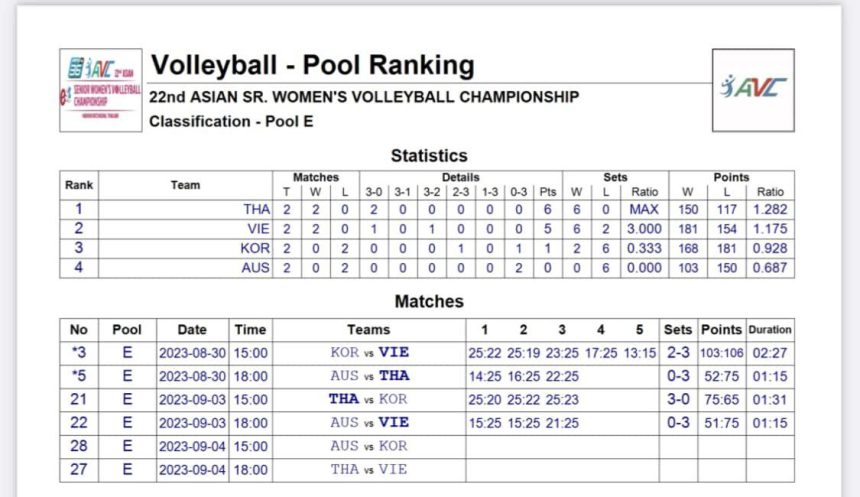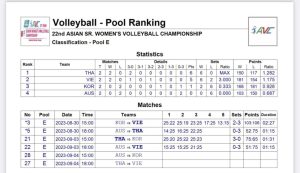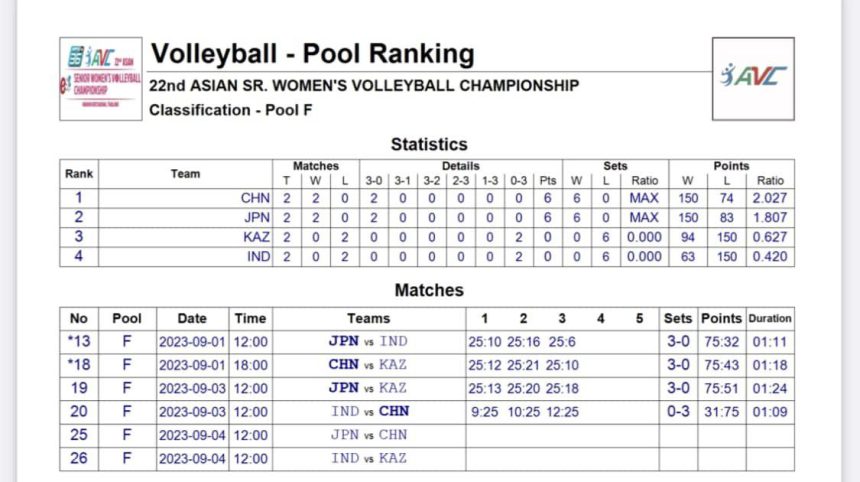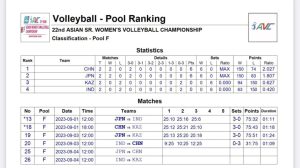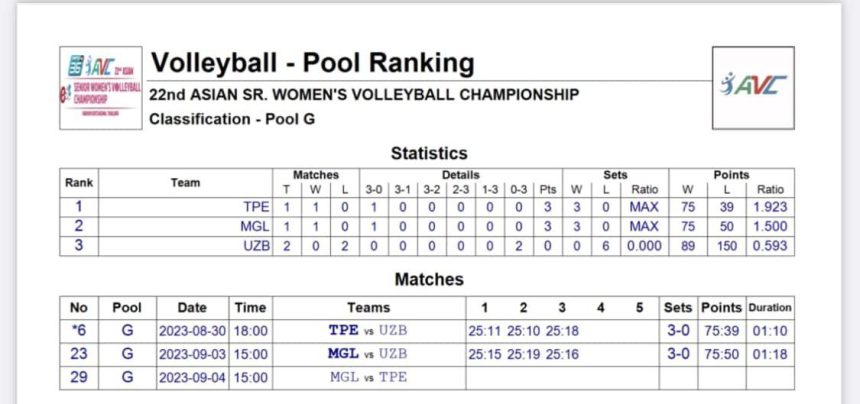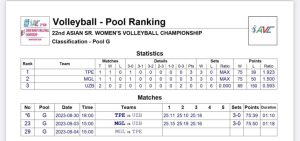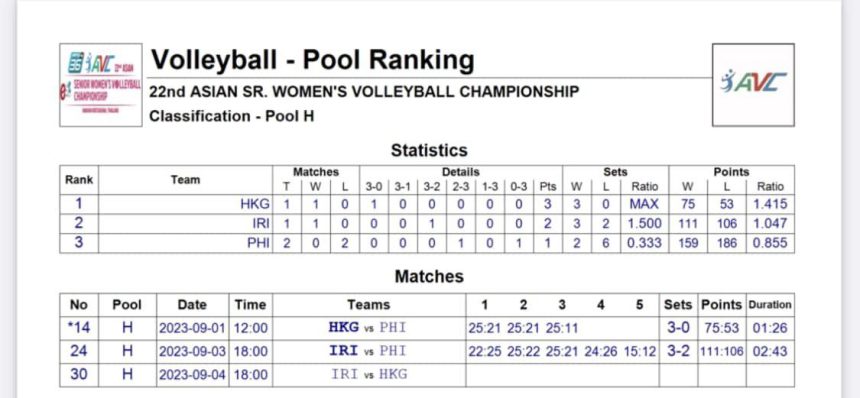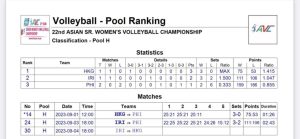 MATCH SCHEDULE

QUICK LINKS
AVC Website: click www.asianvolleyball.net
AVC Facebook: click www.Facebook.com/AsianVolleyballConfederation
AVC Twitter: click: www.twitter.com/AsianVolleyball
AVC Instagram: click: https://www.instagram.com/avcvolley/?hl=en
AVC Youtube: click: Asian Volleyball Confederation
AVC WeChat: Asian Volleyball Confederation