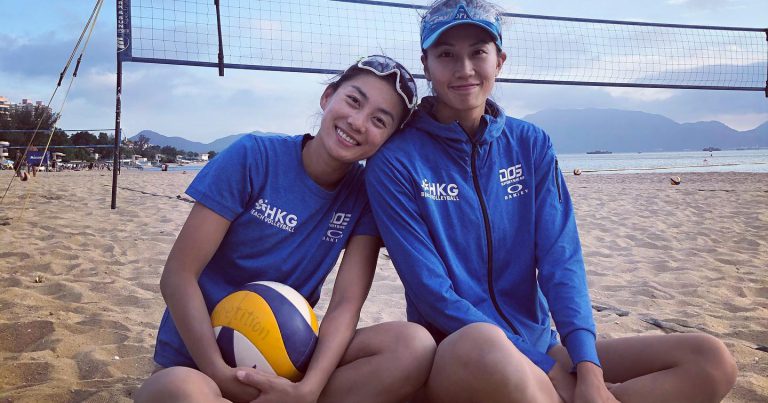 Bangkok, Thailand, December 28, 2020 – Many sports plans have been put on hold as the world copes with the COVID-19 predicament. For the Hong Kong, China beach volleyball duo To Wing Tung and (Sonia) Kong Cheuk Yee, keeping the faith and trusting the process are keys to forging ahead with their goal of international success.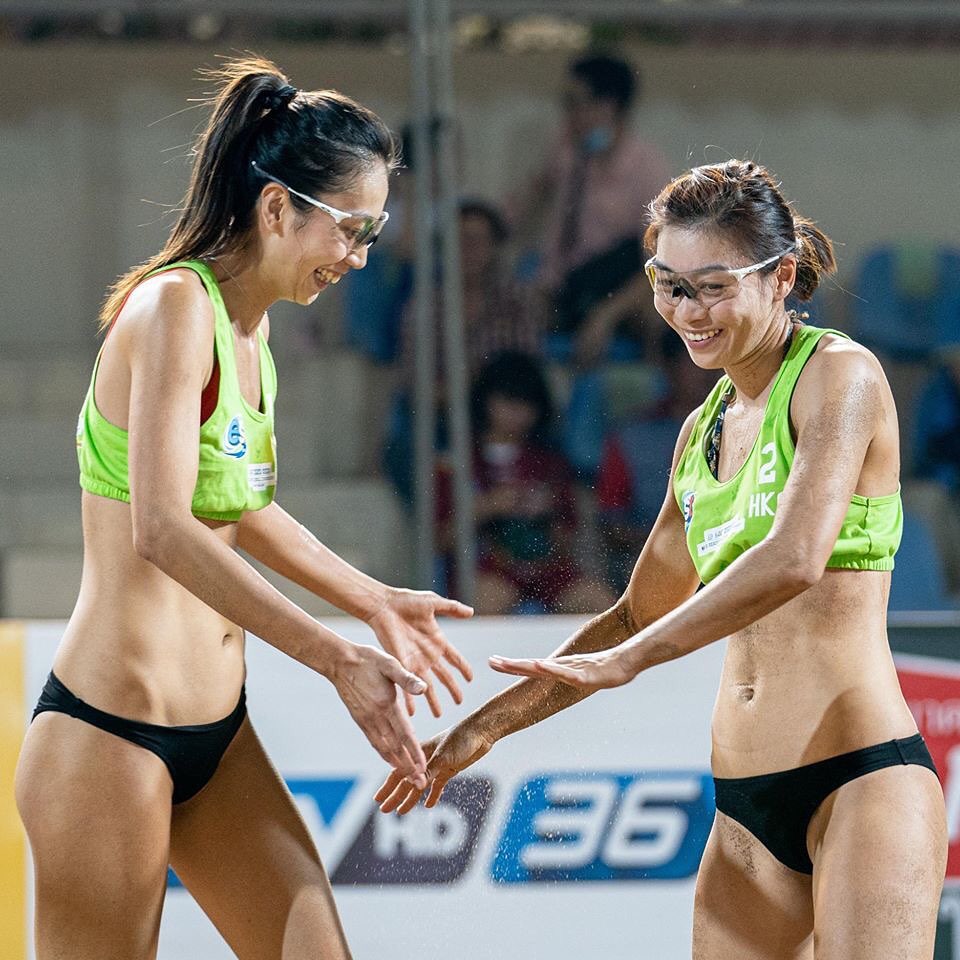 The pandemic has seriously changed the plans of all athletes, therefore, the Hong Kong pair had to adjust with the current situation and adapt new training methods to prepare them for a future opportunity.
"Because of the COVID-19 outbreak, we almost didn't have any local or overseas tournaments this year. Therefore, we had to make use of this time to improve on our weaknesses. The long-term goal for me is to acquire a variety of tactics that we can apply to the game," Kong said.
"There is still a lot of uncertainty right now. We don't know when the pandemic will end or whether there is going to have another outbreak. So we really have to make good use of every training session and never be lazy to stay fit and be ready for any event. Opportunity is open for those who are prepared."
"I expect to enhance my physical fitness and break through my limits. In the future, we hope to get a good result at the Asian Beach Games and at the National Games in 2021. We are also hoping to participate in the World Tour and see our performance at the international level improve," To said.
"We need to have self-discipline because that is the most important. At this time, I had to train by myself. I believe many athletes are facing the same situation, so we need to keep pushing ourselves to get better."
Their love for the sport was apparent at a young age, but having the right mentors led them to pursue a career in beach volleyball.
"I played beach volleyball since I participated in an inter-school beach volleyball competition with my twin sister. We got a chance to represent the Hong Kong junior team to the All-China Inter-School Beach Volleyball Competition, which we won," To recalled.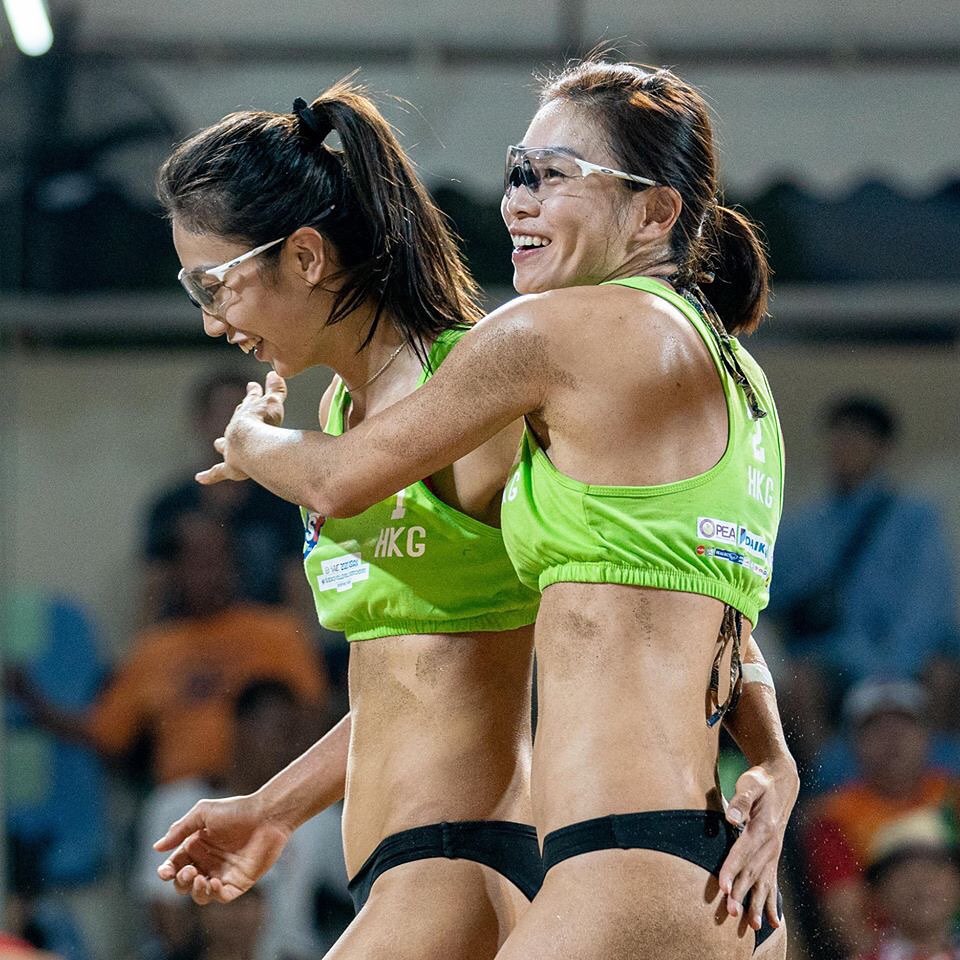 "My coach Tse Sze Ho taught me many volleyball skills and shared with me his experience. He was the one who inspired me to play beach volleyball and he enhanced my experience by inviting Sonia Kong Cheuk Yee to be my partner.
"I was a beginner in 2012 and now a professional beach volleyball athlete in 2020. My first AVC event was the Asian Beach Volleyball Tour in Thailand. I was so excited because it was my first time to represent Hong Kong at an AVC event. Then the latest is the Asian Beach Volleyball Championships in Thailand. It was the only event this year and my team had an outstanding performance and played a close match with Team Thailand."
"I met my first partner Clara Tze Wing Hung when I was 15 years old. We were teammates in the junior volleyball team, and she asked me if I was interested in playing beach volleyball. I accepted it right away and soon fell in love with it," Kong said.
"Clara and I formed a team coached by King Sir (Cheng King Leung). He taught me a lot of things and inspired me to be a better player. Even though he is not coaching right now, he always gives me good advice and is always willing to offer help.
"I attended my first event in 2003 at the FIVB Beach Volleyball U18 World Championships in Thailand. Back then, I lacked experience and felt very nervous before my first match because it was a 'win-or-go-home' qualification match for a rookie.
"I played lots of competitions and also had to quit my career for a couple of years. When I returned to the sport, I fell in love with it again. And instead of feeling nervous in the match, I felt joy and I only had to focus on every single point, just like how I and my partner played at the Asian Championships this year."
The two athletes get on well and so far their partnership has been productive at the continental level, giving them the experience and building their confidence to compete at world level. Although that may take some time, they are patient in reaching their full athletic potential.
"After more than three years of partnership with To Wing Tung, we have developed our teamwork as we went through some difficult moments together. Finally, we got a bronze medal at the China National Grand Slam last year. We have also become full-time athletes since April, so we hope we can have a more stable performance. We look forward to gaining more experience in competitions," Kong said.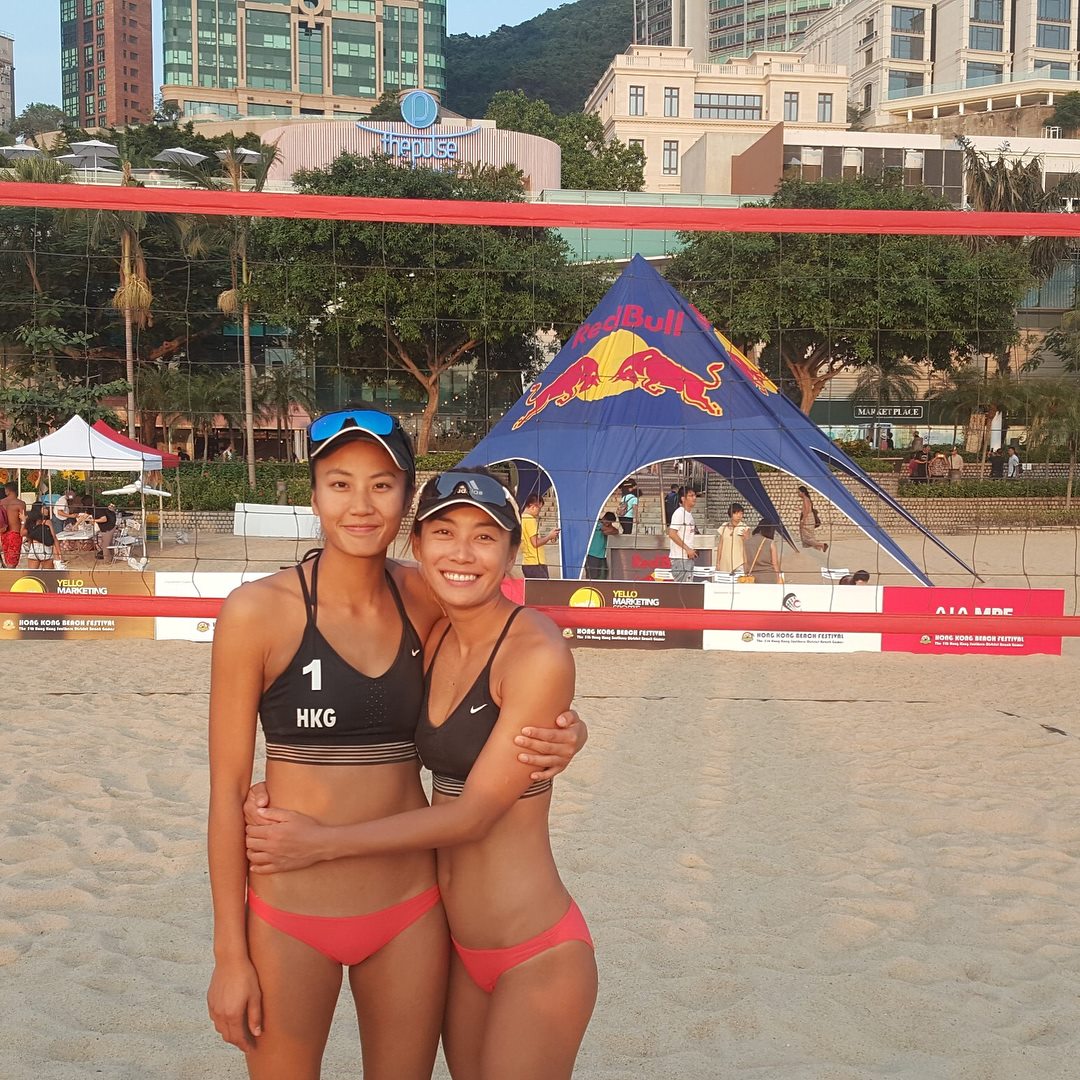 "The biggest achievement we've made was the third-place finish at the Beach Volleyball Grand Slam in NamTong station. That boosted my confidence and encouraged me to put effort in the sport and be a professional beach volleyball athlete," To added.
"In the coming years, we would like to focus on the Asian Beach Games and the National Games. Now we are spending over 25 hours each week for training. It is a continuing breakthrough process and hopefully we could achieve better results in AVC and FIVB events."
Their past experiences in AVC competitions also serve as their guide into stepping into the future.
"The most memorable AVC match was against Vietnam in Thailand in 2014, when we won our first pool match. It was a tough match and the score was tied at 19-all. I felt so much pressure and kept reminding myself not to make any mistakes. In the end, we won our first AVC match," To said.
"The 2017 AVC Tour in Indonesia was one of the first few tournaments where Tung and I played. It was at the round of 16 at noon and it was very hot. We were having a tight game with our opponents. Unfortunately, we didn't get the crucial points and lost the match, otherwise it would have made it into our first quarterfinal together. However, it was still a good experience that would help us be more confident later on in crucial match situations," Kong said.
Defeats and victories are indeed the best lessons to develop a strong sense of identity and trait to desire improvement to reach a higher standard of performance.
"Beach volleyball is an outdoor sport, so we have to overcome many uncontrollable factors. Sometimes it can be hot and humid and sometimes it can be windy. We also have to find quick solution and decision during each play, without the help of a coach and without any substitution," said Kong on the challenges of beach volleyball.
"I was a middle blocker when I played volleyball, so I spent most of my time focusing on the blocking and attacking skills. Beach volleyball helped me a lot in realizing that I also have to improve on my passing skills, especially receiving and setting skills, as these are the two things we need to do all the time in beach volleyball," To said.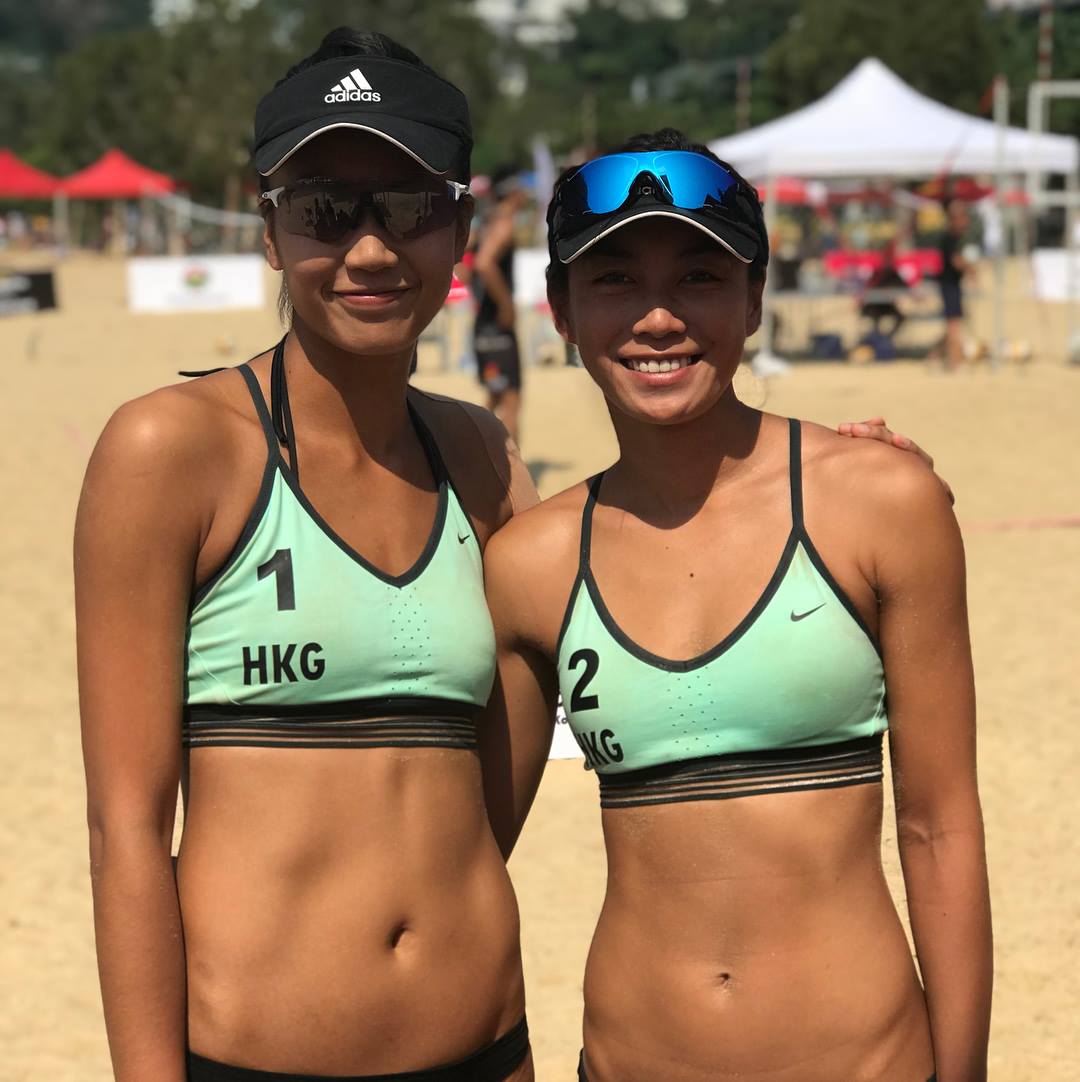 For now, they make use of their time and opportunity to train hard and taking the necessary steps on the road to progress.
"In 2020, the beach and fitness center were closed to training for months because of the pandemic. We had to change our training schedule every month and tried to spend most of our time on training when it finally opened. Everything was difficult this year, but I still treasure the time and opportunity with beach volleyball and training," To said.
"Our typical training day would be like having one training session in the morning, then we have lunch and short naps in the beach, then another session in the afternoon. The day will end with stretching and mobility exercises before we sleep," Kong said.
"Since I spent a lot of time for training and traveling during competitions, on my days off, I love spending time with my three pets at home.
"I also enjoy watching beach volleyball competitions videos which allow me to review our training and competition performance and improve it accordingly. By watching these videos, you can learn a lot from other players. I enjoy doing this on my own, but also have fun when I watch with my partner."
Follow To Wing Tung on Instagram www.instagram.com/to_wing_tung
Follow Kong Cheuk Yee on Instagram www.instagram.com/kongsonia and Facebook www.facebook.com/Soniakongcheukyee
Related links of AVC
AVC Website: click www.asianvolleyball.net
AVC Facebook: click www.Facebook.com/AsianVolleyballConfederation
AVC Twitter: click: https://twitter.com/avcvolley
AVC Instagram: click: https://www.instagram.com/avcvolley/?hl=en
AVC Youtube: click: Asian Volleyball Confederation
AVC WeChat: Asian Volleyball Confederation