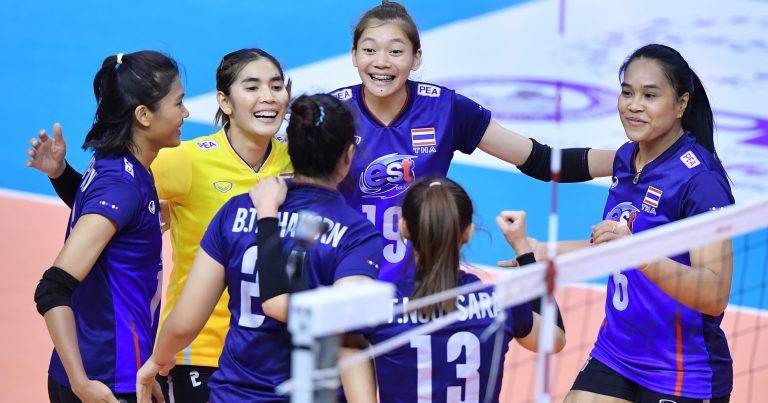 Nakhon Ratchasima, Thailand, January 11, 2020 – Korea and the hosts Thailand remained unbeaten record to set up the final clash for the only ticket to Tokyo after same 3-1 wins over Chinese Taipei and Kazakhstan respectively at the semifinals of 2020 AVC Women's Tokyo Volleyball Qualification here at Chartchai Hall Saturday.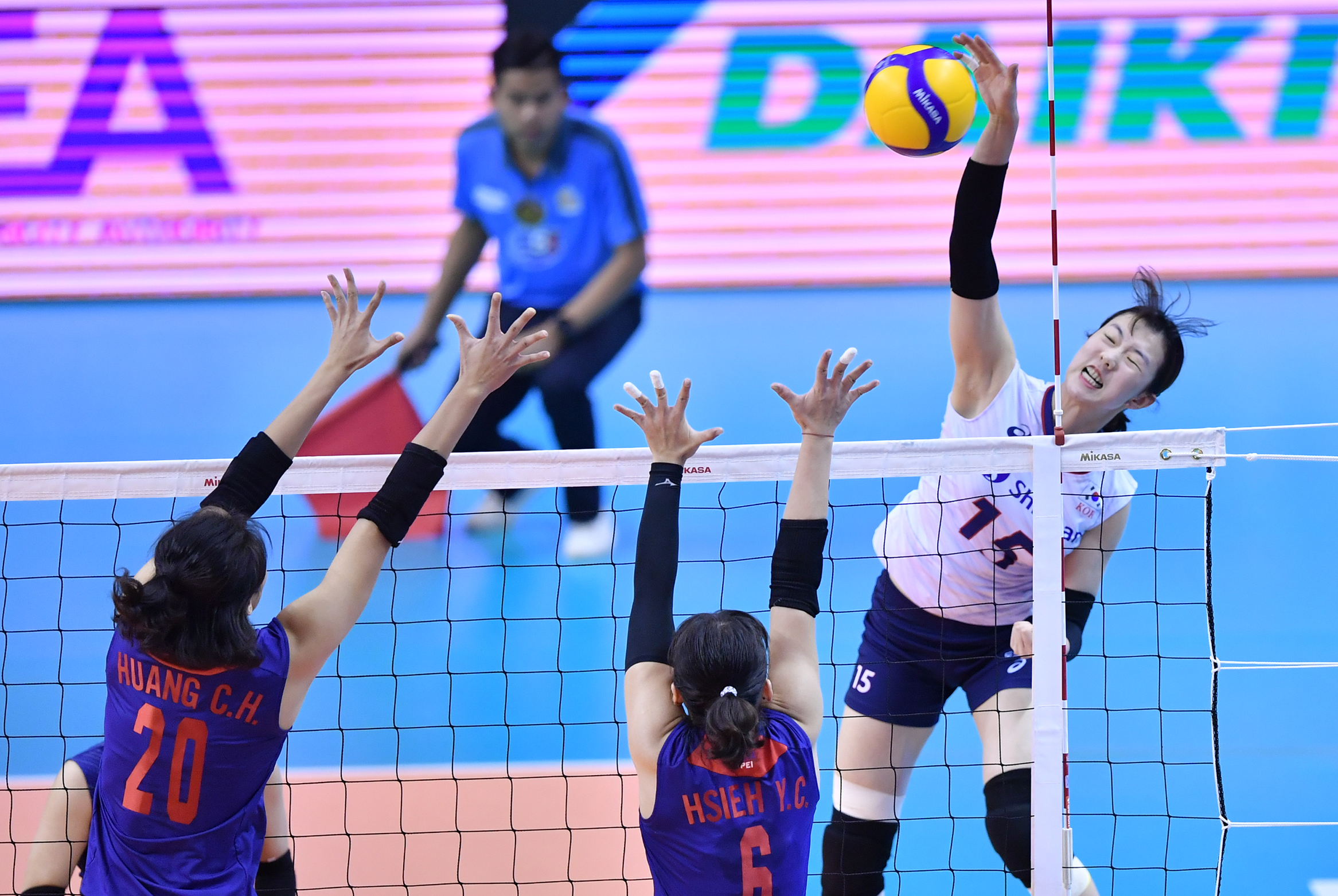 The first semifinal match saw Korea come back to pull off a 3-1 (18-25, 25-9, 25-15, 25-14) victory over Chinese Taipei. Kim Heejin was top scorer of the game with 18 points, including 12 spikes, 3 aces and 3 blocks, while her teammates Yang Hyo Jin and Lee Jaeyeong followed to contribute 15 and 13 points each. Captain Kim Yeon Koung was kept on the bench due to some injury.
Both sides came into the do-or-die clash by exchanging attacks and blocks till 8-8. Chinese Taipei showed more their willingness to win by performing several dogged saves and reached a 11-8 lead following an ace. A timeout called by Chinese Taipei at 13-11 lead seemed to switch on their maximum-fighting mode and changed the situation. Initiated by Chen Tzu Ya's service, Chinese Taipei launched a scoring wave to a comfortable 20-12 lead. Though Koreans blew back to 18-23, Chen Tzu Ya stopped their chasing steps and concluded the set in 25-18 with consecutive two spikes.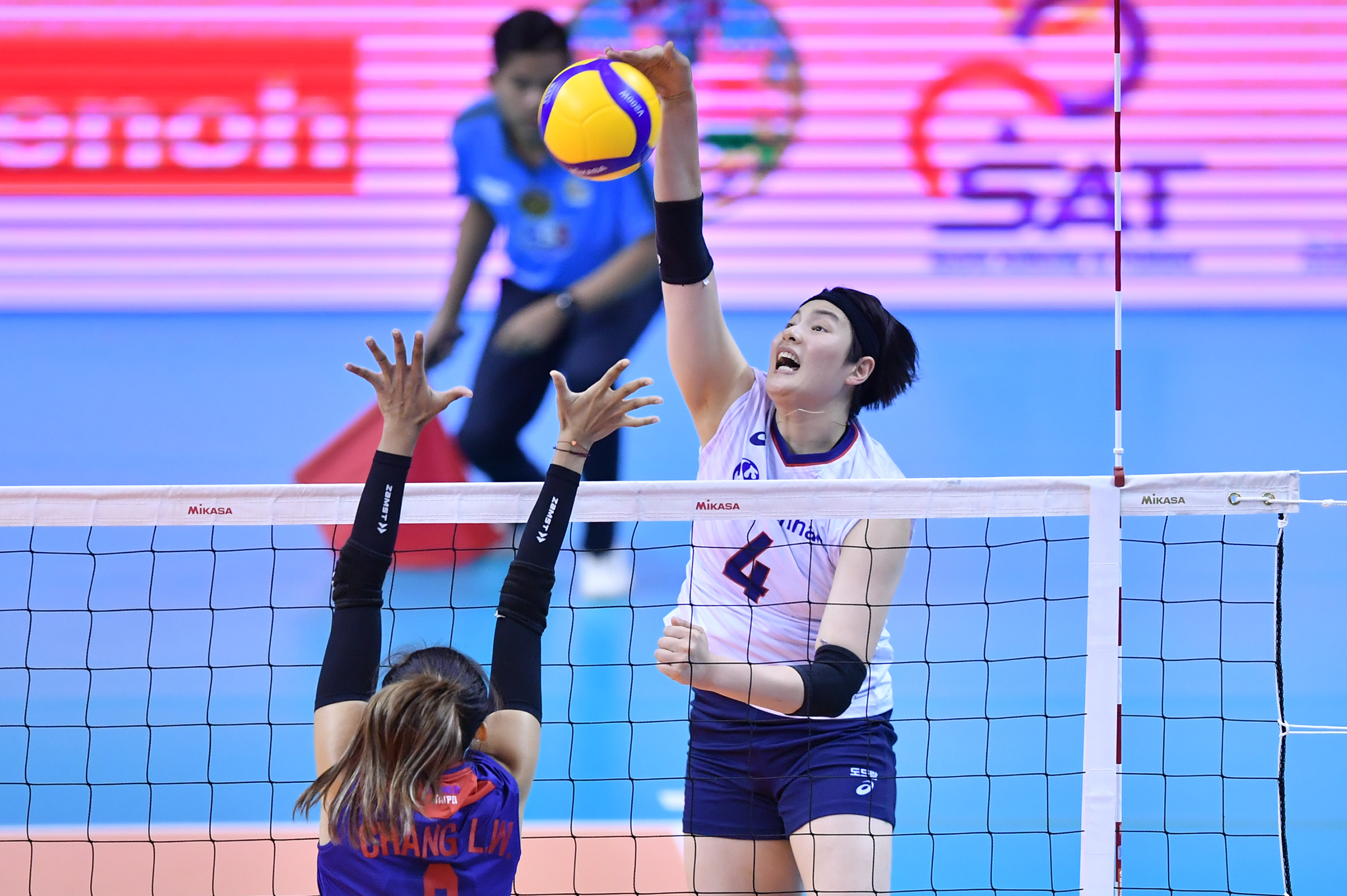 Conceding the first set, Korea came back in the following sets with the skilled combination of their destructive service and efficient first attacks before taking back the match in 3-1 (18-25, 25-9, 25-15, 25-14).
"I think our serving worked very well in the first set. However,in the second and third sets our energy dropped. Our attacking was just too simple and not aggressive enough to challenge them, so it was easy for our opponents to block." said Chinese Taipei captain Chang Li-Wen, who registered team-high 14 points.
"Actually today we played as we had nothing to lose. We started off very well in the first set after that the Korea team came up with their aggressiveness and they are more experienced than us. We have a young team but I hope in the future we can play in the final." said Chinese Taipei head coach Koji Tsuzurabara.
"In the first set we had a little bit of pressure and worried about the semifinals because it was an important match. And when we started what we had planned to do, we became better and better. I had to tell my players to bring
back their confidence as you know in the semifinal match you can expect a tough and long match." said Korea head coach Stefano Lavarini.
"It was difficult to replace in Kim's position today. It was very hard from the first set as Chinese Taipei pushed us really hard and it looked like the Thai fans cheered for them as well. But we talked to each other that we had to clamp down and focus on our strategy. I am very happy for the team victory." said Korea player Kang Sohwi.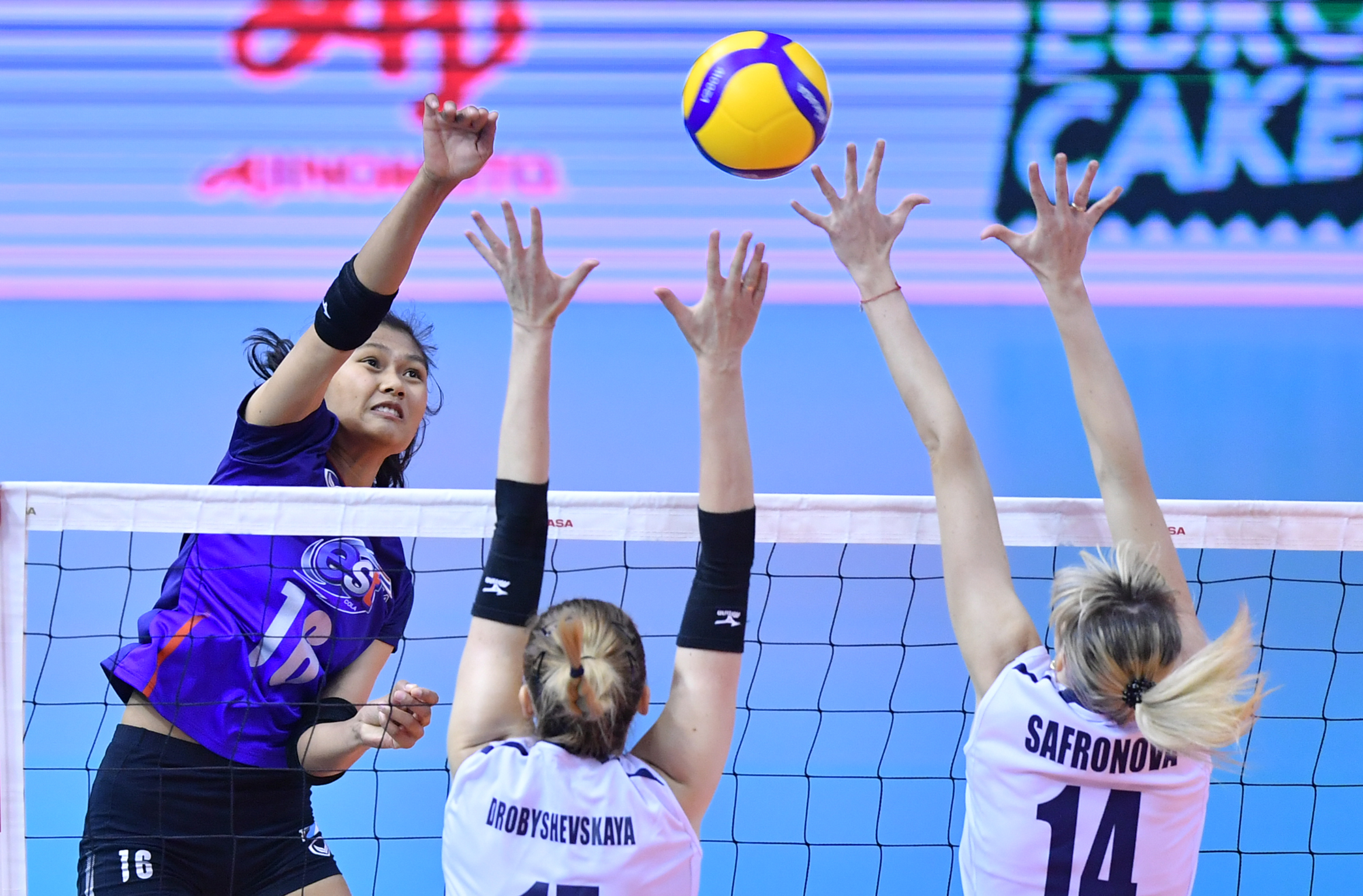 In the second semifinal encounter, the hosts Thailand, inspired by their 5,500-strong partisan home crowd, edged past taller-built Kazakhstan in a thrilling 3-1 (25-21, 25-20, 24-26, 25-21). Kokram Pimpichaya tallied a match high of 29 points for Thailand, followed by Sittirak Onuma with 17. Anarkulova Sana was Kazakhstan's top scorer on 14 points.
Veteran player Thinkaow Pleumjit was put in the starting lineups for this crucial match. She played a key role for Thailand in the first set, as she covered her teammates to attack and blocked effectively. Armed with the high-altitude bombing by Safronova Alessya and Anarkulova Sana, Kazakhstan matched up with the hosts until 15-16. Thinkaow Pleumjit's ace service and Sittirak Onuma's spike steered Thailand to a 19-15 lead. Holding the advantage, Thailand captured the first set in 25-21 following another spike by Thinkaow Pleumjit.
Thailand were so close to finish the match in 3-0 as veteran player Apinyapong Wilavan was substituted onto the court and emitted 3 destructive services in a row, shortening the gap to 21-22. But he hosts failed to move one step closer before Kazakhstan closed up the set in 26-24 with an ace.
"I feel a little bit disappointed because we really wanted to win. But I think today my team did a good job after we were down 2-0 and then we woke up. We started to play better and think about winning. But in the fourth set we made some easy mistakes and that is why we lost." said Kazakhstan Safronova Alessya.
"Tomorrow we still have one more match and of course it is going to be a difficult match as well. Chinese Taipei are a very good team and they are still young with power, but we will try our best to win." she added
"We really wanted to play in the final but it was not enough. I think we are improving day by day. We started to play well in the third set. In the fourth set we committed some easy mistakes. But I believe that everyone enjoyed the game because it was a good game." said Kazakhstan head Burhan Saik Canbolat.
"The Thai team has been playing together for a long time and they have highly experienced players. I hope to see a great final match tomorrow. These two teams Thailand and Korea want to go to the Olympics, so I think the team which performs best will win." he added.
"I would like to thank my players and coaching staff for doing their best to win today. It was not easy to beat Kazakhstan today. They prepared very well. Our game worked well in the first two sets. In the third set, our service reception was not effective enough which made it hard for us to attack them while their blocking defence turned out to be effective. We had to admit that they also did a good job in serving – that is why we had to play a fourth set." said Thailand head coach Danai Sriwacharamaytakul.
"Korea are a very strong team with good attacking. They have changed their playing to a European style a lot more – from what I saw their playing against Chinese Taipei today. They still have some weaknesses but we have to try to fix ours and strengthen our strengths to be more effective and in order to play easier against them. And we have try to maintain our players' morale. A cheering support from the fans motivated us and gave us more power. It helped us win in the fourth set today." he added.
"It was a tough match because I think every team would like to go to the Olympics. They called back their veteran players to the team and I think our cheering fans did not affect their game. Credit to them for playing well. I also would like to praise my teammates for overcoming the big pressure in order to play in the final. We still have many points that we have to adjust to get ready for the final." said Thailand player Wilavan Apinyapong.
"Korea and our team are not very different. It depends on who is more complete. We have nothing to lose and we will try our best. I believe if we play our best, we can beat them." she added.
The final day on Sunday will see Chinese Taipei take on Kazakhstan at 15:30 (local time) for the third place and Korea set final clash with Thailand at 18:00 to vie for the only remaining ticket from Asia to Tokyo Olympic Games.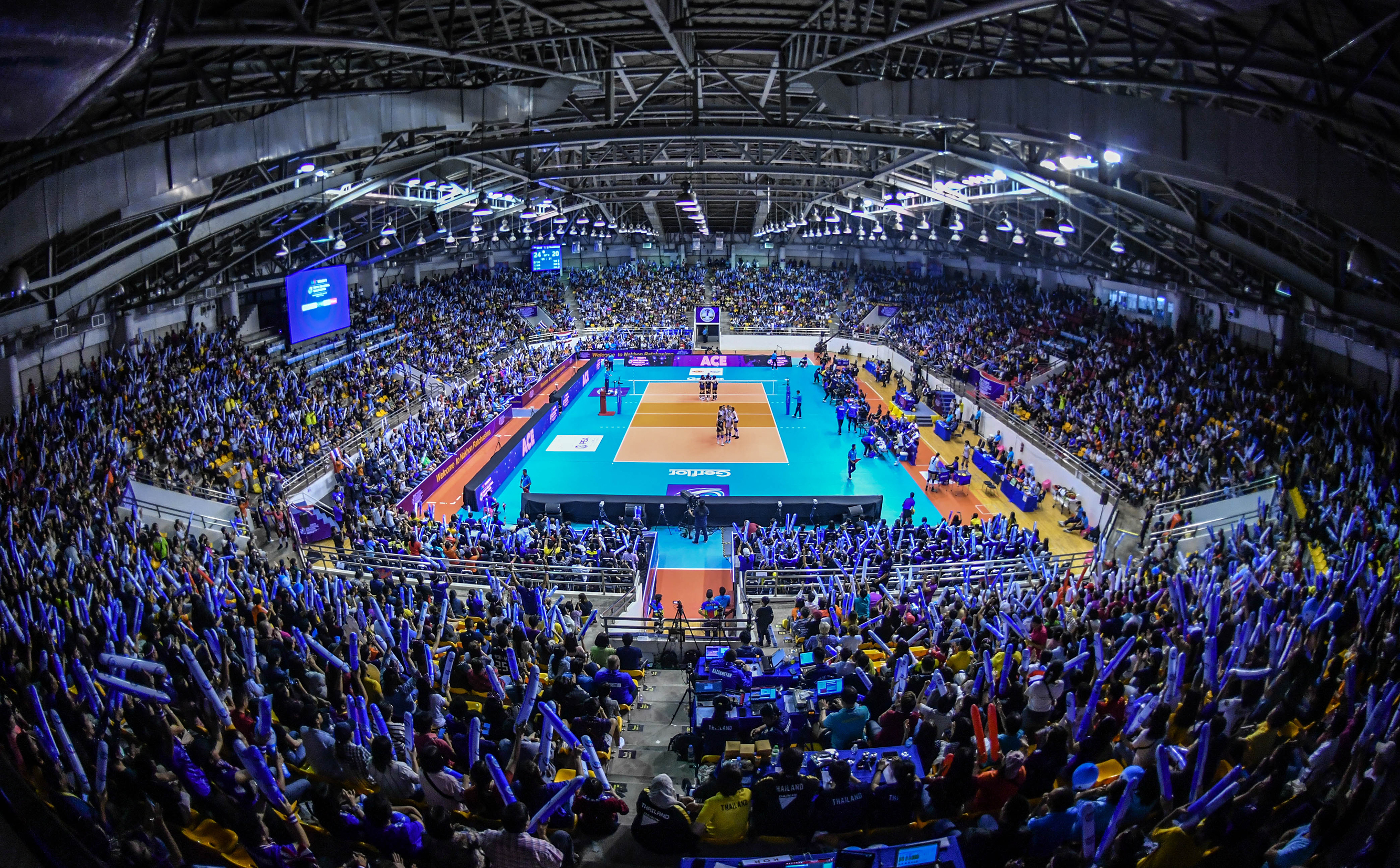 Nakhon Ratchasima is commonly known as Korat, a shortened form of its name. It is the governmental seat of the Nakhon Ratchasima Province and Mueang Nakhon Ratchasima District. Name after former Prime Minister of Thailand, Chatichai Choonhavan, the 5,000-seated Chartchai Hall was built for the Southeast Asian Games in 2007 and also once held the FIVB Volleyball Nations League in 2018 as the home court for Thailand Women's Team.
Competition Schedule & Result:
January 7, 2020
Iran vs Kazakhstan 0-3 (14-25, 16-25, 14-25)
Korea vs Indonesia 3-0 (25-18, 25-10, 25-9)
Chinese Taipei vs Thailand 0-3 (16-25, 21-25, 16-25)
January 8, 2020
Indonesia vs Kazakhstan 0-3 (22-25, 23-25, 18-25)
Korea vs Iran 3-0 (25-15, 25-9, 25-19)
18:00 Australia vs Chinese Taipei 0-3 (20-25, 18-25, 14-25)
January 9, 2020
Iran vs Indonesia 2-3 (21-25, 15-25, 25-21, 26-24, 12-15)
Kazakhstan vs Korea 0-3 (20-25, 16-25, 21-25)
Thailand vs Australia 3-0 (25-12, 25-15, 25-13)
January 10, 2020
Rest day
January 11, 2020
Korea vs Chinese Taipei 3-1 (18-25, 25-9, 25-15, 25-14)
Thailand vs Kazakhstan 3-1 (25-21, 25-20, 24-26, 25-21)
January 12, 2020
15:30 Chinese Taipei vs Kazakhstan
18:00 Korea vs Thailand
Related links of AVC
AVC Website: click www.asianvolleyball.net
AVC Facebook: click www.Facebook.com/AsianVolleyballConfederation
AVC Twitter: click: https://twitter.com/avcvolley
AVC Instagram: click: https://www.instagram.com/avcvolley/?hl=en
AVC Youtube: click: Asian Volleyball Confederation
AVC WeChat: Asian Volleyball Confederation