Tianjin, China, May 3, 2019 – Altay VC of Kazakhstan survived a sturdy challenge from 4.25 Sport Club in a hard-fought five-set thriller in exhausting 125 minutes to advance to the semi-finals, as reigning champions Supreme, Hisamitsu Seiyaku Springs and hosts Bohai Bank Tianjin all enjoyed straight-set wins at the quarter-finals of the 2019 Asian Women's Club Volleyball Championship at the Wuqing Sports Centre on Friday.

In the first quarter-final encounter, Hikari Kato tallied a match-high 17 points from 14 spikes, one block and 2 aces to help Japan's Hisamitsu Seiyaku Springs pull off a convincing 3-0 (25-14 25-13 25-23) win against TPE of Chinese Taipei in 66 minutes.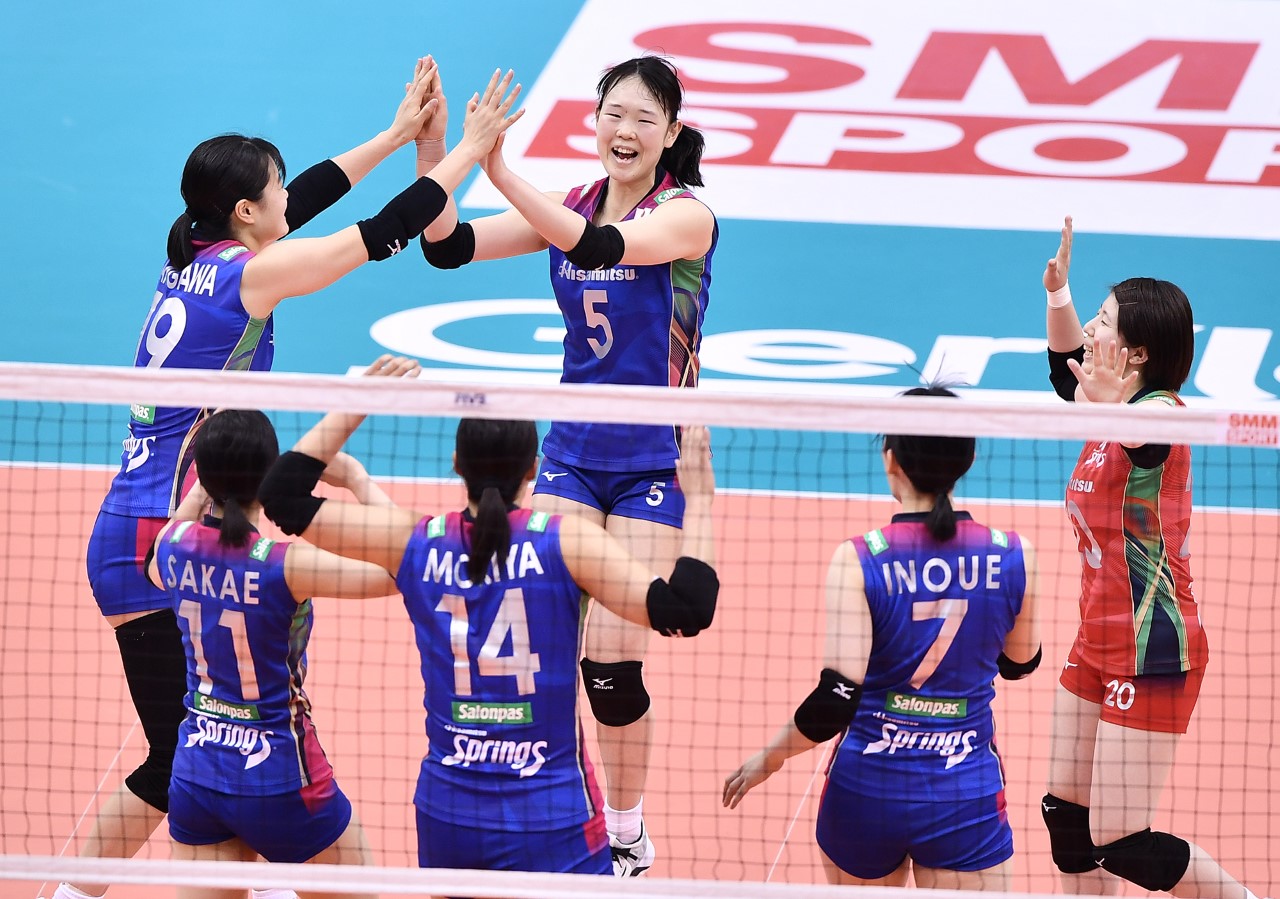 Going down the first two sets with ease 14-25 and 13-25, TPE played their utmost in the third set as they managed to keep up with the Japanese till 13-13 tie. With two smart dips, Hisamitsu pushed their opponents back 18-14, forcing TPE to call a timeout. Returning to the court, Huang Hsin-Yu turned out to be a saviour for TPE, as she spiked and blocked constantly to help her team retake the lead 20-19. However, TPE made a deadly mistake at the crucial moment, sending the Japanese to the match point at 24-22. A challenge success helped TPE earn one more point before Fumika Moriya fired a devastating attack to help Hisamitsu clinch the difficult set 25-23 and match.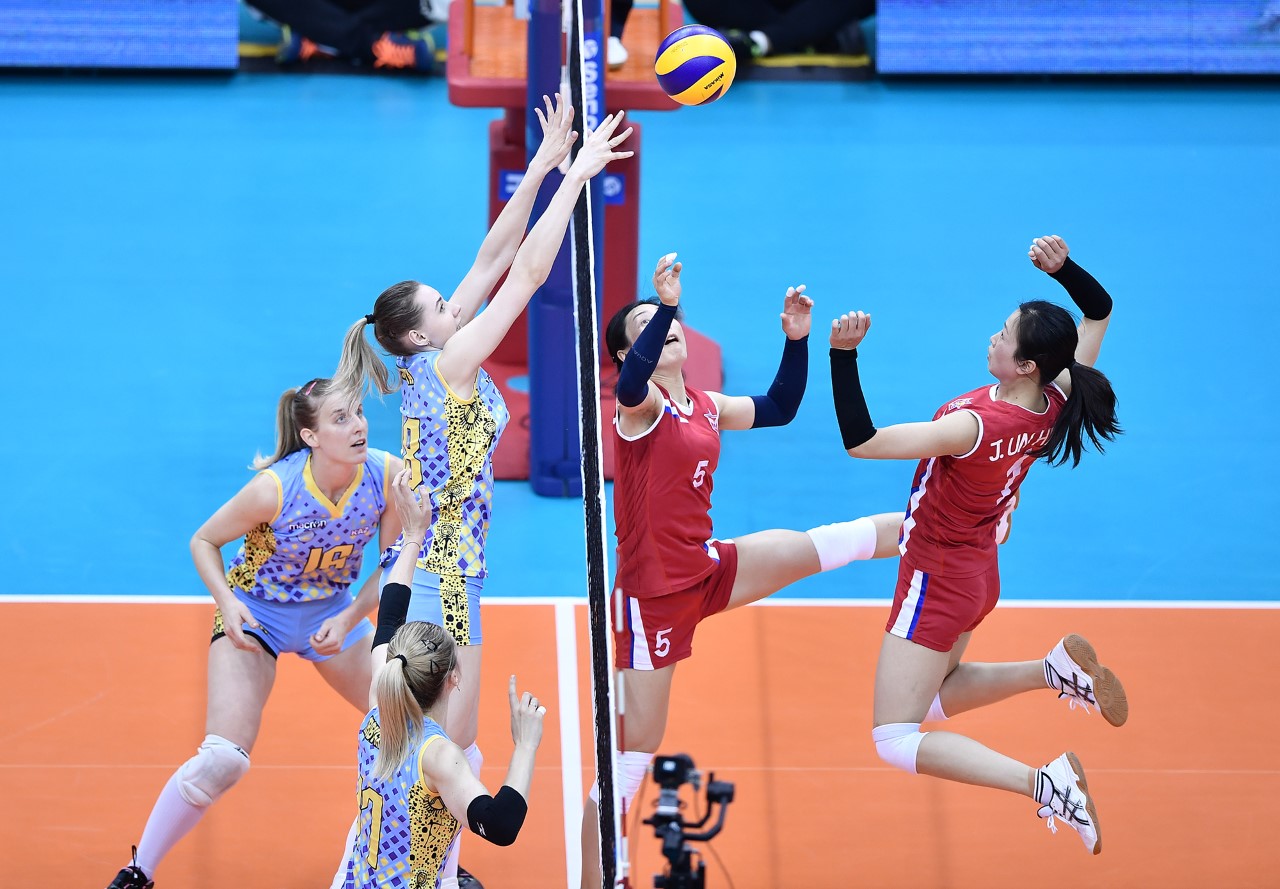 DPR Korea's 4.25 Sports Club, which got the top-tier championship off to a brilliant start following a stunning 3-2 victory against Supreme Chonburi on the opening day, failed in an effort of repeating the similar feat as they were defeated by the much taller Altay VC in a hard-fought five-set thriller 25-22, 15-25, 19-25, 27-25, 15-12 in exhausting 125 minutes at the second quarter-final match.
4.25 Sport Club once had a good chance of wining the match in four sets, as they, led by Jong Jin Sim and Kim Hyon Ju, launched a crazy comeback from 11-18 behind to the match point at 24-23. However, they just let the golden chance slip through their fingers. The height advantage of Altay VC played a key role at the final crucial time while 4.25 committed mistakes in front of the tall blocking wall and finally lost the hotly-contested set in 25-27.
4.25's super star Jong Jin Sim bagged an incredible match-high 47 points from 44 spikes and 3 aces, followed by Kim Hyon Ju with impressive 22. Nonetheless, their determined efforts did not pay dividends for the success of the team. The firepower was allocated evenly on the winning side, as captain Sana Anarkulova, Matea Iki, Olga Drobyshevskaya and Kristina Anikonova contributed 15, 17, 18 and 14 points respectively.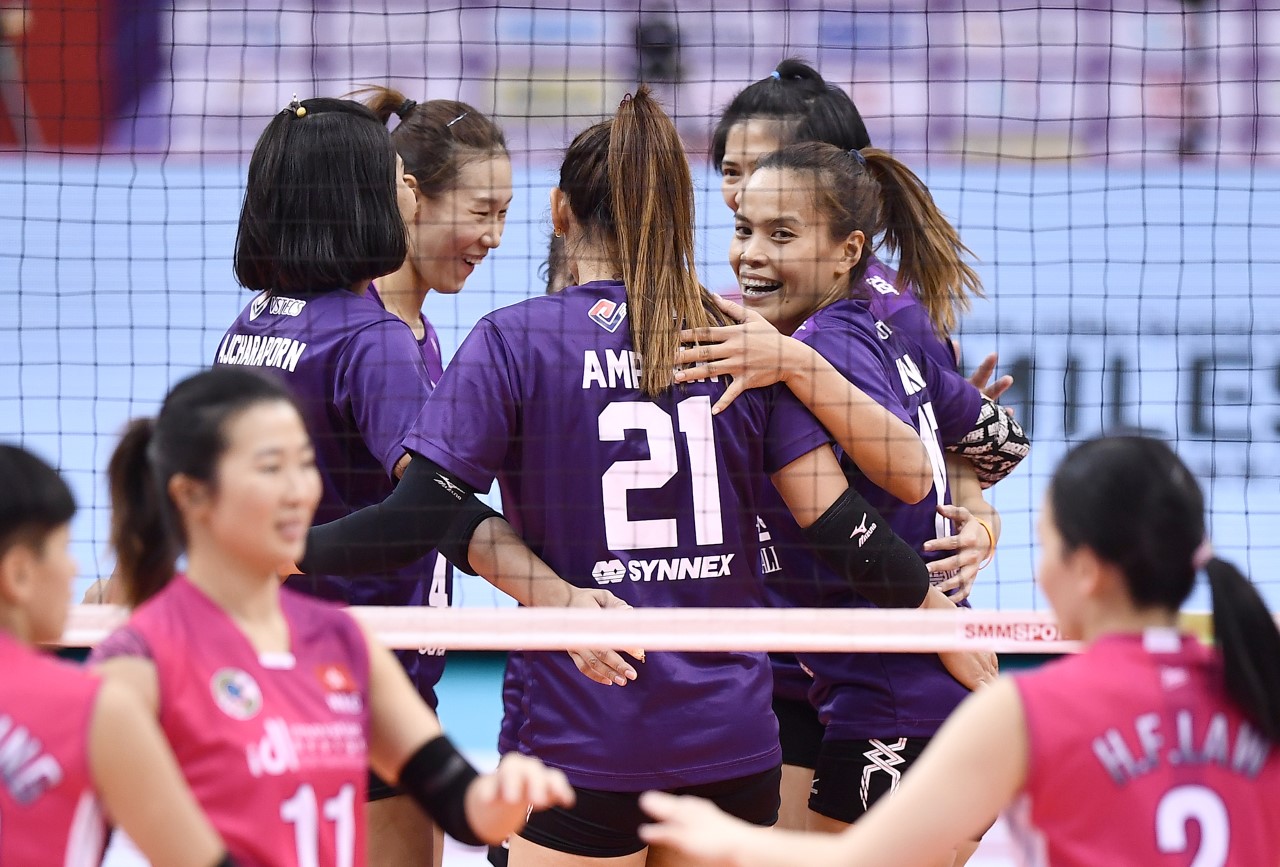 In the third quarter-final match, in-form Supreme Chonburi overwhelmed winless Hong Kong International VC with a comfortable 3-0 (25-12, 25-12, 25-10) victory.
Against the formidable Thais, Hong Kong International VC's amateur players showed their fighting attitude and played their utmost to gain each point, while Supreme Chonburi, hoping to make a hat trick in this topflight tournament, took the match seriously as if they brought their underdog rivals to school with new lesson and at the same time sharpened their skills ahead of their tougher match in the semi-finals. Supreme came up with combination attacks and consistency to win the match with ease.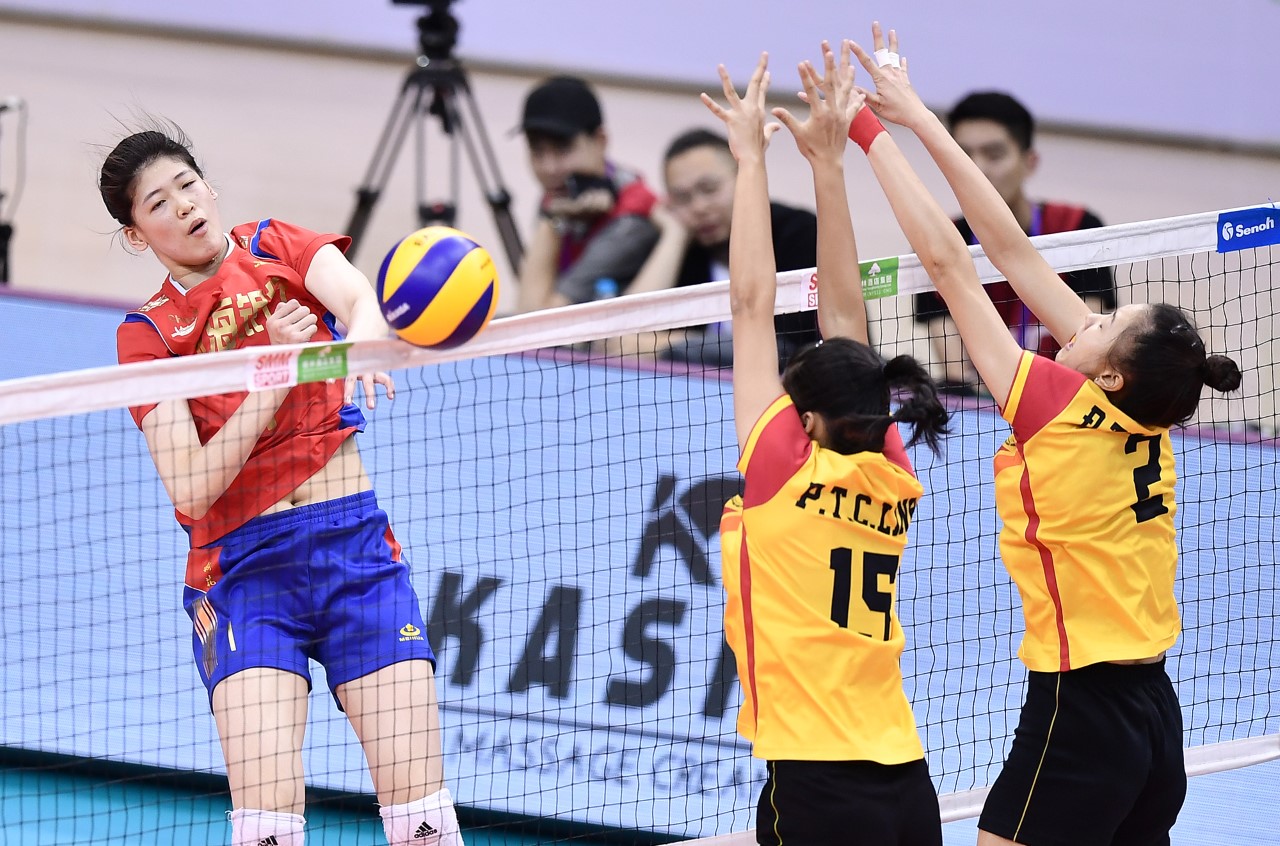 The last quarter-final match saw hosts Bohai Bank Tianjin gear up with their supremacy in the latter period of the first and third sets to subdue VTV Binh Dien Long An in a convincing 3-0 (25-21, 25-17, 25-15) victory.
"In the first set,we are not good enough in reception and service. Also we had many service mistakes. We should move quickly and find the proper time to cover and defend. In the second set, I replaced Li Yingying with Wang Yizhu to give her more chances. We wanted to disperse our attack points and it worked out. In our next match, we will make good plans, give full play to our strength and show our best spirit." said Chen Youquan, head coach of Bohai Bank Tianjin.
"The Vietnamese team did well in dropping and defense. We had a good cooperation and communication in training after the return of three China national team members. So we are more powerful now than before. Hisamitsu are good at quick attacking. We should work more on defense. We have to play to our strength," said Li Yanan, middle blocker of Bohai Bank Tianjin.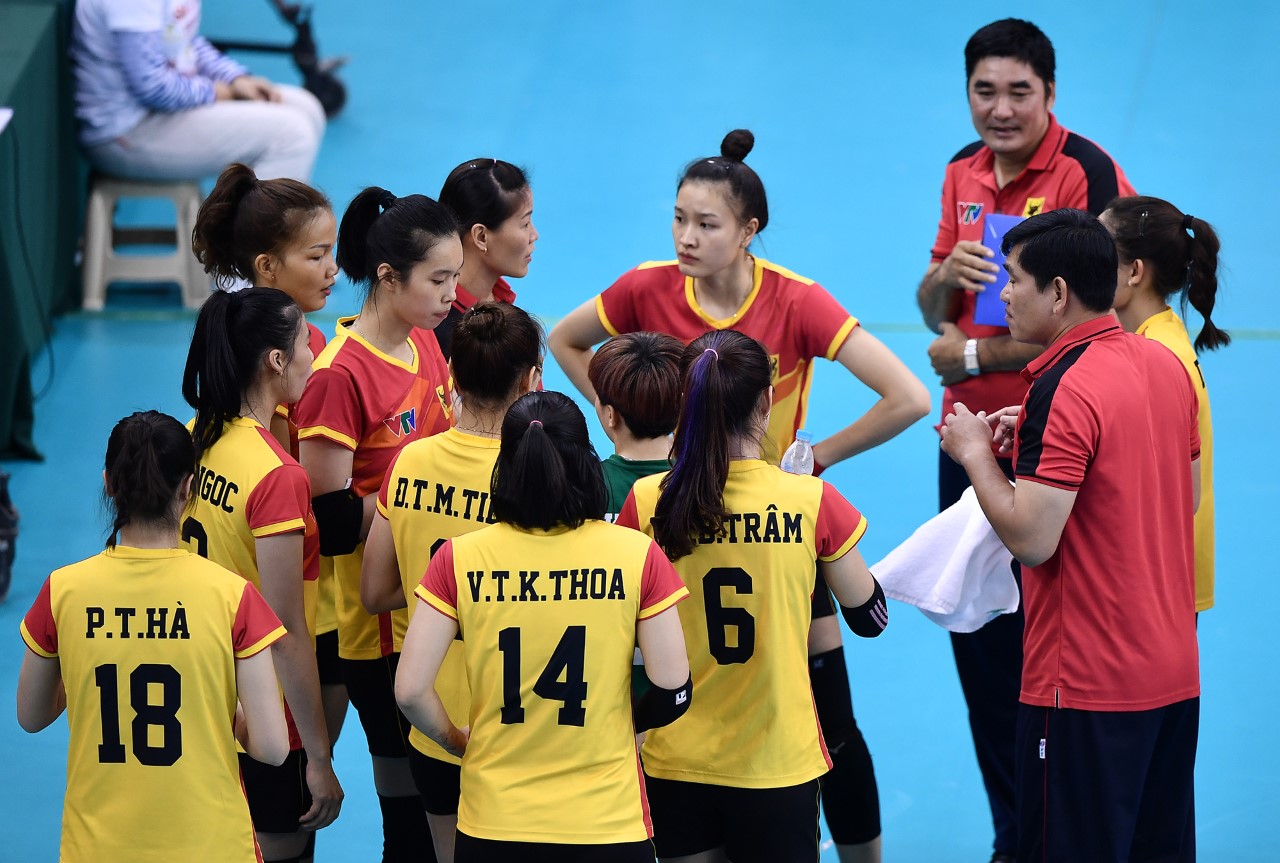 Bihai Bank Tianjin emerged as the only unbeaten team in this championship prancing into the semi-finals without dropping a set and will set up a clash of the Titans with Hisamitsu Seiyaku Springs of Japan, while Altay VC of Kazakhstan will test their mettle against Supreme Chonburi of Thailand on Saturday.
For the 5th-8th playoffs, DPR Korea's 4.25 Sports Club will face winless Hong Kong International VC, while VTV Binh Dien Long An challenge TPE. However, the very first match of the day sees Sri Lanka Air Force Sports Club will battle it with Binagar of Turkmenistan in the 9th-10th playoff.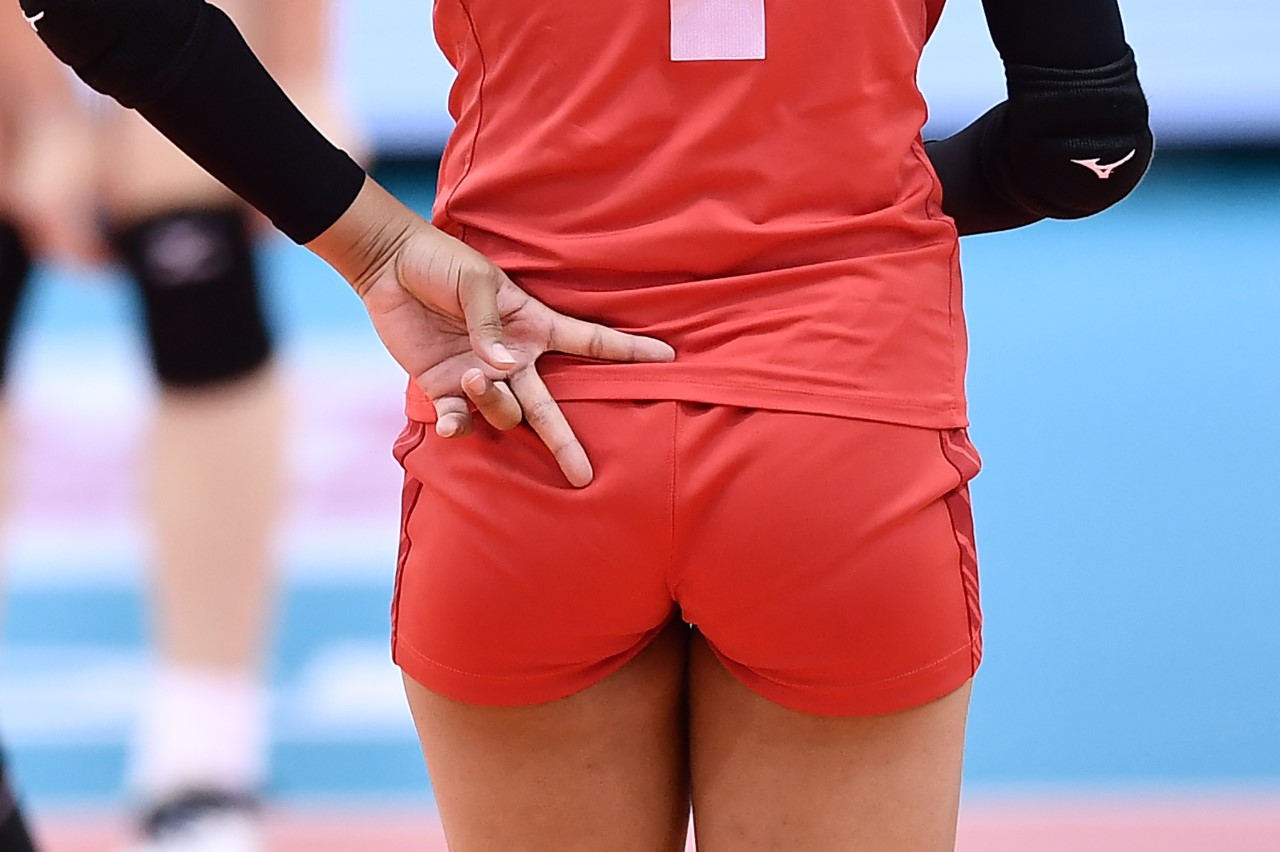 The finals will be held on Sunday to determine the champions and the only ticket from Asia to the FIVB Volleyball Women's World Club Championship, which is scheduled to be held at the end of the year in China.
Tianjin, neighboring China's capital city of Beijing, is a coastal metropolis in northern China and one of the four municipalities under the direct administration of central government of China, with over 15 millions of the population. Tianjin is also known as "City of Volleyball" as Tianjin Women's Volleyball Team has been always a powerhouse in China, winning 4-time champions at Asian Club Championships, 11-time National League titles and 3-time National Games titles. Tianjin also hosted the Asian Senior Women's Volleyball Championship in 2015 when hosts China swept Korea in the final to claim the title.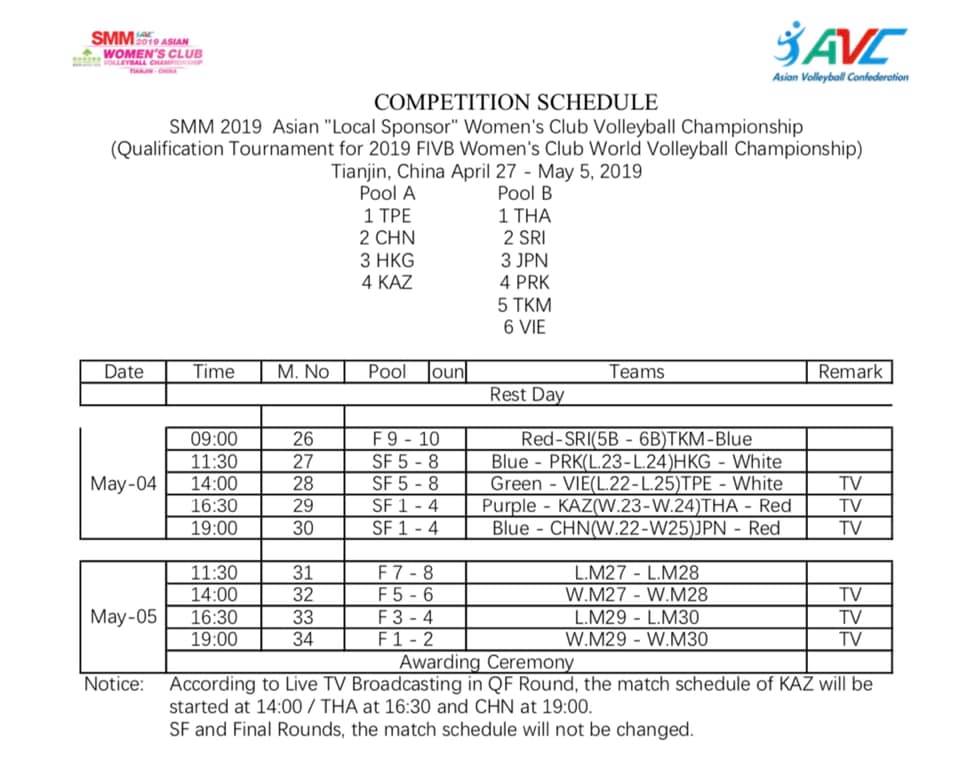 Related links of AVC
AVC Website: click www.asianvolleyball.net
AVC Facebook: click www.Facebook.com/AsianVolleyballConfederation
AVC Twitter: click: https://twitter.com/avcvolley
AVC Instagram: click: https://www.instagram.com/avcvolley/?hl=en
AVC Youtube: click: Asian Volleyball Confederation
AVC WeChat: Asian Volleyball Confederation