France hammered out a 3-0 (26-24, 25-16, 25-20) sweep of Japan in Thursday's first quarterfinal at the men's Volleyball Nations League 2022 Finals in Bologna and will face hosts Italy in one of Saturday's semifinals. Right after that, Poland persevered through a tough five-setter against Asian champions Iran to celebrate with a 3-2 (25-21, 24-26, 25-18, 16-25, 15-7) victory and head to the semis for a meeting with USA.
While French star libero Jenia Grebennikov played his first match in this year's VNL and contributed to the team's success against Japan with great reception and some excellent digs, opposite Jean Patry led the match scorers with a total of 19 points, followed by outside hitter Yacine Louati with 10.
The first set went evenly matched as the gap never exceeded a point until a swing and a block by Patry put France two points ahead at 14-12. That advantage was quickly wiped out by Japan, but shortly after, a successful spike on two by setter Antoine Brizard in the middle of a three-point French series helped the team take an 18-15 led. A Taishi Onodera ace, sandwiched between two successful swings by his teammates, was also followed by a kill block from middle Akihiro Yamauchi and a French mistake as Japan suddenly found themselves with a 23-21 lead. However, their own errors did not allow them to hold on to it. Patry's kill delivered the first set point at 24-23. Another one, his eighth point in the set, converted the second set point to a 26-24 win.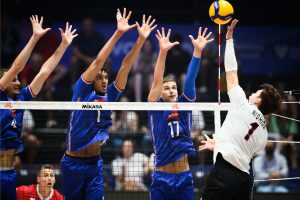 With four in a row, including a Brizard over-on-two as well as a spike and a block by Louati, France broke away with a 7-4 lead in the second set. Another two consecutive points by Louati, a swing and an ace, followed by a kill from Patry extended it to 11-6 and France never looked back. Japan committed far too many errors and even the two back-to-back aces by opposite Yuji Nishida only narrowed down their lag to 11-9. France cruised on make the gap wider and wider. Finally, two aces in a row by Brizard crowned a five-point French series and brought in set point at 24-15, which was soon converted to a 25-16 close with a successful pipe shot by outside Trevor Clevenot.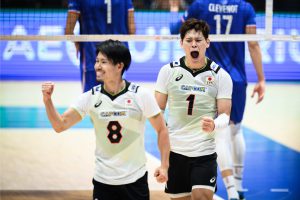 France took two break points in a row, on a hit and a monster block by Clevenot, to edge forward with an 8-5 advantage in the third set, a blow Japan could never recover from. All they were able to do was get back to within one momentarily, but France kept the pressure on to stay in control and close the game off at 25-20 on another monster block by Clevenot.
"I missed this for sure, because I love this team. They are like family, like brothers to me… I am also happy because we played well and I hope we play even better in the semifinal. Japan play very fast. Their setter is very fast and Nishida spikes very fast, so it was a very difficult first game for me this summer. The most important thing was to make fewer mistakes than them, because they never make mistakes and they defend a lot. It was a difficult game, but we did a good job."
Jenia Grebennikov, libero of France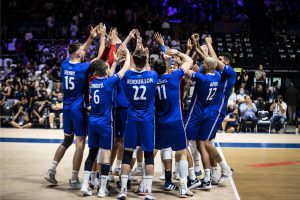 While Iranian opposite Amin Esmaeilnezhad played a solid game against Poland and produced the match high of 22 points, Polish outside hitter Kamil Semeniuk was the big hero of the match, delivering six important points in the tie-breaker alone to lead the team with a 17-point total. Captain Bartosz Kurek followed close behind with 15.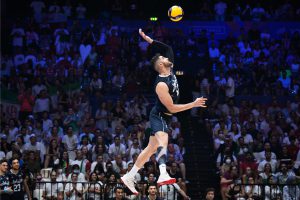 After a hard-fought beginning, Poland managed to break away with a 9-6 advantage as middle blocker Jakub Kochanowski crowned a three-point series with a monster block. Through the rest of the first set, Iran put up a battle, but never quite managed to catch up. With Kochanowski firing two aces in a row, the score became 22-16 and almost impossible for Iran to remedy. They fought on to narrow the gap, but a beautiful pipe shot by Semeniuk shaped up a 25-21 set score Poland's way.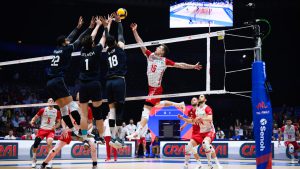 A powerful serve by Kochanowski graced the end line for an ace that gave Poland an early 2-0 lead in the second set. They extended it to 4-1 before Iran started building up their comeback. The Asian team caught up at 10-10 on an off-the-block hit by Amin. Outside Amirhossein Esfandiar backed him up with a kill to put Iran in front at 11-10. It was time for Poland to fight back and they did it with a four-point run finished off with a Kochanowski solo block for 15-12. Iran regained the lead after three successful swings in a row by Amin, Esfandiar and middle blocker Mahdi Jelveh for 19-18 to prompt an exciting ending. It went point for point into the overtime until captain Milad Ebadipour aced with a perfectly placed serve for 26-24 to level the match.
Opposite Kurek gave Poland a boost early into set three with an ace for 3-1 and a successful back-row hit for 5-2. A four-point Iranian run followed and finished with an Esfandiar ace for 6-5. It stayed evenly contested through 14-14, when Poland went on an unanswered streak of six consecutive points highlighted by and ace from middle Mateusz Bieniek and practically decided the set. The European side kept pace to win it by a solid 25-18.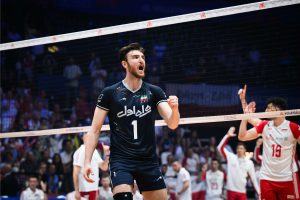 Iran's reaction in set four was impressive. They flew in on the wings of a 3-0 run – a hit by Amin and two consecutive overpass kills by middle Amir Hossein Toukhteh and Esfandiar. After 7-4, the Asian team went on a five-point rampage with Amin and Milad owning the net on the way to a 12-4 lead. Then they simply had to cruise on through the end of the set. Milad's monster block brought in set point at 24-15. A Polish mistake finished it off at 25-16 Iran's way to prompt a tie-breaker.
Semeniuk took the matters in his own hands at the beginning of the fifth set. He spiked for 1-0 and followed up with three monster blocks in a row for 4-0 Poland's way. At that moment, Iran practically surrendered. The European team completely dominated on the court through the end. Kurek's monster block extended the margin to nine points at 14-5. Three rallies later, the match ended at an emphatic 15-7 on a net touch by Iran.
"It was a tough match and we are so happy because we took revenge for the last game, which was also very difficult, and now we are in the semifinals. We have one day off to take a good rest and be ready for USA."
Kamil Semeniuk, outside hitter of Poland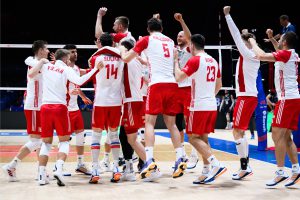 Related links of AVC
AVC Website: click www.asianvolleyball.net
AVC Facebook: click www.Facebook.com/AsianVolleyballConfederation
AVC Twitter: click: www.twitter.com/AsianVolleyball
AVC Instagram: click: https://www.instagram.com/avcvolley/?hl=en
AVC Youtube: click: Asian Volleyball Confederation
AVC WeChat: Asian Volleyball Confederation