Taipei, Chinese Taipei, April 22, 2019 – Formidable Panasonic Panthers, powered by terrific Michel Kubiak, pulled off a hard-fought five-set win against Varamin to face Queensland Pirates in the Wednesday's quarter-finals of the 2019 Asian Men's Club Volleyball Championship at the University of Taipei (Tianmu) Gymnasium.
The top eight teams played their best on Monday to surge ahead other rivals to the top of their pools, making the contested matches even tougher.
Panasonic Panthers of Japan rallied from 11-14 down in tie-breaker to stun Cultural and Sports Club of Varamin Municipality of Iran in exhausting five-set thriller 25-19 19-25 25-12 17-25 16-14, leaving the Japanese side to be the only unbeaten team in this topflight competition and lead a strong field of top eight teams to the knockout stage on Wednesday.
Polish Michel Kubiak chipped in with 24 points including 20 attacks for Panasonic Panthers's victory, while Kunihiro Shimizu made good company after contributing 18 points including 17 attack hits. Setter Hideomi Fukatsu assisted with 3 points from his solid blocking. Javad Hosseinabadi led Varamin Municipality with 22 points including 20 kills from 40 attempts. Behram Ebrahimi bagged 13 points including 4 stuff blocks.
"We did well in the first and third sets, but missed in the second and fourth sets. I think we served well, but in the fifth set we never gave up easily and that's why we won the match. After trailing 11-14 in the fifth set, my players just wanted to win the match and they fought hard, playing every part of the game well and we won eventually. Our service and good reception are the key points to our team's success in this match. Kubiak played in this match for the first time in the tournament and I think he played well, but he still needs some more times to adjust himself to the following matches," Panasonic Panthers' head coach Shinji Kawamura commented after the match.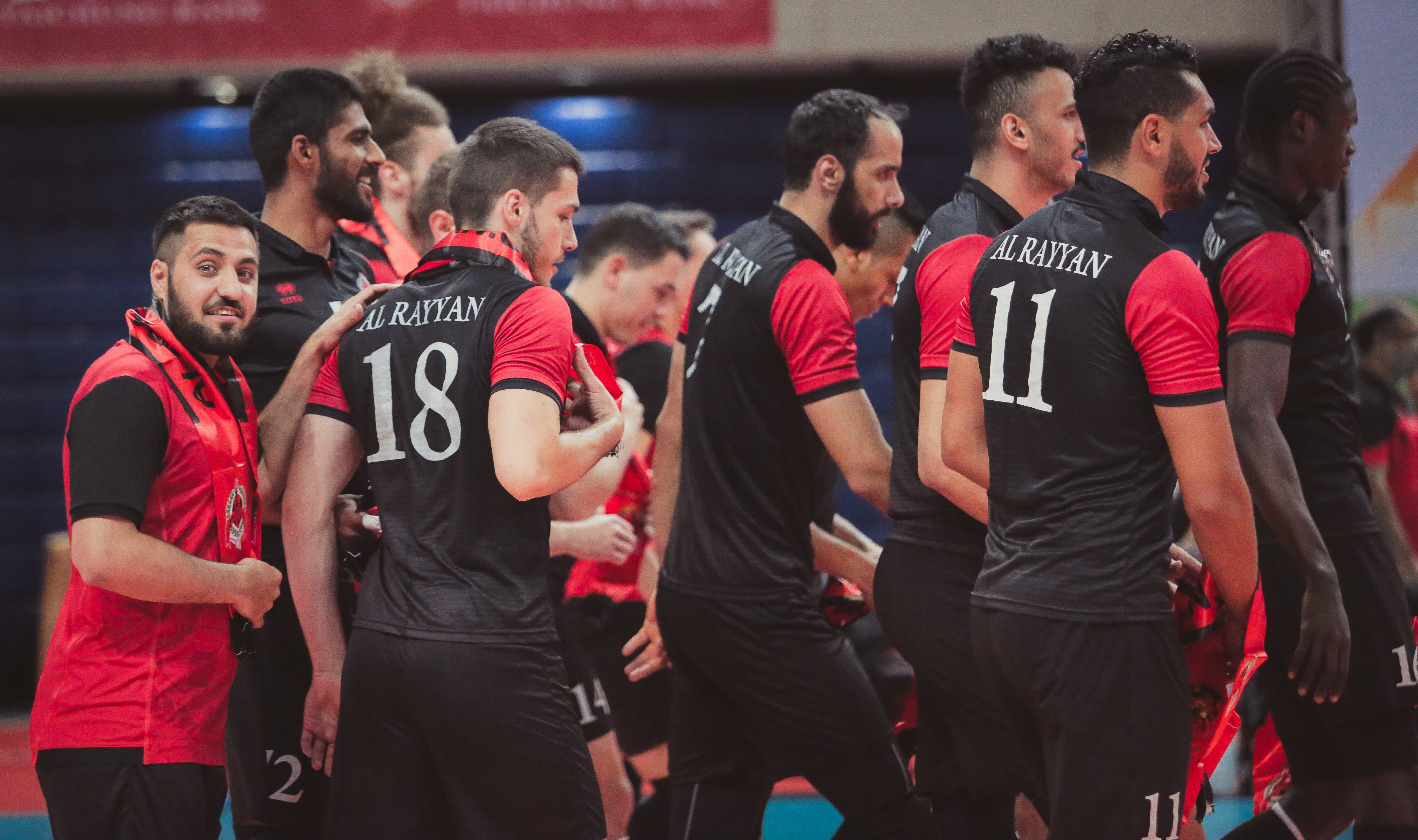 Indomitable Al-Rayyan also proved a cut above Taichung Bank as the Qataris pulled out a dramatic 3-1 (25-16 25-17 22-25 25-15) win. Brazilian Marcus Costa emerged as the top scorer of Al-Rayyan after contributing 17 points for the Qataris including 14 attacks from 23 attempts, while Kamil Rychlicki added 13 points including 9 kills from 16 attempts. Wu Tsung-Hsuan led Taichung Bank with 14 points including 10 kills and 3 aces.
After the match, Al-Rayyan's head coach Carlos Eduardo was satisfied with his players' form. "I'm happy for the team's team. It was a difficult match because the home team had a special energy and they are a young team. My team had to use a strong point to end their energy since if we let them go, they would come back confident and too strong to cope with tactically. So, we used our strong serves to weaken their reception. Ahead of the match, I was also expecting a hard match because Taichung Bank are a young team with talents. So, we had to beat them from the first set. My game plan for the next match is to do our best one at a time and move forward with confidence."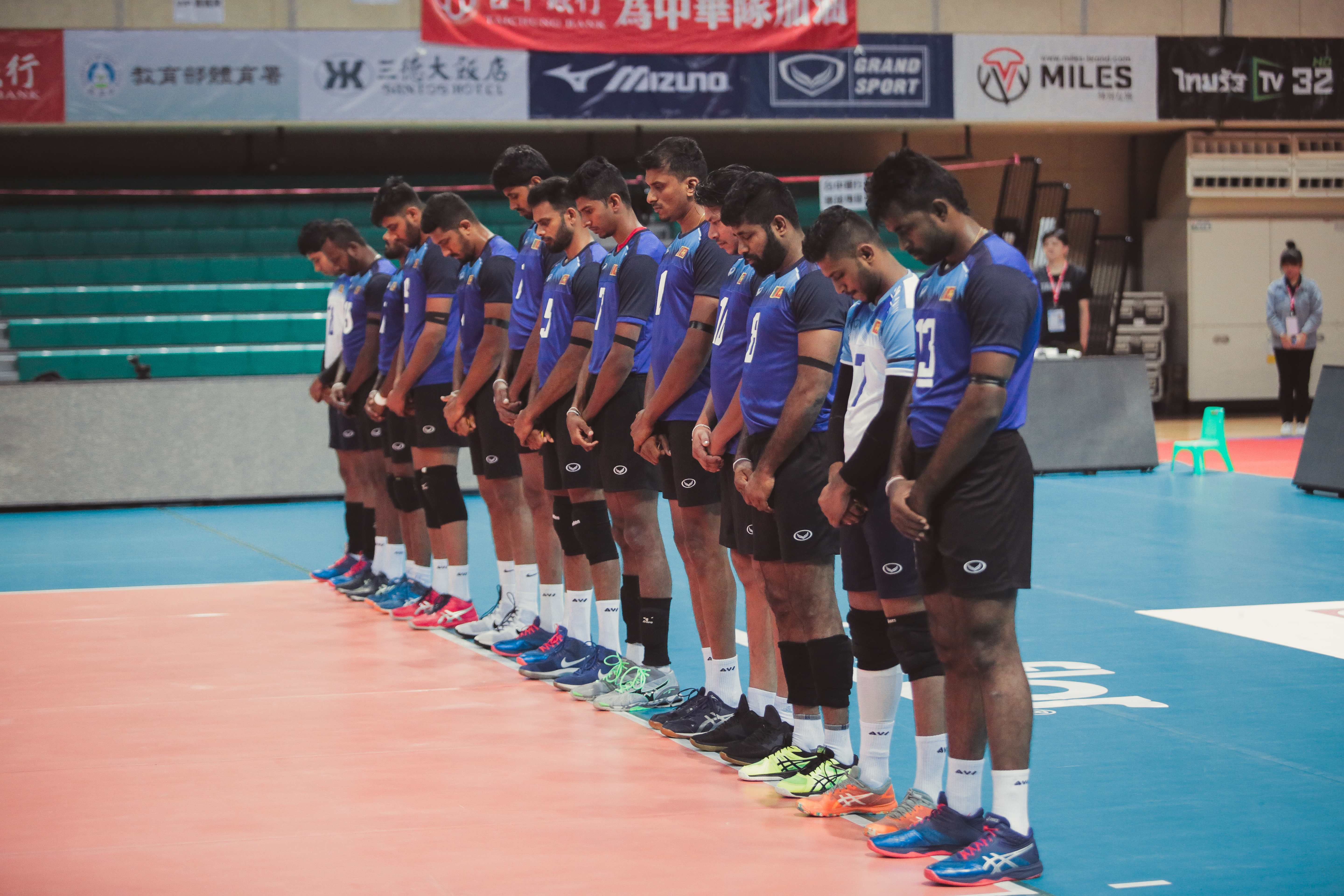 Sri Lanka Ports Authority Sports Club wedged out Vietnam's Ho Chi Minh City with a hard-fought 3-1 (25-211 8-25 25-20 27-25) win. Janitha Surath scored a match-high 30 points for Sri Lanka Ports Authority Sports Club including 27 attacks and 2 aces, while Lasindu Wasanthapriya contribute 29 points including 26 kills from 41 attempts. Nguyen Van Hanh led Ho Chi Minh City with 16 points.
Ahead of the start of the match, a minute's silence was held at the venue in memory of mass casualties in Sri Lanka Easter bombings. In this sad moment, AVC and volleyball family would like to express our sincere condolences to Sri Lanka upon the loss of precious lives and hundreds injured in a series of explosions across Sri Lanka on Easter Sunday, one of the most sacred days of the year for Christians.
Leaving their deep sorrow behind, Sri Lanka Ports Authority Sports Club, whose all players and team officials are wearing black armband on their left arms, started strongly in their crucial encounter against Ho Chi Minh City as if they needed to win this match to comfort and support the grieved compatriots.
"It was a very important match for us. My players had a good fighting for the match. Junitha Surath and Lasindu Wasanthapriya played well up to their standard as both of them played in the Sri Lanka national team. We are wearing black armbands to express our deep sorrow for those who lost their lives in the Sri Lanka bombings. In terms of the results of the competition here, we are happy that we can make it to the top eight. However, as there are many strong teams in this competition, we hope to return with at least the sixth place. We will try our best in every single match we play," Sri Lankan head coach N.A. Udaya Rukmal commented after the match.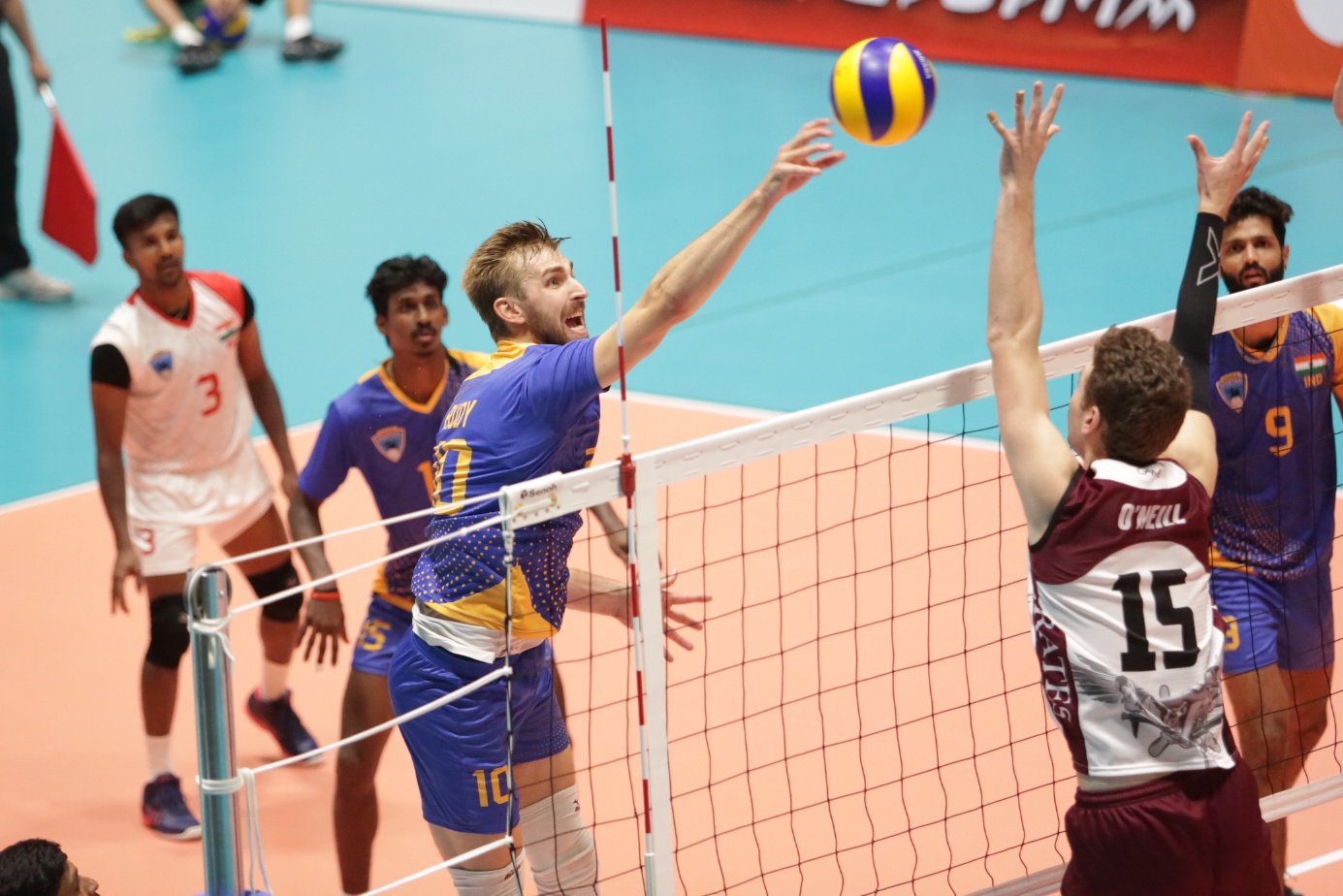 Chennai Spartans became the only team among the top eight which had a field day on Monday as the Indians overwhelmed Queensland Pirates with their superb skills including spectacular attacks, impregnable defence and powerful jump serves to beat Aussies in straight sets 25-15 25-19 25-18.
For teams competing in the 9th-14th classification round on Monday, Thailand's Est Cola brushed off Club Singapore 25-14 25-13 25-14 in a totally one-sided battle and Polri Samator Indonesia struggled to beat Hong Kong China's Dragon Team 25-19 26-24 25-17.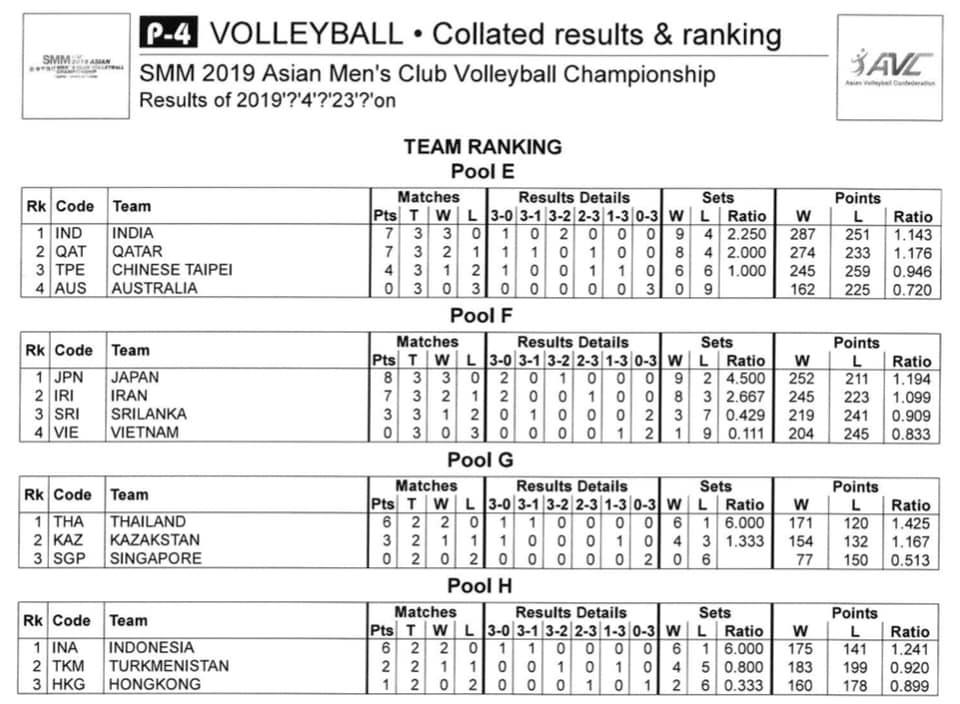 At the end of the playoffs on Monday, Panasonic Panthers captured the top spot in Pool F with 8 points from three straight wins, followed by Varamin Municipality with 7 points from 2 wins against one loss. Sri Lanka Ports Authority Sports Club and Ho Chi Minh City came in third and fourth places in Pool F.
Pool E was dominated by India's Chennai Spartans with 7 points from three wins, while Al-Rayyan also had 7 points, but had only two wins to finish second. Taichung Bank and Queensland Pirates came in third and fourth places respectively.
Among the lower-ranked teams, Est Cola, TNC Kazchrome VC and Club Singapore finished one-two-three in Pool G, while Polry Samator Indonesia topped Pool H, with Galkan and Dragon Team in second and third places respectively.
Tuesday is a rest day. The competition resumes on Wednesday in the knockout quarter-finals of the top eight teams.

Japan's Panasonic Panthers will take on Australia's Queensland Pirates in the quarter-finals, while India's Chennai Spartans play Vietnam's Ho Chi Minh City, Qatar's Al-Rayyan meet Sri Lanka Ports Authority Sports Club and hosts Taichung Bank go up against Cultural and Sports Club of Varamin Municipality of Iran. The four winning teams in this do-or-die stage will make it to the semi-finals, with the four losers being relegated for 5th-8th classification round.
In the 9th-12th playoffs on Wednesday, Thailand's Est Cola will challenge Turkmenistan's Galkan and Polri Samator Indonesia will be pitted against Kazakhstan's TNC Kazchrome VC, while Club Singapore and Hong Kong China's Dragon Team will face off in the final 13th-14th playoff.
Related links of AVC
AVC Website: click www.asianvolleyball.net
AVC Facebook: click www.Facebook.com/AsianVolleyballConfederation
AVC Twitter: click: https://twitter.com/avcvolley
AVC Instagram: click: https://www.instagram.com/avcvolley/?hl=en
AVC Youtube: click: Asian Volleyball Confederation
AVC WeChat: Asian Volleyball Confederation