Phuket, Thailand, December 15, 2021 – Australians Alisha Stevens/Stefanie Fejes saved the Asian pride in the women's event as two Thai pairings, Australia and Philippines captured their first pool victories in the men's main draw of the FIVB Beach Volleyball U21 World Championships at Bang Tao Beach in Phuket, Thailand on Wednesday.
Thai top seeds Apinya Saengpaeng/Jidapa Bunongkhun got the top-tier competition off to a brilliant start with a comfortable 21-17, 21-9 win against Latvians Anija Ozolina/Beate Liepajniece in their first match in Pool A, but their joy was short-lived as they later succumbed to their 19-21, 13-21 loss at hands of Hungarians Eszter Vasvari/Zsofi Vasvari.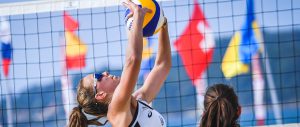 In Pool H, another Thai duo, Suchinna Choemphun/Jutaporn Senanikhom, silver medallists at this year's Asian U19 and U21 Beach Volleyball Championships in Nakhon Pathom, also in Thailand, went down to Germans Hanna-Marie Schieder/Paula Schurholz in hard-fought three-setter 18-21, 21-14, 11-15 in exhausting 51 minutes.
Thailand's Salinda Mungkhon/Samitta Simarongnam failed to make their mark in their opening match against Ava Mann/Kaylee Glagau to go down 8-21, 15-21 to the stronger Canadians in Pool F.
Kazakhstan's Laura Kabulbekova/Nadezhda Ivanchenko suffered two losses on the trot in Pool C, losing their first match to Poles Melania Marcinowska/Urszula Lunio 14-21, 16-21 and still faced the similar fate in their second encounter against Russians Mariia Bocharova/Elizaveta Gubina, to whom they lost 10-21, 16-21.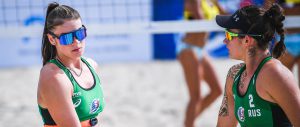 Bocharova, a reigning Youth Olympic champion and a silver medallist from the U21 World Championships in Udon Thani, failed to defend her U19 world title last week, but tried to make up for that at the U21 event this time.
Australia enjoyed mixed fortunes in the women's event as Jasmine Fleming/Kayla Mears lost to Germans Svenja Muller/Anna-Lena Grune in a hotly-contested battle 21-19, 20-22, 13-15 in gruelling 53 minutes, but Alisha Stevens/Stefanie Fejes, who captured back-to-back titles in Thailand early this year following a clean sweep of Asian U19 and U21 Championships in Nakhon Pathom, lived up to expectations to oust Kazakhs Dana Shingissova/Yuliya Khristolyubova 21-4, 21-12.
Seven teams from Asia earned their spots in the women's main draw comprising three teams from hosts Thailand and two apiece from Australia and Kazakhstan.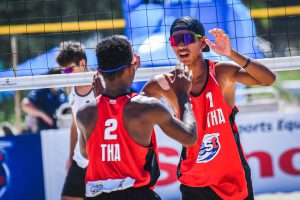 In the men's event, two Thai pairings made their superb starts in the end-of-year action on home soil. In Pool A, the Asian U21 silver medallists Phichakon Narathon/Poravid Taovato pulled off a convincing 21-12, 21-18 win against Australians Joshua Howat/Soloman Bushby, who punched their main draw tickets through the lucky losers draw after their loss in the Tuesday's qualification.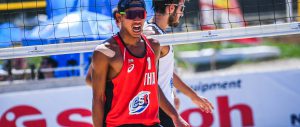 Another Thai tandem, home favourites Netitorn Muneekul/Wachirawit Muadpha, the Asian U21 bronze medallists fresh from snatching silver at the last week's U19 World Championships here, kicked off their U21 Worlds campaign with a thrilling 21-19, 23-21 win against Portugal's Guilherme Maia/Filipe Leite 21-19, 23-21 in Pool H.
Also registering wins on the very first day of the men's main draw were Aussies Jack Pearse/Lucas Josefsen and Filipinos Jay Rack De La Noche/Alexander Jhon Iraya. The Australians downed Bolivians Jorge Gabriel Diaz Canseco/Ruddy Salvatierra 21-14, 21-19 in Pool H, with the Filipinos powering past Canadians Colby Nemeth/Joshua Gagnon 21-16, 21-11 in Pool G.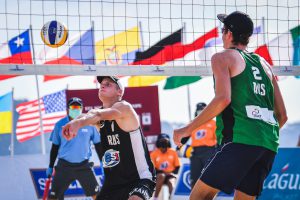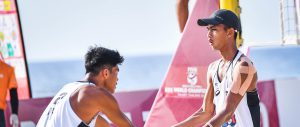 Falling at their first hurdle were Qataris Abdallah Ibrahim Nassim/Yousef Alyafeai and Kazakhs Darkhan Amanzholov/Damir Lapov. The former went down 9-21, 10-21 in a one-sided battle against Ecuadorians Joffre Rodolfo Jurado Carrillo/Julio Mateo Estupinan Centeno in Pool E and the latter were beaten 15-21, 16-21 by Ukrainians Oleksandr Boiko/Oleksii Bublyk in Pool F.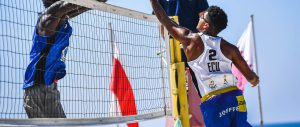 Two teams apiece from hosts Thailand and Australia qualified for the men's main draw, while only one team each from Kazakhstan, Qatar and the Philippines made it to the intense pool battles.
MEN'S POOLS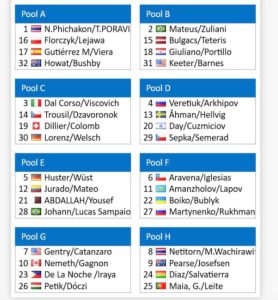 WOMEN'S POOLS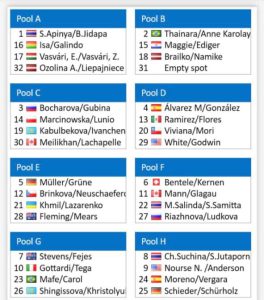 A total of 66 pairs from 27 different countries including 34 men's duos are taking part in the competitive competition from December 14 to 19.
The 32 teams in each main draw had been split into eight round-robin pools. The pool winners will advance straight to the round of 16, while the pool runners-up and the third-placed pairs will still have the chance to make it there through the round of 24.
RESULTS
MEN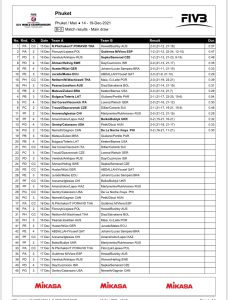 WOMEN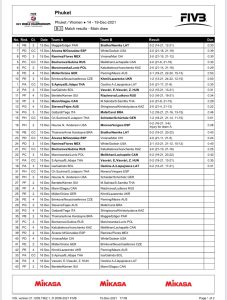 SCHEDULE
MEN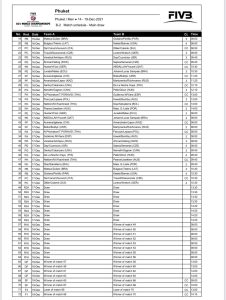 WOMEN
Related links of AVC
AVC Website: click www.asianvolleyball.net
AVC Facebook: click www.Facebook.com/AsianVolleyballConfederation
AVC Twitter: click: www.twitter.com/AsianVolleyball
AVC Instagram: click: https://www.instagram.com/avcvolley/?hl=en
AVC Youtube: click: Asian Volleyball Confederation
AVC WeChat: Asian Volleyball Confederation