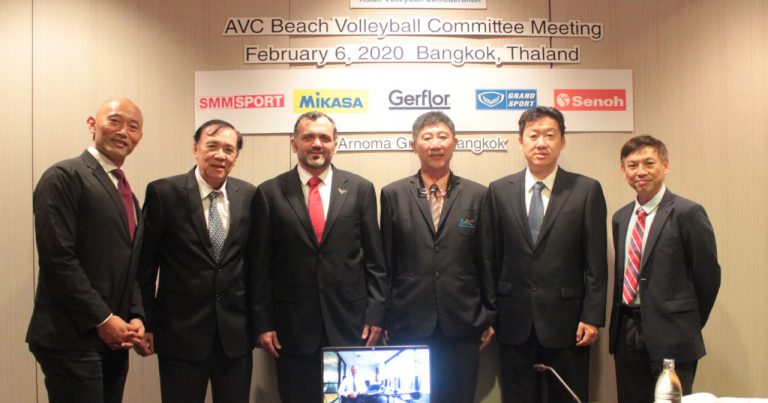 Bangkok, Thailand, February 6, 2020 – AVC Beach Volleyball Committee Chairman Mr Craig Carracher shared ideas, comments and recommendations while chairing its annual meeting via video conference with Committee Members at Arnoma Grand Bangkok Hotel on Thursday.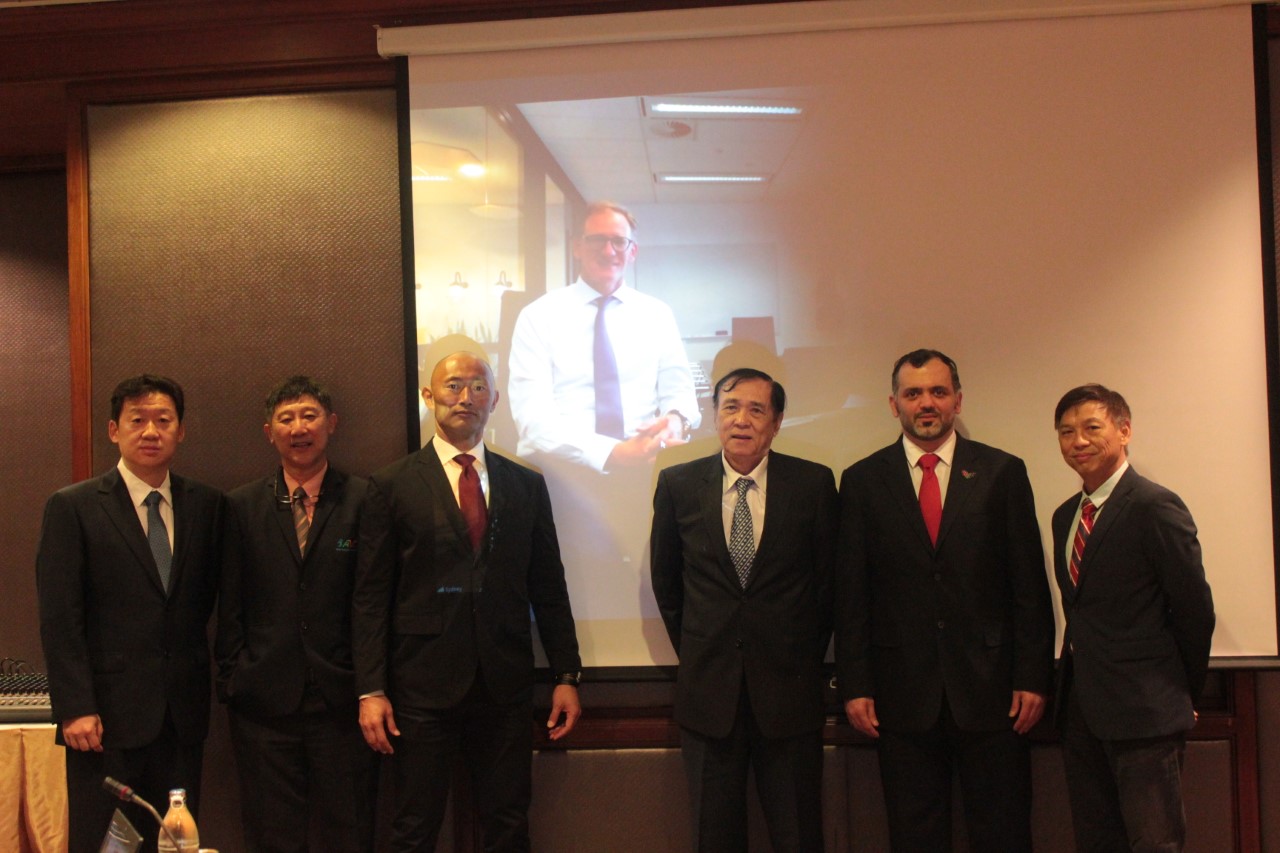 As marketing is a key element at any sports event, also beach volleyball, one of the fastest growing sports in the world, Craig cited that FIVB aims high that beach volleyball will play a crucial role in the global promotion of FIVB's social engagement. In an endeavour of creating innovative beach volleyball activities around the world, FIVB needs National Federations to organise more World Tour 1-or 2-Star events, especially in Asia, one of their key markets. Thus, Craig sets his high hopes on more World Tour 1-or 2-Star events to be held increasingly in Asia and Oceania in the near future.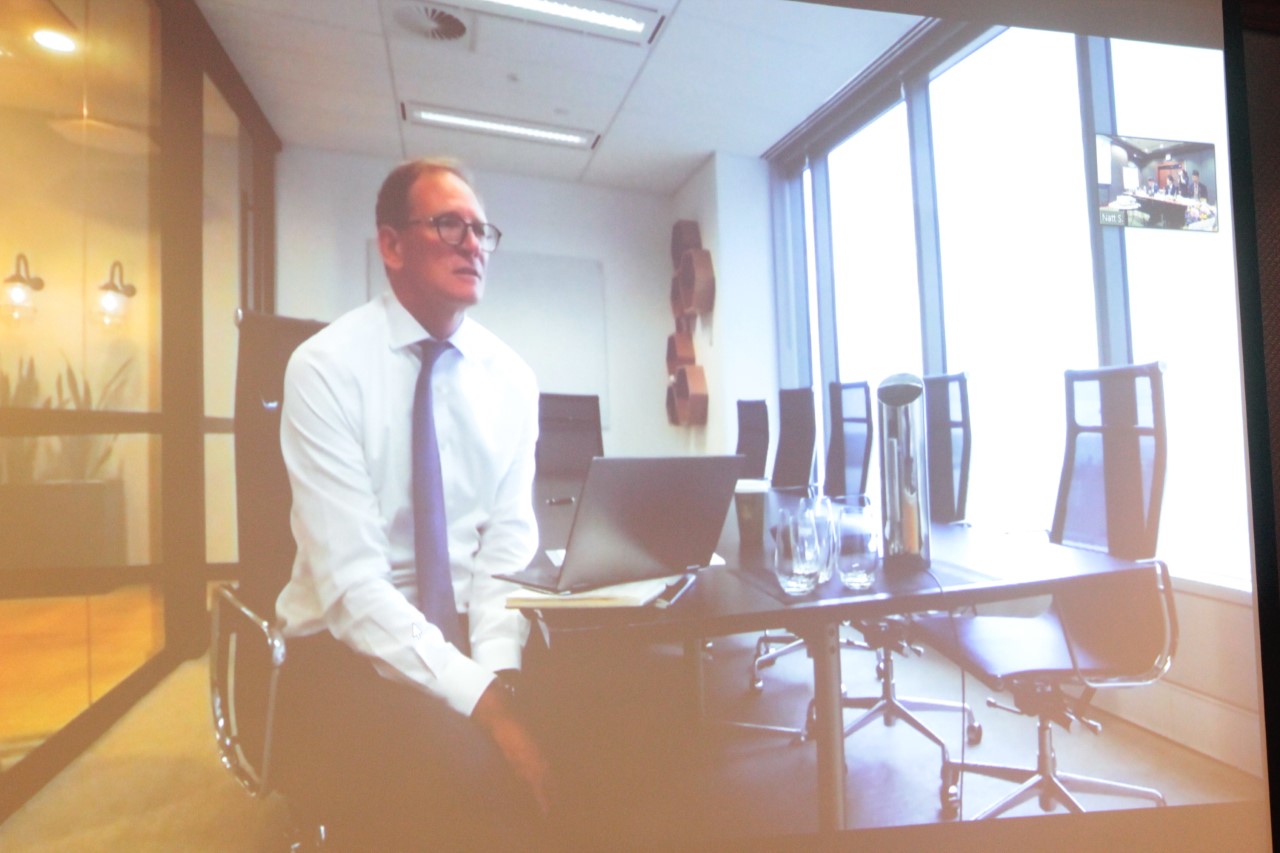 The meeting also heard the progressive reports by Mr Chang Chi Ming Thomas from Hong Kong, member of the AVC Referees Committee representing the RC in the AVC Beach Volleyball Committee Meeting, on the 2019 AVC Tour events and number of international beach volleyball referees by NFs.
The key idea on beach volleyball courses was also taken into consideration and discussion, as Craig viewed positively that it must be great if AVC throws its full supports for NFs to host those courses and provide them with technical supervisors and instructors.
As Thailand will host the 2020 Asian Senior Beach Volleyball Championships in Udon Thani from February 12 to 16, the AVC BVC Chairman asked AVC Beach Volleyball Director Mr Kritsada Panaseri on the host province's preparation and growing concerns on the deadly coronavirus epidemic.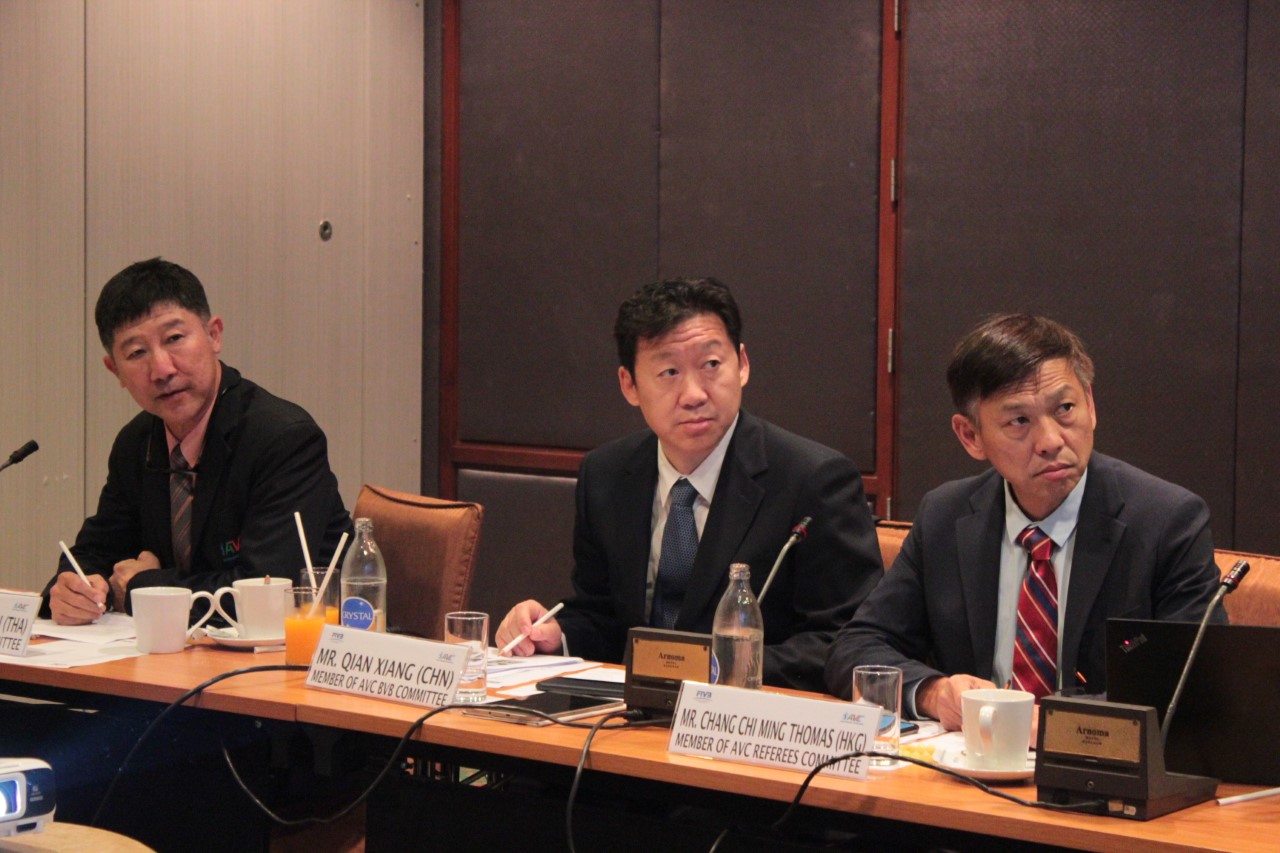 The meeting attendants worried about the coronavirus spread which has already become a truly global pandemic of grave concerns and can wreck havoc for the staging of the AVC Continental Cup Semi-finals and Finals.
Kritsada relieved their concerns by confirming that the coronavirus outbreak does not affect Thailand in its efforts of staging the Asian Championships and participating players can safely travel to Thailand and the host province.
According to Kritsada, Thailand open for tourism and travel with heightened measures for coronavirus prevention. The Department of Disease Control, Ministry of Public Health, has released a series of recommendations for the general public and the public- and private organisations as well as operators of public spaces on the coronavirus preventive measures. Therefore, with a massive preventive campaign under way nationwide to block the spread of the deadly coronavirus, Thailand's tourism and travel activities can go on as usual.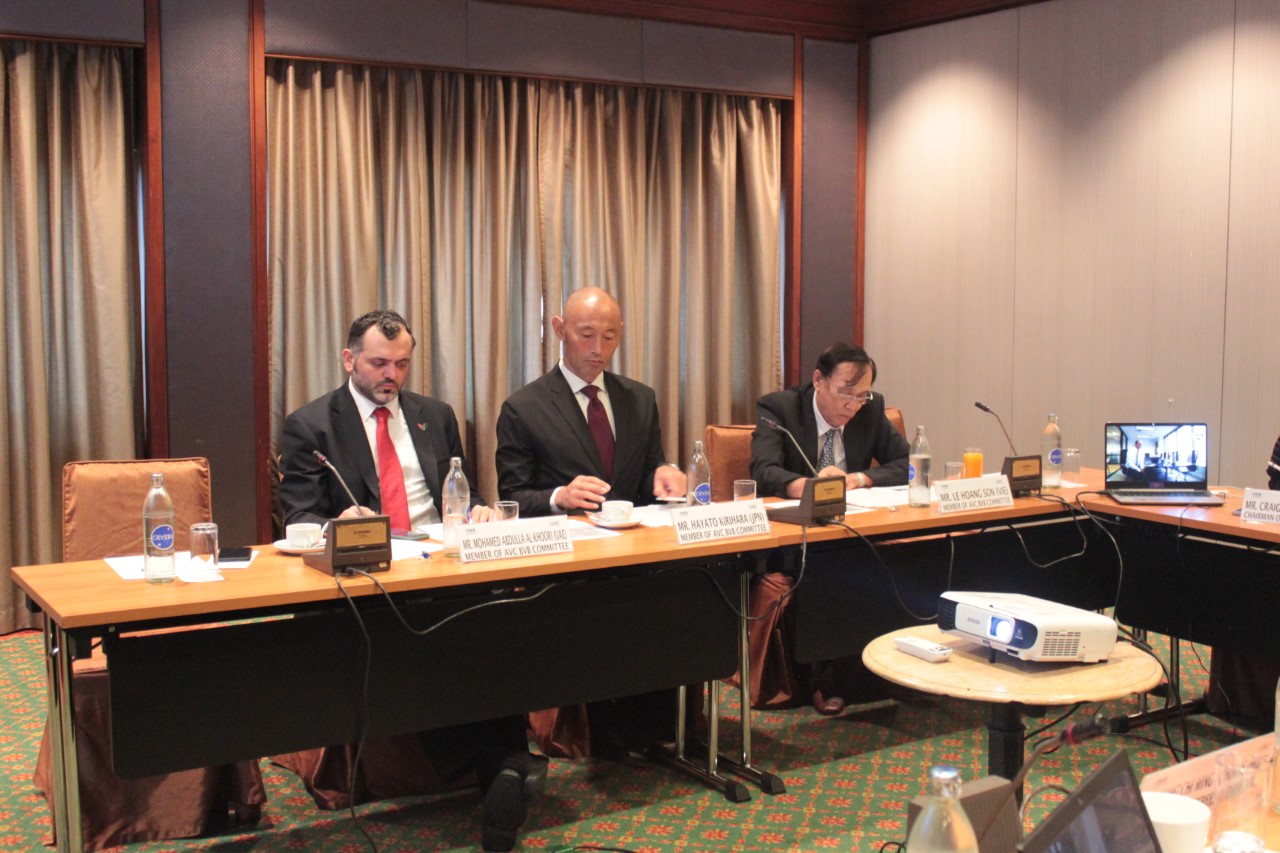 "A total of 16 countries had already registered with 64 participating teams including 37 men's teams. However, as of February 6, the reduced number of 57 teams including 32 men's teams have confirmed their participation. With some specific reasons, Philippines and Qatar withdrew their teams from the competition," Kritsada explained.
"Host province Udon Thailand has provided 5 competition courts for the Asian meet, but some women's matches might compete at night. However, it is confirmed that the lightings will be sufficient for the night competition. I don't think to host the Asian meet will be a big deal as Udon Thani had already hosted the FIVB U21 Beach Volleyball World Championships last year. Live televise by host TV broadcaster as well as live streaming for some main matches will also be conducted during the tournament," he added.
Meanwhile, the AVC Continental Cup Semi-finals from June 20 to 22 and Finals between June 25 and 28 are due to be held in Wuhan, where the current outbreak of the coronavirus was first reported, and to make sure that China remains on track for hosting the top-flight competition, Craig cited that at the end of March, the final decision should be made by Chinese Volleyball Association and Chinese authorities if Wuhan can still organise the AVC Continental Cup Semi-finals and Finals.
Mr Xiang Qian from China, one of the Committee members, claimed that CVA has prepared a second plan in case Wuhan cannot host the event in June. According to Xiang, the competition venue might be shifted to another province, situated far away from Wuhan.
However, Craig asked Xiang to give him a final reply if China can host the AVC Continental Cup Semi-finals and Finals within March 15, ahead of the AVC Board of Administration Meeting in Bangkok between March 21 an 22.
Craig said that confirmation has already been made by China to host the tournament. Nonetheless, although China finally cannot play host due to the growing coronavirus outbreak and the venue has to be shifted to the other country, China men's and women's teams remain there in the Finals.
"China has intended to host the AVC Continental Cup Semi-finals and Finals. They did not withdraw. So, I recommend that we (AVC BV Committee) give them the green light to contest the Finals despite a change of the competition venue to the other country. That means, in case the venue will be shifted to the other country, it's likely that there will be 9 teams including China and new host country, not 8 teams as usual, to compete in each gender of the Finals.
For further information, Kritsada reported that Oman, Japan, China (hosts), Indonesia, Iran, Qatar and top two teams from the Semi-finals will contest the men's Finals, while the women's Finals will see China (hosts), Japan, Thailand, Kazakhstan, Australia and the Oceania champions plus top two teams from the Semi-finals in action. The Oceania zone will organise its Phase I competition in New Zealand between March 10 and 12, 2020.
At the end of the AVC Beach Volleyball Committee Meeting, Craig expressed his sincere thanks to AVC and Thailand Volleyball Association for their kind supports, Mr Kritsada for his good job working with the Committee during the past four years and all Committee Members for their dedication and efforts for the Committee. He also asked the beach volleyball family to give CVA and Wuhan supports to overcome the novel coronavirus epidemic.
Related links of AVC
AVC Website: click www.asianvolleyball.net
AVC Facebook: click www.Facebook.com/AsianVolleyballConfederation
AVC Twitter: click: https://twitter.com/avcvolley
AVC Instagram: click: https://www.instagram.com/avcvolley/?hl=en
AVC Youtube: click: Asian Volleyball Confederation
AVC WeChat: Asian Volleyball Confederation