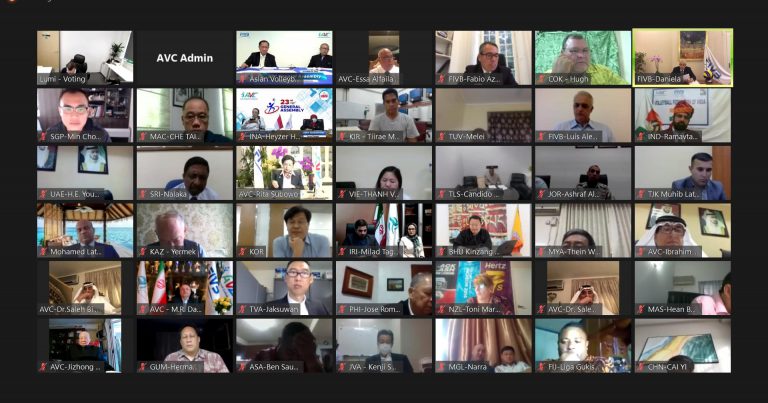 Bangkok, Thailand, October 26, 2020 – The 23rd AVC General Assembly convened online on Monday afternoon and, by acclamation, elected Mrs Rita Subowo of Indonesia as the new AVC President until 2023.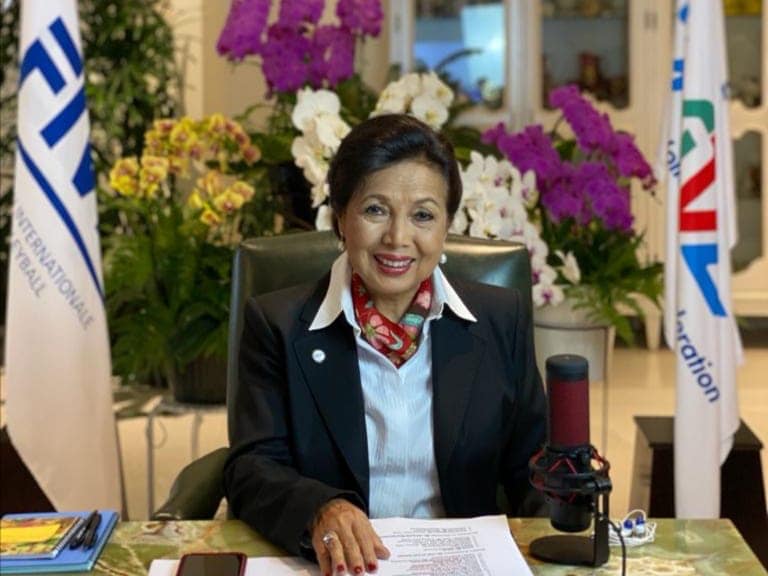 Mrs Rita Subowo, newly-elected AVC President
The Candidate Acclamation was conducted for the uncontested election because the 72-year-old Subowo from Yogyakarta, a prominent lady figure in world and Asia volleyball, was the sole candidate for the AVC Presidency.
The 23rd edition of the biennial Assembly, this time regarded as the elective conference which will play a vital role in shaping the next four years of the Asian volleyball, was held via videoconference by use of Lumi System, suggested by FIVB, due to the evolving situation of the COVID-19 pandemic.
Earlier, AVC Headquarters circulated relevant information on the 23rd AVC General Assembly to 65 AVC Affiliated National Federations and all Federations confirmed their attendance. However, during the Monday's online conference, Lumi reported that amount of 55 Federations had been connected at the start of the meeting. Poor internet connection might be the important cause.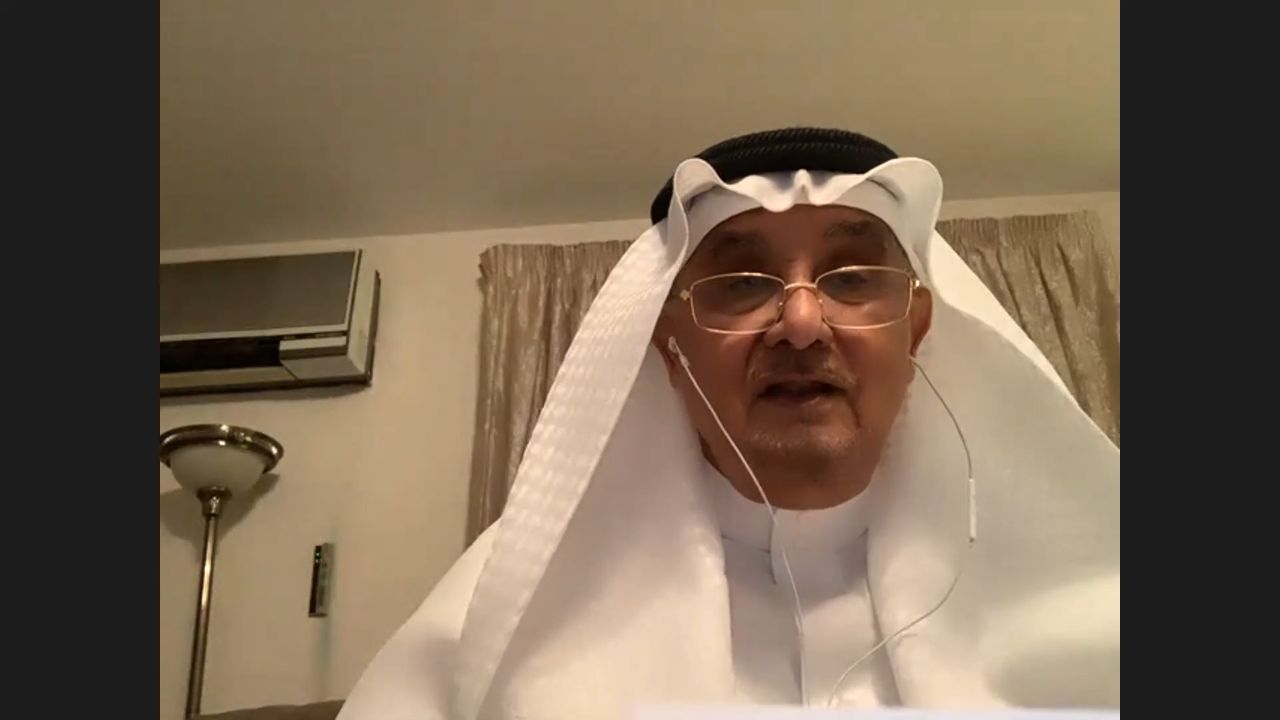 Dr Saleh A. Bin Nasser
To mark the start of the Assembly, AVC President Dr Saleh A. Bin Nasser delivered a welcome speech, beginning with his sincere thanks to FIVB President Dr Ary Graca, who was about to join the Assembly in a few moments, for his kind support and he thanked all Federations to attend this meting.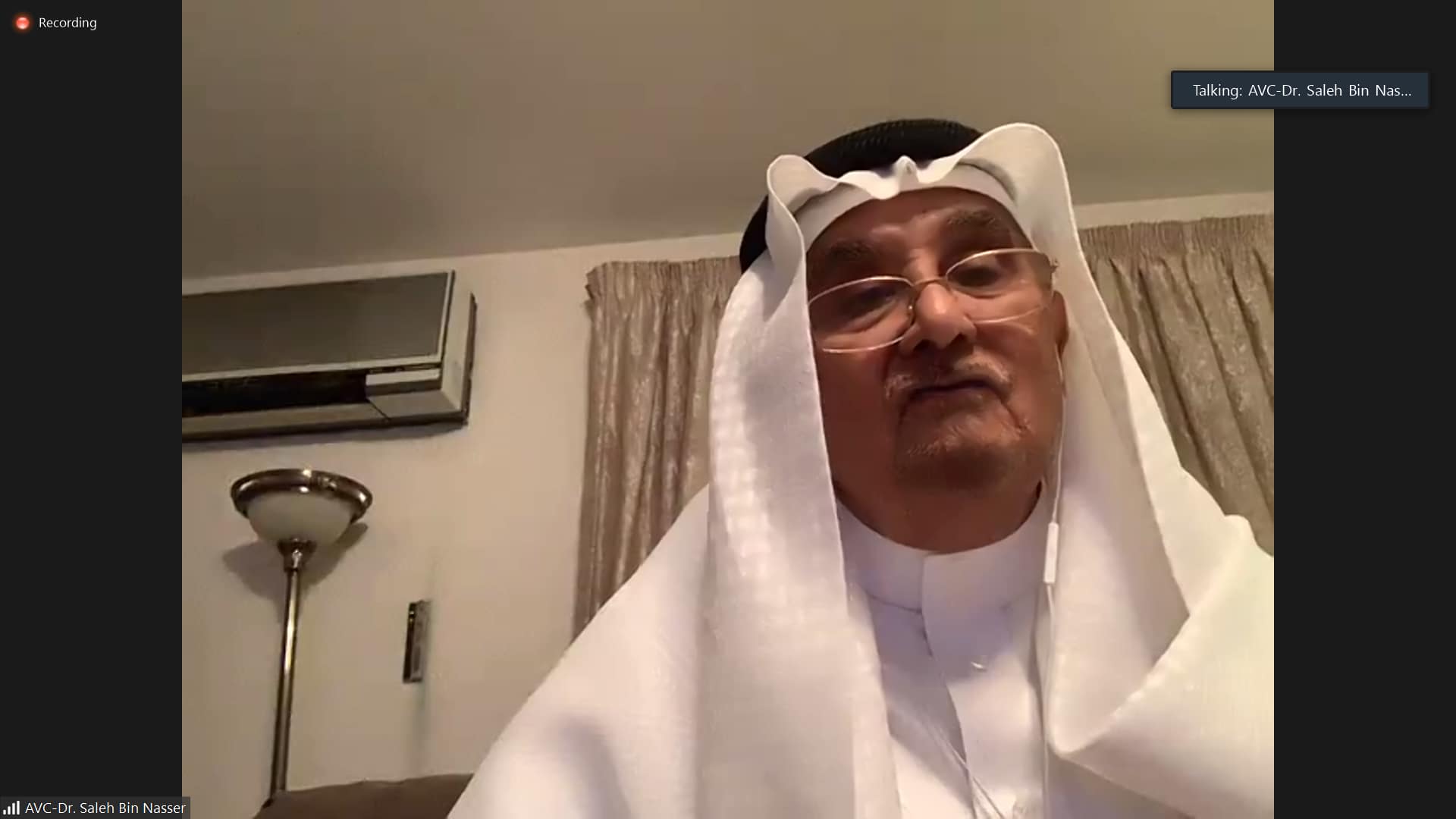 Dr Saleh A. Bin Nasser
"I am in poor health which caused me to miss many meetings, but thanks to new technology, we can meet here online today. People in Asia like volleyball and I think I can't forget those who had worked with me and supported me while we were working together in the previous years. However, my health problems did not help me on this matter to continue. Thank you everyone at AVC Headquarters, thanks all my friends and colleagues for working together, especially Mr Essa Hamza. I've learned a lot from Asian volleyball family and I also learned from Mr Wei Jizhong," the outgoing AVC President was quoted as saying in his speech.
"Although I'm not running for the Presidency, I hope you all will help Madam Rita Subowo. She is a good leader and did a lot of things for Asian volleyball. I wish her good luck and hope that you all continue your hard work for the benefit of Asian volleyball. Now, it's time to say good bye to all of you," he added.
Subowo praised Dr Saleh A. BIn Nasser, saying that he is an excellent leader as he has led Asian volleyball to reach new heights. She is convinced that Dr Saleh will remain with them in all Federations.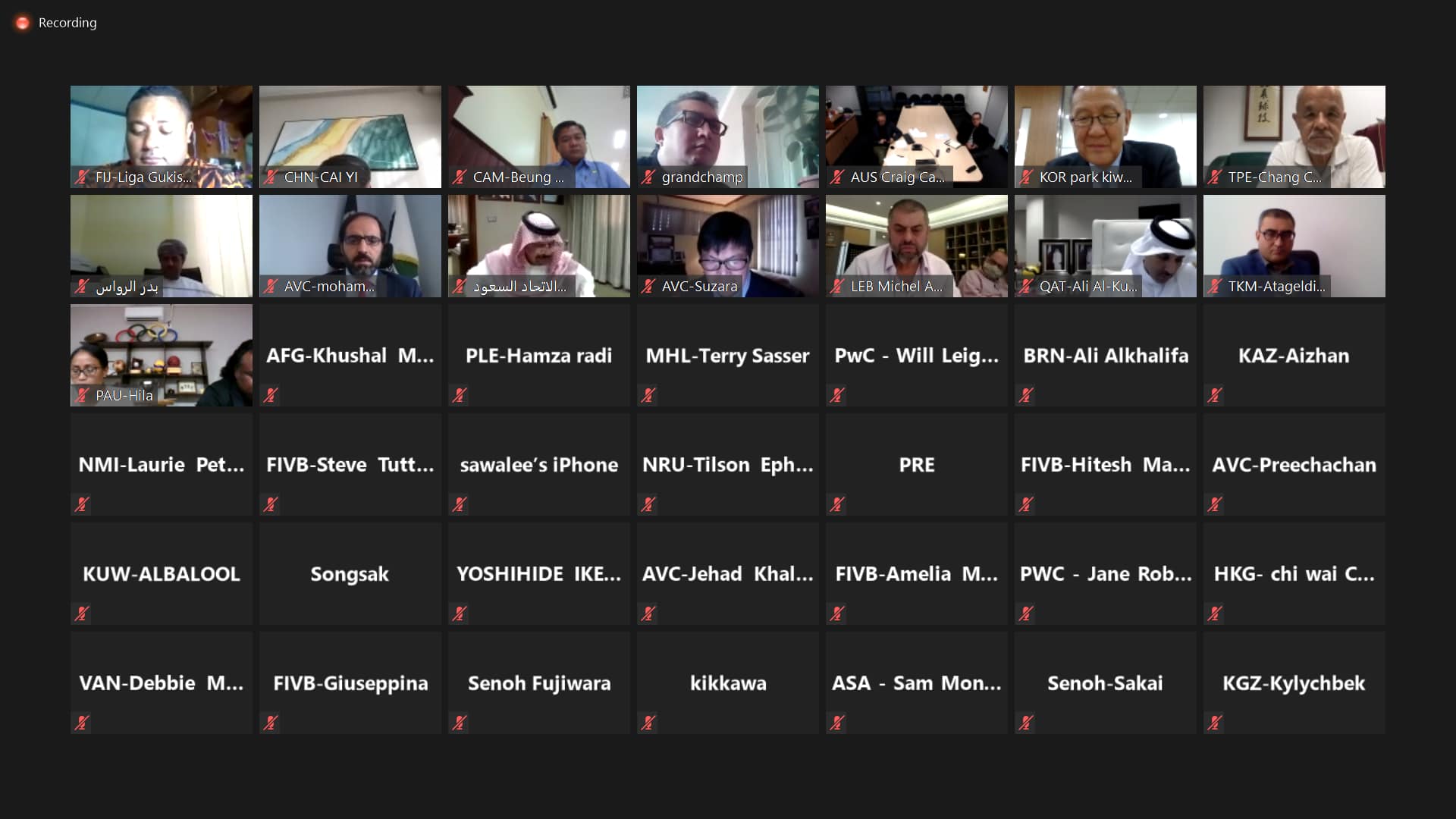 After that, the agenda as well as the Minutes of the previous AVC General Assembly in Bangkok, Thailand in November 2017 and decision of the AVC Board of Administration Meeting online on October 9 were unanimously approved. The Financial Issue and the 2020 AVC Financial Budget were also reported by AVC Finance Committee Chairman and Treasurer Mr Essa Hamza.
AVC Secretary-General Mr Shanrit Wongprasert later informed the meeting about the current situation of AVC. The COVID-19 worldwide spread had affected the organisation of global sports competitions and volleyball makes no difference.
In 2020, Shanrit said, only the Asian Senior Beach Volleyball Championships had been held in Thailand just days ahead of the coronavirus pandemic. To reflect the governing body's top priority of protecting the health and safety of the Asian Volleyball Family, other Asian Senior Volleyball and Beach Volleyball Championships were cancelled, leaving only Asian Underage Championships to be postponed until February 2021 following negotiations with FIVB.
However, although the 2020 AVC activities could not be held, particularly all Championships, AVC Headquarters has done several things to get past tough situations – reducing all AVC expenses and simultaneously keeping the AVC income as much as possible, carefully following up the FIVB movements, keeping all AVC Affiliated National Federations updated with further information on relevant matters and monitoring the situation of the hosts and participating NFs in case the pandemic is under control and international flights can safely resume operations.
"AVC Headquarters has also coordinated not only with AVC sponsors for confirmation of the four-year contracts, but also with FIVB on preparing 2020-2021 AVC Volleyball and Beach Volleyball Competition Calendar and lastly, with European Confederation for 2021 Euro-Asia Coaches Convention.
"Furthermore, to collect all previous results of AVC Championships to be presented on AVC Website and to prepare the organisation of the AVC General Assembly online today are the other two important tasks fulfilled by AVC Headquarters," he explained.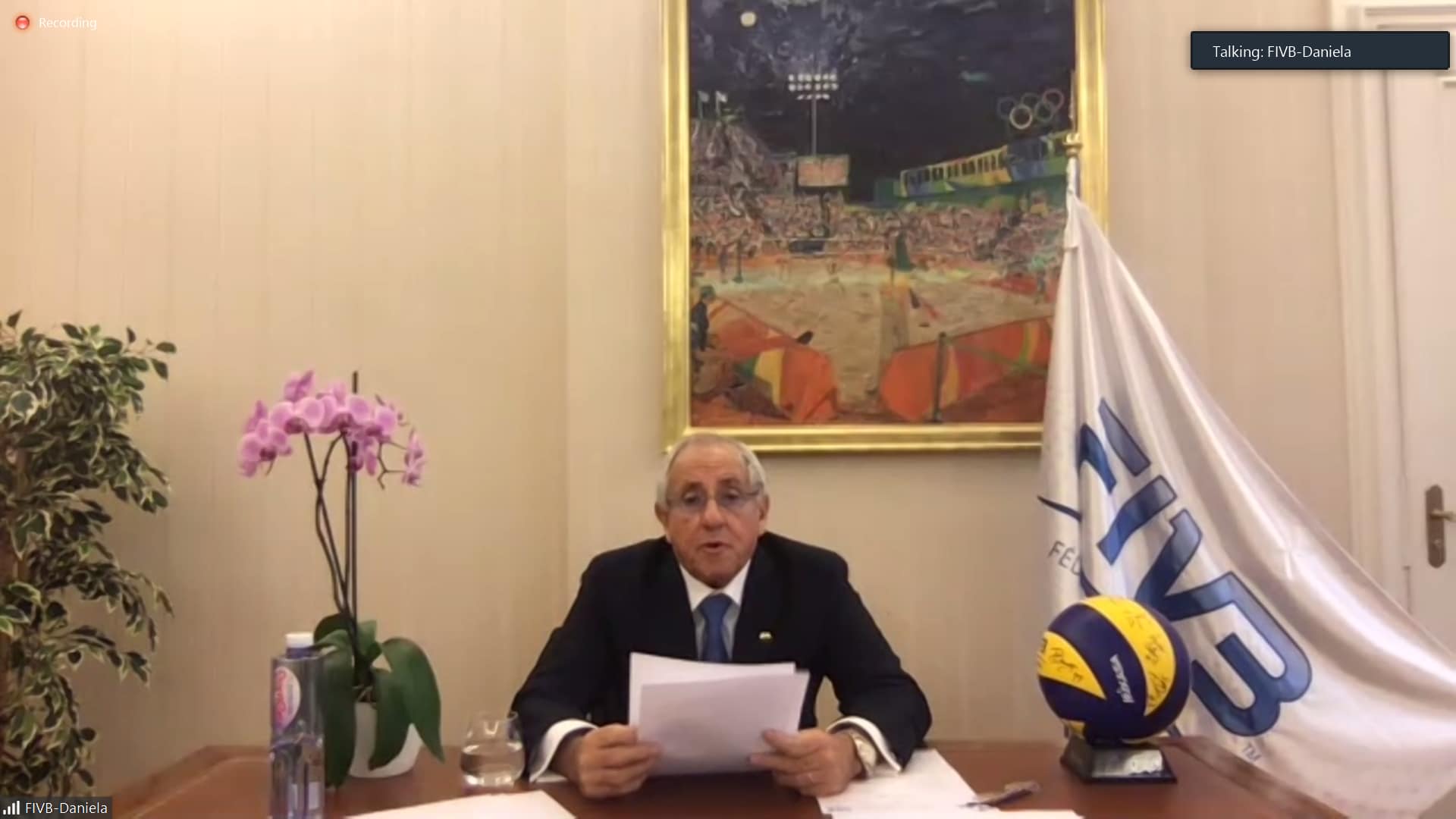 FIVB President Dr Ary Graca gives a speech in the 23rd AVC General Assembly
Later, FIVB President Dr Ary Graca joined the meeting to give a speech to all attendants. He gave a special thank to AVC President Dr Saleh A. Bin Nasser who dedicated his life to volleyball. He also pledged his ongoing commitment to the development of volleyball in Asia including Oceania, talking about how to move volleyball in Asia to the next level. He suggested all NFS that they make national teams and try to make their team much stronger. A strong team, he said, can attract more supports, TV and fans and that is a good quality product which they can sell for a much more expensive price.
"Asia is volleyball continent by nature. However, to make volleyball grow, we have to learn new technology and digital platforms. For Asia, from 2017 to 2020, through the FIVB Projects Platform, 116 projects had been conducted via the platform, amounting to a total investment of nearly 1.5 million USD into Asian volleyball directly via the National Federations."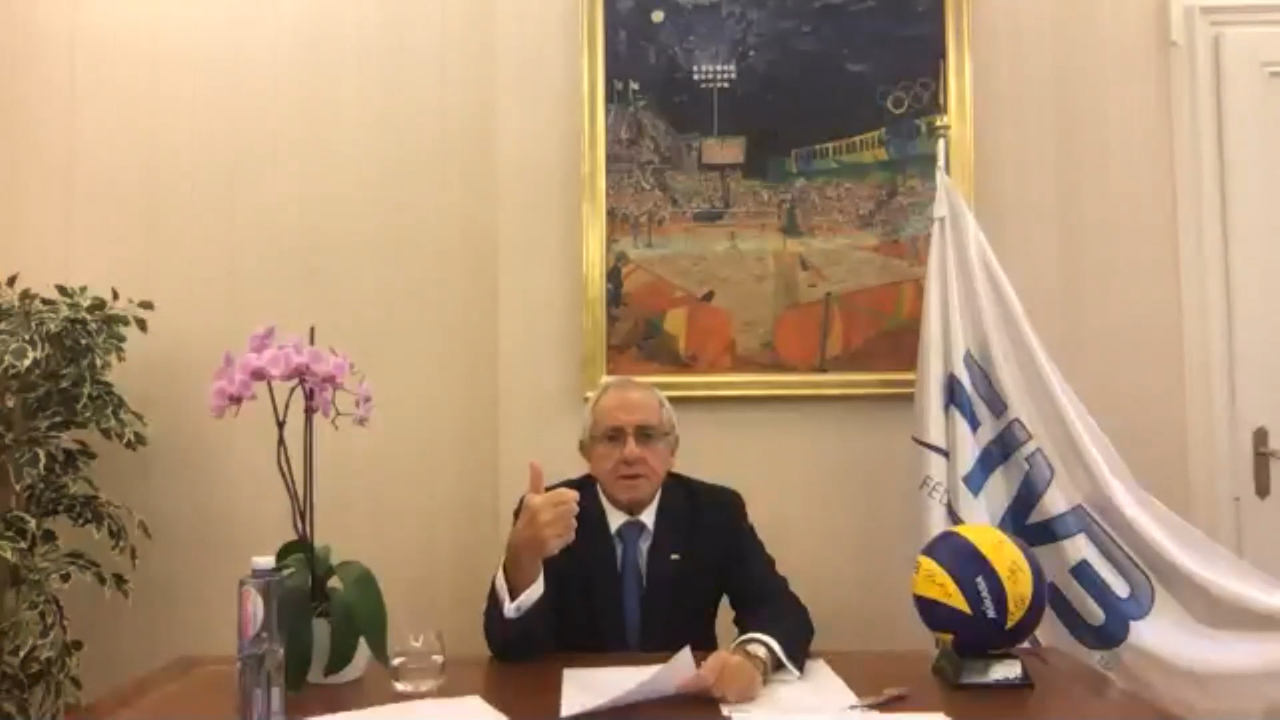 FIVB President Dr Ary Graca
Dr Ary also praised Subowo, saying that he is upbeat that under her leadership, Asian volleyball will move up to the next level in the next four years.
After that, the election for the new AVC President and AVC Board of Administration Members was held. As Subowo was the sole candidate for the Presidency, she won the election by acclamation and Mr Essa Hamza officially announced: "I would like to announce that Mrs Rita Subowo from Indonesia is elected as the new AVC President."
In terms of the AVC Board of Administration Members, they all have been selected while their respective Zonal Associations held online meetings on October 21. Mr Essa Hamza officially announced all of those 20 Members including two female candidates elected as AVC BA Members. Shanrit also asked the Assembly to approve Mr Jehad Hasan Khalfan from Bahrain to be AVC Internal Auditor and his request has been approved (List of those elected as AVC Board of Administration Members can be found on the bottom of the story).
Mrs Rita Subowo extended her sincere gratitude to all parties concerned.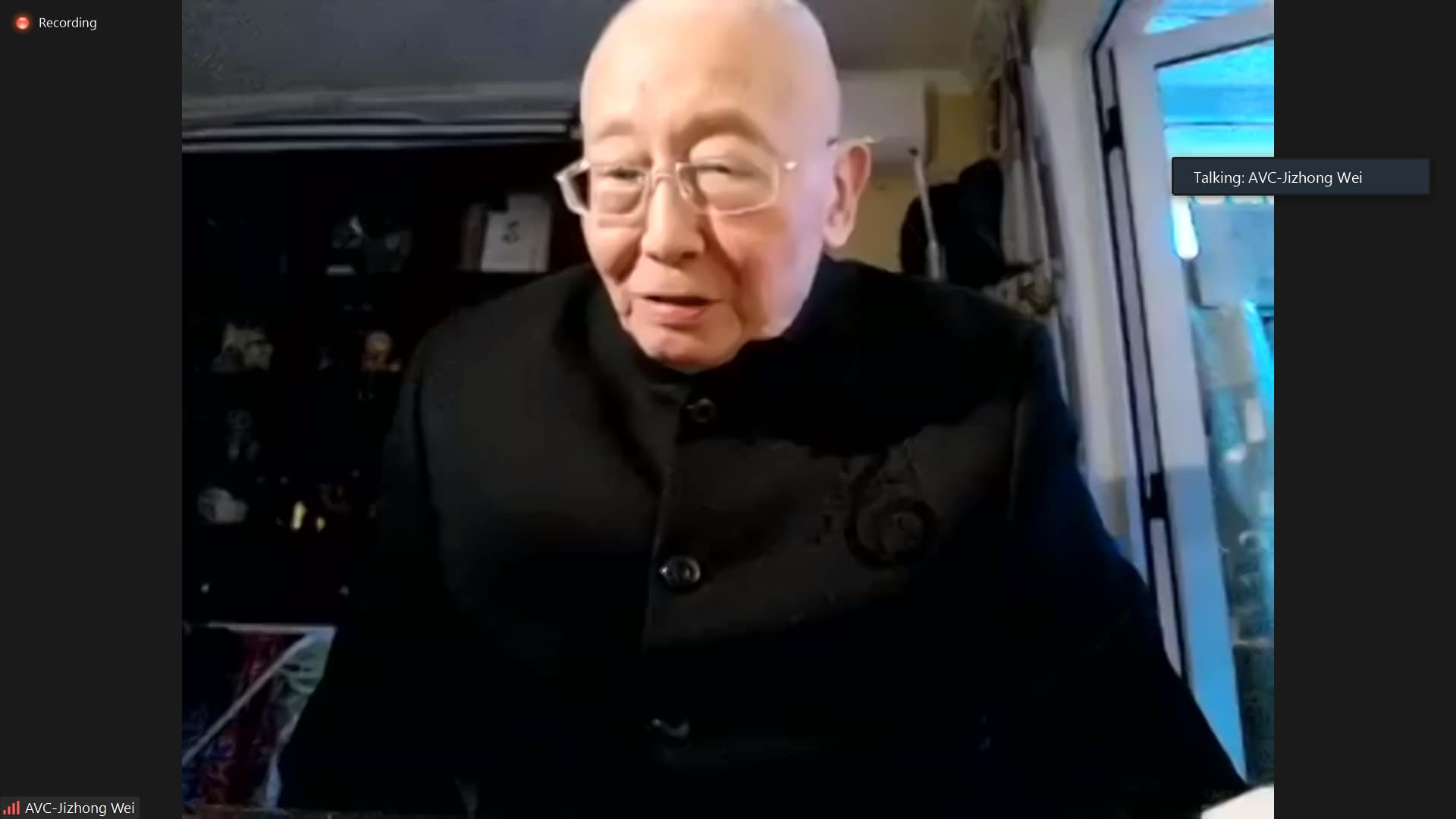 Mr Wei Jizhong
"I would like to thank you all deep from my heart. It's not easy for me. Your trust makes me confident. I understand that volleyball is my life. I will continue to serve my dedication to Asian volleyball. I would like to thank Dr Ary Graca, Dr Saleh A. Bin Nasser and Mr Wei for your trust and supports. I'm here to serve for volleyball. With unity and solidarity, we can make it happen. Also, I would like to thank Mr Essa Hamza for your hard work and contribution to Asian volleyball. We all are in the same family," she said in a speech.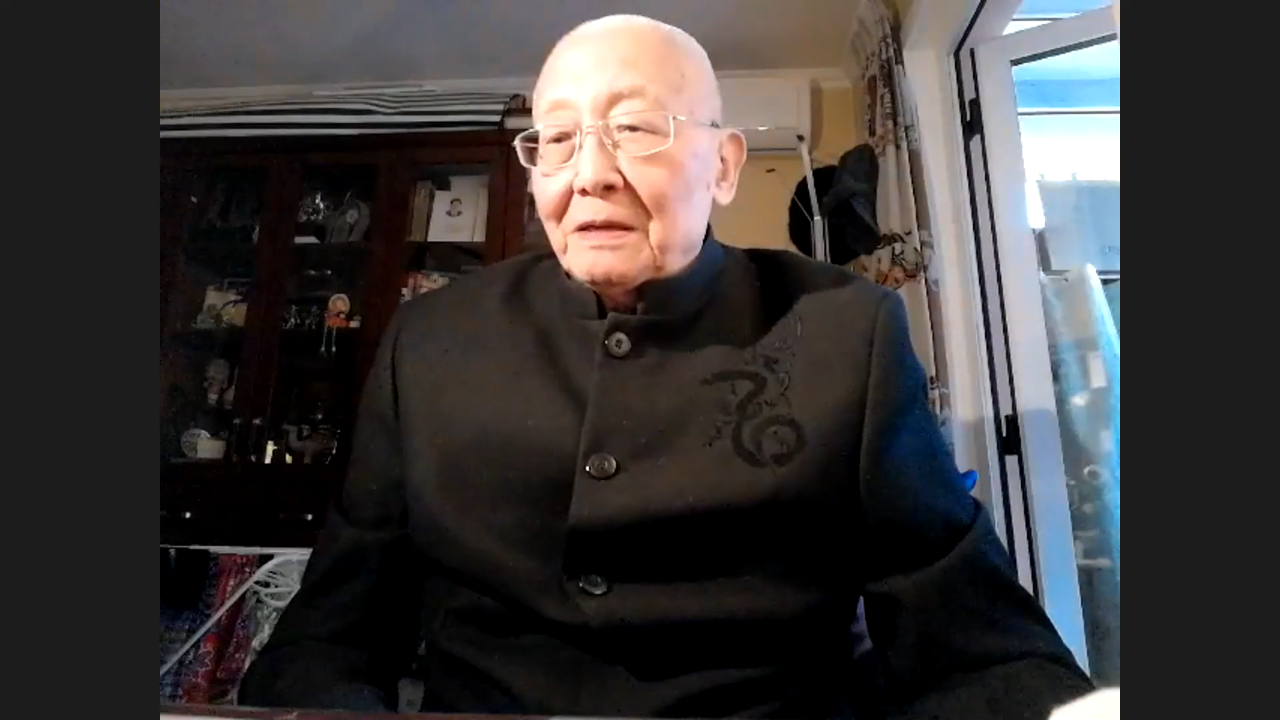 Mr Wei Jizhong
At the same time, Mr Essa Hamza called it a day, conveying thank you messages to those who have supported him. He said good bye to everyone in the meeting. "I thank everyone who supported me. I learned a lot from all of you. Please help cooperate with the new AVC President and be united. Please forgive me for any mistake and I wish you all successes. Thank you and good bye," the outgoing AVC Executive Vice President Mr Essa Hamza said.
Later, Dr Saleh A Bin Nasser, Mr Wei and Members from some National Federations congratulated Subowo on her election to the AVC Presidency.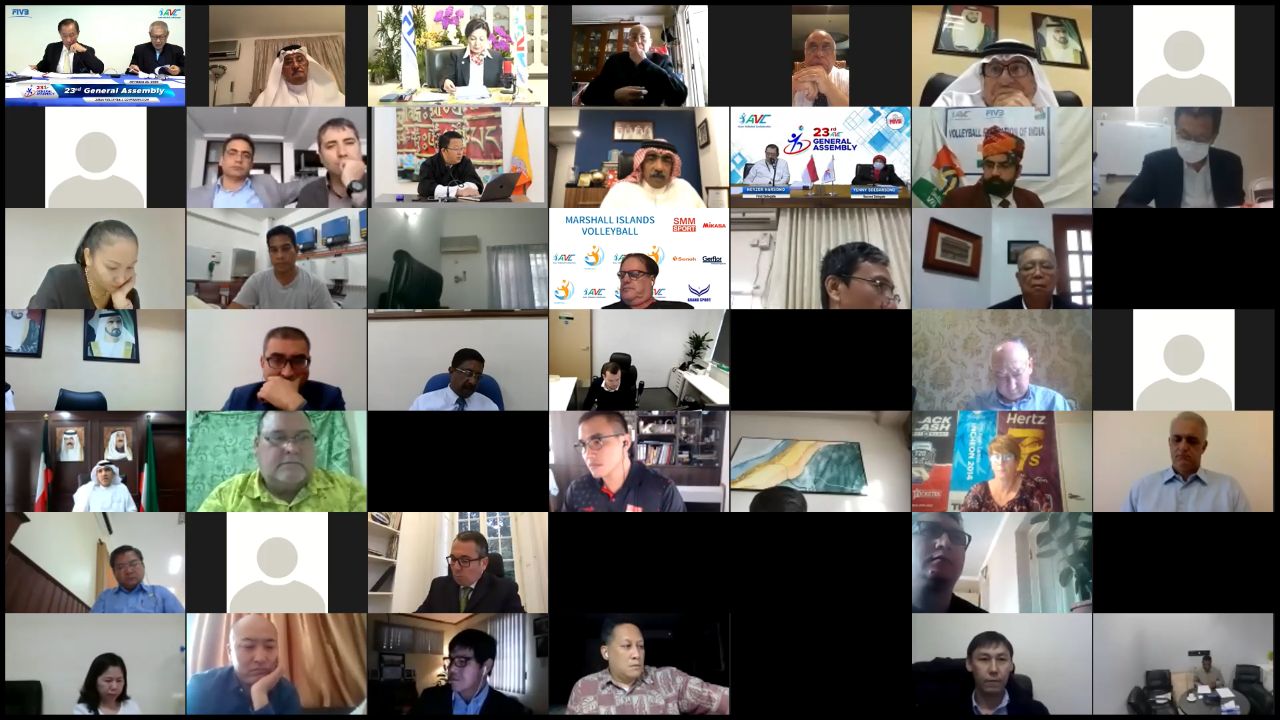 Subowo thanked all for their supports and FIVB for providing modern technology like Lumi System to use in this Assembly.
In her speech on closing the 23rd General Assembly, Subowo said, "Thank you very much for trusting me to lead volleyball in Asia. The important thing is we have to maintain our unity and strengthen our solidarity because in front of us, it's not easy. But if we work together, we can do it. We will be on top of the continent in volleyball, not necessary on the top but we will do our best to be part of the championship and part of the Olympic Games. I believe that with our hard work, we can do it together. We can work hand in hand with your capacity, with your Zonal power. So, all those powers in Asia, if we put it together, Asia will be stronger and stronger."
AVC will next hold the online meeting for the newly-elected AVC Board of Administration Members on November 9, 2020 with appointments for the AVC Executive Board Members and Chairpersons of all AVC Technical Committees and Council being the key topics raised for discussion and decision.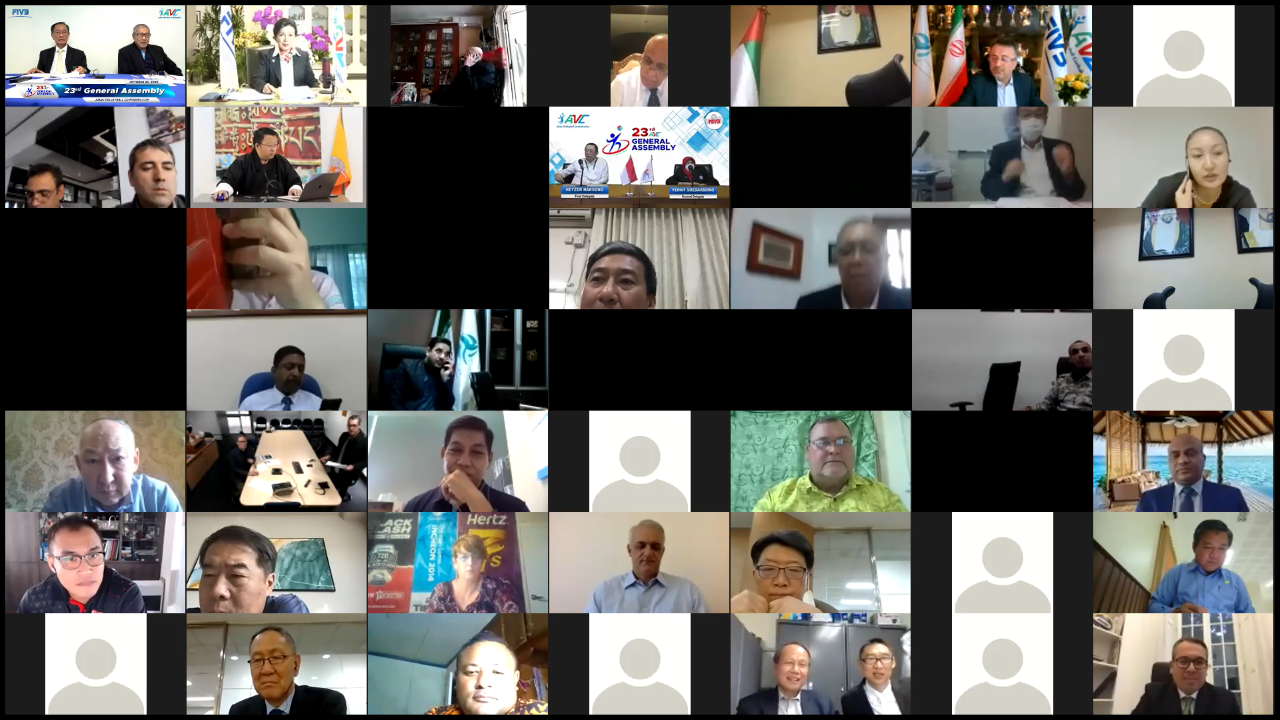 AVC BOARD OF ADMINISTRATION
PRESIDENT 1 POSITION
Mrs Rita Subowo (Indonesia)
BOARD OF ADMINISTRATION MEMBERS (18 POSITIONS)
WESTERN ASIA 4 POSITIONS
Mr Ali Ghanem Al-Kuwari (Qatar)
Mr Badar Ali Said Al Rawas (Oman)
Mr Abdulaziz A. Albalool (Kuwait)
Mr Shaikh Ali Bn Mohamed Bin Rashid Alkhalifa (Bahrain)
CENTRAL ASIA 4 POSITIONS
Mr Ramavtar Singh Jakhar (India)
Mr Yermek Syrlybavey (Kazakhstan)
Mr MD Atiqul Islam (Bangladesh)
Mr Mohammed Reza Davarzani (Iran)
EASTERN ASIA 4 POSITIONS
Mr Cai Yi (China)
Mr Kenji Shimaoka (Japan)
Dr Eom Han Joo (Korea)
Mr Wang Kuei-Shiang (Chinese Taipei)
SOUTH EASTERN 3 POSITIONS
Mr Kiattipong Radchatagriengkai (Thailand)
Mr Tran Duc Phan (Vietnam)
Mr Thein Win (Myanmar)
OCEANIA 3 POSITIONS
Mr Hugh Graham (Cook Islands)
Mr Craig Carracher (Australia)
Mr Terry Sasser (Marshall Islands)
FEMALE MEMBERS 2 POSITIONS
Mrs Fong Sok Van Alice Oliver (Macao)
Mrs Hila Asanuma (Palau)
AVC INTERNAL AUDITOR
Mr Jehad Hasan Khalfan (Bahrain)
AVC ZONAL EXECUTIVE VICE PRESIDENTS
Zonal Executive Vice President E.Z.: Mr Cai Yi (China)
Zonal Executive Vice President S.E.Z: Mr Kiattipong Radchatagriengkai (Thailand)
Zonal Executive Vice President C.Z.: Mr Ramavtar Singh (India)
Zonal Executive Vice President W.Z.: Mr Ali Ghanem Al-Kuwari (Qatar)
Zonal Executive Vice President O.Z.: Mr Hugh Graham (Cook Islands)
Related links of AVC
AVC Website: click www.asianvolleyball.net
AVC Facebook: click www.Facebook.com/AsianVolleyballConfederation
AVC Twitter: click: https://twitter.com/avcvolley
AVC Instagram: click: https://www.instagram.com/avcvolley/?hl=en
AVC Youtube: click: Asian Volleyball Confederation
AVC WeChat: Asian Volleyball Confederation