Bangkok, Thailand, February 14, 2023 – The AVC Sports Events Council held its annual meeting in a hybrid format on Tuesday to discuss upcoming volleyball events, with its Chairman Dr Eom Han-Joo and newly-appointed Secretary Jeeraprapa Nontapa joining from the AVC Headquarters in Bangkok.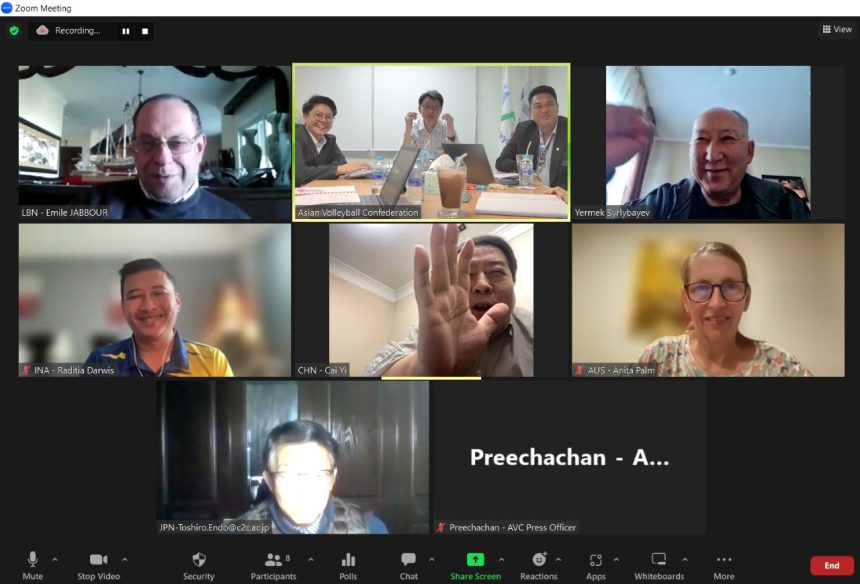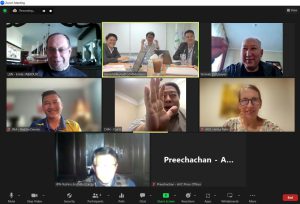 Attending the meeting on Zoom comprised Mr Yermek Syrlybayev from Kazakhstan, Ms Anita Palm from Australia, Mr Emile Jabbour from Lebanon, Mr Toshiro Endo from Japan, Mr Masoud Yazdanpanah from Iran, Mr Cai Yi from China, Mr Raditia Rahmat Darwis from Indonesia and Ms Patana Kittichaisombat from AVC Volleyball Department. Volleyball World CEO Mr Finn Taylor and AVC Referees Committee Chairman Mr Songsak Chareonpong also joined the meeting as special guests.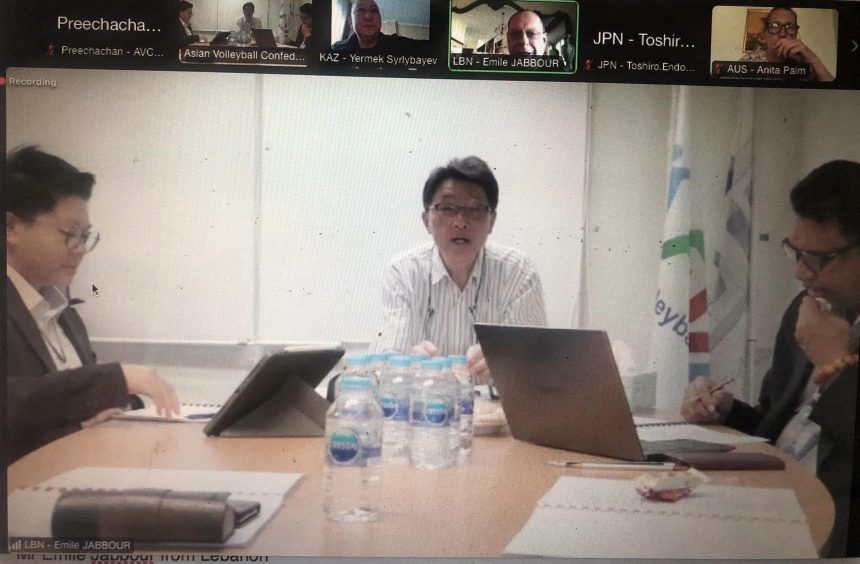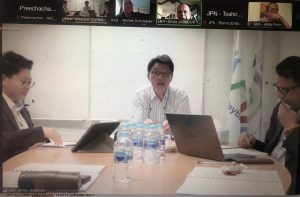 Dr Eom, middle, chairs the AVC SEC Meeting
Speaking at the meeting, Dr Eom, himself Member of the FIVB Sports Events Council, initially greeted all participants, citing that the COVID-19 pandemic made much of the impact on the staging of the 2022 events. Due to grave concerns over the pandemic, many National Federations could not participate in the 2022 AVC events, while some countries also withdrew as hosts of competitions. That's the reason why participation of National Federations in the 2022 events could not be that high as it used to be. However, as the COVID-19 situation is drastically improving this year, National Federations are expected to be more active and encouraged to join the fray in 2023 AVC events.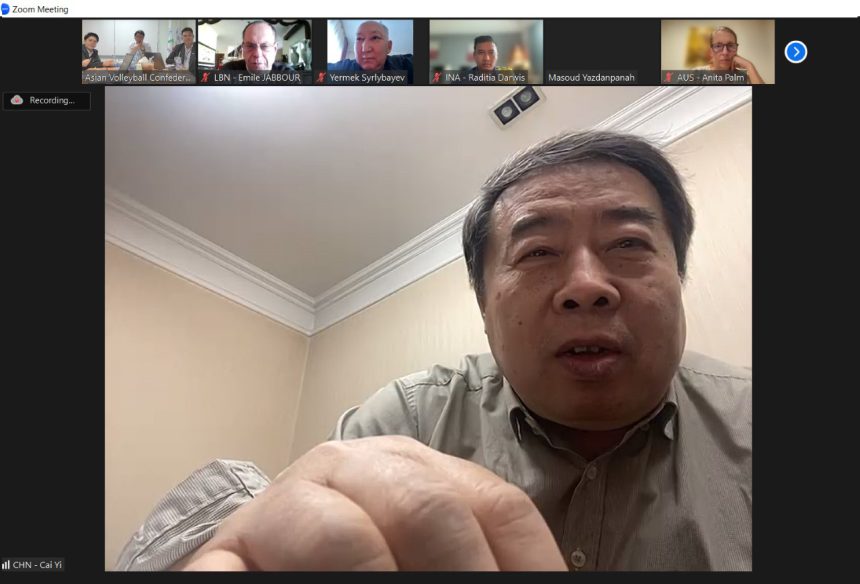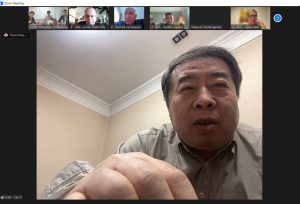 Mr Cai Yi
Prior to the meeting, AVC Secretary General Mr Kiattipong Radchatagriengkai delivered a welcome speech.
"On behalf of AVC President Mrs Rita Subowo, I would like to express my sincere thanks for your attendance in this important meeting. As you all know, AVC Sports Events Council plays a viral role in developing volleyball in all aspects in Asia. During the COVID-19 pandemic, we overcame difficult situations to organise events," Mr Kiattipong was quoted as saying.
"Last year, we also tried our best in hosting events, all of them very important ones, and we organised them successfully. As a result, we had well-qualified teams to compete in all FIVB World Championships, not only for seniors, but also juniors and underage. This year, AVC has already released its Competition Calendar and I would like to thank Dr Eom and all devoted Committee Members who have been working very hard in setting up all competitions. AVC has its high hopes of sustainable development of volleyball in Asia. Therefore, your shared ideas and insightful suggestion would be of great value for such development. With your experience and expertise to support AVC, I wish your meeting a great success," he added.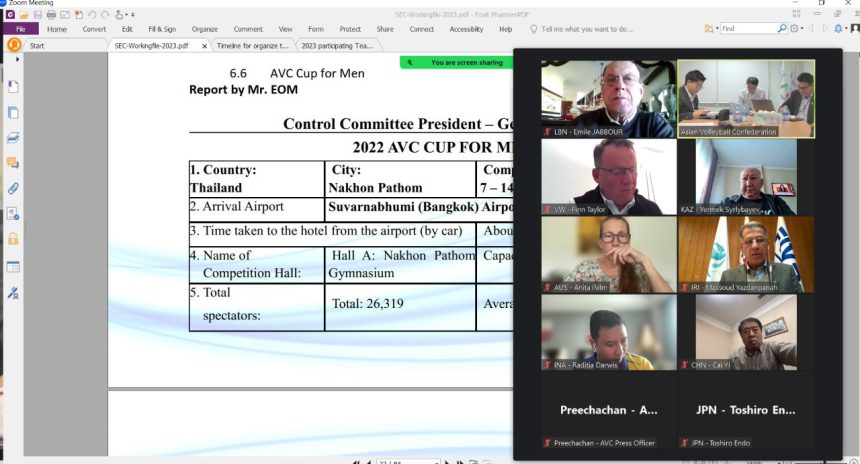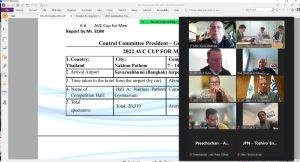 Later, the meeting acknowledged the 2022 Minutes of AVC Sports Events Council Meeting in Bangkok, followed by reports of the 2022 AVC Championships (namely; Asian Women's Club in Kazakhstan, Asian Men's Club in Iran, Asian Women's U18 in Thailand, AVC Women's Challenge Cup in Thailand, Asian Men's U20 in Bahrain, Asian Women's U20 in Kazakhstan, AVC Cup for Men in Thailand, AVC Cup for Women in Philippines, Asian Men's U18 in Iran and AVC Men's Challenge Cup in Kyrgyzstan) and the FIVB Sports Events Council Meeting.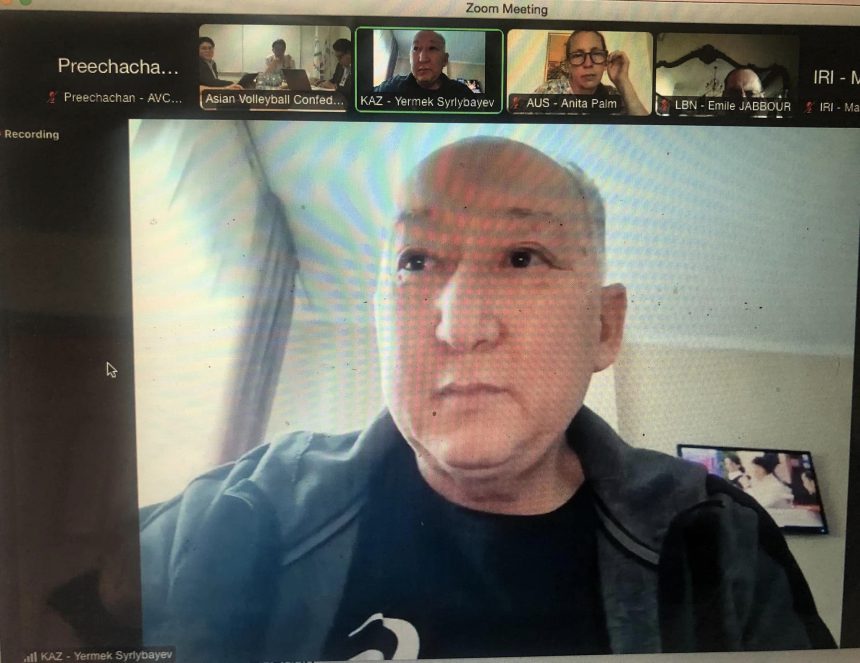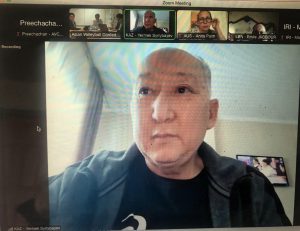 Mr Yermek
After that, those appointed as either Control Committee Presidents or Technical Delegates commented on each of the aforementioned AVC Championships they had officiated in 2022. Mr Yermek, as CC President, reported on the conditions and management of the 2022 Asian Women's Club Championship in Semey, Kazakhstan, praising the competition venue to be fully-packed to its seating capacity despite the fact that it made debut as main venue for international volleyball events.
Mr Kiattipong, as Technical Delegate in the championship, also expressed his congratulations to Semey and Kazakhstan for a smooth run of the topflight continental club competition, citing that it was a fantastic venue with full audience. Local organisations also threw in their full supports in making the competition a memorable success.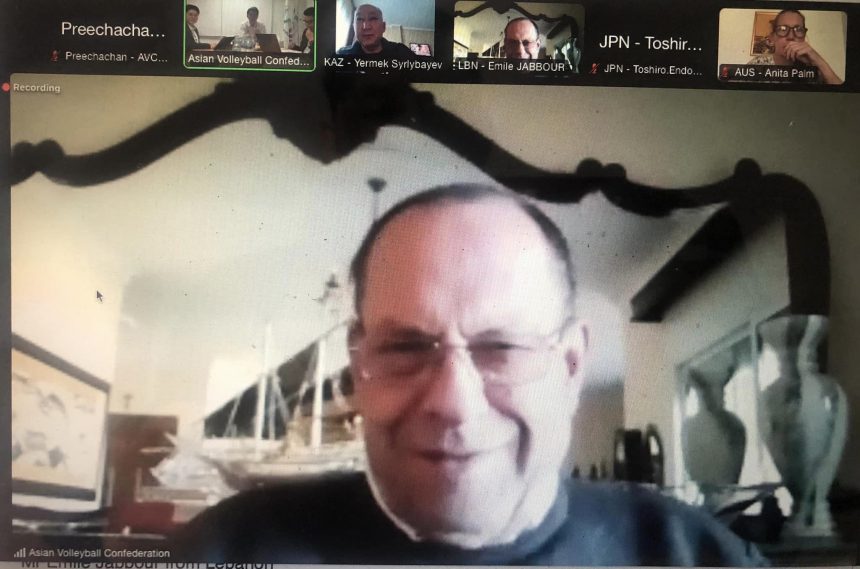 Mr Emile Jabbour
Then, Dr Eom, Mr Emile and Mr Yermek took turns presenting their reports and giving remarks on each of the last year's Championships they had officiated as CC Presidents for those events.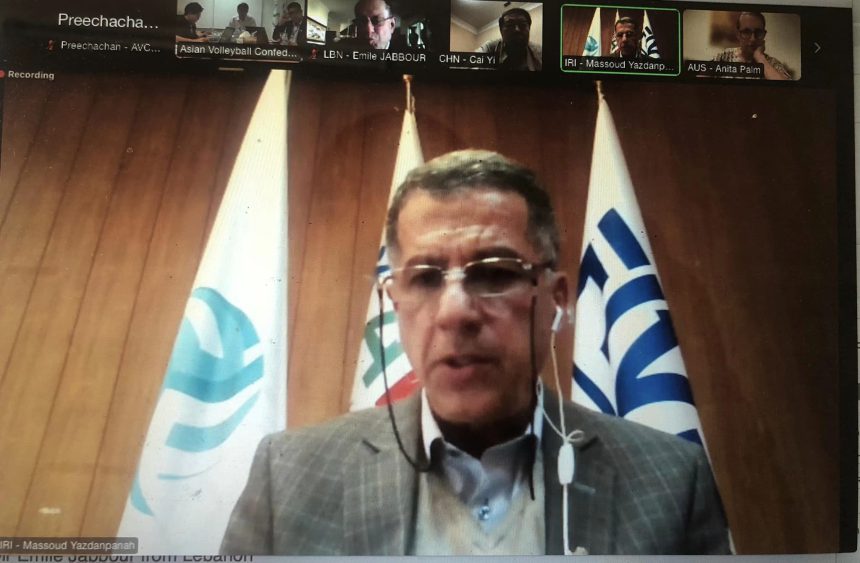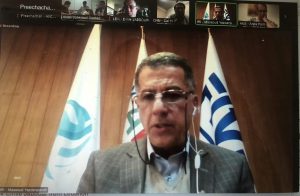 Mr Masoud Yazdanpanah
Dr Eom also gave a brief report on the FIVB Sports Events Council Meeting, also held in a hybrid format, on December 2, 2022. Ranking points system, according to the AVC SEC Chairman, will be taken into account for the Paris 2024 Olympic Qualification Tournaments. He also raised awareness on the topics of the FIVB Challenger Cup 2023 and the FIVB Club World Championships for further discussion.
Volleyball World CEO Mr Finn Taylor informed that the 2023 (and also 2024) edition(s) of the FIVB Men's Club World Championship will be held in India between December 6 and 10, while the 2023 FIVB Women's Club World Championship will take place in China, with the competition dates to be confirmed later this year.
Meanwhile, AVC has already launched the 2023 Competition Calendar, which sees 8 Championships to be held this year. During the meeting, the progressive reports on the respective Championships had been raised for comments and discussion about preparations of the host nations, infrastructure in the host cities as well as transportation and relevant conditions at the competition venues.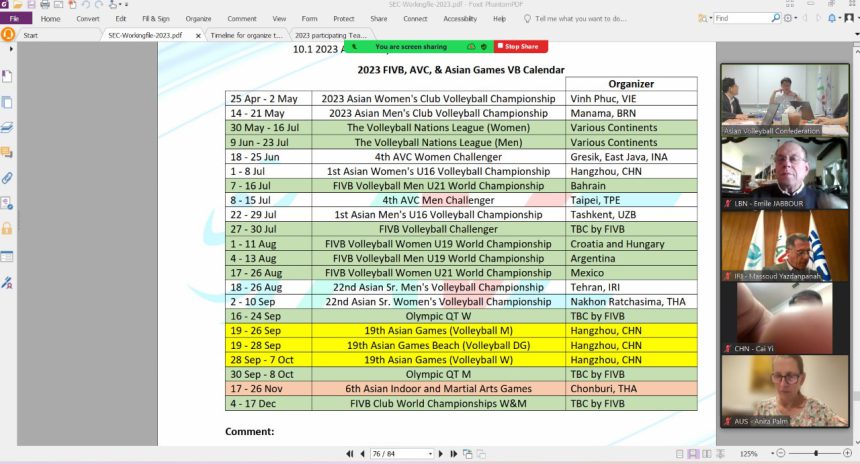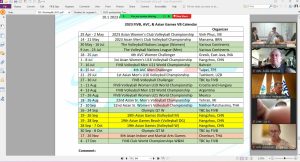 The 8 AVC Championships to take place this year are as follows:
2023 Asian Women's Club Championship in Vinh Phuc, Vietnam from April 25-May 2

2023 Asian Men's Club Championship in Manama, Bahrain between May 14 and 21

4th AVC Women's Challenger in Gresik, East Java, Indonesia from June 18 to 25

1st Asian Women's U16 Championship in Hangzhou, China from July 1 to 8

4th AVC Men's Challenger in Taipei, Chinese Taipei during July 8 and 15

1st Asian Men's U16 Championship in Tashkent City, Uzbekistan between July 22 and 29

22nd Asian Senior Men's Championship in Tehran, Iran from August 18-26

22nd Asian Senior Women's Championship in Nakhon Ratchasima, Thailand between September 2 and 10
Regarding the 4th AVC Women's Challenger in Indonesia, Mr Raditia Rahmat Darwis informed the meeting that two competition venues will be used in the competition. However, he confessed that the main venue is ready for use, while the second venue is not in good condition due to the insufficiency of air-conditions. He promised that the organisers will try their best in making the two venues the similar conditions within March.
The meeting also mentioned the other events in each zone including 6 events in the Central Zone, 2 in Western Zone and 5 in Southeastern Zone.
QUICK LINKS
AVC Website: click www.asianvolleyball.net
AVC Facebook: click www.Facebook.com/AsianVolleyballConfederation
AVC Twitter: click: www.twitter.com/AsianVolleyball
AVC Instagram: click: https://www.instagram.com/avcvolley/?hl=en
AVC Youtube: click: Asian Volleyball Confederation
AVC WeChat: Asian Volleyball Confederation