Bangkok, Thailand, May 31, 2023 – The AVC VIS Instructor Course is now underway at the FIVB Development Center in Bangkok, with a total of 23 candidates attending the five-day course aimed at encouraging/motivating them to get knowledge of the innovative AVC E–Scoresheet and VIS Program.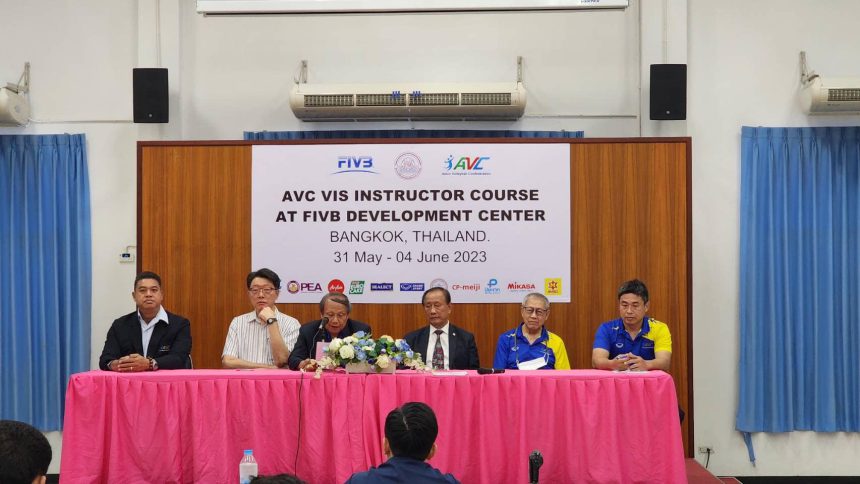 The training course is being held between May 31 and June 4, with three AVC VIS Master Instructors, Mr Pavarit Dairinram from Thailand, Mr Lee Jiawei from Chinese Taipei and Ms Pawna Srithoop from Thailand introducing VIS operational system principles, technical system aspects as well as providing a detailed overview of VIS operations.
The 23 attendees including 3 females from 15 federations consisting of China, Hong Kong China, Iran, Korea, Kazakhstan, Malaysia, Philippines, Indonesia, Thailand, Mongolia, Saudi Arabia, Macao, Vietnam, Singapore and Australia will also have the opportunity to obtain knowledge, understanding and skill in analyzing the new-applied AVC Volleyball Information System (VIS).
The opening ceremony was held on Wednesday at the FIVB Development Center Thailand, with Mr Shanrit Wongprasert, Honorary Life Vice President and Executive Director of Asian Volleyball Confederation (AVC), and Thailand Volleyball Association President Mr Somporn Chaibangyang jointly presiding.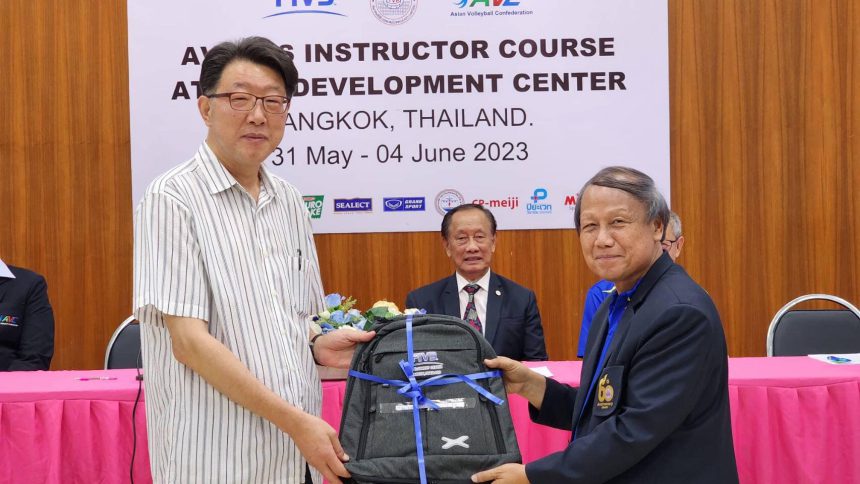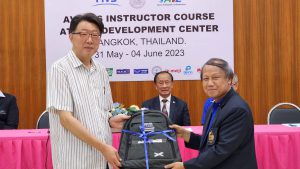 Also in attendance were Dr Eom Han Joo from Korea, Chairman of the AVC Sports Events Council, AVC Secretary General Mr Kiattipong Radchatagriengkai, AVC General Manger Dr Rueangsak Siriphol, Mr Issara Riddhisinha, General Manager of the FIVB Development Center Thailand, and AVC Development Coordinator Ms Mingkwan Pusiddusid.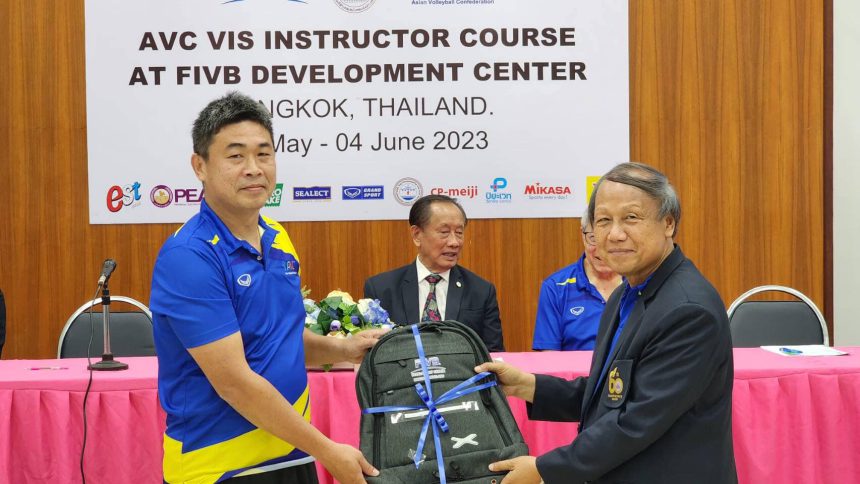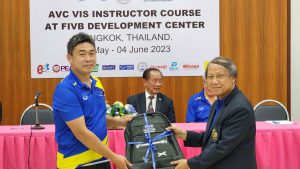 TVA President Mr Somporn welcomed all participants, citing that it will be a good opportunity for all of them to learn volleyball knowledge and exchange valuable experience among them.
"On behalf of Thailand Volleyball Association, I would like to extend my sincere appreciation to all the honorable guests for joining us at the opening ceremony of the AVC VIS Instructor Course. It is my great pleasure and honor to have chance to welcome all participants to Bangkok, Thailand. The working staff at FIVB Development Center, TVA and Sports Office of Ramkhamhaeng University will help you provide a better experience for serving all of you during your stay with us until the end of the course," Mr Somporn was quoted as saying in his speech.
"It is a very good opportunity for all attendants to learn and exchange the volleyball experience with each other. I sincerely wish all participants the best success in this course. I strongly believe that your knowledge acquired from this course will be a valued asset for the sustainable development and promotion of volleyball in your country. Last but not least, I would like to extend my sincere gratitude to Dr Eom Han Joo, Chairman of the AVC Sports Events Council, and all instructors for your great effort and contribution to conduct this useful course. I wish all attendants a very pleasant stay in Bangkok and the best result in the course. Let me take this auspicious occasion to officially declare the AVC VIS Instructor Course open."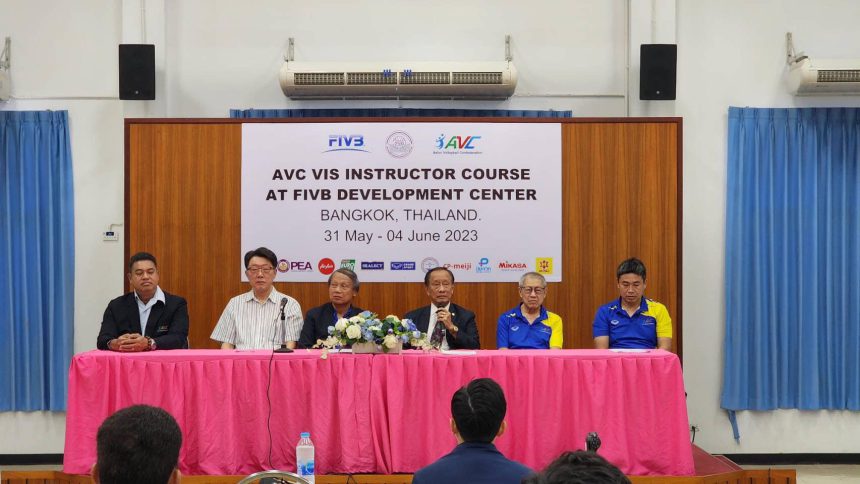 AVC Executive Director Mr Shanrit, on behalf of AVC President Mrs Rita Subowo, welcomed all participants, wishing them to bring the knowledge acquired from the course for future use in AVC competitions.
"I would like to say that I'm very happy to see all participants here, most of you have a wealth of volleyball experience with long-standing collaboration with AVC. I wish all of you a great success. I strongly believe that you will do your best here and achieve success. Furthermore, I also hope that all of you will bring the knowledge and valuable experience acquired from this course to apply for use in future AVC competitions for the continued growth and progress of volleyball in your country."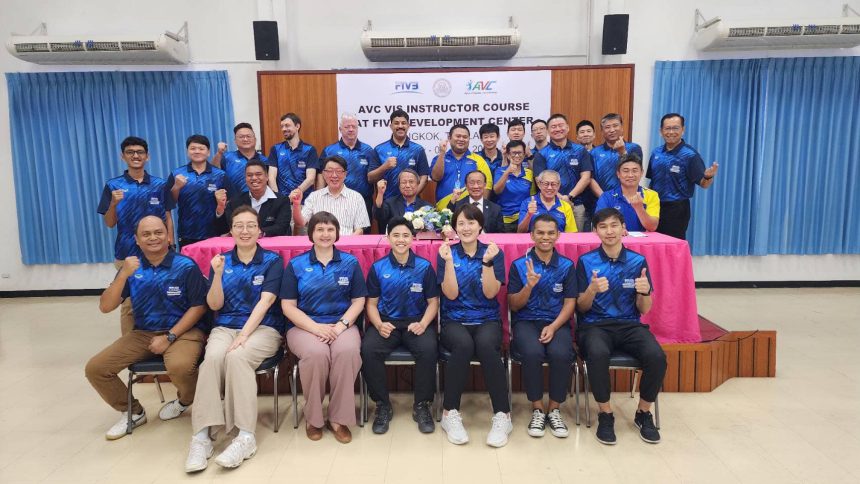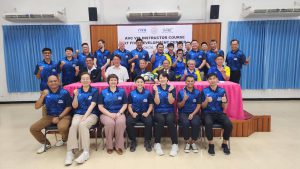 QUICK LINKS
AVC Website: click www.asianvolleyball.net
AVC Facebook: click www.Facebook.com/AsianVolleyballConfederation
AVC Twitter: click: www.twitter.com/AsianVolleyball
AVC Instagram: click: https://www.instagram.com/avcvolley/?hl=en
AVC Youtube: click: Asian Volleyball Confederation
AVC WeChat: Asian Volleyball Confederation