Main Draw action gets underway on November 8
Roi Et, Thailand, November 7, 2023 – The 2023 FIVB Beach Volleyball U21 World Championships kicked off with fantastic opening ceremony in front of the picturesque Roi Et Tower here on Tuesday, as all Asian qualifiers fell short of the qualification tournament to miss the cut for the 32-team Main Draw.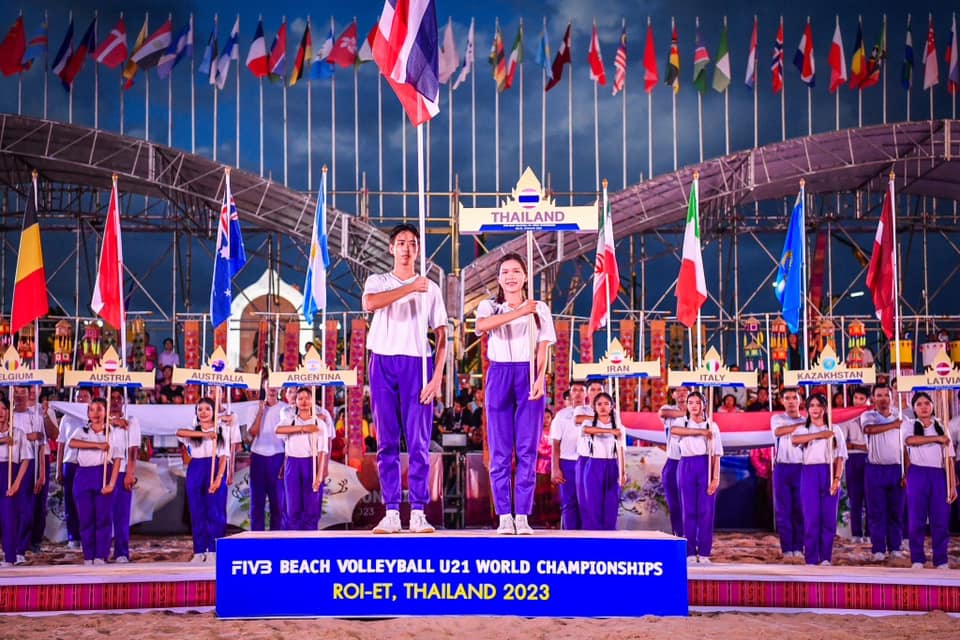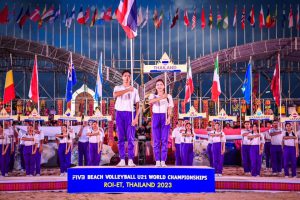 The official draws for 32 qualified teams in the 2023 FIVB Beach Volleyball U21 World Championships were unfolded on Tuesday https://en.volleyballworld.com/beachvolleyball/competitions/u21-world-championships-2023/schedule/, ready for the electrifying encounters at four competition venues in front of Roi Et Tower and adjacent areas at Bueng Planchai here the following day.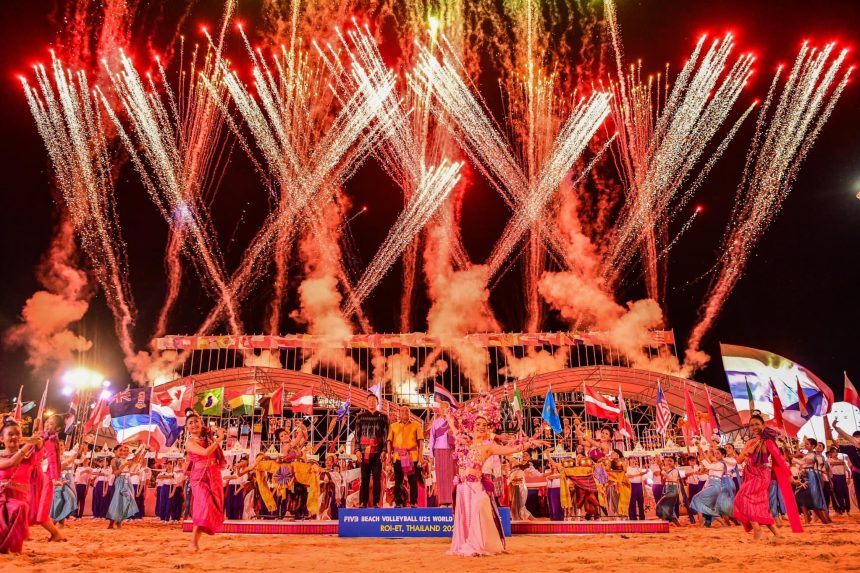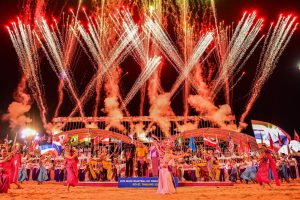 The 19th edition of the Championships, the third consecutive time to take place in Thailand after the volleyball-loving nation welcomed the world's rising stars to Udon Thani in 2019 and Phuket in 2021, is being held from November 8 to 12 in Roi Et, a northeastern province with an approximate distance of 425 kilometers from capital city Bangkok.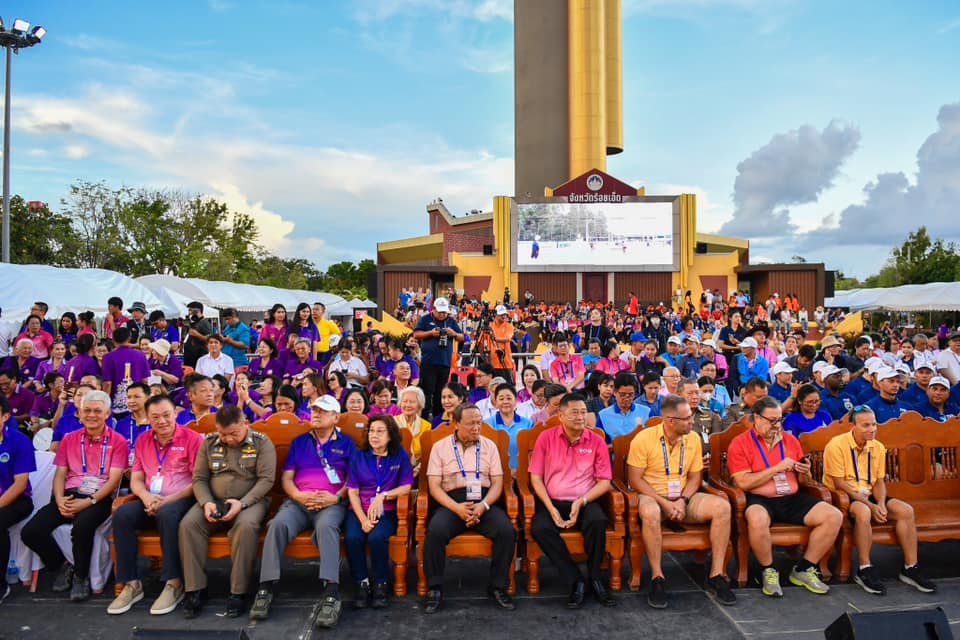 The qualification tournament in a single elimination format was held on a hot Tuesday when the highest temperature soared to 32 degrees Celsius. Teams played their best but only the best four teams apiece in men's and women's events had accomplished to qualify for the Wednesday's Main Draw.
In the women's qualification, Australians Elizabeth Alchin/Kayla Mears, bronze medallists at Beach World Tour Futures 2023 Qidong in China and fourth place at the Beach World Tour Futures 2023 Seoul in Korea, received a first-round bye but went down to Austrians Rabitsch Mag/Trailovic 2-1 (21-19, 17-21, 8-15) later in the second round.
Kazakhs Dariya Tlevlessova/Mariya Peressetskaya first defeated Hong Kong, China's Halimah Zampaligre/Ng Ki Wing 2-1 (21-14, 8-21, 15-10), but found Zsofi Vasvari/Stefania Flora Kun too strong in the second round to go down to the Hungarians in easy match 0-2 (10-21, 15-21), while Singaporeans Ang Hui Ying/Lim Hazel succumbed to 0-2 (6-21, 8-21) defeat at the hands of Germans Elea Beutel/Clara Dreben.
In the men's qualification, Australians Mitchell Craft/Harley Sinclair lost 1-2 (11-21, 21-17, 10-15) in the first round to Canadians Brandon Burnside/Reed Venning, while Hong Kong, China's Chiu Ho Chi/Lee Cheuk Hei crashed out from the competition following their 0-2 (13-21, 9-21) loss to Latvians Toms Liepa/Ernests Puskundzis in the first round.
The other two Asian teams saw Malaysians Wei Chun Ler/Kai Xu Looi go down to Domonkos Doczi/Csanad Franyo of Hungary 0-2 (12-21, 14-21) in the first round and Singaporeans Fernando Rehan Tharusha/Sasikumar Ranjiv suffer an early exit after 0-2 (10-21, 21-23) loss to Ukranians Vitalii Savvin/Anton Moiseiev also in the first round.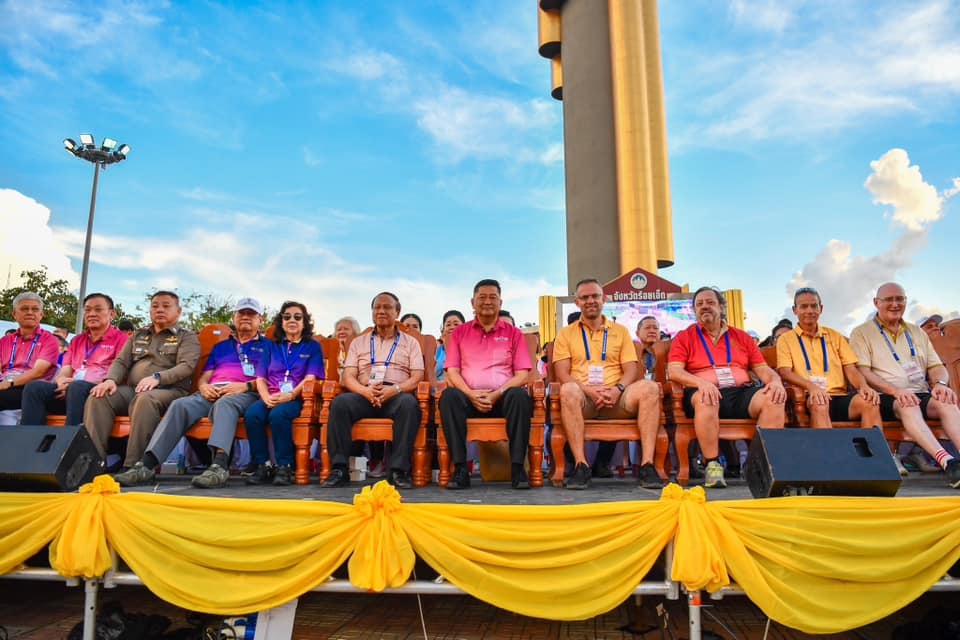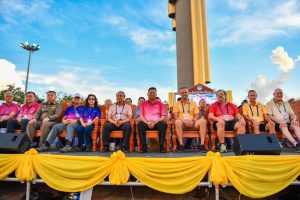 At the end of all qualifying matches on Tuesday, the opening ceremony was held at the main court in front of Roi Et Tower, with Roi Et Governor Mr Songpol Jai-krim and Mr Somporn Chaibangyang, President of Thailand Volleyball Association, jointly presiding.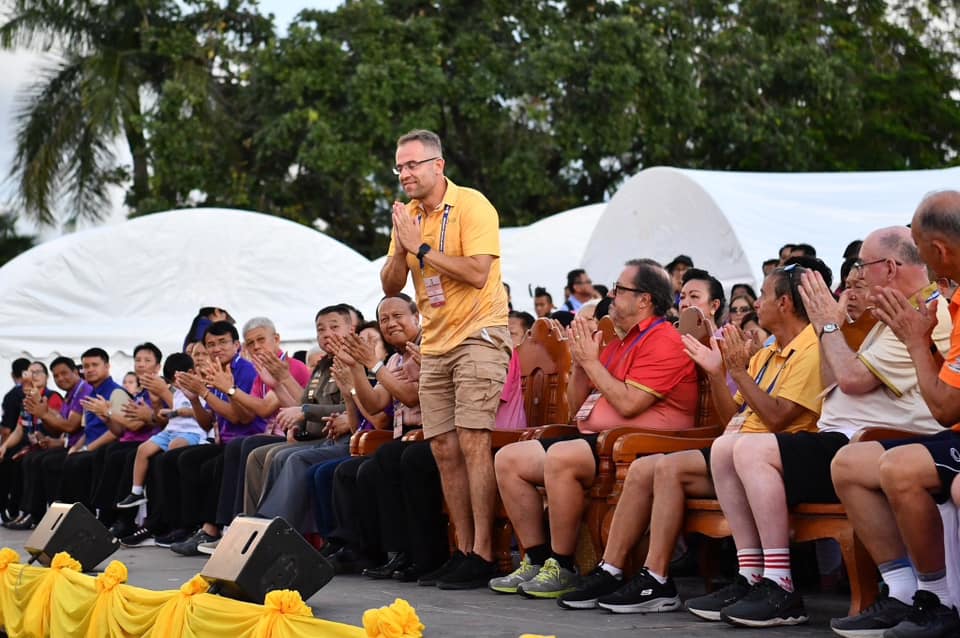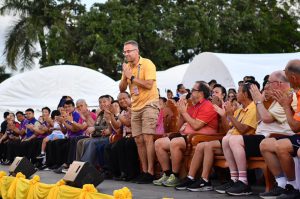 Also in attendance as guests of honor included Mr Seksit Vainiyompong, President of Roi Et Provincial Administrative Organization, Mayor of Roi Et Mr Banjong Kositjiranan, Mr Oguz Degirmenci from Turkey, Technical Delegate of the 2023 FIVB Beach Volleyball U21 World Championships, and three FIVB Instructors conducting the ongoing FIVB Beach Volleyball Referee Course in the host city comprising Mr Jose Casanova from Portugal, Mr Alexander James Steel from Scotland and Mr Andre Trottier from Canada. A large number of Roi Et residents also assembled in the main court and the adjacent Bueng Planchai to witness the opening ceremony.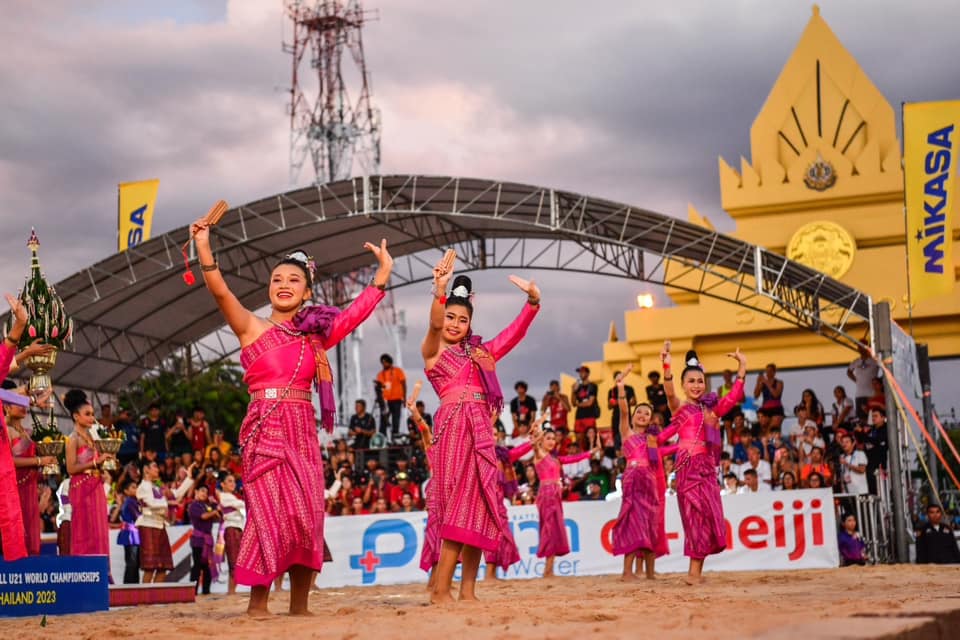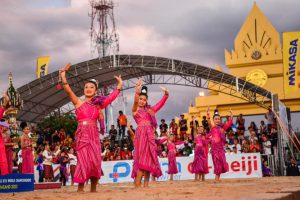 After the traditional dance show reflecting good hospitality to all visitors, flag bearers representing 46 participating countries paraded in.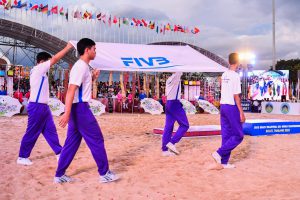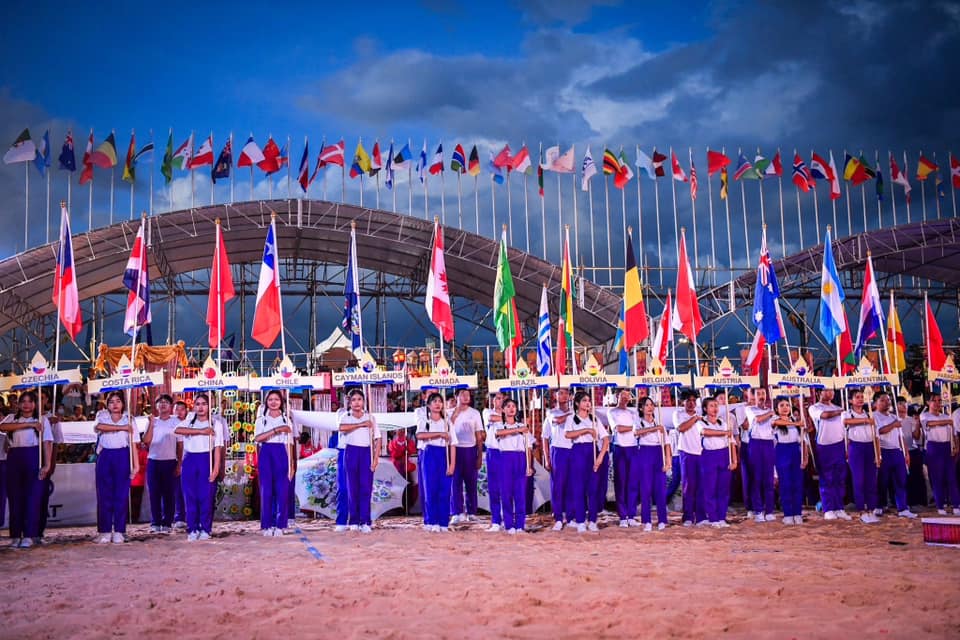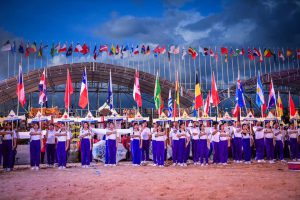 Mr Banjong reported and Roi Et Governor Mr Songpol delivered a welcome speech.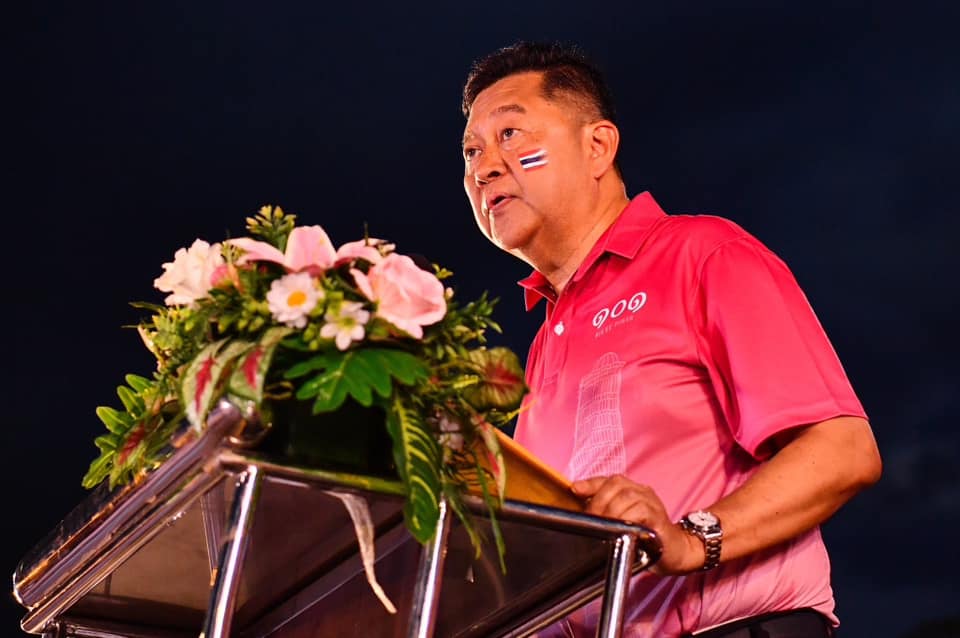 In his speech, Mr Songpol extended his sincere thanks to FIVB and TVA to entrust hosting the topflight championships to Roi Et.
"On behalf of all Roi Et residents, I would like to thank FIVB and TVA as we've been entrusted with hosting the 2023 FIVB Beach Volleyball U21 World Championships. I also take this good opportunity to praise excellent cooperation between Roi Et Provincial Administrative Organization and Roi Et Municipality to help build world-standard competition courts which can amazingly serve for the U21 World Championships. I'm convinced this can help bring good image to our province. As hosts, we have to impress all visitors with best hospitality and friendly smiles. Last but not least, I wish the FIVB Beach Volleyball U21 World Championships a memorable success and all participating teams the very best of luck," Songpol said.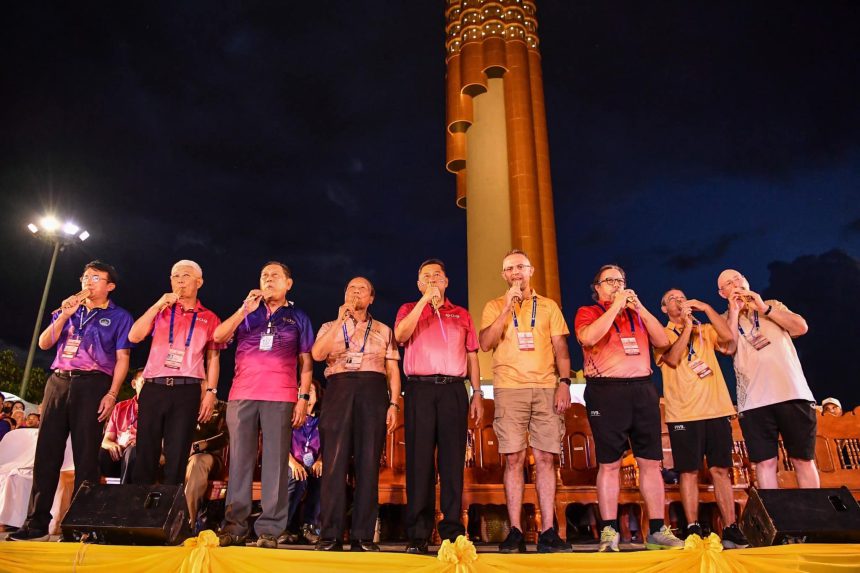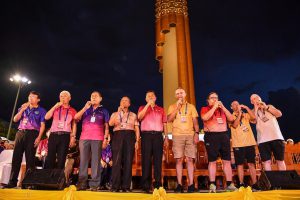 After that, distinguished guests simultaneously blew small panpipes, traditional musical instrument as symbol of Roi Et Province, in their hands to mark the official opening of the FIVB Beach Volleyball U21 World Championships.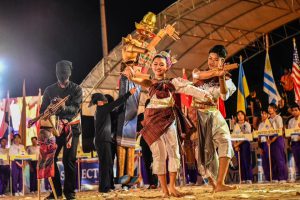 Another traditional dance was impressively performed, followed by a spectacular fireworks display in front of the Roi Et Tower.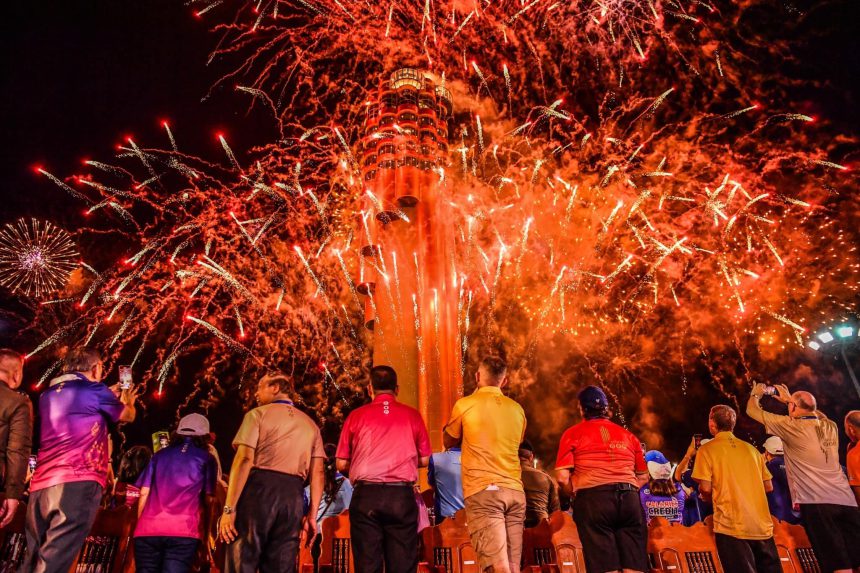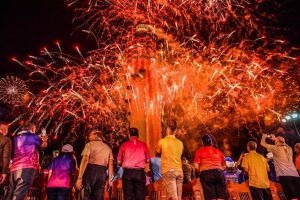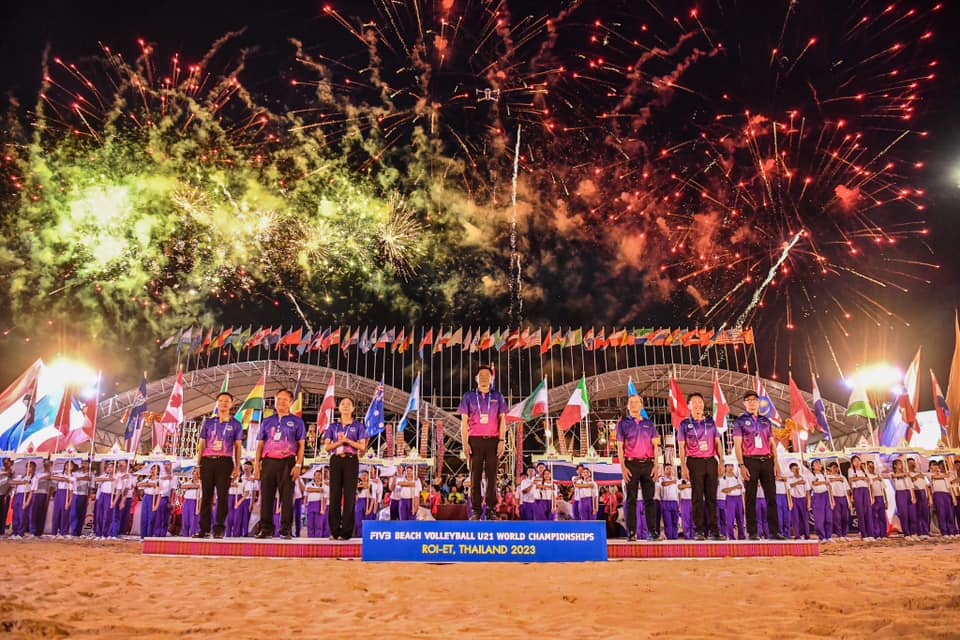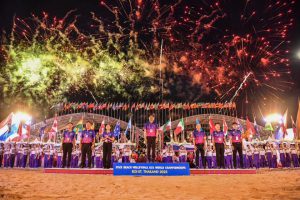 Meanwhile, strong teams have secured their places in the Main Draw after winning in the qualification tournament on Tuesday.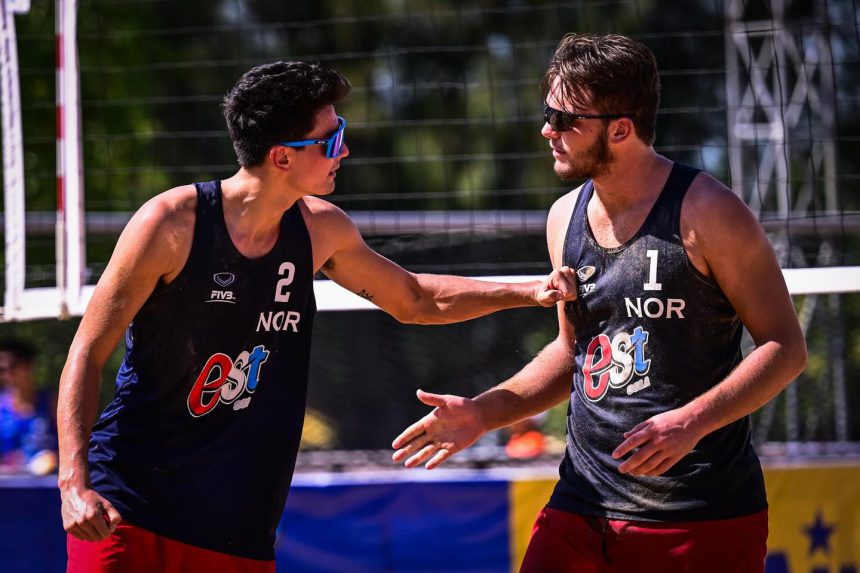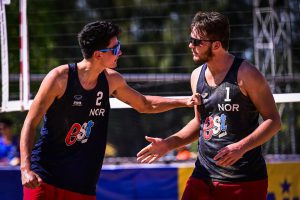 In the men's event, Germans Tomo Wust/Tristan Frobel brushed off Hungarians Domonkos Doczi/Csanad Franyo 2-0 (21-13, 21-16), Latvians Toms Leipa/Ernests Puskundzis beat USA's Ayden Keeter/Carson Barnes 2-1 (21-18, 19-21, 15-6), Ukraine's Vitalii Savvin/Anton Moiseiev trounced Norway's Adrian Mol/Gladsoy Jo Sunde 2-0 (21-18, 21-19) and Brazilians Barbosa da Silva Eduardo Henrique/Farias Barbosa Isac Adolfo crushed Canadians Brandon Burnside/Reed Venning 2-0 (21-11, 21-15).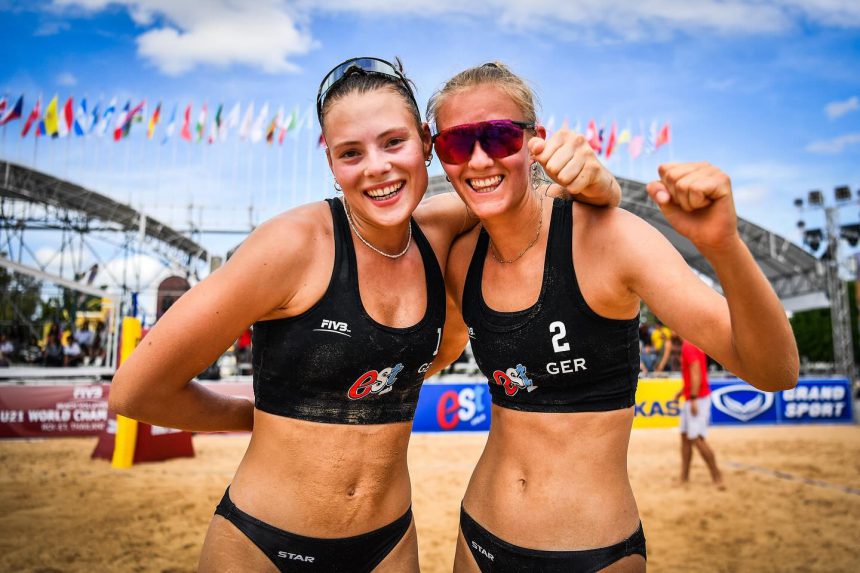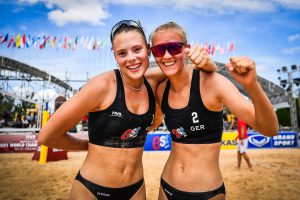 Advancing in the women's competition were Austrians Magdalena Rabitsch/Anja Trailovic, who downed Italy's Margherita Tega/Aurora Mattavelli 21-10, 12-21, 15-11, while Czech Republic's Pavelkova twins Anna and Katerina overwhelmed Latvians Amanda Regute/Marta Vildere 21-14, 21-14 and Elea Beutel/Clara Dreben pulled off 2-1 (21-17, 18-21, 15-13) win against Sophia Neub/Mareet Maidhof in the all-Germans battle. Finland's Sara Sinisalo/Anniina Muukka narrowly beat Zsofi Vasvari/Stefania Flora Kun 2-0 (22-20, 21-19) but both sides made the cut for the Main Draw due to their multiple victories in the qualification.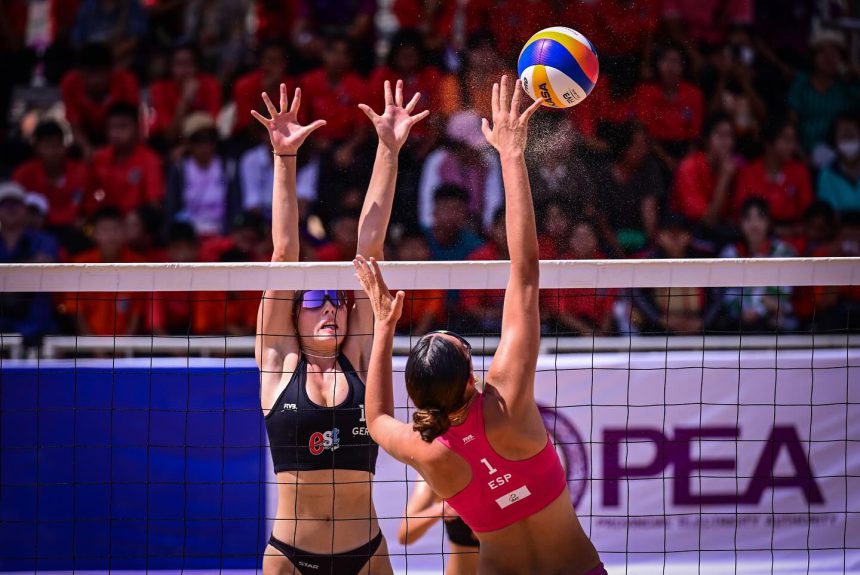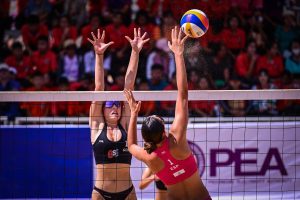 With the completion of the Tuesday's qualification, qualified teams filled vacancies in the Main Draw, commencing on Wednesday, November 8.
In the Main Draw, teams were drawn into eight pools of four teams each to contest pool round-robin matches, which only best three-ranked teams in each pool (totalling 24 teams) will next make the cut of the next phase of the competition. The semifinals, bronze and gold medal matches will take place on November 12, the last day of the double-gender championships.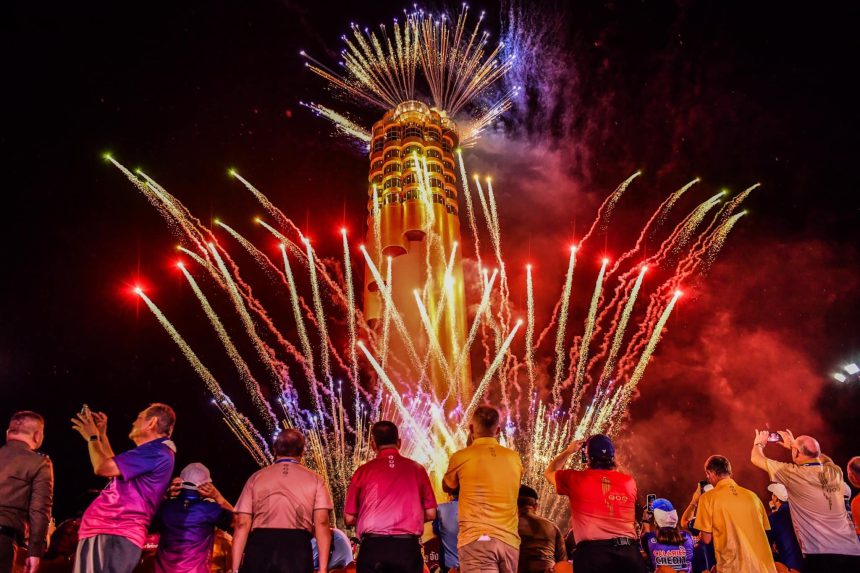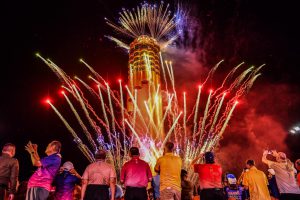 QUICK LINKS
AVC Website: click www.asianvolleyball.net
AVC Facebook: click www.Facebook.com/AsianVolleyballConfederation
AVC Twitter: click: www.twitter.com/AsianVolleyball
AVC Instagram: click: https://www.instagram.com/avcvolley/?hl=en
AVC Youtube: click: Asian Volleyball Confederation
AVC WeChat: Asian Volleyball Confederation