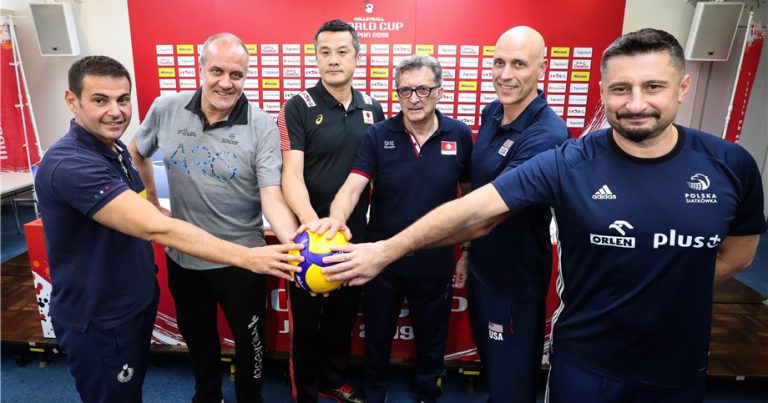 Fukuoka and Nagano, Japan, September 30, 2019 – The FIVB Volleyball Men's World Cup from October 1-15 features an exciting mix of youth and experience as the 12 participating teams prepare for the 2019 edition.
In press conferences held in the cities of Fukuoka and Nagano, the team coaches shared information on how their teams had prepared for the quadrennial event in Japan, as well as their goals for the Continental Olympic Qualification Tournament and the Tokyo 2020 Olympics.
Teams in Fukuoka
In Fukuoka, Japan will host Argentina, Italy, Poland, Tunisia and the defending champions United States from October 1-6, before heading to Hiroshima for their remaining matches.
Argentina coach Marcelo Mendez: "In 2007 I came to Japan for the World Cup as the head coach of Spain. We have many young players and want to develop our team for the Tokyo 2020 Olympics. We want to give them experience for the development of our new team."
Italy coach Gianlorenzo Blengini: "We just came from competing at the European Championship. We have many young players who we want to give experience to of international competitions with strong countries at a high level.
"We want to develop them for the Olympic Games and make the composition of the team stronger. They will be getting a different experience here compared to the usual matches Italy play. I want the young players to experience playing alongside the likes of Massimo Colaci and Simone Giannelli in an event like this."
Japan coach Yuichi Nakagaichi: "I participated in the World Cup as a player 30 years ago. Now I am the head coach and I never imagined this would happen. We just finished the Asian Championship one week ago. Most of our work since has been on conditioning.
"We will be competing here against teams vying for Tokyo 2020 that play solidly. On our side, the team has improved since I became the coach. The players are excited about this tournament. We hope to produce results."
Poland assistant coach Jakub Bednaruk: "We will have 20 different players here. We will start and end the competition with a different team. We will begin with the young stars who will comprise how the national team will look for the next two to three years. We are here to have fun, play good volleyball and win."
Tunisia coach Antonio Giaccobe: "The World Cup is an important tournament for us. This is an international competition which has very strong teams. We are going to give our full potential and help develop the team."
USA coach John Speraw: "We are excited to be here to play all of these great teams. Our team is similar to 2015 when we won the World Cup. Most of the players are four years older now. We have Micah Christenson, Erik Shoji and Matt Anderson. We will put new players on the court during the tournament and see how this team competes. It is not good to play with an older team for many games in a long tournament."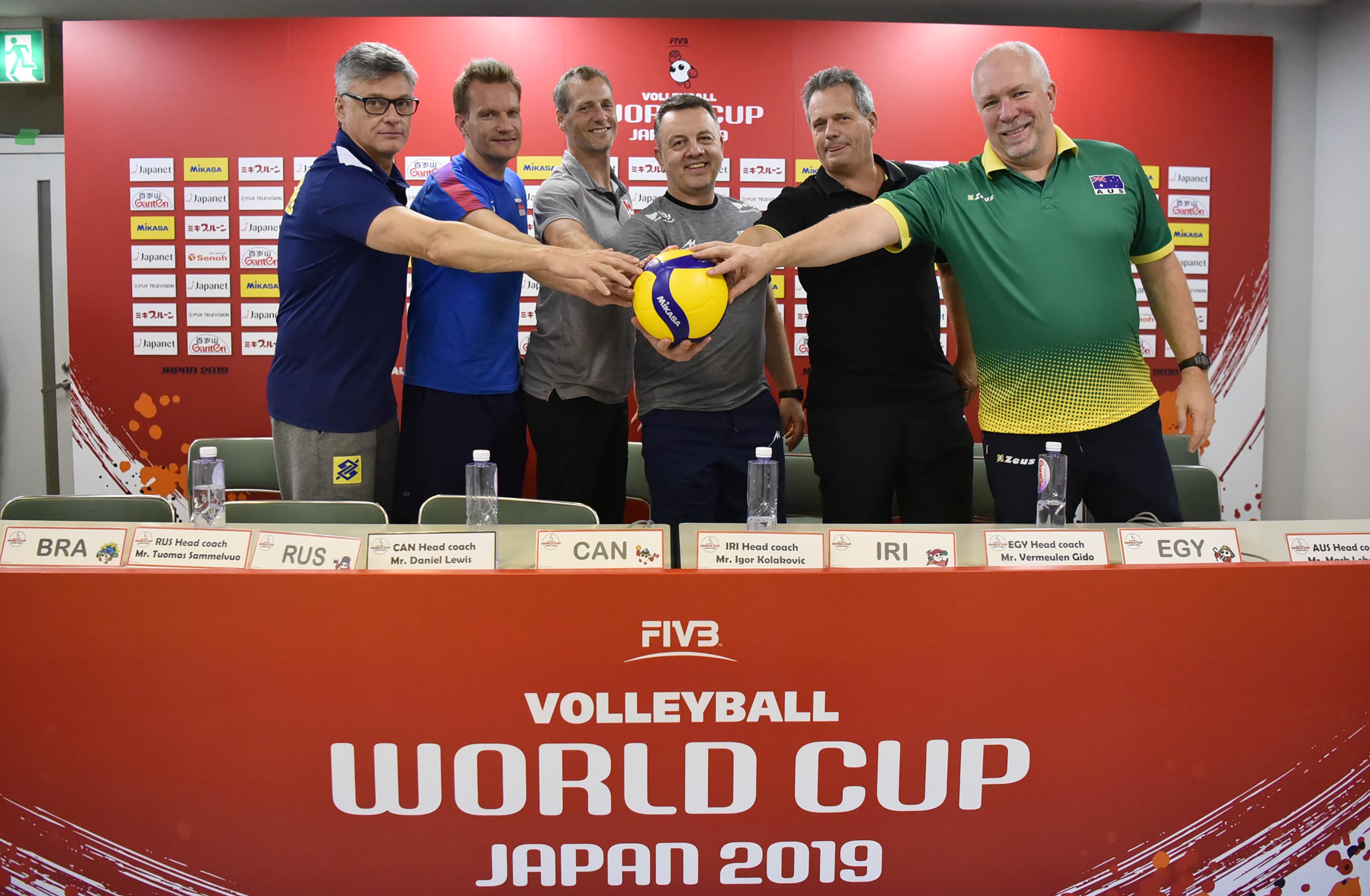 Teams in Nagano
Two Tokyo 2020-qualified teams – Rio 2016 Olympic gold medallists Brazil and two-time Volleyball Nations League champions Russia – will be facing Canada, Egypt, Iran and Australia in Nagano.
Brazil coach Renan Dal Zotto: "The World Cup is a very important tournament in the international volleyball calendar. For sure it will be difficult to play with 12 strong teams here. The volleyball of today is highly globalised. The volleyball quality of Brazil is characterised by finding the best balance of all the fundamentals – service, block, reception and attack. Our greatest objective is to attain that equilibrium of all the fundamentals. In our aim for important results, we must work hard paying attention to all those aspects of the game."
Russia coach Tuomas Sammelvuo: "It's great to be here, and to see all our colleagues and volleyball friends. We are very honoured that we are already qualified for the Olympic Games and this is an important tournament. We want to see all the players, all the candidates before the Olympics here.
"We have brought here an almost completely new group that hasn't been together before. Hopefully we can add some new players on the list and fight for the podium places next year. Of course this tournament is very special, with many games in a long tournament. The results will always be important but maybe this time, we don't have that huge pressure to win. But of course, with the players, when we enter the court, we want to win every point. It's just very exciting to start playing tomorrow and to see what we can do."
Canada coach Daniel Lewis: "For us, we failed to qualify in the Olympic qualifiers so it's obviously disappointing. Nonetheless, the mission is to qualify in January. We may have the privilege of hosting that event so that's going to be a bonus for us. In terms of preparation, we have some new players here and they'll be playing to be exposed to these types of situations. It'll be really good for them. We have to be careful because we don't have the depth that all the other teams might necessarily have. We have to possibly manage the amount of time that these guys play because of the quantity of matches here. In order to best prepare for January, we individually manage the guys to their full capacities as well as maybe some expectations. That'll be interesting because you want to try and do your best all the time."
Iran coach Igor Kolakovic: "It's a pleasure to be here in a big tournament such as the World Cup. This is the end of the season of the national teams so it's difficult because we have to play 11 matches in 15 days. It's not easy to prepare for this tournament. We didn't have much time for preparation. But for us, this tournament is important because we need international experience. Most of the players don't get to play outside of Iran, and see the qualities that they need to play against the other kinds of volleyball and sports culture."
Egypt coach Gido Vermeulen: "We are very happy to be here with the Egypt team, because for us, this a very good international challenge. Since the World League, we don't have a lot of international games anymore as Egypt. It's very good for us to be here and to play against all the other countries in the world. This year, we've had the African Championship and African Nations. We played a lot in Africa and we didn't have the opportunity to play our international volleyball. So the World Cup for us is a very good standard to see where we are and what we can do.
"We are always happy to be in Japan because the organisation of the tournament is amazing and very good. We will be very happy in these two weeks because we know it will be an amazing tournament by an amazing organisation."
Australia coach Mark Lebedew: "On a personal level, I'm really excited to be here in this tournament. My father visited this tournament in 1977 and 1981. So in my house, when I was young, I grew up with the stories and the logo all around my house. It's just great to be in this tournament so for that I'm very happy.
"For my national team, we'll have the qualification in January. It's a very big event for us. Unlike everybody, we are a team without big stars. The most important part of our game is how we play together; the strength of the team, the group, the organisation of the team. So every time we have a chance to play together in any kind of match and especially against such great opponents that we find here, it's an opportunity for us to improve that part of our skills and our performance. That'll be very important when we play the really big matches in January."
Related links of AVC
AVC Website: click www.asianvolleyball.net
AVC Facebook: click www.Facebook.com/AsianVolleyballConfederation
AVC Twitter: click: https://twitter.com/avcvolley
AVC Instagram: click: https://www.instagram.com/avcvolley/?hl=en
AVC Youtube: click: Asian Volleyball Confederation
AVC WeChat: Asian Volleyball Confederation