Van de Velde & Immers of Netherlands also celebrate their first trophy on the Tour as a team
Agatha is back on top of the podium! 40-year-old Brazilian star Agatha Bednarczuk claimed her first Volleyball World Beach Pro Tour gold medal. The 2015 world champion and 2016 Olympic silver medallist, who took a baby break after the end of 2021, when she was on top of the FIVB World Ranking (with Eduarda Santos Lisboa – Duda), and skipped the Tour's inaugural 2022 season, claimed the trophy at the Chiang Mai Challenge in Thailand less than six months after her return to international competition. It was the first Beach Pro Tour gold for her current partner Rebecca Cavalcanti as well. Finland's Taru Lahti-Liukkonen & Niina Ahtiainen and Canada's Sarah Pavan & Molly McBain completed the women's podium.
In the men's tournament, Steven van de Velde & Matthew Immers of the Netherlands also won their first Beach Pro Tour gold. Poland's Piotr Kantor & Jakub Zdybek took the silver and the bronze went to Chase Budinger & Miles Evans of the United States.
· Watch Chiang Mai Challenge replays on VBTV.
Agatha & Rebecca mastered an immaculate campaign in Chiang Mai. Seeded second in the women's main draw, they went through the tournament on a six-game winning run without dropping a single set along the way, celebrating their first Beach Pro Tour gold and second overall podium, after the Espinho Challenge bronze in July. In one of Sunday's semifinals, the Brazilians achieved a 2-0 (21-16, 22-20) win over another former world champion, Sarah Pavan, and her current teammate Molley McBain. In the final showdown, Agatha & Rebecca hammered out a 2-0 (21-17, 21-16) shutout of Taru Lahti-Liukkonen & Niina Ahtiainen on an 18-point match high from Agatha, including five kill blocks.
Agatha/Rebecca vs. Ahtiainen/Lahti – Gold Match Highlights | Chiang Mai 2023 #BeachProTour
Seventh-seeded Lahti & Ahtiainen added the third podium to their Beach Pro Tour collection, after the gold medals at the 2022 Maldives Challenge and the 2023 Helsinki Futures. They had a tough campaign in Chiang Mai as their journey to the final consisted of five consecutive tie-breaker matches. They lost their opener to Japan's Akiko Hasegawa & Miki Ishii, but then produced a four-game winning streak crowned by a hard-fought 2-1 (21-19, 20-22, 15-13) semifinal victory over 16th-seeded Dong Jie & Wang Fan of China. In this epic battle, Wang delivered six kill blocks and tree aces towards a match-high 30 points, while Ahtiainen led the Finns with 24 points, including two aces.
The bronze medal was also decided in a three-set game. Fourth-seeded Pavan & McBain mounted a 2-1 (15-21, 21-16, 15-9) comeback victory over Dong & Wang to celebrate their first Beach Pro Tour podium as a pair. Pavan was the best scorer of the match with 29 points, including three blocks and an ace.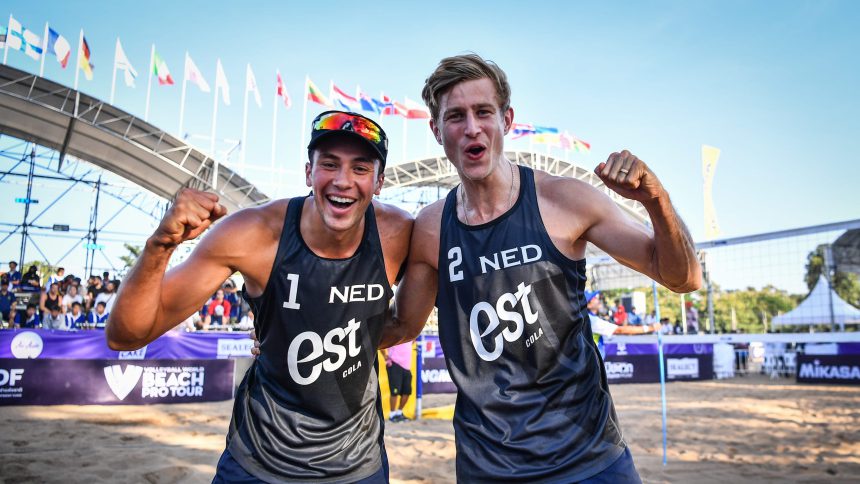 Steven van de Velde & Matthew Immers, who have been playing together since the start of the season, claimed their first medal on the Tour after a streak of six wins in a row in Thailand. The fourth-seeded Dutchmen lost only a set along the way, to Canada's Daniel Dearing & Samuel Schachter in the eighthfinals. On Sunday, they started with a hard-fought 2-0 (21-19, 23-21) semifinal victory over Chase Budinger & Miles Evans, with six kill blocks by Van de Velde, and crowned their campaign with a convincing 2-0 (21-16, 21-13) shutout of Piotr Kantor & Jakub Zdybek in the gold medal match. Immers and Van de Velde finished with 16 points each in the final game, while the latter's blocking impressed once again with five stuffs.
Kantor/Zdybek vs. Immers/van de Velde – Gold Match Highlights | Chiang Mai 2023 #BeachProTour
On the way to their first Beach Pro Tour medal, the seventh-seeded Poles went through the pool stage with a straight-set loss and a straight-set win and then reached the final the hard way, after four tie-breaker victories in a row. In an epic semifinal battle, Kantor & Zdybek came back from a set down against 19th-seeded Australian qualifiers Izac Carracher & Mark Nicolaidis to celebrate a 2-1 (23-25, 21-19, 15-13) win. Zdybel topped the scorers' chart of the match with 34 points, including two aces.
In another nail-biting three-set duel, third-seeded Budinger & Evans persevered through two overtime sets and dominated the tie-breaker to claim a 2-1 (27-25, 21-23, 15-9) bronze medal victory over Carracher & Nicolaidis. It was the third overall Beach Pro Tour medal for the American pair, and second consecutive, after they topped the podium at the Haikou Challenge two weeks earlier.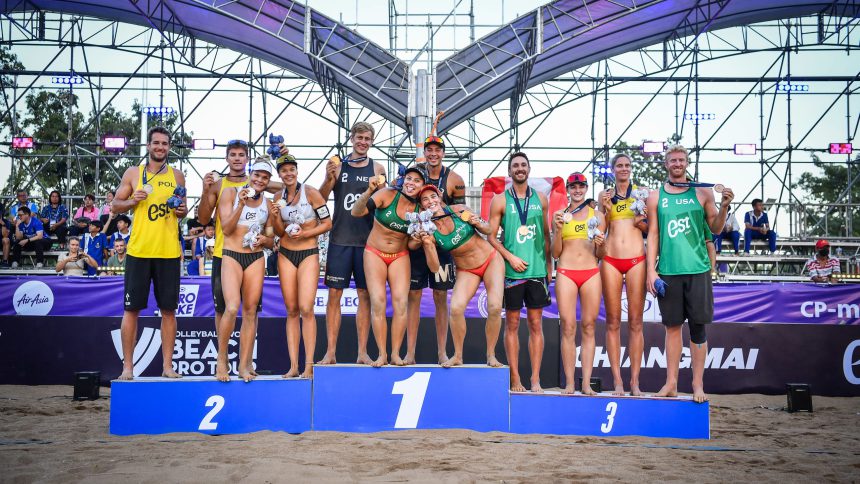 The Chiang Mai Challenge medallists
QUICK LINKS
AVC Website: click www.asianvolleyball.net
AVC Facebook: click www.Facebook.com/AsianVolleyballConfederation
AVC Twitter: click: www.twitter.com/AsianVolleyball
AVC Instagram: click: https://www.instagram.com/avcvolley/?hl=en
AVC Youtube: click: Asian Volleyball Confederation
AVC WeChat: Asian Volleyball Confederation