Ningbo, China, September 26, 2023 – Hosts China's Abuduhalikejiang/Wu Jiaxin cruised to the final showdown with an unbeaten record after nosing out Pourasgari/Aghajanighasabout of Iran while Qataris Ahmed Tijan/Cherif Younousse followed to join the gold-medal contest after eliminating Kazakhs Bogatu/Yakovlev in the semifinals of the 19th Asian Games Men's Beach Volleyball Competition on Tuesday at Xiangshan Beach Volleyball Center here.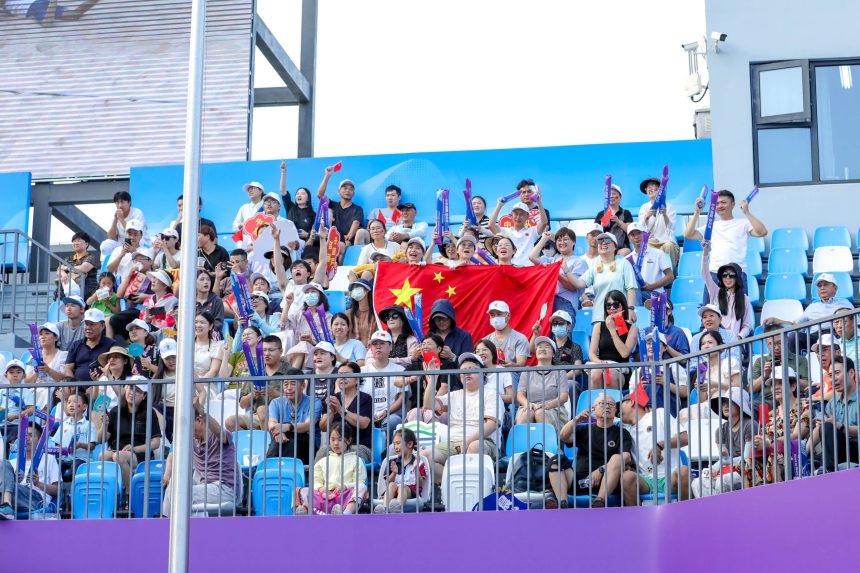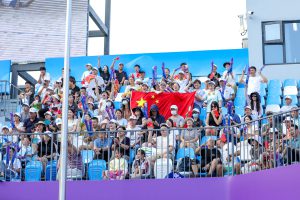 Cheered by over 2,000 spectators, China started the match solidly with a 2-0 lead in the first set. Iran showed no inferiority by responding with quick attacks. After 4-4 tie, Iran contentiously organized efficient counterattacks through their dogged defense and pulled the host away to a 10-6 lead. China requested a timeout and then gradually chased up to 15-17. Iran also asked for a timeout, but they could not extinguish Abuduhalikejiang's hot hand, as he emitted aces and smashed killing spikes successively.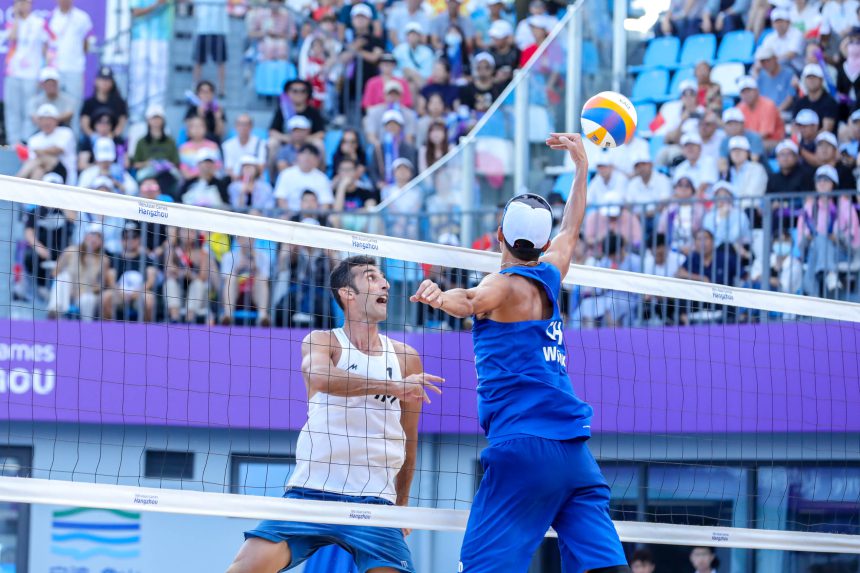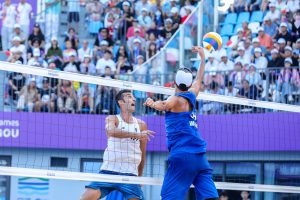 The score was evened again at 18-18. Both sides grasped opportunities of first attacks thereafter and the score increased alternatively to 24-24. Following another ace service by Abuduhalikejiang and an attacking error from Iran, China secured a hard-fought first-set 26-24 win.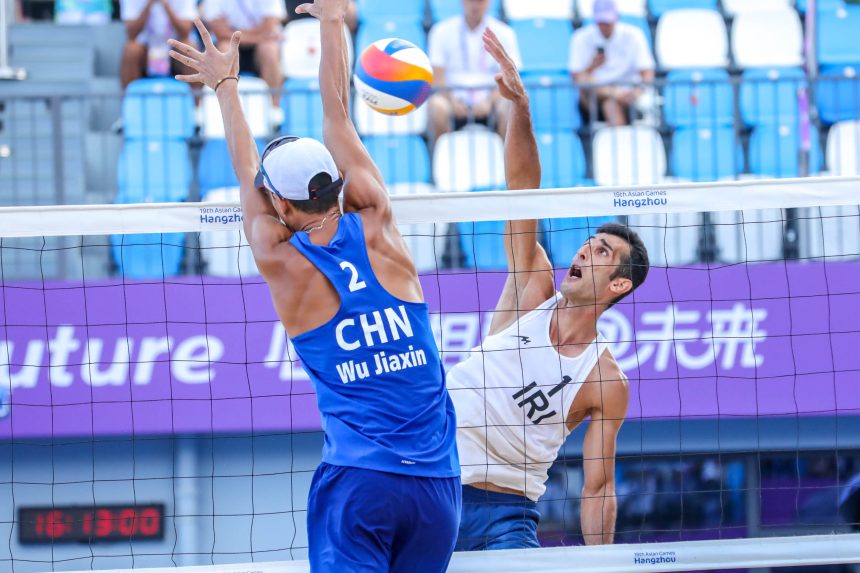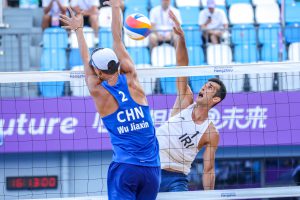 China kept the momentum and established a 6-3 lead in the second set. However, Iran showed their persistence and tailed after the hosts all the way. They even shortened the gap from 4-10 to 16-18 by the end of the set. China timely requested a timeout and after that, they scored two points in a row to reach the match point at 20-16. Abuduhalikejiang again produced an ace serve to conclude the set 21-16 and the match.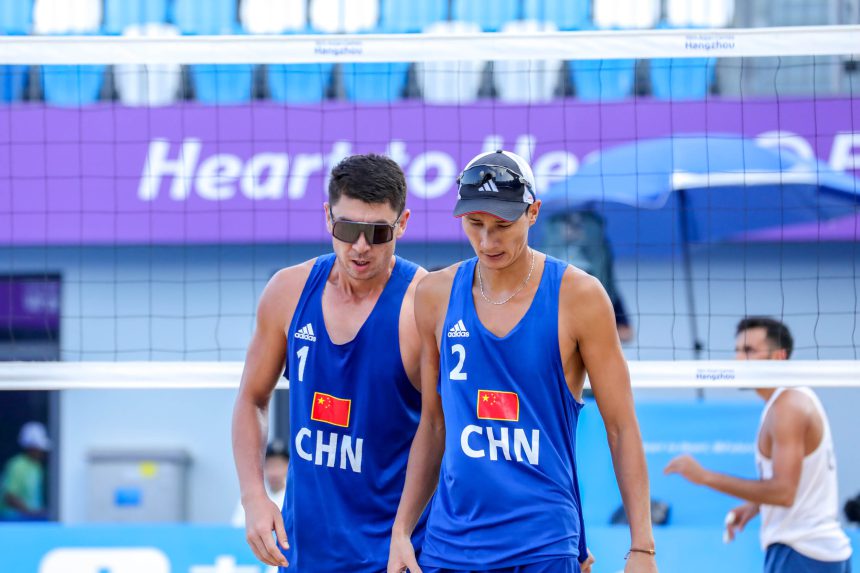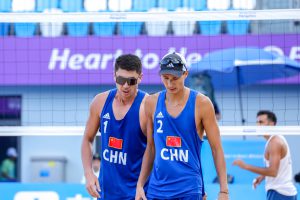 "It was a tough match. We were under big pressure as the hosts. Our supporters onsite and in front of TV all expected us to win. We do not want to let them down. So we played not so well under such pressure in the first set, but we encouraged each other to stick to the opponents and finally we won the first set," said Abuduhalikejiang of China. "I would like to thank my partner. He encouraged me after each rally. We played with more patience and we won the match."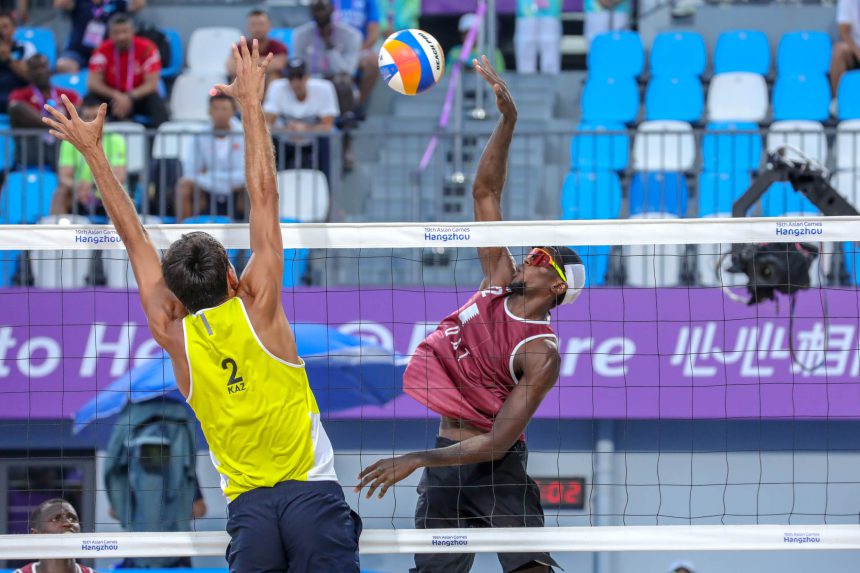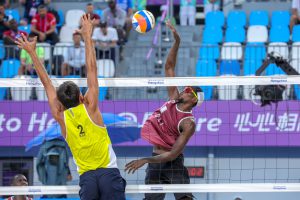 The second semifinal match was held between Bogatu/Yakovlev of Kazakhstan and defending champions Ahmed/Cherif of Qatar, current world No3 and bronze medallists at the Tokyo 2020.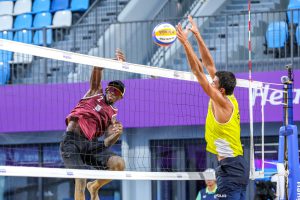 After a comfortable 21-9 win in the first set, Qatar encountered crazy counterattacks from Kazakhstan in the second set. They were clung by the recalcitrant opponents from the beginning to 19-19 tie. At the crucial moment, Qatar intensified their defense with a clean block and a resolute counterattack, and surged away to narrowly win the second set 21-19.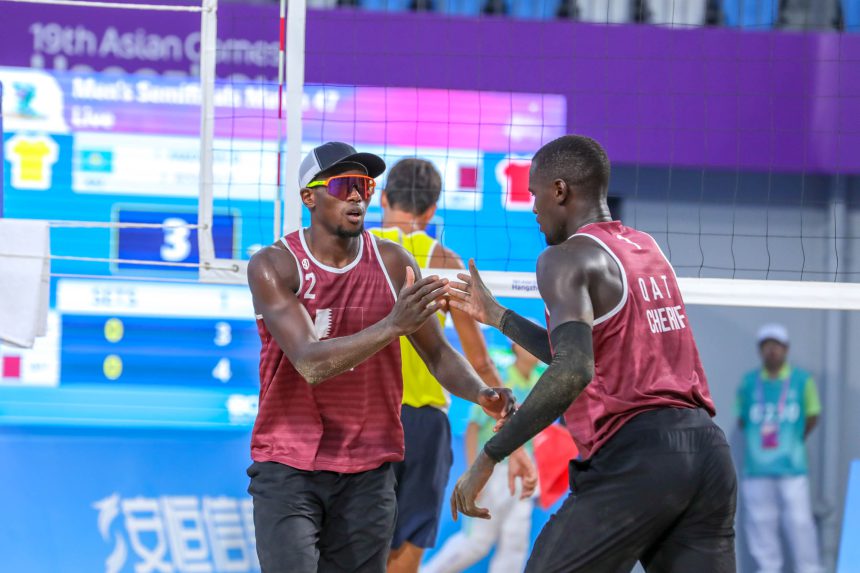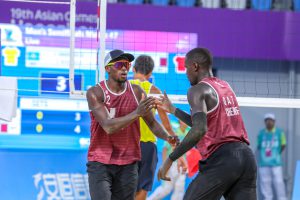 "It's amazing feeling to be in the final again. In the first set, we controlled everything quite well. In the second set, they pushed a little bit harder. But in the end we broke them," said Ahmed of Qatar. "Of course, we will try our best to win the gold. But our biggest purpose is to improve ourselves in techniques and in mind."
The finals will be held Thursday afternoon, seeing hosts Abuduhalikejiang/Wu take on Ahmed/Cherif of Qatar for gold medal and Pourasgari/Aghajanighasab of Iran fight it out with Bogatu/Yakovlev of Kazakhstan for bronze medal.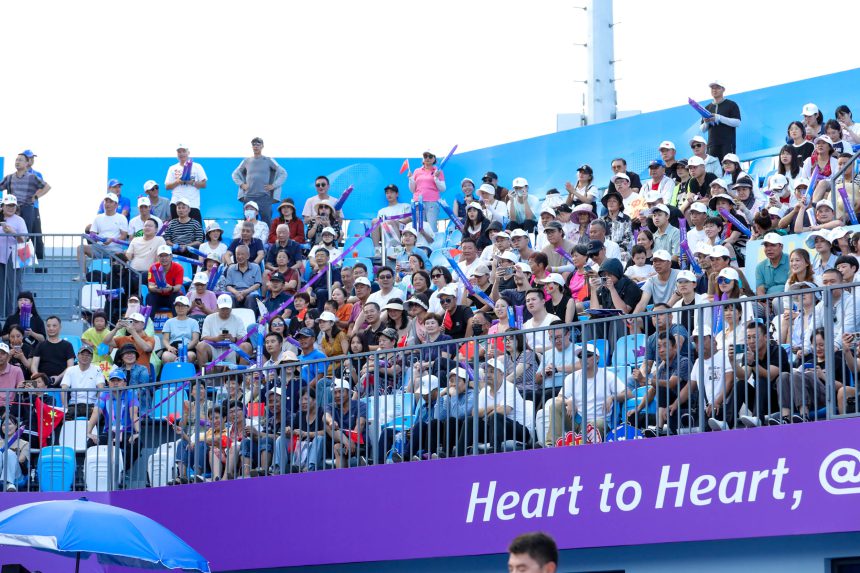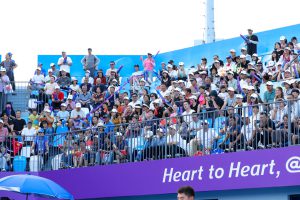 Ningbo, the second largest city of Zhejiang Province, enjoys a long history of over 7,000 years with plenty of historical and religious sites. Served as one of the co-host cities for the 19th Asian Games, Ningbo will host two events of beach volleyball and sailing in its coastal Xiangshan County. The 19th Asian Games will be held in Hangzhou, capital city of Zhejiang from September 23 to October 8, 2023.
Match Result and Schedule (Local time)
September 26, 2023 (Tuesday)
16:00 CHN (Abuduhalikejiang/Wu) v IRI (Pourasgari/Aghajanighasab) 2-0 (26-24, 21-16)
17:00 KAZ (Bogatu/Yakovlev) v QAT (Samba/Janko) 0-2 (9-21, 19-21)
September 28, 2023 (Thursday)
14:00 IRI (Pourasgari/Aghajanighasab) v KAZ (Bogatu/Yakovlev)
15:00 CHN (Abuduhalikejiang/Wu) v QAT (Samba/Janko)
MATCH RESULTS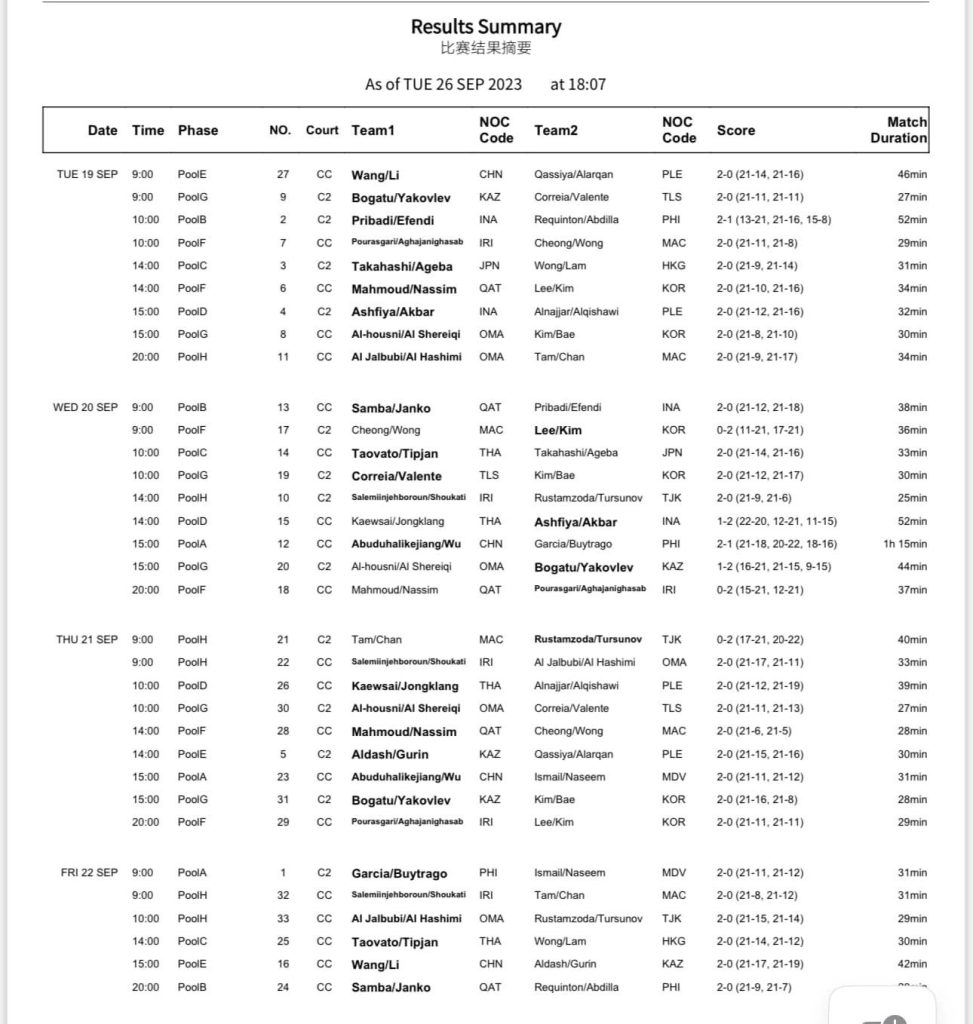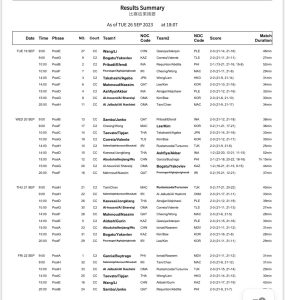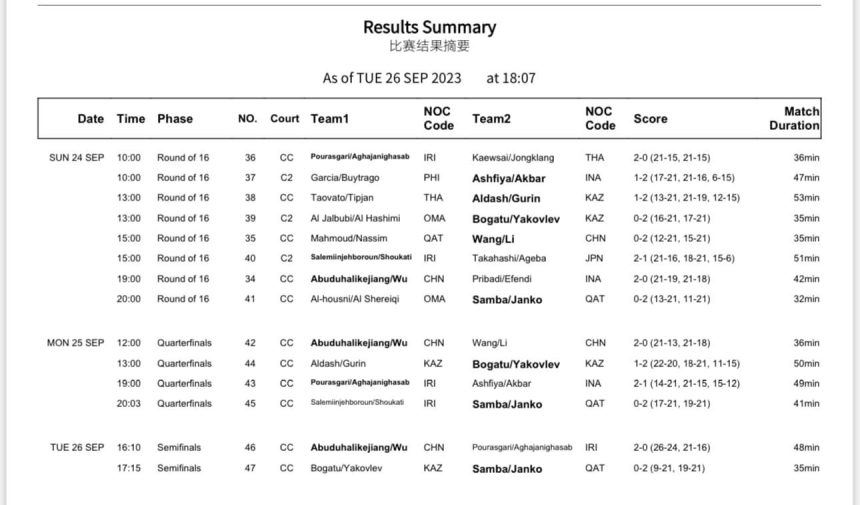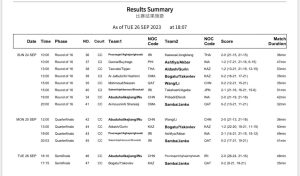 MEN'S BRACKET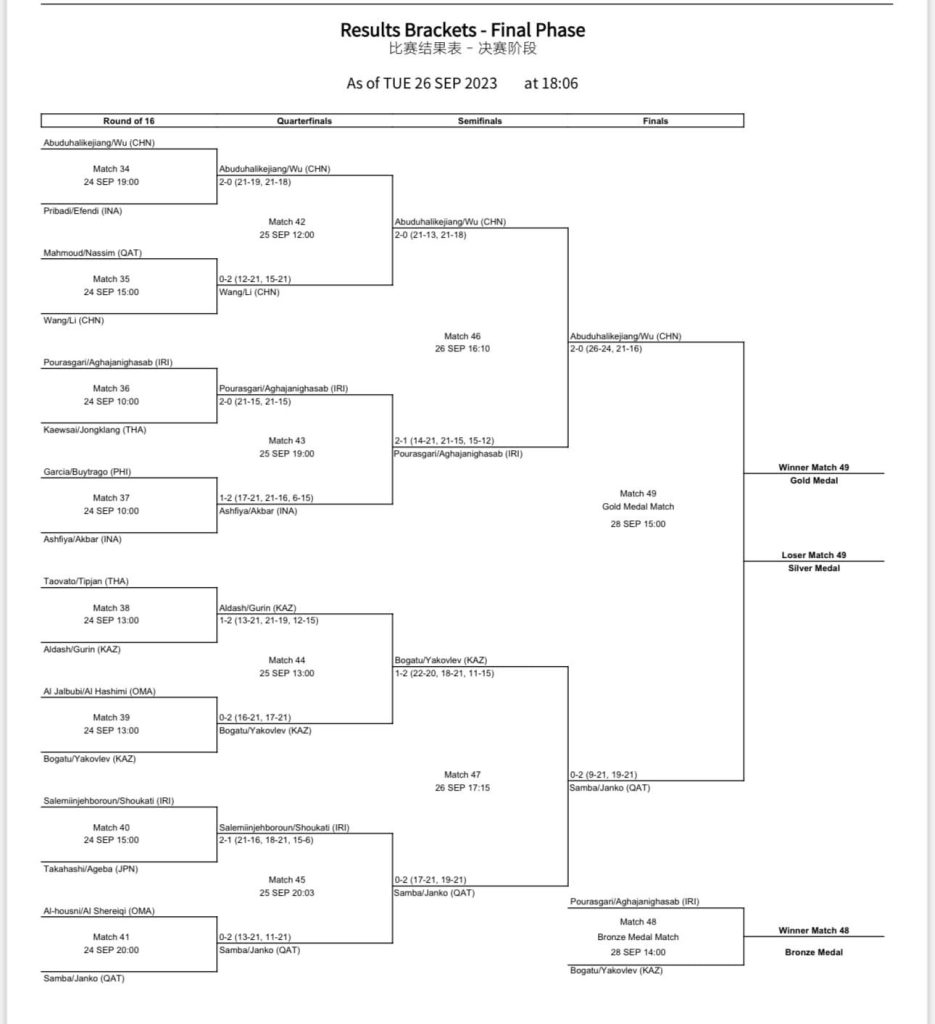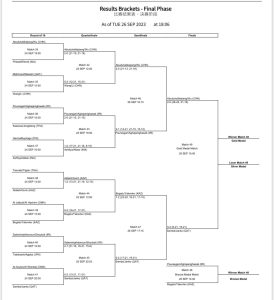 MATCH SCHEDULE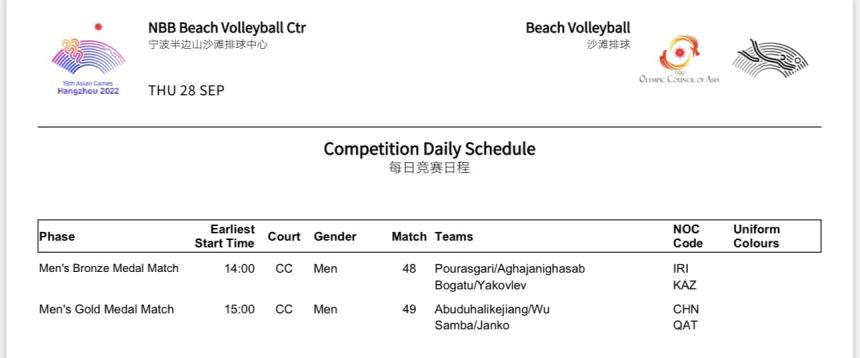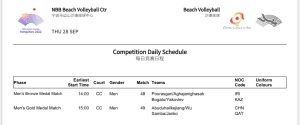 QUICK LINKS
AVC Website: click www.asianvolleyball.net
AVC Facebook: click www.Facebook.com/AsianVolleyballConfederation
AVC Twitter: click: www.twitter.com/AsianVolleyball
AVC Instagram: click: https://www.instagram.com/avcvolley/?hl=en
AVC Youtube: click: Asian Volleyball Confederation
AVC WeChat: Asian Volleyball Confederation