Ningbo, China, September 26, 2023 – Top seeds Xue/Xia of China and No. 3 seeds Mizoe/Ishii of Japan will converge in the final showdown after excelling over their rivals respectively in the semifinals of the 19th Asian Games Women's Beach Volleyball Competition on Tuesday here at Xiangshan Beach Volleyball Center.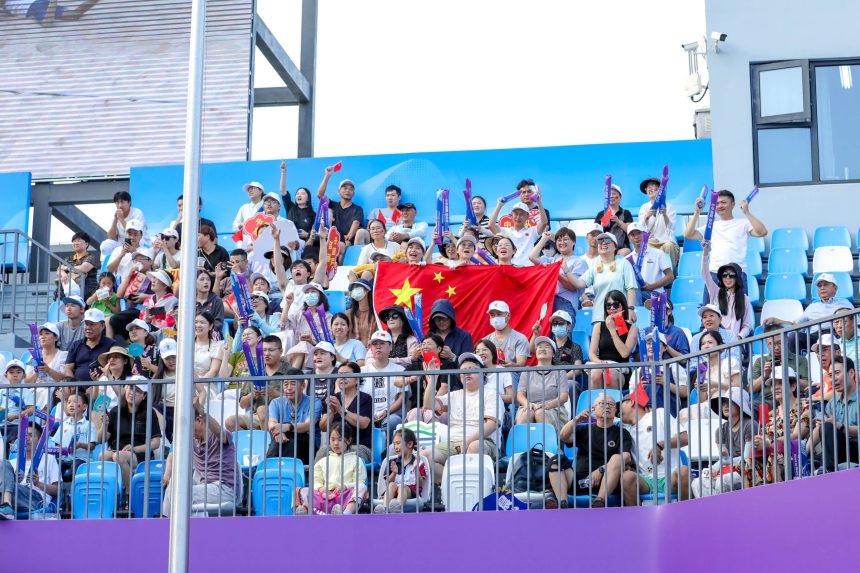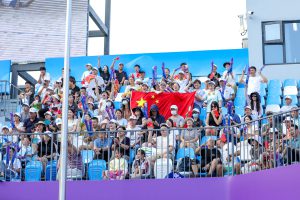 The first semifinal match was held between two pairs of China, which attracted over 2000 spectators. Xue/Xia staged a terrific comeback in the first set to claim a 2-0 (23-21, 21-16) victory against teammates Wang/Dong.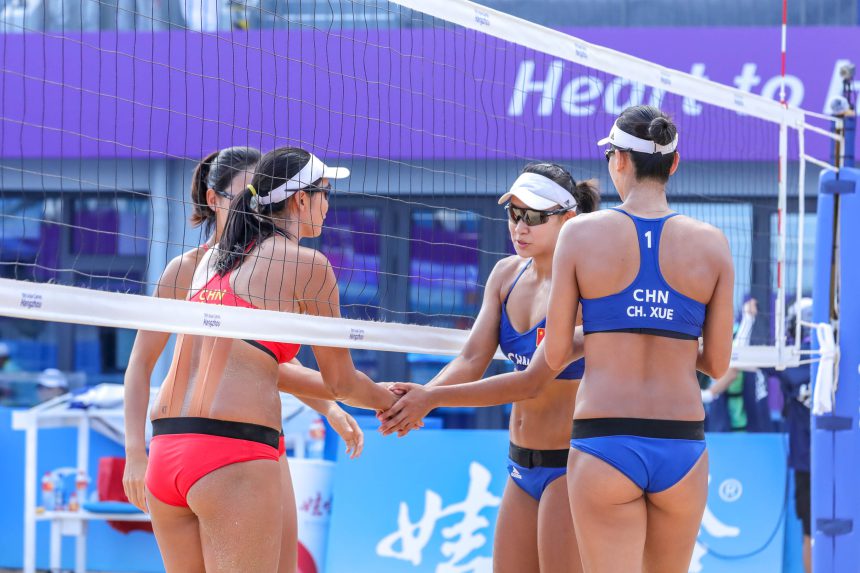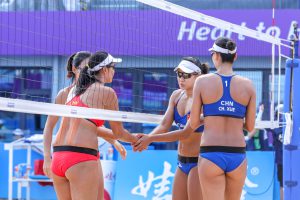 Wang/Dong came into the match strongly and proactively to establish a stunning 13-7 lead. Xue/Xia requested a timeout and blew back with a 9-5 run, shortening the gap to 16-18 and drawing the game back to a cliffhanger.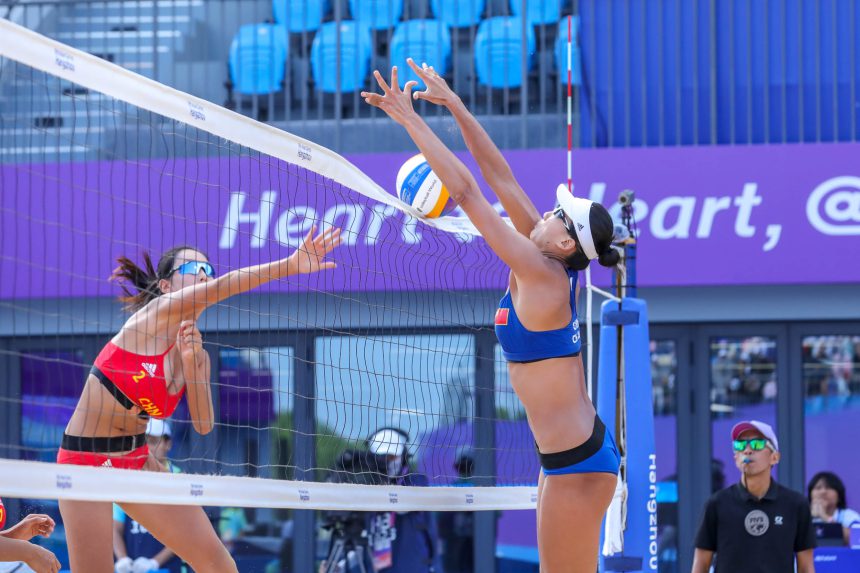 Wang/Dong steeled themselves and reached the set point at 20-18. However, Xue/Xia kept on firing to save two set points before overturning to a miraculous 23-21 set win.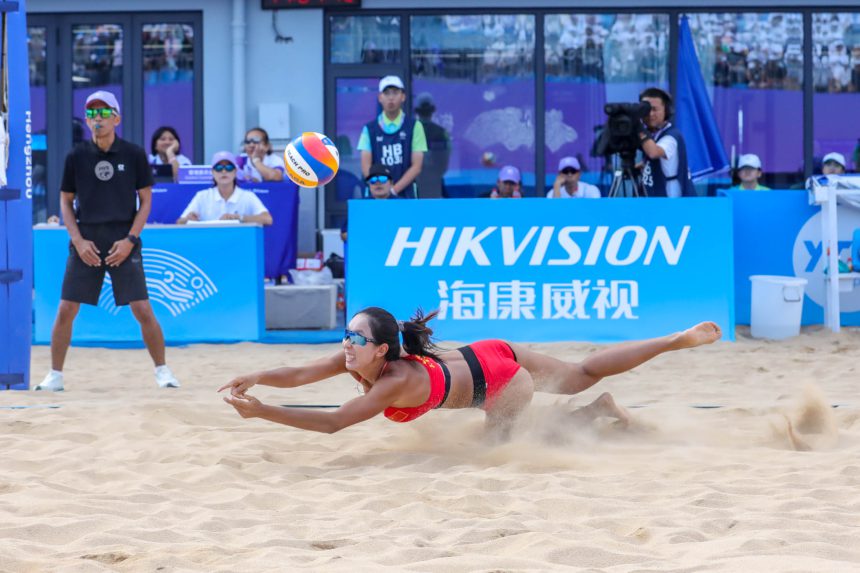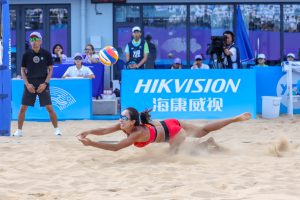 Xue/Xia allowed no more opportunities to teammates in the second set as they pulled away from 4-4 tie and led all the way to a convincing 21-16 win following a spiffy block by Xue Chen.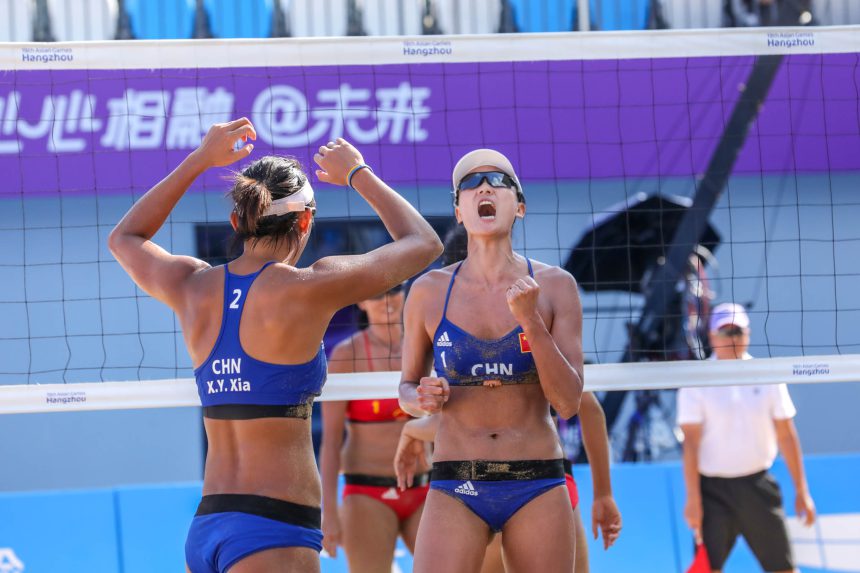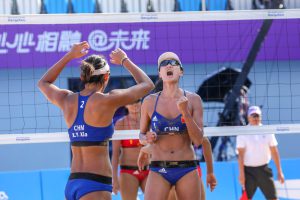 "Our both teams played very well today. I think their mental station was better than us in the beginning, but we gradually adjusted ours well and seized the opportunities to pull the game back," said Xue Chen. "We still don't know who we will face in the final. But we played both teams several times before in the tours and Asian Championships. Anyway, we will fight for every point in the final."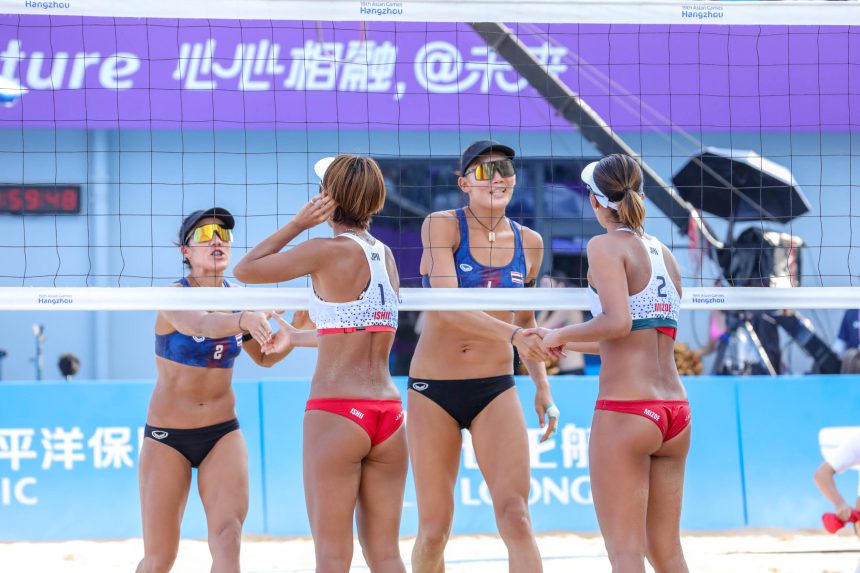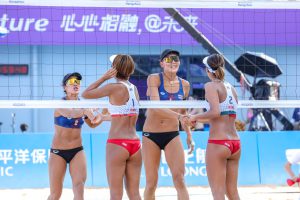 In the second semifinal match, Mizoe/Ishii of Japan had an awful first set but they managed to come back in the following two sets to upset Naraphornrapat/Kongphopsarutawadee of Thailand in 2-1 (16-21, 21-14, 15-13).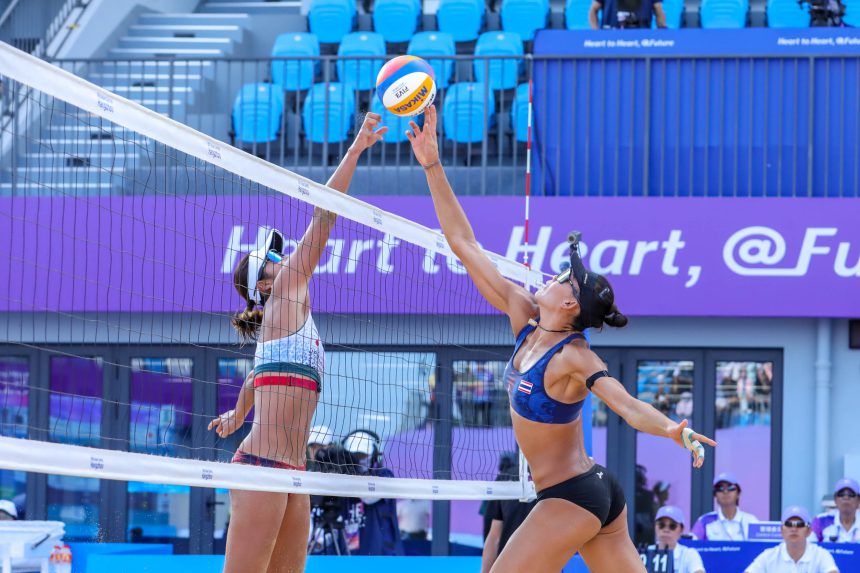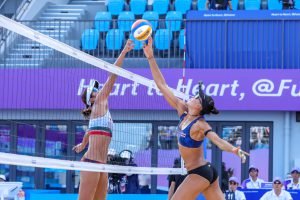 Japan started the first set with a 1-4 deficit and they fought hard to surge ahead Thailand 12-11. However, they committed four mistakes in a row, allowing their opponents to pull away again 15-12. Thailand held the edge and wrapped up the first set 21-16.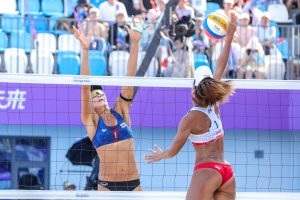 Japan answered with a stunning 3-0 start in the second set. They reduced their mistakes and expanded the gap before Mizoe Sayaka smashed a killing spike to finish the second set in 21-14.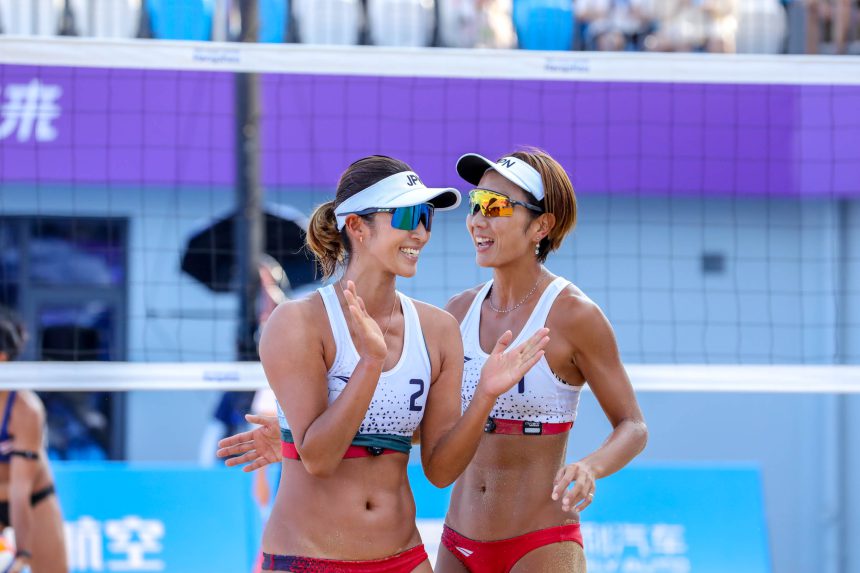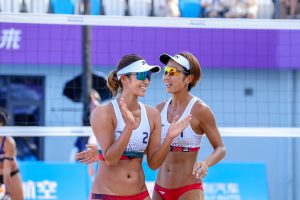 The third set saw both sides trade points till 4-4. Japan grasped the opportunities for counterattacks and bagged 5 points in succession. Thailand showed no willing to give up and played with more patience. They gradually chased up to 13-14 by saving two match points. However, Sayaka stood out again for Japan as she hit another spike to declare the end of the set 15-13.
"In the first set, we committed too many errors. In the following two sets, we reduced our errors and we changed our tactics to confuse them," said Sayaka of Japan. "Tomorrow, we will meet China in the final. We never beat them before. But we will try our best."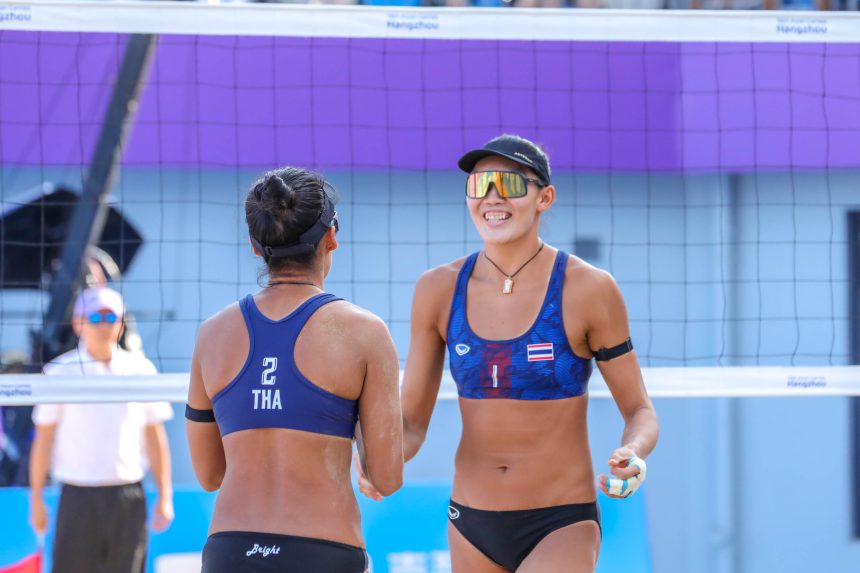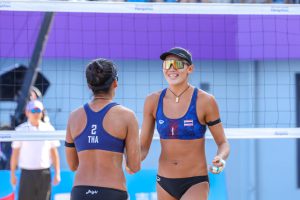 "Our passing was not good. And I think we made more mistakes than them." said Taravadee Naraphornrapat of Thailand. "Tomorrow, we will play against China in the bronze medal contest. I think we shall improve our passing. The Asian Games have an important meaning. If we return home with a bronze medal, that will be great!"
The finals will be held Wednesday afternoon, seeing host Xue/Xia take on Mizoe/Ishii of Japan for gold medal and Naraphornrapat/Kongphopsarutawadee of Thailand fight it out with Chinese Wang/Dong for bronze medal.
Ningbo, the second largest city of Zhejiang Province, enjoys a long history of over 7,000 years with plenty of historical and religious sites. Served as one of the co-host cities for the 19th Asian Games, Ningbo will host two events of beach volleyball and sailing in its coastal Xiangshan County. The 19th Asian Games will be held in Hangzhou, capital city of Zhejiang from September 23 to October 8, 2023.
Match Result and Schedule (Local time)
September 26, 2023 (Tuesday)
14:00 CHN (Xue/Xia) v CHN (Wang/Dong) 2-0 (23-21, 21-16)
15:00 JPN (Mizoe/Ishii) v THA (Naraphornrapat/Kongphopsarutawadee) 2-1 (16-21, 21-14, 15-13)
September 27, 2023 (Wednesday)
14:00 CHN (Wang/Dong) v THA (Naraphornrapat/Kongphopsarutawadee)
15:00 CHN (Xue/Xia) v JPN (Mizoe/Ishii)
MATCH RESULTS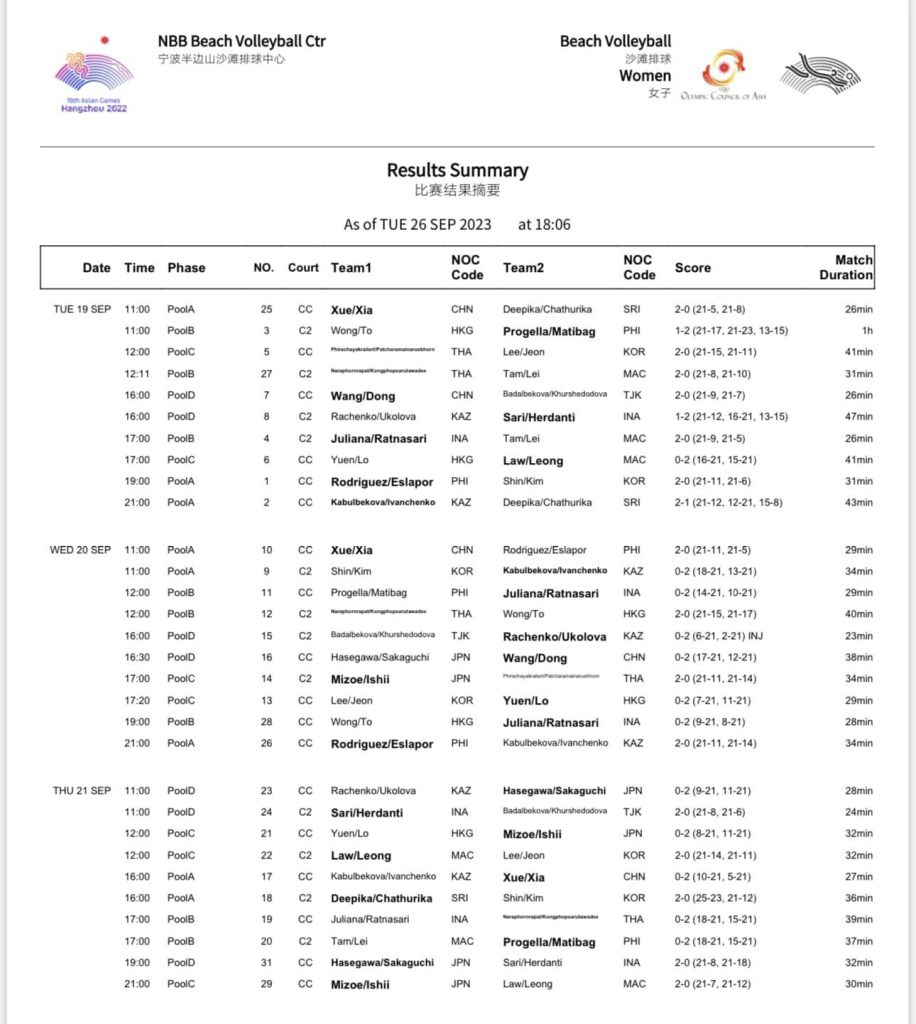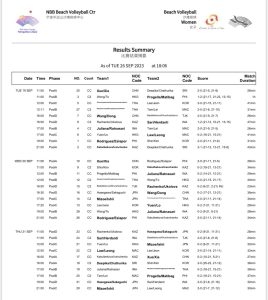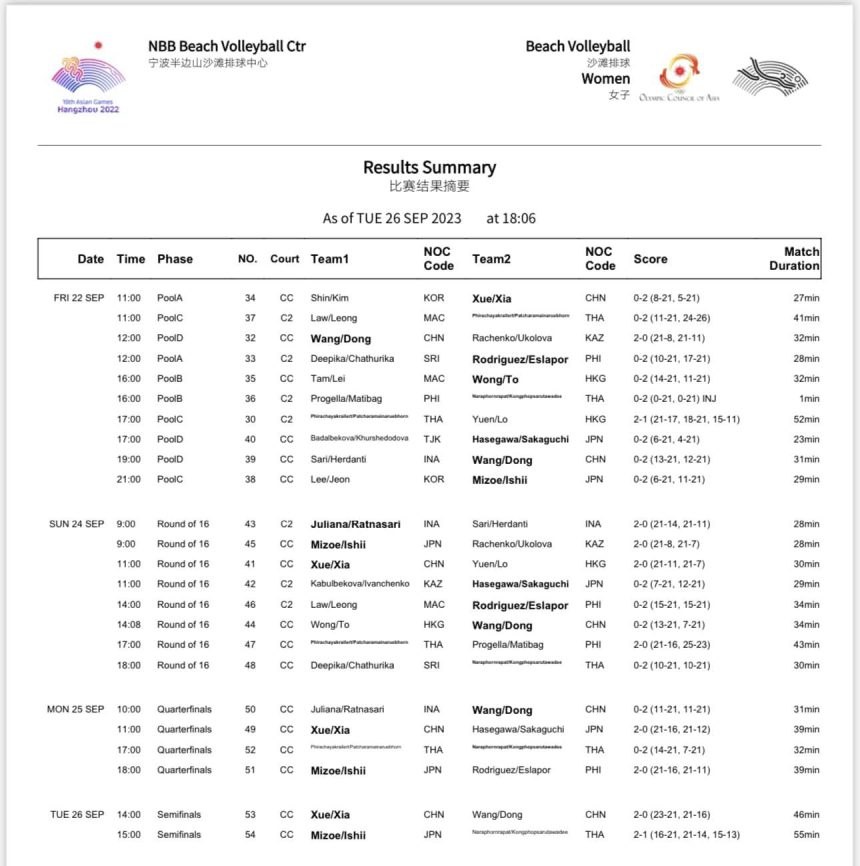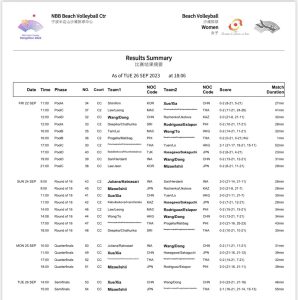 WOMEN'S BRACKET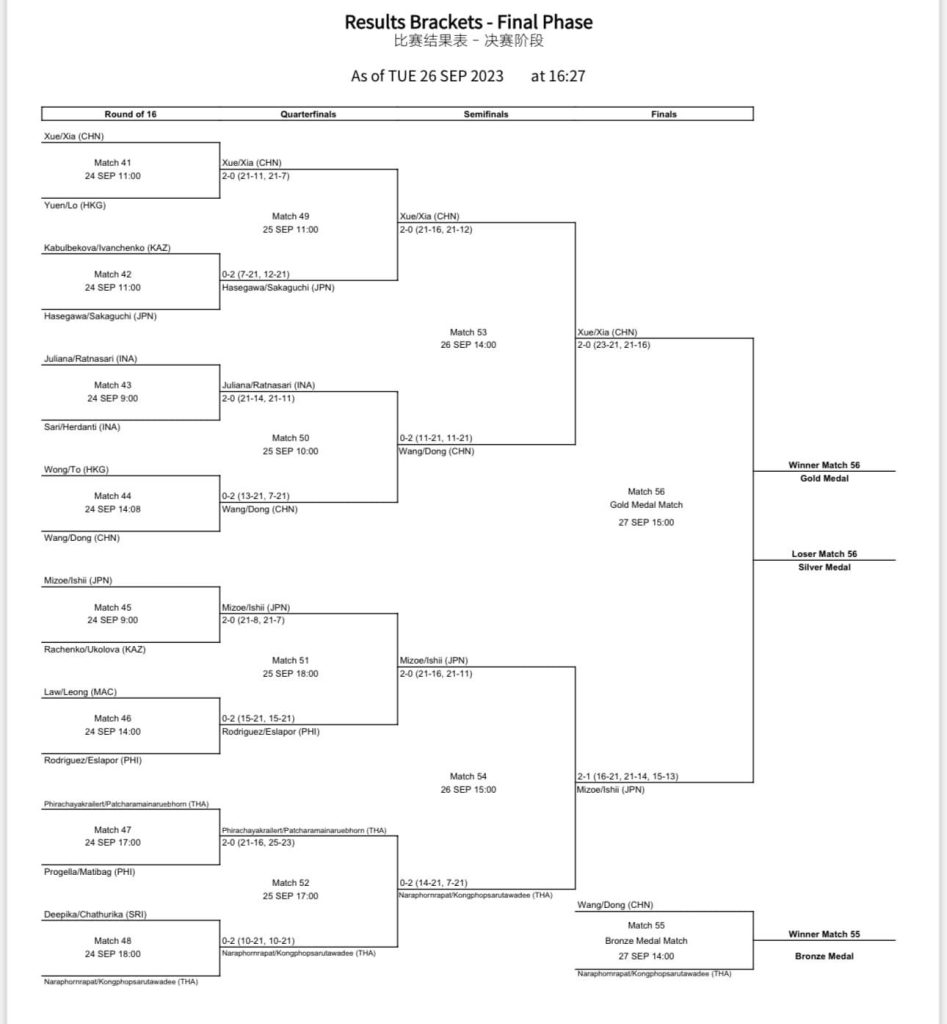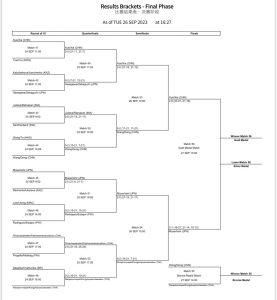 MATCH SCHEDULE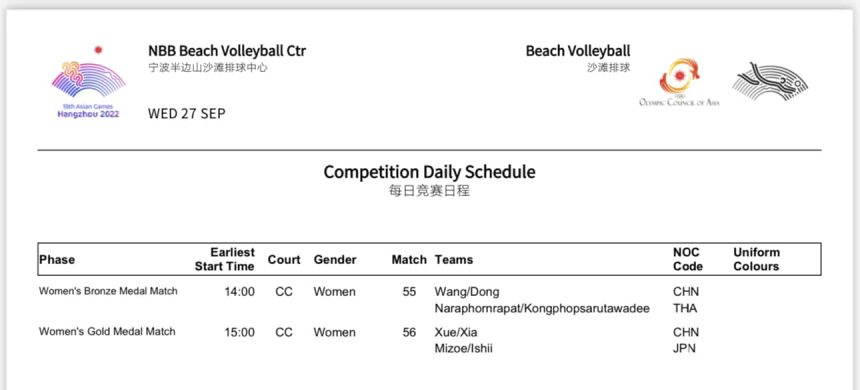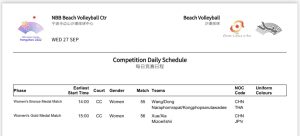 QUICK LINKS
AVC Website: click www.asianvolleyball.net
AVC Facebook: click www.Facebook.com/AsianVolleyballConfederation
AVC Twitter: click: www.twitter.com/AsianVolleyball
AVC Instagram: click: https://www.instagram.com/avcvolley/?hl=en
AVC Youtube: click: Asian Volleyball Confederation
AVC WeChat: Asian Volleyball Confederation