Chinese Wang Fan/Dong Jie picked up bronze medal
Ningbo, China, September 27, 2023 – Top seeds Xue Chen/Xia Xinyi of China grabbed gold medal and helped China women's beach volleyball team maintain their Asian Games supremacy for six in succession following their convincing 2-0 (21-11, 21-13) win against Sayaka Mizoe/Miki Ishii of Japan in the final showdown of the 19th Asian Games Hangzhou 2022 Women's Beach Volleyball Competition on Wednesday here at Xiangshan Beach Volleyball Center.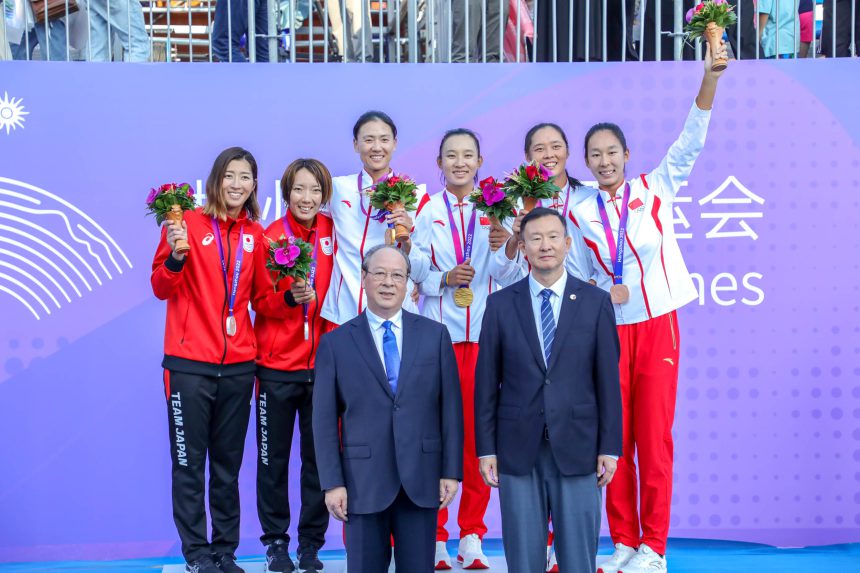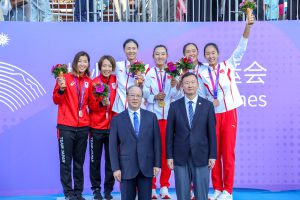 Cheered on by over 2,000 spectators, the host pair came into the match solidly with a stunning 4-0 lead in the first set.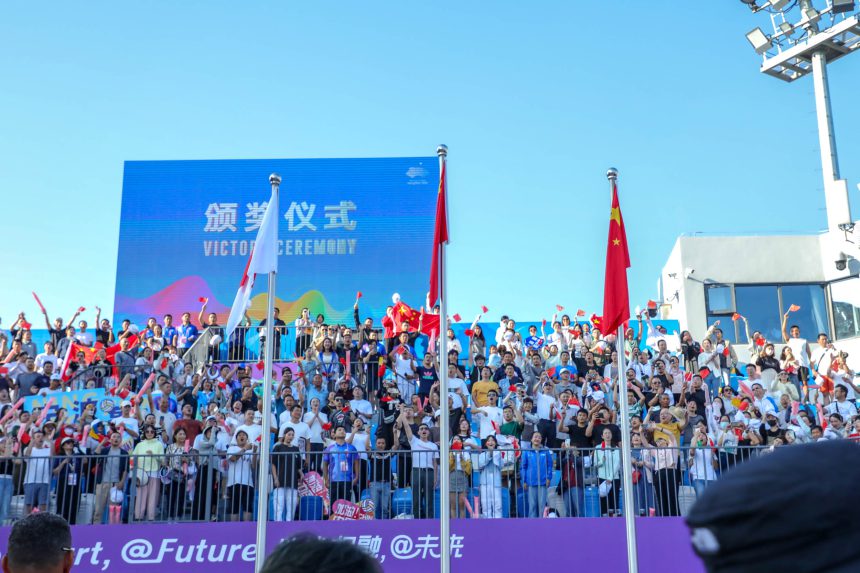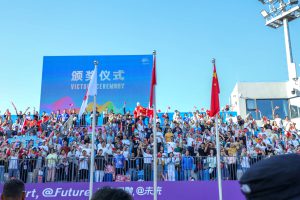 Japan gradually found the rhythm and returned some fantastic plays, but they were restrained by the host due to their height disadvantage. Japan requested a timeout at 6-13 behind but it did not make any change to the situation, seeing the host surge away to a comfortable 21-11 win.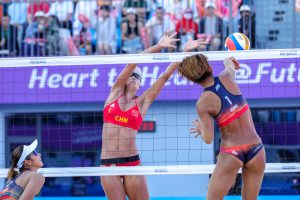 Japan played more aggressively in the second set and took a narrow edge at the beginning. Xue Chen emitted two consecutive ace services and took over the lead 7-6 for China. With another ace service by Xia Xinyi and a monster block by Xue Chen, China extended the gap to 10-7.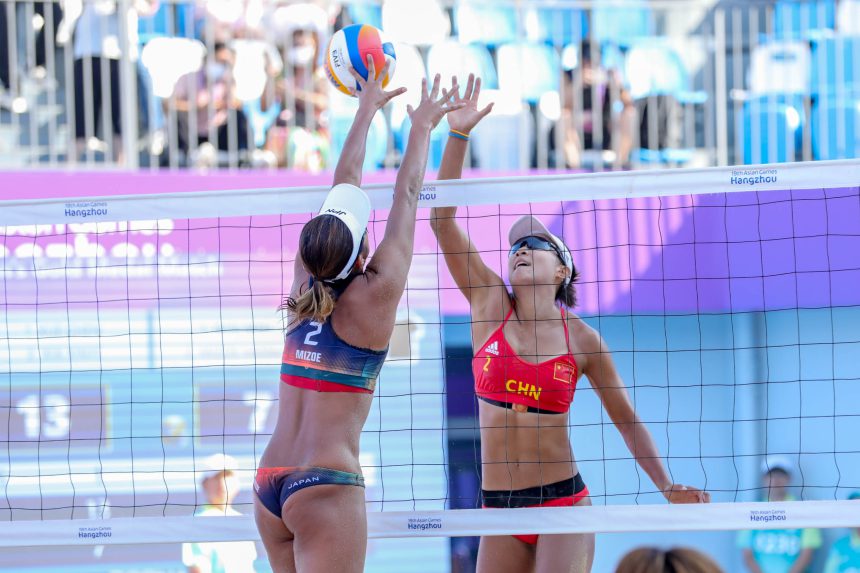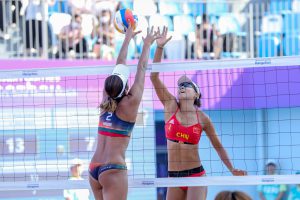 Japan requested a timeout but they could not extinguish the hot hand of China. Led by Xue Chen with her destructive services and impenetrable blocks, China rushed ahead to a remarkable 16-9 lead.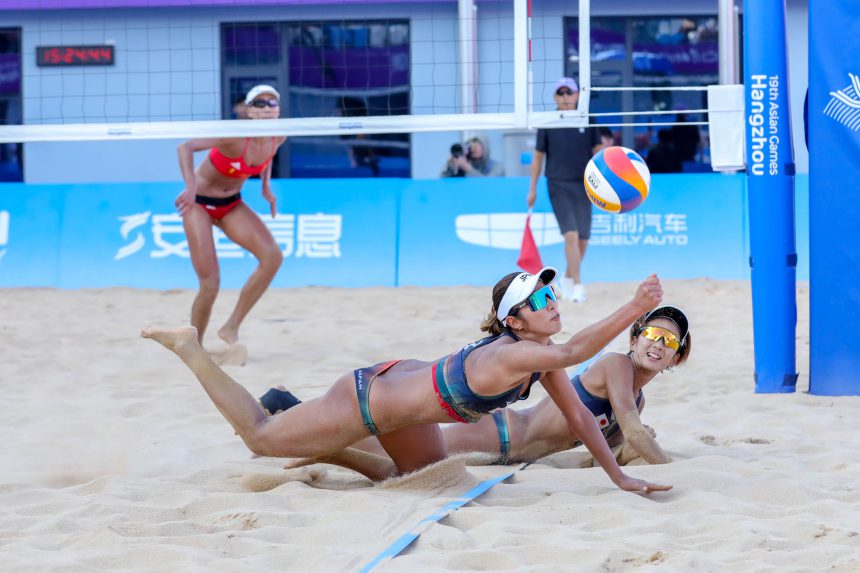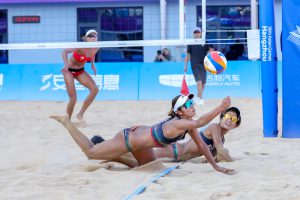 Japan found no way to fight back and following a well-placed dip by Xue Chen and an attacking error by Japan, China wrapped up the second set 21-13.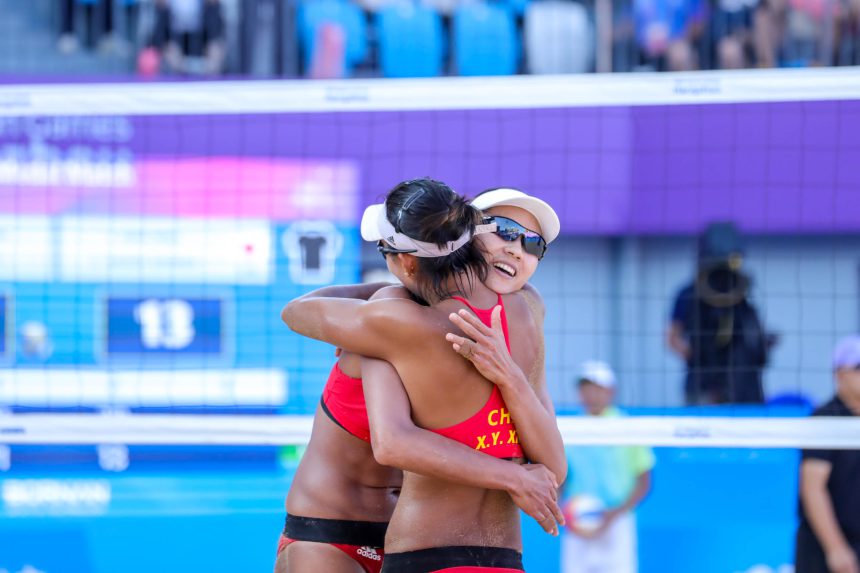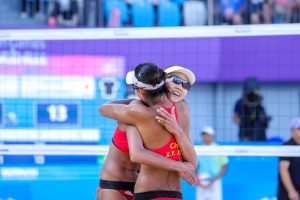 "We played them separately several times before we partnered each other. So they are familiar to us. I think both teams were all under pressure. But we have advantage as hosts," said Xue Chen. "I think the victory belongs to China beach volleyball team, to our coaches, teammates, and to all the supporters. We cannot make it without their support."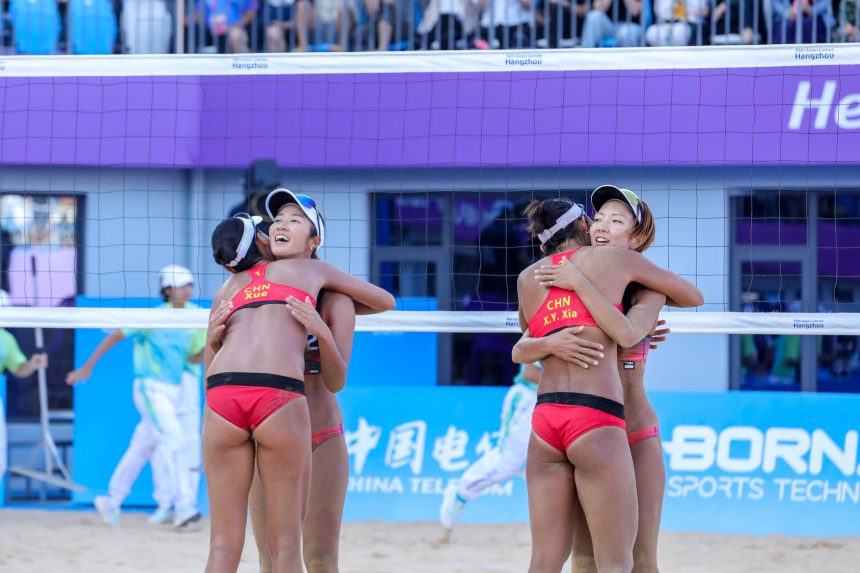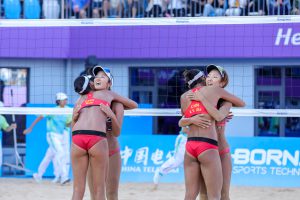 "I feel a little bit disappointed to win the silver medal. But I have played all out to my best," said Miki Ishii of Japan. "China is tall and good at blocking. Our play was too safe, not aggressive enough."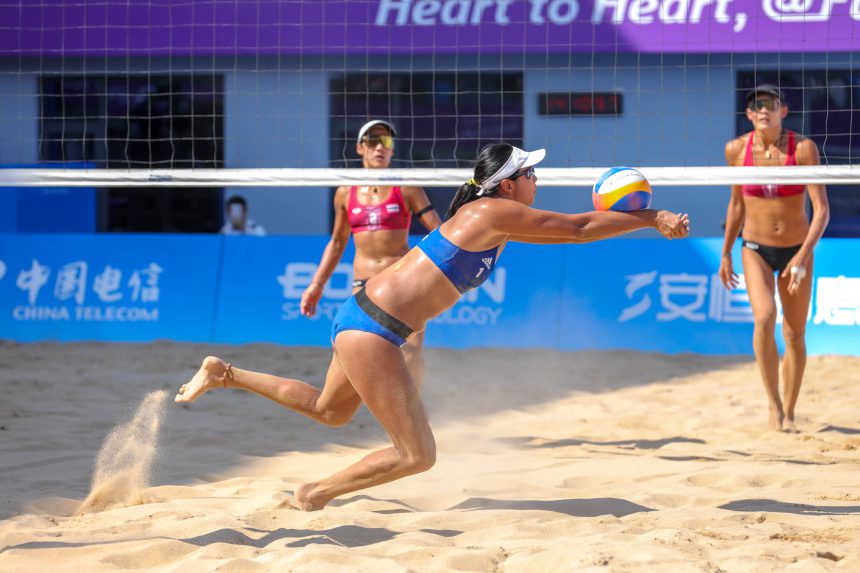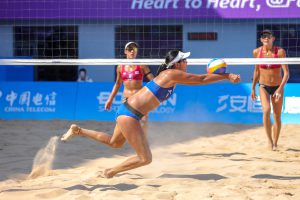 In the bronze medal contest, Wang Fang/Dong Jie of China resisted the threatening counterattacks in the second set and secured a thrilling 2-0 (21-15, 21-19) win against former Asian champions Taravadee Naraphornrapat/Worapeerachaya Kongphopsarutawadee of Thailand.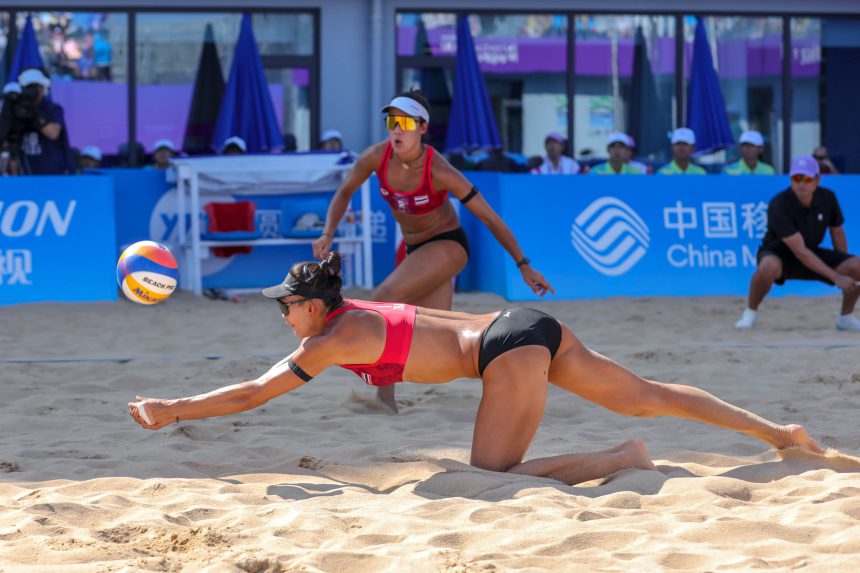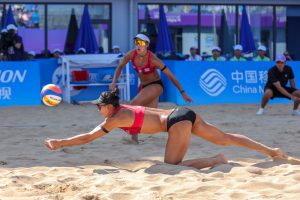 "I am satisfied with the result. I was nervous during the match especially when falling behind in the second set. But we both withstood the pressure and toughed it out," said Wang Fan of China. "I would like to thank our families, our supporters, our coaches for their support and encouragement."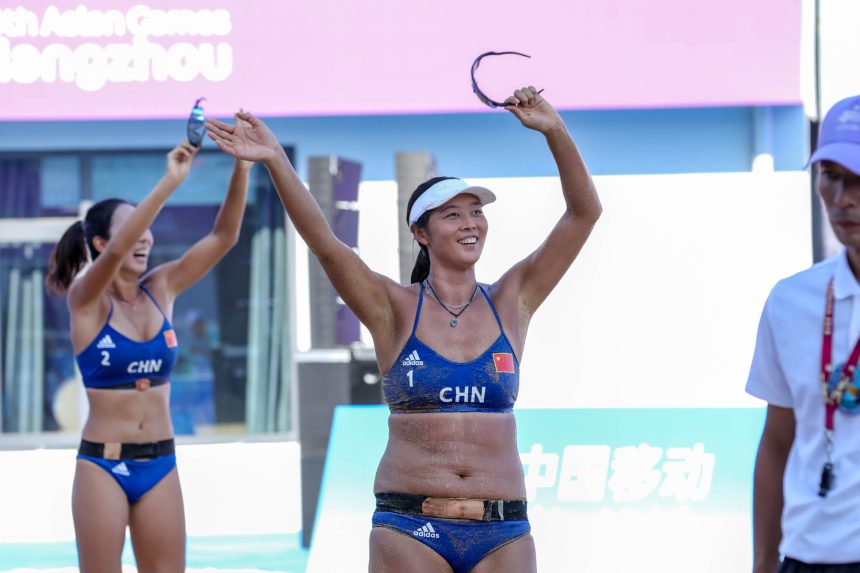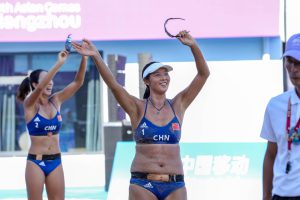 "This is a big game. I am proud of myself and my partner. Even though we lost the match, I am happy to play with my partner and against China team," said Taravadee of Thailand. "Today we did not control the passing well. China is a strong team with good defense. We have difficulties in hitting the ball to their side. Anyway, we learned a lot of experience and will keep going for next tournament."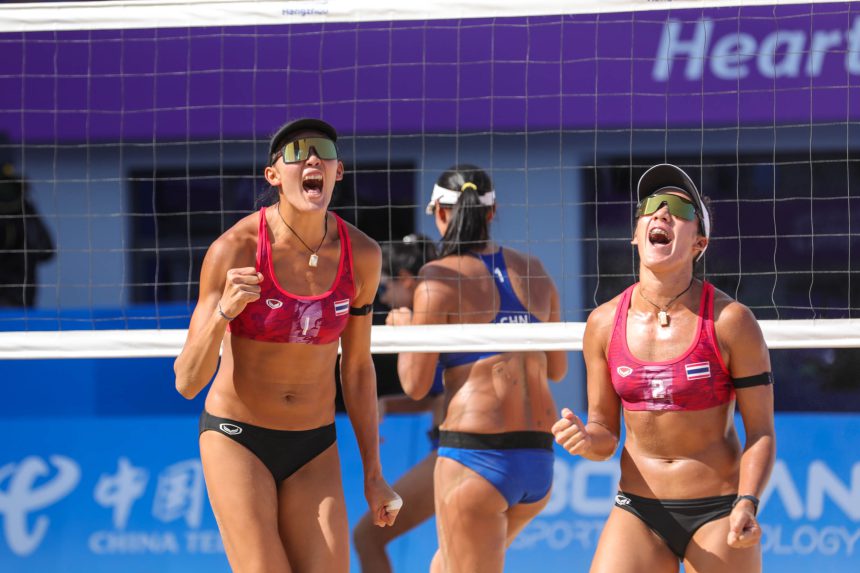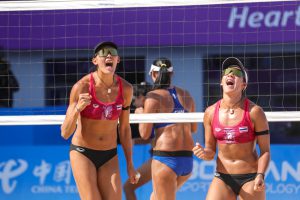 Mr Peng Jiaxue, Member of the Standing Committee of Zhejiang Provincial Party Committee and Secretary of the Ningbo Municipal Party Committee, watched the finals and attended the awarding ceremony as guest of honor.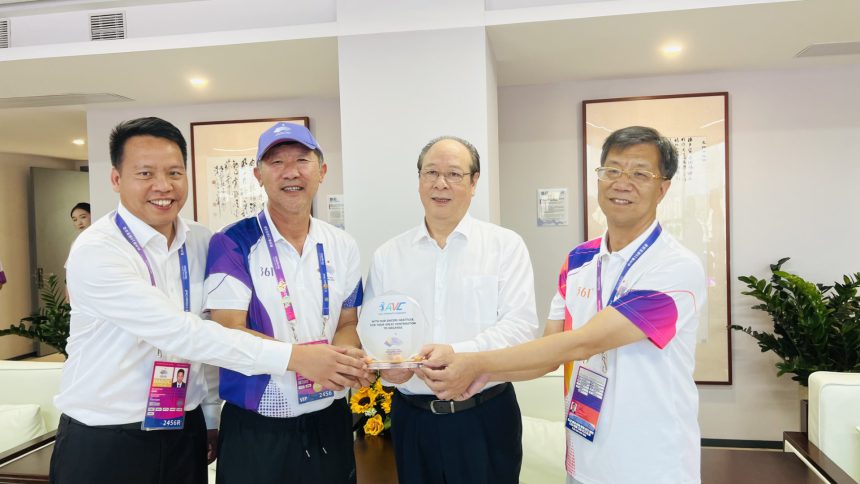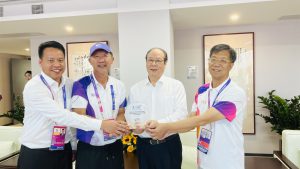 Before the awards presentation, Technical Delegate Mr Kritsada Panaseri, on behalf of AVC and all the technical officials, presented the AVC Commemorative Plate to Mr Peng and thanked him for his leadership in organizing such an exciting and successful beach volleyball tournament.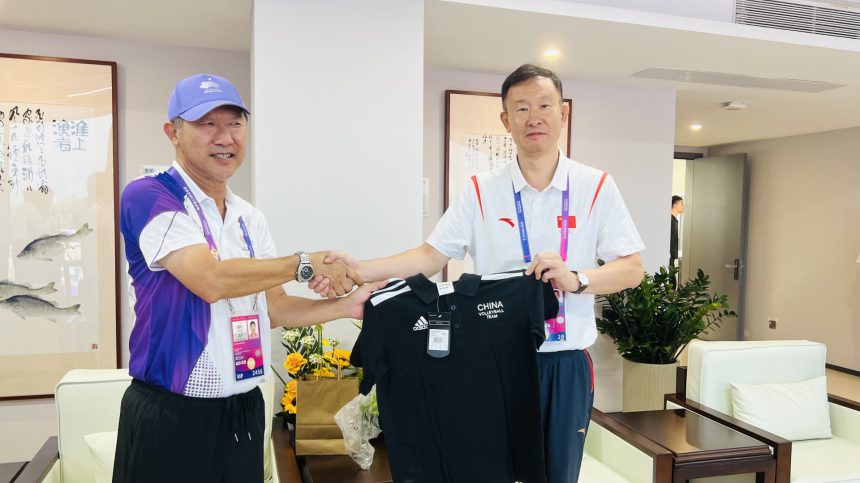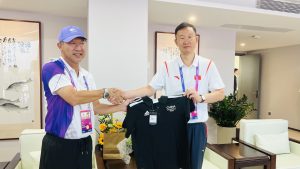 Mr Yu Guangyan, Deputy President of China Volleyball Association, also returned a piece of polo shirt of China beach volleyball team to Mr Kritsada in appreciation for his guidance and support to the Venue Operations Group.
The men's finals will take place Thursday afternoon, seeing hosts Abuduhalikejiang Mutailipu/Wu Jiaxin take on Qataris Ahmed Tijan/Cherif Younousse for gold medal, with Iranians Abbas Pourasgari/Alireza Aghajanighasab challenging Kazakhstan's Sergey Bogatu/Dmitriy Yakovlev fighting it out for bronze medal.
\Ningbo, the second largest city of Zhejiang Province, enjoys a long history of over 7,000 years with plenty of historical and religious sites. Served as one of the co-host cities for the 19th Asian Games, Ningbo will host two events of beach volleyball and sailing in its coastal Xiangshan County. The 19th Asian Games will be held in Hangzhou, capital city of Zhejiang from September 23 to October 8, 2023.
Match Result and Schedule (Local time)
September 27, 2023 (Wednesday) – Women's Finals
14:00 CHN (Wang/Dong) v THA (Naraphornrapat/Kongphopsarutawadee) 2-0 (21-15, 21-19)
15:00 CHN (Xue/Xia) v JPN (Mizoe/Ishii) 2-0 (21-11, 21-13)
September 28, 2023 (Thursday) – Men's Finals
14:00 IRI (Pourasgari/Aghajanighasab) v KAZ (Bogatu/Yakovlev)
15:00 CHN (Abuduhalikejiang/Wu) v QAT (Samba/Janko)
QUICK LINKS
AVC Website: click www.asianvolleyball.net
AVC Facebook: click www.Facebook.com/AsianVolleyballConfederation
AVC Twitter: click: www.twitter.com/AsianVolleyball
AVC Instagram: click: https://www.instagram.com/avcvolley/?hl=en
AVC Youtube: click: Asian Volleyball Confederation
AVC WeChat: Asian Volleyball Confederation