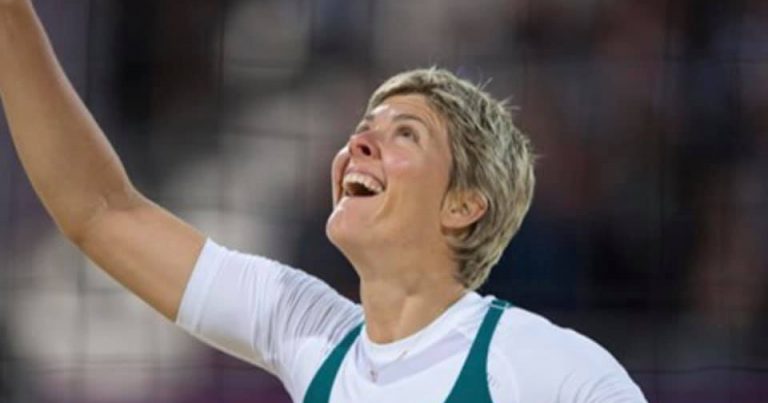 Over 20 years since winning Olympic gold in Sydney
It has been over 20 years now and Natalie Cook looks back on her career with amazement as the Australian Olympic beach volleyball gold medal winner with Kerri Pottharst at the Sydney Summer Games turns 46 today in her native Queensland.
"For my birthday, I will be with my family, my mom and dad, cooking a mom's home-cooked meal. And my daughter, Jordan, and Sarah and my brother David will be at my family home. But two days ago, the 17th, I was celebrating early with a group of girlfriends going to the movies to see "Wonder Woman" and having lunch. So that's what I'm doing."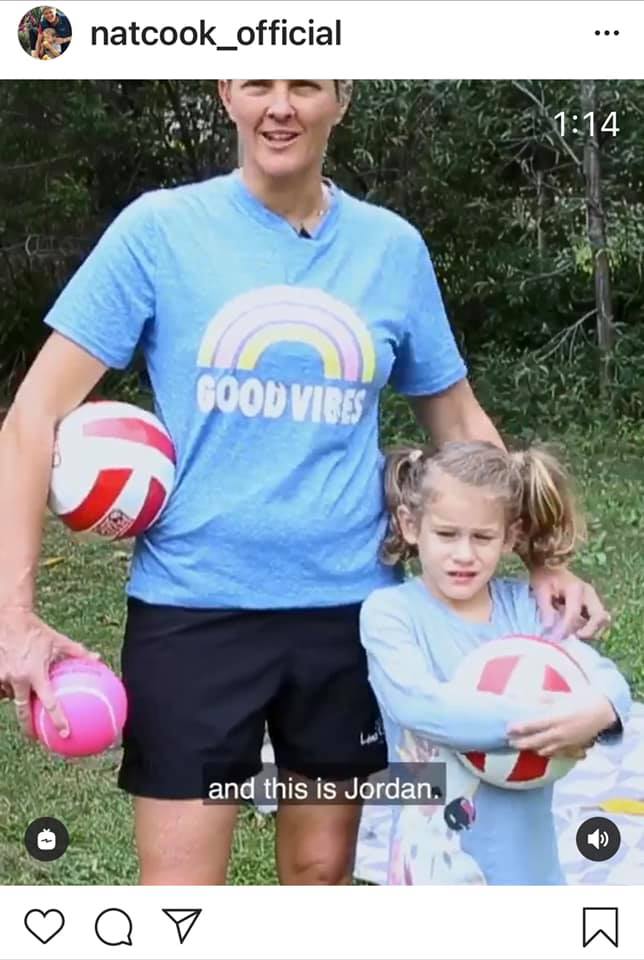 Watch on her instagram https://www.instagram.com/tv/B_v_CSRA2ow/?utm_source=ig_embed
Cook noted being 46 "is not really super special celebrations. Is it too early to start planning my 50th?  Probably, but that will be the super special one. I love keeping it quite simple and private. And like I said, I've got seven girlfriends going out for lunch and a movie. I also love foot spas and the spa, as in spa treatments. And I love going to the movies, so those are the sorts of things I like to do."
In looking back on the Sydney Olympics, Cook was quoted in an article by the Australian Associated Press last September about winning a 2000 Olympic title on Sydney's iconic Bondi Beach by saying "it's like a fairytale. We were playing the best in the world (Shelda Bede and Adriana Behar of Brazil). On paper, if you'd have been a betting person, you would have put all your money on them. Absolutely."
Cook said in the article that she and Pottharst felt "like a rock star" as they emerged from the tunnel onto Bondi Beach centre court before more than 10,000 fans.  Before collecting their Sydney gold, Cook and Pottharst defeated Shelda and Adriana 2-0 (12-11 12-10) in the sideout scoring format.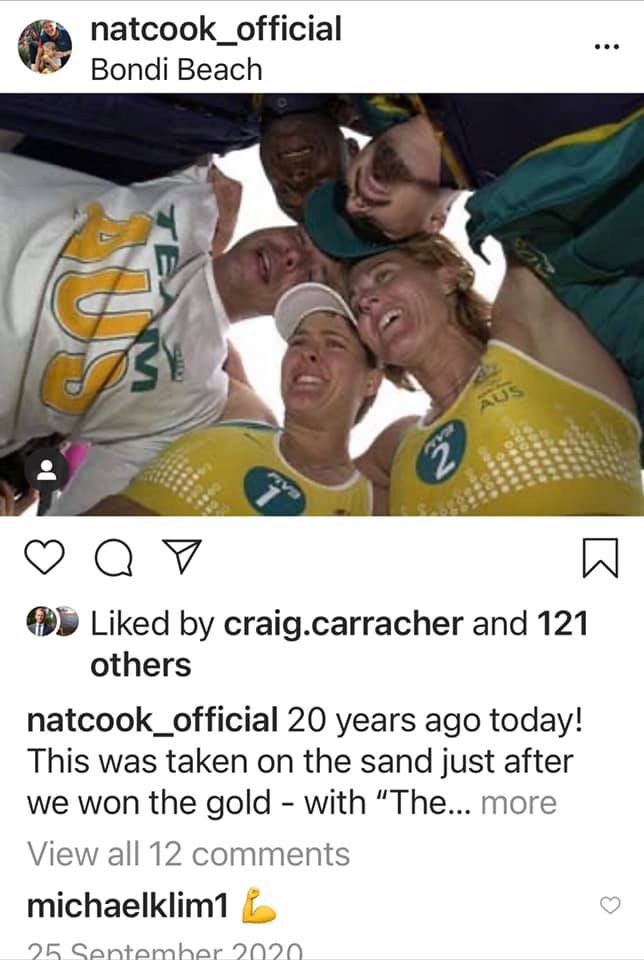 The Sydney meeting for Olympic gold was the 14th time Cook and Pottharst had played Shelda and Adriana with the Brazilians winning 12 of the previous 13 matches. Following the Bondi match, the two teams met eight more times with each pair winning four times to give Shelda and Adriana a 16-6 edge in the series with Cook and Pottharst.
As for the Sydney title match, Cook said "plays that we had worked on behind closed doors and never used were pulled out for the Olympic gold medal match and they worked perfectly. Every time the ball sat on top of the net, it fell our way and the Brazilians kept getting more and more deflated."
In recent months, a mural on Sydney's Bondi Beach has been unveiled in the place where Cook and Pottharst posted their biggest win after claiming a bronze medal at the Atlanta 1996 Olympic Games.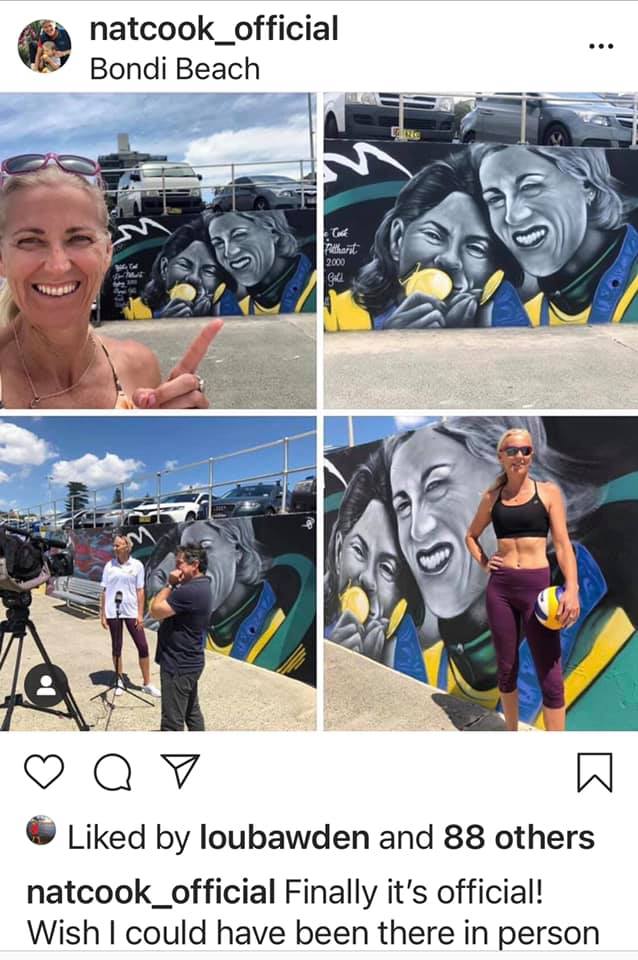 In a radio interview to mark the unveiling ceremony, Cook told Jim Wilson that "being immortalised on the Bondi sea wall was a special experience. We couldn't keep it a secret from day one, so I've had friends walk past and go 'look what I've found'!"
Read on for more comments from Cook ahead of her 46th birthday:
Question:  What are you doing these days?
COOK: "Well, the Olympics have never left my bones, my blood, my heart or my spirit. I'm actually with the Queensland government and a leadership group trying to bring the 2032 Olympics to Brisbane and Queensland. It's an amazing opportunity to have a 10-12 year runway into an Olympic Games. Another home Olympic Games would be amazing. Knowing what it did for me to compete and win in Sydney would be, like, an amazing legacy to see people from Brisbane and actually kids from Australia competing in another home Olympics here in Brisbane. So that's my main purpose. That's what keeps me awake every night. That's what I look forward to going to work for every day. I also look after Taliqua (Clancy) from a mentoring and managerial point of view, making sure she gets the most out of all of her opportunities. I also still do corporate speaking. I pretty much just help anyone that asks, especially if I have time. And I play a little bit with my daughter, who is now five. We've been teaching her with a balloon in the house and in the pool. And she just started to spike somewhat of a real volleyball, and she's a force to be reckoned with. We do trampoline volleyball with her."
Question:  It has been nearly nine years since you last played on the FIVB Beach Volleyball World Tour. Has beach volleyball changed since you last competed? If so, why?
COOK: "Has it changed? Yes, since my last match in London (August 1, 2012), I have not played under a whistle. So, has it changed? Yeah, I think the athletes are getting taller, stronger, probably more resilient, too, because they're playing more volleyball than we used to play because there weren't as many tournaments. Weren't as many offerings from one star through to the top level. Yeah, there's a lot more aggressive play and a lot more power in the game probably than the cat and mouse we used to see a lot, especially when the court moved from nine meters to eight meters. And, of course, with the 2020 postponement, players have had to become more resilient mentally and emotionally. And we will see how that plays out in Tokyo. I think they have more support team around them, too. There's more of an entourage. There are more people taking care of more things, so that gives them enough time or more time to focus on what's actually the most important, which is performing on the court."
Question:  Will your record as the most decorated men's or women's player from Australia on the FIVB World Tour ever be broken?
COOK: "I don't think another Australian player will ever beat my record of the number of events played, even though there's more frequency of events now. In some of those years when I started, there were three events in the year.  I don't think you'll see athletes go to five Olympics again. You know, Kerri Walsh is going for her sixth total. I think it's her fifth beach volleyball, so she'll join Emanuel and me.  But I don't think you'll see those sorts of numbers ever again.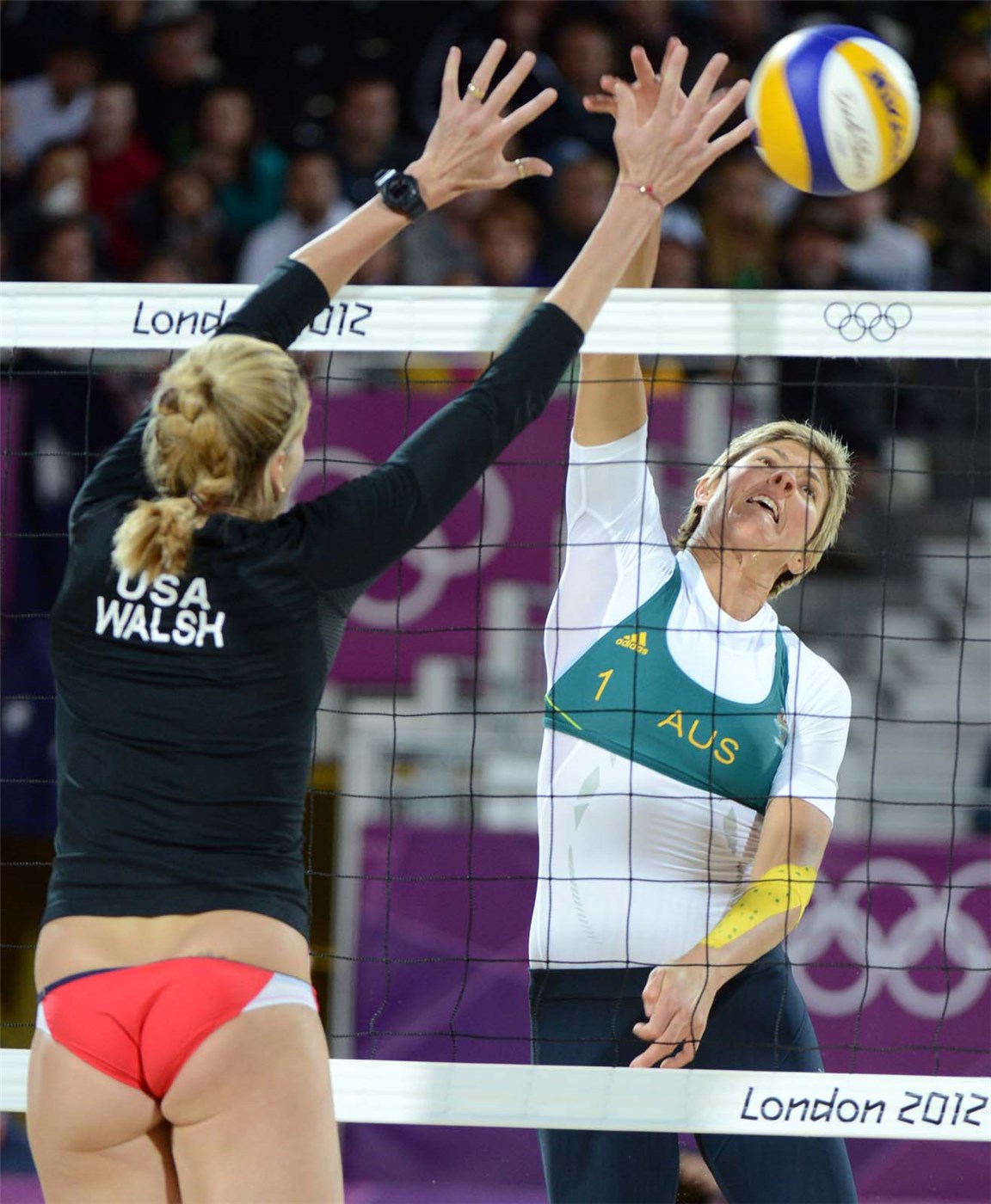 Natalie Cook (right) from Australia hits against American Kerri Walsh Jennings at the London 2012 Olympic Games
Note: Cook competed in 165 FIVB events and played 783 matches with 486 (62.1 winning percentage) with over US$650,000 in earnings for a career that started in November 1993 with Anita Spring at an event in Brazil (Santos) and ended with Tamsin Hinchley at the London 2012 Summer Games. During her 20-season career, she captured 26 medals, played in 42 final fours and advanced to 75 quarterfinals.
Question:  You and Emanuel are the only two players to compete in five Olympics.  How special is that?
COOK: "It's special, like I said, to go to the five Olympics. As I said, it's in my blood. It's like I have been bitten by the Olympic mosquito. I love it. I love everything about it. I love what it represents, the Olympism values.  I sit on the board of the World Olympians Association as well, looking after 120 Olympians from all over the world. So, I have got a board meeting on my birthday actually beaming into Switzerland at 10 at night. So, clearly, it's been important to us. I grew up from the age of eight wanting to be an Olympian. It means being excellent at everything I do, not just beach volleyball. It's a standard. It is a gold standard across life, and I try to live my whole life by that."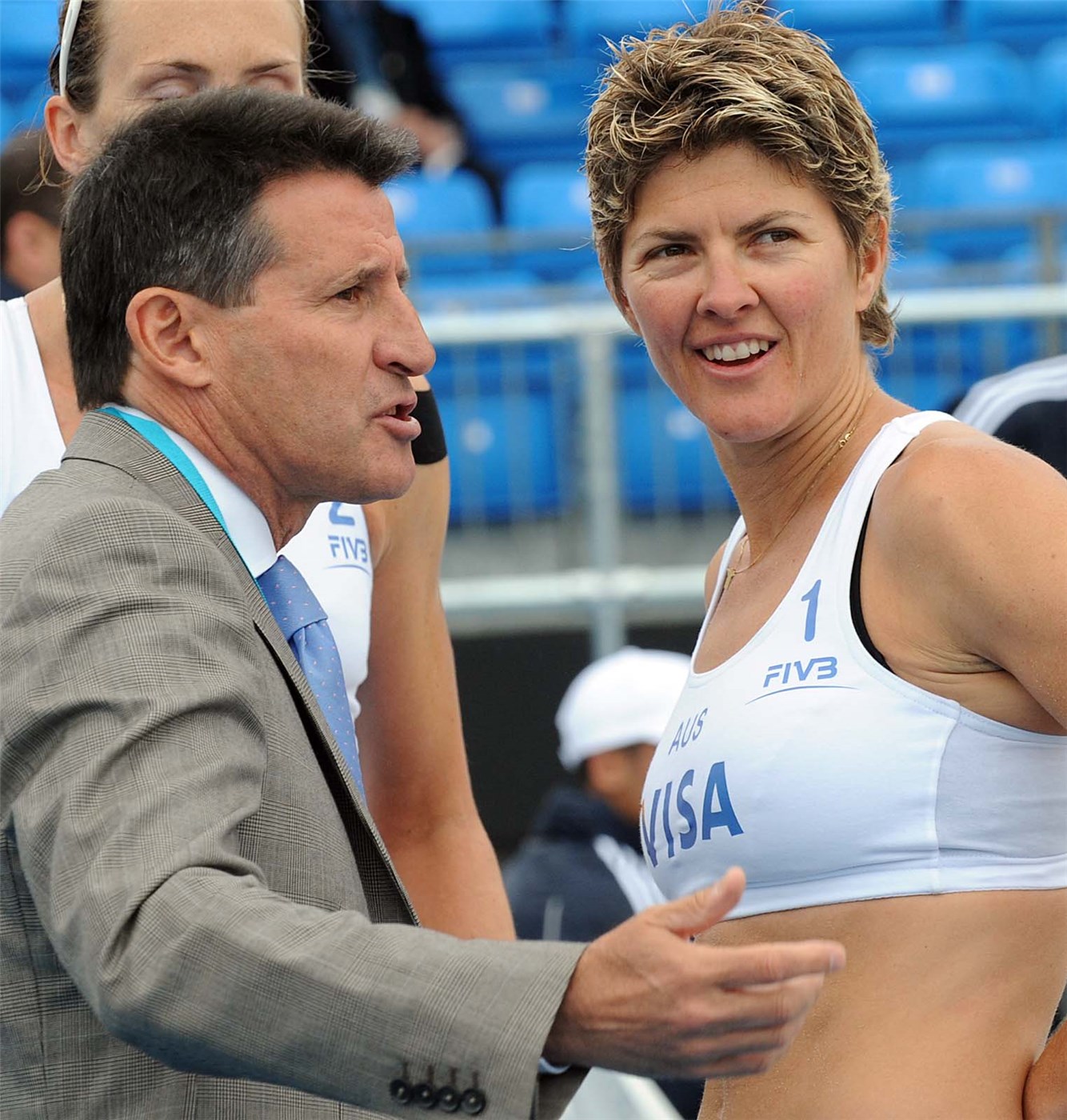 Olympic "test" event gathering at London's Horse Guard Parade with Great Britain's legendary two-time Olympian, four-time athletics' medallist Sebastian Coe (left) and Natalie Cook of Australia
Question:  Outside of winning two Olympic medals, what are your most memorable moments on the FIVB World Tour?
COOK: "Probably Kerri and I's first FIVB World Tour gold medal win in Osaka (Japan) in 1996. The same year playing Brazil in a World Championship, which I don't think is listed as an official World Championship but to us it was. I don't think they started counting it until a bit later. But 1996 with a crowd as big as I've ever seen anywhere in the world. A two-tiered stadium in Rio de Janeiro. We came second to Jackie Silva and Sandra Pires. Even though like I said, it's not recorded on your list, but it was a World Championship to us at that time. The 2003 World Championships in Rio, coming in third with Nicole (Sanderson). So, taking a new partner and getting results there. Always love playing in Austria, in Klagenfurt, which is now not there. But that was one of the favourite events. Just being in that environment of high performance and traveling the world with the best athletes in the world, living the life really was pretty special."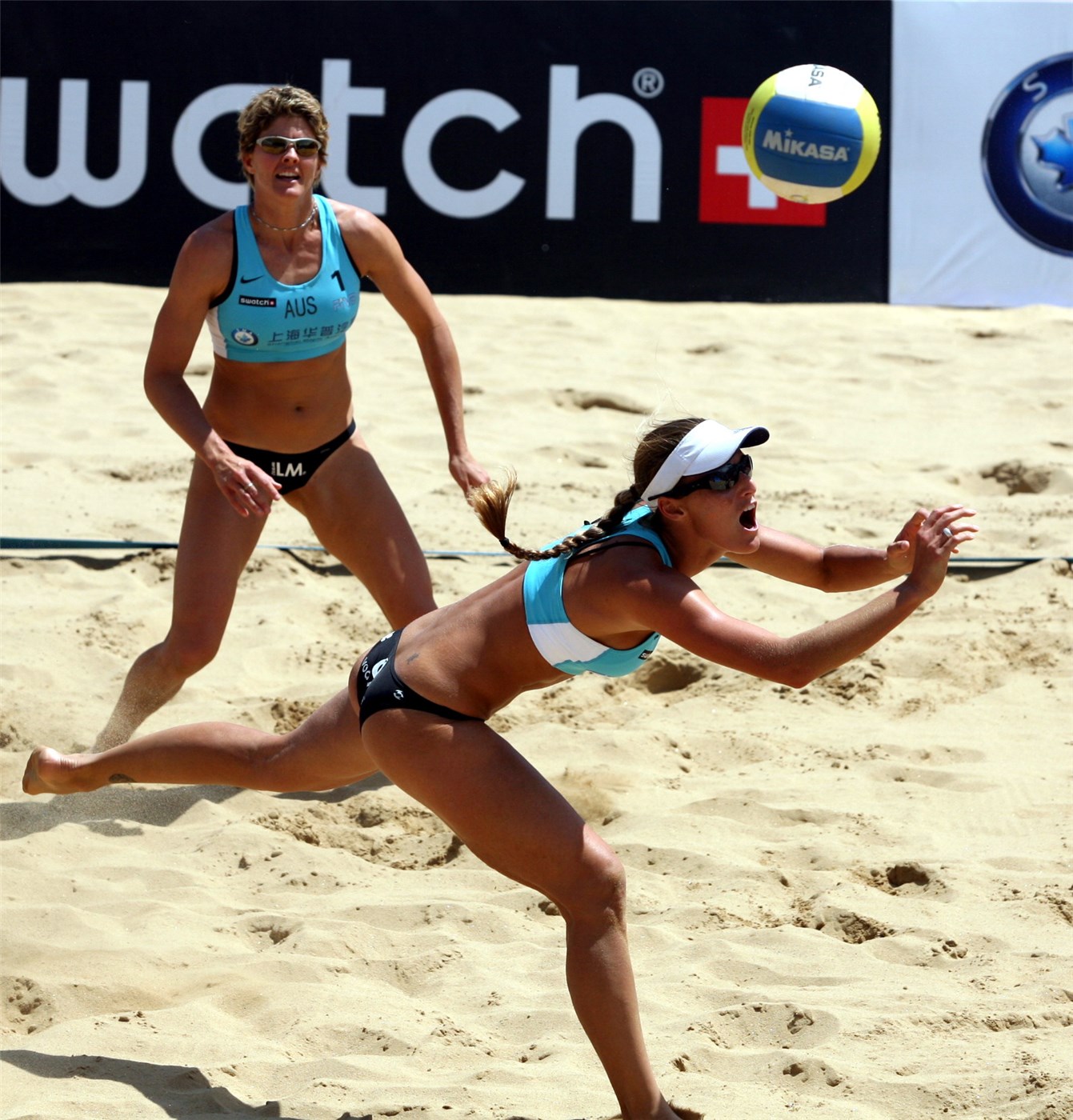 Natalie Cook (left) watches Aussie partner Nicole Sanderson reaching for the ball
Question:  You and Kerri Pottharst played Shelda and Adriana 22 times on the World Tour with six wins. What made them a special team?
COOK: "Shelda and Adriana were just technically the best team in the world, their skills, the dig set spike block defence, dig defence, peel or retreat defence, the serving. There was just unrelenting pressure.
There was no valve. There was no weakness where you could try and get a break or breath.  And probably the most important skill, because we always mention the basic skills, was knowing how to win. And I think Kerri (Walsh Jennings) and Misty (May-Treanor) clearly had that, too, not knowing how to win but just a resounding belief that they would win.  And I think Shelda and Adriana had that, too. Their work ethic was extraordinarily strong. They were just committed to winning."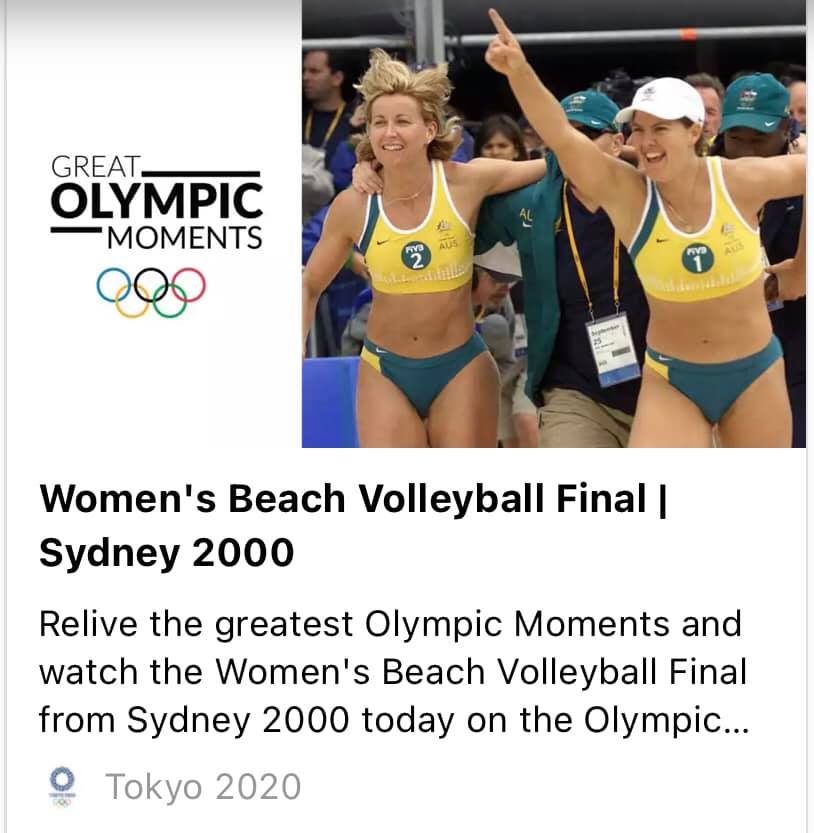 https://tokyo2020.org/en/news/videos/women-s-beach-volleyball-final-sydney-2000-great-olympic-moments
Question:  You played in both eras of scoring on the FIVB World Tour: side out and rallying. Which one did you prefer?
COOK: "That's a difficult one because I finished on rally scoring. I think for the public, rally scoring is better. For the TV, it's better. At the time, I thought sideout scoring was better. But in the true context of the game, I think rally scoring is better after having that discussion with myself. Every time the ball is in play, a point should be scored. So, whilst I probably prefer the strategy of side out and it took a while to understand the momentum of rally scoring, I think rally scoring is better for the game."
Question:  Mariafe Artacho del Solar and Taliqua Clancy have had a remarkable run in 2018 and 2019. What are your thoughts about their partnership?
COOK: "Mariafe and Taliqua are a very formidable pair. They have everything that you would want in a beach volleyball team physically. They're working strong mentally and emotionally, which I believe, clearly, is one of the most important parts at an Olympic level, at a pressure situation level.  And, you know, then there's another line spiritually, an understanding of being a statesman or having the wisdom and being able to harness and cultivate your energy and deliver it when it's necessary. So that's a whole 'another level' that they are trying to develop as well. I love Mariafe's defence and tenacity. I love Taliqua's aggression and attack and the ability to hit the ball on two. She really changed the game being able to attack on two and it is a weapon. Clearly a big part of their strategy, and they work it really well. I love their serving. Taliqua's serving is aggressive. Mariafe has got a great aggressive serve. They are very calm and casual, and I just love how they play and see the game. I'm extremely excited for them for not only Japan but Paris. And hopefully, Brisbane can keep them in the game long enough, and we can see them play five Olympics, too. That would be great."
Question:  Anything else to add?
COOK: "I think the sport is ready for another move to the next level. And just hopeful that everyone is staying safe and healthy around the world. We're in a difficult time right now. We're lucky in Australia. We haven't had the level of restrictions that the rest of the world is seeing. I do think of all my beach volleyball friends that I played with and against, the current crop, all the time. And look forward to seeing beach volleyball back on the map when the world opens up."
Related links of AVC
AVC Website: click www.asianvolleyball.net
AVC Facebook: click www.Facebook.com/AsianVolleyballConfederation
AVC Twitter: click: https://twitter.com/avcvolley
AVC Instagram: click: https://www.instagram.com/avcvolley/?hl=en
AVC Youtube: click: Asian Volleyball Confederation
AVC WeChat: Asian Volleyball Confederation