Lausanne, Switzerland, June 27, 2019 – It took us 120 matches, 443 sets, 19,486 rallies in a net total of 204 hours 27 minutes to get to where we are today: at the threshold of the 2019 FIVB Women's Volleyball Nations League Final Six, which starts next week in Nanjing, China.
This is the sum of five weeks of pool play that determined the qualifiers of USA, Brazil, Italy, Turkey and Poland who will be joining hosts China to contest this year's title.
Malwina Smarzek of Poland leads the scorers list after pool play. The 23-year-old opposite has amassed an astonishing 365 points – and still has at least two or maximum four matches to play in the Final Six. This tally has already shattered her own record of 361 from last year.
Of players continuing in the Final Six, Brazil's Gabriela 'Gabi' Guimaraes is second to Smarzek, but at 'just' 234 points there's no way the Pole can lose the top spot.
In scoring skills, the Dominican Republic's Brayelin Martinez was the most efficient attacker, getting 235 kills from 494 swings for 47.6%. Of players continuing in the Final Six Italy's Elena Pietrini (second overall) posted a 46.6% efficiency (180/376), closely followed by Gabi at 46.3% (202/436).
Maja Aleksic of Serbia is the best blocker after pool play, with an average of .89 blocks per set. Brazil's Ana Beatriz 'Bia' Correa follows at .66, with China's Yuan Xinyue at .63.
And from the service line, Belgium's Marlies Janssens and the Netherlands' Juliet Mohuis each delivered 24 aces for an average of .42 per set. Italy's Indre Sorokaite also had 24 aces but having played more sets has an average of .40.
Over the course of these 120 preliminary round matches, 14 entries were registered in the list of players to have scored 30 points or more in a single VNL game. Of these 14 entries, six belonged to Smarzek alone, including an all-time of 42 in her team's four-set win over Bulgaria.
Others on the list were Italy's Paola Egonu (twice with 40 and 32), the Dominican Republic's de la Cruz (35) and Brayelin Martinez (34), Belgium's Kaja Grobelna (32), Germany's Louisa Lippmann (30), Turkey's Ebrar Karakurt (30) and Japan's Ai Kurogo (30).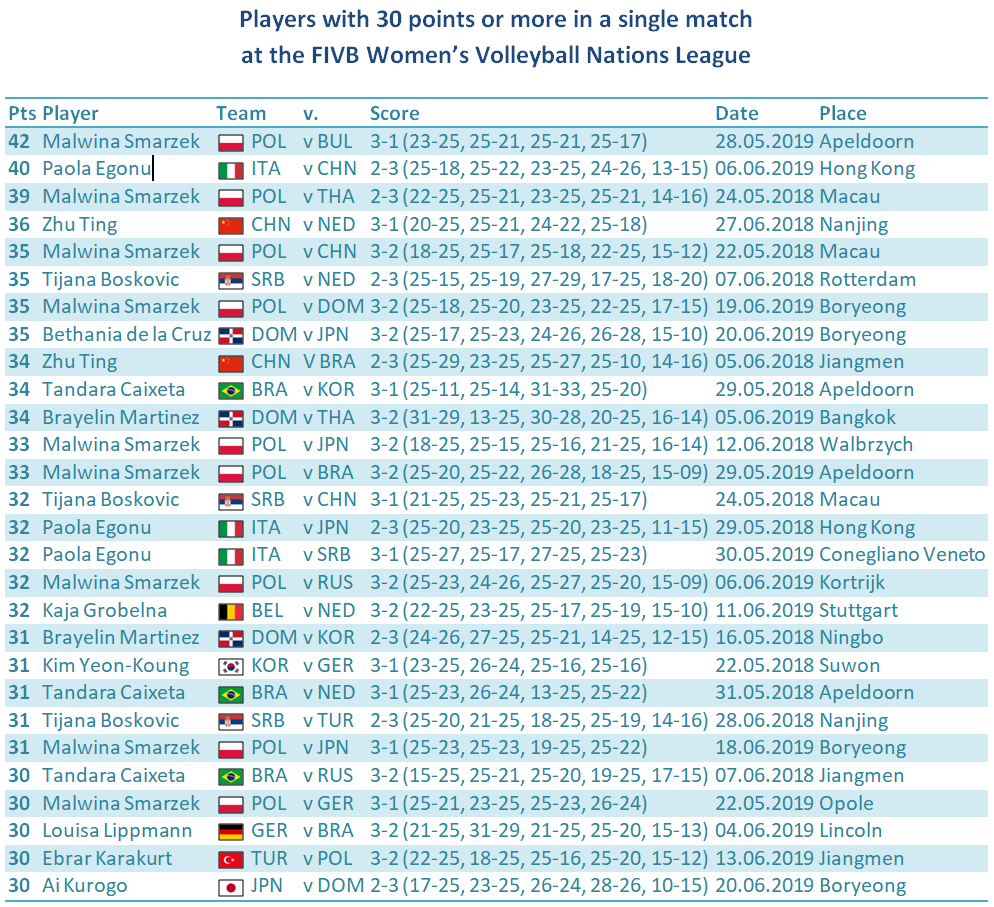 In other individual performances Egonu and Sorokaite tied the all-time serving record, as did de la Cruz. They each served seven aces in a single game, matching the record set last year by Turkey's Eda Erdem.
In the case of the Dominican Republic's 32-year-old opposite, it very nearly was a 'double': In the very same match against Japan where she scored her seven aces, de la Cruz also registered eight blocks, coming to within one of tying the all-time VNL record jointly held since last year by Poland's Agnieszka Kakolewska and Brazil's Adenizia 'Ade' da Silva.
The more than a month-long VNL regular season also featured the longest match in the history of the competition, registered when Turkey took 2 hours 30 minutes to beat Brazil 3-2 on the closing day in Ankara. That net duration was just one minute over the previous record set last year twice in the Thailand v Poland (3-2) and China v Germany (3-2) matches.
At 49 minutes, the duration of the first set (27-25) in the Serbia v Italy (1-3) match at Conegliano this year was also a record.
And when the Dominican Republic beat Thailand in five sets at Bangkok, the two sides registered a total of 231 points (110-121) for another all-time record. The previous of 225 was also set this year in the Germany v Brazil (3-2) match in Lincoln, beating last year's 223 in the Turkey v USA (3-2) and the Netherlands v Belgium (3-2) games.
Related links of AVC
AVC Website: click www.asianvolleyball.net
AVC Facebook: click www.Facebook.com/AsianVolleyballConfederation
AVC Twitter: click: https://twitter.com/avcvolley
AVC Instagram: click: https://www.instagram.com/avcvolley/?hl=en
AVC Youtube: click: Asian Volleyball Confederation
AVC WeChat: Asian Volleyball Confederation