Diamond Food salvaged their pride to claim bronze medal
Semey, Kazakhstan, April 30, 2022 – Determined Kuanysh stunned title-holders Altay in hard-fought, five-set thriller 24-26, 21-25, 30-28, 25-23, 15-6 in the highly-anticipated all-Kazakhs final to underline their supremacy over the 2022 Asian Women's Club Volleyball Championship at the packed Abay Arena Cultural and Sports Complex here on Saturday.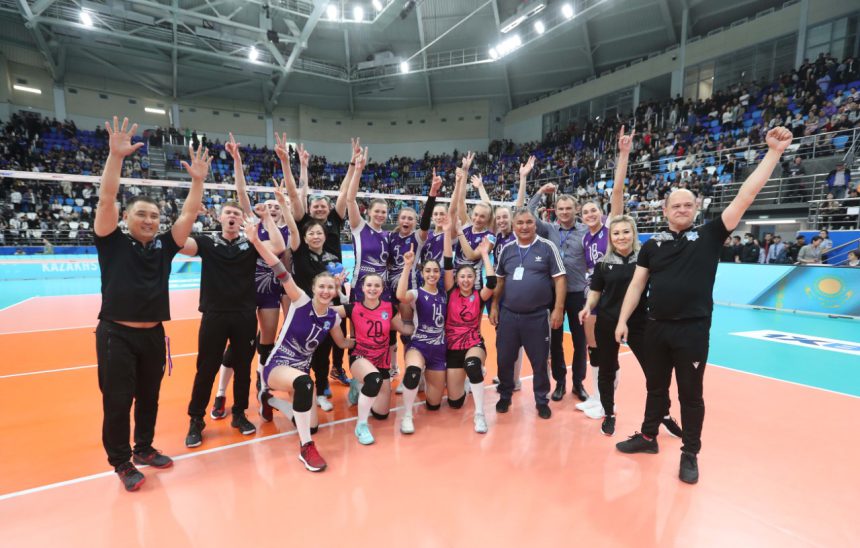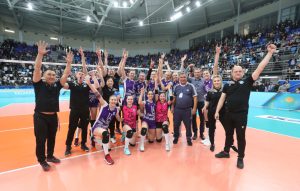 Ukrainian Karyna Denysova scored a match-high 31 points including 29 attacks from 78 attempts to steer Kuanysh to tie-break win. Ukrainian Nadiia Kodola chipped in with 26 points including 24 attacks on losing effort of Altay. Captain Sana Anarkulova assisted with 16 points, while Kristina Anikonova collected team-leading 10 blocks.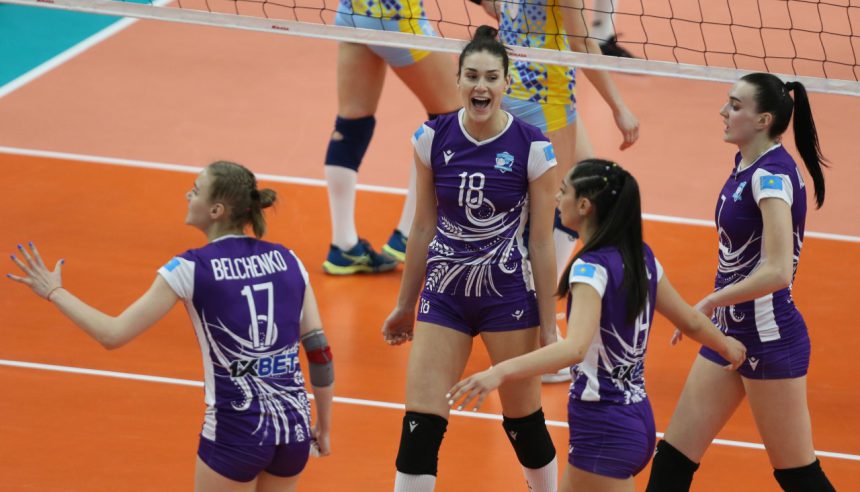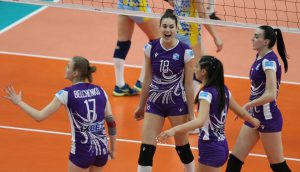 The Kuanysh's remarkable win was a sweet revenge on Altay for their disappointing 1-3 loss in the single round-robin preliminaries earlier and has stretched Kazakhstan's aura of invincibility in the continent's top-flight women's club competition to two on the trot.
At the previous edition in Thailand last year, Altay had a successful outing after stunning hosts Nakhon Ratchasima QminC VC in hard-fought straight sets in the thrilling showdown to reign supreme.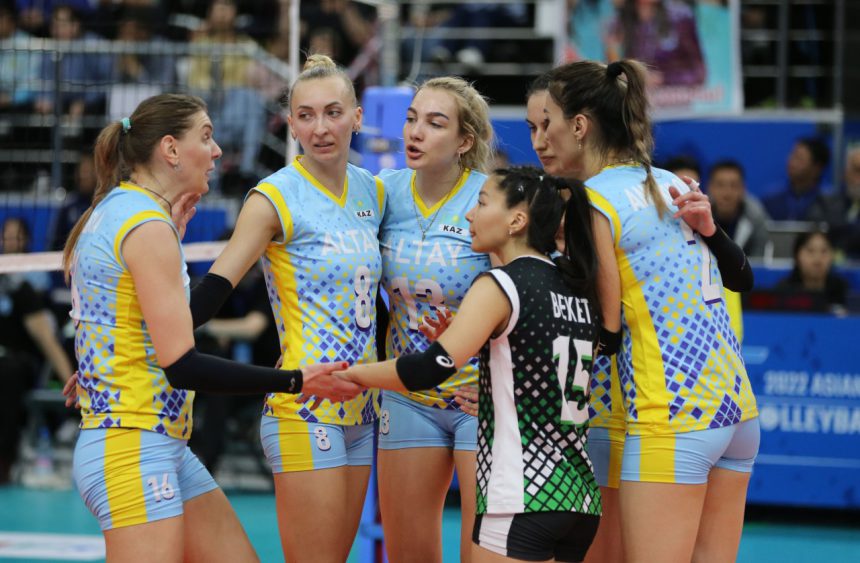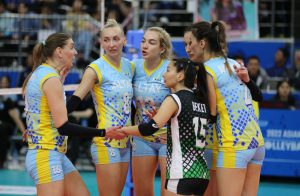 Kuanysh became the fourth team from Kazakhstan to stamp their authority on this championship. Rahat Almaty handed the country their unprecedented title in 2004, Rahat CSKA followed suit to capture the crown in 2007, Altay VC dominated the 2021 championship and Kuanysh achieved it before home fans in 2022, resulting in four times Kazakhstan has already landed this prestigious title.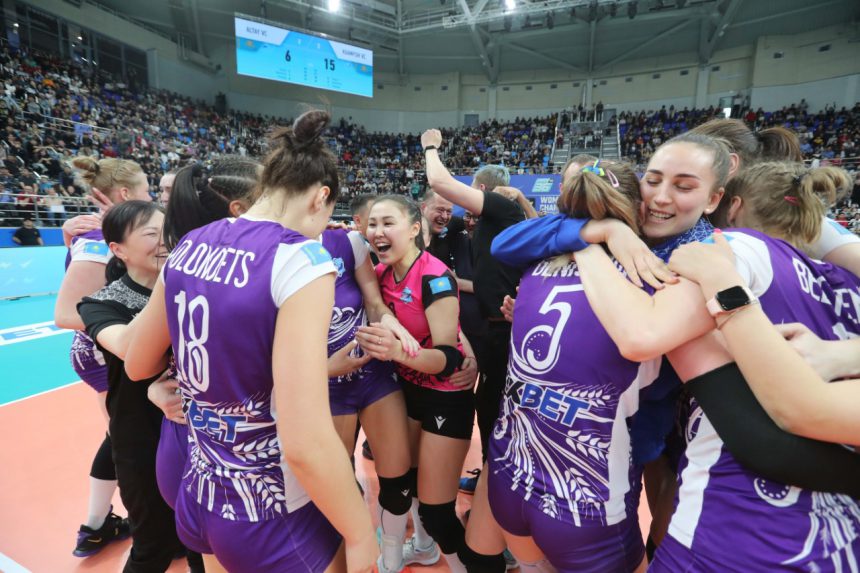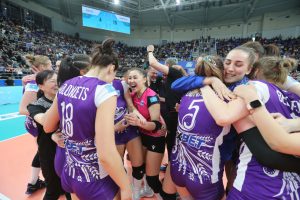 En route to the showdown, Altay had been the only unbeaten team in the championship with a perfect sweep of all five preliminary matches and the pre-race favourites still came out in full strength to repeat the similar feat in the most important clash on Saturday, while Kuanysh looked to avenge the formidable rivals.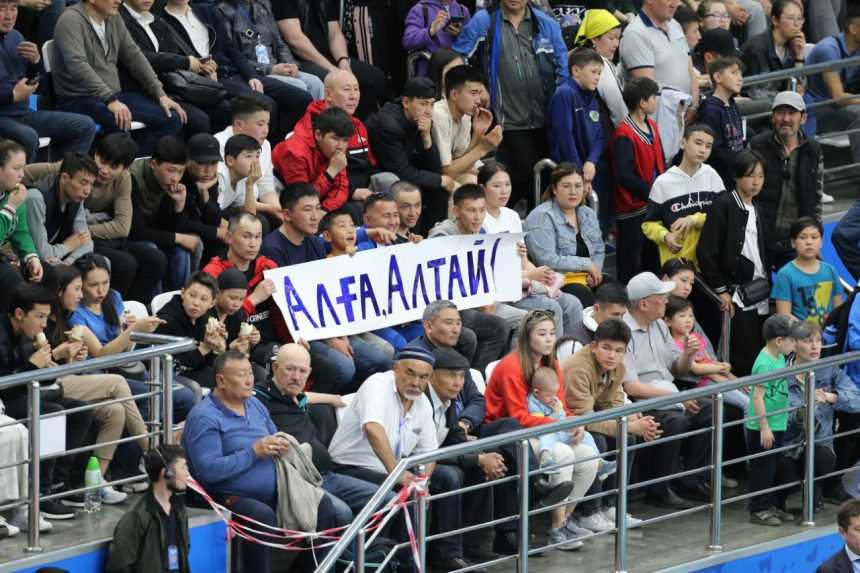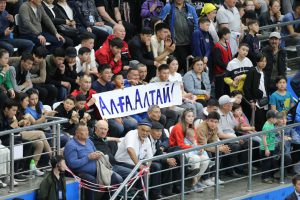 Despite competing in front of around 5,000 home fans, Altay made a sluggish start in the first set to trail 9-14, but soon after that the Kazakh outfit gained control to bounce back with a terrific display. Instrumental captain Anarkulova, who landed the MVP award at the previous edition, provided a sublime demonstration of her immense skill and inspiring leadership as she spearheaded Altay to back-to-back attacks and helped her team catch up with Kuanysh at 16-all.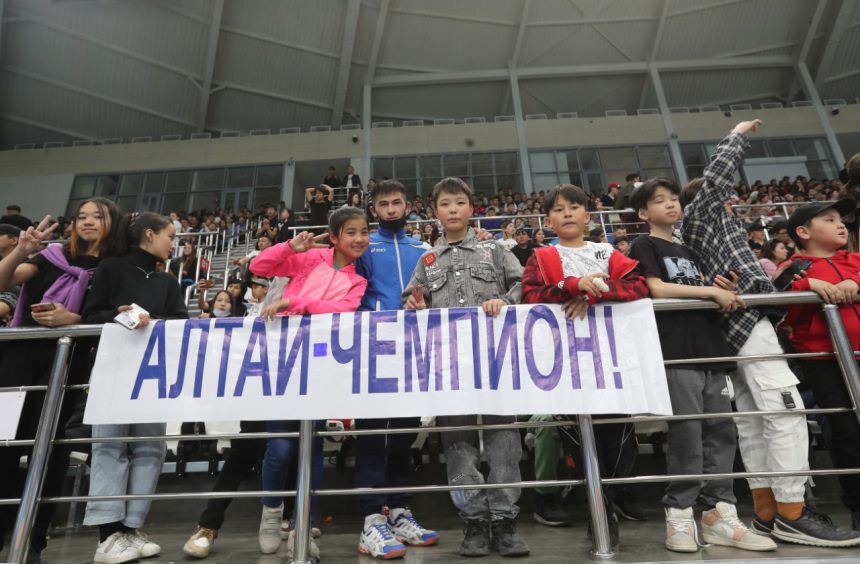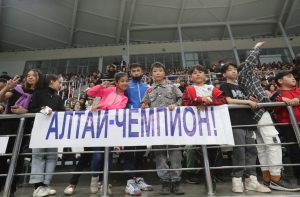 Both sides still came up with almost the similar level to trade attacks on powerful spikes, solid blocks and great serves for 24-all, but Kuanysh were errors-strewn after that, leaving Altay to surge away with the hotly-contested first set win 26-24.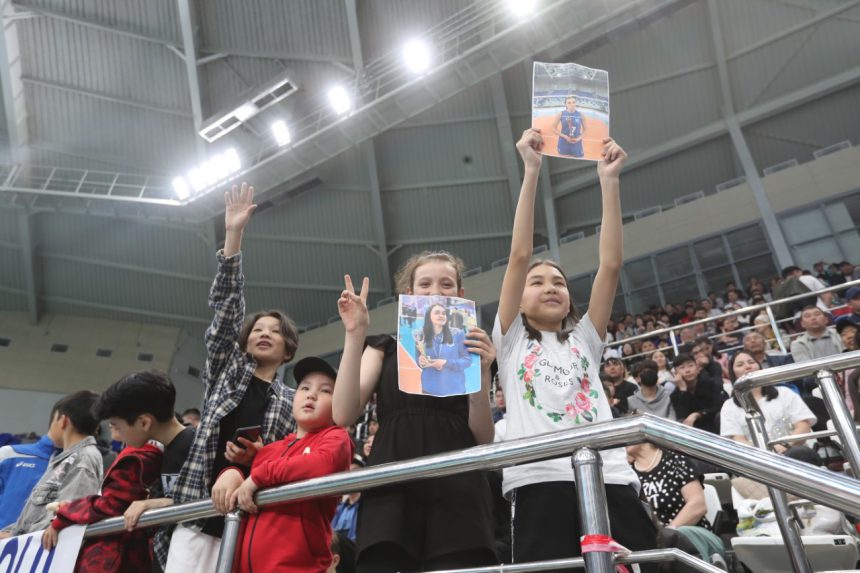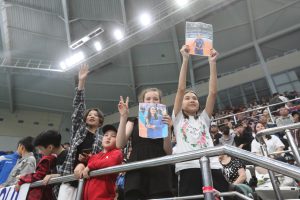 Kuanysh still performed superbly in the second set to fend off repeated attacks from the embattled rivals and take a four-point clear to lead 6-2. However, the on-going battle was incredibly close with neither side able to break clear, but it was Altay which caught the rivals 17-17 and again at 21-21. The defending champions did not look back from then on to score four points in a row to clinch the set 25-21, with Anikonova producing a thundering fast spike for the team's last point.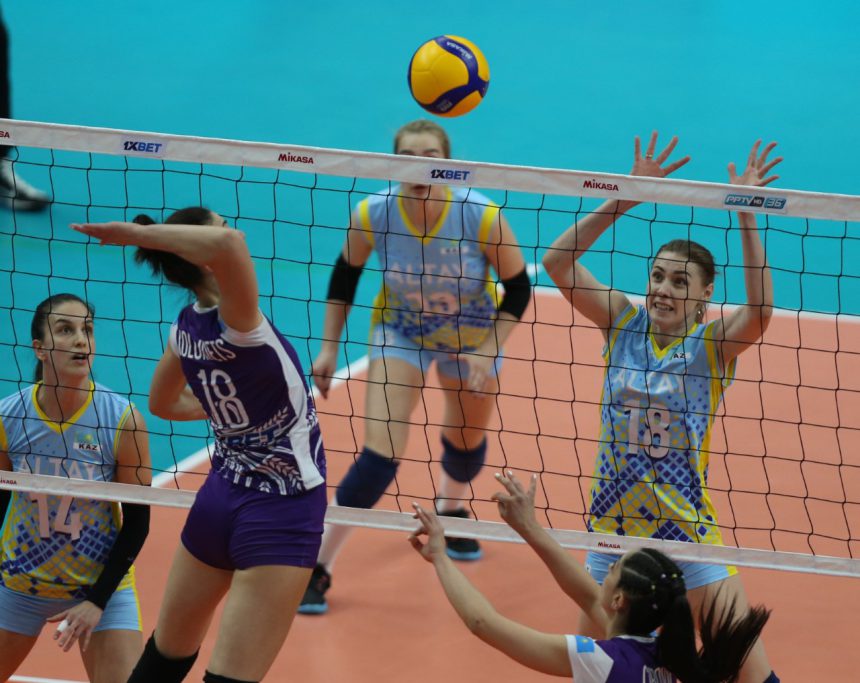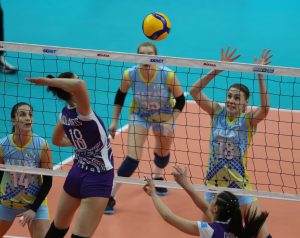 Taking 2-0 advantage, Altay, helped by the excellent defensive work of Madina Beket, who won the Best Libero the previous edition, went on their remarkable run to commandingly lead 19-14 in the third set. Still, Kuanysh did not want to surrender easily as the spirited side upped their tempo and hit back gallantly to meet Altay at 23-all.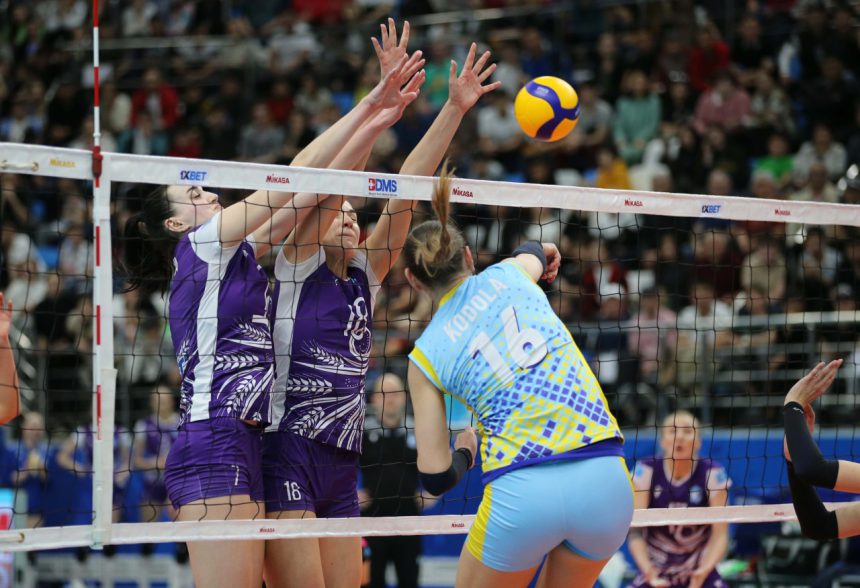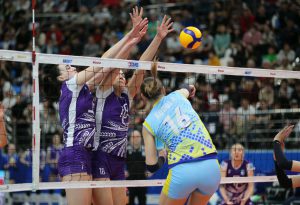 Leads changed hands for several times until Anarkulova attacked devastatingly at the net to put Altay in front 28-27, needing only one more point to capture the set and the championship. Nonetheless, they let the victory slip through their fingers as Kuanysh revived their fortunes, mixing the excellent combinations of explosive attacks from Tatyana Aldoshina and Denysova and scintillating blocks by Yana Petrenko and Anastassiya Kolomoyets to bag three consecutive points for the set win 30-28.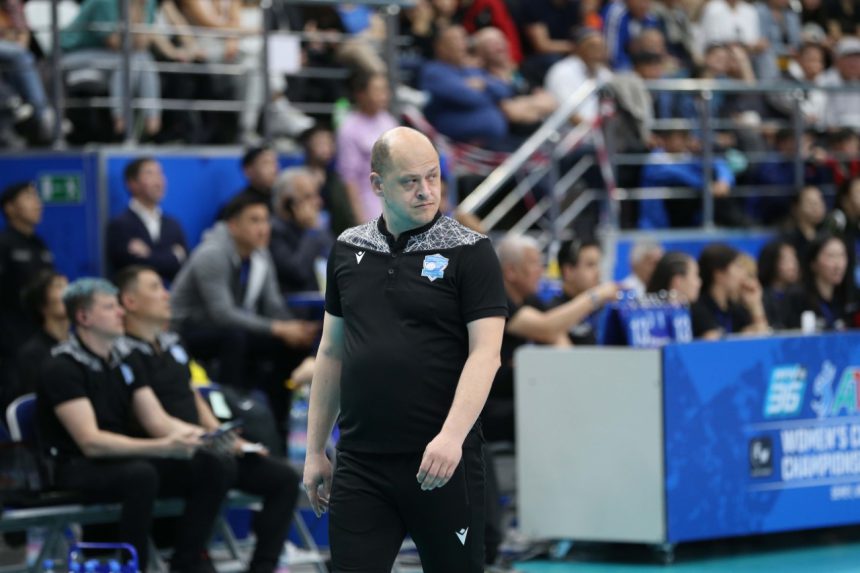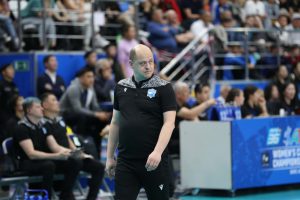 The fourth set spectacularly sparked after the second timeout when Altay and Kuanysh fought tooth and nail in a rare lengthy rally and neither side took advantage. At 23-all, Kuanysh held their nerves. As the team led with one-point clear 24-23 after Anarkulova's serve went to the net, Denysova unleashed a powerful blow for Kuanysh's 25-23 win.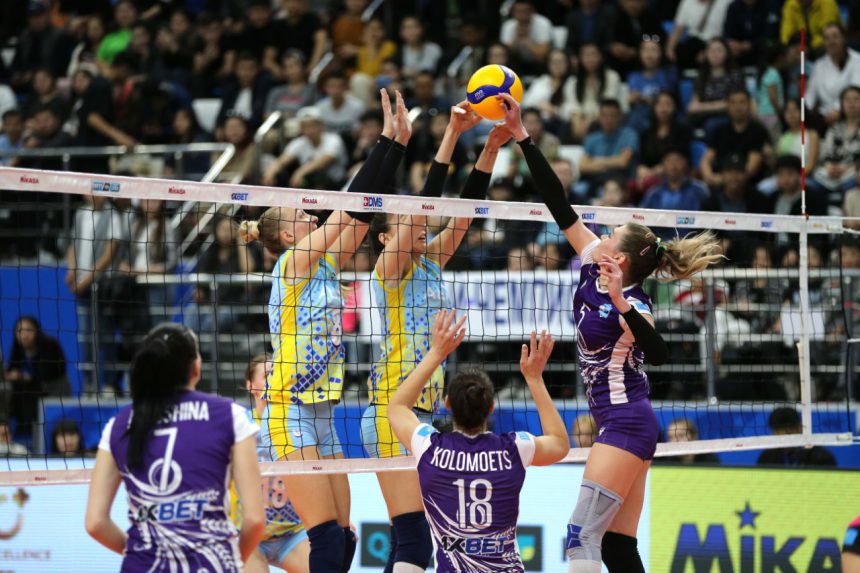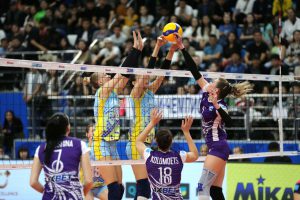 In the do-or-die tiebreaker, Kuanysh continued to notch crucial points through their splendid teamwork and combinations to lead by wide margin of 11-2. Altay tried hard to regain their form, but their efforts were in vain. Kuanysh maintained their dominance, allowing the title-holders only four points to capture the comfortable decider 15-6, match and the championship.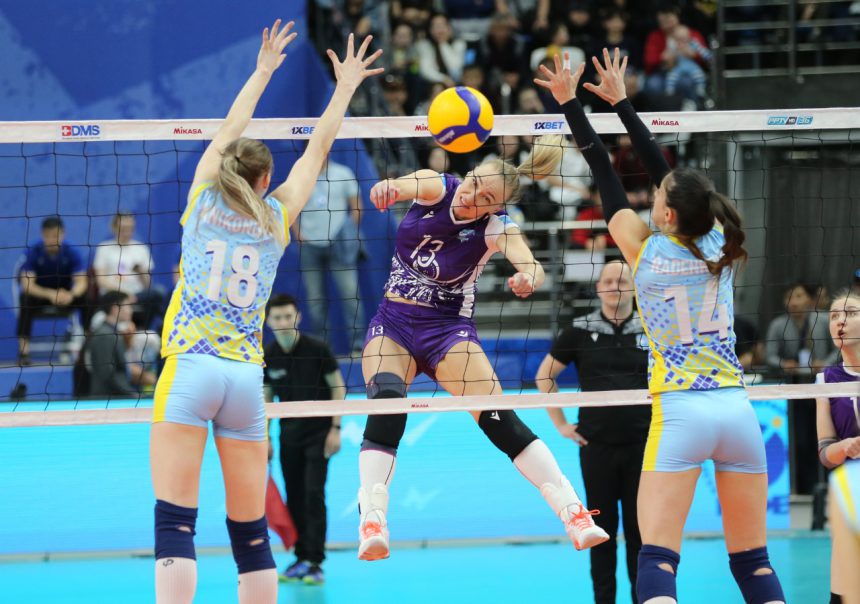 After the match, the Kuanysh players jumped for joy and ran to hug one another, some in tears of happiness.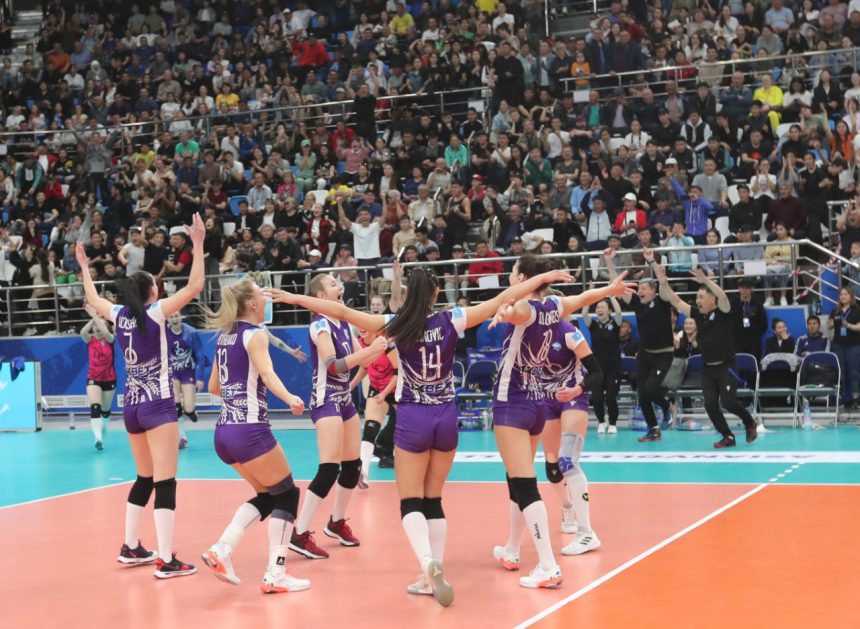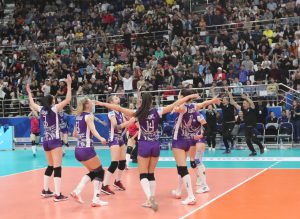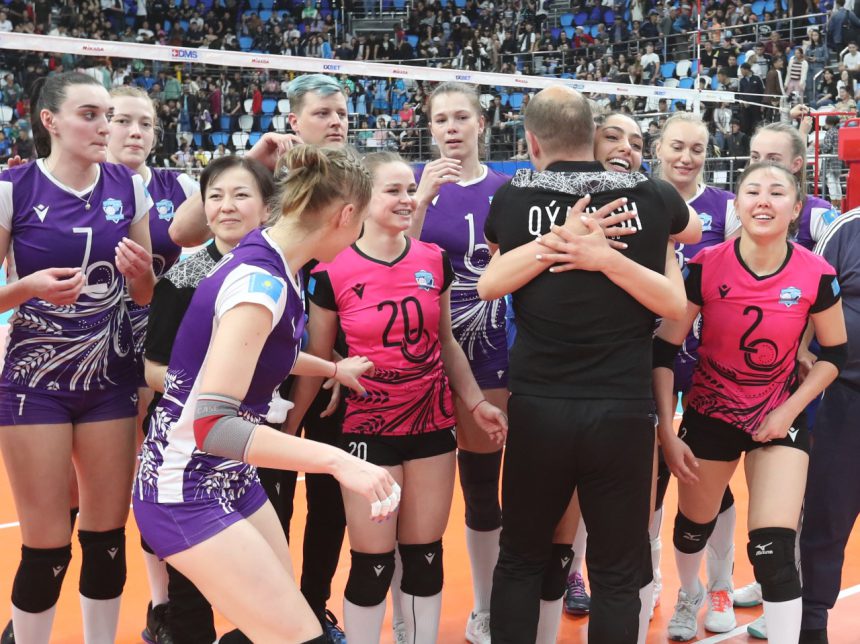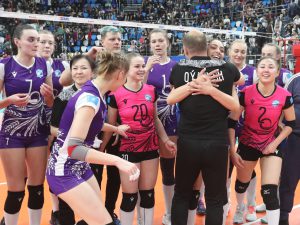 Earlier, consecutive two-time Thailand League winners Diamond Food – Fine Chef Sport Club claimed bronze medal after a fantastic comeback 3-1 (20-25, 25-15, 25-11, 25-21) win against Iran's Super League champions Barij Essence, the team they had already beaten 3-0 in the single round-robin preliminaries on April 26.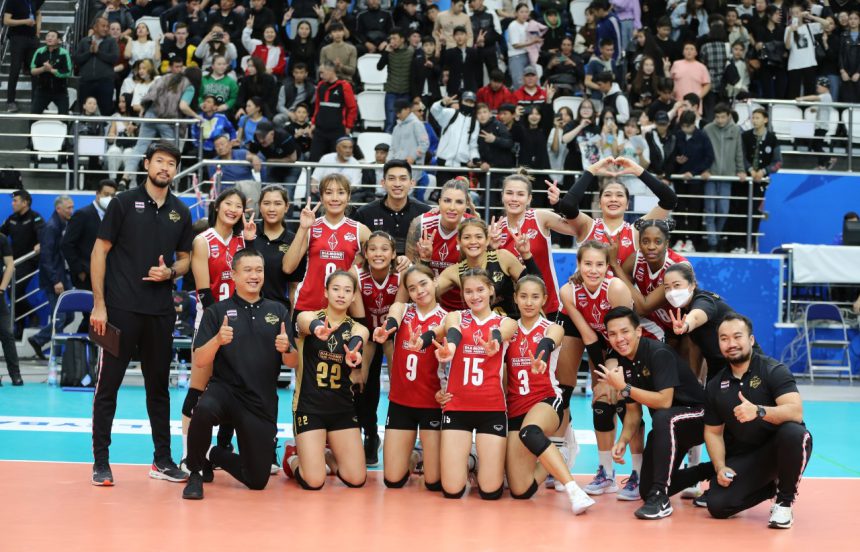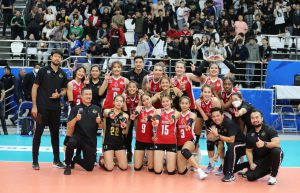 In the well-fought first set, Barij Essence got off to a victorious start with a 5-point clear to take an early 5-0 lead, thanks to the team's scintillating blocks and the 188cm Aytak Salamatgharamaleki's aggressive spikes.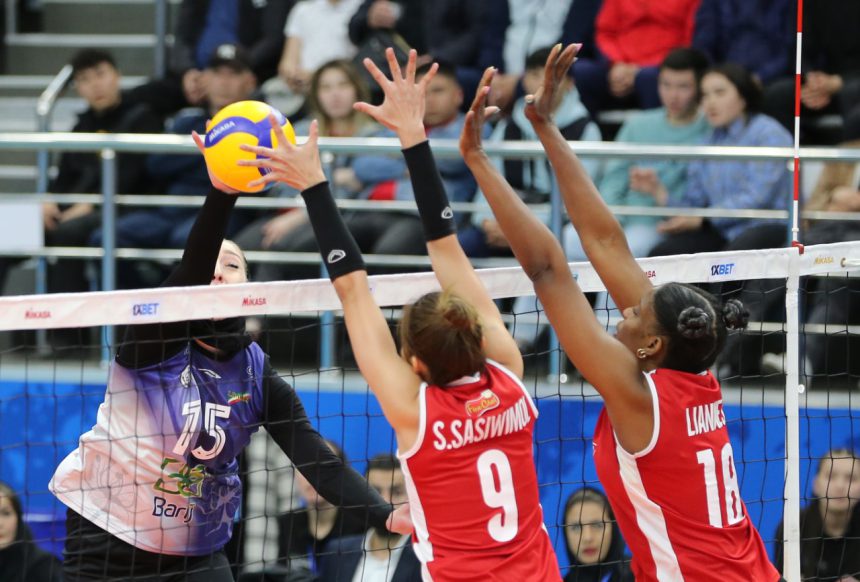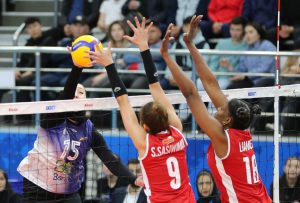 Although Diamond Food gradually pulled their game together after that, with the 195cm Brazilian Fernanda Tome overcoming the smaller blockers with her powerful attacks, to narrow the gap 10-11, the momentum was with coach Fatemeh Shabankhamseh's girls and they put the Thais under enormous pressure. Mahsa Kadkhoda was a constant threat from spike range and Mona Ashofteh's blocking ability proved a thorn in the Thai attacks. An effective drop shot from Zahra Karimi gave Berij Essence a commanding 24-20 lead and Elaheh attacked Thai blockers Kaewkalaya Kamulthala and Thanacha Sooksod with her devastating attack to end the Thai challenge in the set 25-20.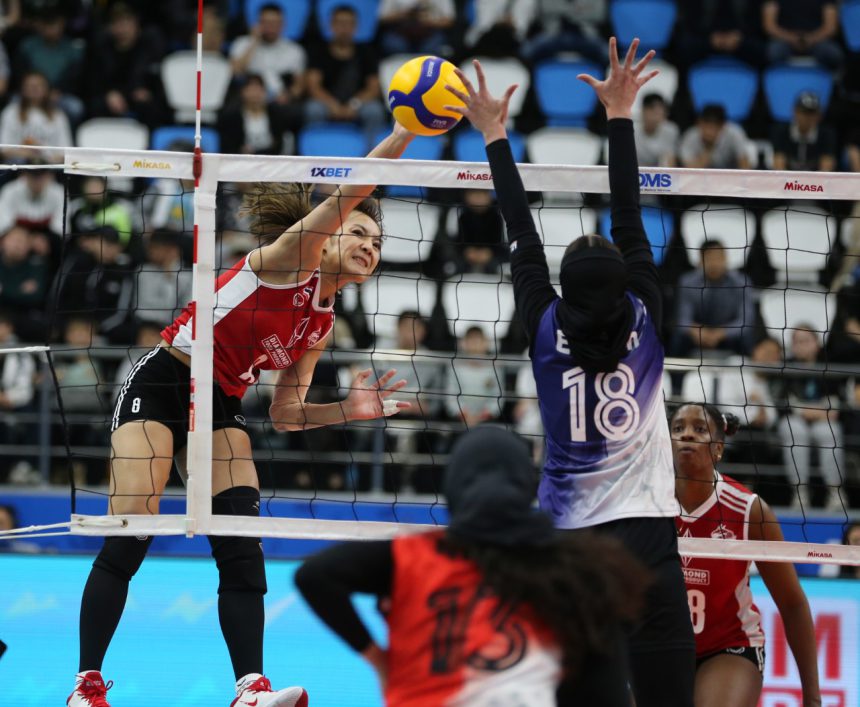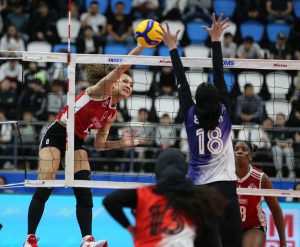 Conceding one-set deficit, Diamond Food's resilience was showcased through spectacular fast spikes from Kaewkalaya and Tome's exceptional attacks in the second set and the Iranian side had no answer to the Thais' power. Diamond Food exploited the excellent offensive combinations between fierce attacks from gifted Kanjana Kuthaisong and Tome and thundering fast spikes from Kaewkalaya to bag the comfortable second set 25-15.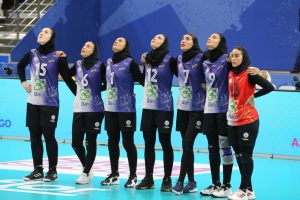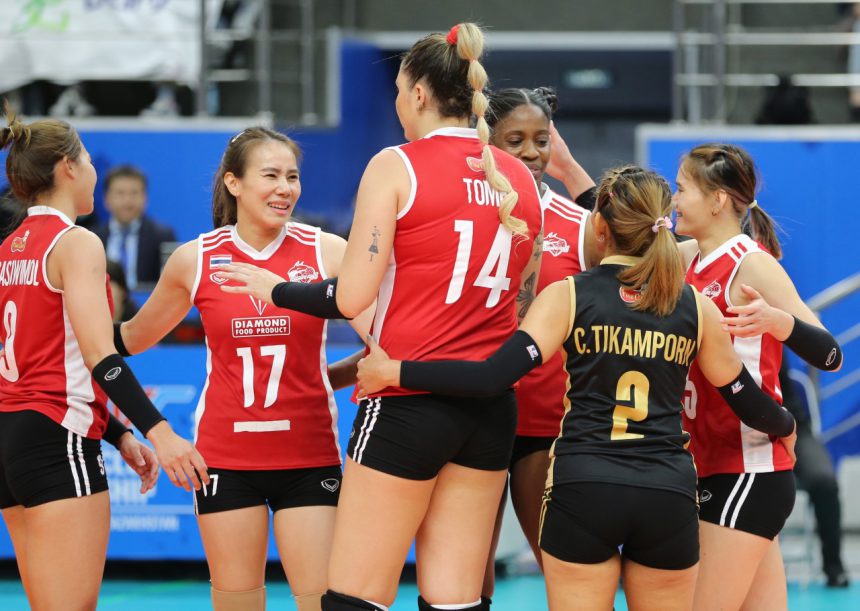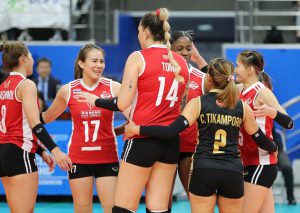 The third set turned out to be the similar script as the Diamond Food's overwhelming dominance continued through Kaewkaliaya's powerful blows, while the Barij Essence's standard of play failed to reach great heights as they became more prone with unforced mistakes. The Thai team raced to a 22-11 lead before Kaewkalaya chipped in with huge attacks to score two points in a row to put Diamond Food ahead 24-11. The Thais celebrated the set win shortly after a spike from Berij Essence went wide.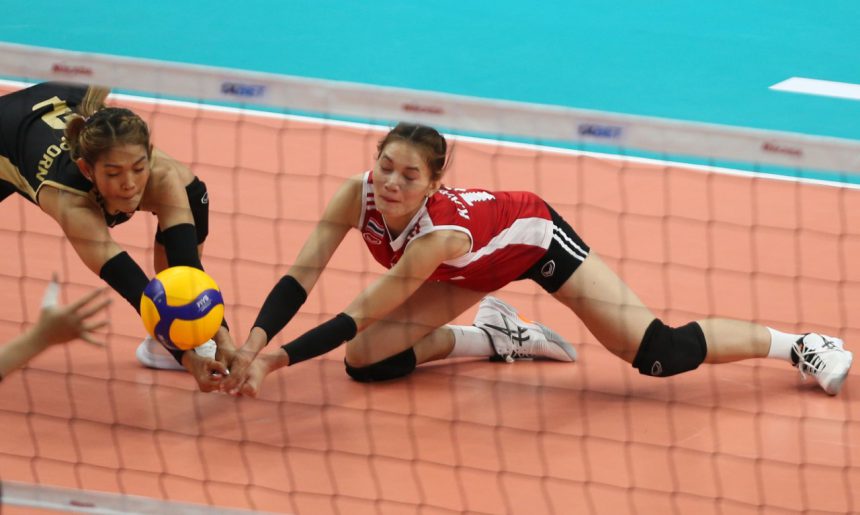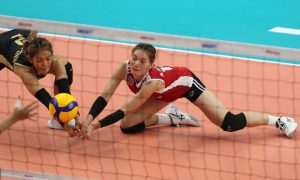 The fourth set was more thrilling as both sides gave it all-out, but Diamond Food maintained their leading way with a 4-point advantage to lead 15-11 and stretched it to 20-14 before Barij Essence counter-attacked well to score four points in succession to reduce the margin at 18-20.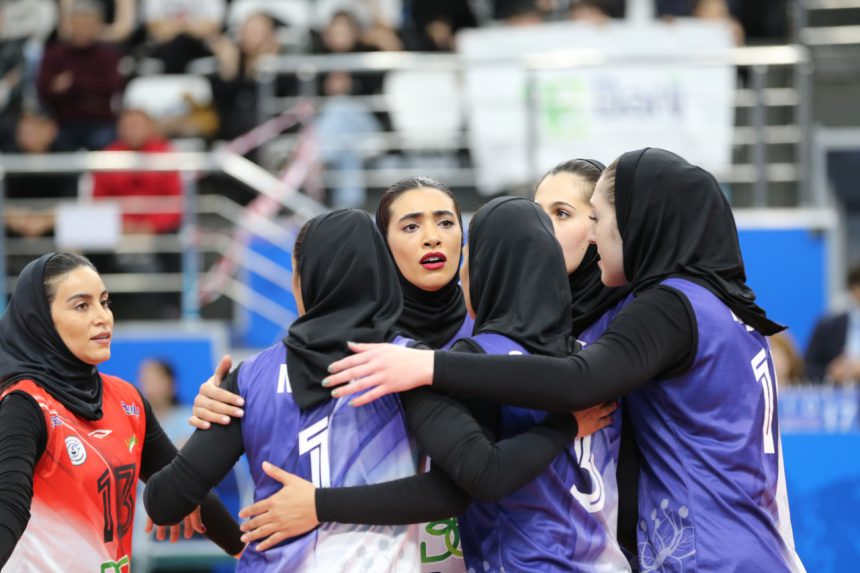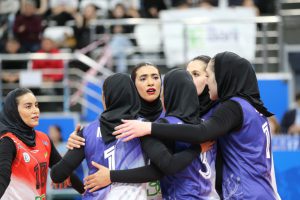 However, the Thai outfit impressively resisted the Iranians' determined comeback efforts to claw their way back to lead 24-21 before Tome followed up another powerful spike moments later to hand Diamond Food the set win 25-21 and the bronze medal.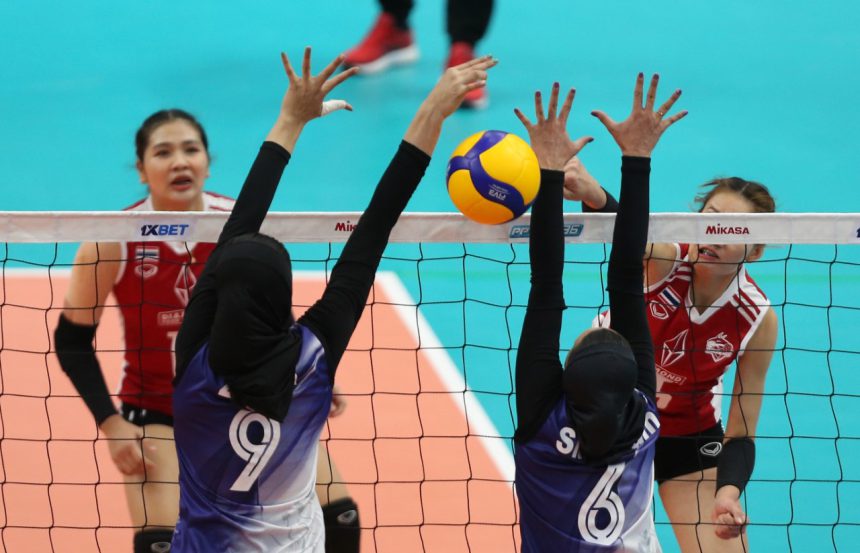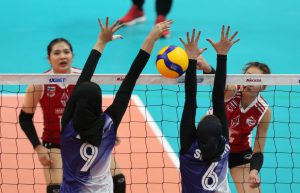 Mr Danial Akhmetov, Akim of East Kazakhstan region, presided over the awards presentation and closing ceremony inside the state-of-the-art competition site, with top three teams of the one-week championship attending.
For awards presentation and closing ceremony, please click the below link to watch https://youtu.be/O7E2_pGHG7k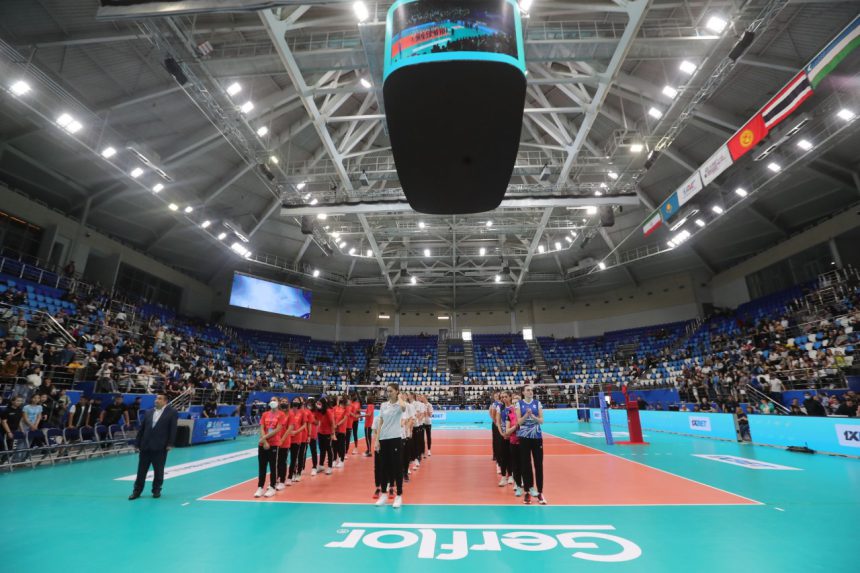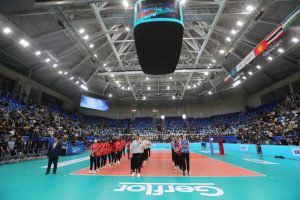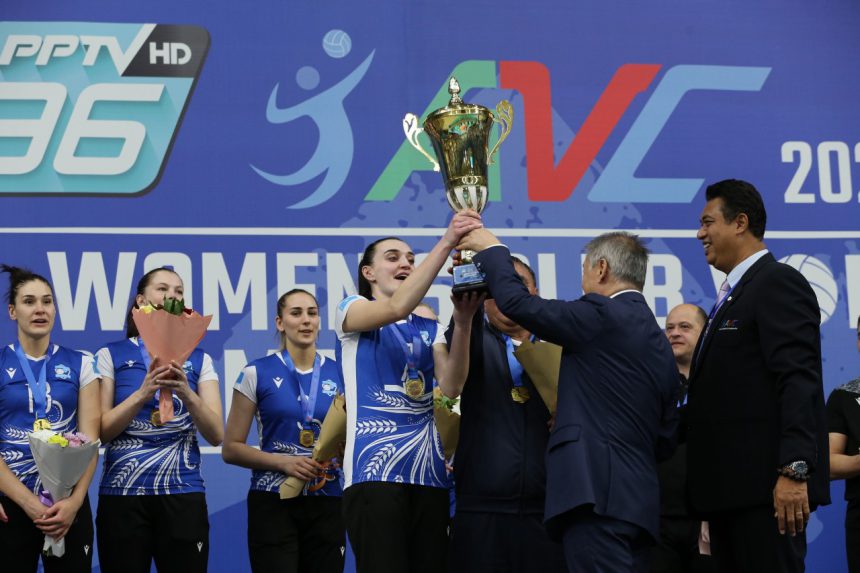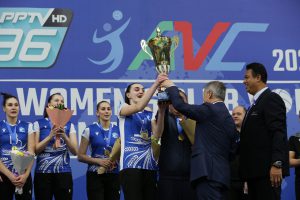 The eventual winners Kuanysh of Kazakhstan landed the Champions' Trophy and gold medal. Second place Altay VC, the outgoing reigning champions from Kazakhstan, received trophy and silver medal, while third place Diamond Food – Fine Chef Sport Club from Thailand took home trophy and bronze medal.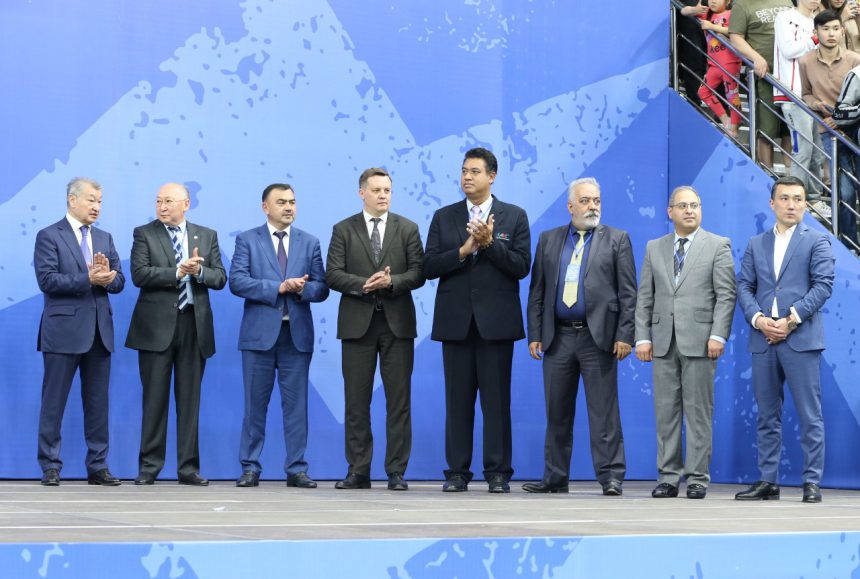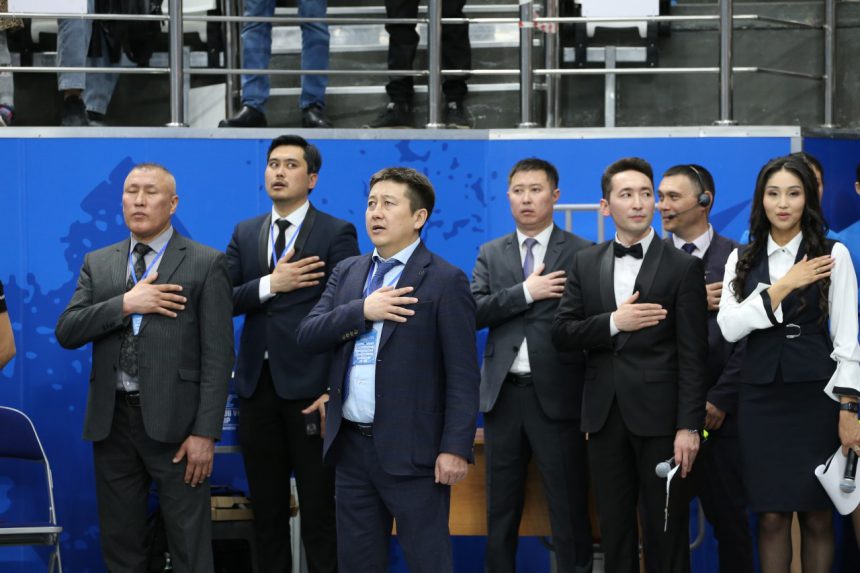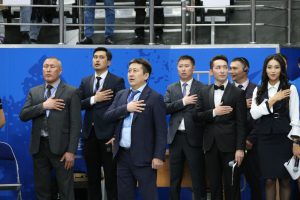 Control Committee Chairman and Technical Delegate Mr Yermek Syrlybayev, himself Secretary General of the Volleyball Federation of the Republic of Kazakhstan, AVC Secretary General and Technical Sub Committee Mr Kiattipong Radchatagriengkai from Thailand, Referee Delegate Mr Mohammad Sharmiri from Iran and other Control Committee Members also joined in the awards and closing ceremony.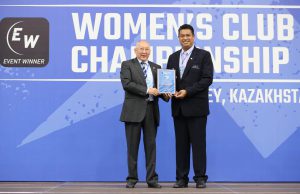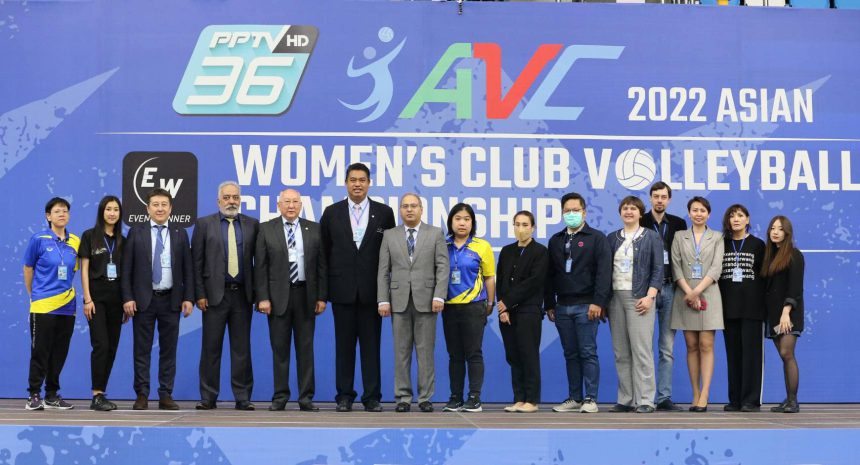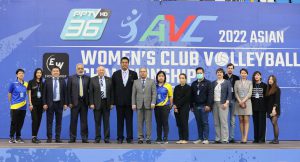 FINAL RANKINGS
1. Kuanysh VC (Kazakhstan)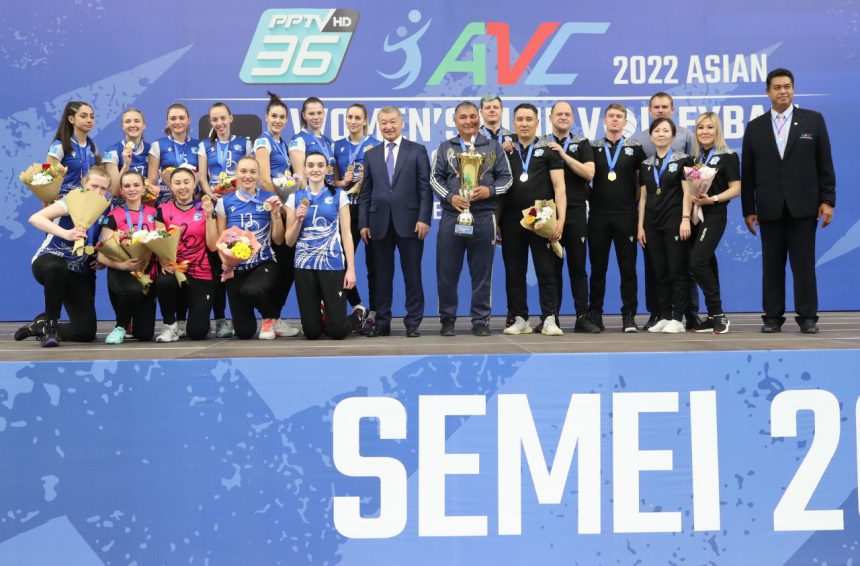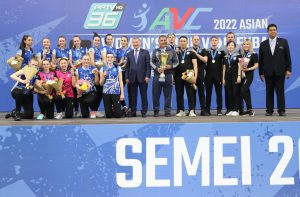 2. Altay VC (Kazakhstan)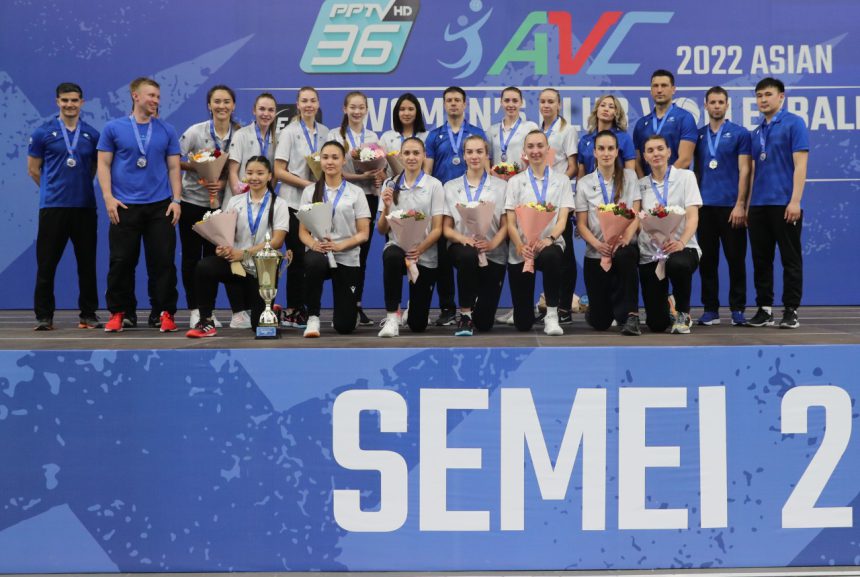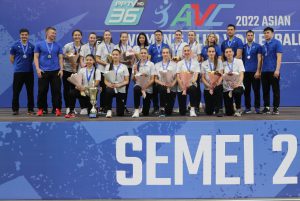 3. Diamond Food – Fine Chef Sport Club (Thailand)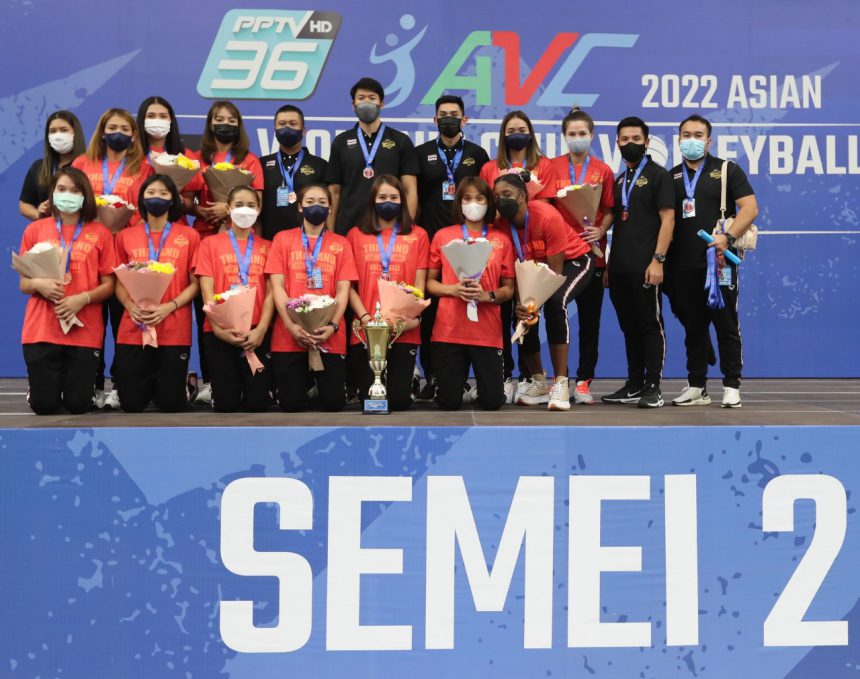 4. Barij Essence (Iran)
5. Jizzakh State Pedagogical Institute (Uzbekistan)
6. Kyrgyzstan VC (Kyrgyzstan)
INDIVIDUAL AWARDS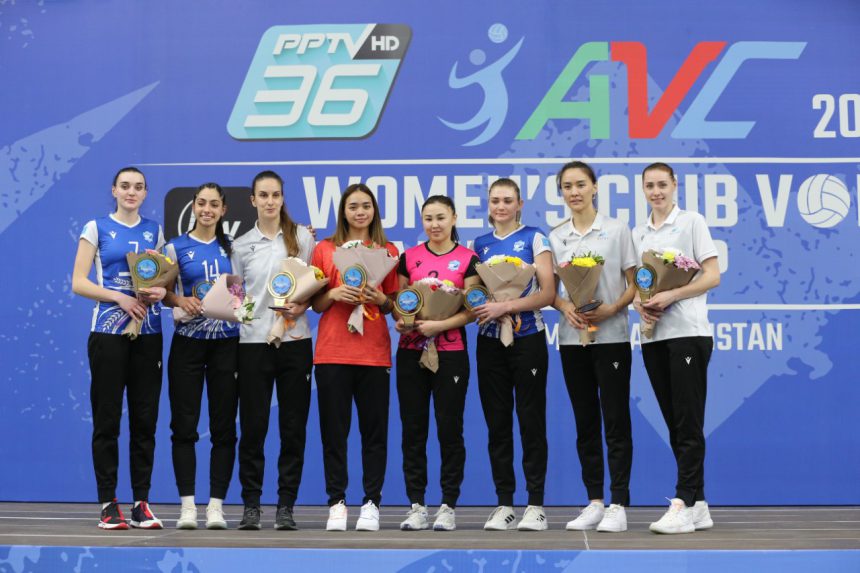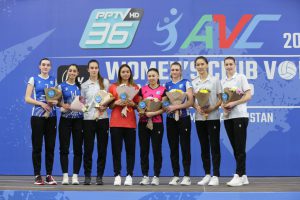 BEST OUTSIDE SPIKERS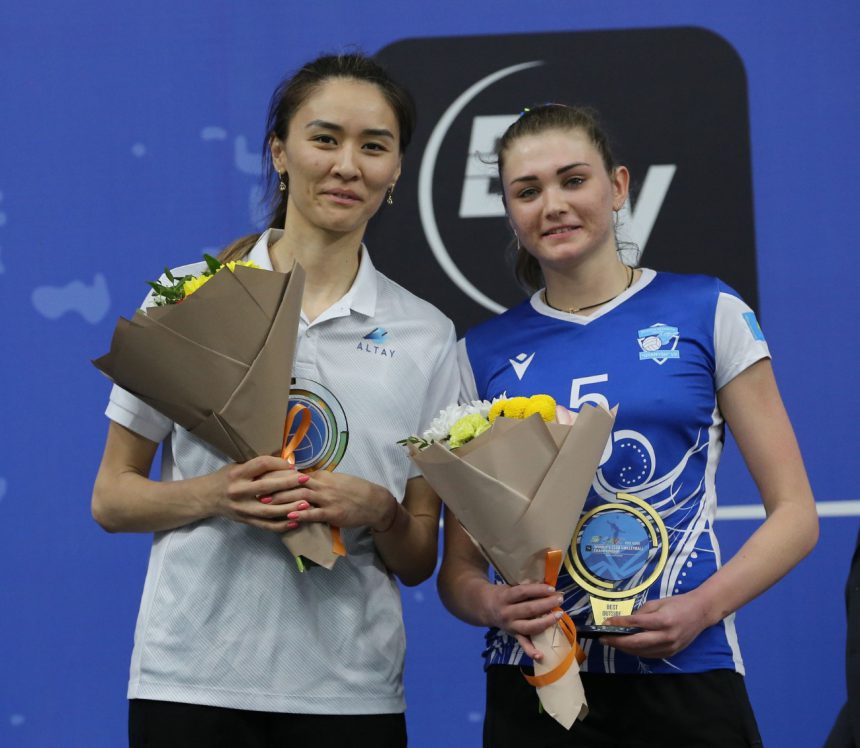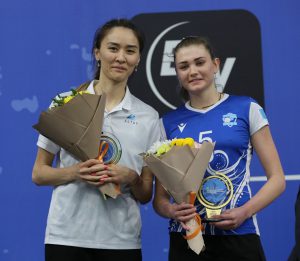 Sana Anarkulova (No.2 Altay)
Karyna Denysova (No.5 Kuanysh)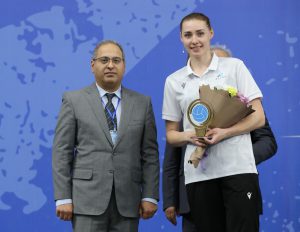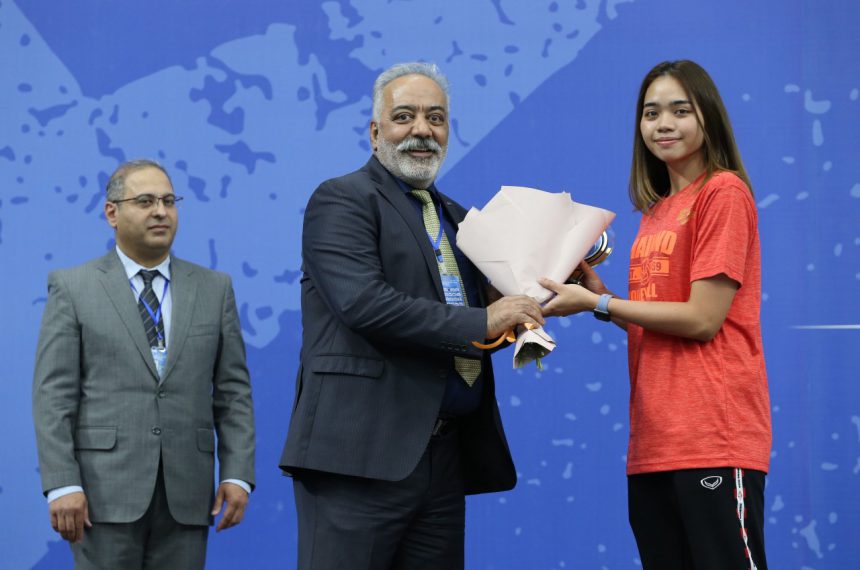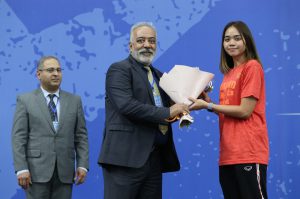 BEST MIDDLE BLOCKERS
Kristina Anikonova (No.18 Altay)
Sasiwimol Sangpan (No.9 Diamond Food)
BEST OPPOSITE SPIKER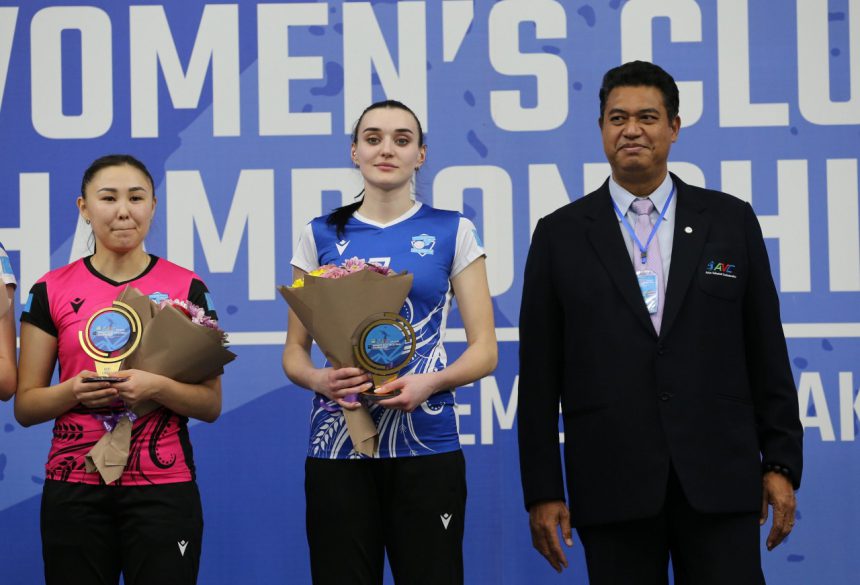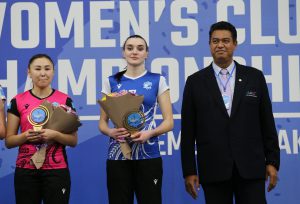 Tatyana Aldoshina (No.7 Kuanysh)
BEST SETTER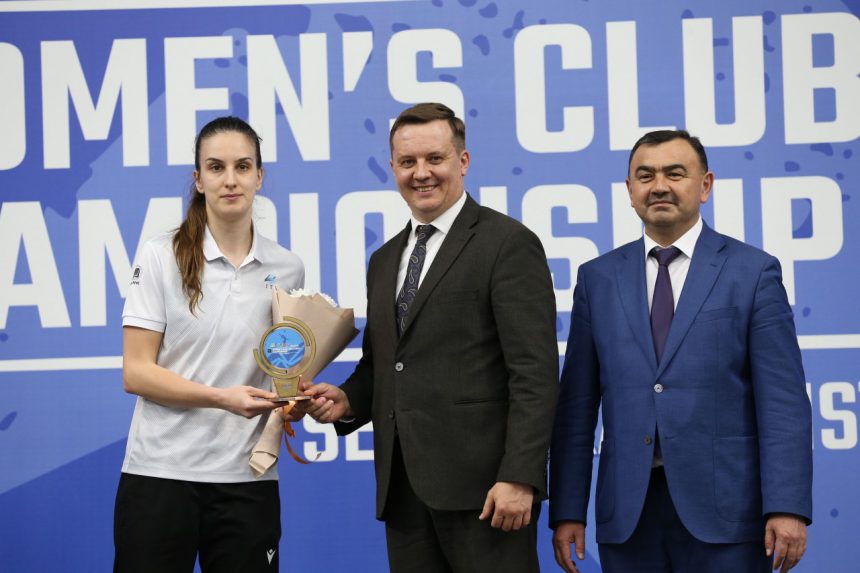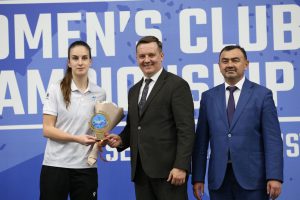 Danica Radenkovic (No.14 Altay)
BEST LIBERO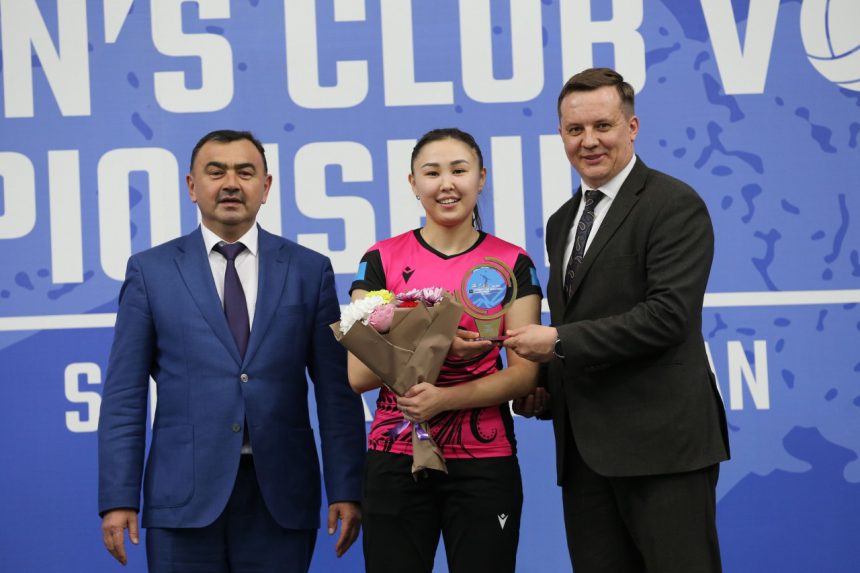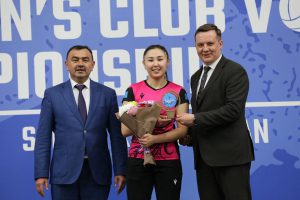 Sabira Bekisheva (No.2 Kuanysh)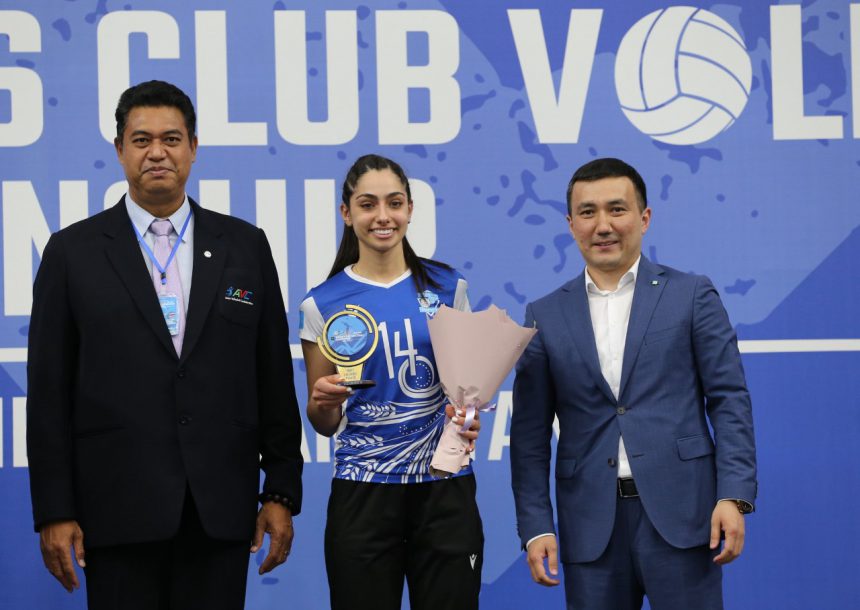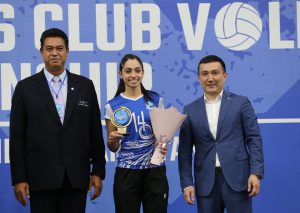 MOST VALUABLE PLAYER
Aleksandra Cirovic (No.14 Kuanysh)
MATCH RESULTS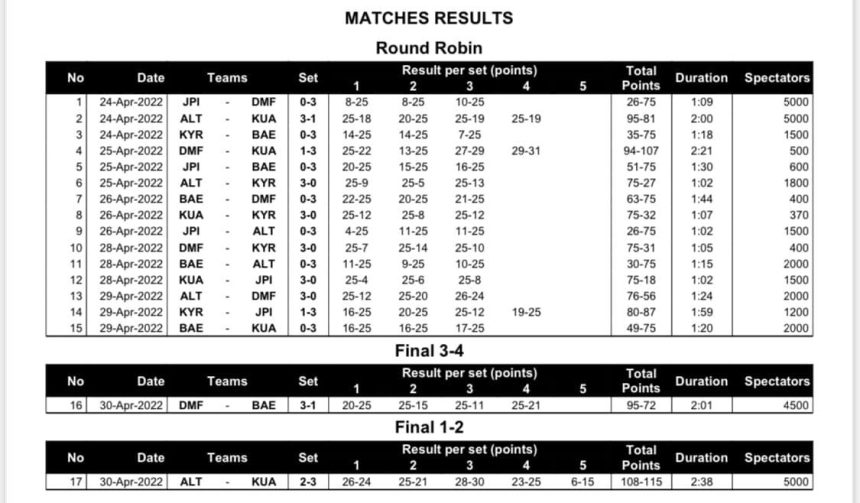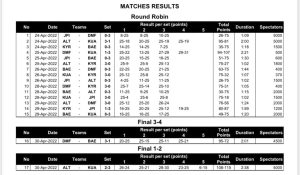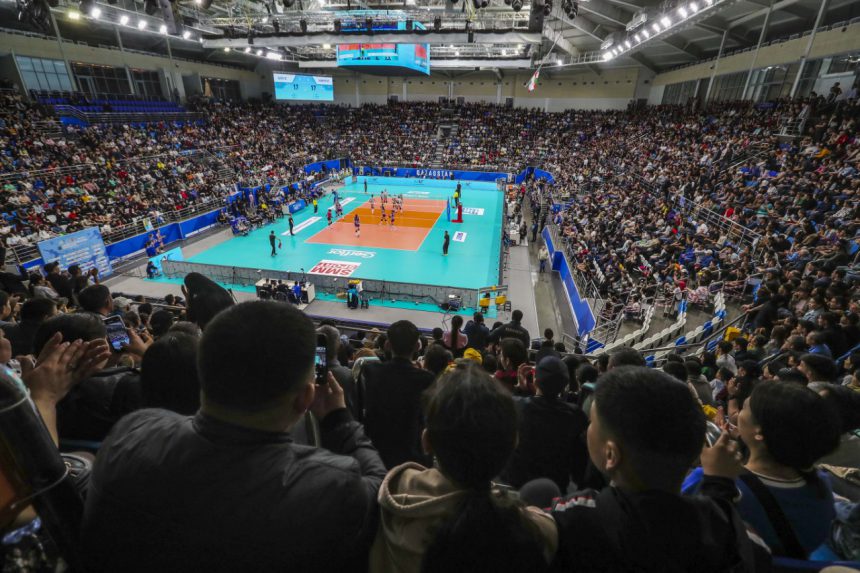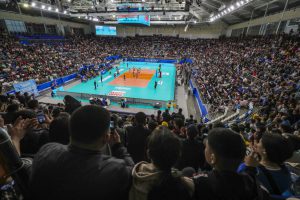 Related links of AVC
AVC Website: click www.asianvolleyball.net
AVC Facebook: click www.Facebook.com/AsianVolleyballConfederation
AVC Twitter: click: www.twitter.com/AsianVolleyball
AVC Instagram: click: https://www.instagram.com/avcvolley/?hl=en
AVC Youtube: click: Asian Volleyball Confederation
AVC WeChat: Asian Volleyball Confederation