Photos credit: www.facebook.com/7LegendsofVolleyball
Bangkok, Thailand, November 7, 2021 – Cheers and tears filled the Hua Mark Indoor Stadium on Sunday as the Fab 7 said goodbye to Thailand women's national volleyball team and adoring fans.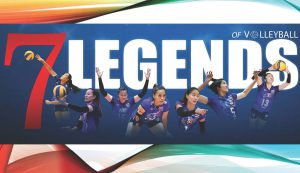 Sports Authority of Thailand in conjunction with Thailand Volleyball Association on November 7 held the "7 Legends of Volleyball," a heartfelt celebration of a truly special farewell to honour the long-serving seven players for their outstanding career while simultaneously serving the volleyball-loving nation.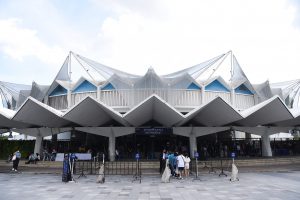 Wanna Buakaew, Pleumjit Thinkaow, Wilavan Apinyapong, Nootsara Tomkom, Onuma Sittirak, Malika Kanthong and Amporn Hyapha had played for Thailand national team for almost 20 years, but despite some highs and lows, they had inspired a generation of fans and young players to work hard in pursuit of more future successes in international tournaments.
The Fab 7 came together to chase their dreams and become the country's sporting heroes. Despite the height disadvantage, the brilliant seven players came up with amazing teamwork, speed, creativity, technique, heart and passion.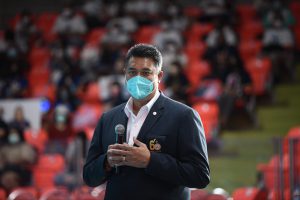 With legendary coach Kiattipong Radchatagriengkai at the helm during 1998 and 2016, the Fab 7 and squad enjoyed their impressive seasons in almost two decades.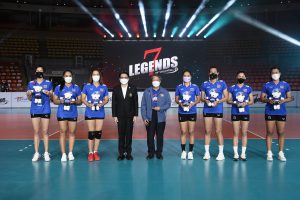 They qualified for the FIVB World Championship for the first time in history in 1998 and finished 13th out of 16 teams. As a qualified team, Thailand and the Fab 7 tested their mettle in the 2007 World Cup as well as the FIVB World Grand Champions Cup in 2009 and 2013.
Regarding their well-deserved achievements in the FIVB World Grand Prix, the Fab 7 made their debut effort in the 2002 edition to finish last among 8 participating teams and had made the cut for the action-packed competitions every year since then.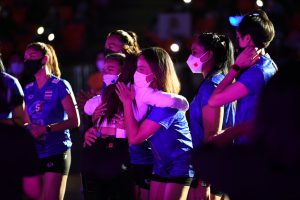 In 2012, they returned from the WGP Finals in China with their best-ever 4th place. In addition, they were invited to compete in the Montreux Masters and sprang a surprise in their debut effort to pick up silver in 2016.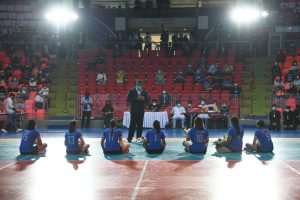 Regionally, the Fab 7 and squad had captured the Asian Championship for two times, 2009 and 2013. In their historic Asian Championship victory in Vietnam in 2009, they stunned perennial Asian champions China in the showdown. They repeated the similar feat over the same rivals in the final clash of the 2012 AVC Cup to win their maiden title in Kazakhstan.
Among the Fab 7, Amporn Hyapha became the first player to call it a day in 2014, while libero Wanna Buakaew followed suit in 2016, leaving only five veterans to continue their supremacy as the Fab 5.
Following failure at the 2020 Women's Asian Olympic Qualification Tournament on home soil in Nakhon Ratchasima, the Fab 5 preferred to keep a low profile. Furthermore, due to the global COVID-19 pandemic which caused all sports competitions including volleyball to stand still, the Thailand national team and the Fab 5 did not have a chance to regroup and they seemed to quietly call it quits.
Before the 2021 FIVB Volleyball Nations League, little hope was left in Thai fans of seeing all of the Fab 5 play together again. Due to an unexpected circumstance as the newly-formed young Thailand team had to withdraw because of COVID-19 issues, TVA responded quickly to the situation and called in their veterans including the Fab 6 Pleumjit, Wilavan, Nootsara, Onuma, Malika and Amporn. And the 2021 VNL turned out to be the last hurrah of these dedicated veterans.
On June 20, 2021, their last day in Rimini, Italy, where the 2021 VNL was held behind closed doors under the secure bubble concept, the Fab 6 completed their campaign after a 1-3 loss to hosts Italy in their last encounter. They hugged each other and were in tears, marking their end in career. They also thanked to their fans from all over the world via their video clip. "Today won't be easy since today will be the last time we are going to see Thailand's Fab 6 together on the court."
In their heyday, the Fab 7 had made their mark to win individual awards, with highly-skilled Nootsara Tomkom landing several awards in more than 20 major tournaments including the Best Server at 2009 Asian Club Championship, the Most Valuable Player at 2010 Asian Club Championship and the Best Setter in 2012 FIVB World Grand Prix, 2013-14 CEV Champions League, 2014-2015 Azerbaijan Super League and 2016 Montreux Volley Masters.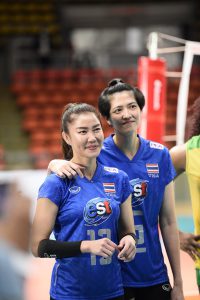 Without doubt, their success could not be measured by wins and losses, but by how they made an impact on the sport and their fans. Their great contribution to the sport over the years have inspired Thai people from all walks of life.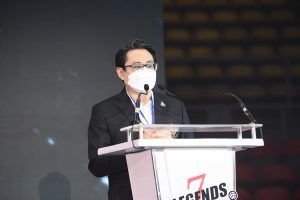 SAT Governor Kongsak Yodmanee presided over the opening of the Sunday's farewell celebration at the Hua Mark Indoor Stadium, starting with a fun-filled exhibition match between the Fab 7 and All-Star Thailand League team, looking much alike a testimonial match in soccer. However, as advised by her doctor about what's safe during pregnancy, Wilavan Apinyapong did not play in this game.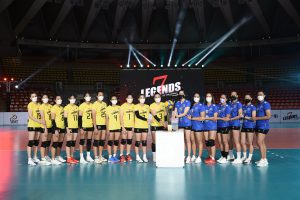 In the match, the veteran squad proved well age is just number as they shrugged off their rust from a poor start to beat the younger ones 25-18 in a one-set friendly match held uniquely to honour the Fab 7.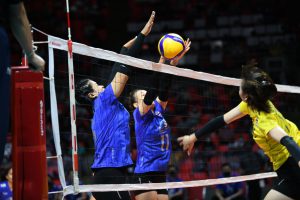 Due to some COVID-19-related restrictions, the farewell celebration at the venue which became the main arena of the 2016 FIVB World Grand Prix Finals, was limited to only a few hundreds of die-hard fans fully vaccinated with two doses and with PT-PCR Rapid Test/Antigen Test Kit results within 72 hours shown ahead of their entering the venue.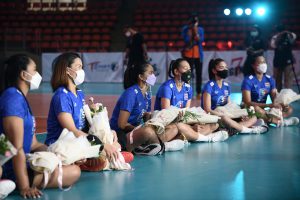 After the match, the Fab 7 received souvenirs from supporting organisations, dolls from TVA President Mr Somporn Chaibangyang and bouquets of flowers from Mr Kiattipong Radchatagriengkai, himself AVC Secretary General and Member of FIVB Board of Administration.
Kiattipong hugged each of the Fab 7 players. In his speech, tearful Kiattipong said, "I've never thought we finally have today, the day when you the Fab 7 all say goodbye to Thailand national team and fans. When I called it a day, you saw me off here. Love and good wishes you all gave me still kept fond memory. It's your turn to say goodbye today and I will give you likewise.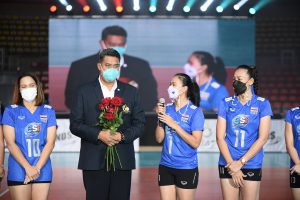 "We had been together through thick and thin for around 20 years. Therefore, not only love, but close relationship and sincerity we had shared with each other. In the past two decades, we were small-built players, but had big dreams to fulfil. We had faith to each other, feared to nothing and were very determined to go great lengths. I admit that I don't want to see today, but finally it has come. I still believe in you, the Fab 7. With your great experience, I'm convinced that you will be successful in whatever you want to do for your families and communities. Good luck to you all," he said.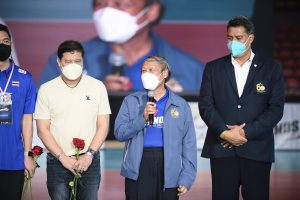 After that, on the big screen in the middle of the venue appeared pictures of those involved in Thai volleyball including staff coaches, young players and fans, taking turns speaking their minds on the Fab 7, giving them best wishes.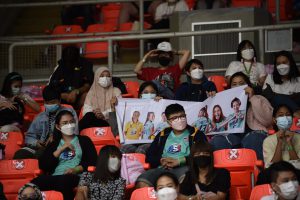 Many fans inside the venue were in tears while sadly watching the screen and hearing the farewell of their loved Fab 7. Their presence in the Thailand national team and what they had done together on and off the court will be missed. The Thailand's Olympic dreams may have to wait a few more years but the Fab 7's positive influence on the country's future generation will be a legacy to be celebrated, while the values of friendship, determination, courage, inspiration and respect are poised to power Thailand to future glory.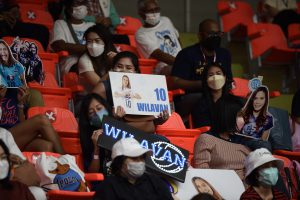 Related links of AVC
AVC Website: click www.asianvolleyball.net
AVC Facebook: click www.Facebook.com/AsianVolleyballConfederation
AVC Twitter: click: www.twitter.com/AsianVolleyball
AVC Instagram: click: https://www.instagram.com/avcvolley/?hl=en
AVC Youtube: click: Asian Volleyball Confederation
AVC WeChat: Asian Volleyball Confederation