Panthers slip to third place in men's rankings, Red Rockets in women's solo second
Sakai Blazers and Wolfdogs Nagoya have overtaken the Panasonic Panthers for the top spot in the Japan V.League men's tournament rankings with their double victories, while JT Marvelous rule the women's tournament with their eighth win in a row.
Men's Tournament
The Blazers and the Wolfdogs have posted identical 7-1 win-loss records and 20 points since their respective 3-1 losses on the opening weekend of the league. They bounced back and have kept their winning streaks going with their double victories over the weekend.
The Blazers won their home matches against JT Thunders 3-0 (25-18, 27-25, 28-26) on Saturday and 3-1 (30-28, 25-18, 23-25, 25-16).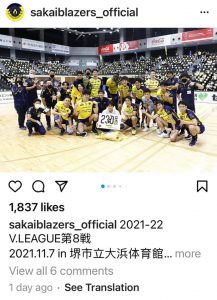 Sharone Vernon-Evans had 21 points for the Blazers in the first match, while his counterpart Thomas Edgar led all scorers with 25 points. However, Vernon-Evans' Japanese teammates had better scoring outputs to get the team out of the tight situations in each set to complete the straight-set win.
The Canadian opposite won the scoring showdown 28-27 with the Australian high-scoring giant in the second match. The young Canadian had a solid performance in offence with 27 points from the attack line and a point from the service line, while the Australian veteran finished with 23 attacks, three blocks and an ace.
The Wolfdogs were on the road this weekend and started with a 3-0 (25-17, 25-17, 25-13) victory over VC Nagano on Friday, then completed their assignment in four sets (25-19, 25-21, 16-25, 25-20) on Saturday to stretch their win streak.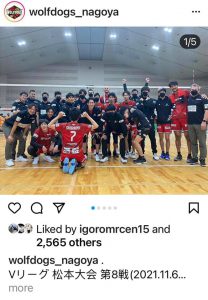 The home team missed the services of their Indonesian top scorer Rivan Nurmulki, while the visiting side got double-digit performances from their Polish superstar Bartosz Kurek who had 19 in the first outing and an impressive 30-point swing in the second one. The Wolfdogs also performed well in block as they recorded 12 and 10, respectively, against the Tridents.
The Panasonic Panthers dropped to third place after losing both their matches to JTEKT Stings. The visiting Panthers started their first match on Saturday with an opening set win, but the home team got their rhythm and gained a 2-1 edge. The Panthers succeeded in extending the match 27-25 but could not stop the Stings from scoring the win in the final set.
The Stings' tandem of Felipe Fonteles and Kento Miyaura combined for 60 points to outscore the Panthers' scoring duo of Issei Otake and Michal Kubiak who produced only 41 points in the five-set encounter. Even in the next outing, Lipe and Miyaura had better scoring performances than Otake and Kubiak to come up with back-to-back upsets.
Both teams have the same 5-3 win-loss cards, but the Panthers still lead with 17 points and are tied with Toray Arrows who are currently ranked fourth.
The Arrows faced the defending champions Suntory Sunbirds and controlled the pace in the first match with a 3-0 (26-24, 25-12, 25-14) win, then squandered a 2-1 set lead in the next match and yielded in the tie-break to draw with the Sunbirds 3-2 (25-22, 17-25, 20-25, 25-20, 15-12).
FC Tokyo finally broke into the win column after beating Oita Miyoshi Weisse Adler with straight-set victories (25-17, 25-18, 25-22) on Friday and (25-18, 25-20, 25-23) on Saturday.
Women's Tournament
JT Marvelous are still unstoppable, adding six more points to extend their winning streak to eight wins in the women's tournament.
The defending champions met last season's runners-up Toray Arrows and recorded victories on Saturday 3-0 (25-19, 25-16, 25-15) and Sunday 3-1 (25-19, 25-20, 16-25, 25-12).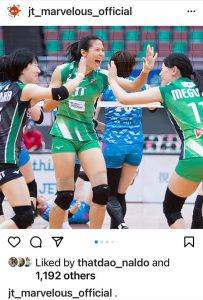 In the first match, three JT Marvelous players scored in double figures, including Annie Drews who added 10 markers to the 17-point outputs of teammates Kotona Hayashi and Yuki Nishikawa. Jana Kulan and Mayu Ishikawa were the only players scoring in double-digits for the Arrows with 20 and 12 points, respectively.
Drews drove the offence of JT Marvelous in the next match with 23 points and Hayashi added 12 to match the intensity of the Arrows' scoring duo of Kulan and Ishikawa who had 20 and 15 points. However, JT Marvelous had an edge in attacks (55-49), blocks (8-2) and had fewer turnovers (13-20).
Last season's third-placers NEC Red Rockets are now in second place, following their double victories against Hitachi Rivale. The Red Rockets cruised to a 3-0 (25-10, 25-19, 25-21) win on Saturday, but had to shake off their rivals down the final stretch of their five-set match (25-10, 24-26, 25-17, 18-25, 15-12) on Sunday.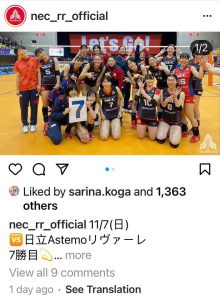 Sarah Wilhite led the Red Rockets with 17 points and gave superstar Sarina Koga a breather. Koga only came in as a substitute in the second set and was scoreless in the first match. However, she was the scoring leader in the next match with 24 points, while Rinoo Murooka led the opposing side with 21 markers.
Hisamitsu Springs moved down to third place in the rankings after they had a draw with Saitama Ageo Medics. They started off strong on Saturday with a 3-0 (25-22, 25-23, 25-21) but slowed down as Lorenne Teixeira's 26-point performance led Ageo Medics to hand them a defeat on Sunday 3-1 (25-27, 25-21, 25-15, 25-22).
Denso Airybees moved up to fourth place after adding two wins to improve their record to 6-2. The Airybees gained full points off 3-0 (25-20, 25-21, 25-18) and 3-1 (25-16, 21-25, 25-17, 25-20) victories over Toyota Auto Body Queenseis.
PFU Blue Cats improved their record to 5-3 after they won 3-0 (25-18, 26-24, 25-13) on Saturday and 3-1 (25-23, 25-17, 18-25, 25-19) on Sunday against the winless Kurobe Aqua Fairies.
Finally, the Celeste Plak-reinforced Victorina Himeji earned two wins to improve their record to 3-5. Plak's 38 points lifted Victorina Himeji to win their tight 3-2 (25-18, 20-25, 25-17, 29-31, 15-13) first encounter, and her 15-point contribution in the next encounter merited an easier 3-0 (25-22, 25-21, 25-23) victory over Okayama Seagulls.
Related links of AVC
AVC Website: click www.asianvolleyball.net
AVC Facebook: click www.Facebook.com/AsianVolleyballConfederation
AVC Twitter: click: www.twitter.com/AsianVolleyball
AVC Instagram: click: https://www.instagram.com/avcvolley/?hl=en
AVC Youtube: click: Asian Volleyball Confederation
AVC WeChat: Asian Volleyball Confederation