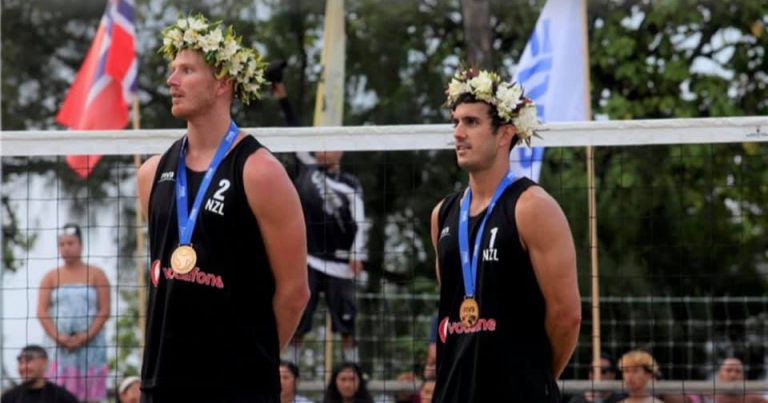 Muller and O'Dea top Cook Islands podium
This week in FIVB Beach Volleyball World Tour history is highlighted by several "firsts" for three legendary teams while New Zealand also captured its only international gold medal one year ago today.
With the inaugural Cook Islands Volleyfest concluding one year ago today, Griffin Muller and Sam O'Dea captured New Zealand's first-ever gold medal on the FIVB World Tour as the Kiwi duo posted a pair of final four wins over American tandems to top the podium.
After scoring a 2-1 (11-21, 22-20, 19-17) semifinal win in 55 minutes over seventh-seeded Travis Mewhirter/Adam Roberts, Muller and O'Dea completed the American sweep with a 2-1 (21-14, 20-22, 15-7) gold medal victory in 55 minutes over Christopher Austin/Earl Schultz on January 17, 2020.
Muller and O'Dea's gold medal achievement was New Zealand's fourth-ever men's or women's World Tour podium placement with the other three being third-place finishes by Jason Lochhead/Kirk Pitman (2008 Kristiansand, Norway), Ben and Sam O'Dea (2017 Shepparton, Australia) and Shaunna Polley/Kelsie Wills (2017 Ulsan, Korea).
Teams winning their first of several FIVB World Tour gold medals together this week were Norwegians Jan Kvalheim/ Bjorn Maaseide of Norway in 1994, the Laciga brothers (Martin and Paul) of Switzerland in 1998 and Brazilians Marcio Araujo/Benjamin Insfran in 2000.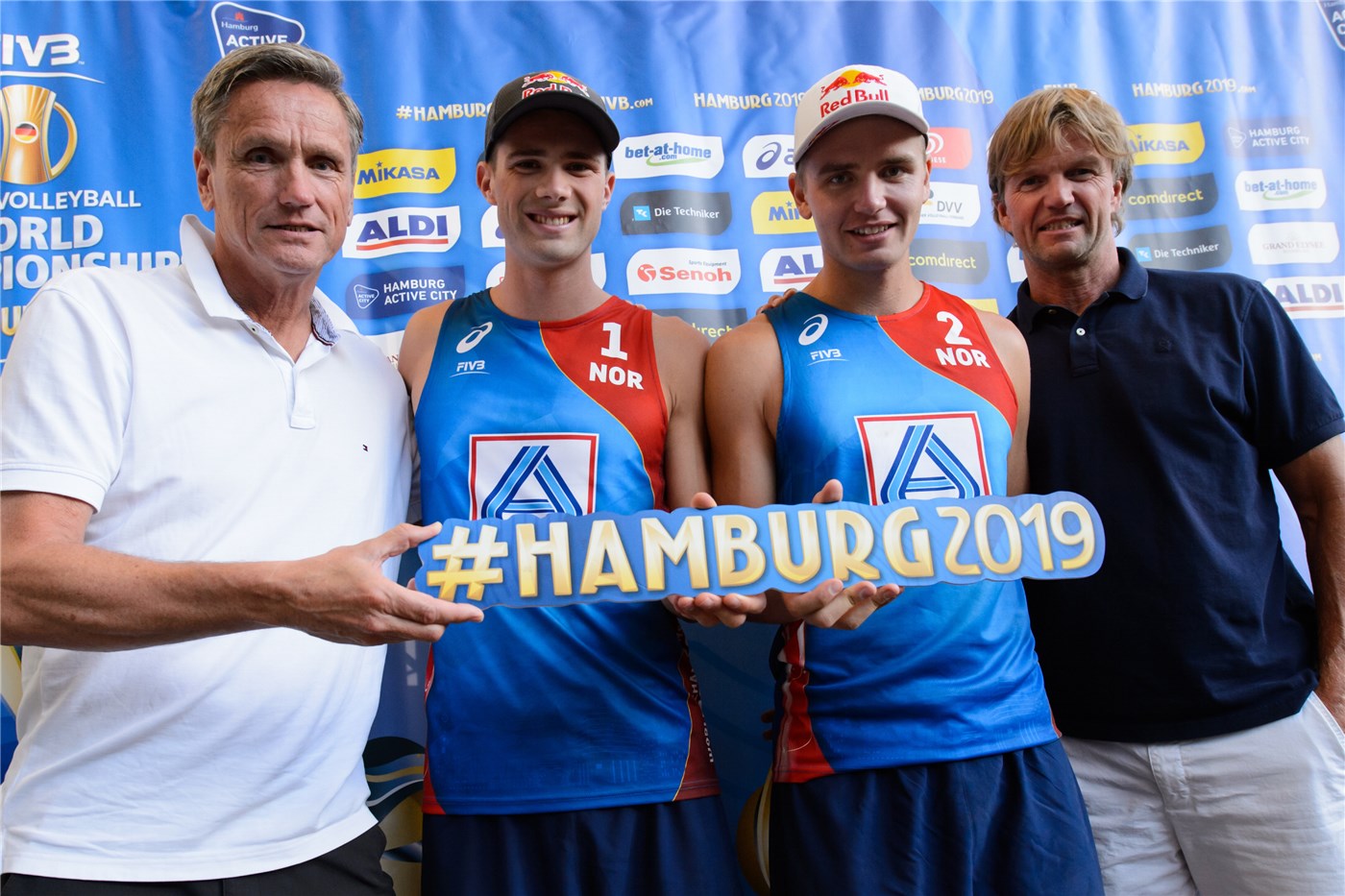 Legendary Norwegians (left to right) Jan Kvalheim, Anders Mol, Christian Sorum and Bjorn Maaseide at the 2019 FIVB World Championships
Isabel Barroso Salgado became the first in her Brazilian family to win an FIVB World Tour gold medal by teaming with Roseli Timm to win a title on iconic South Beach in Miami on January 22, 1994. Isabel's son Pedro followed (2007 Shanghai) and then daughters Carolina and Maria Clara (2008 Myslowice, Poland).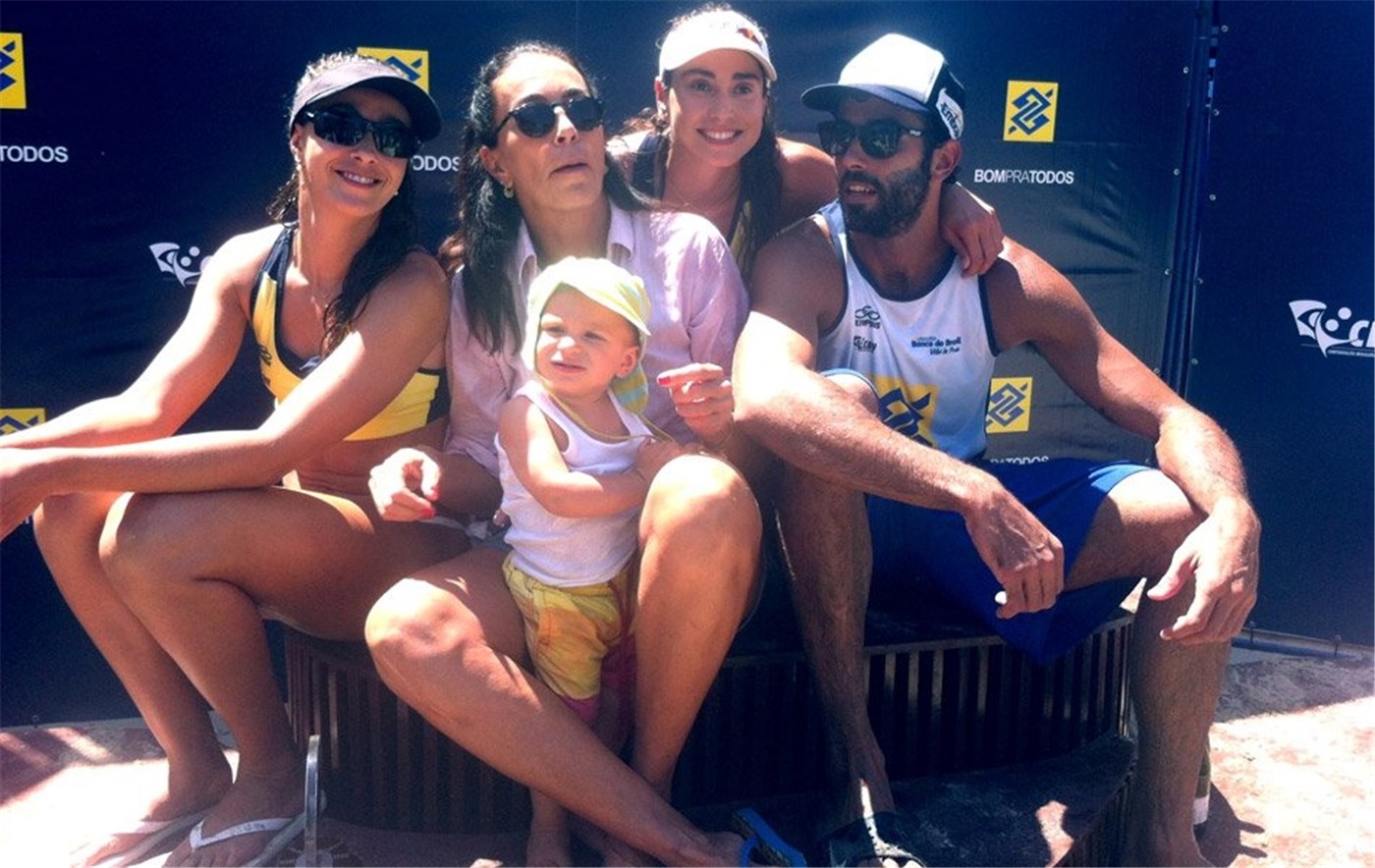 Isabel Salgado (second from left) with a grandchild and children Maria Clara, Carolina and Pedro as the family celebrate podium placement at a Brazilian Tour event
Five beach volleyball Olympians celebrate birthdays starting with five-time Summer Games participant Natalie Cook of Australia, who turns 46 Tuesday.
Cook captured bronze and gold medals at the Atlanta 1996 and Sydney 2000 Olympics with Kerri Pottharst before placing fourth at the Athens 2004 Games with Nicole Sanderson.
Cook, who joins Brazilian Emanuel Rego as the only five-time beach Olympians, completed her quadrennial appearances by placing fifth and 19th at the Beijing 2008 and London 2012 Summer Games with Tamsin Hinchley. Cook won 17 of 25 Olympic matches with her three different partners.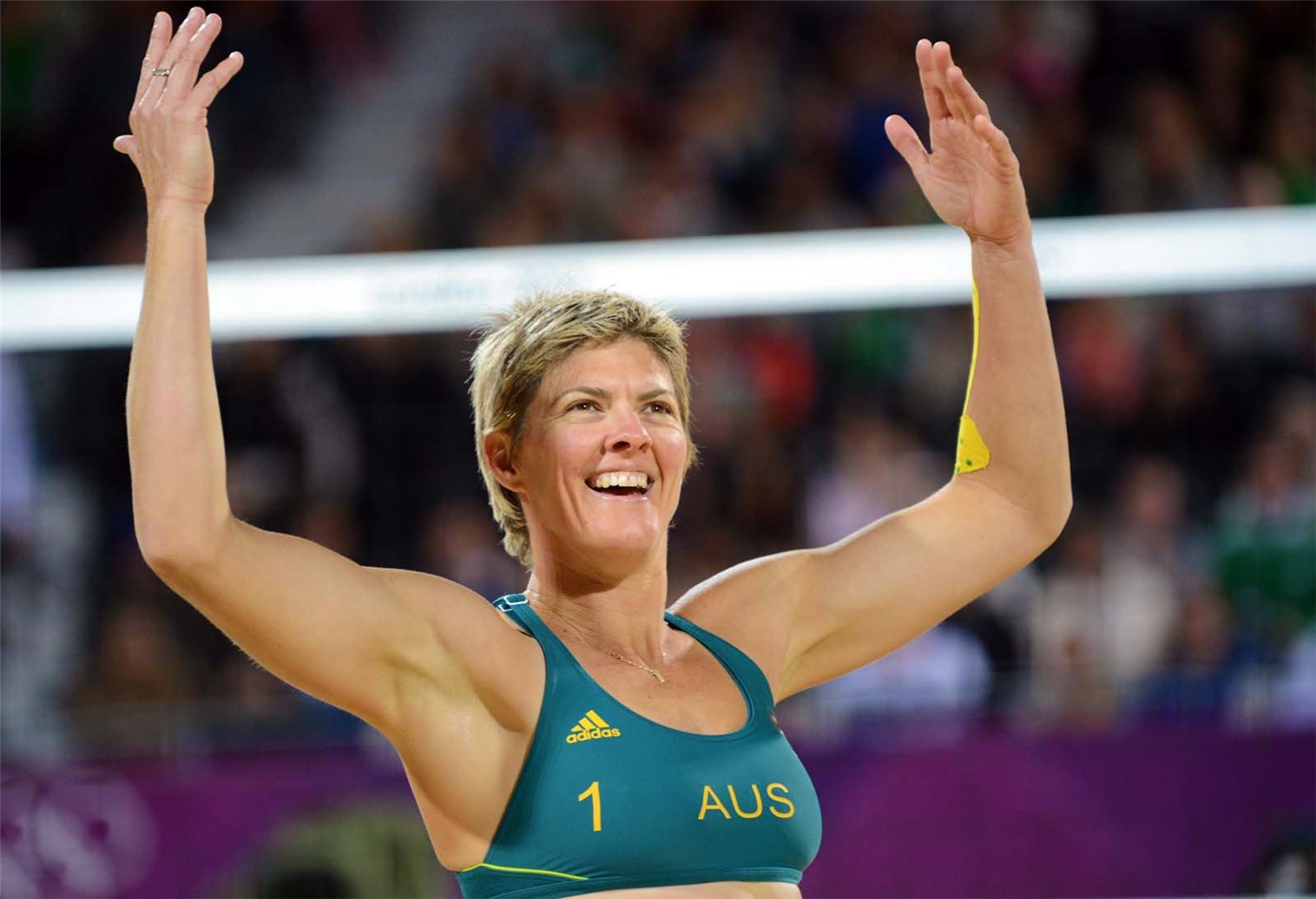 Natalie Cook from Australia at the London 2012 Olympic Games
Two-time Olympians Dmitri Barsouk (41 Wednesday) of Russia and Mariusz Prudel (35 Thursday) also celebrate birthdays this week. Barsouk placed ninth (with Igor Kolodinsky) and fifth (Nikita Liamin) respectively at the Beijing 2008 and Rio 2016 Summer Games. Prudel and Grzegorz Fijalek were fifth and 17th at the London 2012 and Rio 2016 Olympics, respectively.
Other Olympians celebrating birthdays this week are Austrian Robin Seidl (31 Thursday) and Igor Hernandez (44 Friday) of Venezuela, who placed 19th with Jesus Villafane at the London 2012 Summer Games. Seidl and Alexander Huber finished ninth at Rio 2016 Olympics after upsetting Americans Jake Gibb and Casey Patterson in pool play.
Here are the gold medal performances on the FIVB World tour for the January 17-23 time period.
January 17
In 1999, Jose Loiola and Emanuel won the Mar del Plata Open. It was the fifth of 15 FIVB World Tour wins for the team.
In 2020, Muller and Sam O'Dea won the Cook Islands Volleyfest. It was the first and only FIVB World Tour win for the team.
January 18
In 1998, the Laciga brothers won the Mar del Plata Open. It was the first of five FIVB World Tour wins for the team.
January 19
In 1992, Sinjin Smith and Randy Stoklos of the United States won the Sydney Open. It was the eighth of 10 FIVB World Tour wins for the team.
January 22
In 1994, Isabel and Roseli won the Miami Open. It was the first and only FIVB World Tour win for the team.
In 1994, Kvalheim and Maaseide won the Miami Open. It was the first of seven FIVB World Tour wins for the team.
January 23
In 2000, Marcio Araujo and Benjamin won the Guarujá Open. It was the first of eight FIVB World Tour wins for the team.
Related links of AVC
AVC Website: click www.asianvolleyball.net
AVC Facebook: click www.Facebook.com/AsianVolleyballConfederation
AVC Twitter: click: https://twitter.com/avcvolley
AVC Instagram: click: https://www.instagram.com/avcvolley/?hl=en
AVC Youtube: click: Asian Volleyball Confederation
AVC WeChat: Asian Volleyball Confederation