Bartosz Kurek finishied with 29 points in his debut with Wolfdogs Nagoya this weekend, despite their two losses to the Suntory Sunbirds.
Tokyo, Japan, October 20, 2020 – Play in the Japanese V1 Men's League started on October 17 in five different venues.
The opening weekend saw each venue feature back-to-back matches between two teams. In all five of these back-to-back matches, the team that won on Saturday (the 17th) also won on Sunday. Hence there is a five-way tie at 2-0, and match points have to be used for the positioning.
Leaders claim two victories
JT Thunders Hiroshima were the only team not to lose a set of the five teams at 2-0 and are in first place. Taishi Onodera was a wall for the Thunders with 12 blocks total for the weekend (6 in each match) in their two matches against Oita Miyoshi Weisse Adlers.
Sakai Blazers are in second with only one set loss after their two matches against VC Nagano Tridents. Frenchmen Jhon Wendt was the leading scorer over the weekend for the Blazers with 19 points (1 block, 2 aces) on Saturday and 14 points (2 blocks) on Sunday.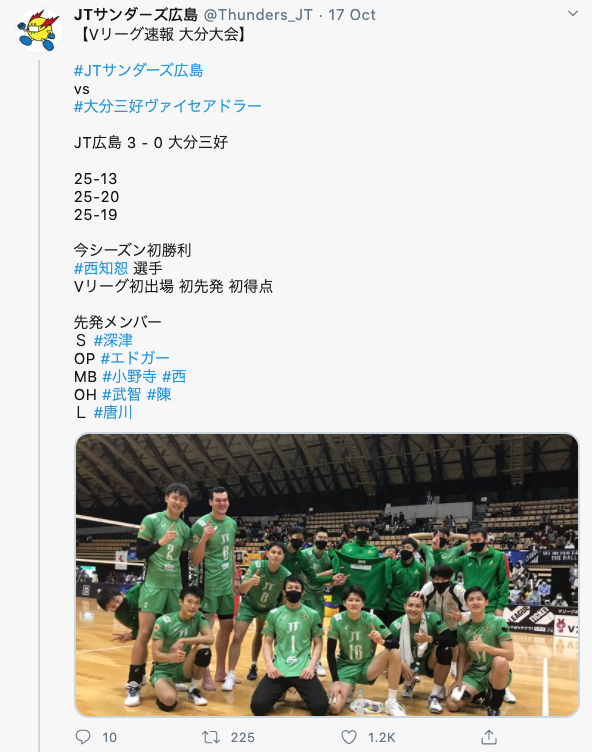 Panasonic Panthers are third with their two 3-1 set wins over FC Tokyo. Kunihiro Shimizu racked up 40 points between the two matches (19 and 21) and Poland's Michal Kubiak was great on Sunday with 4 blocks and 2 aces as part of his 18 points.
Kurek makes debut
Suntory Sunbirds swept their matches with Wolfdogs Nagoya and are just slightly below Panasonic's points ratio, even though both have the same points difference at 26. Suntory had to fight Wolfdogs Nagoya and their new Polish import Bartosz Kurek. In the match on Saturday, Kurek had five straight aces to bring the Wolfdogs from behind in the second set.
That second set went to 34-32 to Nagoya, which tied the match at 1-1. Suntory were able to push on and win, however, while Kurek finished with 29 points in his Japanese debut. Masahiro Yanagida was also making his return to the Japanese league for Suntory and had 39 points over the weekend (23 and 16), but also 6 aces.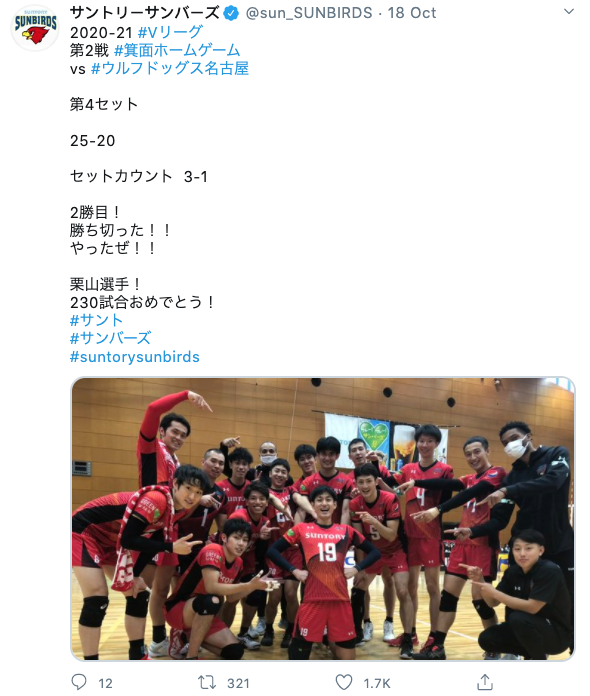 Nishida on 42 points
In fifth place are the defending champions JTEKT Stings who swept their matches with Toray Arrows. Due to their new foreign signing Felipe Fonteles still having to wait for his two-week quarantine to expire before playing with the Stings, the JTEKT offence went through their superstar Yuji Nishida. Nishida was everywhere for the Stings with 39 points (2 blocks, 3 aces) in their four-set win on Saturday and then 42 points (5 blocks, 3 aces) on Sunday in the five-set win.

Match results for October 17, 2020
JT Thunders Hiroshima – Oita Miyoshi Weisse Adlers 3-0 (25-13, 25-20, 25-19)
Panasonic Panthers – FC Tokyo 3-1 (25-22, 25-19, 25-27, 25-13)
JTEKT Stings – Toray Arrows 3-1 (14-25, 25-22, 26-24, 25-19)
Sakai Blazers – VC Nagano Tridents 3-1 (26-24, 25-19, 23-25, 25-20)
Suntory Sunbirds – Wolfdogs Nagoya 3-1 (25-19, 32-34, 25-21, 25-21)
Match results for October 18, 2020
JTEKT – Toray 3-2 (25-20, 21-25, 21-25, 25-19, 15-13)
JT Thunders – Oita 3-0 (25-16, 25-17, 25-16)
Suntory – Wolfdogs 3-1 (25-21, 25-17, 22-25, 25-20)
Sakai – VC Nagano 3-0 (25-23, 25-21, 25-23)
Panasonic – FC Tokyo 3-1 (25-15, 22-25, 25-21, 25-19)
Related links of AVC
AVC Website: click www.asianvolleyball.net
AVC Facebook: click www.Facebook.com/AsianVolleyballConfederation
AVC Twitter: click: https://twitter.com/avcvolley
AVC Instagram: click: https://www.instagram.com/avcvolley/?hl=en
AVC Youtube: click: Asian Volleyball Confederation
AVC WeChat: Asian Volleyball Confederation