Nakhon Ratchasima, Thailand, September 4, 2023 – China will face off against Vietnam and Thailand set up 2013, 2017, 2019 final rematch with Japan on Tuesday as the highly-anticipated semifinals have been confirmed for the ongoing 22nd Asian Senior Women's Volleyball Championship at Chartchai Hall and The Mall Korat's MCC Hall.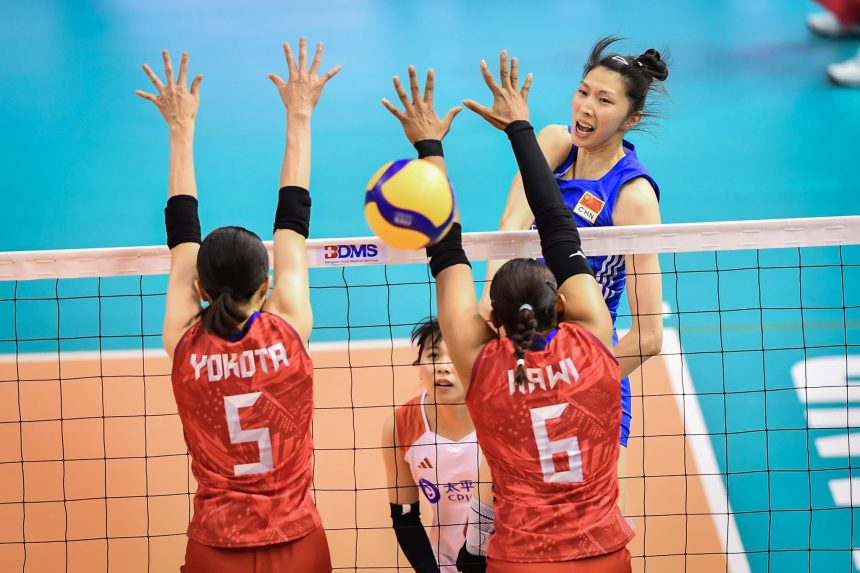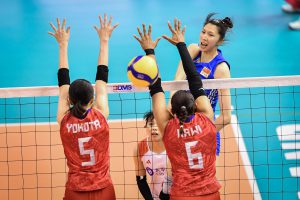 China's Wu Mengjie spikes past Japanese blockers
It has been cleared since the start of the Monday's Top 8 fixtures that four teams have already made the cut for the semifinals following the unbeaten runs of hosts Thailand and Vietnam in Pool E and China and Japan in Pool F. The Top 8 encounters on Monday were to determine the Pool E and Pool F winners.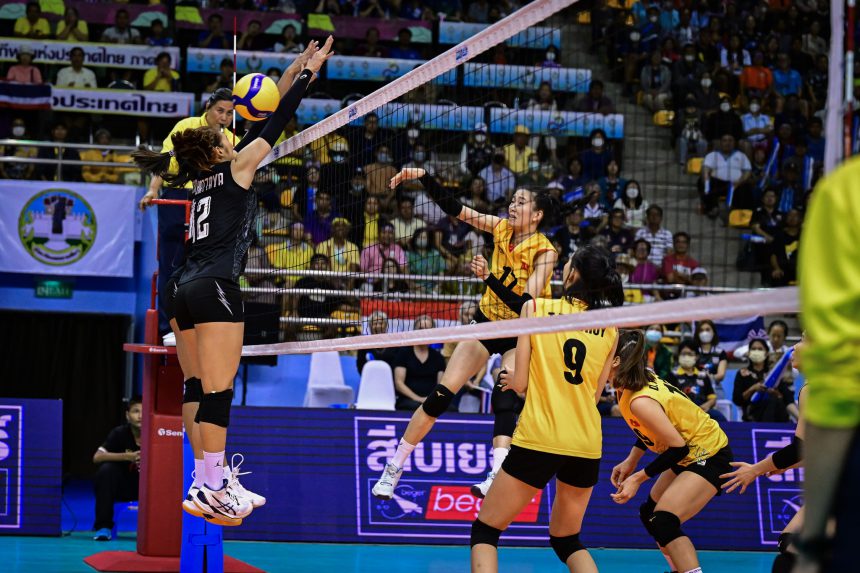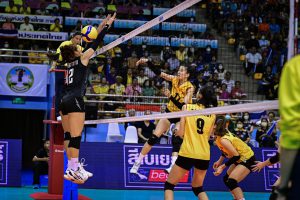 Thailand face strong challenge against Vietnam
With the Vietnamese making their presence felt on the unprecedented journey, this will be for the first time in this topflight championship that Vietnam, which made their debut effort in the Bangkok-hosted 6th edition in 1991, will finish among Top 4 in the continent's biggest women's volleyball tournament.
On Monday, the final day of the round of Top 8, Thailand powered past Vietnam with comeback 3-1 win to top Pool E, with embattled China stunning defending and consecutive two-time champions Japan with epic tie-break 3-2 win to capture the top spot in Pool F.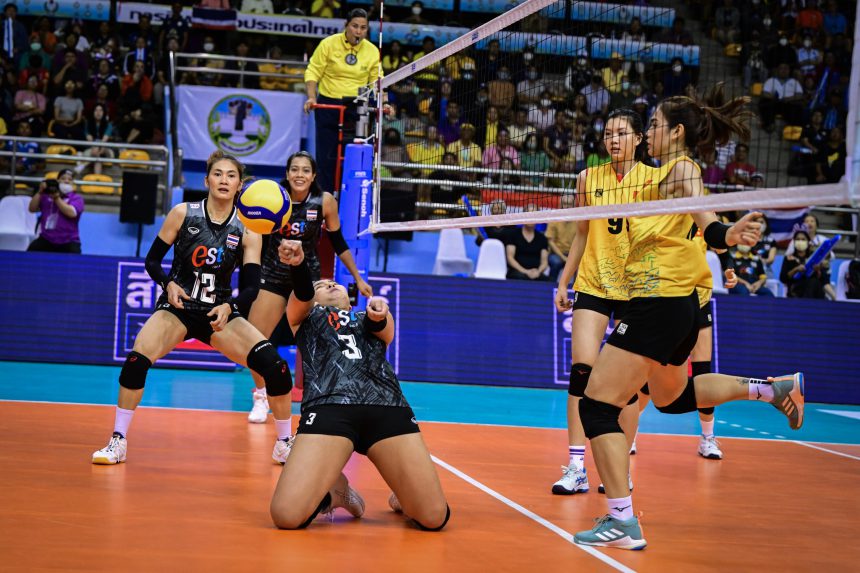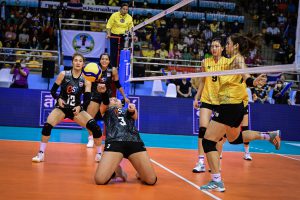 Current world No.14 Thailand, seeking their third Asian title on home soil after they had captured the first two in 2009 and 2013, lost the closely-contested first set 23-25, but bounced back to win the next three sets 25-14, 25-19, 25-23.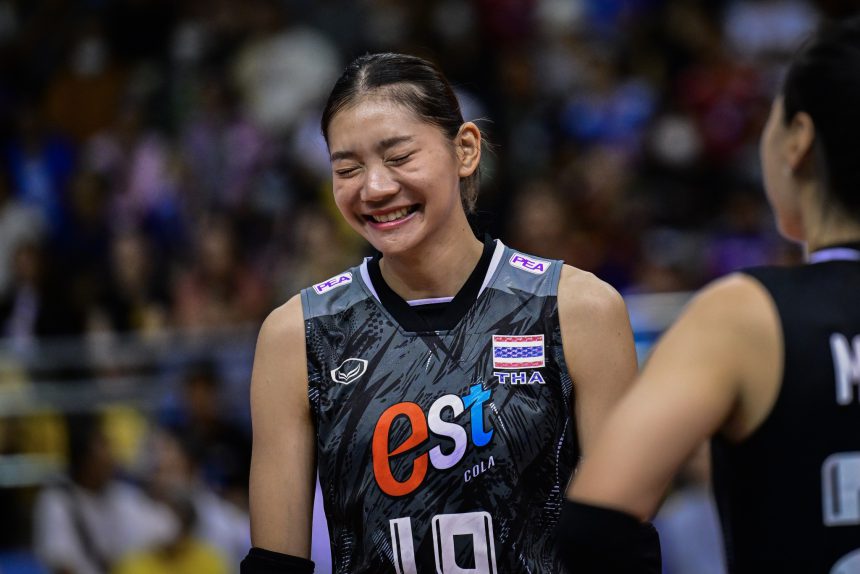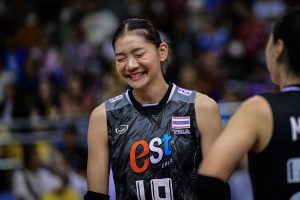 Chatchu-On
Outside hitters Chutchu-On Moksri and Ajcharaporn Kongyot scored 15 points apiece for Thailand, while opposite hitter Pimpichayakorn Kokram added another 13 points. Rookie Vi Thi Nhu Quynh, 21, the youngest player in the Vietnamese team, delivered 20 points including 18 attacks from 56 attempts.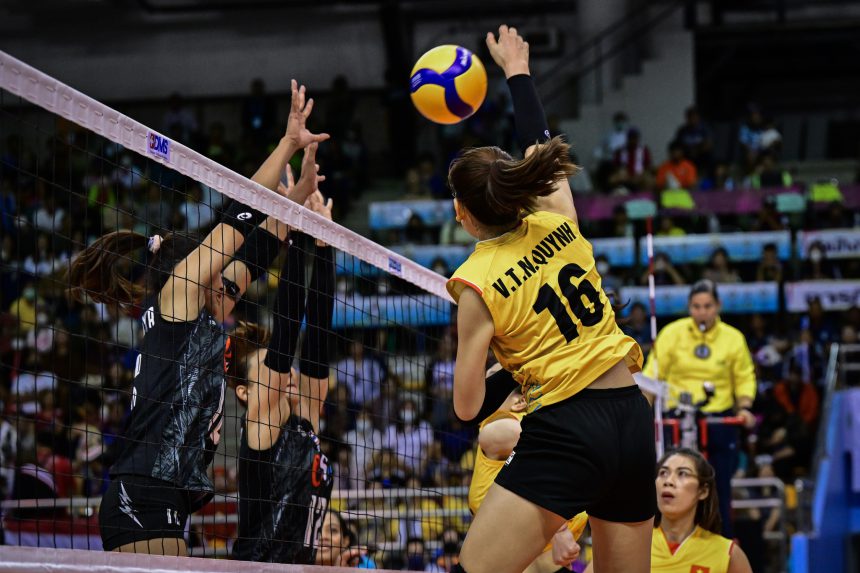 Vi Thi Nhu Quynh attacks Thailand
"A tough test awaits us in the semifinals as we will next play Japan, one of the strongest teams in this championship. The Japanese have very good defense with excellent teamwork and high-speed game. They almost beat China in their match this afternoon. So, we have to be well-prepared to play the Japanese. We still need corrections for some mistakes and weak points we have made in our previous matches. However, I hope that my team will do their best in the tough match against Japan on Tuesday," Thailand head coach Danai Sriwacharamaytakul commented.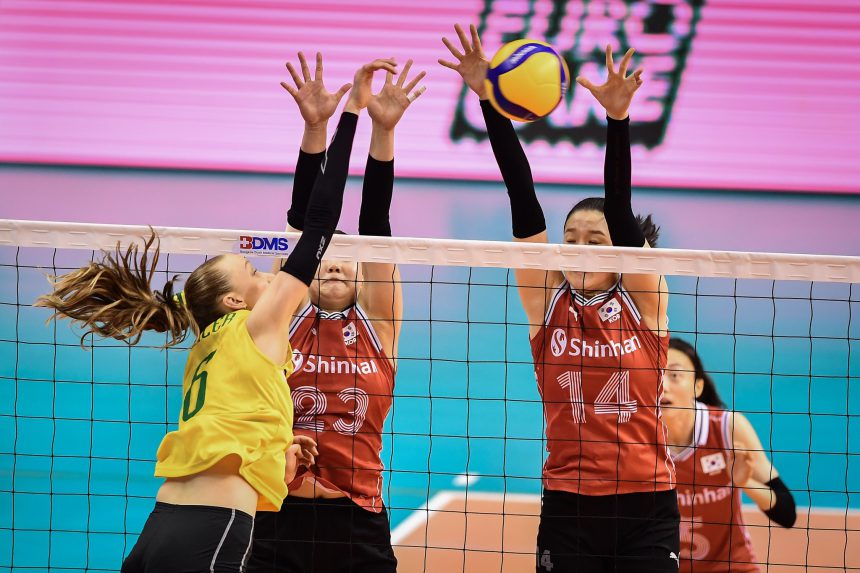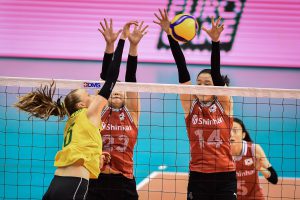 The other Pool E match saw world No.33 Korea, which earlier went down 2-3 to Vietnam in their preliminary Pool C clash and 0-3 to hosts Thailand in their first Top 8 encounter on Sunday, face no difficulty in demolishing Australia in straight sets 26-24, 25-13, 25-14.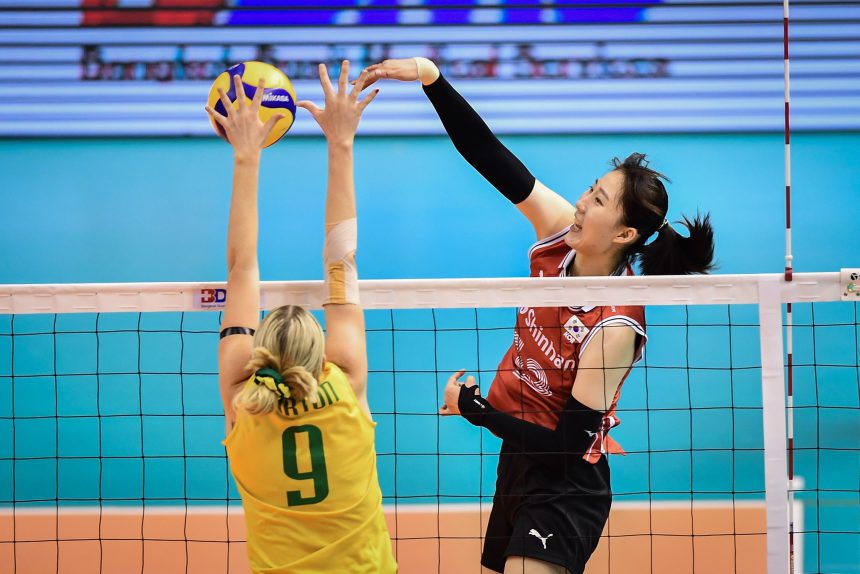 Park Jeongah attacks
Skipper and outside hitter Park Jeongah chipped in with 21 points from 18 attacks and 3 blocks for Korea, while Emma Burton led Australia with 12 points including 11 attacks from 30 attempts.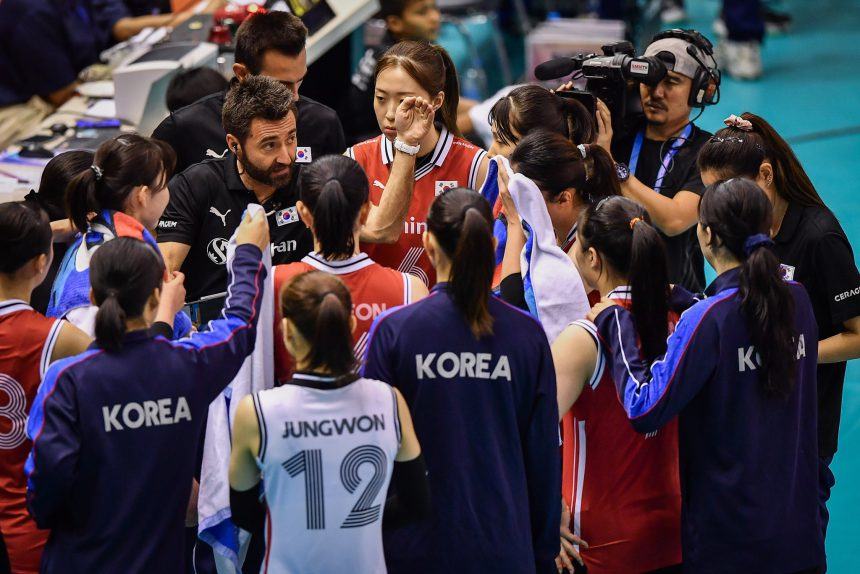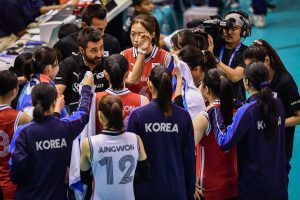 Coach Hernandez Gonzalez Cesar tips to give players a winning mentality
"Im very happy that we have tried some combinations working with the players. We rested some good players in this match, making them ready for the match tomorrow. The first set against Australia was close because we made some mistakes and dropped in passes and service. However, this championship will be good preparation for us as, like Thailand, we are preparing our team for the Olympic Qualification Tournament in Poland and the Asian Games in Hangzhou. We will select the best 12 players from our roster for those two major competitions," said Korea's Spanish head coach Hernandez Gonzalez Cesar after the match.
At the conclusion of the Top 8 encounters on Monday, Thailand finished atop Pool E with 9 points from three straight wins. Vietnam came in second place with 5 points from two wins against one loss, with Korea, bagging 4 points from one win against two losses, and winless Australia in respective third and fourth places in Pool E.
It was a sorry tale that the 22nd edition will be for the first time in 48 years since the championship inception in 1975 in Melbourne, Australia that Korea did not finish among the Final Four teams.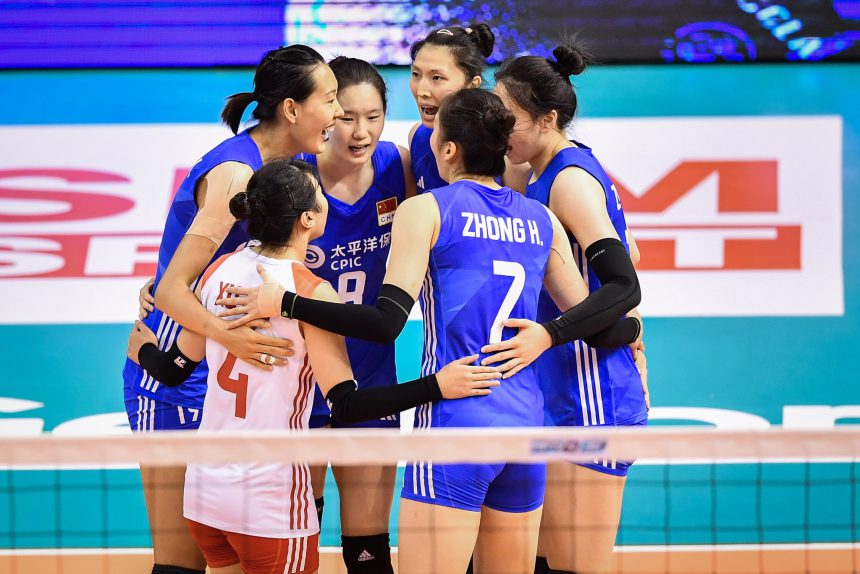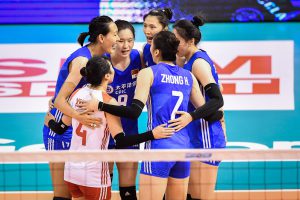 In Pool F, embattled China, current world No.6, bounced back to beat world No.8 Japan with epic comeback 3-2 (23-25, 25-20, 19-25, 26-24, 16-14) win.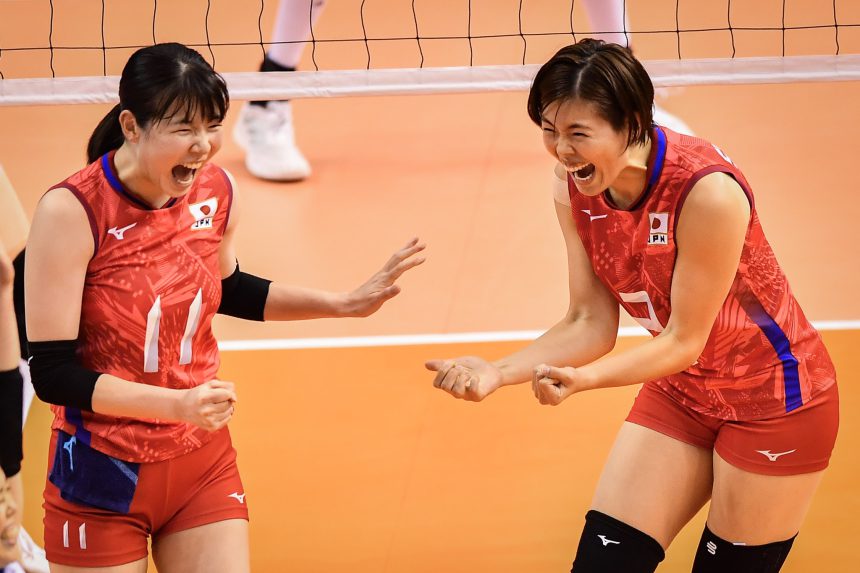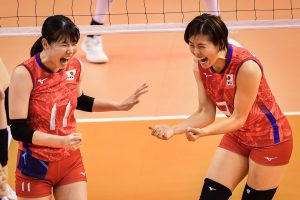 Japan took a commanding 14-12 lead in the thrilling tie-breaker, needing only one more point to win the decider and match, but they let the victory slip through their fingers. China recovered and hit back mightily to win four points in succession for the eventual win.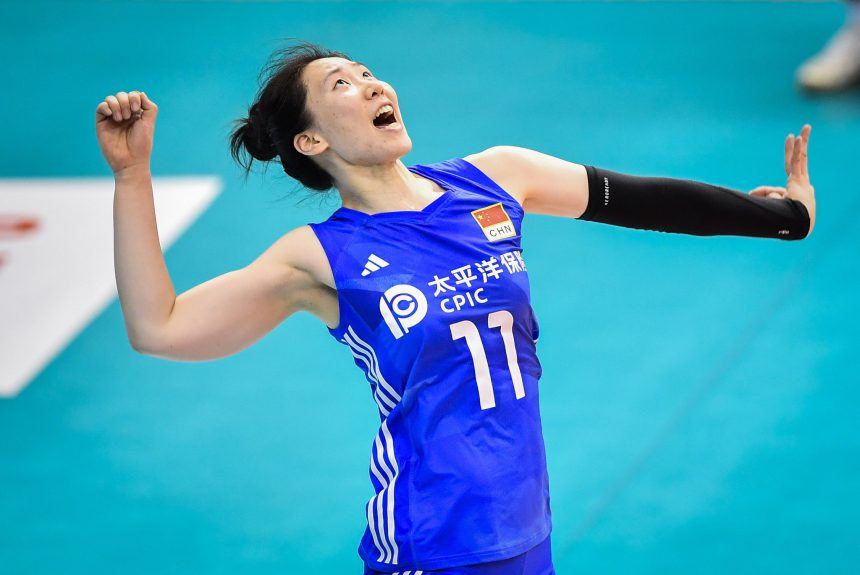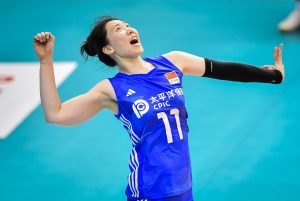 Zhou Yetong
Opposite hitter Zhou Yetong chipped in with 18 points from 15 attacks, 2 blocks and one ace for China, while outside hitters Wu Mengjie and Zhong Hui added another 17 and 15 points respectively. Yuki Nishikawa scored a match-high 31 points including 29 attacks from 70 attempts on the Japan's loss.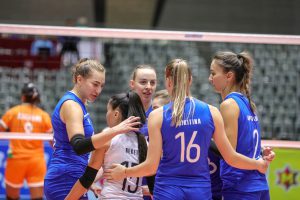 In the other Pool F clash, Kazakhstan claimed their first win in the Top 8 encounters as the world No.39 put it past lower-ranked India, current world No.66, in three-setter 25-17, 25-17, 25-21.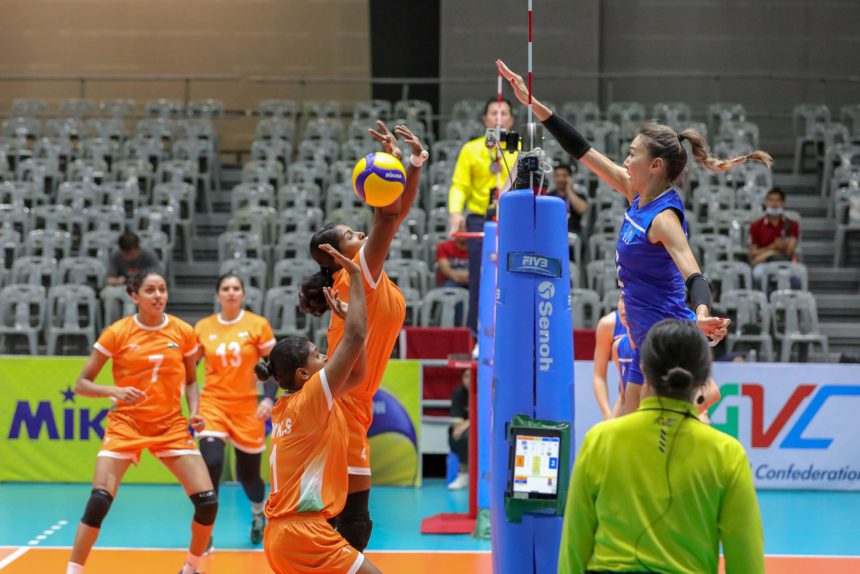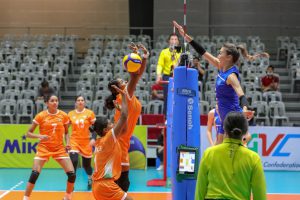 Sana tips over the net
Skipper Sana Anarkulova contributed 17 points from 15 attacks and 2 stuff blocs for Kazakhstan, while Sooya led India with 13 points including 9 attacks.
At the completion of Top 8 matches on Monday, former 18-time Asian winners China topped Pool F with 8 points from three wins in a row. Japan finished second with 7 points from 2 wins against one loss, while Kazakhstan bagged 3 points from one win against 2 losses to come in third position and winless India finished on bottom fourth place in Pool F with no point earned.
Meanwhile, the Pool G and Pool H encounters of Classification Round for lower-ranked 9th-14th places were contested on Monday at MCC Hall inside The Mall Korat Department Store.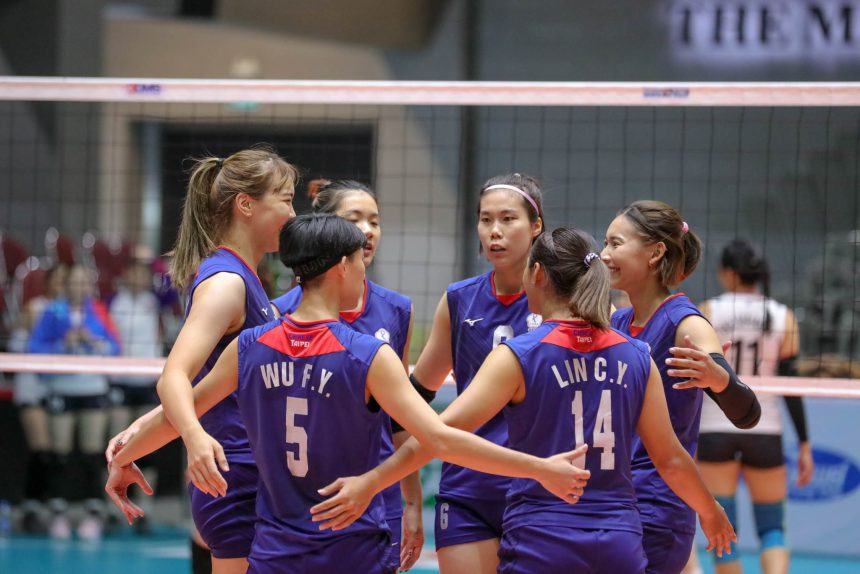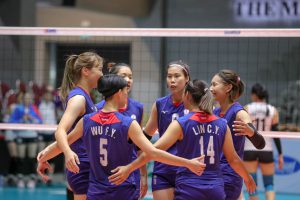 Chinese Taipei, which finished 6th at the previous edition in 2019 in Korea (the 2021 edition in Philippines was cancelled due to COVID-19 pandemic), saw off Mongolia in straight sets 25-17, 26-24, 25-17.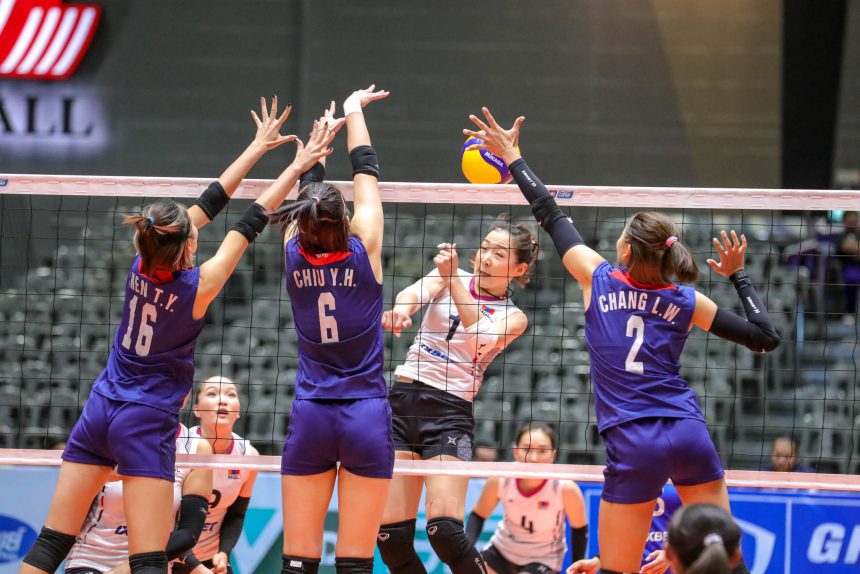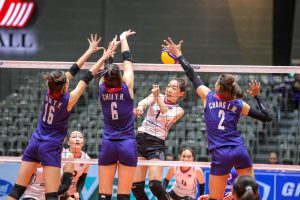 Middle blocker Kan Ko-Hui topscored 14 points for Chinese Taipei, added 12 apiece by skipper and outside hitter Chen Tzu-Ya and opposite hitter Chang Li-Wen. Middle blocker Gantogtokh Khandsuren led Mongolia with 9 points including 8 attacks from 15 attempts.
Chinese Taipei topped Pool G with 6 points from two straight wins. Mongolia had 3 points from one win against one loss to finish second, with winless Uzbekistan in third position.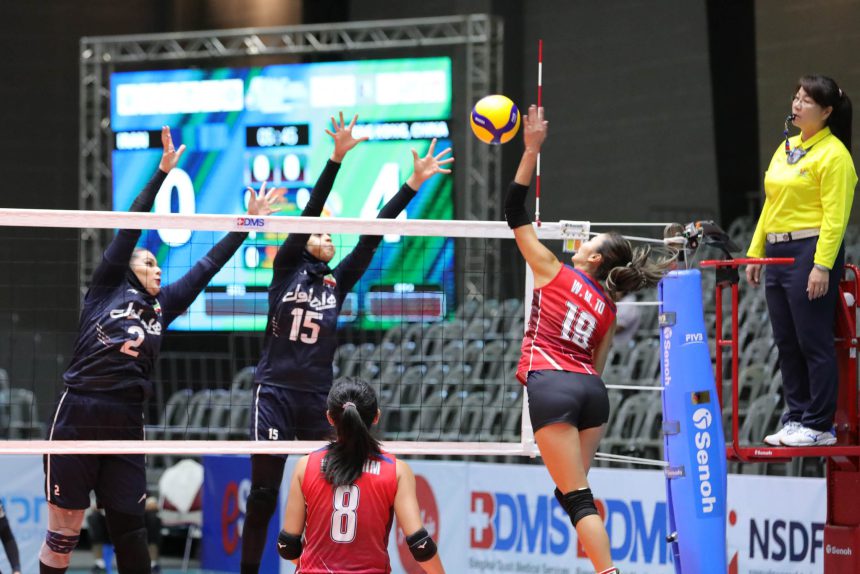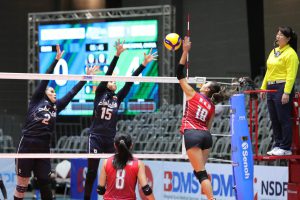 In Pool H, Iran, which spent exhausting 163 minutes in beating Philippines the previous day, played another tough match against Hong Kong, China on Monday following their dramatic 3-2 (25-20, 19-25, 20-25, 25-5, 15-10) triumph over the fighting opponents.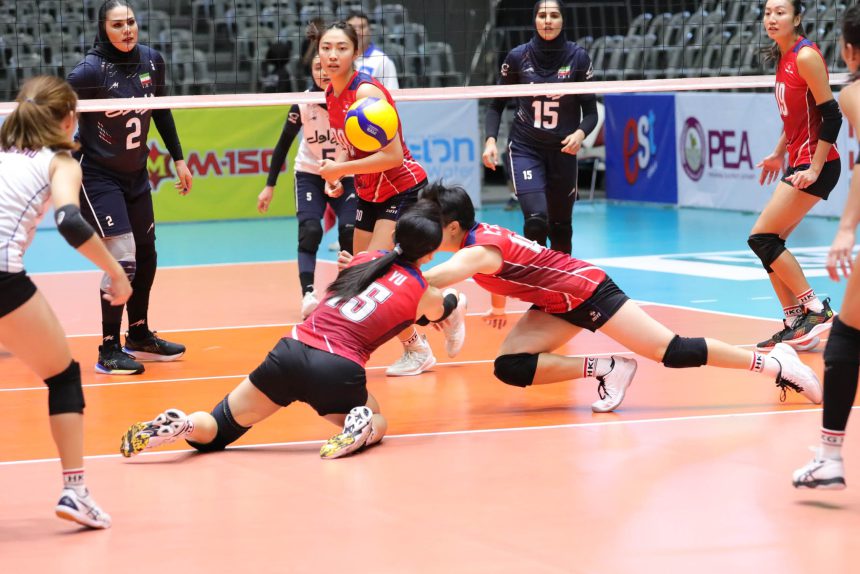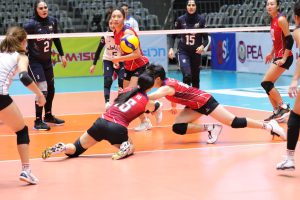 Iran captured the top spot in Pool H with 4 points from two wins in a row. Hong Kong, China also had 4 points after a 1-0 win/loss record to come in second place, while winless Philippines finished third with no point awarded.
On Tuesday, four matches will be contested at Chartchai Hall. Uzbekistan and Philippines will fight it out in the 13th-14th place playoff match. Australia will challenge Kazakhstan in the Classification Round for 5th-8th places, while the semifinals see Vietnam go up against unbeaten China and hosts Thailand, another undefeated team, challenge Japan in a final rematch of the Asian Senior Women's Championship in 2013, 2017 and 2019.
At MCC Hall inside The Mall Korat Department Store, Korea will take on India In the Classification Round for 5th-8th places, while Chinese Taipei meet Hong Kong China and Mongolia test their mettle against Iran in the 9th-12th playoff encounters.
POOL RANKING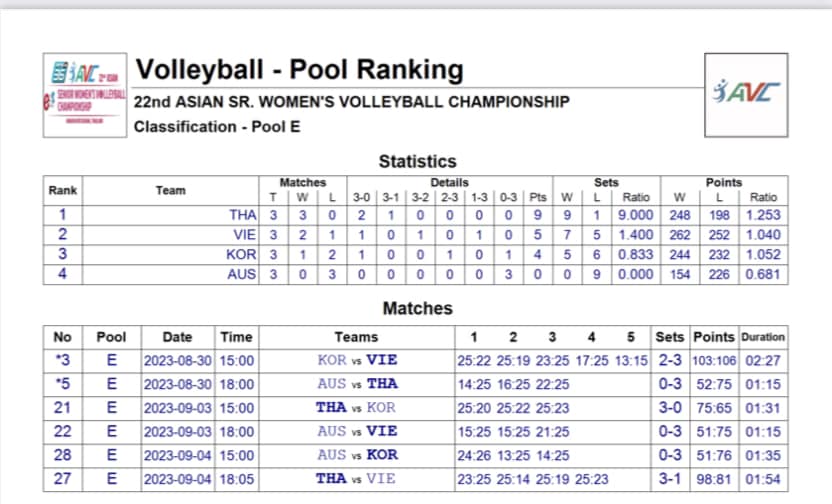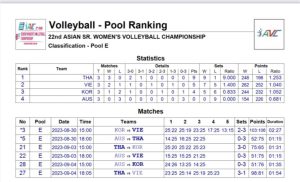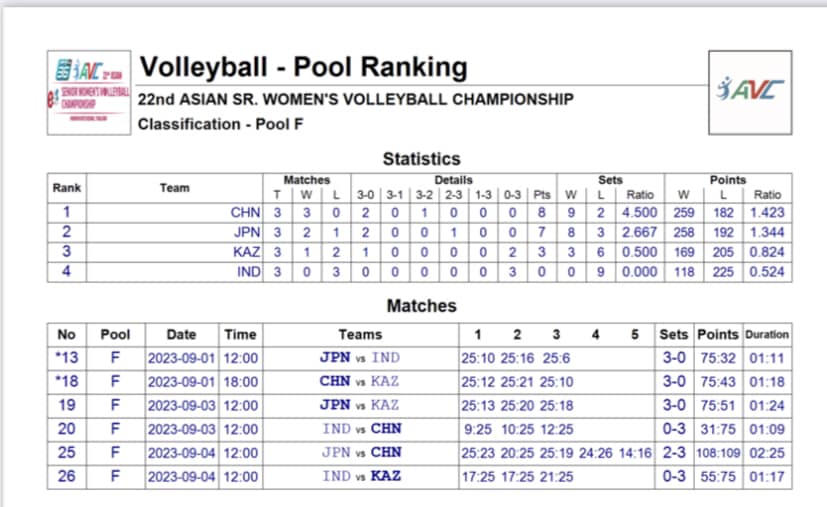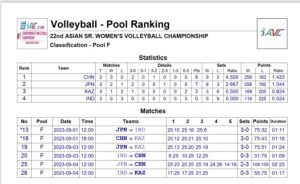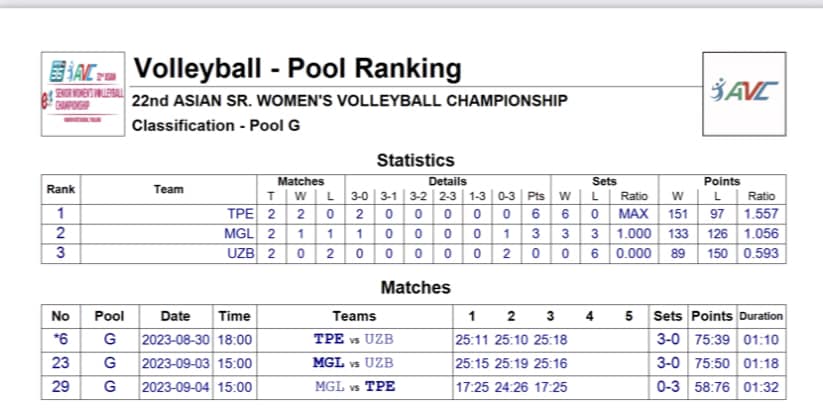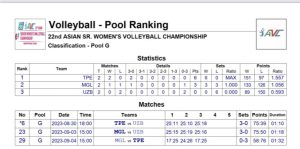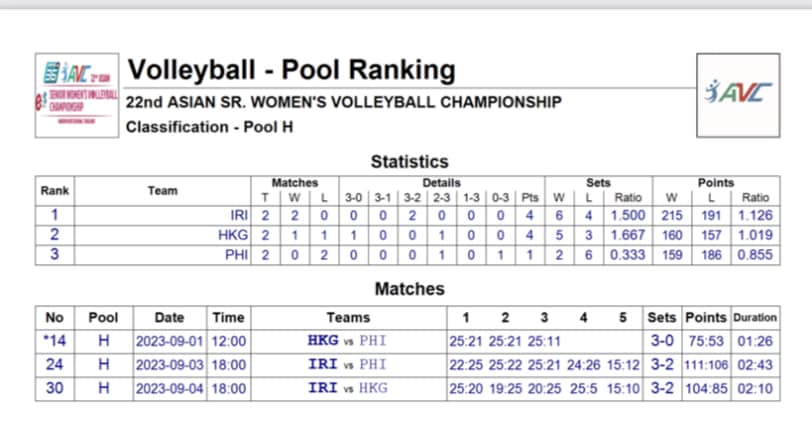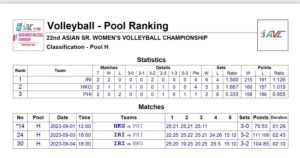 MATCH SCHEDULE


QUICK LINKS
AVC Website: click www.asianvolleyball.net
AVC Facebook: click www.Facebook.com/AsianVolleyballConfederation
AVC Twitter: click: www.twitter.com/AsianVolleyball
AVC Instagram: click: https://www.instagram.com/avcvolley/?hl=en
AVC Youtube: click: Asian Volleyball Confederation
AVC WeChat: Asian Volleyball Confederation