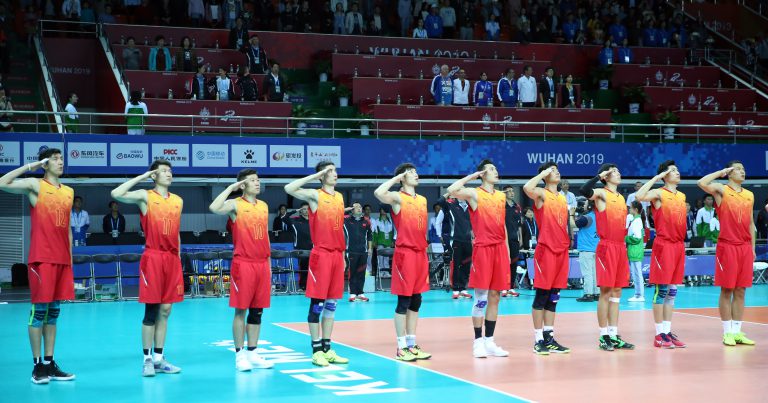 Wuhan, China, October 24, 2019 – Pakistan, Qatar and hosts China joined undefeated Korea in the Top Four after completion of the preliminary round of the 7th CISM Military World Games Men's Volleyball Tournament at Jianghan University Gymnasium here on Thursday.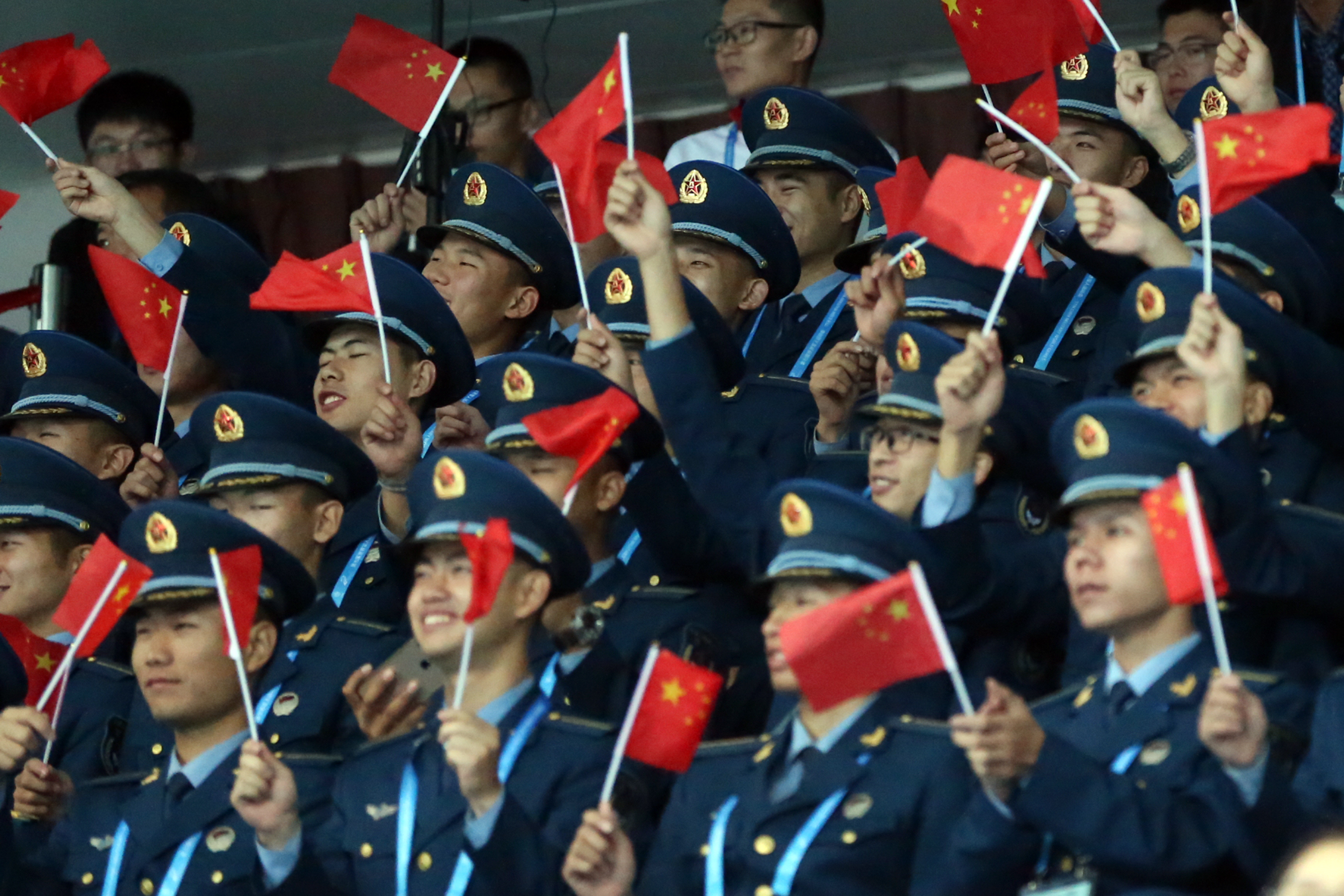 Pakistan prevailed over Iran in a four-set thriller to finish second to Korea in Pool B, while hosts China tasted their failure following a straight-set loss to Qatar but still topped Pool A , with the Qataris in second placee. Reigning champions Brazil outclass France 3-0 in the final preliminary match to have the same 3-1 record like China and Qatar but had to be relegated to the third place as they missed a set in their previous 3-1 win over Venezuela. The Netherlands claimed their maiden victory following a come-from-behind 3-1 (24-26, 25-23, 25-21, 25-20) victory over Canada and left the rivals to finish on the bottom place of Pool B with a winless record.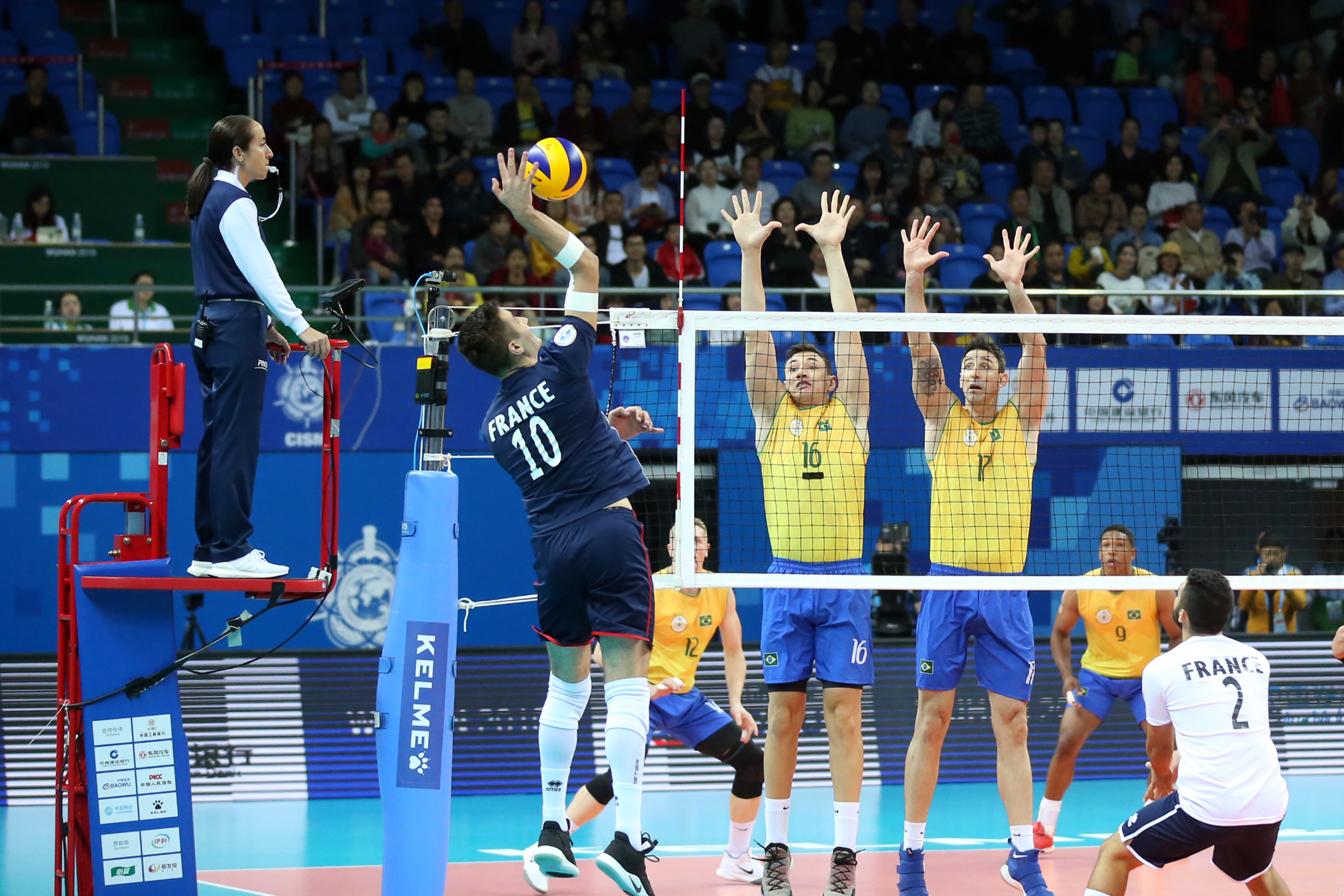 BRA b FRA 3-0 (25-16, 25-13, 25-17)
As a forceful team with well-organised attacks and defense, Brazil built an early lead at the very beginning. Though France caught up soon for a 3-3 tie with similar counterattacks, Brazil shook them off again and reached the first technical timeout with a 8-4 lead. Armed with piercing spikes and impenetrable blocks, Brazil widened the gap to 16-9 at the second technical timeout and closed out the set in 25-16.
The Brazilians kept on their efficient attacking from all areas and overwhelmed the Frenchmen in the remaining two sets. Charlery Maxime scored a match-high 13 points for France but could not confront a well-combined team without enough support from his teammates. Just in 62 minutes, Brazil concluded the match comfortably 3-0 (25-16, 25-13, 25-17).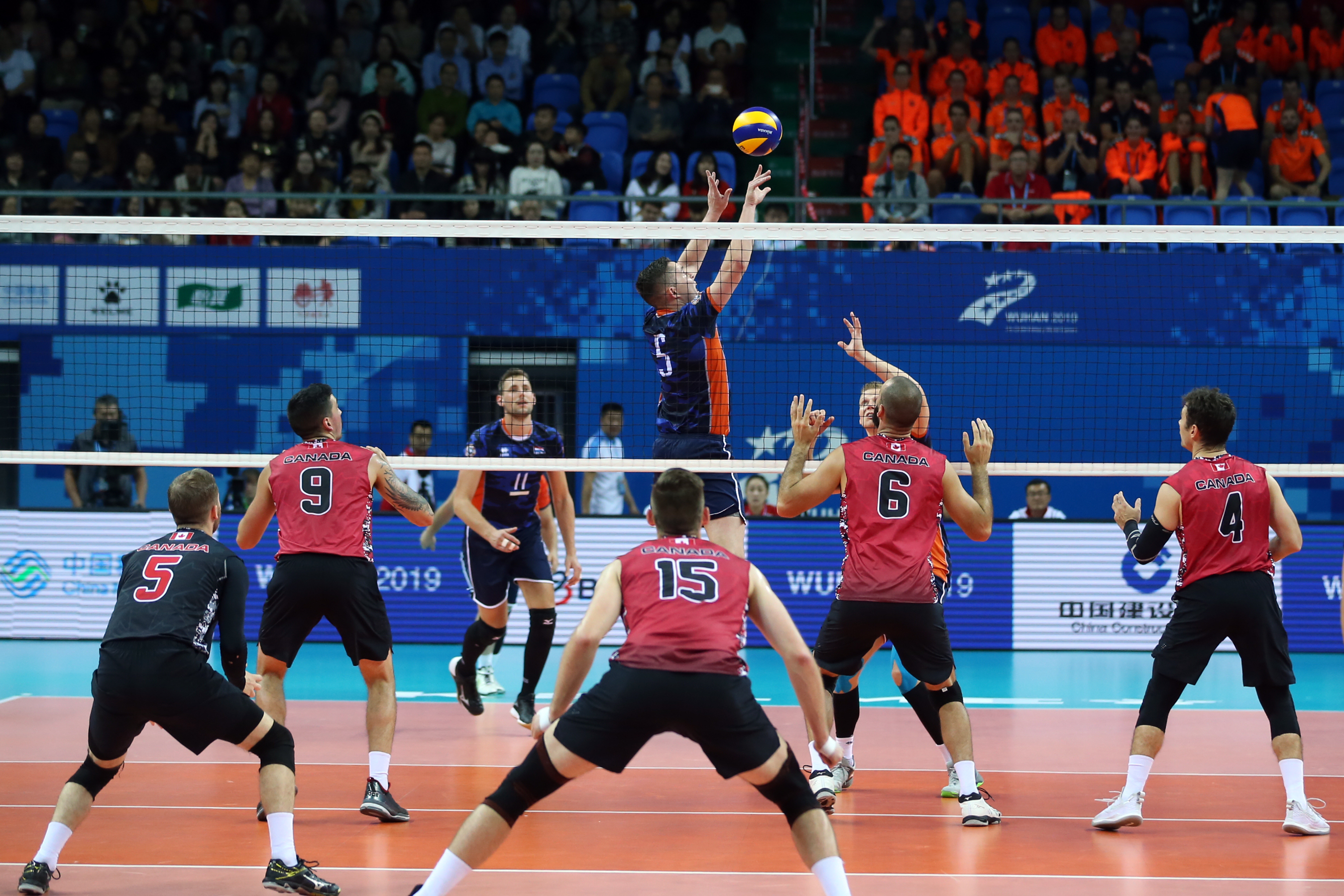 NED b CAN 3-1 (24-26, 25-23, 25-21, 25-20)
The opening set between Canada and the Netherlands became a tight contest as both sides poured everything they had to win this crucial match. Leads were exchanged for several times before Canada grabbed the crucial opportunity to capture the close first set 26-24.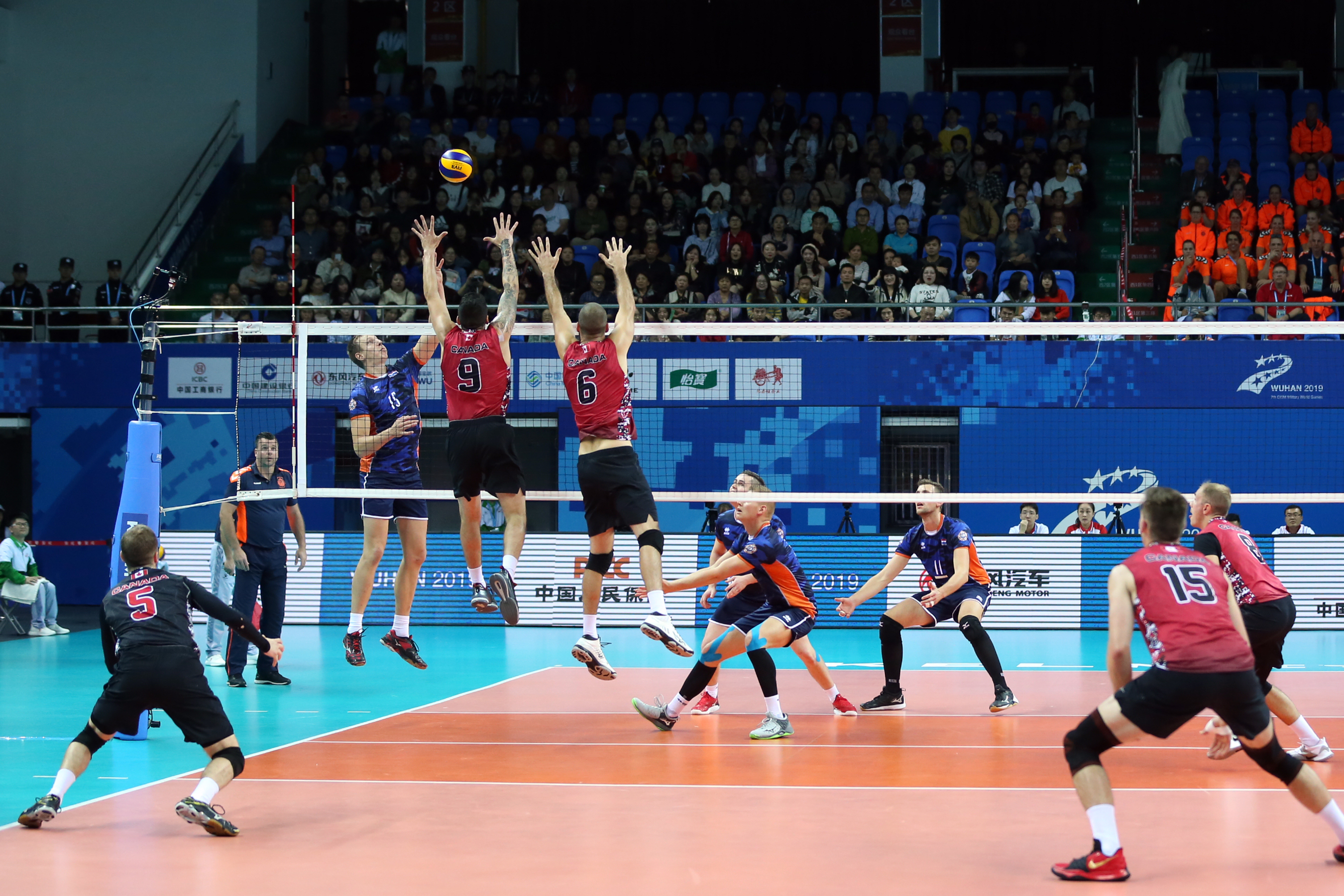 Recovering from the first set loss, the Netherlands reorganized their strategy in the second set, seeing captain Gijs Frijters attack spectacularly at the net while Flier Mark and Sieges Floor combined well for scintillating blocks. The Canadians failed to change the situation and went down to the opponents 23-25 in response.
Led by Mark Flier with a remarkable match-high 32 points from 21 killing attacks, 7 aces and 4 blocks, the Netherlands went on their brilliant form to capture the third and fourth sets 25-21 and 25-20.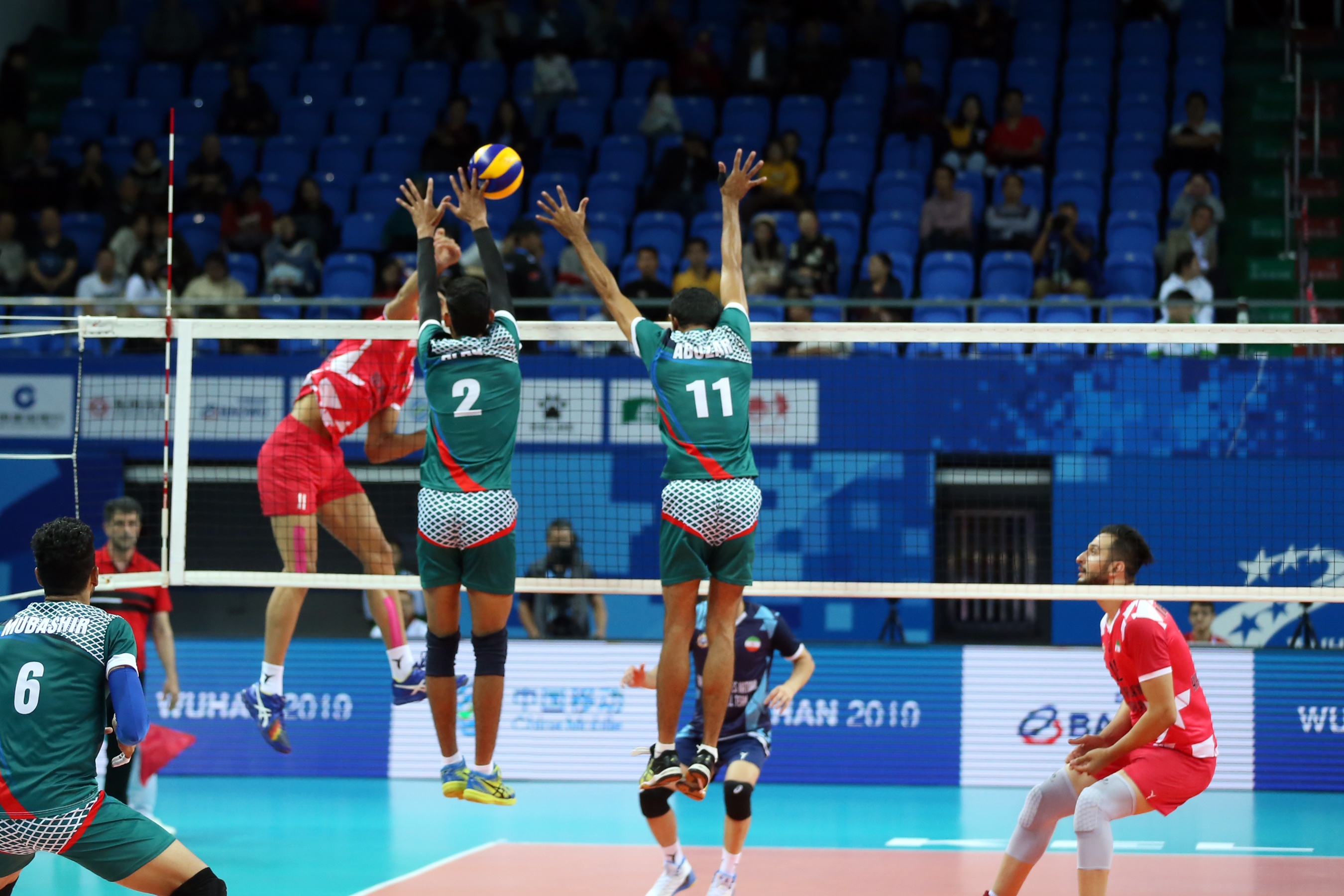 PAK b IRI 3-1 (25-27, 25-20, 25-23, 25-22)
It was a tightly-contested competition between Iran and Pakistan as both were eager for the semi-finals ticket.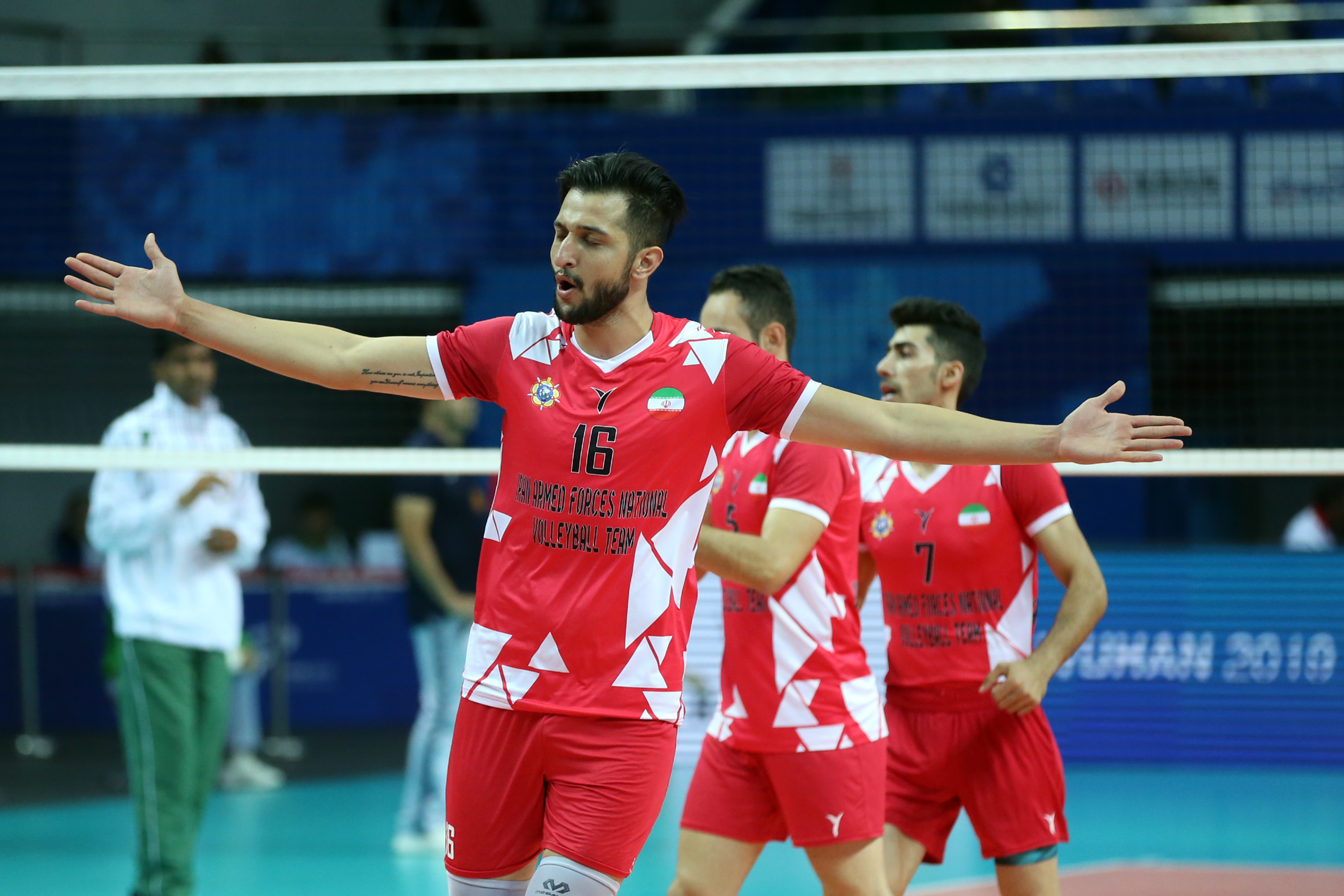 Iran headed for a good start, coming out strong on attacks with 3 points in a row. They showed determination to the opponents and kept the advantage till the second technical time-out with a commanding 16-11 lead as each position had active attempts during the set. However, Pakistan showed no inferiority and chased up to 17-17 tie thanks to their effective blocks. Leads started to change hands for several times before Fallah Mohammadali helped Iran end the hard-fought set 27-25 with a fast spike.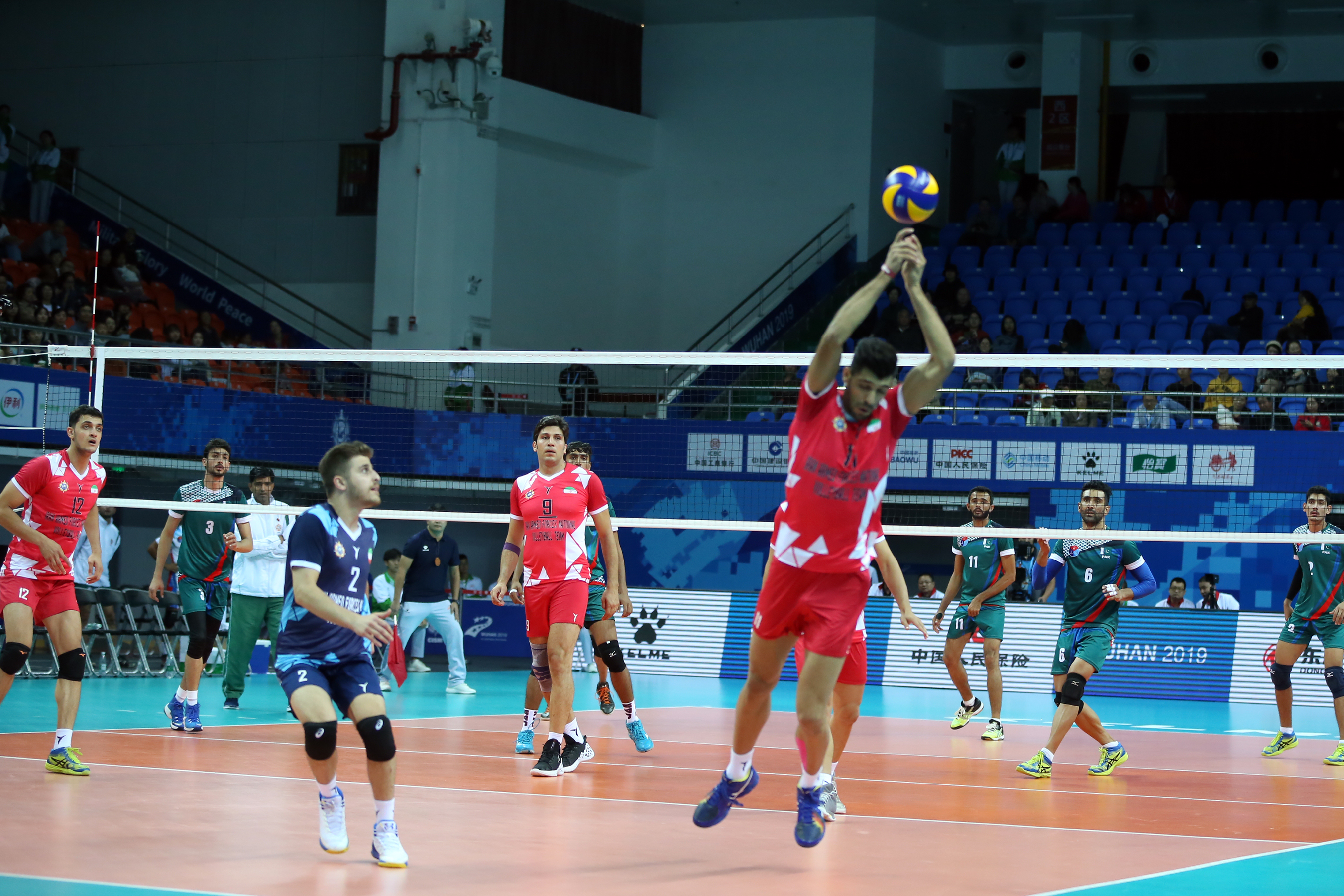 Going down one set, Pakistan improved their blocking and serving in the next three sets. Despite falling behind sometimes, they showed tremendous courage to foil the rivals' attempts with their gutsy display and managed to turn things around to win 25-20, 25-23 and 25-22.
Haider Farooq tallied a marvellous match-high 32 points for Pakistan, followed by Raza Mubashar with 26 points. Iran had 5 players who scored in double digits, but they were ruined by themselves as they committed up to 24 unforced errors.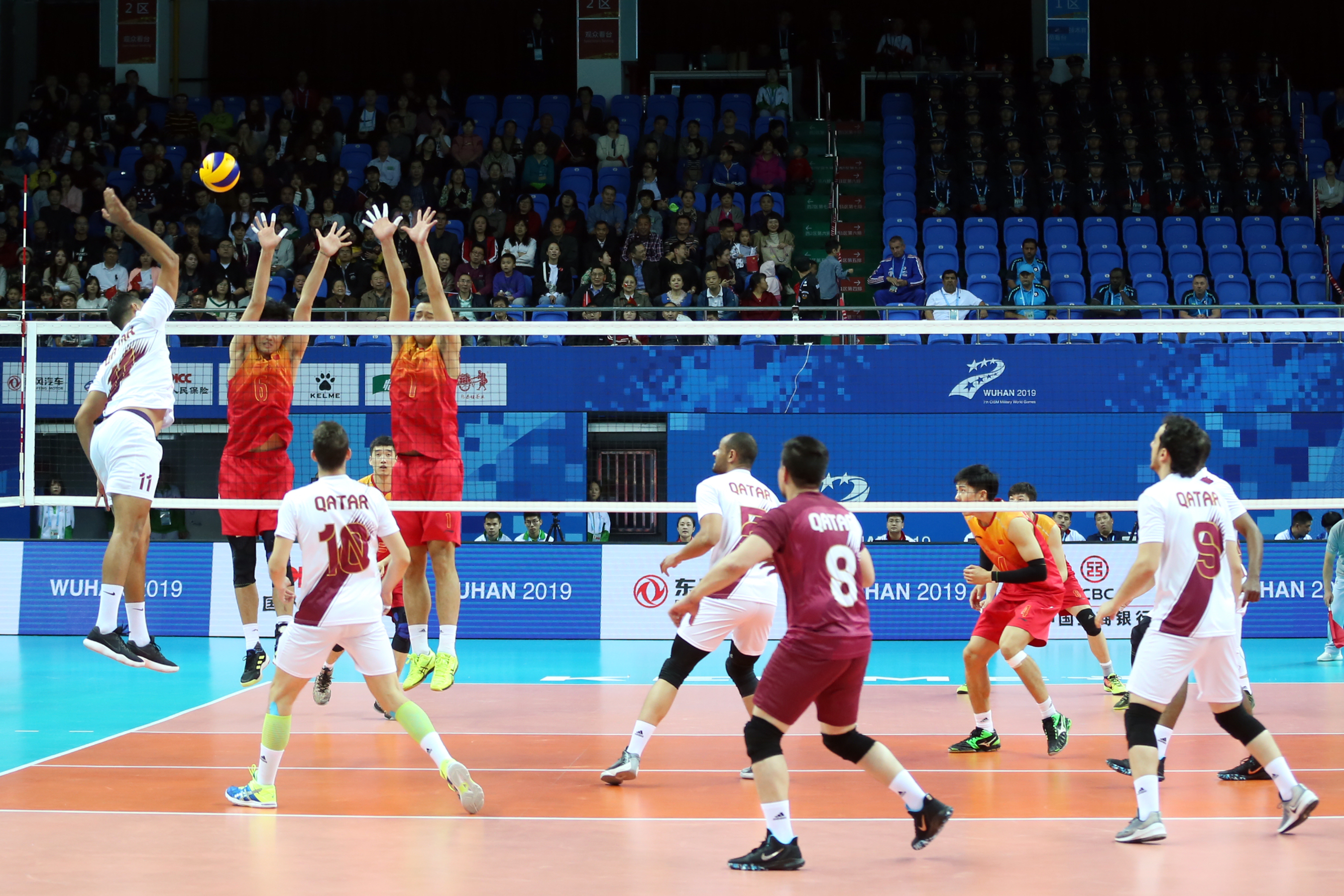 QAT b CHN 3-0 (25-22, 25-22, 25-22)
In the opening set, precision-guided serves and excellent spikes put Qatar in a commanding 6-3 lead. Liu Libin's attacks were effective in some critical moments to help China trail close till 22-24. With a super spike by Llija Ivoiv, Qatar took the first set 25-22.
The second set turned out to be one-way traffic as Qatar led from the very beginning 4-1 and took the advantage till the end of the set with the similar margin 25-22.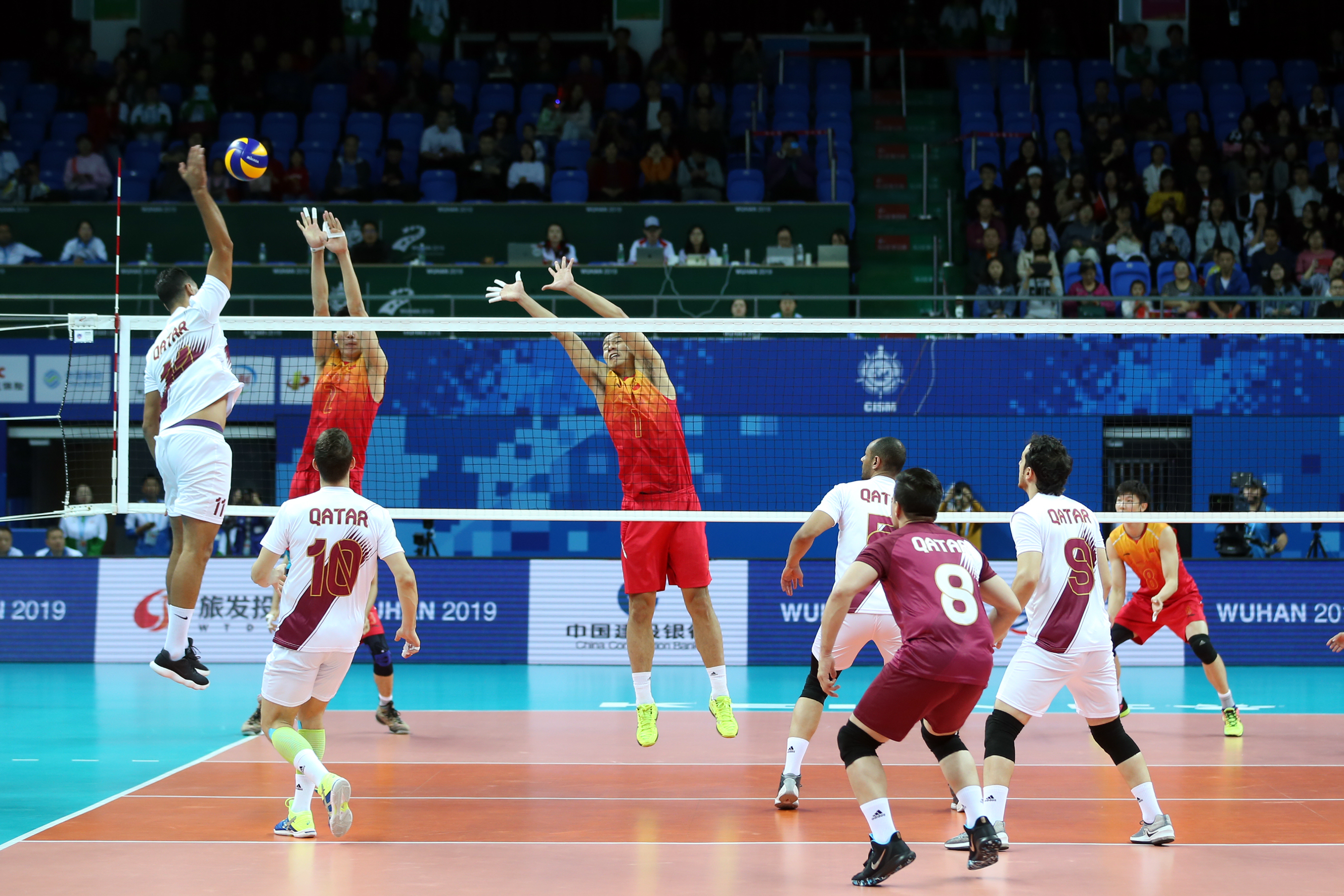 Qatar encountered turbulence in the third set as China changed their way of play. Despite losing two sets, China maintained their poise in the third set as they fought hard to tie the scores for ten times. Unfortunately, China did not seize the crucial points and lost the set 22-25 and match.
In the semi-finals on Friday, four Asian teams will vie for the two tickets to the final showdown, seeing Qatar challenge undefeated Korea and hosts China take on Pakistan. In the 5th/8th playoffs, title-holders Brazil will face the Netherlands, while Iran will be pitted against France. Winless teams Venezuela and Canada will battle it out to determine the 9th and 10th places.
Wuhan, the capital of Hunan Province and the largest city of China central area, was granted the right in May 2015 to host the 7th CISM Military World Games 2019. This is for the first time that China hosted the CISM World Games. The Games were open on October 18 and will be closed on October 27.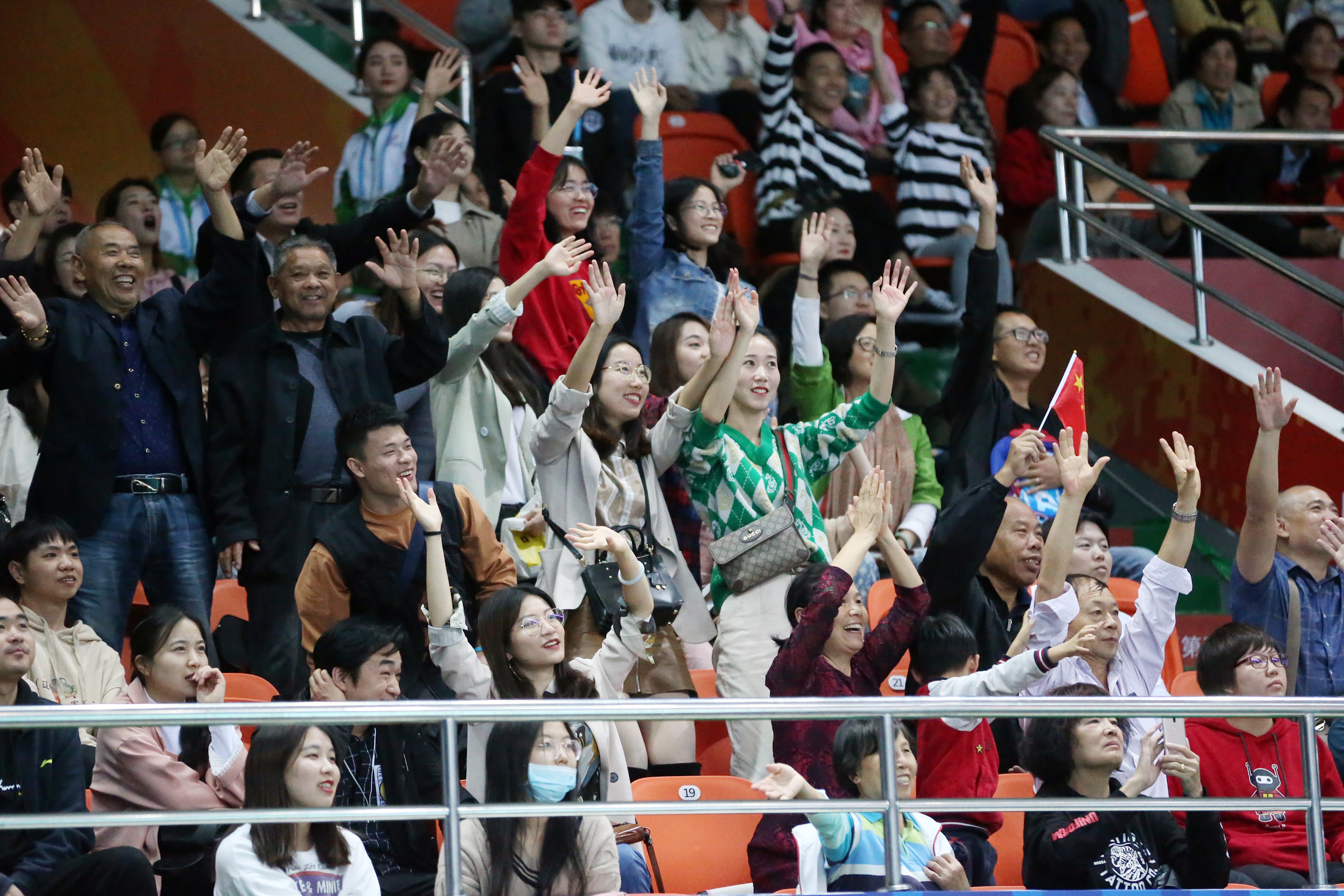 MATCH SCHEDULE & RESULTS
SUNDAY, OCTOBER 20
10:00 QAT vs VEN 3-0 (27-25,25-22,25-21)
13:30 IRI vs KOR 1-3 (18-25,26-24,18-25,24-26)
15:30 PAK vs NED 3-0 (25-17, 25-11, 25-15)
19:30 CHN vs FRA 3-0 (25-17,25-16,25-16)
MONDAY, OCTOBER 21
10:00 BRA vs QAT 3-0 (25-12, 25-20, 25-20)
13:30 KOR vs PAK 3-2 (19-25, 21-25, 25-17, 25-21, 15-12)
15:30 CAN vs IRI 1-3 (25-23, 18-25, 10-25, 14-25)
19:30 VEN vs CHN 0-3 (16-25, 13-25, 21-25)
TUESDAY, OCTOBER 22
10:00 PAK vs CAN 3-0 (25-16,25-16,25-20)
13:30 FRA vs VEN 3-1 (25-20, 20-25, 25-22, 26-24)
15:30 NED vs KOR 0-3 (16-25, 9-25, 12-25)
19:30 CHN vs BRA 3-0(27-25, 25-16, 25-15)
WEDNESDAY, OCTOBER 23
10:00 NED vs IRI 0-3 (5-25, 12-25, 15-25)
13:30 VEN vs BRA 1-3 (16-25, 19-25, 25-23, 19-25)
15:30 FRA vs QAT 0-3 (22-25, 19-25, 22-25)
19:30 KOR vs CAN 3-0 (25-16,25-17,25-19)
THURSDAY, OCTOBER 24
10:00 BRA vs FRA 3-0 (25-16, 25-13, 25-17)
13:30 CAN vs NED 1-3 (26-24, 23-25, 21-25, 20-25)
15:30 IRI vs PAK 1-3 (27-25, 20-25, 23-25, 22-25)
19:30 QAT vs CHN 3-0 (25-22, 25-22, 25-22)
FRIDAY, OCTOBER 25
10:00 9th-10th: VEN vs CAN
12:00 5th-8th: BRA vs NED
14:00 5th-8th: IRI vs FRA
16:00 Semi-finals: KOR vs QAT
19:30 Semi-finals: CHN vs PAK
SATURDAY, OCTOBER 26
10:00 7th-8th playoff
13:30 5th-6th playoff
15:30 Bronze medal match:
19:30 Gold medal match:
Related links of AVC
AVC Website: click www.asianvolleyball.net
AVC Facebook: click www.Facebook.com/AsianVolleyballConfederation
AVC Twitter: click: https://twitter.com/avcvolley
AVC Instagram: click: https://www.instagram.com/avcvolley/?hl=en
AVC Youtube: click: Asian Volleyball Confederation
AVC WeChat: Asian Volleyball Confederation