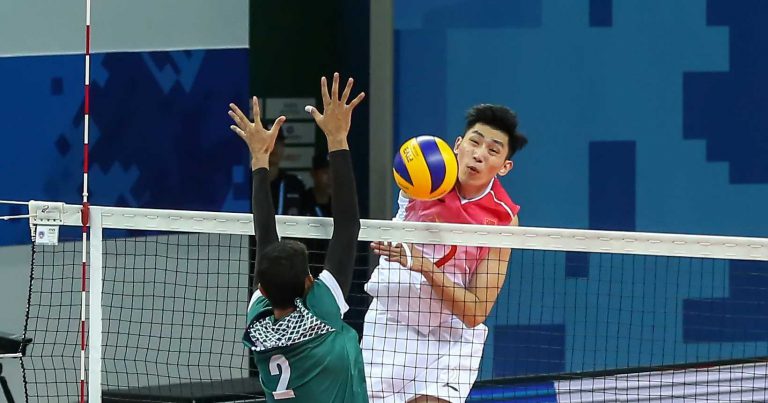 Wuhan, China, October 25, 2019 – Hosts China and unbeaten Korea set up final clash of the Titans as they overpowered Pakistan and Qatar respectively in the highly-anticipated semi-finals of the 7th CISM Military World Games Men's Volleyball Tournament at Jianghan University Gymnasium here on Friday.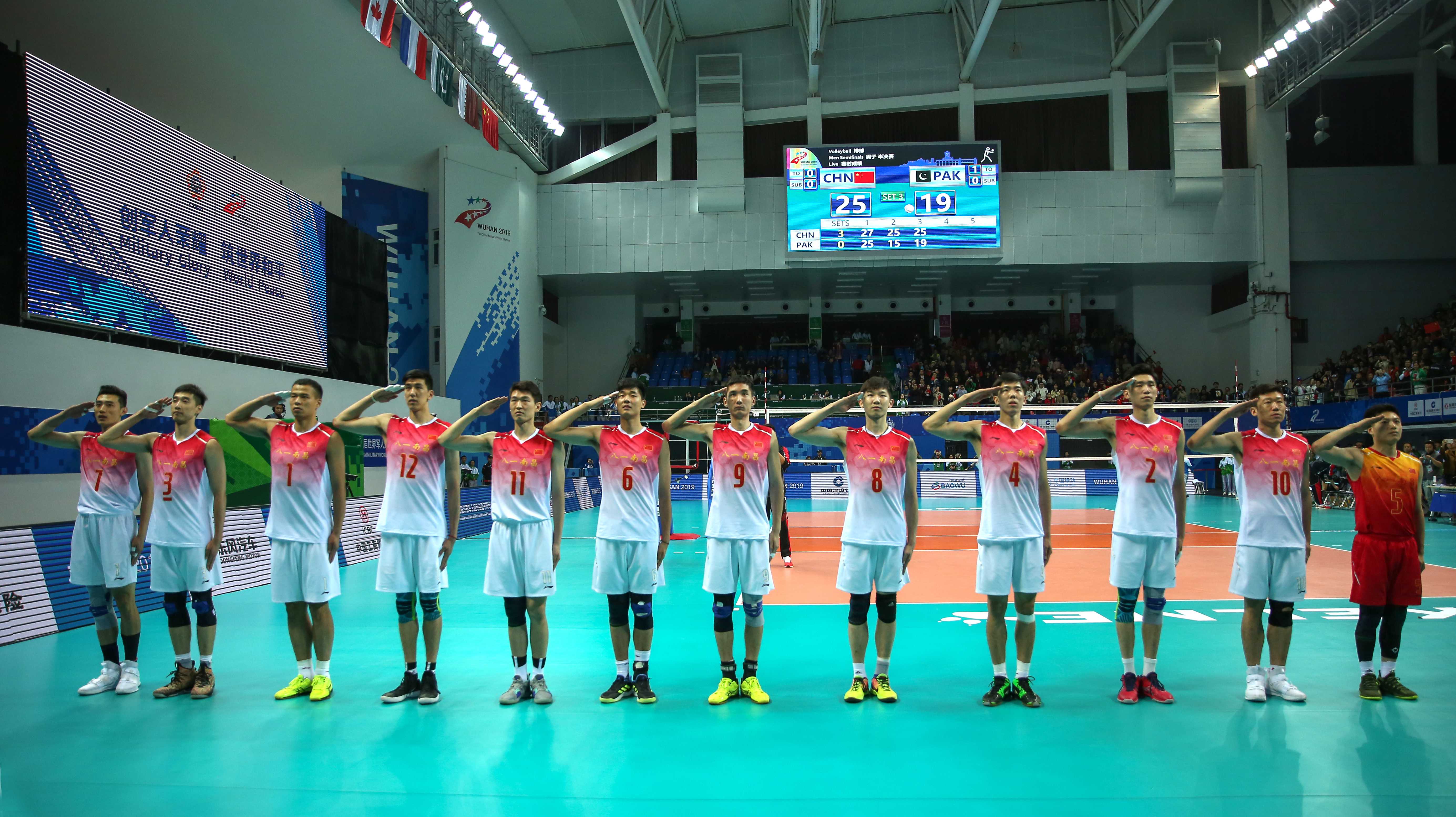 In the first semi-final match, Korea prevailed over Qatar 3-1 (25-18, 25-21, 14-25, 25-18) to snatch the first ticket to the final.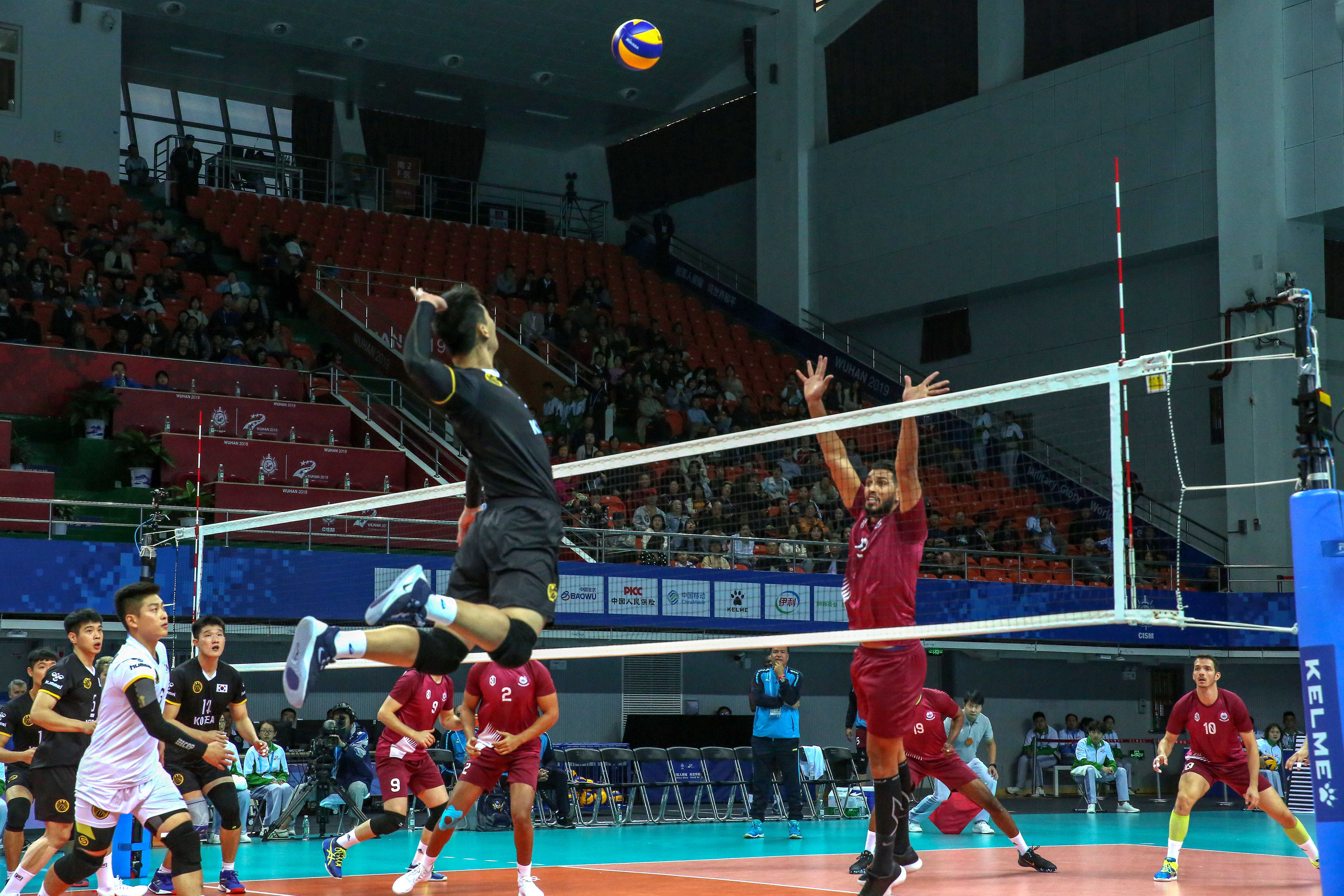 Qatar surprised Korea from the beginning with three points in a row for a 3-0 lead before the Koreans soon recovered to chase up through their excellent blocks by Kim Jaehwi and Hwang Seungbin. Following a service error, Qatar saw themselves fall behind 13-16 at the second technical timeout. Another service fault by Mohammed Naoum ended the first set 18-25 in favor of Korea.
Similarly, Qatar took an early 5-1 lead in the second set and kept their advantage to 10-5. Korea improved their blocking in time with triple blocks by Jung Suyong, Ahn Woojae and Ham Hyeongjin to weaken the amazing power of Youssef Oughlaf. Although Qatar made some substitutions, Korea grasped several crucial points through a better situation with a 25-21 win.
Led effectively by Youssef Oughlaf, Qatar still showed their teamwork and diversed play against Korea to keep their hopes in the tough game. Korea struggled to catch up closer after the first technical timeout but Qatar allowed them no chance and took the set 25-14.
Though bagging a match-high 30 points for Qatar in this match, Youssef Oughlaf seemed to lose his sharpness and committed some spiking mistakes in the fourth set, while Korea got back their moral with effective attacks and captured the set 25-18 and match.
In the second semi-final encounter, China met up with some troubles in the first set but finally subdued Pakistan in straight sets 27-25, 25-15, 25-19 and earned the second ticket to the final.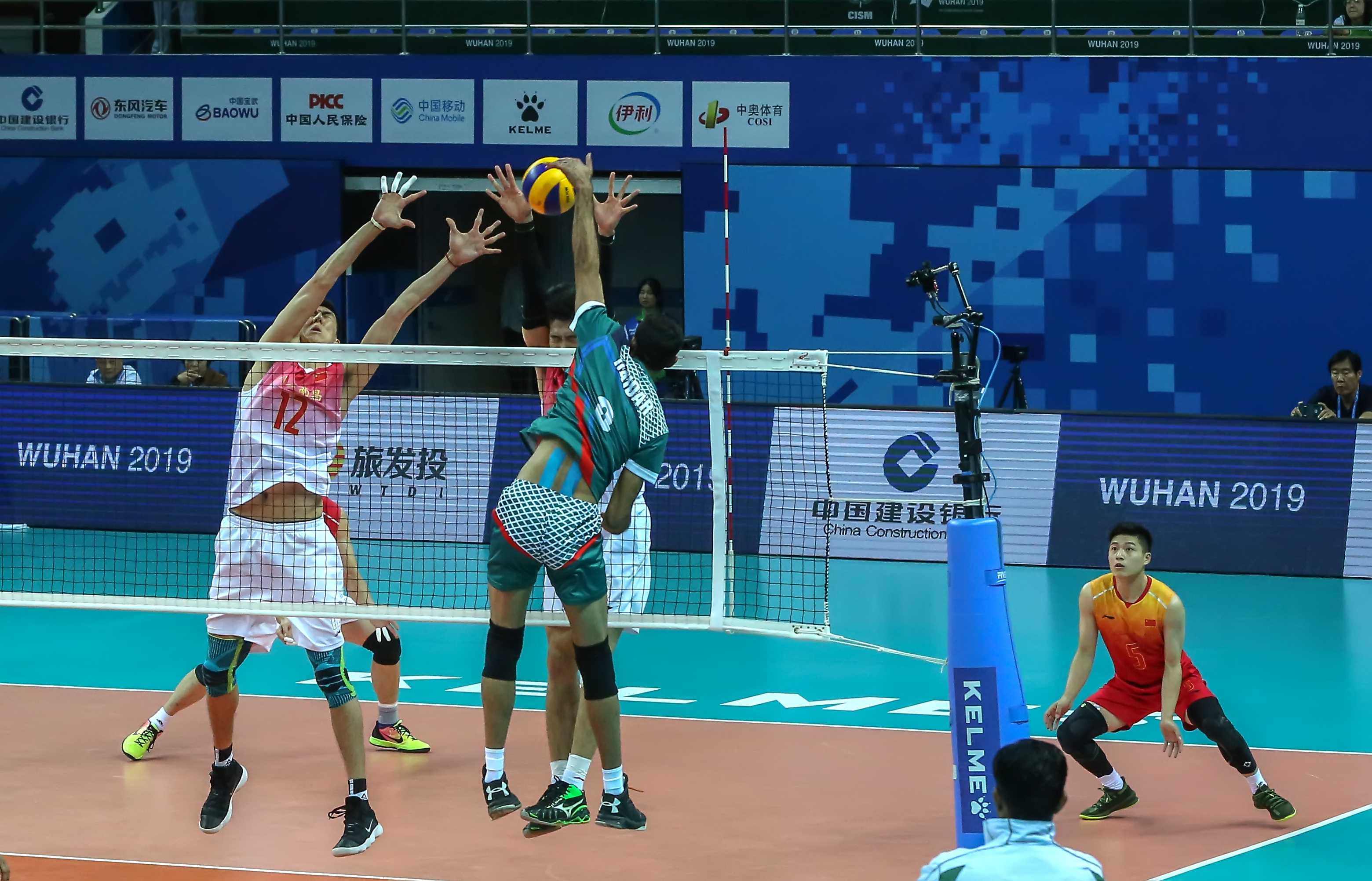 Jiang Chuan top-scored with 25 points for China from 19 attacks from 32 attempts, 2 blocks and 4 aces, while powerful Haider Farooq led Pakistan with 12 points.
The first set saw both sides stick to each other till 24-24. Pakistan missed a few chances to win and following a spiking error, they yielded the hard-fought set 25-27.
In the second set, the Chinese brilliantly executed their plays and built a huge lead. Pakistan attempted to put all out to narrow the gap but their determination did not work out as the host side kept a consistent pace to smoothly reach the end of the set 25-15.
Both teams were under pressure committing more errors in the third set, however the mighty Chinese withstood the Pakistan's counterattacks and successfully finished the set 25-19 following a powerful spike by Zhang Zhejia.
In the 5th-8th playoffs earlier, title-holders Brazil proved their superiority with a comfortable 3-0 (25-12, 25-14, 25-11) victory over the Netherlands, while Mohammadali Fallah led Iran with 17 points to an exceptional 3-0 (25-15, 25-18, 25-18) win over France in 73 minutes.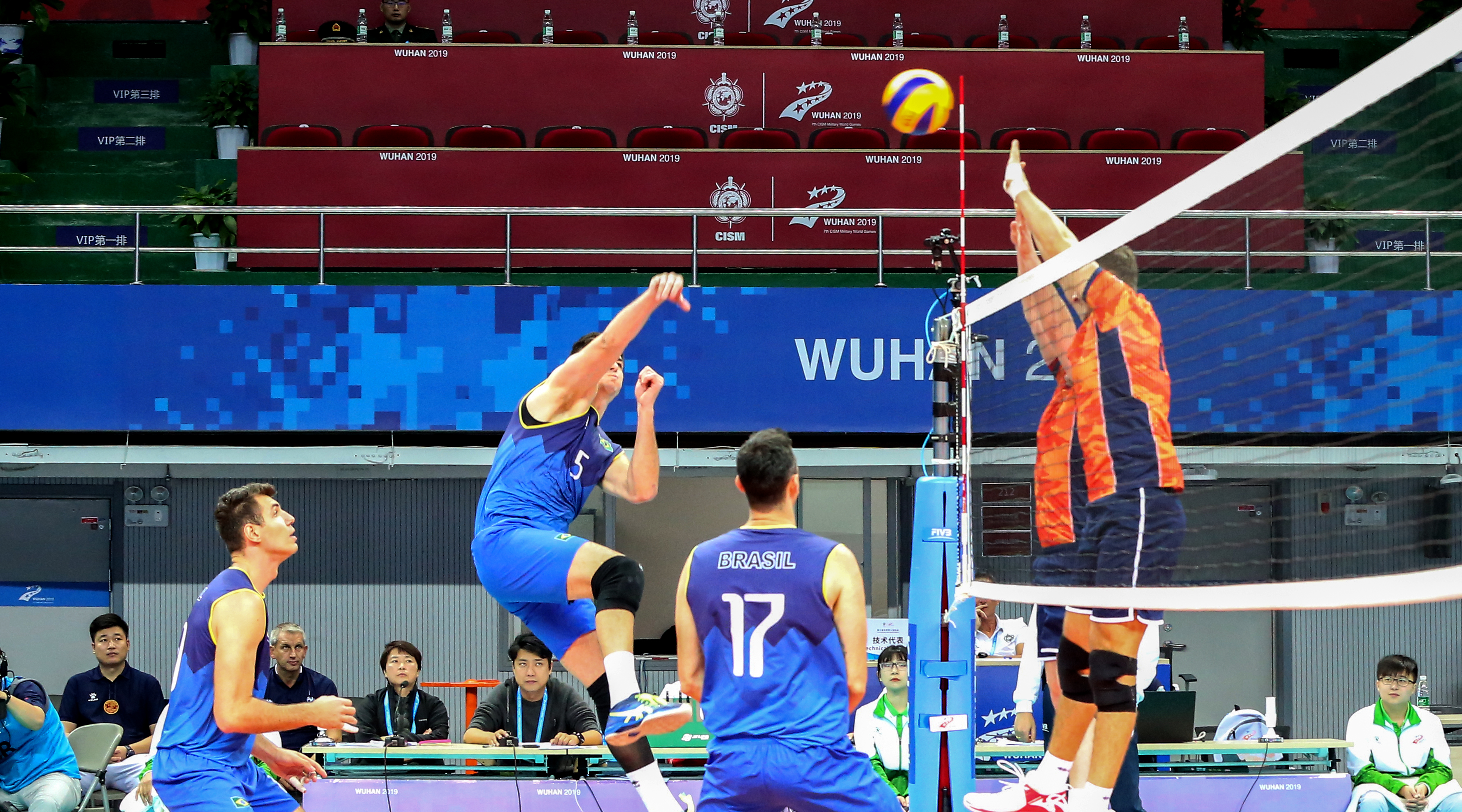 Armed with penetrating spikes and precision-guided serves, the Brazilians turned the match against Netherlands into a one-sided way, featuring 39 killing spikes from 55 attempts and 10 aces. Tiago Gatiboni Wesz registered a match-high 14 points for Brazil including remarkable 6 aces.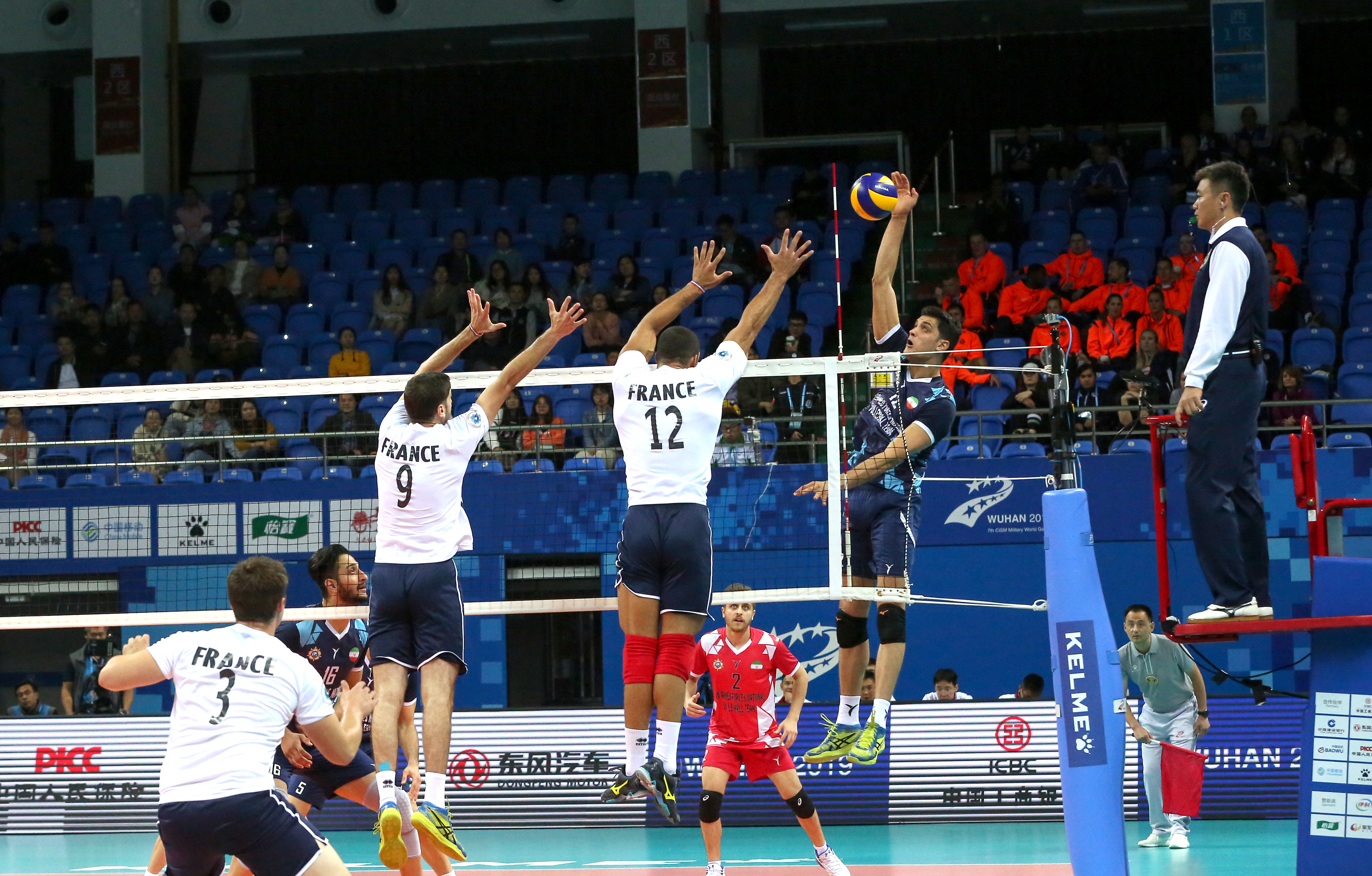 In the 9th-10th place decider, winless Venezuela claimed their maiden victory and the 9th position after an exhausting five-set 21-25, 30-28, 23-25, 26-24, 15-9 win against Canada. Towe Dale Frederick Scott tallied a match-high 24 points in a losing effort of helping Canada win the match as Venezuela organised more efficient counterattacks through their dogged back-row defense. Canada had to be slotted to the 10th place with a winless record.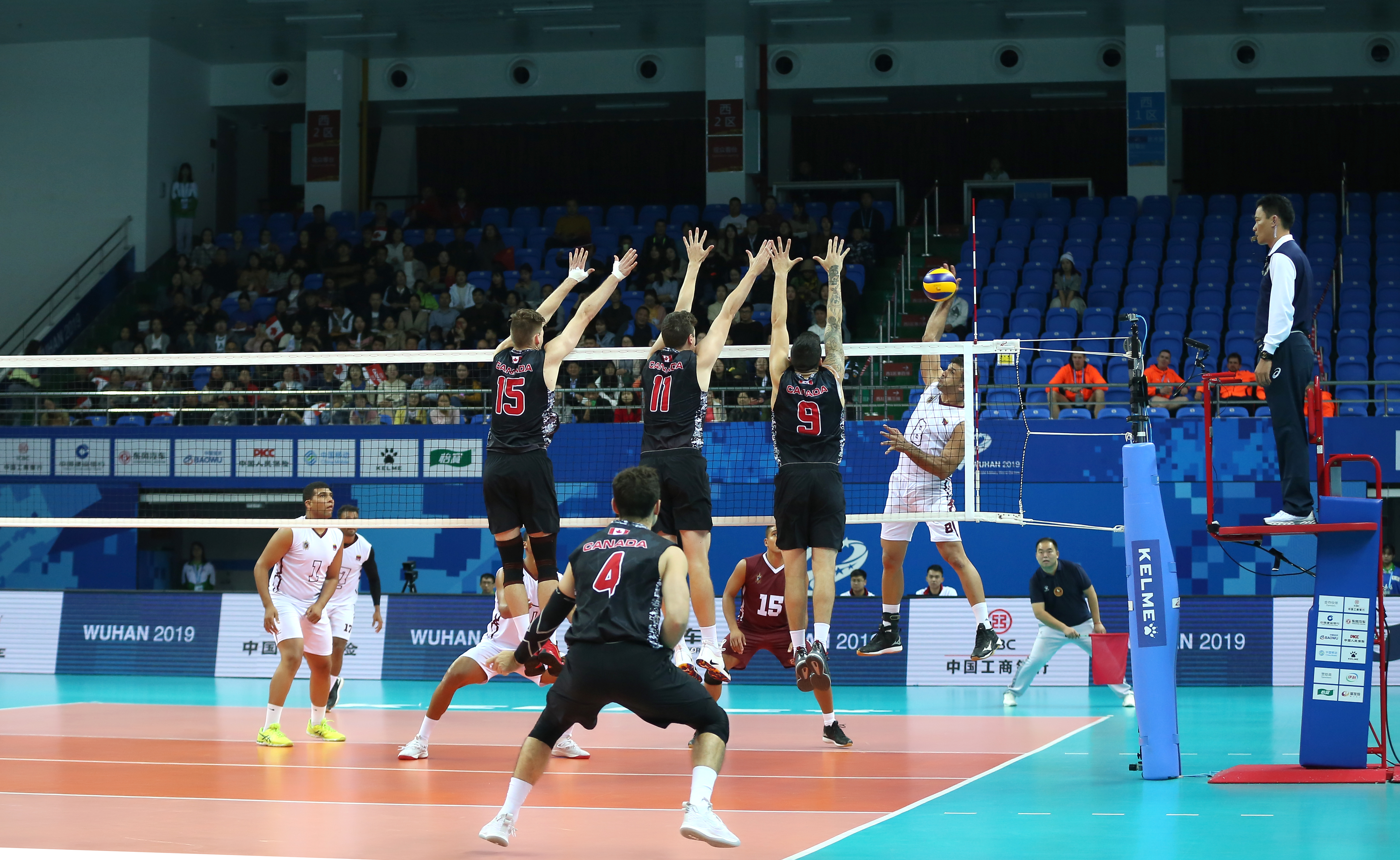 On Saturday, the final day of the men's volleyball tournament of the 7th CISM Military World Games, undefeated Korea face hosts China in the gold-medal match, while Qatar meet Pakistan in the bronze medal encounter. Brazil take on Iran in the 5th-6th playoff, while France battle it out with the European counterparts Netherlands in the 7th-8th place playoff.
Wuhan, the capital of Hunan Province and the largest city of China central area, was granted the right in May 2015 to host the 7th CISM Military World Games 2019. This is for the first time that China hosted the CISM World Games. The Games were open on October 18 and will be closed on October 27.
MATCH SCHEDULE & RESULTS
SUNDAY, OCTOBER 20
10:00 QAT vs VEN 3-0 (27-25,25-22,25-21)
13:30 IRI vs KOR 1-3 (18-25,26-24,18-25,24-26)
15:30 PAK vs NED 3-0 (25-17, 25-11, 25-15)
19:30 CHN vs FRA 3-0 (25-17,25-16,25-16)
MONDAY, OCTOBER 21
10:00 BRA vs QAT 3-0 (25-12, 25-20, 25-20)
13:30 KOR vs PAK 3-2 (19-25, 21-25, 25-17, 25-21, 15-12)
15:30 CAN vs IRI 1-3 (25-23, 18-25, 10-25, 14-25)
19:30 VEN vs CHN 0-3 (16-25, 13-25, 21-25)
TUESDAY, OCTOBER 22
10:00 PAK vs CAN 3-0 (25-16,25-16,25-20)
13:30 FRA vs VEN 3-1 (25-20, 20-25, 25-22, 26-24)
15:30 NED vs KOR 0-3 (16-25, 9-25, 12-25)
19:30 CHN vs BRA 3-0(27-25, 25-16, 25-15)
WEDNESDAY, OCTOBER 23
10:00 NED vs IRI 0-3 (5-25, 12-25, 15-25)
13:30 VEN vs BRA 1-3 (16-25, 19-25, 25-23, 19-25)
15:30 FRA vs QAT 0-3 (22-25, 19-25, 22-25)
19:30 KOR vs CAN 3-0 (25-16,25-17,25-19)
THURSDAY, OCTOBER 24
10:00 BRA vs FRA 3-0 (25-16, 25-13, 25-17)
13:30 CAN vs NED 1-3 (26-24, 23-25, 21-25, 20-25)
15:30 IRI vs PAK 1-3 (27-25, 20-25, 23-25, 22-25)
19:30 QAT vs CHN 3-0 (25-22, 25-22, 25-22)
FRIDAY, OCTOBER 25
10:00 9th-10th playoff: VEN vs CAN 3-2 ( 21-25, 30-28, 23-25, 26-24, 15-9)
12:00 5th-8th playoff: BRA vs NED 3-0 (25-12, 25-14, 25-11)
14:00 5th-8th playoff: IRI vs FRA 3-0 (25-15, 25-18, 25-18)
16:00 Semi-finals: KOR vs QAT 3-1 (25-18, 25-21, 14-25, 25-18)
19:30 Semi-finals: CHN vs PAK 3-0 ( 27-25, 25-15, 25-19 )
SATURDAY, OCTOBER 26
10:00 7th-8th playoff: NED vs FRA
13:30 5th-6th playoff: BRA vs IRI
15:30 Bronze-medal match: QAT vs PAK
19:30 Gold-medal match: KOR vs CHN
Related links of AVC
AVC Website: click www.asianvolleyball.net
AVC Facebook: click www.Facebook.com/AsianVolleyballConfederation
AVC Twitter: click: https://twitter.com/avcvolley
AVC Instagram: click: https://www.instagram.com/avcvolley/?hl=en
AVC Youtube: click: Asian Volleyball Confederation
AVC WeChat: Asian Volleyball Confederation