Yuki Ishii will feature for Hisamitsu Springs
Tokyo, Japan, October 15, 2020 – On October 17, the Japanese Women's V.League Division 1 (V1 Women) will start a four-month-long season ending with the final on February 21, 2021. 
The twelve teams playing in the V1 Women's League will play each other twice in a 22-match regular season. At the end of the regular season, the teams will be split into finishing groups 1st to 4th, 5th to 8th and 9th to 12th. In each of these groups there will be semifinal matches, and position playoff matches to determine the final positions within each group. In the 9th to 12th group, the bottom two teams will then play against the top two teams of the V2 Women's League for promotion and relegation. Now let us move onto the teams.
JT Marvelous, based in Osaka, are the defending champions (6th time) led by American opposite Andrea Drews and Japanese women's national team libero Mako Kobata. Despite their championship victory last year, only three players including Kobata, Kotona Hayashi and Aika Akutagawa were named to the 2020 Japanese women's national team. Setter Aki Momii was critical in setting up Drews, who was the league's MVP in the 2019-2020 season, and will like to show why she should be on the Japanese national team in the 2021 season. Thatdao Nuekjang of Thailand also signed with the Marvelous in September.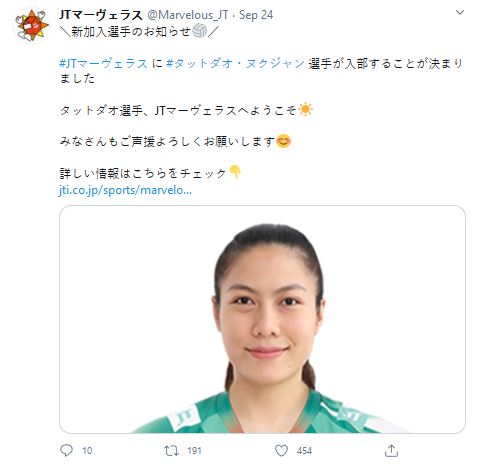 Okayama Seagulls, led by Japanese women's national team setter Haruka Miyashita, finished second last season, for the second time in their history. The Seagulls have not signed a foreigner and have brought back most of their squad that went five sets in last year's final against JT Marvelous. An additional year of experience for this team may push them to the top.
Saitama Ageo Medics, based in the city of Ageo, Saitama prefecture, surprised the league with a third place finish last year. Jaja Santiago returns as Saitama's ASEAN player. By league rules each team can have two foreigners, one from an ASEAN country and one from elsewhere around the world.
Denso Airybees were upset in the semifinals by Okayama in the 2019-2020 season, and then lost to Saitama in the third place match to finish in fourth place. The Airybees, based in Nishio, Aichi Prefecture, are still looking for their first V.League title and are led by six Japanese women's national team players, including setters Kanami Tashio and Tamaki Matsui, middle blocker Mai Okumura, libero Kotoe Inoue and outside hitters Yurie Nabeya (captain of the Airybees) and Rei Kudo. The Airybees did not re-sign Trinidad and Tobago's Sinead Jack who was their primary middle blocker for the last two seasons. However, Denso's replacement is American outside hitter Kathryn Plummer who played for Saguella Team Monza after finishing her college career at Stanford University in December 2019.
Toyota Auto Body Queenseis, based in Kariya, Aichi Prefecture are led by Japanese women's national team captain Erika Araki. While not the captain of her club team, Araki is a playing mom, who was second in the league in blocking last season with 1.01 blocks per set at 36 years of age. Italian opposite Indre Sorokaite has returned to Japan to play for the Queenseis. Sorokaite previously played with Denso in 2013-2014.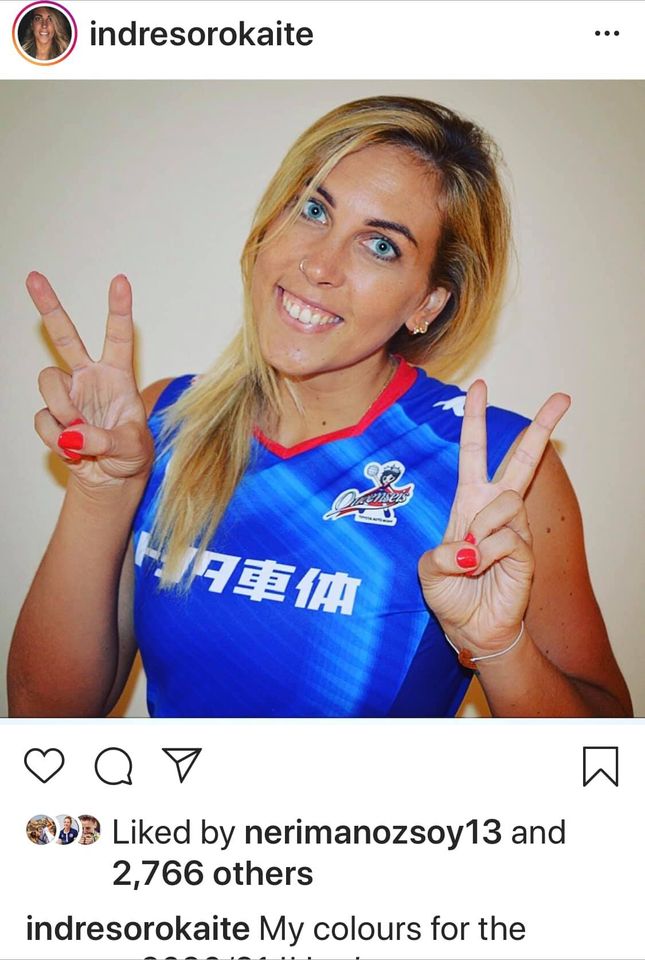 Toray Arrows women's team, based in Otsu, Shiga Prefecture finished sixth in 2019-2020 and are led by Japanese women's national team outside hitters Ai Kurogo and Mayu Ishikawa. Slovakian Jana Kulan led the team in scoring (second in the league) with 463 points and will still be the focus of their offence. Ishikawa was a rookie last season, and any growth could push the Arrows up the standings.
Hisamitsu Springs, based in Tosu, Saga Prefecture had a down year in 2019-2020. With five titles in the 2010s, seventh place was their worst ever finish in the V.League. With Japanese Women's national team players Nana Iwasaka, Arisa Inoue and Yuki Ishii essentially having a year off (excluding practice) from international play, due to the coronavirus, this may help their club team greatly. The Springs did lose their passing mainstay Risa Shinnabe to retirement, but they are looking at having Miyu Nagaoka return from injury. Also, American middle blocker Foluke Akinradewo returns to the Springs after having her first child.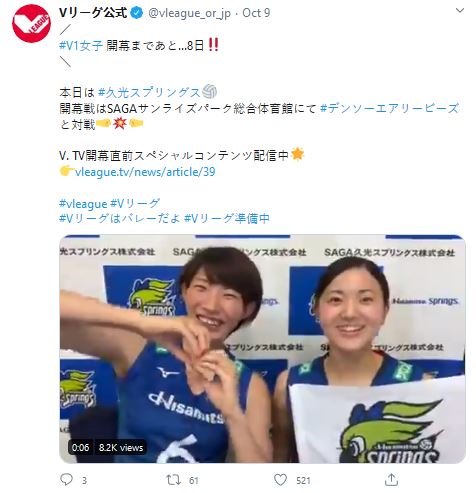 NEC Red Rockets, based in Kawasaki, Kanagawa Prefecture also had a down season finishing eighth in 2019-2020. The Red Rockets also made a surprise move by signing Turkish free agent Neriman Ozsoy to be their leading scorer. Ozsoy had previously played for Toyota Auto Body Queenseis from 2017-2020. Ozsoy led the league in scoring in the 2017-2018 and 2019-2020 seasons with 580 and 523 points respectively. Outside hitter Sarina Koga will be the second pillar of the Red Rockets offence, but was only 15th in league scoring with 270 points.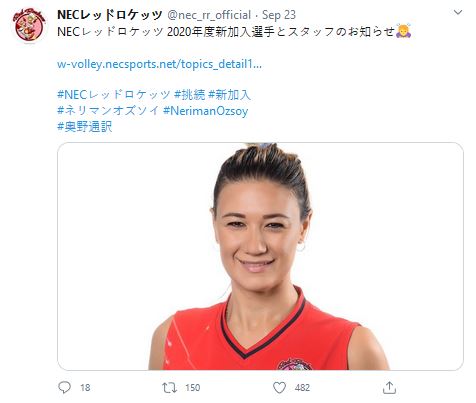 Hitachi Rivale, based in Hitachinaka, Ibaraki Prefecture, were unlucky in five-set matches in 2019-2020 with a 2-5 record. This kept the Rivale from making the Final 8 playoffs and forced them to win in the Challenge 4 (relegation playoffs), which they did to remain in the topflight. American middle blocker Hannah Tapp and Japanese women's national team setter Miya Sato again lead the Rivale into the season. Tapp led the V.League in blocking in 2019-2020 with 1.08 blocks per set.
Kurobe Aqua Fairies, based in Kurobe, Toyama Prefecture, finished in tenth, and have brought American Simone Lee back for a second season with the team. Lee was fifth in the league in scoring in 2019-2020 with 404 points.
PFU Blue Cats, based in Kanazawa, Ishikawa Prefecture, finished in eleventh and are going with a young roster with five players joining the team in 2019 or 2020. Former Japanese women's national team player Yukiko Ebata has been with the team the longest out of the current roster and is looking to return to the starting lineup after lingering injuries since joining the team.
Thailand's Hathairat Jarat and Venezuela's Roslandy Acosta will be the team's foreigners.
Victorina Himeji, based in Himeji, Hyogo Prefectue, stayed in the top league after defeating the Gunma Bank Green Wings in the Challenge Match series at the end of last season, two matches to zero. Himeji have made a change as head coach Yoshie Takeshita has moved into the front office as the Vice President of the team. Replacing her is Kodai Nakaya, who had been an assistant under Takeshita and also worked numerous Japanese women's age group teams (U19-20 & U23) before joining Himeji in 2017. Moldovan opposite Aliona Martiniuc has replaced Ivna Colombo.
Related links of AVC
AVC Website: click www.asianvolleyball.net
AVC Facebook: click www.Facebook.com/AsianVolleyballConfederation
AVC Twitter: click: https://twitter.com/avcvolley 
AVC Instagram: click: https://www.instagram.com/avcvolley/?hl=en
AVC Youtube: click: Asian Volleyball Confederation
AVC WeChat: Asian Volleyball Confederation