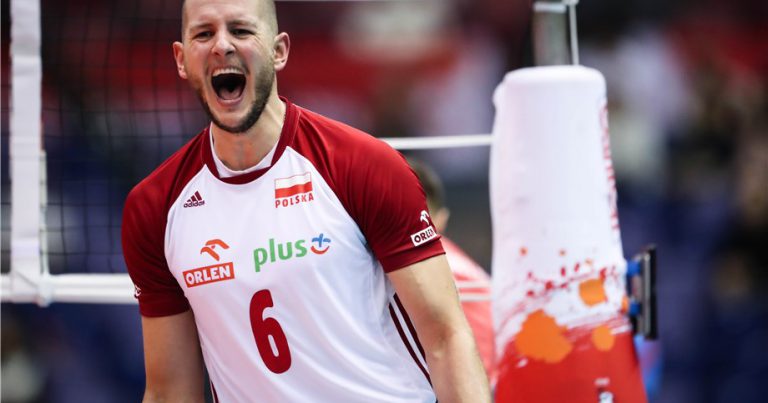 Polish star Bartosz Kurek led Wolfdogs Nagoya to victory this weekend.
Tokyo, Japan, November 18, 2020 – Suntory Sunbirds entered the fifth weekend of the Japanese V1 Men's League in the lead. With six matches going five sets over Saturday and Sunday, however, three clubs are now tied with 8-2 win-loss records and 23 points, with Wolfdogs Nagoya enjoying a stronger sets ratio.
Nagoya played FC Tokyo in their two matches over the weekend in the Japanese capital.
On Saturday, the Wolfdogs took a 2-0 sets lead, while FC Tokyo took the third set 25-16. In the fourth set, Nagoya had a two-point lead at 6-4. FC Tokyo never got closer than two points after that, and Nagoya claimed the set 25-20 and the match 3-1. Poland's Bartosz Kurek was for the focus of the Wolfdogs' offence with 24 points (including a block and an ace), while Hideyuki Kuriyama had 18 (including two blocks) for FC Tokyo.
Sunday's FC Tokyo-Wolfdogs match was close throughout and pushed into a fifth set. 
FC Tokyo had a match point at 14-13, but a Kenta Takanashi spike tied it at 14 and the match continued into extra points. Nagoya took the lead at 16-15 on a hitting error by FC Tokyo, but Kurek could not convert his spike attempt either and the score tied at 16. Three more times Nagoya had match point, but FC Tokyo staved off defeat. At 20-19 with Nagoya again serving for the match, FC Tokyo could not spike the ball in the court and the Wolfdogs won the set 21-19 and the match 3-2.
Kurek and Takanashi were the gasoline for the Wolfdogs' engine with 35 (a block and an ace) and 20 points (five blocks) respectively. Nagoya needed their blocking with a 12-8 advantage and spiking as well with a 74-65 advantage. FC Tokyo used the service line to stay in the match with four more aces and nine fewer service errors. Petar Premovic led Tokyo with 25 points (including five blocks and an ace).
Suntory Sunbirds and JTEKT Stings went five sets on both Saturday and Sunday in their pair of matches. Russian Dmitriy Muserskiy was the key for the Sunbirds on Saturday with 35 points (three blocks and four aces) and Masahiro Yanagida also contributed 17 (two aces) in the Suntory win. Yuji Nishida had 27 points (two blocks and four aces) in the loss for JTEKT.
Sunday's match was an epic battle with three sets going to extra points. Suntory had taken a 2-0 sets lead, but the Stings were able to fight back to tie at two sets all. A Suntory win in the fifth set would have given them first place, but a loss meant the league lead would go to the Wolfdogs.
JTEKT had a three-point lead at 10-7 after an ace by Nishida. However, the Sunbirds tied at 12 after a Nishida hitting error. Suntory had Yanagida serving for the match at 14-13, but Nishida put the ball to the floor, to tie at 14. JTEKT held off two match points, while Suntory saved themselves from three match points. At 19-19, Muserskiy missed his serve to give the Stings a 20-19 lead. Muserskiy was set but hit the ball wide for the Stings to win the set 21-19 set and claim the match 3-2.
Nishida went for 40 points with four blocks and three aces in the win. JTEKT had as many as five players score in double digits, and outblocked Suntory 12-7 in the win. Muserskiy with 34 (and a block) and Yanagida with 23 (two aces) gave their all in the match for Suntory.
The Panasonic Panthers faced their Osaka prefectural rivals Sakai Blazers in their two matches. On Saturday, the Panthers rode Kunihiro Shimizu's 21 points to a 3-1 win. While on Sunday, Shimizu received more help from Poland's Michal Kubiak in their five-set win. Kubiak blocked a ball on match point to win the set 15-13 and match 3-2. Shimizu had 19 points (three aces) and Kubiak 17 (two blocks) in the Sunday win. Jhon Wendt was the star for Sakai in the two losses with 22 (four blocks) and 23 points (three blocks and an ace) on Saturday and Sunday respectively. Panasonics' wins combined with Suntory's loss on Sunday pushed them into second place on sets ratio in front of Suntory.
JT Thunders Hiroshima took both of their matches with VC Nagano Tridents, 3-2 on Saturday and 3-1 on Sunday. In the Saturday match, Nagano's Indonesian opposite Rivan Nurmulki went for 41 points (including three blocks) but could not overcome Chien Chen Chen with 27 (three blocks) and Taishi Onodera 21 (three blocks and two aces) for the Thunders. Nurmulki had 23 on Sunday, but he was still no match for Chen with 20 (two blocks and two aces) and Shohei Yamamoto's 20 (an ace) for Hiroshima.
Finally, Toray Arrows swept their two matches with Oita Miyoshi Weisse Adler 3-2 (Saturday) and 3-0 (Sunday). Toray's Hungarian Krisztian Padar had 40 (four blocks and two aces) on Saturday, while being a little less productive on Sunday with 17.
The Japanese V1 Men's League will return to play in two weekends.

Match results for November 14, 2020
Suntory Sunbirds 3-2 JTEKT Stings (25-18, 17-25, 25-27, 25-15, 15-13)
Wolfdogs Nagoya 3-1 FC Tokyo (25-15, 25-23, 16-25, 25-20)
Panasonic Panthers 3-1 Sakai Blazers (21-25, 25-21, 25-16, 25-19)
JT Thunders Hiroshima 3-2 VC Nagano Tridents (25-21,22-25, 24-26, 25-19, 15-9)
Toray Arrows 3-2 Oita Miyoshi Weisse Adler (25-21, 18-25, 25-17, 20-25, 15-11)
Match results for November 15, 2020
Wolfdogs Nagoya 3-2 FC Tokyo (23-25, 25-22, 25-20, 21-25, 21-19)
JTEKT Stings 3-2 Suntory Sunbirds (26-28, 23-25, 25-22, 26-24, 21-19)
JT Thunders Hiroshima 3-1 VC Nagano Tridents (23-25, 25-17, 25-15, 29-27)
Panasonic Panthers 3-2 Sakai Blazers (25-21, 23-25, 16-25, 25-17, 15-13)
Toray Arrows 3-0 Oita Miyoshi Weisse Adler (25-22, 25-19, 25-20)
Related links of AVC
AVC Website: click www.asianvolleyball.net
AVC Facebook: click www.Facebook.com/AsianVolleyballConfederation
AVC Twitter: click: https://twitter.com/avcvolley
AVC Instagram: click: https://www.instagram.com/avcvolley/?hl=en
AVC Youtube: click: Asian Volleyball Confederation
AVC WeChat: Asian Volleyball Confederation