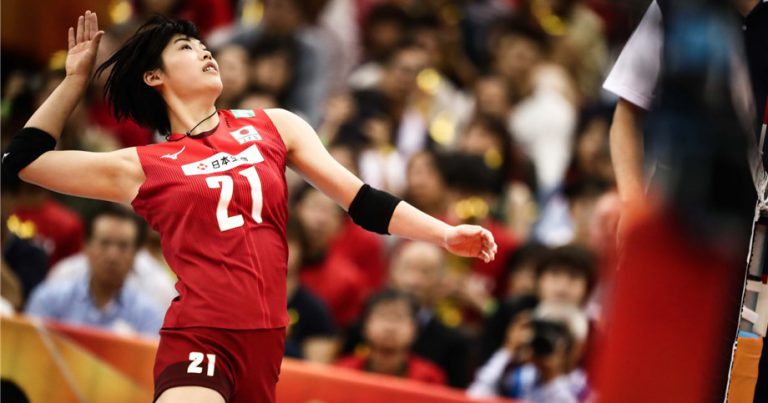 Japan outside hitter Ai Kurogo scores 19 points for Toray Arrows in their match against NEC Red Rockets.
Tokyo, Japan, November 4, 2020 – Going into the third weekend of play in the Japanese V1 Women's League, there were only two teams without a loss, Toray Arrows and NEC Red Rockets. Those two teams faced off on Saturday for first place at Himeji's Wink Gymnasium.
The Arrows got out quickly in the first set before NEC took a timeout at 10-6 for Toray. Toray kept pushing the lead and coasted to a 25-16 first set win. NEC was leading in the second set 18-16 before a four point run by Toray gave then a 20-18 lead. The Red Rockets could not get closer than one point and a Mayu Ishikawa spike gave the Arrows the set 25-22 for a 2-0 sets lead. The third set was still close and tied at 18, when a Kaho Ohno spike and Mayu Ishikawa spike landed on consecutive points to produce a 20-18 lead. NEC could again not get closer than one point. Ishikawa finished the match with another kill at 25-22, 3-0 win for Toray.
NEC could not handle the power of Toray's spikes with the Arrows having a 56-36 kill advantage. Ai Kurogo led the Arrows with 19 points (one block). Ishikawa was also great with 17 (two blocks). Neriman Ozsoy for NEC was starting her first match of the season and had 14 points, all kills.
NEC had to play again on Sunday against Victorina Himeji in a four-set match that went to extra points three times. In the first set, NEC came back from a 20-23 deficit to tie at 23-23 and survived two set points, before taking the set 29-27 on a hitting error.
The second set had Himeji comeback from a 17-21 deficit and a set point at 23-24 before Saki Tanaka killed for a 27-25 Victorina set win to tie the match at one set all.
In the third set, NEC had a 14-9 lead before Himeji fought back to tie at 18. Tied at 22, Sarina Koga had a kill and a block to produce a gap and a Victorina hitting error gave the set 25-22 to the Red Rockets, 2-1 NEC set lead.
In the fourth set, Victorina jumped out to a 5-1 lead, but the Red Rockets quickly tied at 7. Himeji did manage to take a 20-17 lead, but three straight Red Rockets points tied the set at 20. Victorina held off three match points, but a service error and a Riho Sadakane hitting error gave the Red Rockets the set 28-26 and the match 3-1.
Sarina Koga had 22 points (three blocks) and middle blocker Haruyo Shimamura produced 16 (two blocks) in the NEC win. Sadakane was brilliant with 25 points, including a block and three aces for Victorina. Yuka Kanasugi had 17 and Saki Tanaka had 18 (one block) in the loss for Himeji.
Hisamitsu Springs on Saturday took a 3-1 win over Victorina with Arisa Inoue on 21 points (two blocks) and Yuki Ishii on 20 (four aces) pacing the Springs. Saki Tanaka (one block and an ace) and Akiho Matsumoto both had 16 in the loss for Himeji.
Hisamitsu would follow up on Sunday with a 3-0 sweep of Toyota Auto Body Queenseis. The Springs outblocked Toyota 10-2, with Foluke Akinradewo, Nana Iwasaka and Arisa Inoue all with three blocks each for Hisamitsu. Italian Indre Sorokaite had 23 points (three aces) in the loss for the Queenseis. Earlier this season, Nana Iwasaka was presented an award by the V.League for reaching 230 matches played.
Okayama Seagulls took both of their matches against Saitama Ageo Medics (Saturday) and Hitachi Rivale (Sunday) 3-1. Shuka Kaneda led the Seagulls in both matches with 19 points (one block) on Saturday and 21 on Sunday.
JT Marvelous also swept their two matches this weekend against Hitachi and Saitama 3-0. Kotona Hayashi was the star of the weekend for the Marvelous with 17 points (one block) on Saturday and 15 (one block) on Sunday. Anna Ogawa had four blocks in Sunday's win. JT moved into second place on sets ratio with their wins.
Denso Airybees swept their two matches 3-0 against Kurobe Aqua Fairies (Saturday) and PFU Blue Cats (Sunday). For Denso, Kathryn Plummer was dominant with 13 points (two blocks) on Saturday and even stronger on Sunday with 24, including three blocks and two aces against PFU. Denso spikes could not be stopped with a 50-29 advantage for the Airybees. Venezuelan Roslandy Acosta got her first start for the Blue Cats and had 17 blocks including three blocks in the loss. PFU after three matches are in last place.

Match results for October 31, 2020
Hisamitsu Springs 3-1 Victorina Himeji (25-19, 19-25, 25-19, 25-19)
Denso Airybees 3-0 Kurobe Aqua Fairies (25-15, 25-11, 25-21)
Okayama Seagulls 3-1 Saitama Ageo Medics (25-17, 14-25, 25-16, 25-15)
JT Marvelous 3-0 Hitachi Rivale (25-18, 27-25, 25-21)
Toray Arrows 3-0 NEC Red Rockets (25-16, 25-22, 25-22)
Match results for November 1, 2020
Hisamitsu Springs 3-0 Toyota Auto Body Queenseis (25-21, 25-20, 25-21)
Okayama Seagulls 3-1 Hitachi Rivale (25-19, 27-29, 25-19, 25-13)
NEC Red Rockets 3-1 Victorina Himeji (29-27, 25-27, 25-22, 28-26)
Denso Airybees 3-0 PFU Blue Cats (25-11, 25-22, 25-17)
JT Marvelous 3-0 Saitama Ageo Medics (25-21, 25-21, 25-22)
Related links of AVC
AVC Website: click www.asianvolleyball.net
AVC Facebook: click www.Facebook.com/AsianVolleyballConfederation
AVC Twitter: click: https://twitter.com/avcvolley
AVC Instagram: click: https://www.instagram.com/avcvolley/?hl=en
AVC Youtube: click: Asian Volleyball Confederation
AVC WeChat: Asian Volleyball Confederation