Suntory on Sunday have 15 aces as a team!
On March 9th, the Japanese V.League announced that the V1 Men's League would be switching from wins and points for their standings to winning percentage (wins divided by matches played) to determine the positions for the Final Stage playoffs. After winning percentage, the tiebreakers would follow by sets ratio and points ratio. This meant that five matches missed earlier in the season due to positive COVID tests or through the government travel restrictions will not be played before the Final Stage begins.
With this announcement, the Suntory Sunbirds clinched a playoff berth as the JTEKT Stings would not be able to match Suntory's winning percentage even if the Sunbirds lost their remaining matches and the Stings won all of theirs. Additionally, the loss of two matches each for Wolfdogs Nagoya (against Suntory) and JTEKT (against Toray Arrows) made each Stings match more important to their playoff quest. A loss by JTEKT would put Nagoya closer to the playoffs.
Even with the Sunbirds making the playoffs, they still have one goal in mind in the regular season. That is finishing with the best winning percentage, which would place them automatically into the Final. The second and third placed teams will battle in a semifinal and the winner will face the regular season champion in the Final.
Suntory faced FC Tokyo in their two-match weekend series. On Saturday, Russian Dmitriy Muserskiy and the Sunbirds swept the match 3-0. Muserskiy finished with 26 points, including four aces and four blocks.
In Sunday's match up, FC Tokyo jumped out to a 2-0 sets lead, but Muserskiy already had seven aces by the end of the second set. The Sunbirds fought back to push the match into a fifth set. Suntory jumped out to a quick 3-0 lead with two Muserskiy kills. Masahiro Yanagida served an ace to give the Sunbirds a 6-2, which was insurmountable and then Yanagida finished the match with another service ace 15-9, 3-2 sets to Suntory.
Muserskiy was unstoppable with 41 points, including nine aces. Yanagida also had four aces as part of his 20 points in the comeback win. Suntory's magic number (combination of Panasonic Panthers losses and Suntory wins) to clinch their berth in the final is at one.
Panasonic Panthers took both matches of their weekend series with Toray Arrows, 3-1 on Saturday and 3-0 on Sunday. Kunihiro Shimizu for Panasonic led them in scoring with 38 (3 blocks and 4 aces) over the weekend. Hungarian Krisztian Padar put up 44 (3 blocks and 4 aces) in a losing effort over the weekend for the Arrows. Panasonic's magic number (combination of JTEKT losses and Panasonic wins) to clinch their playoff berth is two.
Wolfdogs Nagoya met JT Thunders Hiroshima for their weekend series. It was a battle of foreign opposites, Poland's Bartosz Kurek for Nagoya and Australian Thomas Edgar for JT Thunders. Kurek won the battle and the war on Saturday with 42 points (3 blocks) in a 3-2 win. Edgar contributed 35 (4 blocks and 2 aces) in the Thunders loss.
Sunday's match up was also taken by Kurek and Nagoya, with Kurek having 37 (2 blocks) in the 3-1 victory. Edgar finished with 27, all kills for the Thunders. Nagoya's magic number (combination of JTEKT losses and Nagoya wins) to clinch their playoff berth is five.
JTEKT Stings swept their weekend series with the Sakai Blazers, 3-1 on Saturday and with a more dominant 3-0 performance on Sunday. Felipe Fonteles and Yuji Nishida's partnership for the Stings provided a combined 48 points (2 blocks and 2 aces) on Saturday and 33 points (4 blocks and 2 aces) on Sunday. JTEKT needs Nagoya losses against Panasonic next weekend to have a realistic chance for the playoffs.
Lastly, VC Nagano Tridents and Oita Miyoshi Weisse Adler split their two matches. Nagano winning on Friday 3-1, and keeping themselves in ninth place, while Oita won on Saturday by the same 3-1 set score. The team that finishes in 10th place will face a Challenge Match (promotion/relegation series) against Voreas Hokkaido. The Challenge Match will take place over two days, April 3rd and 4th.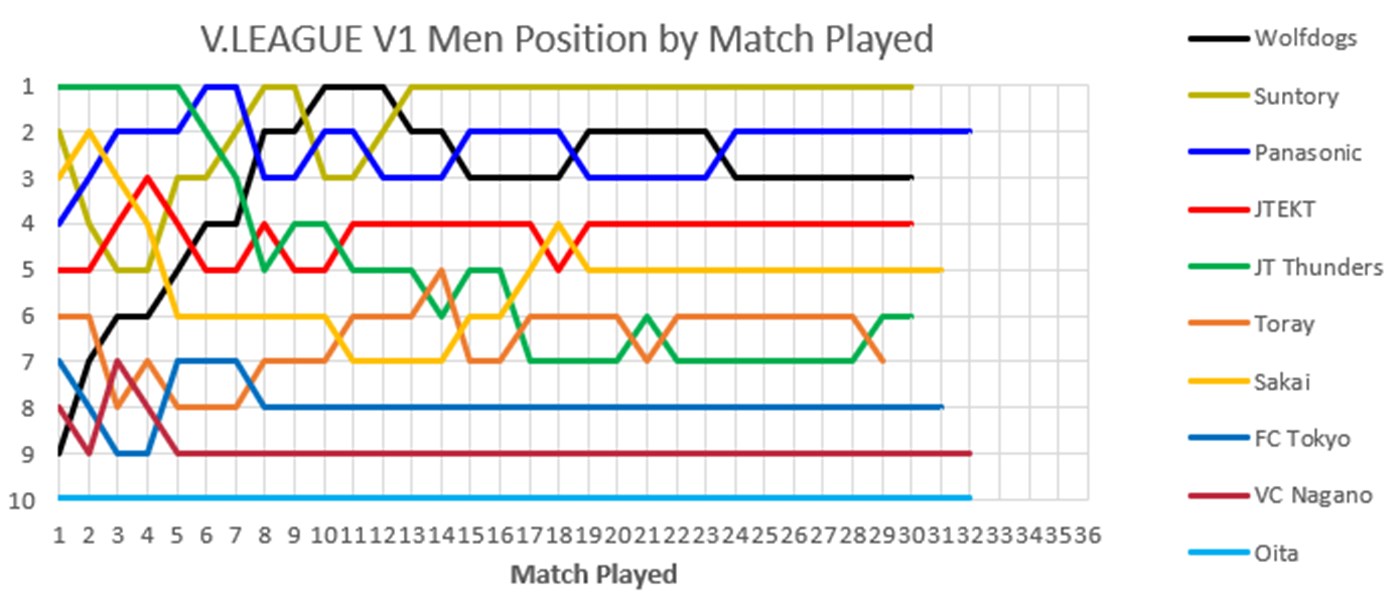 Due to some teams having played fewer matches, the movement line may not match the number of matches played by the team (JT with 32 matches played, but their line is dependent on Toray results with 29 matches played), as winning percentage (then tiebreakers) determines the position
Match results for March 12, 2021
VC Nagano Tridents – Oita Miyoshi Weisse Adler 3-1 (22-25, 25-23, 26-24, 25-20)
Match results for March 13, 2021
Panasonic Panthers – Toray Arrows 3-1 (25-22, 25-23, 18-25, 25-22)
JTEKT Stings – Sakai Blazers 3-1 (25-17, 27-25, 19-25, 25-22)
Wolfdogs Nagoya – JT Thunders Hiroshima 3-2 (25-21, 22-25, 20-25, 25-19, 15-13)
Suntory Sunbirds – FC Tokyo 3-0 (25-19, 25-20, 25-19)
Oita Miyoshi Weisse Adler – VC Nagano Tridents 3-1 (23-25, 25-20, 25-21, 25-16)
Match results for March 14, 2021
Panasonic Panthers – Toray Arrows 3-0 (25-17, 25-20, 25-15)
Wolfdogs Nagoya – JT Thunders Hiroshima 3-1 (25-15, 25-18, 22-25, 25-21)
JTEKT Stings – Sakai Blazers 3-0 (25-13, 25-19, 29-27)
Suntory Sunbirds – FC Tokyo 3-2 (21-25, 24-26, 25-19, 25-17, 15-8)
Related links of AVC
AVC Website: click www.asianvolleyball.net
AVC Facebook: click www.Facebook.com/AsianVolleyballConfederation
AVC Twitter: click: https://twitter.com/avcvolley
AVC Instagram: click: https://www.instagram.com/avcvolley/?hl=en
AVC Youtube: click: Asian Volleyball Confederation
AVC WeChat: Asian Volleyball Confederation