Six new stops to bring Futures beach volleyball action to stunning locations across the globe
The Beach Pro Tour 2023 calendar continues to grow with the addition of six new stops to the Futures calendar to create a truly global competition of beach volleyball festivities for young and up-coming duos to test their skills on the international stage.
The 2023 Beach Pro Tour calendar now features 26 confirmed Futures events, which act as a feeder to the Challenge-level tournaments.
The new stops include a women's and men's event in Czechia's second-largest city, Brno, from 23 to 27 August 2023, as well as a future event in southern Italy's Corigliano Rossano, where men and women will be competing from 31 August to 3 September 2023. Italy is set to host four Futures throughout the summer, with other such competitions due to take place in Cervia, Lecce and Messina.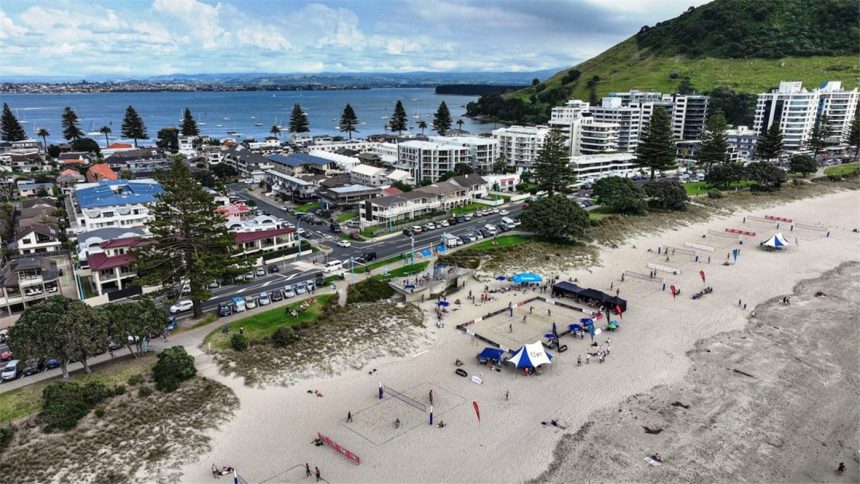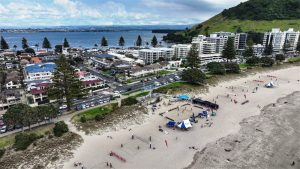 The Beach Pro Tour Futures kicked off earlier this year with an event in Mount Maunganui Beach, New Zealand
Beyond Europe, there are four additional stops. Wenzhou Cangnan, China, will host a men's and women's tournament from 10 to 13 August, while Al-Alamein, Egypt, will host a double gender event between 23 and 26 August. Seoul, Korea, will host a women's stop from 24 to 27 August, while Miguel Pereira in Brazil will stage a men's and women's event from 7 to 10 September 2023.
While Wenzhou Cangnan, Al-Alamein and Bujumbura will welcome a Futures event for the first time in history, Seoul is a familiar host city having organised its first beach volleyball tournament in 2007 for seven years until 2013. Miguel Pereira in Brazil also re-joins the annual beach calendar for the first time since hosting events in 2018 and 2019.
The addition of Wenzhou Cangnan (10-13 August) and Seoul (24-27 August) to the calendar also creates the exciting opportunity for the women's teams to compete in three back-to-back events in East Asia, with a stop in Qidong, China from 17-20 August completing the trio of Futures tournaments.
Meanwhile, the men's and women's event in Al-Alamein of Egypt (23-26 August) also connects with an existing double gender stop in Bujumbura, Burundi the week before on 17-20 August.
The addition of these new stops is testament to the popularity of beach volleyball and the growth of the Futures events which are expanding beyond Europe, with tournaments now being organised in four continents: Europe, Asia (including Oceania), Africa and South America.
The FIVB continues to work closely with the National Federations and event organisers to add even more Futures events to the calendar later in the year.
QUICK LINKS
AVC Website: click www.asianvolleyball.net
AVC Facebook: click www.Facebook.com/AsianVolleyballConfederation
AVC Twitter: click: www.twitter.com/AsianVolleyball
AVC Instagram: click: https://www.instagram.com/avcvolley/?hl=en
AVC Youtube: click: Asian Volleyball Confederation
AVC WeChat: Asian Volleyball Confederation