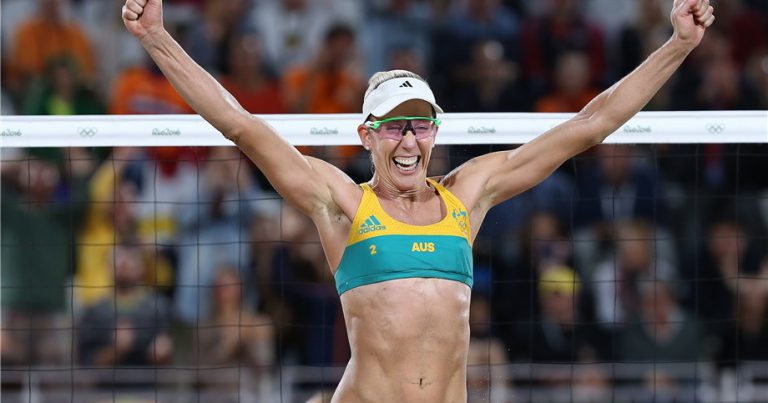 Celebrating at the Rio 2016 Olympic Games is Louise Bawden of Australia
Orange, NSW, Australia, August 7, 2020 – Three-time Olympian Louise Bawden is back home in Australia today celebrating her 39th birthday along with enjoying motherhood after the arrival of her son in May.
"I am back in Australia and currently ending the mandatory 14-day hotel quarantine," said Bawden, who was a member of her country's indoor team at the Sydney 2000 Olympic Games before playing in the beach volleyball competition at the London 2012 and Rio 2016 Summer Games.
"I have ended my time on staff at Stanford, which is a bittersweet move for me, but one that was necessary to best support my new little family as my mate and I became parents to a baby boy in May," said Bawden, who was an assistant coach at the northern California school for Andrew Fuller, the husband of American Olympian Lauren Fendrick.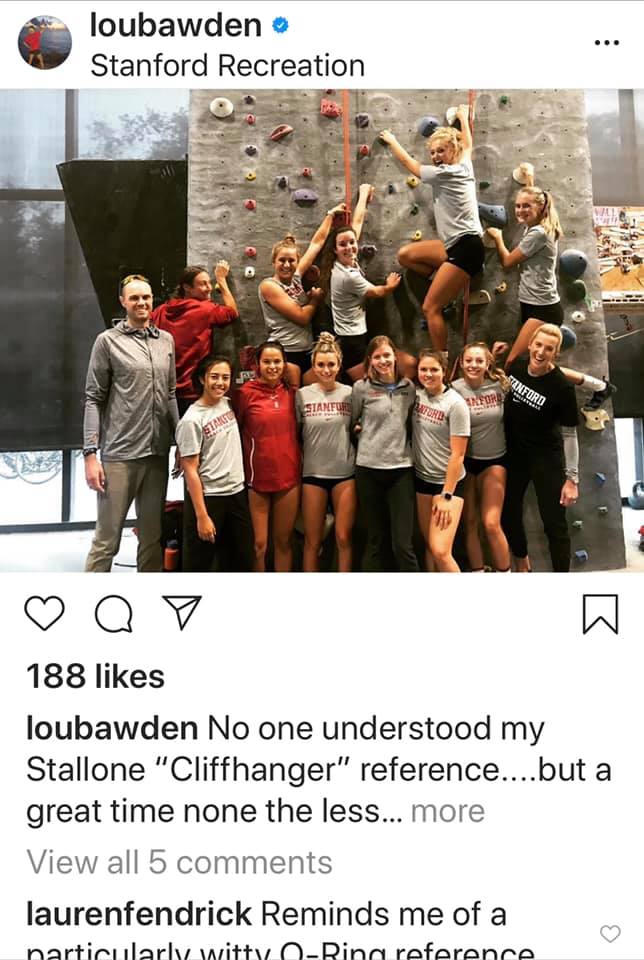 "This year, my birthday falls on my first day in my new city of residence, a town called Orange," said Bawden, who placed fifth at the Rio Olympics with Taliqua Clancy. "Orange is located three hours' drive inland from Sydney. As a result of the current restrictions related to the coronavirus pandemic, I will be limited to celebrating my birthday with my husband and my son. We will have a little Zoom party online with our family as well."
As for the last four months of dealing with the pandemic, Bawden said her "main activity has been becoming a mother for the first time! My husband Casey and I welcomed our son Parker to the world on May 20.  We have made the most of the stay at home orders to do lots of bonding with Parker and learning the ropes of parenthood."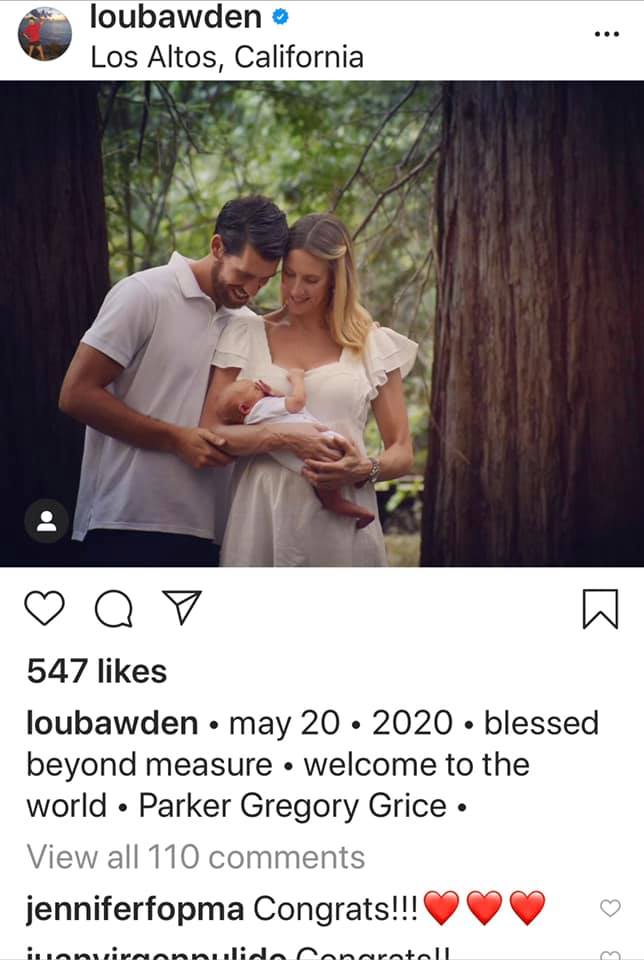 After Bawden started her 10-season FIVB Beach Volleyball World Tour career in 2009, she won three matches on her 28th birthday in Poland.  Bawden and Becchara Palmer used the victories to advance to the semifinals in Stare Jablonki where the Australians placed second after losing to Juliana Felisberta and Larissa Franca of Brazil in the finals.
"I do remember a fair amount about our matches on my birthday in Poland in 2009," said Bawden. "It was a special tournament for me, as it was the first time I had made it into the top 10 of a World Tour event. On my birthday, we defeated Shelda Bede and Ana Paula Henkel from Brazil who were a team I really admired, and though I suspect it was not their best day, I was amazed that Becchara and I were able to be the victors in that contest. We went on to take silver in that event. While it was sad to lose the final, stepping on to the podium after that match was a really special feeling. Stare Jablonki will always have a place in my heart!"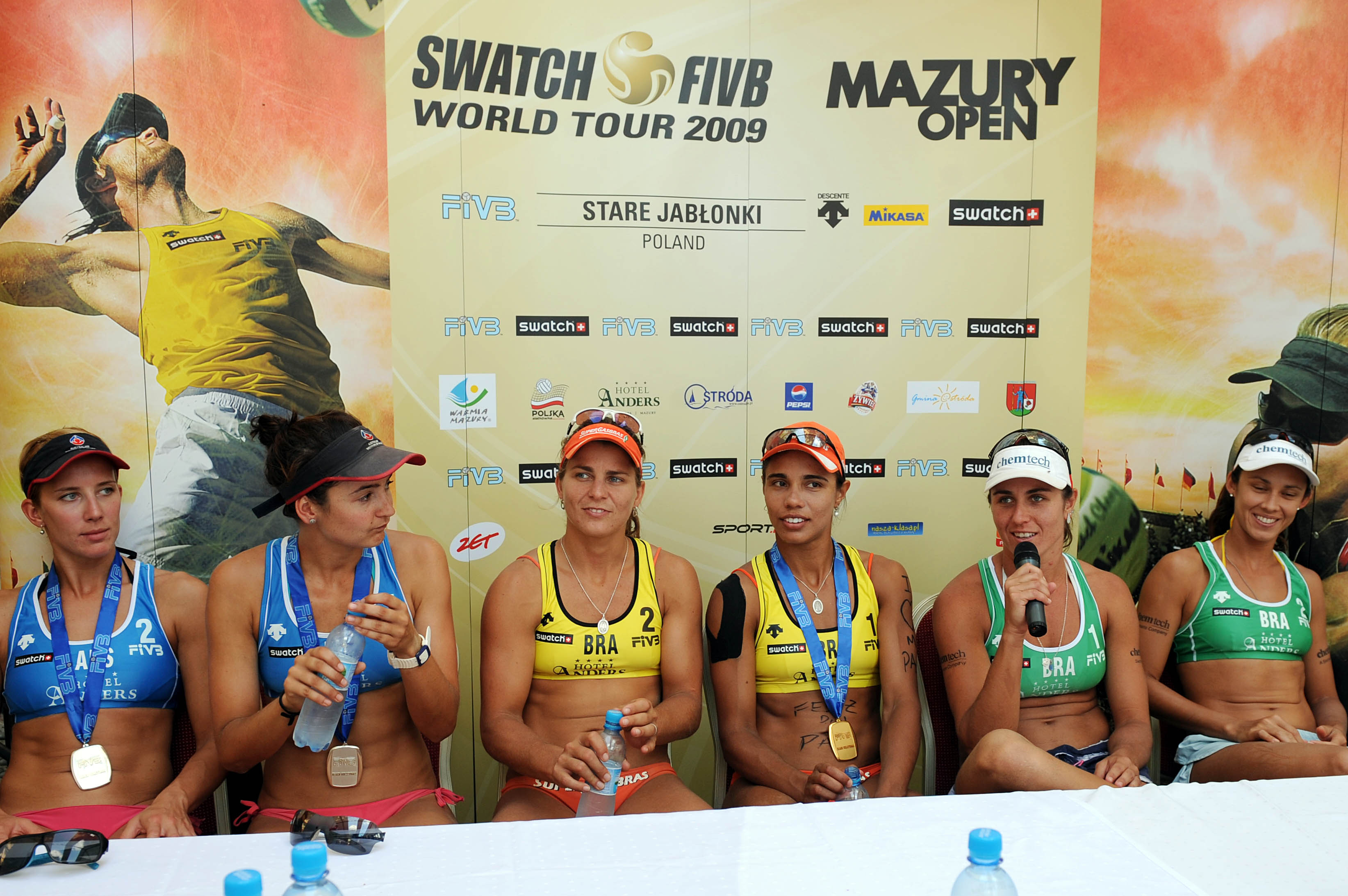 Louise Bawden (left) at the post-match 2009 Stare Jablonki media conference with (left to right) Becchara Palmer, Larissa Franca, Juliana Felisberta, Maria Antonelli and Talita Antunes.
Bawden also spent two birthdays while competing in the Olympics as she and Palmer placed 19th at the London 2012 Games with two of their three pool play defeats to teams from Germany (Sara Goller Niedrig/Laura Ludwig) and Brazil (Maria Antonelli/Talita Antunes).
As for Rio on Copacabana with Clancy, Bawden said "my birthday fell between our first and second pool matches, so it was a fairly tense time as I was full of nerves and anticipation. However, I remember we had a nice dinner with my team and a group of Australians, including my husband, brother and his fiancé. Taliqua gave me a lovely gift of a shirt from one of my favourite boutiques in Rio, Farm, which I wore to the dinner and still own today!"
In Rio, the seventh-seeded Bawden and Clancy captured their pool highlighted by a three-set win over sixth-seeded Madelein Meppelink and Marleen Van Iersel of the Netherlands.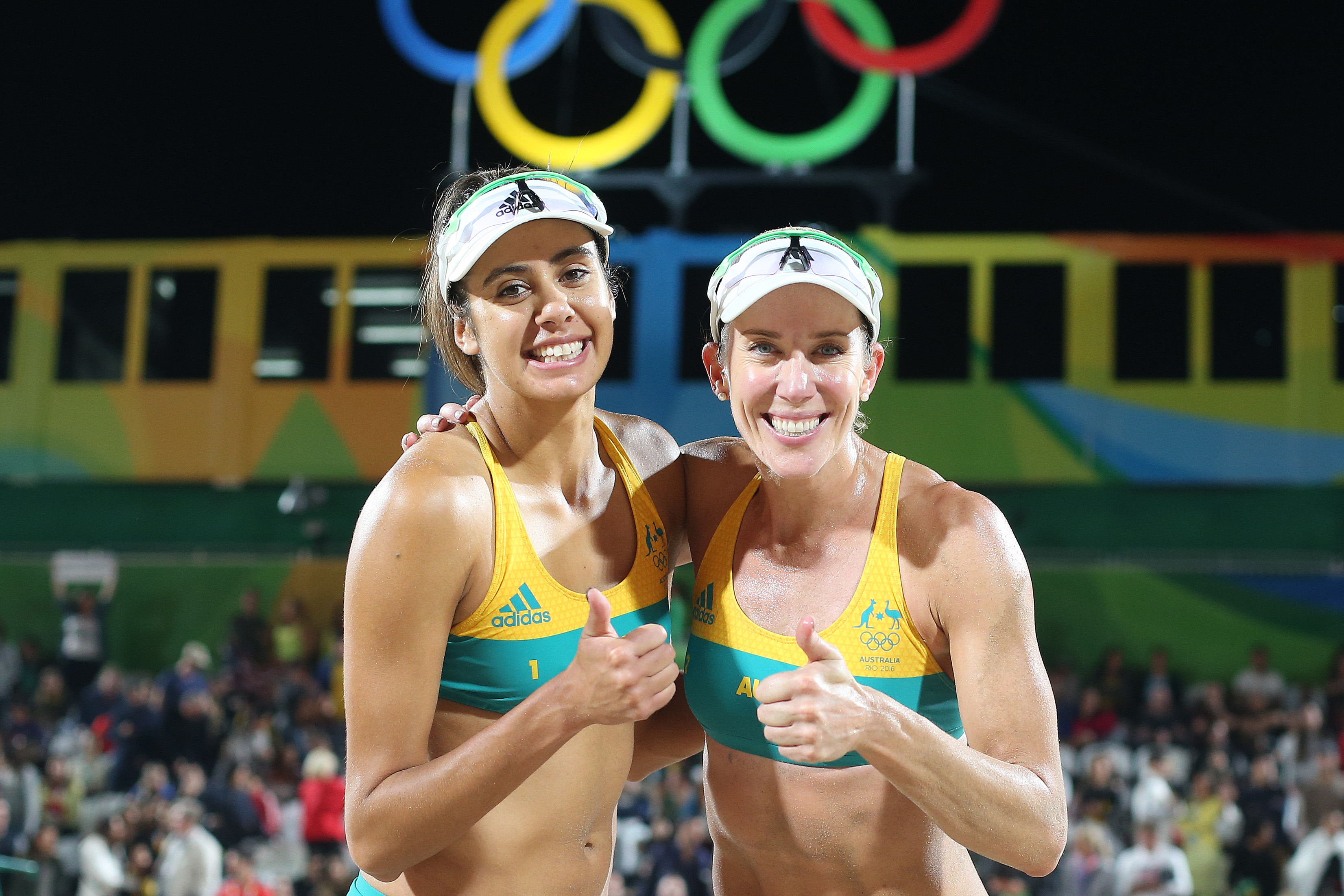 Louise Bawden (right) and Taliqua Clancy of Australia at the Rio 2016 Olympic Games
Bawden and Clancy opened the Rio elimination rounds by defeating 12th-seeded Monika Brzostek and Kinga Wojtasik of Poland before dropping a 2-0 (21-14, 21-16) quarterfinal match in 38 minutes to third-seeded and eventual bronze medal winners April Ross and Kerri Walsh Jennings of the United States. That match started on August 14th and ended on Walsh Jennings' 38th birthday.
As one of two Australians to play in both the indoor and beach Olympics, Bawden said her favourite outdoor venues were "Klagenfurt and Gstaad. The atmosphere in Klagenfurt was always incredible, the fans, the music, the dancing all added to a really fun and exciting beach volleyball tournament. The main draw hotel in Klagenfurt was also a favourite of mine – it had a great breakfast buffet!"
As for Gstaad where she played eight times highlighted by a 2015 fifth with Clancy, Bawden said "it is by far the most picturesque beach volleyball tournament I have ever played in – I have dozens photos from my years playing there that look just like an alpine postcard."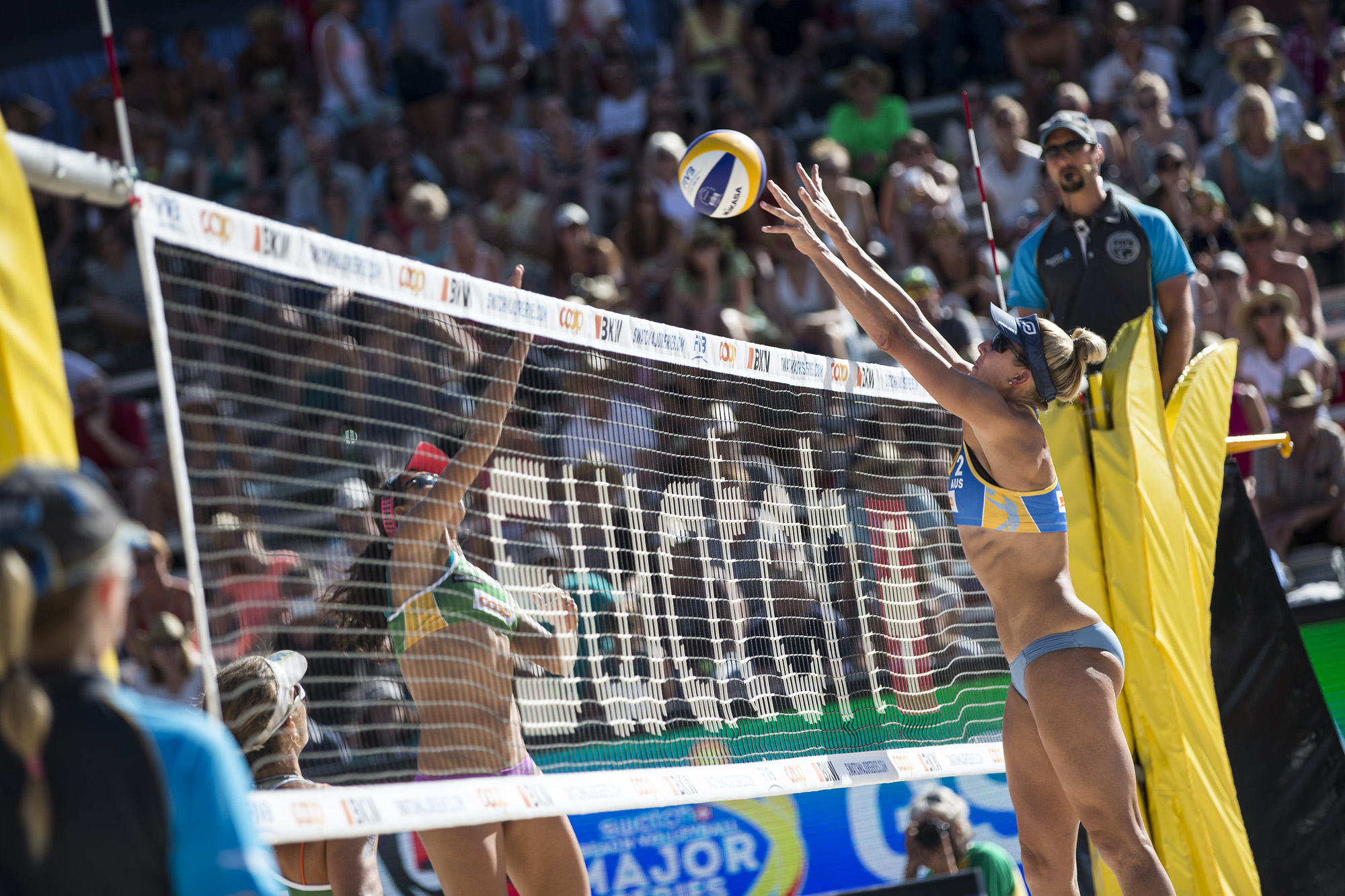 Aussie Louise Bawden (right) blocking against Brazilian Talita Antunes at the 2015 Gstaad Major.
As for her career where she won 201 matches with six different partners, Bawden said "it is almost impossible to choose my biggest beach volleyball memory. I took a leap of faith when I chose to pursue the sport full time at the end of 2008, and I absolutely loved every part of the journey until my retirement in 2018. I was blessed with the opportunity to represent Australia in my second and third Olympic games, and incredibly lucky to have great partners in Becchara and Taliqua in those Olympic campaigns."
As it is for many beach players, Bawden added that her "life as an athlete was filled with adventure and travel, and I feel like I amassed a lifetime of memories both through the joys and the calamities encountered along the way. It may sound strange, but some of my biggest memories are the moments in tournaments where my performance fell just short of an outcome. Those matches stay with me and remind me how fleeting opportunity is, both in sport and in life."
Bawden and Tamsin Hinchley are the only two Australians to compete in both the volleyball and beach volleyball competition at the Olympic Games. Hinchley was the first playing in Beijing 2008 and at the London 2012 Summer Games with Natalie Cook. Following the London Olympics, Bawden teamed with Hinchley to place 17th in Stare Jablonki.
In looking back at her tenure at Stanford, Bawden said it was a "great experience. As an Australian, it was a great opportunity to learn about the NCAA system, and to challenge myself to adapt and extend my beach volleyball coaching skills and capabilities to the college environment. Stanford is an impressive institution with a legacy of success and I really enjoyed being part of the Athletics Department and the greater university community. As part of the beach volleyball staff, we worked hard to develop the performance culture of our young programme, and I am proud of the progress that we made. I will miss the athletes and staff members that I formed relationships with immensely!"
When asked about playing nine FIVB matches against Fendrick on the World, Tour, Bawden said "I wouldn't be in any hurry to bring up our match in Vienna 2017, as we experienced a swift defeat on that day! Lauren and I had a lot of good battles on the court over the years, so it was a nice change of pace to join forces with her on staff at Stanford. I have a great deal of respect for her as an athlete, but I really enjoyed getting to know her on a more personal level and can now call her a good friend!"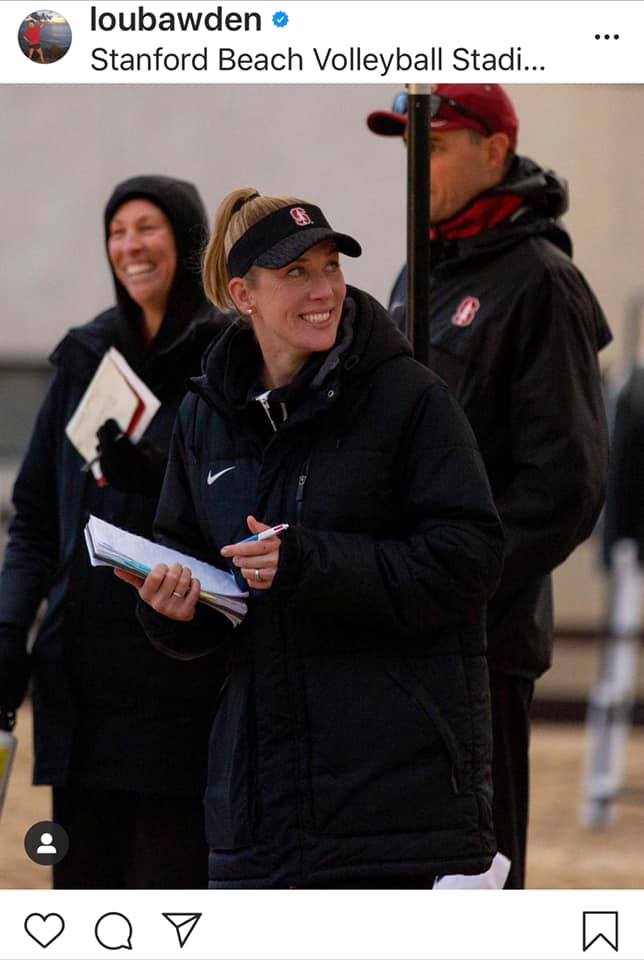 Bawden ended comments saying "I love beach volleyball as much as ever and continue to follow the sport closely. I am not sure what the next chapter holds for me, but I hope to continue to find a way to include volleyball in my future endeavors."
Related links of AVC
AVC Website: click www.asianvolleyball.net
AVC Facebook: click www.Facebook.com/AsianVolleyballConfederation
AVC Twitter: click: https://twitter.com/avcvolley
AVC Instagram: click: https://www.instagram.com/avcvolley/?hl=en
AVC Youtube: click: Asian Volleyball Confederation
AVC WeChat: Asian Volleyball Confederation